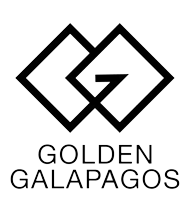 Since 2018, the award-winning Golden Galapagos has operated an upscale fleet of premium luxury catamarans. Their current portfolio also includes La Selva Eco-Lodge & Retreat in the Ecuadorian Amazon.
The focus of Golden Galapagos cruises is keeping travelers constantly connected with the islands. Learn all about this women-led company's history, sustainability practices and Amazon jungle lodge, plus their fleet and how you can get aboard.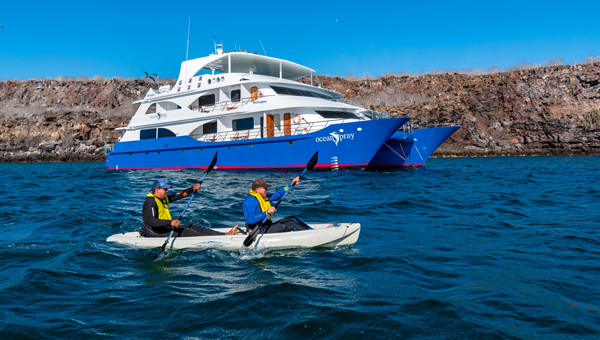 Golden Galapagos Cruises: The Fleet
Four luxurious mega-catamarans comprise the fleet of Golden Galapagos: the flagship Endemic and Elite, and the acquired Ocean Spray and Petrel. Step aboard any of these 16-passenger ships to find bright, open spaces with nods to the landscapes and wildlife of the Galapagos Islands.
The two flagship catamarans offer some of the most spacious suites available in the Galapagos. The open design concept behind Endemic and Golden Galapagos Elite translates into a lot of glass for panoramic views and natural light (think wall-to-wall sliding glass doors). Guests on board Endemic or Elite are sure to never miss a wildlife spotting opportunity, as the result. Read our Elite & Endemic Cruise Review to learn more about why we love these ships.
All ships operated by Golden Galapagos cruises offer personalized service, modern style, elegance and comfort, in a sleek and stability-minded design. Copious indoor and outdoor spaces encourage camaraderie among guests, while private balconies provide space for special moments.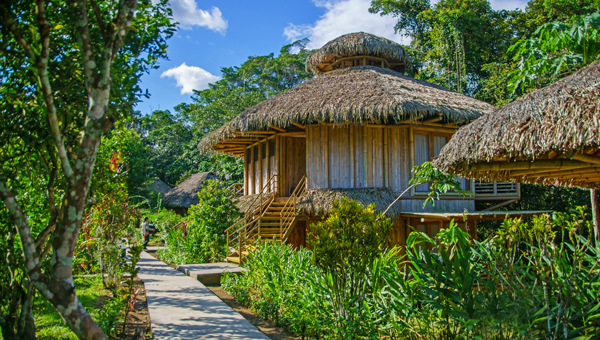 La Selva Amazon EcoLodge & Golden Galapagos
Much like the ships, the lodge operated by Golden Galapagos boasts some of the largest accommodations in the region. The 50-guest La Selva Amazon EcoLodge was remodeled by Golden Galapagos in 2021, following their acquisition, and features eco-minded suites with constant utilities powered by solar energy, plus biodegradable products and locally sourced food. A close partnership with the local Pilchi community benefits both the lodge and local inhabitants, and furthers the Golden Galapagos mission of creating a positive social and environmental impact.
History of Golden Galapagos
Golden Galapagos was uniquely founded by two women with over 20 years of industry experience: CEO Luisa Córdova and Managing Director Ivonne Zumarraga. These founders formed Golden Galapagos following 12 years working beside each other for another tourism company. Their focus was reinventing luxury in the Galapagos, and their success is based on listening to feedback from guests, crew, guides and other industry stakeholders.
They first launched the Endemic catamaran in 2018, followed by Golden Galapagos Elite in 2019—both ships were designed from the ground up, by Córdova and Zumarraga. They later added seasoned and well-loved Galapagos catamarans Ocean Spray and Petrel, refurbishing them to the Golden Galapagos standard. Their ethos remains to operate safely, protect the environment and ensure guest satisfaction. As Ecuadorians, their passion for hospitality shines through all aspects of their luxury-focused business.
Standout Features of Golden Galapagos
Golden Galapagos sets itself apart in a couple big ways: Their women-led staff and their commitment to sustainability. Not only is Golden Galapagos woman-owned-and-operated, but also over 60% of the staff are women. And the governing board is entirely comprised of women.
As for sustainability, the company hit a big milestone in January 2023, when Golden Galapagos Cruises became the first Galapagos cruise operator to fully neutralize its carbon footprint. The company achieved this through their Golden Sustainability Initiatives and with the oversight of their in-house Environmental Coordinator and SICMA Ecuador, an environmental consultant.
The guiding principles of the Golden Galapagos Sustainability Initiatives include: giving back, community care and smart development. To this end, Golden Galapagos already complies with 11 of the 17 Sustainable Development Goals put out by the United Nations.
Ship design is a large part of smart development. The ships feature fuel-efficient engines, eco-friendly paint, reduced electricity demands due to natural light, no single-use plastics, and biodegradable products.
For giving back and community care, Golden Galapagos is an acting member of various conservation-minded organizations, such as the Global Sustainable Tourism Council, the Better World Fund, the Galapagos Conservation Trust and the Galapagos Free of Microplastics Foundation. Golden Galapagos also has scholarship programs for local students and financially supports various global partnerships, including the following:
Sahyadri Industries Limited: Wind energy in India
Hidroelectrica La Confluencia S.A: Hydroelectric power in Chile
Promises2Kids: Foster children assistance in San Diego County
Charles Darwin Foundation: Penguin Adoption
WISE (Women's Initiative for Sustainable Enterprises), a project that offers grants to women entrepreneurs
Golden Galapagos & AdventureSmith Explorations
At AdventureSmith, we pride ourselves on offering the finest small ship cruise lines—ones that we know and love, and send our own friends and family on. In Galapagos, myriad options exist and it can be daunting to choose. But we feel it comes down to the right itinerary and ship, and our Adventure Specialists are ready to recommend any Golden Galapagos cruises if they suit your interests, budget and timeframe.
With their fleet of modern and upscale ships, plus refurbished, time-tested bestsellers, Golden Galapagos cruises will almost certainly be an excellent choice for your Galapagos cruise or Galapagos Islands yacht charter. Pair finding the right ship with a company focused on conservation and giving back, and Golden Galapagos mirrors the service goals of our company. Not to mention we are also a more-than-60%-women company!
Golden Galapagos Cruises Reviews
Find Golden Galapagos reviews below in our Testimonials, as well as on each trip and ship page for the Golden Galapagos cruises fleet. The AdventureSmith expert staff has also traveled with this operator and you can read our Elite & Endemic Cruise Reviews detailing two of this operator's ships. As we send more travelers with this operator, expect to see more testimonials and Golden Galapagos cruises reviews on our website. Want to talk to someone who has experienced a trip with Golden Galapagos? Ask us to put you in touch with a past traveler, for a personal referral.