My 7 day Alaskan journey on the Inside Passage Catalyst cruise started in the quaint little town of Petersburg and traveled through the inter-coastal waterways of the Inside Passage to reach its ending destination in the "big city" of Juneau. Traveling to this unique and beautiful region of Southeast Alaska can be an adventure in itself as you can only access it by boat or plane. So that is exactly what happened, my adventure started out with some adventure before I even reached Petersburg. My travel from Seattle up to Alaska was on a puddle-jumping flight that would stop in Ketchikan, Wrangell and finally Petersburg. The views were absolutely amazing as we flew north and I was filled with excitement to be returning to the Inside Passage. (See my pre-trip blog post to learn more). As we landed in Wrangell, we were less than a 10 minute flight away from Petersburg and I was anxious to step off the plane and start my journey. Little did I know it would actually start in Wrangell! As we were about to let off the Wrangell passengers one of the flight attendants accidently deployed the emergency slide while putting the exit stairs on the runway.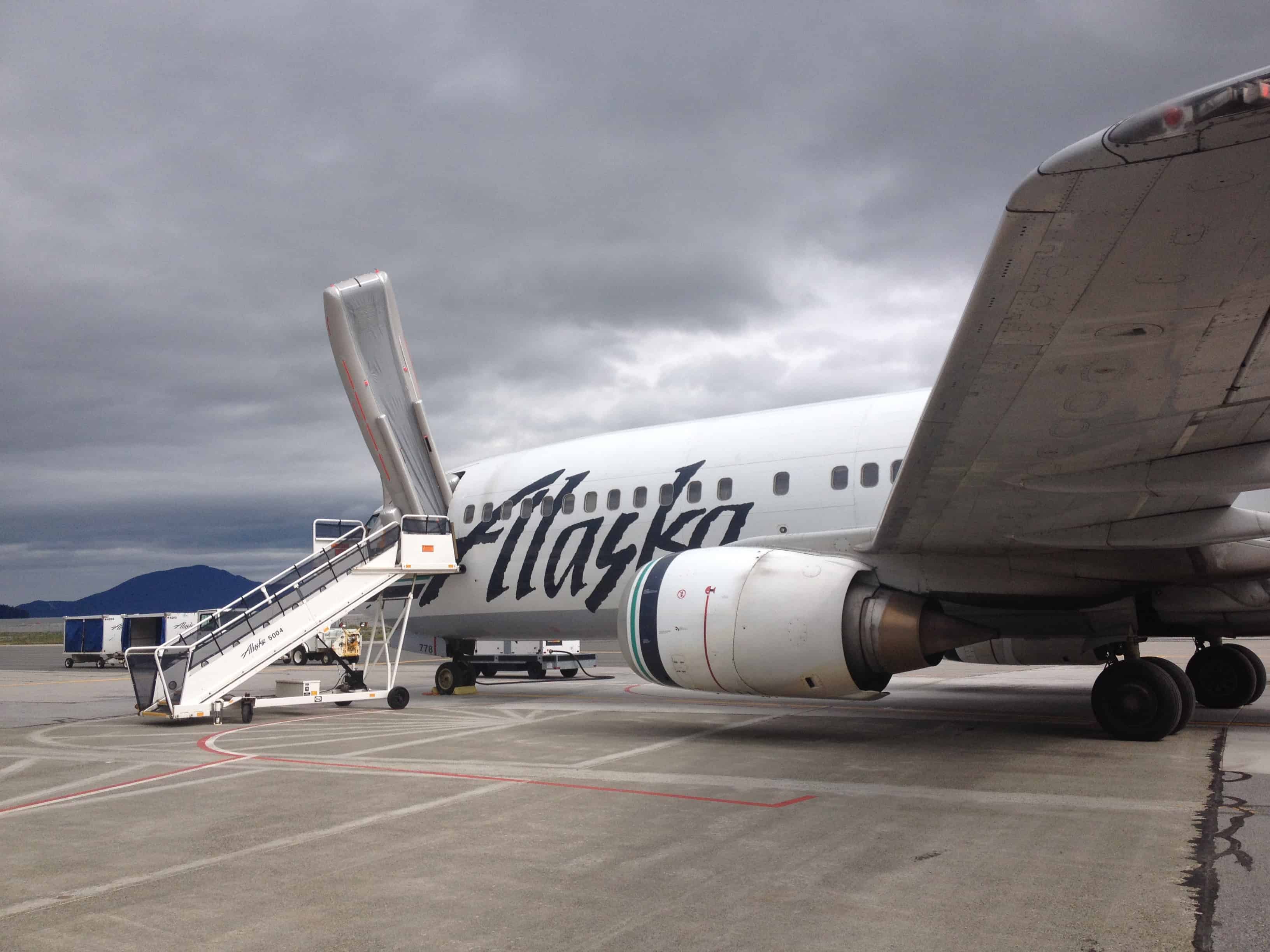 Therefore, everyone had to exit the plane and gather in the tiny Wrangell airport. From there Alaska Airlines figured out a strategy for the 75 Petersburg passengers to travel to Petersburg. This consisted of waiting for a small shuttle to take us to the harbor to connect with a local boat service to take us about 30 minutes by water to the southern tip of Mitkof Island. From there we waited our turns in the rain for another small shuttle service to drive us the 30 minutes to Petersburg which is on the northern tip of Mitkof Island. We all looked at each other and just laughed saying how this was all part of our Alaskan adventure (and I was thankful that I had arrived a day earlier than my actual cruise departure date to allow for the unpredictable)!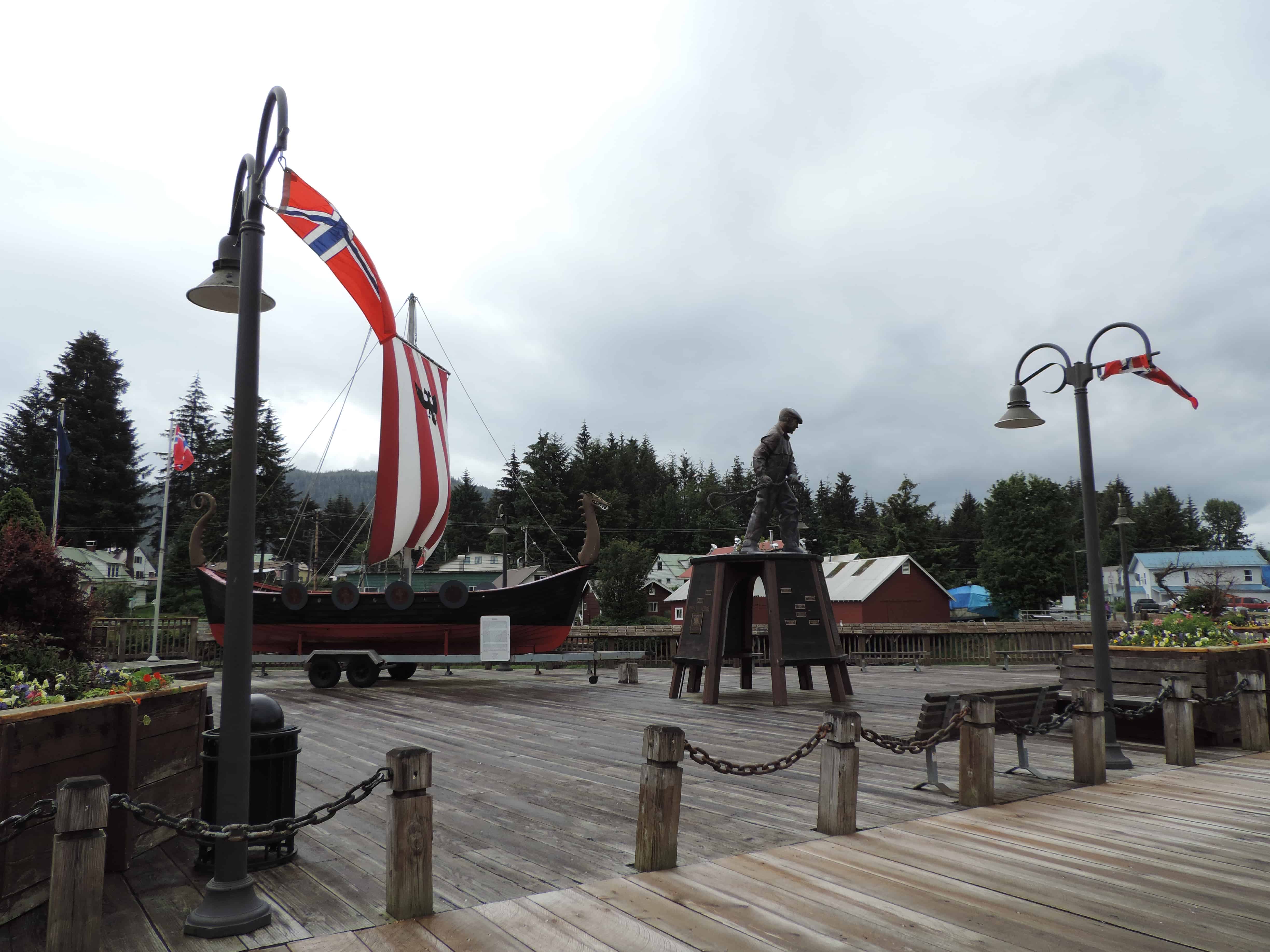 Finally arriving Petersburg a bit exhausted from the unexpected change of a 10 minute plane ride to a 4 hr shuttle-boat-shuttle I was exhausted and excited to check into the Scandia House for the night. I spent the rest of the rainy afternoon exploring the cute little fishing town of Petersburg or "Little Norway". After enjoying a delicious meal of rockfish curry at the Inga restaurant next door to the Scandia House I called it an early night excited to board the Catalyst the next day. The next morning I decided to explore outside of the main city center of Petersburg before I would need to embark the Catalyst at noon. I went for a run around the loop from downtown along the Wrangell Narrows to the airport and back to town. I highly recommend walking or running this 5 mile loop when in Petersburg. There are lots of stops along the way to take in the beautiful views surrounding this northern part of Mitkof Island.
The rain continued as I boarded the historic Catalyst and met my new family of 10 other guests and 4 Catalyst crew. Excited for our 7 day journey together we pulled up anchor and waved goodbye to Petersburg and into Frederick Sound. Our trip began with getting acquainted with our new home and guests as we admired our first views of the remote Inside Passage aboard the Catalyst. A few hours later we pulled into Thomas Bay and took the skiff past families of cute harbor seals to the start of our Baird Glacier hike. In the cold rain we were thankful for our rain gear and rain boots as we hiked on spongy moss then onto glacier silt (which made us feel like we were on the moon!) to the Baird Glacier. Once back on board and anchored in Scenery Cove for the night, we were grateful for our cozy home aboard the Catalyst and for our amazing chef Tracie who welcomed us back to our first delicious dinner of the week. She quickly became everyone's favorite person on board as the galley was filled with oohs and aahs during every meal!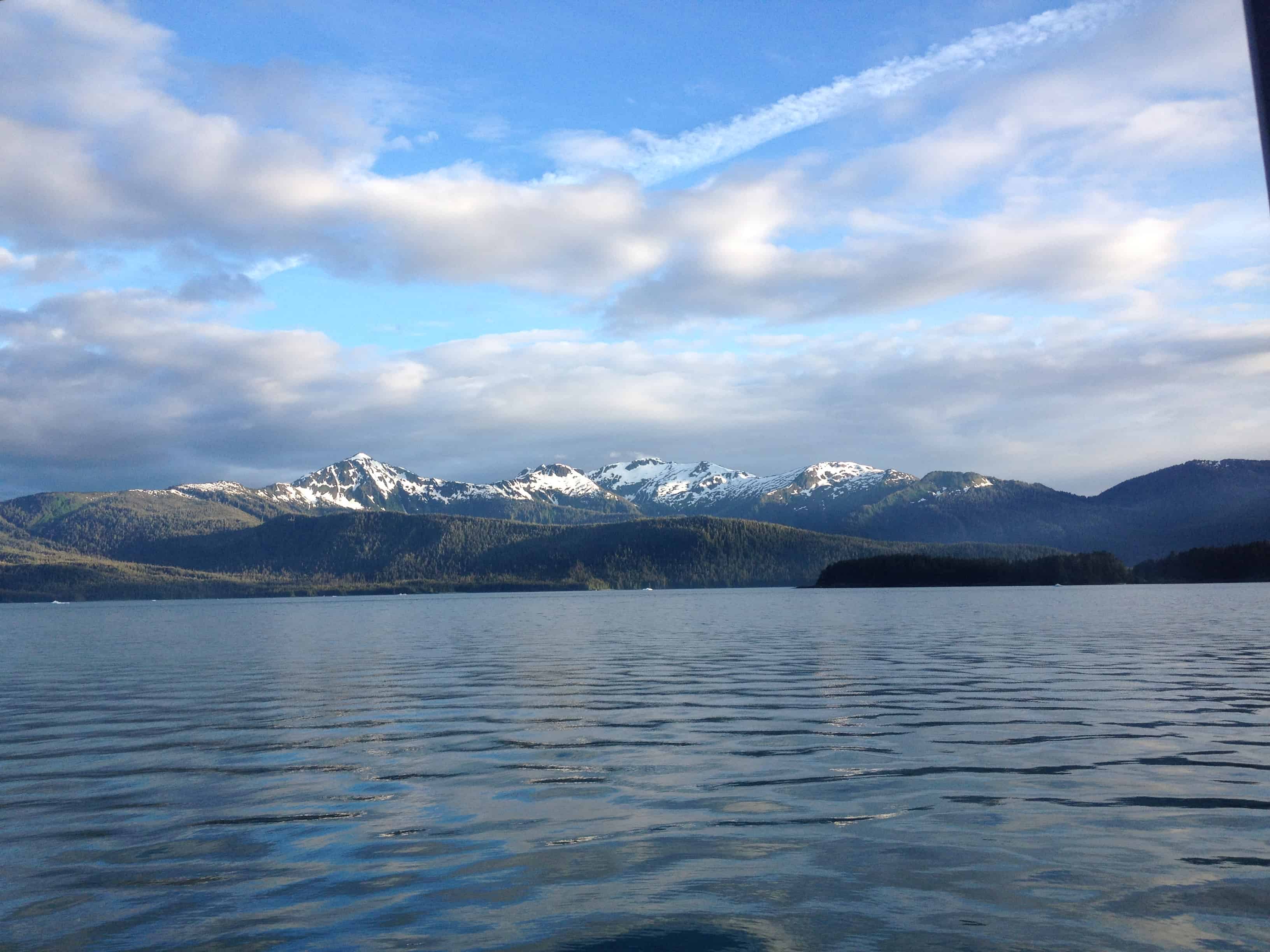 Every morning we woke up filled with anticipation and excitement for what the day had in store for us. With the amazing smells of Tracie's fresh baked goods filling the boat we had no problem getting out of our warm beds to start each day! Our second day was once again very rainy and reminded us that the Tongass National Forest is indeed a rainforest. We traveled through Frederick Sound during the morning towards Donkey bay where we would anchor for our 2nd night. We stopped near the Brother Islands right before lunch to check out a large sea lion haul out. After lots of laughter watching these funny animals splash around and roar loudly we continued onto Donkey Bay. We spent the rainy afternoon hiking along the shore where we spotted a brown bear in the distance, a Sitka black tail deer, blue herons, bald eagles and a mink foraging for food. After the hike we had a quick break back on the Catalyst before a kayak orientation given by our guide/naturalist Sarah. For many it was there first time kayaking and Donkey Bay was a calm place for everyone's skill level. We enjoyed a magical experience kayaking amongst low fog and light rain. Dinner back on board once again blew everyone's mind with a coconut tempura shrimp appetizer and an entrée of sockeye salmon with mango salsa and Cuban style black beans. The dessert of a chocolate rum custard filled cream puff added to sending us all to bed as happy campers.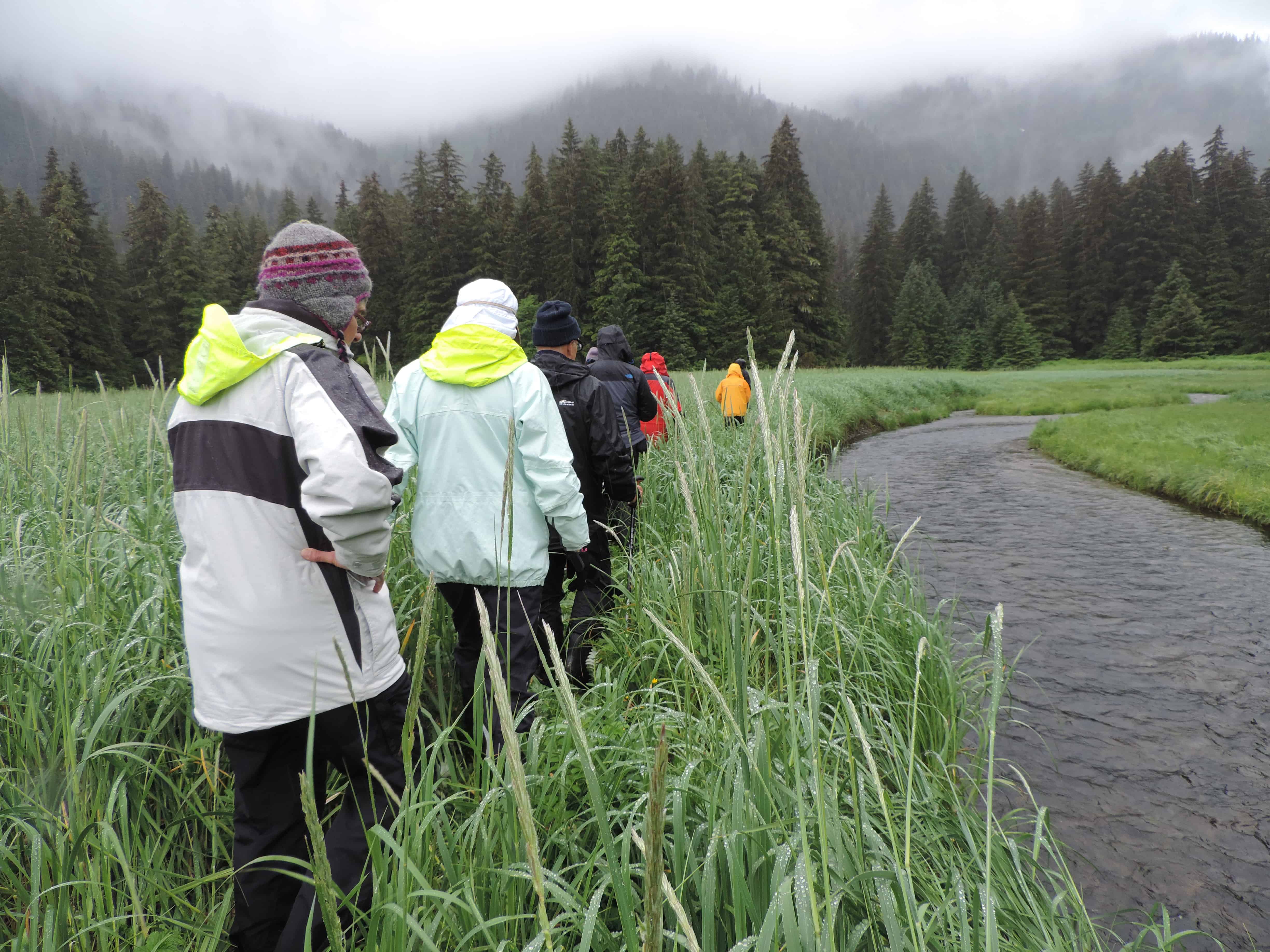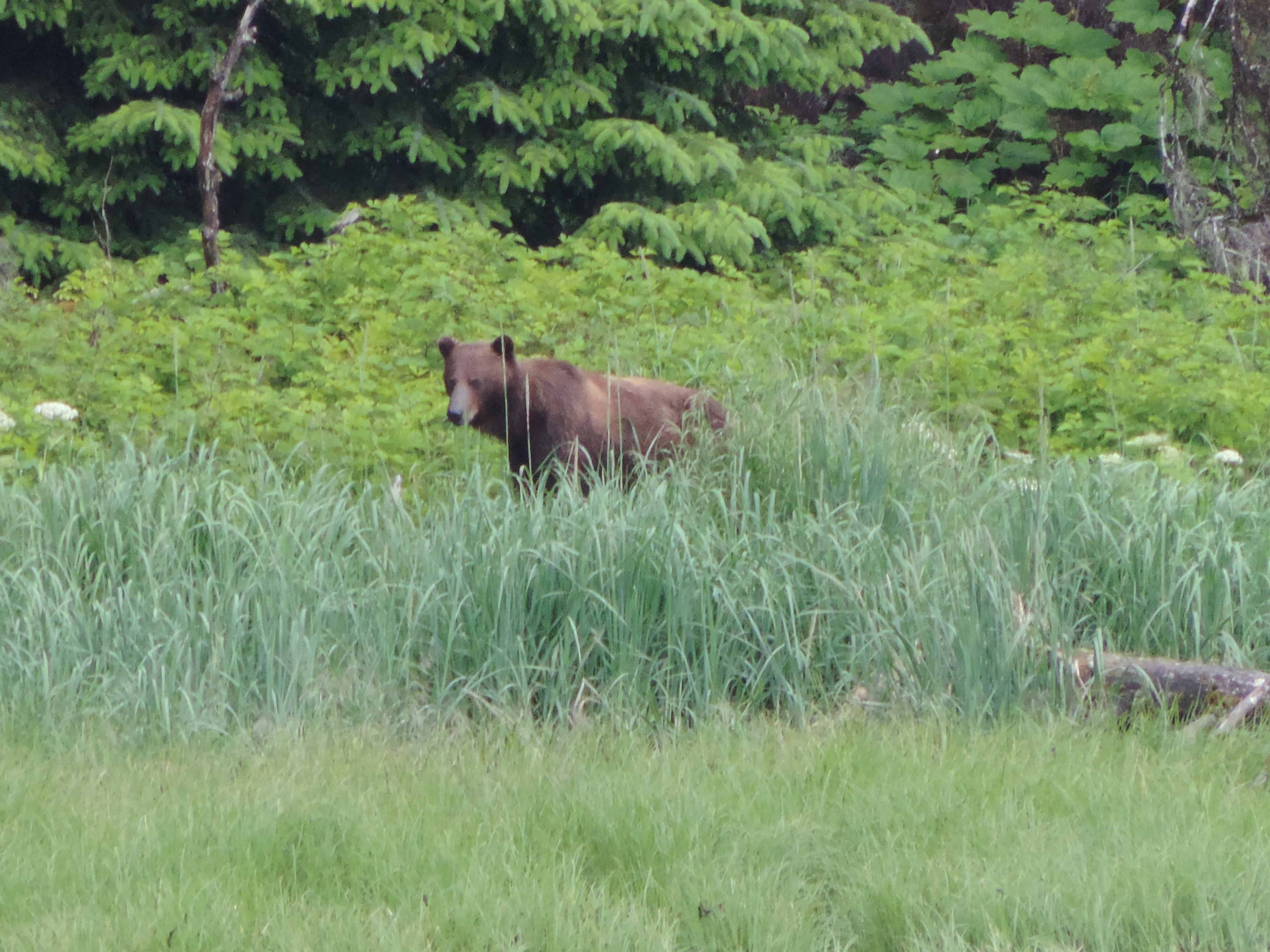 The following days were filled with more adventures and wildlife as we explored further north on our floating base camp. The sunshine did finally come out the last few days and we were so appreciative to see Alaska through a sunny perspective! Kayaking and hiking activities were both offered most days and I took advantage of each opportunity to step into an even closer Alaskan experience. A few highlights for me were traveling through Stephens Passage up to Endicott Arm where whales in Alaska graced us with their presence, passing by seals relaxing on floating icebergs as we approached the beautiful Dawes Glacier, wildflower and bird viewing, and kayaking in the bright green waters of Fords Terror. This last activity brought me so much happiness as the beauty of exploring this area (especially by kayak) was so awe-inspiring and peaceful. Fords Terror is a very steep and narrow fjord 60 miles southeast of Juneau within the Tracy Arm-Fords Terror Wilderness. John Muir once described this area with the following words: "We found ourselves on a smooth mirror reach between granite walls of the very wildest and most exciting description, surpassing in some ways those of the far-famed Yosemite Valley." Once you see Fords Terror for yourself you would absolutely agree with him that this area is indeed like a gorgeous flooded Yosemite!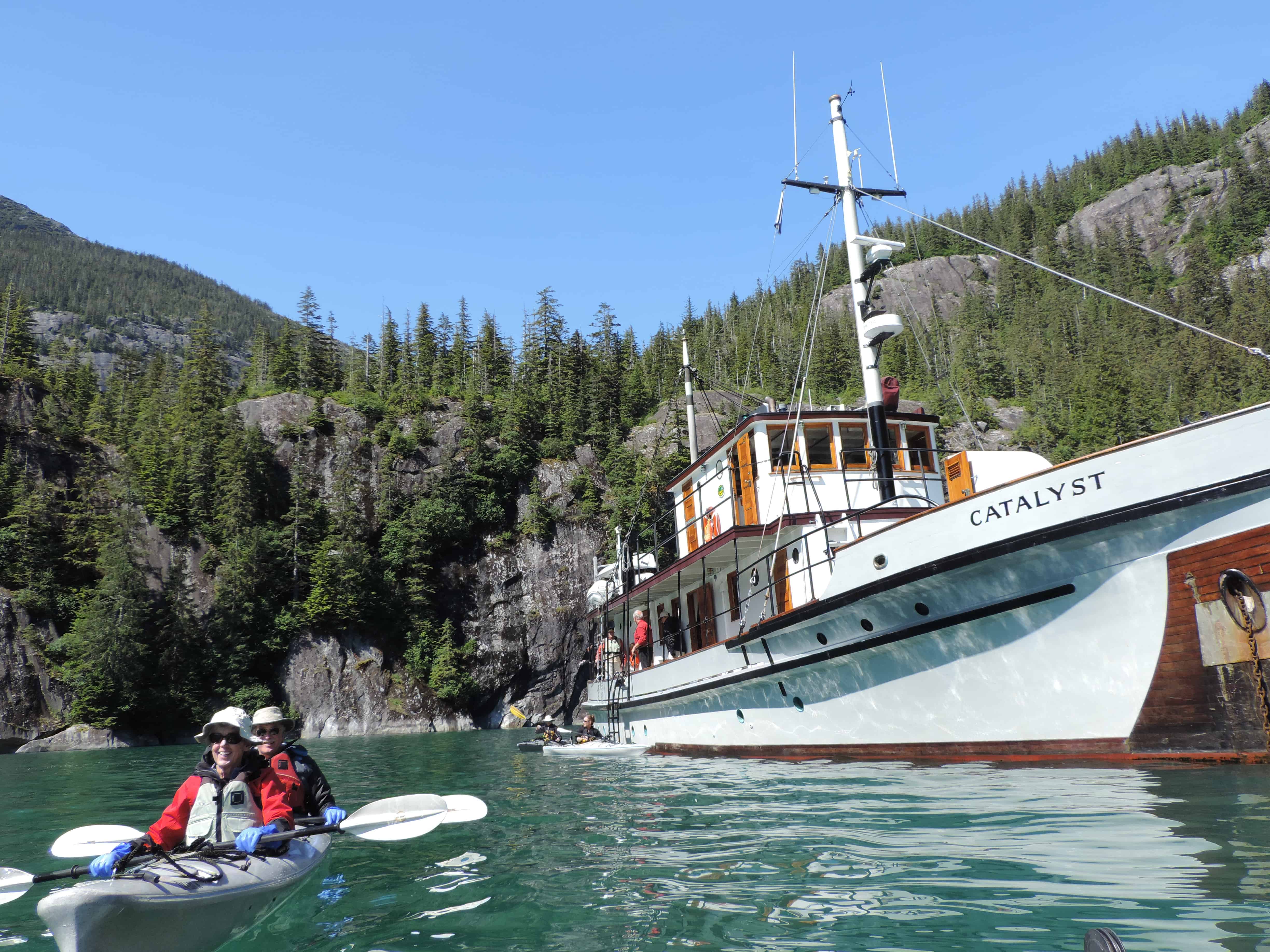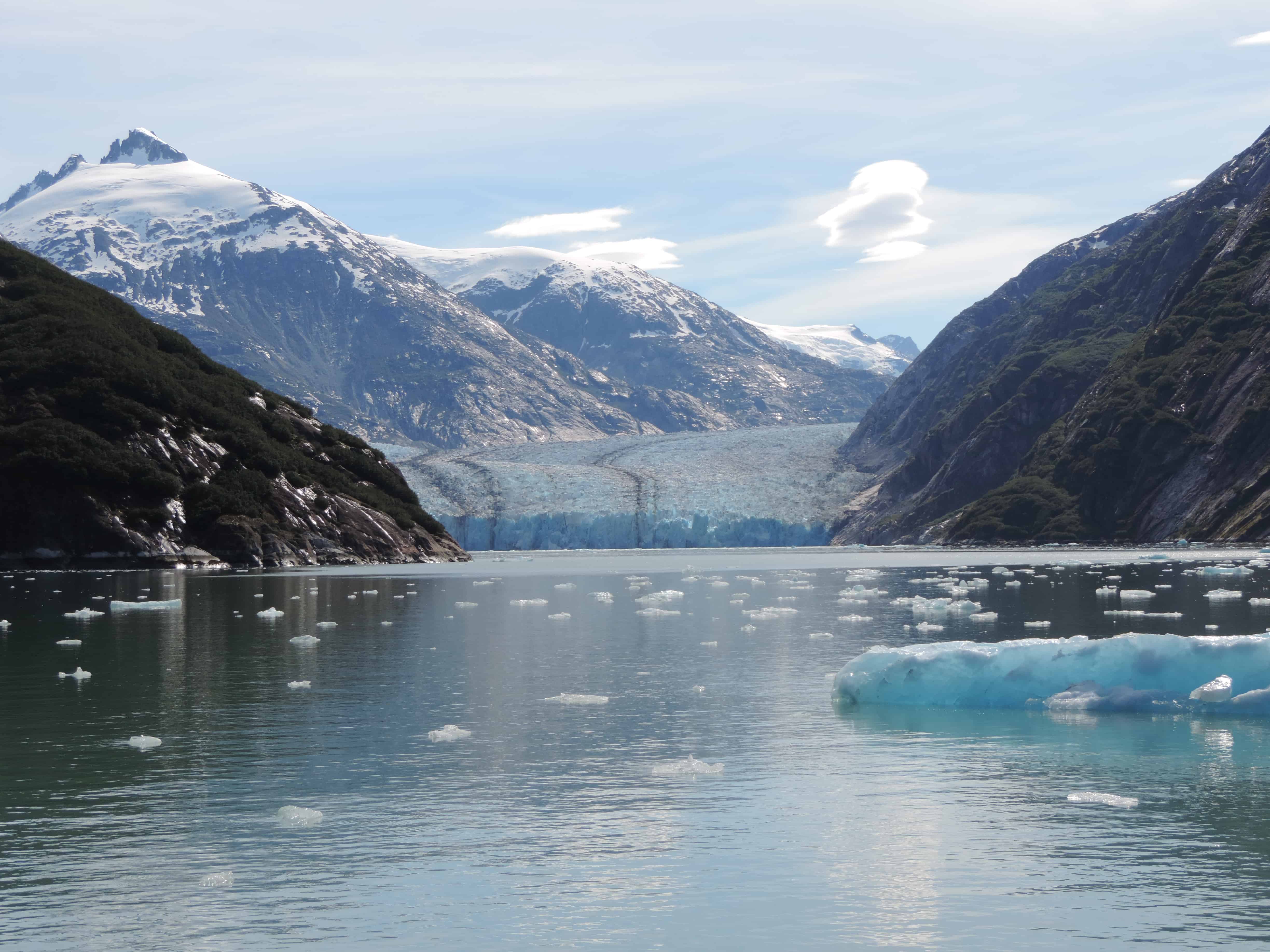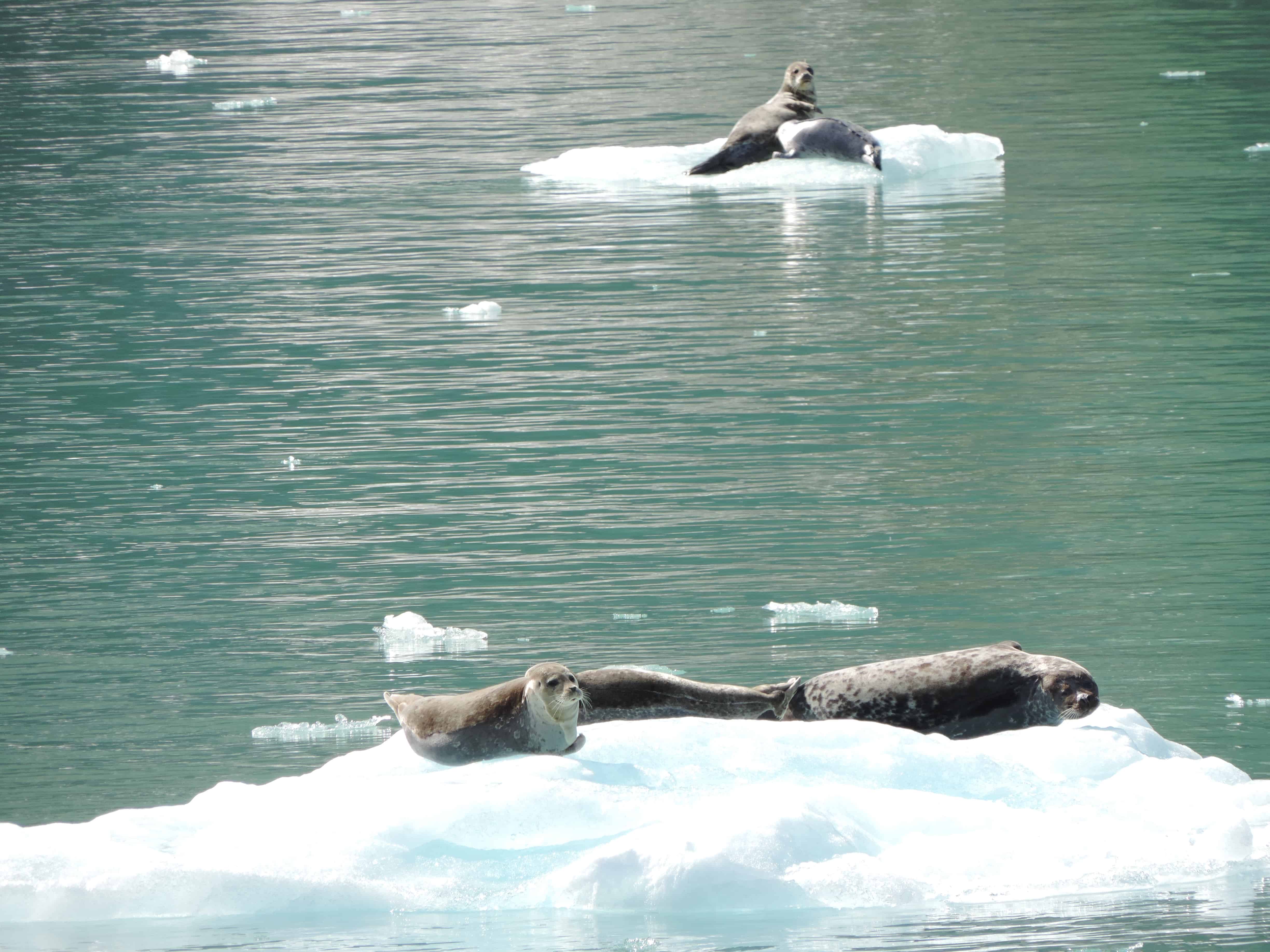 During all of our days we continued to get to know each other further and quickly realized the small intimate setting of the Catalyst really does select like minded people to come together for these Inside Passage journeys. Not everyone can share bathrooms (4 of the 6 cabins do not have private bathrooms) nor is there a large amount of shared living space. The crew shared with us that somehow the Catalyst does an amazing job of bringing together wonderful groups of similar people on every trip. We were grateful that we were yet another one of these groups! Guests that choose the Catalyst as their remote Southeast Alaska exploring vessel are drawn in by her 82 years of history, her beautifully restored warm interior and her original 1932 Washington Diesel engine. A highlight for most guests was a tour of the engine room where the engineer Barry showed us how he keeps the engine running by oiling her every two hours!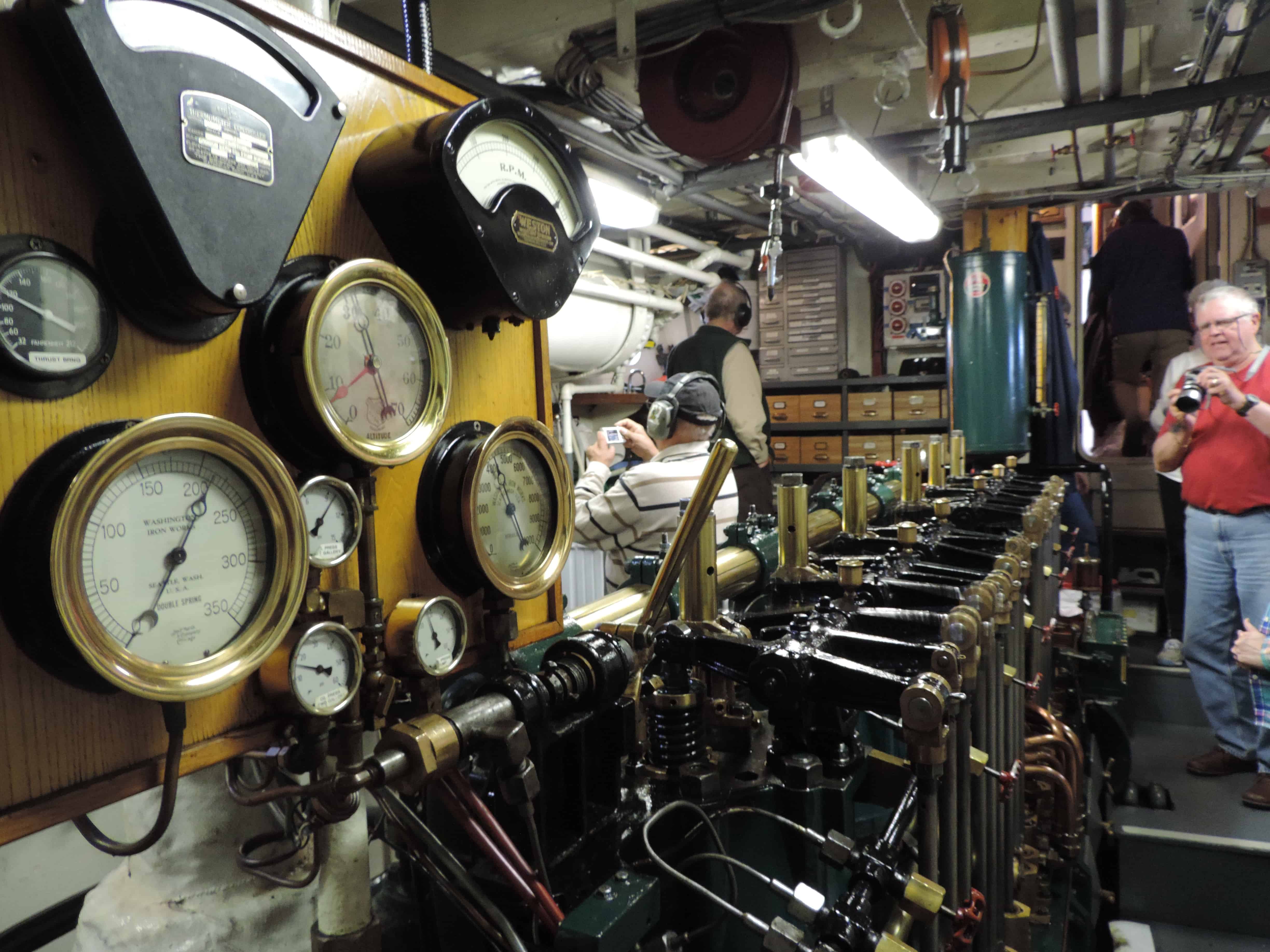 As the trip came to end we had a wonderful farewell dinner on the last night with delicious homemade sushi. Following dinner we brought the trip to a close with a wonderful speech given by Roger (one of the guests) and a great photo slideshow highlighting our 7 day adventure together. On our last morning, humpback whales decided to give us a close up grand finale show and we all gathered on the bow of the ship so grateful for this adventure we all shared together as a family. As we disembarked in Juneau, with our little wooden Catalyst home docked alongside gigantic cruise ships, we all looked at each other to say farewell (with a few tears in some passenger's eyes ). We then said a heartfelt goodbye all knowing we had chosen the right vessel for our Southeast Alaska journey and that she had specifically chosen all of us to experience and enjoy it together.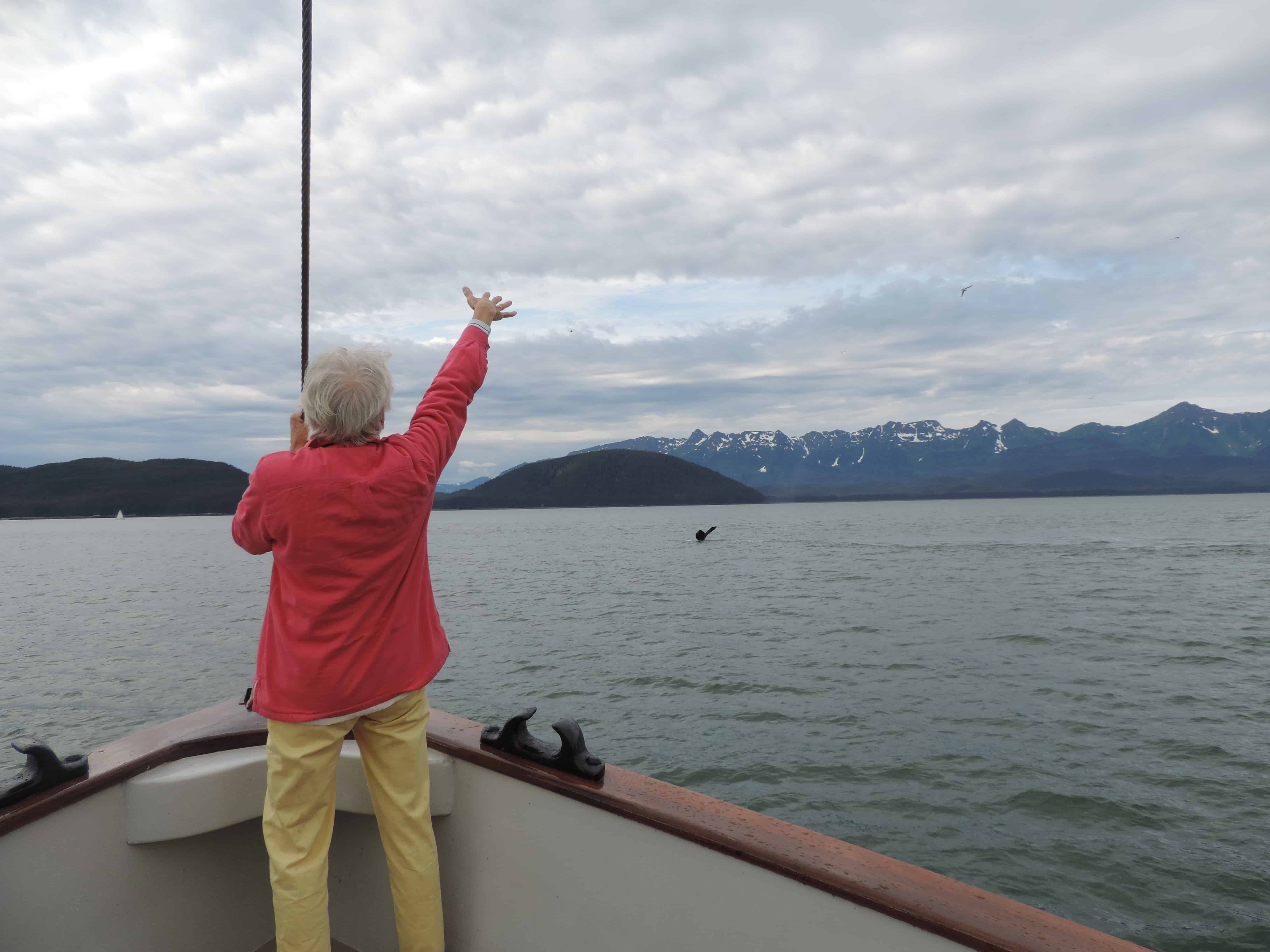 This Alaska small ship cruise review was written by an AdventureSmith Explorations crew member. The Pacific Catalyst, one of our small ships to Alaska, is on our curated list of Alaska yacht charters and is perfect for a full boat charter. Read all Cruise Reviews for more trip reports, or contact one of our Adventure Specialists to learn more about our Alaska trips and small ship Alaska cruises: 1-800-728-2875.