What's the best way to travel to Alaska? Our number-one tip is to go by small ship, but read on for 5 more ways to ensure you get the best experience visiting for the first time, or returning for more.
We've had travelers come to AdventureSmith Explorations after being aboard a big cruise ship in Alaska saying that they want to return to really experience Alaska. There's so much more to Alaska than just seeing it from a ship deck in passing, and that's where we come in. Our team sends hundreds of well-prepared travelers to Alaska each year, and with my background as a guide and our crew continuing to travel to Alaska each season, we've become the go-to resource for sustainable, authentic Alaska travel that takes you off the beaten path—by land and by sea.
With our collective insight, we've come up with this list of six expert tips to help you plan the best Alaska trip. Whether you're returning for more travels, or seeking to do it right the first time, follow our advice and you can't go wrong.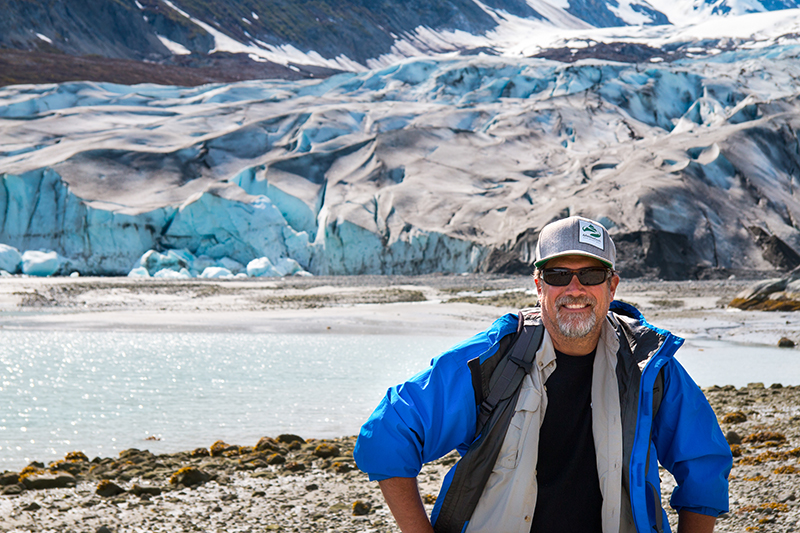 Connect With an Alaska Specialist
You have questions. We have answers.
1) Choose a Small Ship Cruise
Alaska is a place you must experience by sea. Some of the state's most iconic features (glaciers, fjords and whales in Alaska) are best accessed by ship, and many towns are only accessible by ship—for example, the Inside Passage's many island- or mountain-bound towns. Thus, many people choose to cruise the region. What the average traveler doesn't realize is that the cruise experience can be shortchanged by the wrong ship or itinerary for your interests.
Most travelers do not go to Alaska for midnight buffets and crowded port towns filled with tchotchkes; they go to be immersed in the environment.
For instance, big ships have been known to cruise some 700 nautical miles in one day—while small ship Alaska cruises take a week to sail such a stretch. Larger cruise ships can also only peek into the inlets and small bays where small ships sail deep into to make their secluded anchorages. Most travelers do not go to Alaska for midnight buffets and crowded port towns filled with tchotchkes; they go to be immersed in the environment. Small ships (up to 100 guests) provide this in spades, with most of your travel time spent off the ship in remote areas, exploring by guided hikes and kayaking. If getting away from the crowds and truly seeing Alaska in an active, immersive way is the experience you seek, you simply must choose a small ship cruise.
I love what some of our past passengers wrote in their Journey of the Sea Wolf travel journal about their Glacier Bay cruise aboard the 12-guest Sea Wolf: "We saw the large cruise vessels poke their noses in the general direction of some of the Bay's treasures. But at no time did any of us wish we were anywhere but with the crew of the Sea Wolf."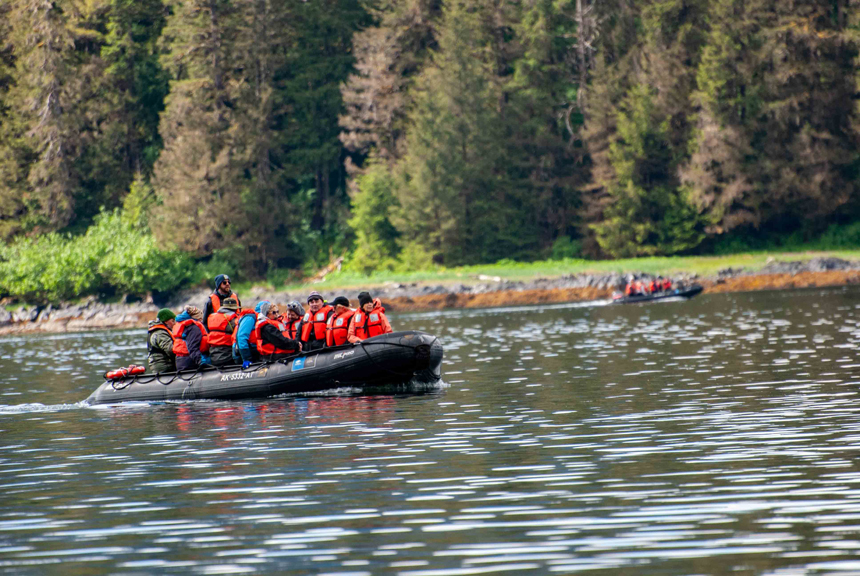 2) Consider Your Small Ship Size
Cruise ships can vary between size and feel, especially in Alaska where there are owner-operated vessels like the 12-guest Sea Wolf, brand-new expedition vessels with all the latest tools and amenities like the 100-guest National Geographic Venture and many passenger counts in between such as the 36-passenger Safari Explorer. Various sizes offer unique opportunities for exploration and connection.
Smaller guest counts share intimate dining and exploring options to offer everyone on the ship the same, cohesive experience, however they can offer cozy communal space and tight cabins. Larger passenger counts share more decks and landscape viewing areas, more varied guides and guest hosts, and may have fitness centers, hot tubs and more spacious cabins. But browse our list of Alaska luxury cruises and you will find the best of both worlds.
Finding the perfect ship for every traveler's unique needs is AdventureSmith's mission, with every Adventure Specialist spending time exploring Alaska via small ship to learn the differences. Read our Alaska Trip Reviews, browse our Small Ship vs. Big Ship primer, or just contact us—our team can personally help you determine how small you want to go.
View All Alaska Ships
See the full list of ships cruising in Alaska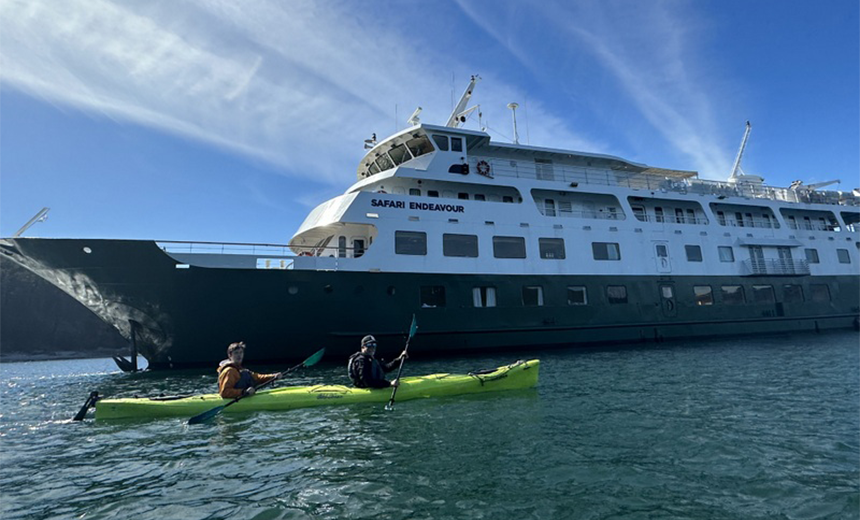 3) Think Outside the Boat – In Any Weather
If you choose a small ship, it's a given you're going to spend a lot of time off the boat. At AdventureSmith, we encourage our travelers to "Think Outside the Boat" to be best prepared for their trip. Small ships are set up to include many activity options for various physical levels and interests to get you off the ship to explore the wonders of the local areas. Options include everything from daily hikes and inflatable skiff rides to guided kayak tours, stand-up paddleboarding and even snorkeling (with a thick wetsuit provided) on select expedition ships.
Oftentimes the weather changes fast in Alaska, so those who are ready to experience the varied weather are often treated to beautiful moments like rainbows, sunbows and fast-moving fog.
The key to enjoying this off-ship adventure in Alaska is that you can't be afraid of a little fog and rain. The likelihood of rain on your trip to Alaska at any time in the sailing season is high (you're in a temperate rainforest after all), but that doesn't have to be a bad thing. It's truly fun to experience the elements of Alaska, as long as you are ready for it (hint: read our Alaska climate guide). The more prepared you are mentally and physically, the more enjoyment you will have. A good waterproof rain jacket, rain pants, the commonly provided "Alaskan tennis shoe" (muck boots) and of course a good attitude can make grey days no big deal. Oftentimes the weather changes fast in Alaska, so those who are ready to experience the varied weather are often treated to beautiful moments like rainbows, sunbows and fast-moving fog. Larger Alaska expedition ships (those in the 40-100 guest range) often have hot tubs on the deck where you can watch the fog lift and the skies clear.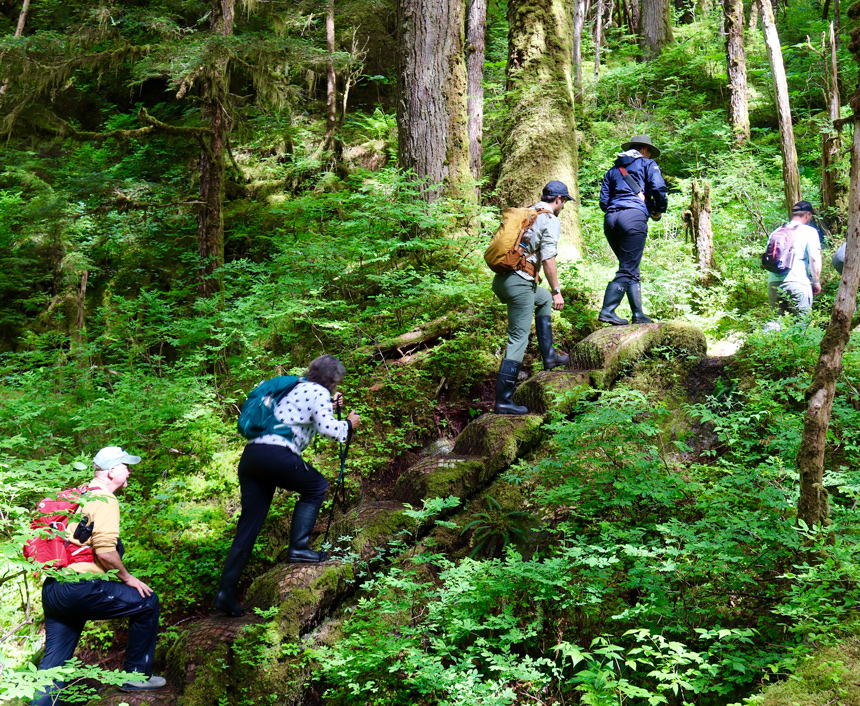 4) Take a Moment to Enjoy the Solitude
Something many travelers crave, but don't always pinpoint, is their need for remoteness and solitude. Alaska is the perfect destination to unplug as it offers vast expanses of wilderness. It's not a place to be among the crowds, so ensure your travel itinerary offers opportunities for solitude.
When I was working as an expedition leader in Alaska, I would always ask my guests to sit in silence for a few minutes when out hiking on a trail. At the end of the trip, many remarked this time experiencing the vast Alaskan solitude was one of the most powerful experiences of their whole trip. While enjoying the silence is something any Alaska traveler can include on their trip, guided or not, small ship cruises create daily opportunities for this, as well as nights anchored in dark, silent coves instead of crowded ports.
If you choose to travel by land, seek solitude by skipping the well-trodden hotel route and stay at a place that shows you remote Alaska at its best. Staying at a wilderness lodge deep in the mountains, out on a remote coast or at the base of Denali offers up-close interaction with the landscape and wildlife, and more chances to take in the views—from your room's windows or perhaps even your own porch. View all of our Alaska land tours, curated by our team to deliver such an experience, or learn more in our How to Visit Denali National Park guide.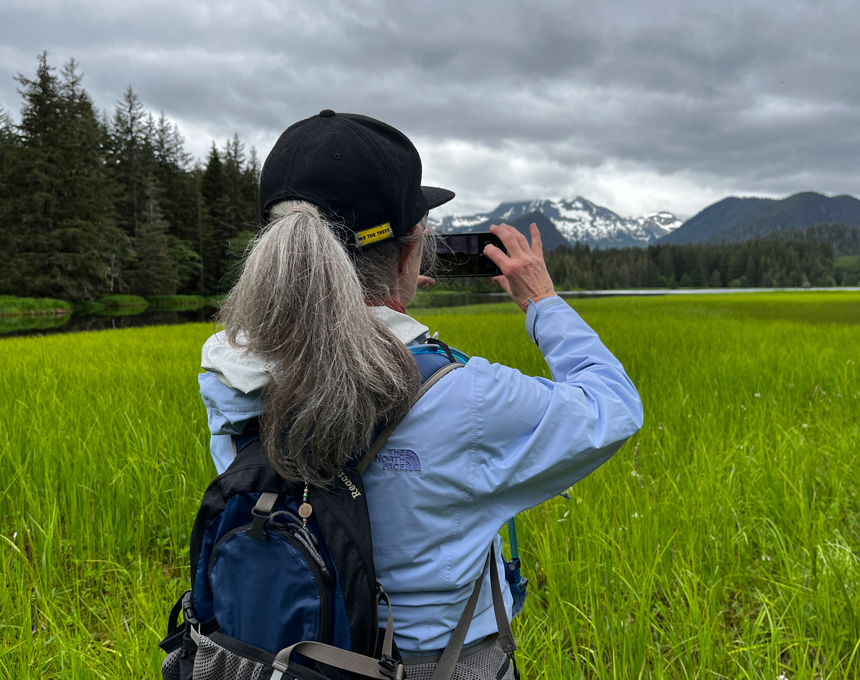 5) Relax, You Will See Wildlife
Many travelers heading to Alaska have big name bucket-list wildlife that they want to see, which is great, but so often we can get stuck on seeing one or two big things and then end up disappointed that it didn't happen. This can then dim down all the other incredible wildlife sightings that happen almost constantly while sailing through Alaska on a small ship. People are amazed by coastal Alaska and the diversity of wildlife on land and in the water. Many think Alaska's all Arctic icescapes and are then astonished it's so rich and full of life. They can be taken aback with the amount of wildlife seen.
Let go of your expectations and enjoy each of the surprising moments to get the most out of your trip.
Let go of your expectations and enjoy each of the surprising moments to get the most out of your trip. The likelihood of seeing the wildlife you are looking for is high, but if your big-ticket item doesn't happen, think of it as a perfect opportunity to return.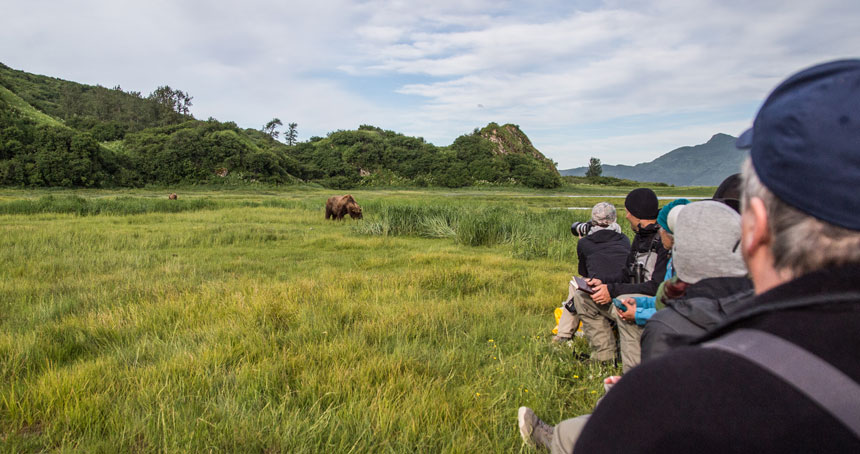 6) Don't Keep the Great Land to Yourself
Alaska is a place you will make memories to last a lifetime. Make it better by experiencing this epic destination with friends and family. Travelers can greatly benefit from reduced rates generated by a group. Some ships offer savings for a certain number of travelers booking together, and for smaller vessels, your group can save significantly by chartering the whole ship to design your own experience. Learn more about the best Alaska cruises for families and Alaska charters to bring the whole gang!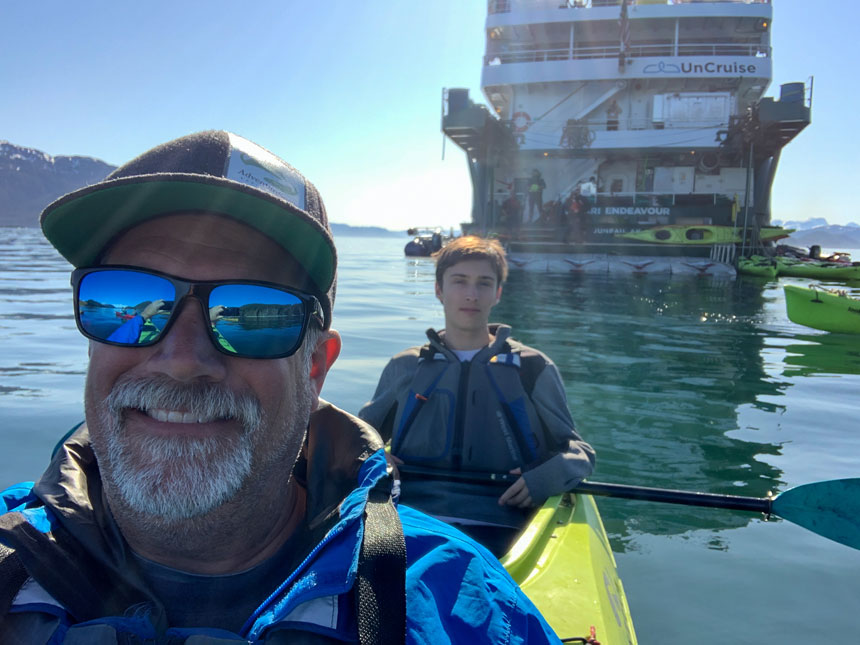 Ask Us About Alaska
1-on-1 consultation.
Start planning today.
MORE ALASKA RESOURCES:
Alaska Trips
Alaska Trip Reviews
Best Time to Visit Alaska
Alaska Travel Guide
Alaska Small Ship Cruises
Small Alaskan Cruise Lines
Glacier Bay Cruises & Tours
Alaska Inside Passage Cruises
Alaska Whale Watching Cruises
Alaska Yacht Charters
Luxury Alaska Cruises
Alaska Family Cruises
Alaska Cruise Deals
Alaska Tours
Visiting Denali National Park
Alaska National Park Tours

This blog detailing the best ways to travel to Alaska is among AdventureSmith Explorations' extensive travel guides found on the AdventureSmith Travel Blog. While originally published in 2018, our team of experts has since updated this post to reflect any new trips and tips from our continued experience. Visit our collection of Alaska Travel Guides for even more resources to plan your Alaska trip.