Adventuresmith Founder and President Todd Smith reviews his Alaska's Eastern Passages cruise. Learn how slow travel allows one to experience more of authentic Alaska and get inspired for your upcoming adventure. His experience is applicable to both the historic 11-guest Catalyst and 8-guest Westward.
A Catalyst or Westward Alaska small ship cruise is an invitation to slow down and experience the pulse and rhythms of tides, wildlife, nature and solitude. The original diesel engines must be oiled every two hours to operate smoothly. It's a sight to behold. Like most things about a cruise aboard the Catalyst or Westward, the engine forces one to slow down and take the time to do things right.
Everything about a Westward or Catalyst cruise—from the ship itself, the itinerary, the food, the captain, naturalist and crew—grounds you in your surroundings in meaningful and unexpected ways. Like slow food or slow travel, (in this case) slow cruising is an approach which aims to emphasize connection with your surroundings.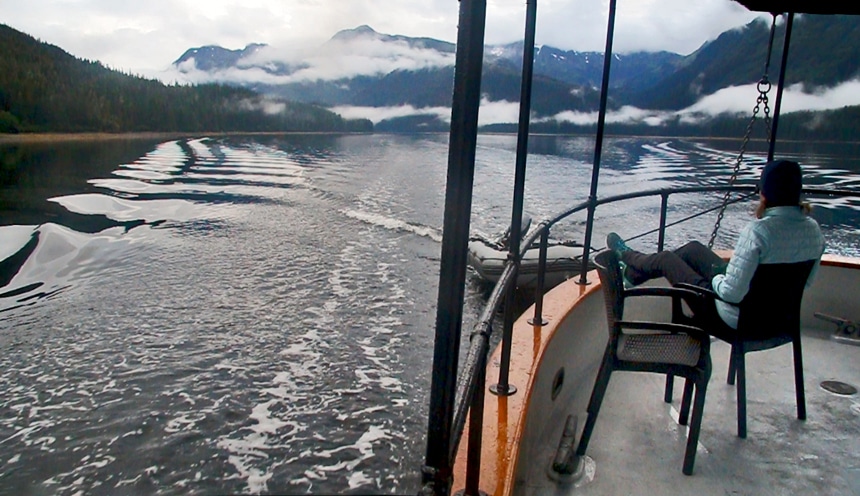 Slow Cruising At 8 Knots
As small ship cruises have evolved over the past 25 years the trend has been to do more in less time. Faster ships with more guides and more efficient means to get folks into the backcountry allow guests to see more sights, participate in more activities, learn more about nature, eat more food, etc. There are plenty of options for travelers looking for more, but a cruise aboard the Catalyst has caused me to rethink this strategy.
There is no sugar coating it, with a cruising speed of about 8 knots the Catalyst and Westward are slow boats. The average small ship cruises about 9-12 knots. With this in mind, the captain and crew of Catalyst and Westward must be purposeful when planning her itinerary, activities and the exact route each week, optimizing for tides, wildlife viewing and more. This pace is a feature, not a liability. Reminiscent of wilderness kayaking journeys or backpacking treks where the tempo is on a human scale, slowing down exposes one to details missed when moving faster. There is advantage to slowing down and exploring a region more deeply.
My cruise began with a tour of the historic 1932 diesel engine. A beautiful machine that must be hand oiled and started with pressured air, no electronics here. The engineer tinkered the oil can in precise locations around each piston describing the process that has taken place for generations. We inserted ear plugs and he started the roaring, beating heart of the boat. A unique way to begin a cruise and an indication of the attention to detail and loving care it takes to deliver a slow cruise.
Naturalist-Guided Forays Into Remote Wilderness
Off-vessel activities are included and expected. Each day may involve one or two activities including hiking, kayaking or exploration by Zodiac. The easy-paced activities are designed to experience, explore and enhance one's understanding of the landscape. These are not bag-the-peak, work-up-a-sweat-type adventures but naturalist-guided forays into remote wilderness. Activities are not required, and some folks do stay on board occasionally, but to miss an excursion is to miss an integral part of the experience. Of course, chilling on deck alone with a book can be part of the experience too.
Our activities ranged from 90 minutes to over two hours. The terrain on hikes varied from bushwhacking through verdant temperate rainforest, to easy shore walks, to careful footing on rocky glaciated landscapes and even a well-maintained trail. All activities, including the kayaking, were naturalist guided with plenty of stops for discussion and learning. Activities were interspersed with stretches of wildlife watching, glacier visits, whale encounters and cruising to the next destination.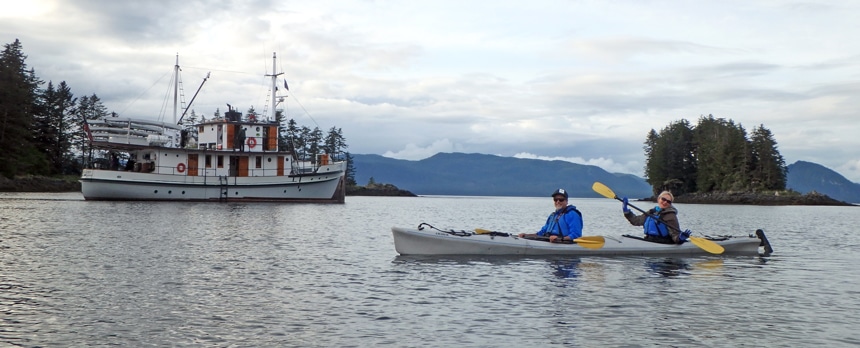 Experiences Achieved With Slow Travel
Endicott Arm Up Close
We spent over two days in the 28-mile-long Endicott Arm. Big cruise ship travelers booking a day cruise aboard a high-speed catamaran will traverse the same distance in two hours. We hiked among verdant old growth forest, paddled among towering waterfalls cascading thousands of feet over shear granite walls and walked near a salmon stream teeming with life. We viewed bears foraging the rocky shore at low tide, cruised among ghostly blue icebergs and sat off the face of the glacier watching and listening for the white thunder of icebergs calving into the sea. Sometimes one simply needs to arrive and wait for nature to present herself to experience the true Alaska—it doesn't always adhere to a fast-moving schedule.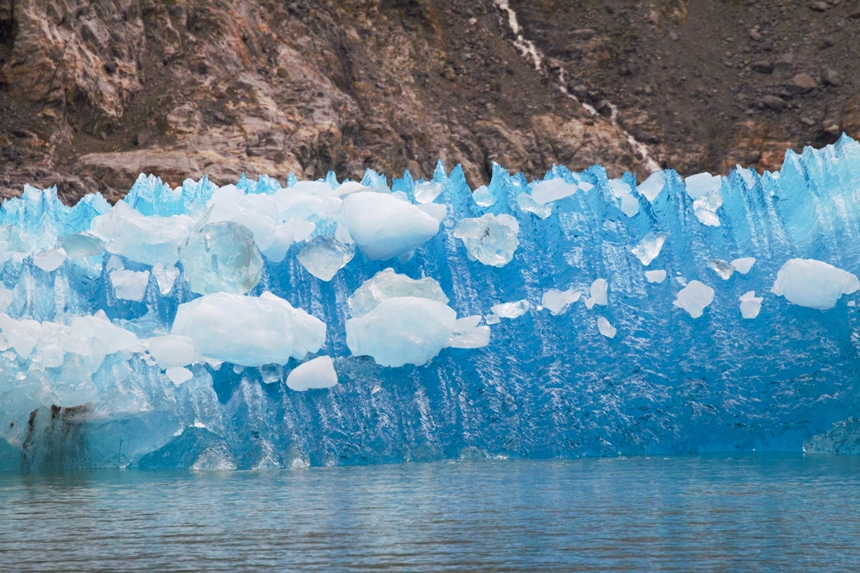 Pack Creek: Bear Viewing On Admiralty Island By Boat (Vs Airplane)
Arriving at Pack Creek on Admiralty Island at high tide, one might be disappointed. The creek itself is flooded by the tide, spreading out returning salmon and making fishing more challenging for resident brown bears. But with a flexible itinerary and an overnight anchorage nearby, the Catalyst can take her time. Most travelers arrive to Pack Creek by floatplane from Juneau and have a rigid schedule to keep.
Rather than rush to the bear observation area we spent nearly two hours walking through temperate rainforest. We paused often to learn about and photograph vibrant mosses, colorful fungi and towering old growth trees. The observation tower at the end of the trail was not our destination, but a waypoint on a journey.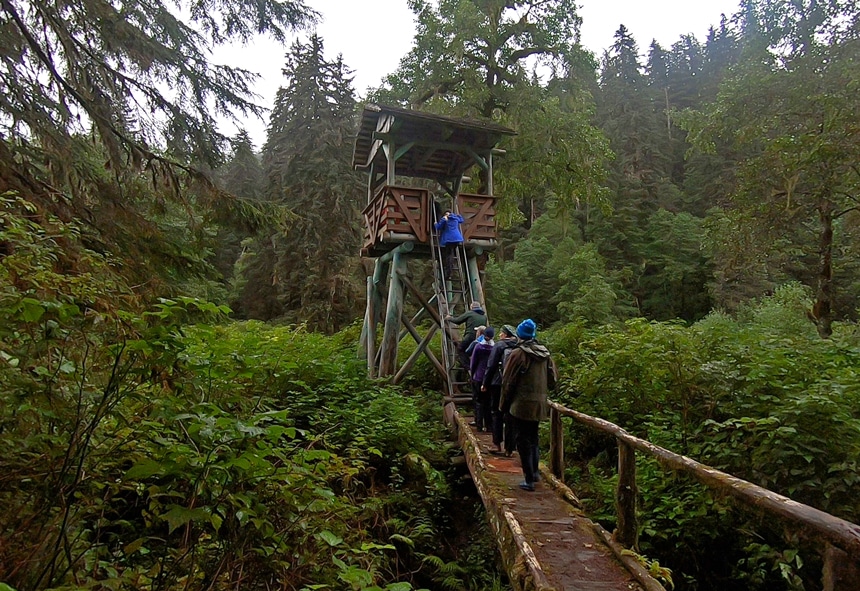 We returned to a shoreline and observation area transformed by the outgoing tide. Our tiny landing beach now stretched for half a mile to the sea. The creek was well defined and concentrated full of salmon. The bears noticed too. We spent the next hour watching three bruins fishing for salmon, ambling among the grass, or sitting like a dog in the tidal flats waiting for the next meal. A Forest Service ranger with a spotting scope answered questions. As the last visitors of the day, with no plane to catch back to Juneau, we lingered as long as we wished. Eventually we would follow the tide out, back to the waiting Catalyst.
Cruising to our nearby anchorage we found another salmon stream thick with fish and no fewer than 18 bears spread among its alluvial fan. Several mothers with cubs, large adults and juveniles were all fishing, pouncing, sleeping and eating. It was so quiet on deck we could hear them huffing and grunting, splashing and breathing. Most other boats would be racing toward their next destination but the Catalyst, with her slower pace, was in tune with the tides and the bears of Admiralty Island.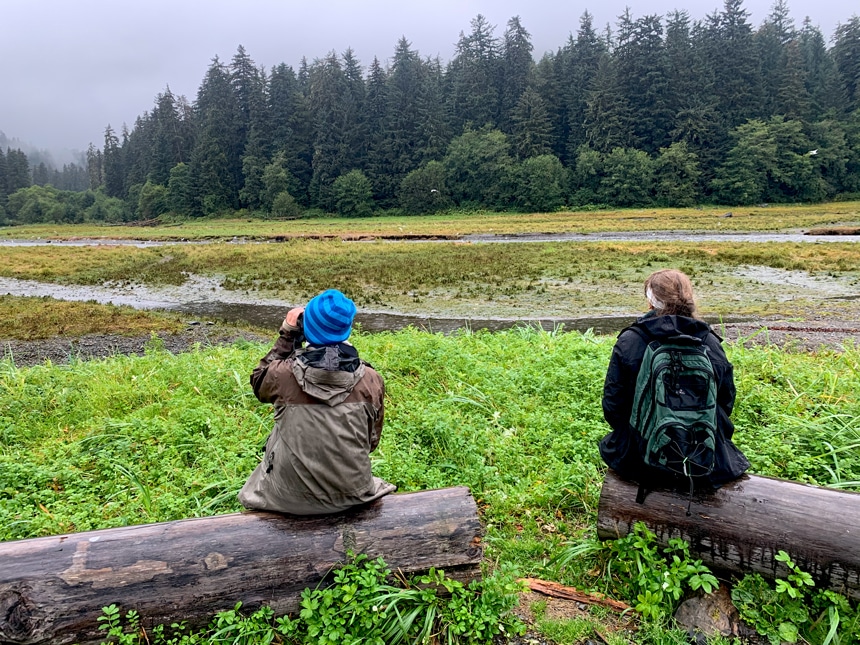 Curious Humpback Whales
Humpback whales are frequently encountered in Alaska and any small ship cruise allows enough flexibility to stop and watch when they are encountered. Like so many things aboard the Catalyst, whale watching seemed to reward patience. Throughout a ten-mile stretch of coast we began to encounter individuals, then dozens, then scores, then over one hundred humpback whales. The Captain would pause the boat when larger groups were encountered, stopping the engine, and floating in the seemingly perfect place for up-close encounters.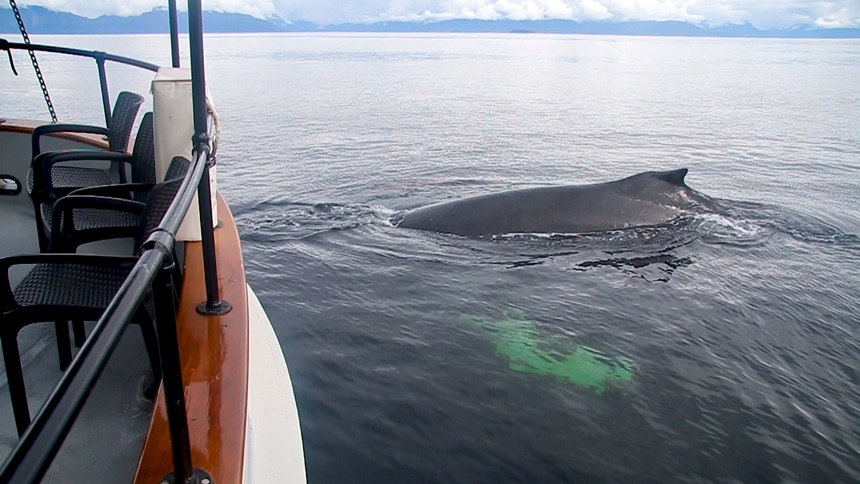 Eventually it seemed we were floating more than we were navigating and the experience climaxed with a group of 20+ whales coming right at the boat, swimming under the stern before departing the other side. During this encounter one curious whale stopped, turned and spy hopped within feet of our deck. It looked us directly in the eye and we could see its enormous body and flippers underwater. Above the surface as it raised its head for a better look. You can watch the footage of this specific encounter on our YouTube channel.
Was there something about the boat and her slow approach, the low rumble of her engine, that allowed this interaction to occur? I cannot say for sure but in a lifetime of Alaska small ship cruises I never had an encounter quite like this.
Slow Cuisine On Board
The cuisine aboard Catalyst and Westward is exceptional and rivals the quality and menu of ships 100 times their size. Embodying the slow food movement, everything is locally sourced and hand made from scratch. The chef it seemed was always the first up in the morning and the last to bed at night. The open galley became a focal point of conversation and participation. A rooftop garden provided fresh herbs and garnish for colorful, delicious dishes such as roasted coho salmon with saffron tomato brodo shrimp dumplings and halibut ceviche with smoked flank steak.
On our first full day, lunch was a dungeness crab feast rivaling any five-star west coast restaurant. It was delicious and among my favorite foods, but a whole crab with drawn butter, I pondered, seemed a bit much for a small boat luncheon. I later realized that we had a long run that day and the extended lunch served not only as a delicious meal but kept us occupied while the Catalyst navigated to our next location. Naturally, the Catalyst and her sister Westward serve slow food aboard a slow cruise.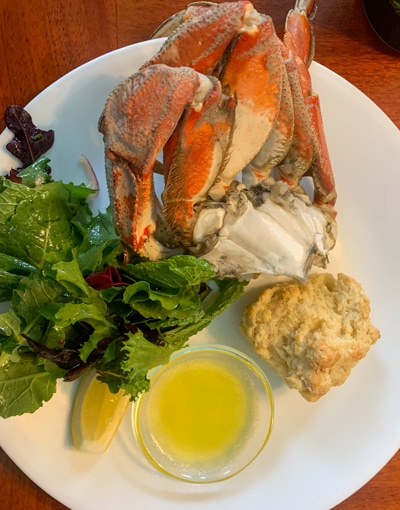 A Thoughtful Naturalist Program
The naturalist guides aboard Westward and Catalyst are the best in the business. With many years of experience, they are part guide, part educator, part cruise director and full-time host. The educational programs, while informal, rival any other small ships and will appeal to inquisitive travelers seeking to learn about the environment they encounter.
As a former naturalist guide, I appreciated my guide Sara's depth of knowledge, patience and demeanor. She struck the right balance of in-depth information—rattling off scientific names and illustrating complex relationships in an easy, thoughtful tone—but also letting Alaska speak for itself by knowing when to be silent and letting the experience take over.
There were no formal presentations. Instead, each evening a crew member would conduct a "chart talk" reviewing our experiences of the day, stimulating discussion and further inquiry into the nature, wildlife and processes we experienced. The chart talks also served to outline our plans for the next day, getting guests prepared and excited for what was to come. On the last night of the cruise, Sara had prepared a slideshow from images and videos contributed by guests and crew; a time-consuming exercise that everyone raucously enjoyed and again served to highlight the personal touch and in-depth connections between the Catalyst, her crew, the guests and the destination.
At the end of our trip, guests were presented with a species list of the hundreds of plants, animals and fungi that we encountered throughout our cruise. It is astounding that we experienced so much but also a testament to slow travel that Sara had catalogued all of our encounters.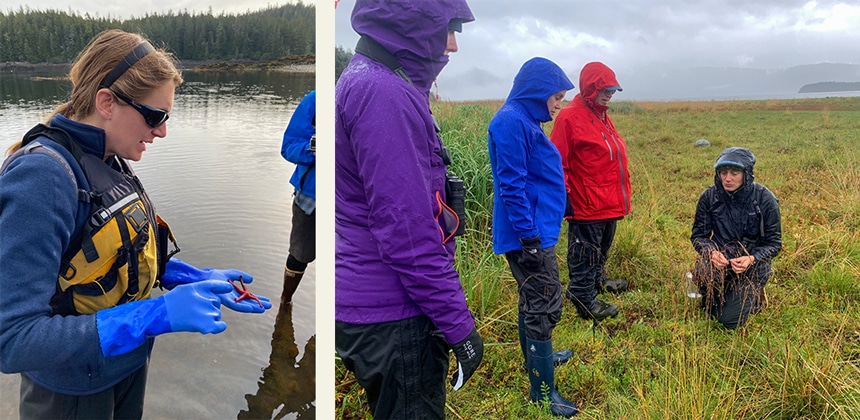 Safety & Intention Create Meaningful Encounters
A successful crew must have certain elements, first among them is knowledge. Even more than knowledge is the insight and experience to put that knowledge into practice. It is not enough to know where to go or how to read the weather. On a slow boat like the Catalyst and Westward, one must make judgements and timing that will drastically affect the overall experience. The captain and crew have decades of combined experience and apply this knowledge to make the most of every encounter and every voyage.
Safety and professionalism are paramount in remote locations. An effective crew will ensure the safety of guests without them even noticing. Consider the risk of anchoring in a shallow cove where the tides can change up to 30 feet; approaching a raging waterfall cascading down a steep-sided fjord, so guests can take selfies on the bow; navigating among icebergs and wildlife to get the best view of a glacier's face; stopping the engines (remember the engineer has to manually start the engine every time) in order to enhance whale encounters. These are all extremely complex maneuvers that subtly go unspoken among most guests yet contribute significantly to the overall experience.
Alaska As A Slow Travel Destination
Alaska is so big and there is so much to see, travelers often feel like they must see it all or check off a list of famous ports and landmarks. I will argue that authentic Alaska occurs between the ports and away from the roads and rails. It is the wilderness that calls and sometimes you need to slow down to hear it.
Alaska is the perfect destination for slow travel and slow cruising. It has more coastline than the lower 48 states combined. For most travelers it is not practical to paddle or backpack your way across the state to experience its wild lands. Aboard the Catalyst and Westward one can emulate this experience, encountering Alaska on her terms, in a way that reveals what so many others will miss.
The small moments. A whale exhaling in calm water. A bear grazing on shore. A moment on deck so quiet that the solitude creeps into your soul sending chills down your spine. This is the Alaska most people dream about when they consider a visit. This is the Alaska that the Westward and Catalyst deliver.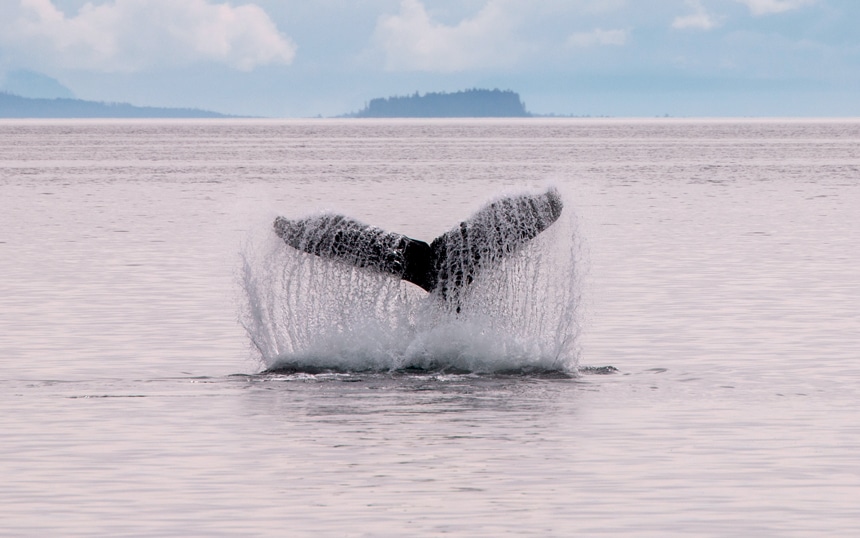 For more photos and videos from my Alaska cruise see my Alaska's Eastern Passages Facebook album. Keep reading for more firsthand insight on this trip and ship in my other articles, Expert Aboard Catalyst Yacht Review and I Took an Alaska Small Ship Cruise During COVID-19.
This cruise review was written by an AdventureSmith Explorations crew member. The Catalyst and Westward, both on our list of small ships to Alaska, are also on our curated list Alaska yacht charters and are perfect for a full-boat charter. Read all of our small ship Alaska cruise reviews for more detailed insights from our time aboard in Alaska, or contact one of our Adventure Specialists to learn more about charter cruises, small ship cruises and wilderness adventures. View all our Alaska trips or call 1-800-620-2875.