AdventureSmith Explorations Adventure Specialist Taylor Cranney reviews her Aria Amazon River Cruise aboard the 32-guest Aria Amazon. Read on for her expert Aria Amazon cruise review and photos.
In the heart of the lush and humid Peruvian rainforest, it's no secret that diverse flora and fauna are found around every corner. In fact the Amazon is so full of life, that new species are said to be discovered every other day. I traveled in May, at the end of what is the high-water season, and my experience was full of unique exploration, interesting animals and astounding greenery. What made my experience especially unique was traveling aboard the luxury Aria Amazon riverboat. To my delight, my Amazon experience would encapsulate all the classic jungle and wildlife the Amazon is known for, and from the comfort of a well-appointed luxury ship to be used as home base for the journey.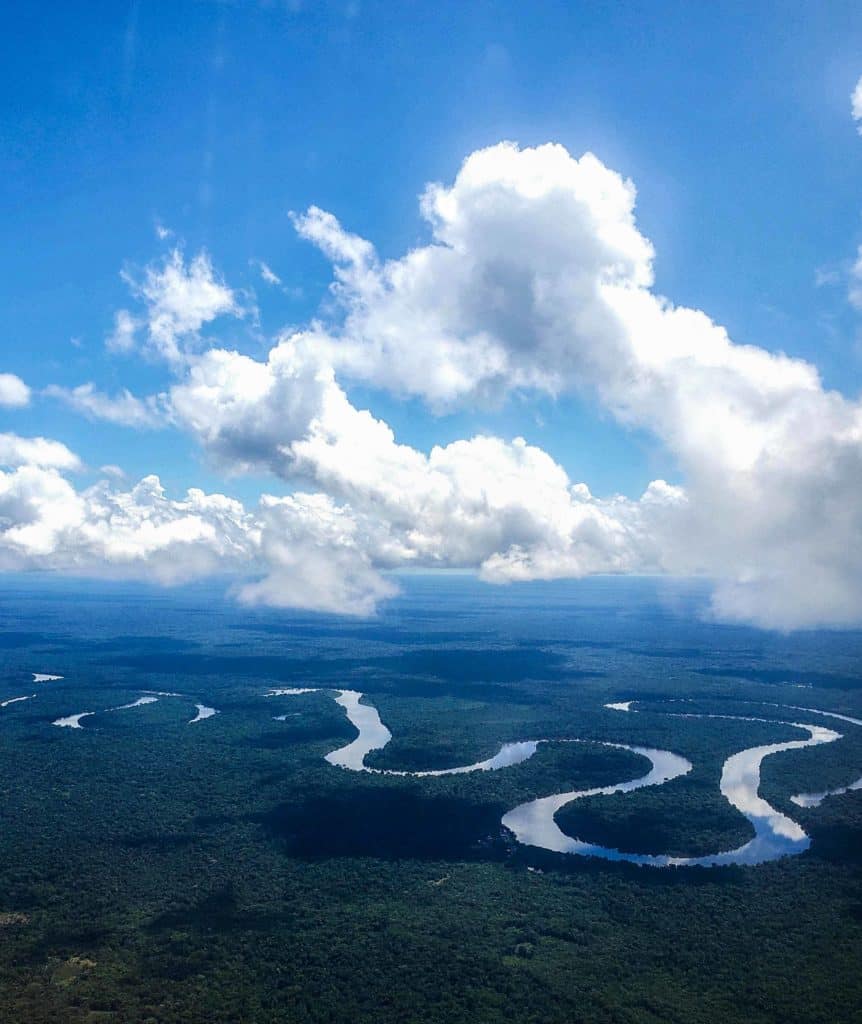 The Aria Amazon Experience: Vibe & Food
I made a short stopover in Lima en route to the Amazon, and I thought that it felt warm there compared to my mountain weather back home. But the second you step off the plane in Iquitos there is no doubt that you've officially entered the rainforest. You can feel the wall of humidity hit you with a quickness. Once off the plane, I located my group transfer: a clean new Mercedes van, painted a stylish gray finish with turquoise detailing. My drivers had a basket of fresh fruit, a cooler of crisp drinks and a bowl of local chocolates to satiate the cravings of their new arrivals.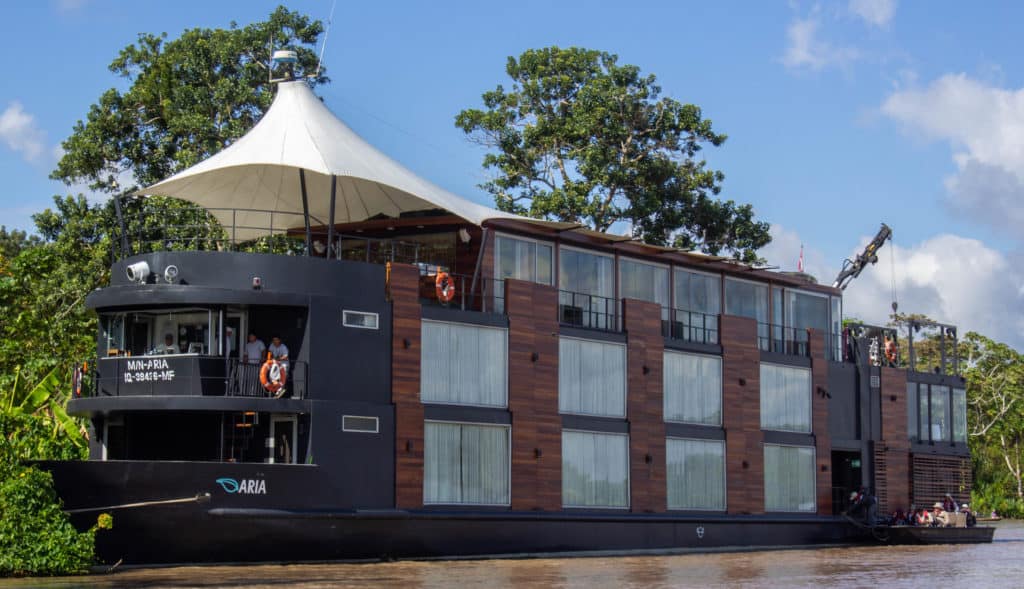 The superlative service continues as you arrive to the Aria Amazon's private dock in Nauta. This custom elevated platform is built with an outdoor grill and kitchen setup, showers and bathrooms. It has long family-style tables to enjoy your picnic lunch and comfortable couches to take a load off while you prepare for the next step of the trip. The picnic lunch served here is the first inkling of the family-style meals you will be enjoying on the rest of the trip. All mealtimes over the course of this trip offered a communal tapas-style dining experience, featuring small-portioned menu items carefully crafted by highly trained chefs. The entire food and drink menu of the Aria Amazon is prepared in advance by famed Chef Pedro Miguel Schiaffino, the "jungle chef," who incorporates an inventive application of local ingredients.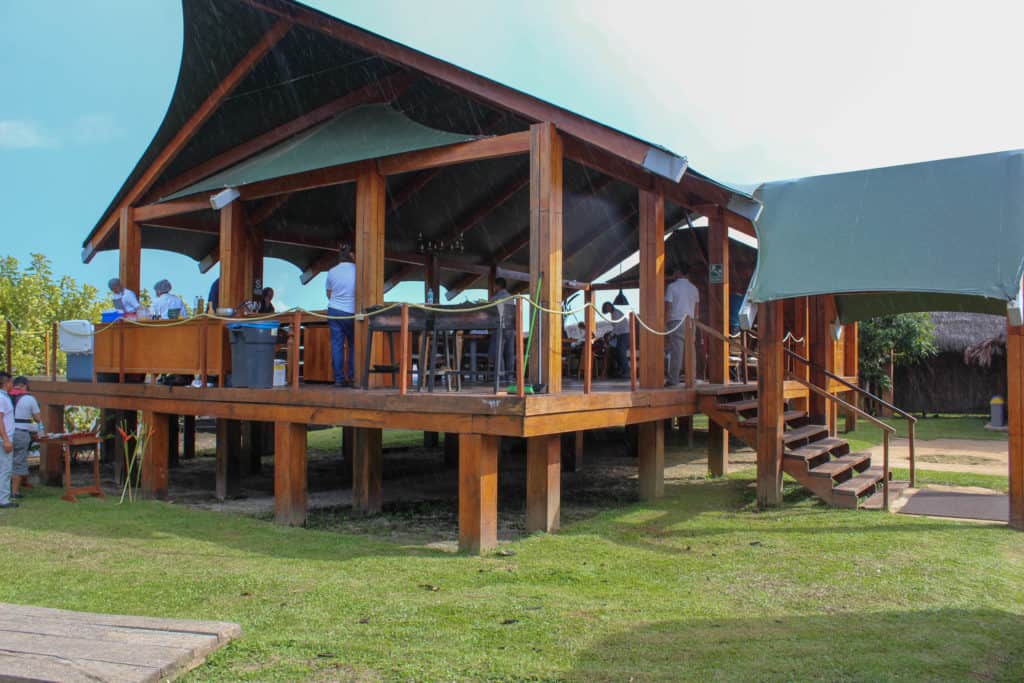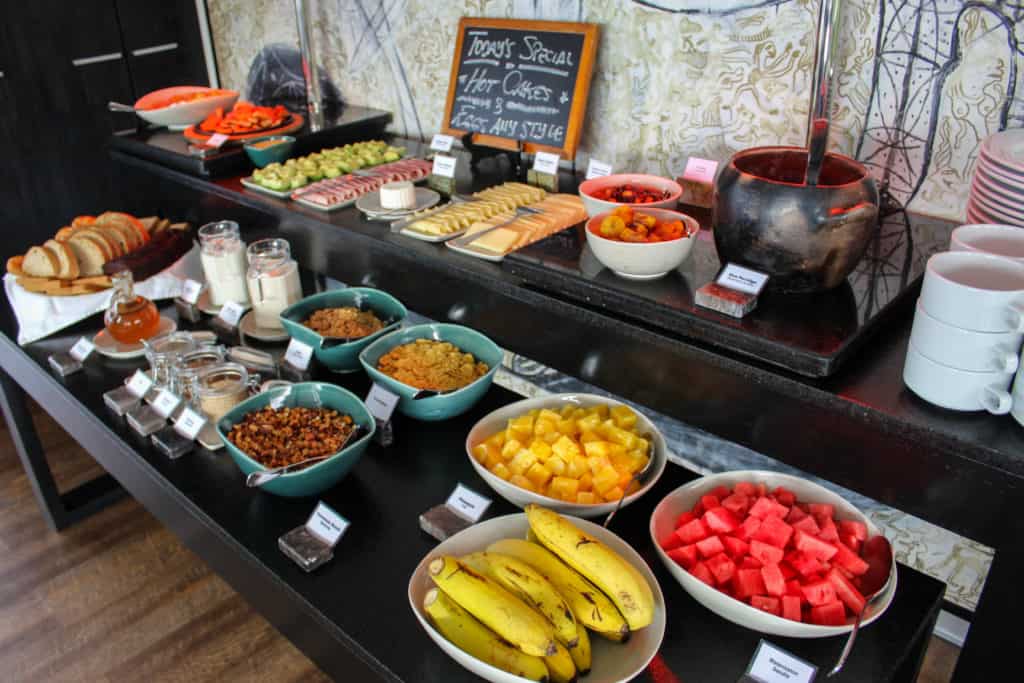 Breakfasts and lunches were typically buffet style, where you could find the familiar comfort dishes like fresh juices, cereals, breads, salads and the like. But there were also always new imaginative dishes to explore in case your taste buds were feeling playful. Some examples of these options are snake fruit muffins, humitas, eggs benedict with a cocona bearnaise sauce, pumpkin tortellini with sage butter, yucca gnocchi, or ''Patarashca" grilled catfish wrapped in bijao leaves. We did have one picnic lunch on our deepest day exploring into the jungle where the chefs brought ''Juane" for us to enjoy in one of the National Reserve buildings. Juane – traditionally made with rice, meat, olives, hard-boiled egg and spices – is wrapped with bijao leaves and then put to boil for about an hour and a half.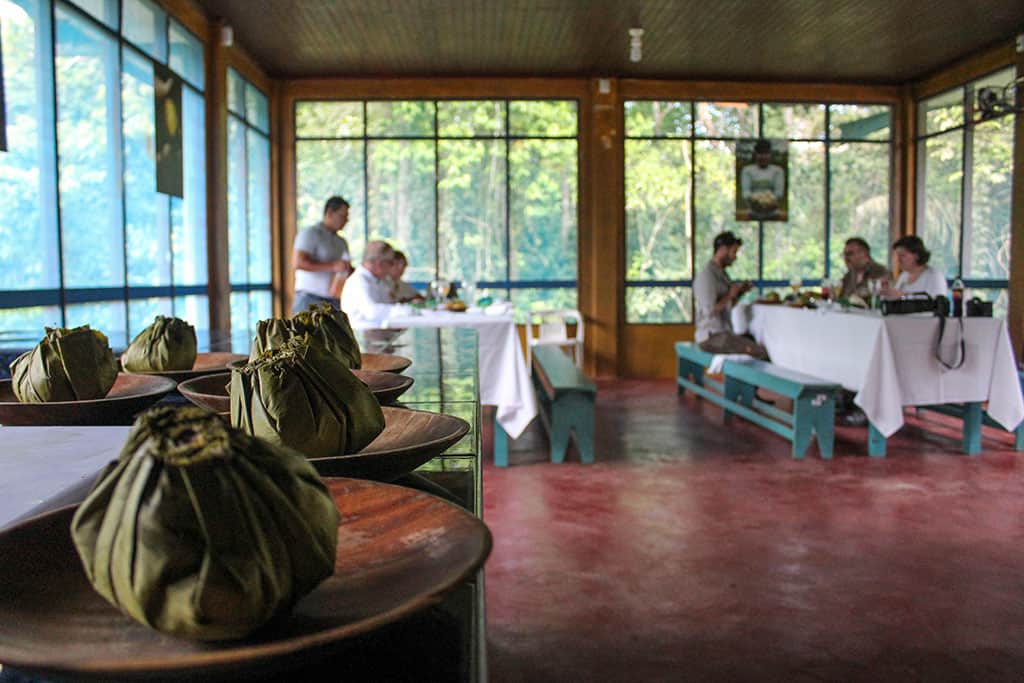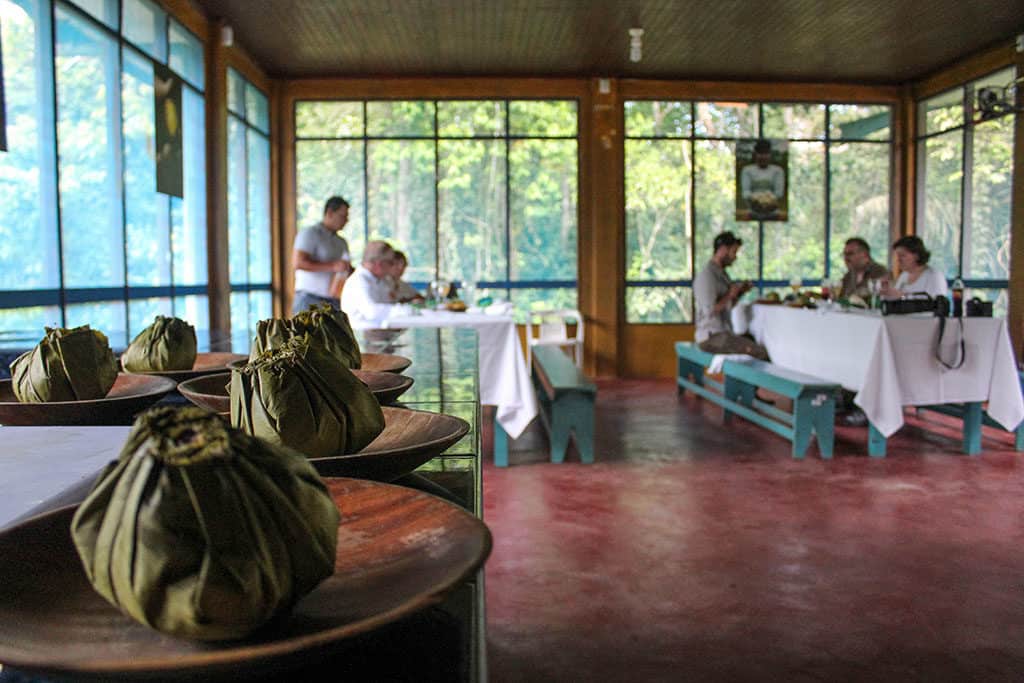 For dinner, we could choose to sit at a 2-, 4- or 6-top table, and the wait staff would bring out a multiple course meal of the same tapas-style share plates. There was no shortage of creativity in the menu combinations, and even though the bites were small, we always left full. There were always options to be enjoyed by those with a less adventurous palette. However, if you wanted to sample the local flare, there was much to choose from. Some examples of the more exotic dinner items you would find are carrots with sacha oregano and wild honey, grilled paiche with local sausage sauce and fire-roasted sweet chili, or a seared lamb tenderloin with cilantro sauce. And the imagination did not stop with dinner. For dessert you might find items like nutmeg and camu camu crème brulee, coca leaf alfajores or Brazilian nut toffee.
My Review of the Aria Amazon Riverboat
Upon approaching the Aria Amazon for the first time, it is obvious she has a unique modern aesthetic. Her matte black metal and rich wooden exterior highlight the elegant and stylish nature of the boat's interior. This vessel means business, and its business is to give you the most comfortable basecamp possible while exploring the wilds of the Amazon. The Aria Amazon is comprised of three decks, the first two of which hold all 16 identical cabins where guests stay.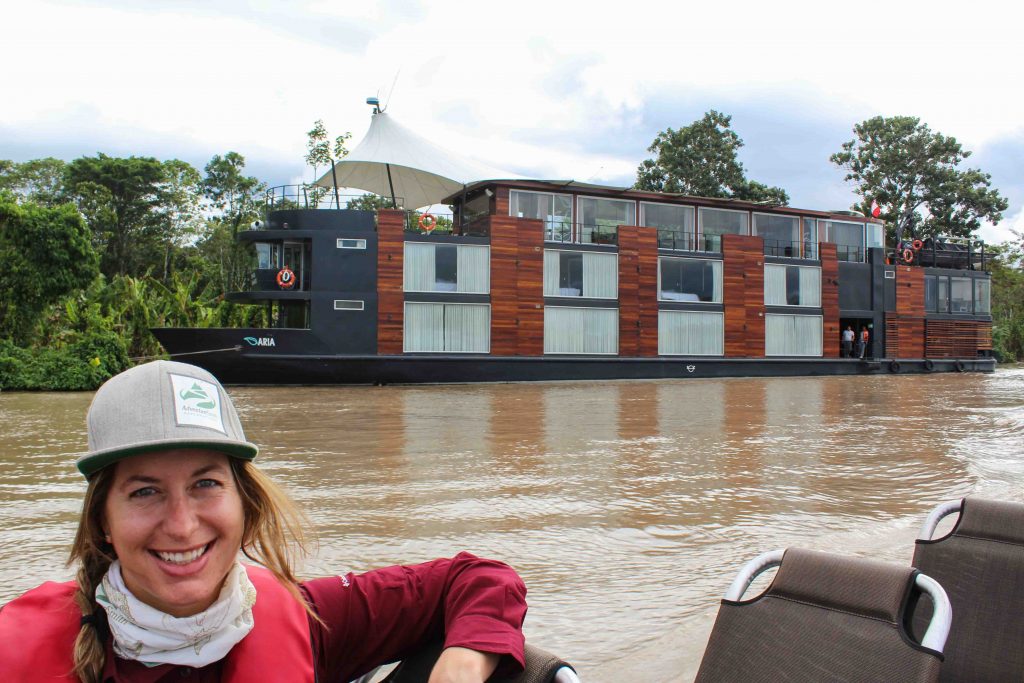 Each cabin features wall-to-wall, floor-to-ceiling windows on one side. The only difference among the cabins is how far from the water line you are. For this reason, the second deck is considered more desirable, since you are farther off the water line and out of view of taxiing skiffs. A few of the cabins also have the ability to interconnect. Each cabin has two twin beds that are convertible to one king-size bed, which makes for comfortable lounging while you look out your enormous window to the wilds of the Amazon.
Aria Amazon's cabins each feature wall-to-wall windows; the only difference is how far from the water line you are.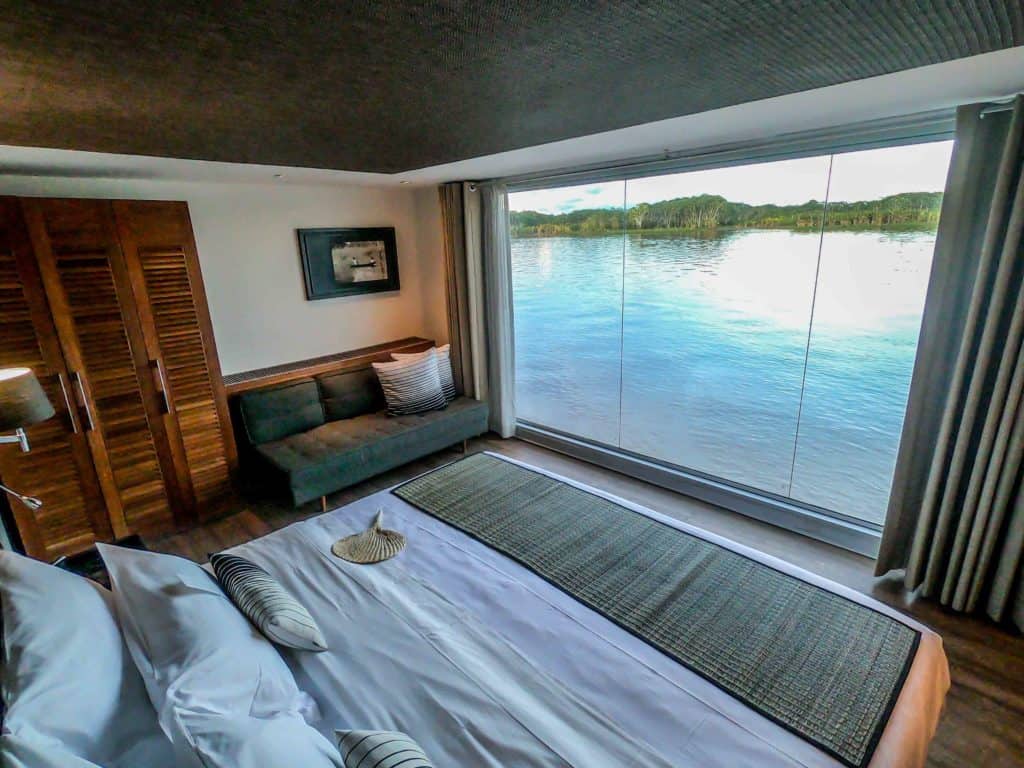 The bathroom is well appointed with a mosaic tile shower and modern features. It even comes pre-stocked with things like Q-tips, ear plugs, shampoo, conditioner, body wash and a hairdryer. There is a couch in every cabin that can be converted to a bed for triple occupancy. And there is a large ensuite closet to help you organize your belongings as you unpack and and make yourself at home.
On the second deck you will find a gift shop and the dining room. The gift shop is staffed by the Cruise Director during most hours of the day. The Cruise Director is there to be a guest liaison and answer any questions you may have throughout your journey. The Aria Amazon's dining room is the only one aboard the ship, and is used for all meals, except for one picnic and one al fresco lunch. It is surrounded on three sides by glass windows and has modern tableware and decorations.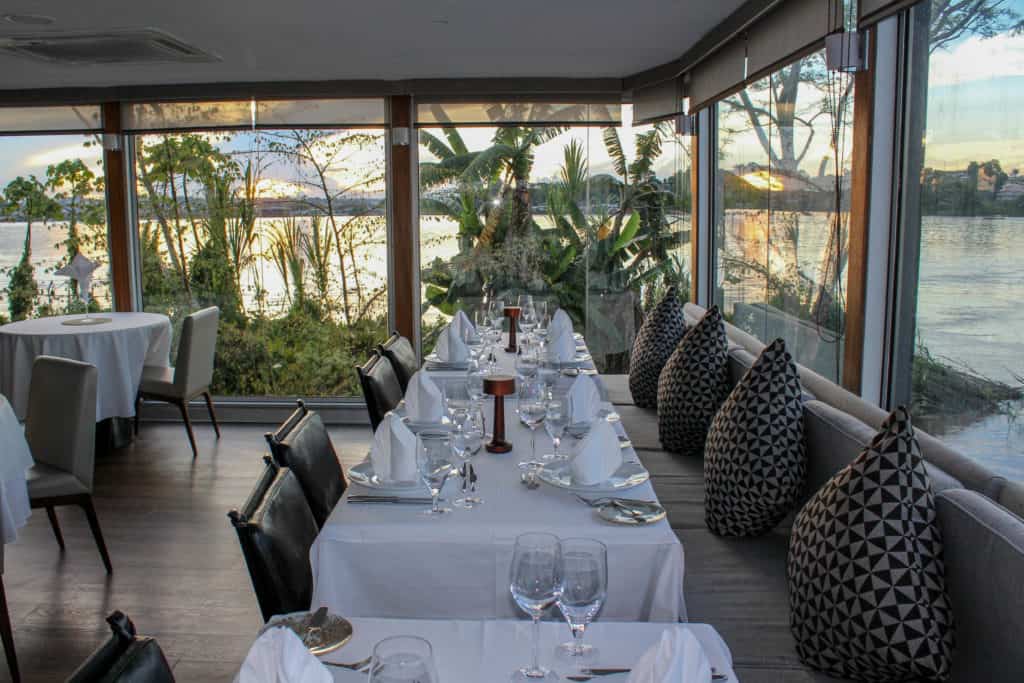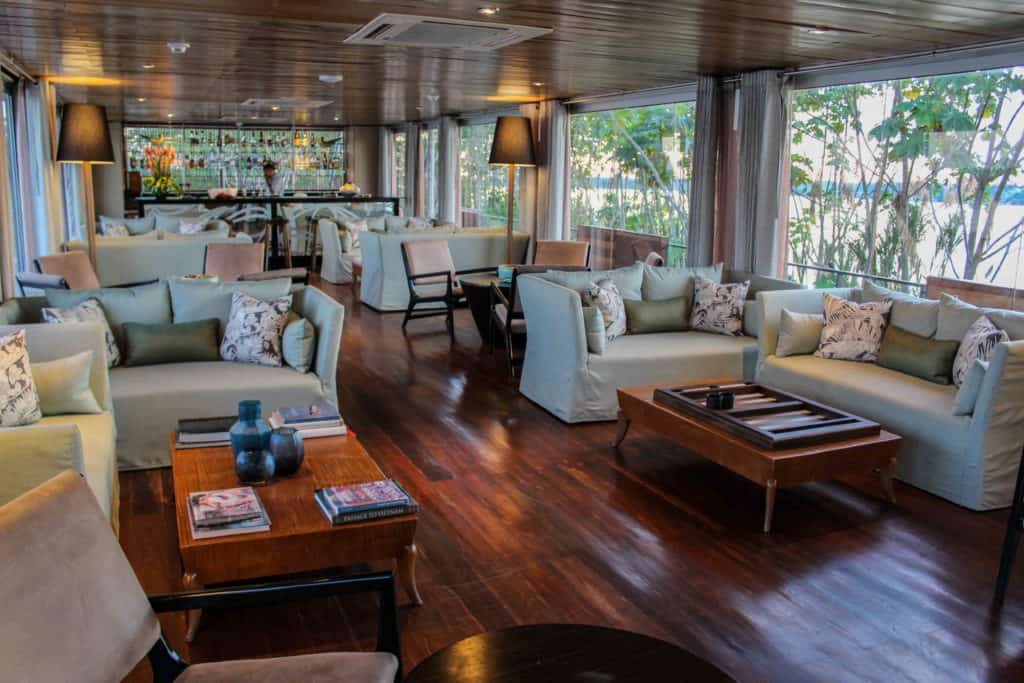 On the Observation Deck (third/top deck), you will find the massage room, exercise room, lounge and bar. This zone is set up like you are in the living room of a good friend. It feels homey, warm and inviting. There is a diverse selection of couches and chairs to choose from. Each sitting area has a coffee table full of interesting books, or perhaps an oversized game of scrabble or backgammon to play. At the back of the lounge is the bar, where your dedicated bartender is ready to make you a custom order of anything you like. They have an extensive list of specialty cocktails to choose from (my favorite was the camu camu pisco sour), or you can choose to stick with the complimentary beer or wine.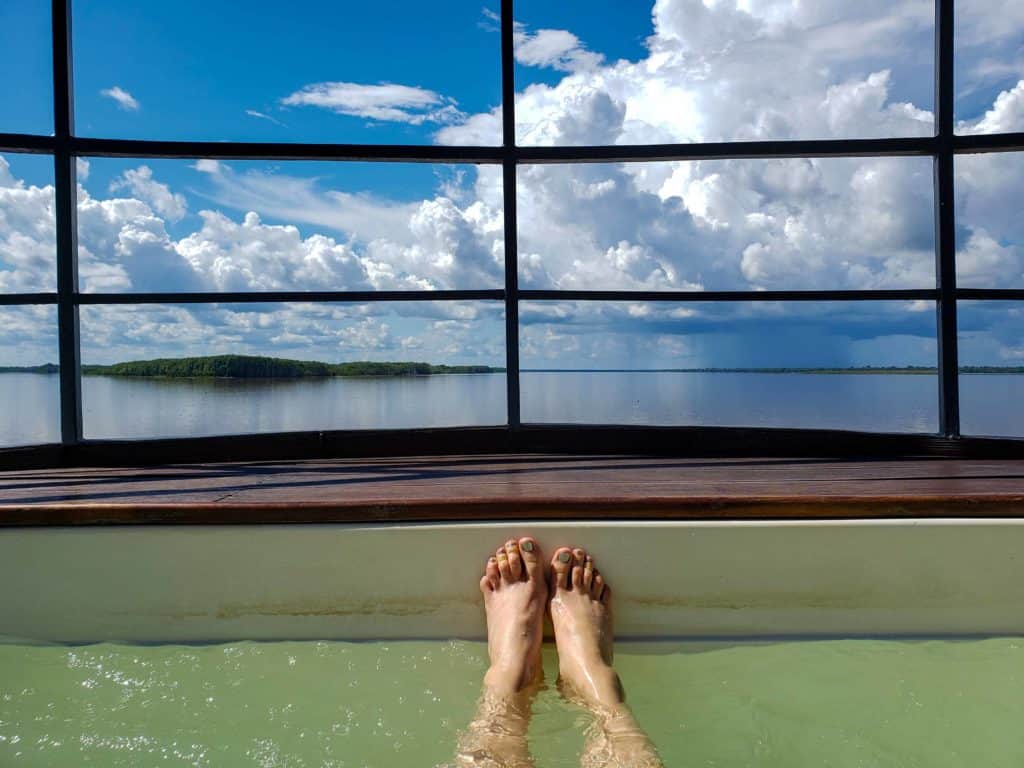 There are doors that access an outdoor deck from this level, and an outdoor lounge towards the bow of the boat. I found it often too hot and humid outside to enjoy this area, as did most others on the trip. There was a cold plunge pool at the very front of this deck, of which I did partake once. The cold plunge on a hot day was a nice respite. No matter which deck you found yourself on, it was clear that a lot of time and effort had been put into every detail. It felt like a home away from home, and it was easy to settle in for my 5-day/4-night cruise.
Our Guides
The guides' congeniality was the first thing I noticed the moment I met them at the Iquitos Airport. Their warm reception of the group, instant offering of treats, and plunge into detailed what's-to-comes foreshadowed how the rest of the trip would go. There were four guides on the trip; each of which came from a different corner of the Peruvian Amazon. They were true locals who were intimately familiar with the region and its history. Their knowledge is vast and comes from a place of deep-rooted passion. Perhaps the most important trait of the guides was their eagle eye for spotting wildlife, and their excitement in sharing it with you.
Our guides were true locals who were intimately familiar with the region and its history.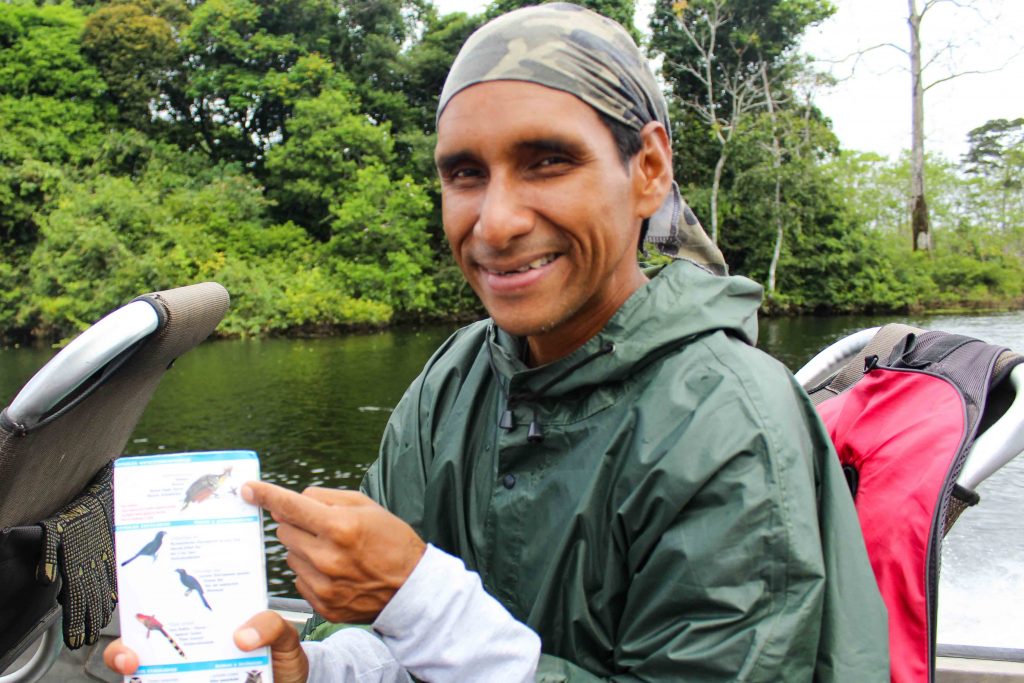 Exploring the Amazon's Wildlife & Communities
The excursions were a twice-a-day occurrence, one after breakfast and one after lunch. There was also the daily option for pre-breakfast birding cruise. I was there in high water season, which meant that every tree within sight was at least 30 feet deep in water. This opened up the tree top canopy for dynamic exploration via skiff. We would be motoring along what was an obvious channel of water, and suddenly turn sharply into the dense foliage where it would appear that we had hit a dead end. But with the skillful navigation of the skiff driver and delicate machete work of the guide, we would punch through the perceived dead end, only to find it open up to another world of water on the other side. We encountered both the murky water of the Amazonas, as well as the clearer and cleaner "black" water of the deep forest rivers. You would usually find river dolphins where these two types of waters converged and stirred up nutrients.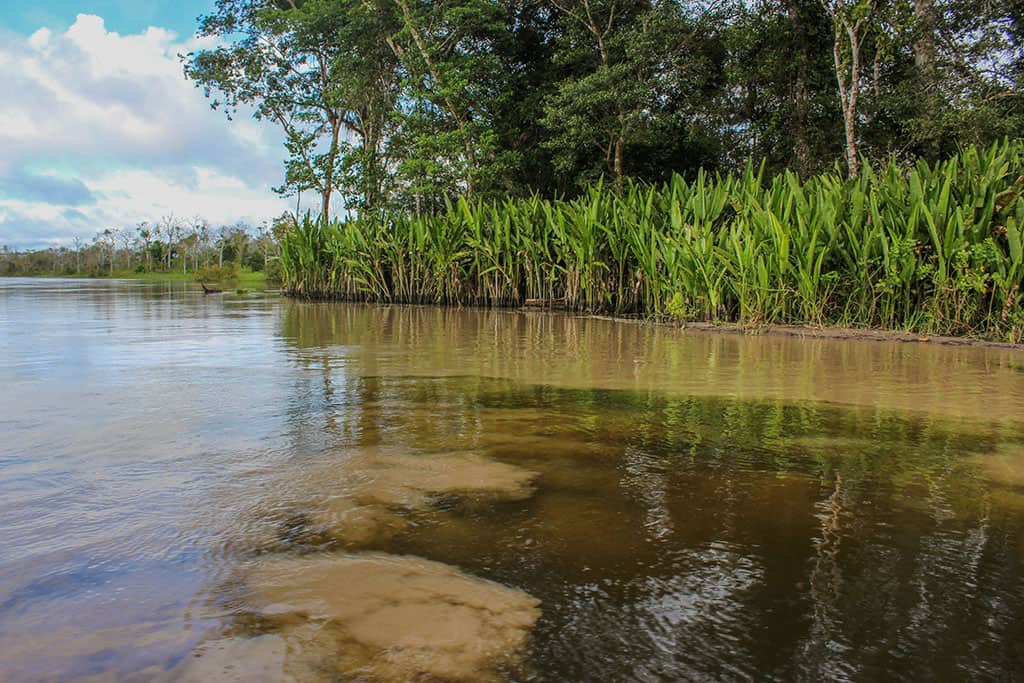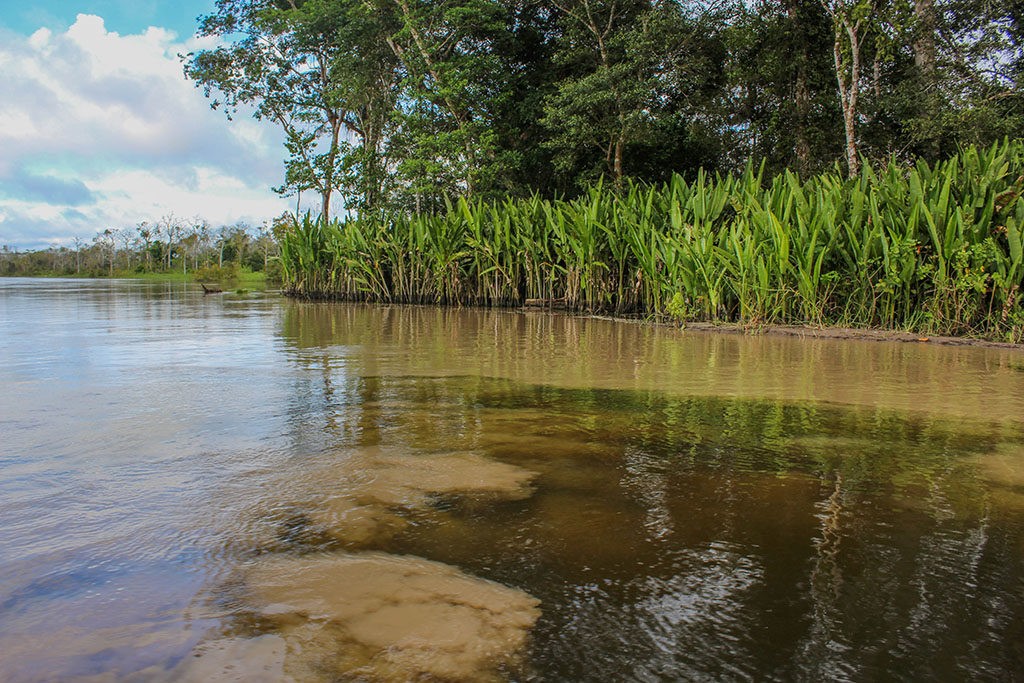 The underlying goal of any outing was to spot as much wildlife as we possibly could. This included so many varieties of birds I could not keep track, plus monkeys, sloths and even one Anaconda. I am told that if seeing more mammalian-type fauna is important to you, you might consider going during low water season, when these animals are seen more regularly. But I certainly do not feel like I missed out on any major wildlife goals. I do recommend bringing the biggest zoom camera you can get your hands on. The thing about the Amazon is that you see a lot of wildlife, but much of it is far away, or shrouded by foliage, so the closer you can observe with the help of modern technology, the better.
One of my favorite excursions was visiting a local village. Each community on Aria Amazon's long list will receive a visit only once or twice over the course of the year. This means as you approach the village, an organic experience develops where the community members are excited to see you because they haven't been visited by tourists in over a year. The first indicator of this is when the children run enthusiastically to greet you, having heard the sound of the skiff's motor.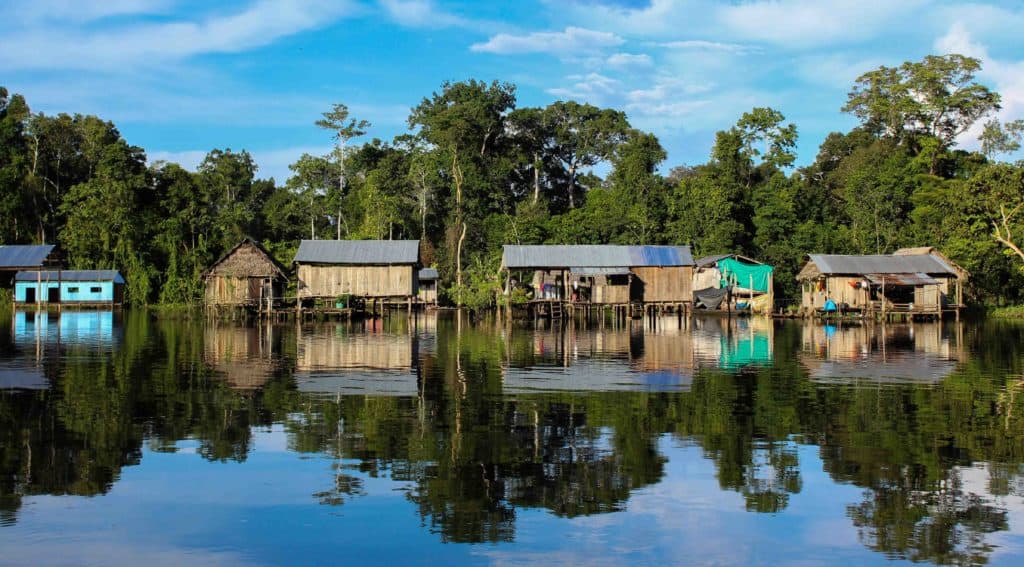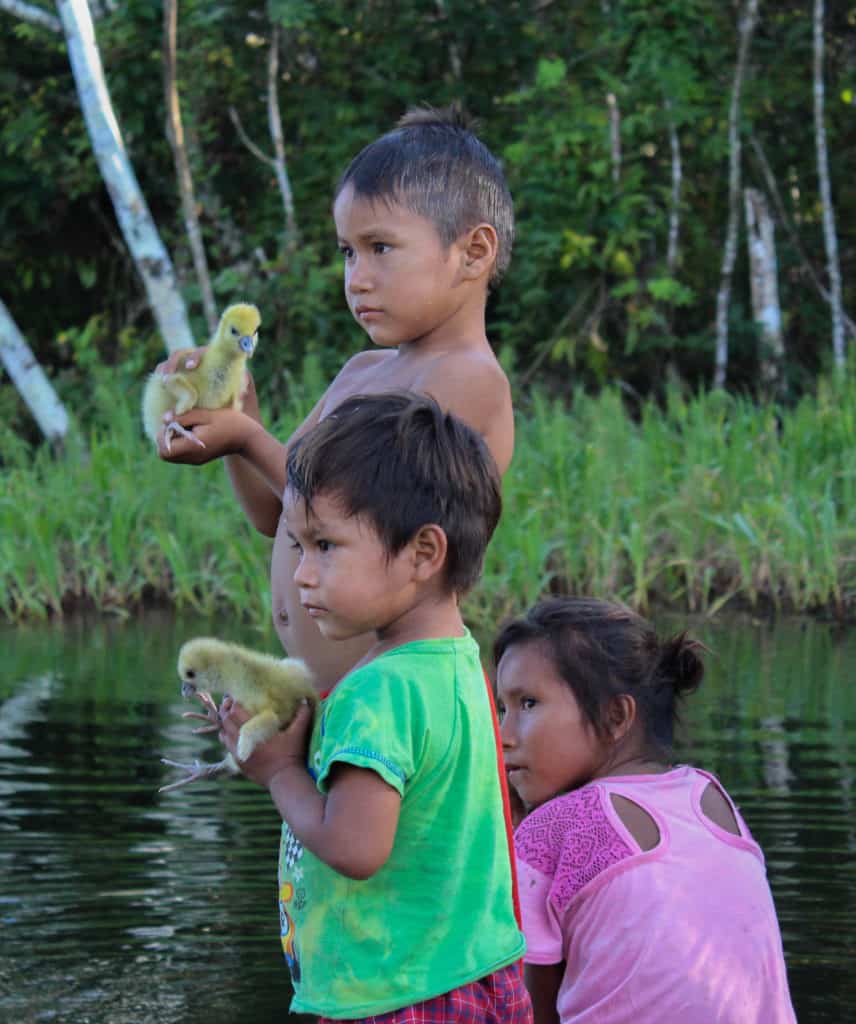 It is a truly unique and humbling experience to be invited in by the community and share a slice of their lives for a moment. During our visit we took a tour of the area, played some singing games with the school children and then had an opportunity to buy handicrafts. While in the schoolhouse, we learned of an anaconda stuck in a fisherman's net. In an effort to teach the children proper respect for the creatures of the Amazon, we all went out together to release the snake back into the wild. At another village stop, we even had a chance to paddle around in dugout canoes and go swimming in the village lake.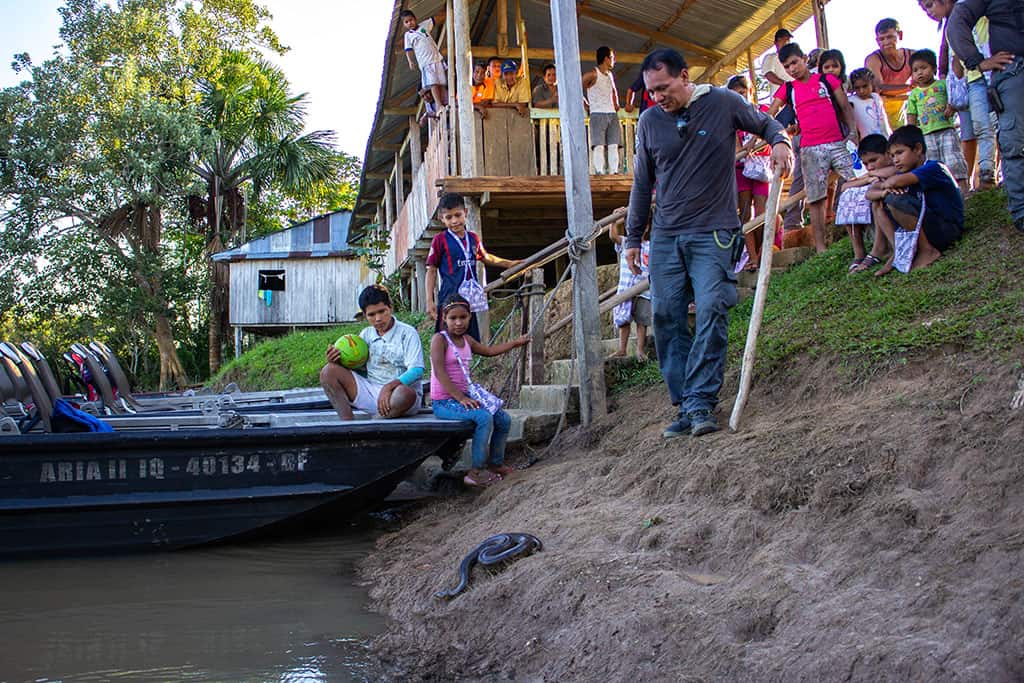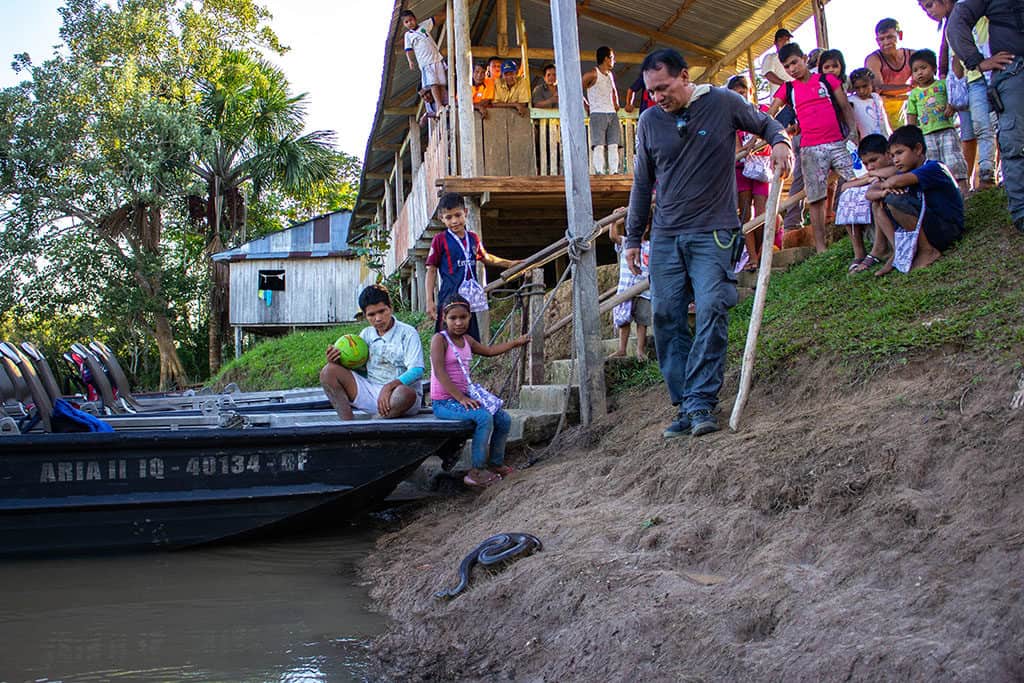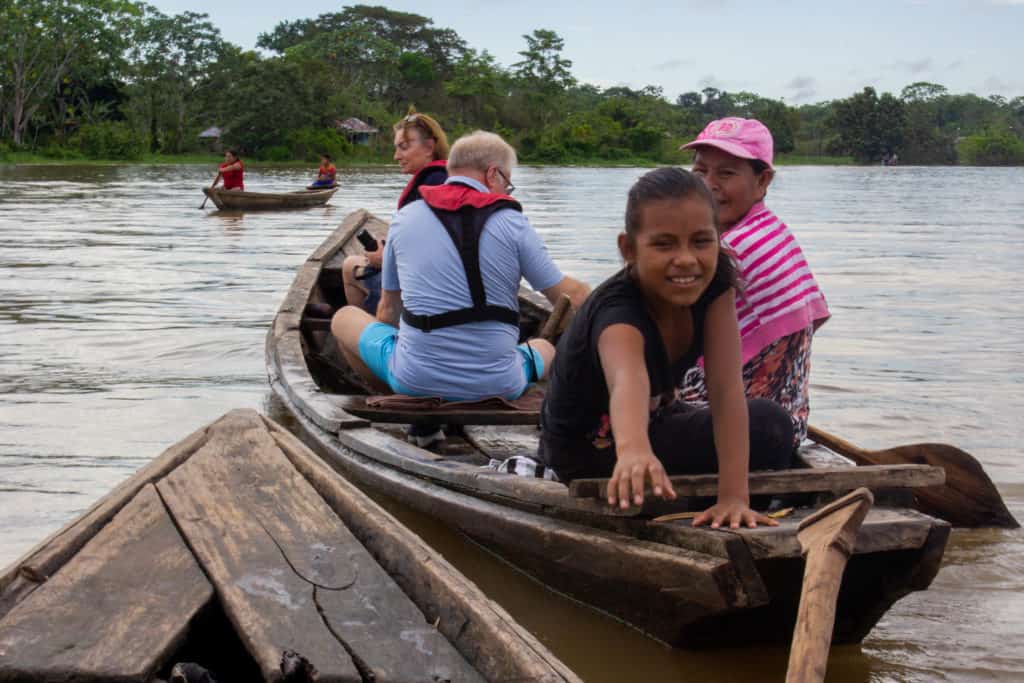 Add the Amazon to Your Bucket List
Traveling in the Amazon is a bucket list item that everyone should carve out the time to experience. The long stretches of untouched lush virgin forest; the amplitude of birds, monkeys and other exotic fauna; and the warmly receptive local villagers make the Amazon a place I would love to visit again. The Aria Amazon Cruise is great for the traveler who would prefer to spend a little more and elevate their experience. Every piece of the experience has been thought out in advance, with a sophisticated atmosphere on board and a robust and educational feel to the excursions.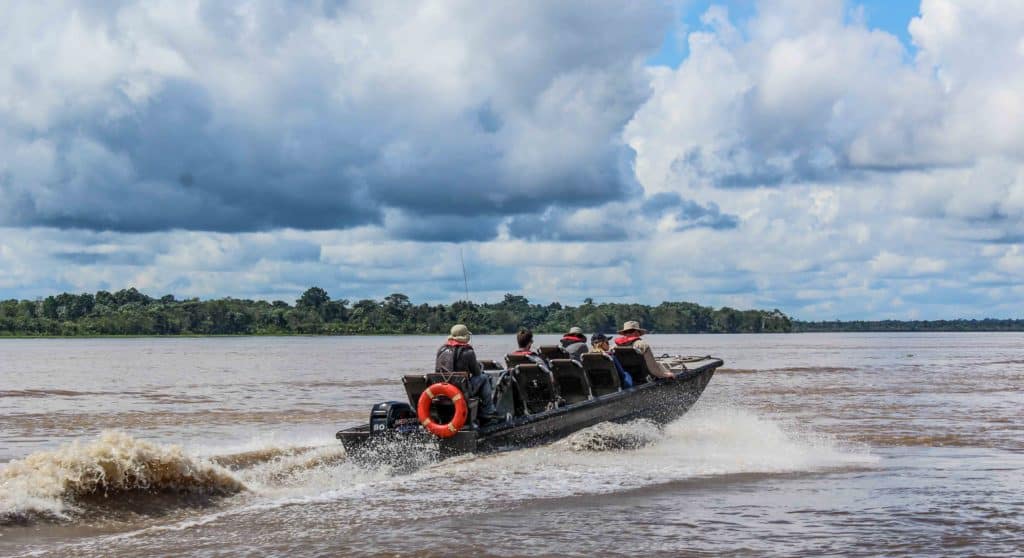 Insider Amazon Cruise Tips from a Specialist
Bring a camera with a decent zoom if you want to best capture the Amazon wildlife.
Go with the suggested donations and bring items from home to donate to children in the local schools. They loved it when we dropped off goodies for them during our local village visit. If you happen to forget, the Aria Amazon offers little gift bags available for purchase on board.
The Aria Amazon's high-water (Nov-May) and low-water (Jun-Oct) itineraries each have unique advantages, so plan out your travel for your preferences.
If you like the idea of open-ended explorations, without defined physical boundaries, then you might want to choose high-water season. During this time, the entire forest is flooded up to 30 meters above terra firma, and you are able to take the motorized skiff almost anywhere you can lay eyes on. During this time you are closer to the tree canopy (but still distant to the naked eye) where you will find a great variety of birds, monkeys and sloths.
If you are eager for the opportunity to view larger Amazon mammals and reptiles, you might want to consider low-water season. At this time, more terra firma is exposed so there are more chances to spot animals like anacondas, capybaras, tapirs and possibly even the elusive jaguar. During this time, the waterways for skiff exploration are defined by the existing rivers.
This Aria Amazon cruise review was written by an AdventureSmith Explorations crew member. Read all our Small Ship Cruise Reviews for more trip reports, or contact one of our Adventure Specialists to learn more about these small ship cruises and wilderness adventures: 1-800-728-2875.