This Travel Journal submitted by Perry Ross details his Amazon small ship cruise with AdventureSmith Explorations aboard Delfin II. A special thank you to our partners, Delfin Amazon Cruises, which operates the luxury 8-guest Delfin I, 28-guest Delfin II and 43-guest Delfin III riverboats.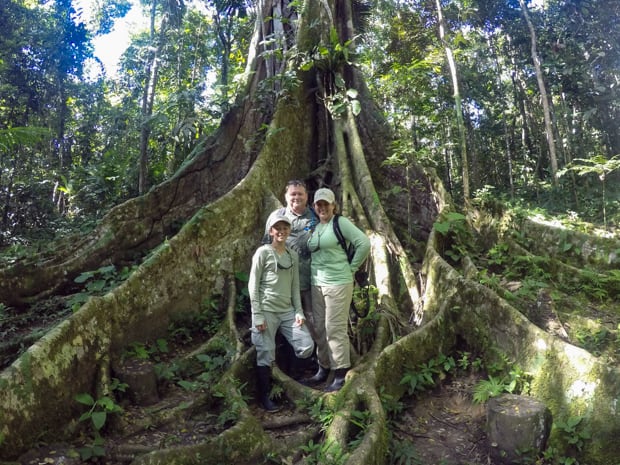 Day 1 – Arrival in Lima
To be fortunate enough for me, my wife, and 12 year old daughter to be able to travel together is a valuable gift in and of itself. In our most recent journey to the Amazon, we additionally had the privledge of being able to take our adventure with the addition of some very indulgent comforts.
Once again, Aaron Gaines from Adventuresmith Explorations certainly knows how to put all of the puzzle pieces put together to build an exceptional journey. All of my semi-coherent emails that I sent to Aaron (and others in the Adventuresmith team) were always replied to in a timely manner, and with and abundance of clear information. Aaron also knew the right questions to ask, especially the ones that I had not even thought about to ask.
The combination of a small window in our family's schedule, and the way the airlines have their flight schedules arrainged, made it necessary for us to arrive in Lima pretty late in the evening the night before our final departure to the Amazon.
We had absolutely no idea where to stay overnight in Lima. From our limited "travel book" research also knew only of a couple of city places that we would like to visit on a tour. Aaron assembled for us a lodging and 1/2 day Lima city tour package to enjoy prior to our departure to Iquitos that evening. We read up on the proposal and liked it, also comforted in knowing that the itinerary was based on Aaron's first hand knowledge from his travels in Lima.
We landed in the evening darkness of Lima to an unexpectedly still very busy airport. It was a very welcome sight, right off the bat, to see the Metropolitan Tours guide John with our name on a sign to collect us. He was in a perfect spot to find him amongst the sea of other signs.
The Dazzler Lima hotel in the coastal Miraflores district did not disappoint as a modern, luxurious place to end a very long day of flights. In our short time there we sampled only a part of what they have to offer.
Day 2 – Lima City Tour, Travel from Lima to Iquitos, then Nauta, then Board the Delfin II
We awoke from a very comfortable sleep to the atypical foggy coastal view of the Pacific Ocean from our 16th floor window. After a nice "rainfall" in the opulent shower in the room, we enjoyed a fresh hotel buffet breakfast in the large atrium. The fruits and juices were fresh and sweet, and complemented the wide selection of traditional and regional breakfast fare, with superb custom omlettes.
Our driver/guide team from Metropolitan tours, Carlos and Carlos, arrived on the dot in what appeared to be a new (or extremely well maintained) van for our city tour.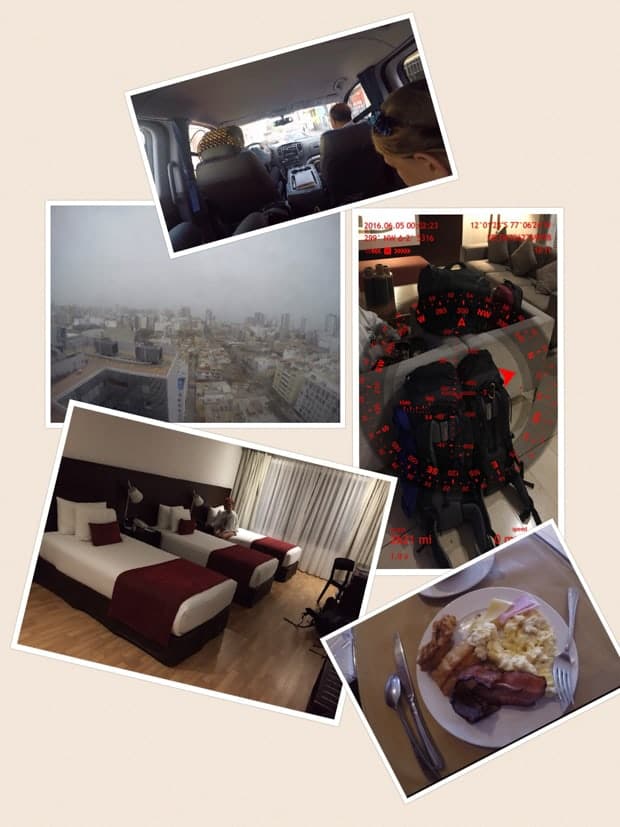 Late in the tour planning process there was a very last minute unanticipated major wrinkle – a runoff presidential election. The downside to this was that a couple of destinations on the tour were going to be closed. The upside was that AdventureSmith did research with local resources to determine what actually would be open and provided a great slightly altered agenda. Everything that was now expected to be open, was open when we arrived.
Our half-day Lima City tour included attractive and important sites in Lima, the "City of Kings" – Plaza San Martin, Plaza Mayor, the Government Palace, the City Hall, the Cathedral and its Religious Art Museum. We enjoyed driving through the residential Districts of San Isidro and Miraflores, passing by the Huaca Pucllana, a Ceremonial and Administrative Centre of the Lima Culture built in the II Century A.C. that the Incas considered as "Ñaupallaqta" or Sacred Town.
Our Metropolitan guide Carlos was outstanding in his knowledge of the places we visited. He provided an informative well-spoken narrative. Carlos (yes, we all had fun with the matchy names) the driver was smooth and calm in infamously crazy Lima traffic. He made the drive feel more like a English countryside drive than a big city cab.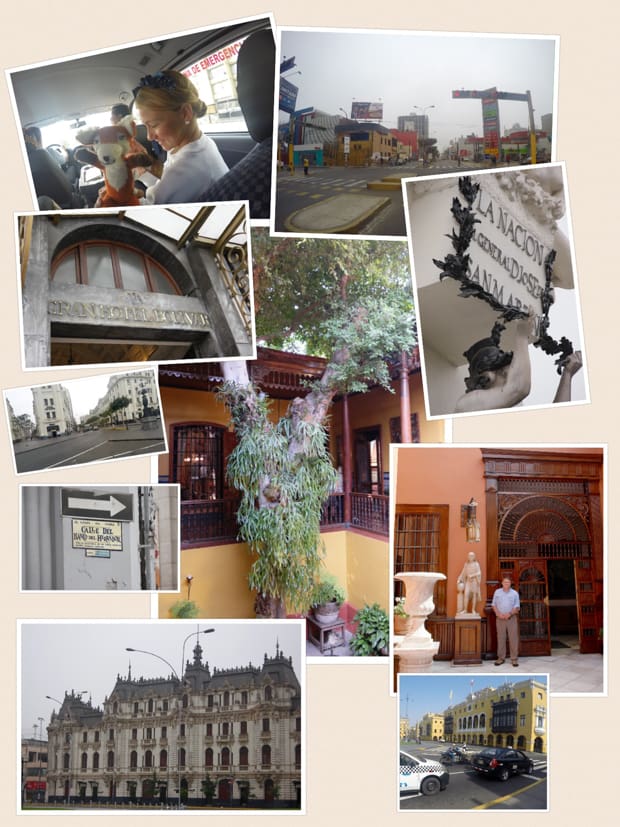 Our city tour concluded at the privately owned Larco Museum. Built literally on-top of a pre-Incan sacred site (Huaca), this was an amazing place with beautiful archealogical pieces, artwork and a massive collection of Peruvian pottery that are history artifacts that tell stories because much of it was not preserved as writings.
Our fine luncheon at the Larco Museum was nicely prepared Peruvian style dishes of Lomo Saltado (beef Peruvian stir fry), a grilled witefish with sauteed vegetables, and shredded chicked stuffed pasta in a peppery light yellow cream sauce.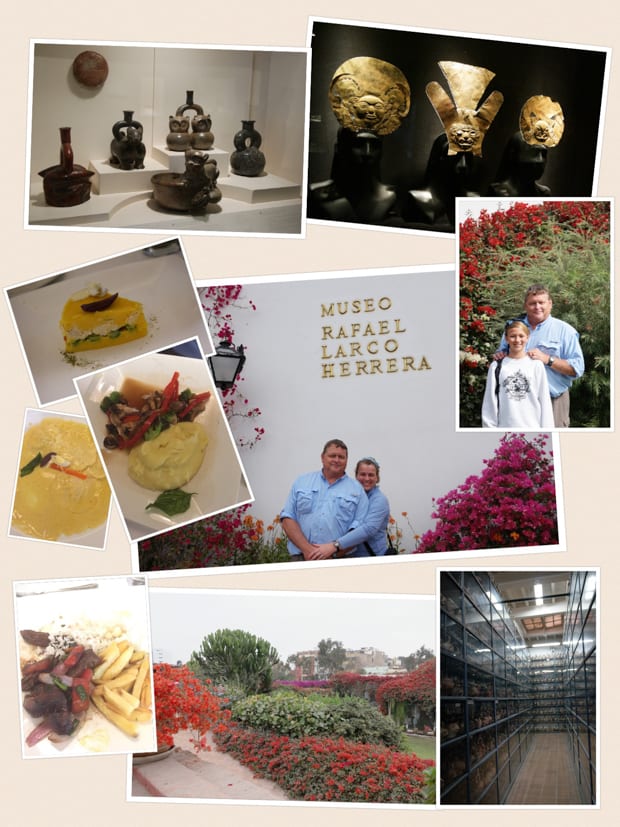 With an exchange of guides from Carlos back to John, we enjoyed a 30-minute city trip back to the Lima Airport for our flight to Iquitos. The transfer was beyond easy as John had our boarding passes and necessary papers in hand, and took care of getting our luggage through the checkpoints and to the LAN air staff.
Once again it was dark when we arrived at the Iquitos airport and were greeted at the airport by friendly and efficient Delfin staff who whisked our bags into awaiting enclosed trailers being pulled by very spacious and comfortable Sprinter passenger vans.
From Iquitos on the only road to Nauta, once the city lights from Iquitos disappeared behind us, there was no road lighting ahead, and the mystery scenery on the 90-minute dark ride would only be revealed on our return ride back to Iquitos after the Amazon. The van's suspension was good enough for napping, but also told the tale of what we thought was a mostly well-kept road.
Arriving at the dark water's edge in Nauta, it was unexpected (considering the surrounding environment) to pass through inner city style etched double glass doors into the beautiful large tiki hut style dock and wecome center area. First impressions considered, we felt like we were in for a very special journey.
Opening our cabin door on the Delfin II completely blew us away.
Opening our cabin door on the Delfin II completely blew us away. It could have been the long travel day and the dark cool summer evening sleepiness, in combination with the gorgeous glistening wood of the room – that prompted my young daughter's comment "why are we back in such a nice hotel room, where's the ship?"
We had late supper in the Delfin II's beautiful dining room, continuing the amazed first first impression as our heads hit the sumptuous pillows of our beds.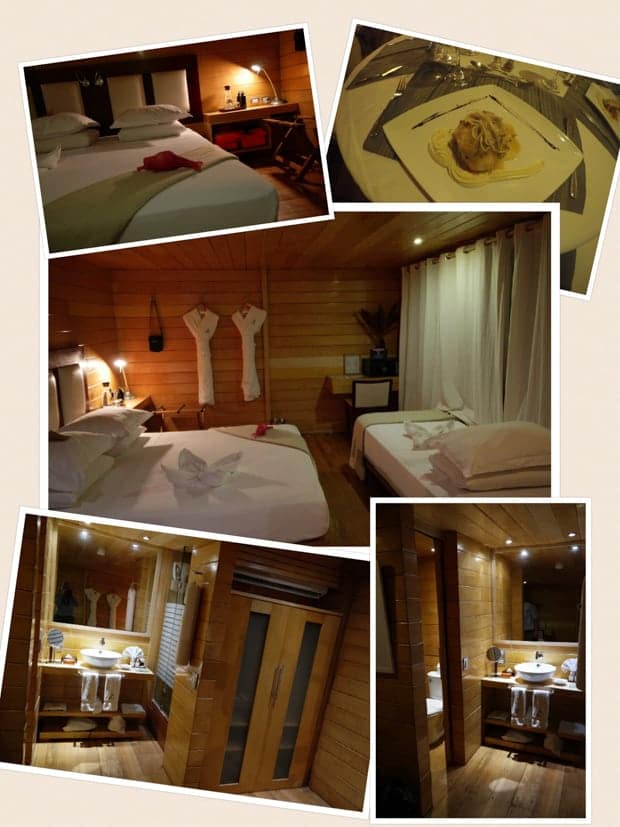 Day 3 – Aboard the Delfin II, a Jungle Hike & a Swim in the Amazon
Our first soft sunrise aboard the Defin II warmed our daughter awake through the giant wall to wall picture window in the cabin. Our personal "high-definition" "window" to the Amazon made it possible for or us to enjoy even more of our limited valuable moments of Amazon beauty.
As would be typical for the journey, we enjoyed a tasty buffet breakfast with a combination of traditional and local fare presented (not simply served) by the friendly dining staff.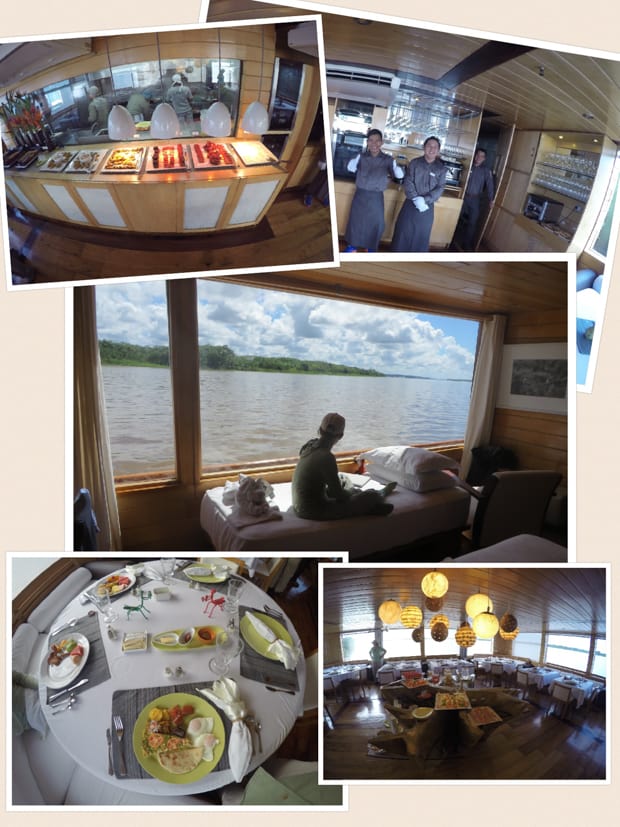 We next donned our wellies that were properly sized, treaded, and provided by the Delfin for our first excursion, a hike at Fundo Casual into the jungle. These were a necessity because of the constant moisture that kept the jungle floor moist and muddy. We were greatful that our dry land hiking boots that we brought were spared, and available to be used later.
The trail loop was well maintained by a local village who was hired by Delfin. It was a mild hike in the shady heat and humidity and we were thankful to not have to use our own machetes to make our way. A member of their community joined us on point as an expert in spotting the sights and keeping us on the right path. This was a win/win as the community has a source of additional income, and we received a local wildlife "eagle eye" who could also keep (me) from walking into something I shouldn't. Our expert guides from the Delfin would tell us many informative details about what we were seeing, and assure us when it was safe to get close (even if our minds we're telling us "no way").
We spent an exciting morning of immersion into another world of nature that grabbed all of our senses. Just a minute fraction of what we were sure the Amazon has to offer. Simply amazing to see the trees that go forever into the sky, but always remembering to glance down to make sure there wasn't something else waiting to say hello as we walked by (and there was).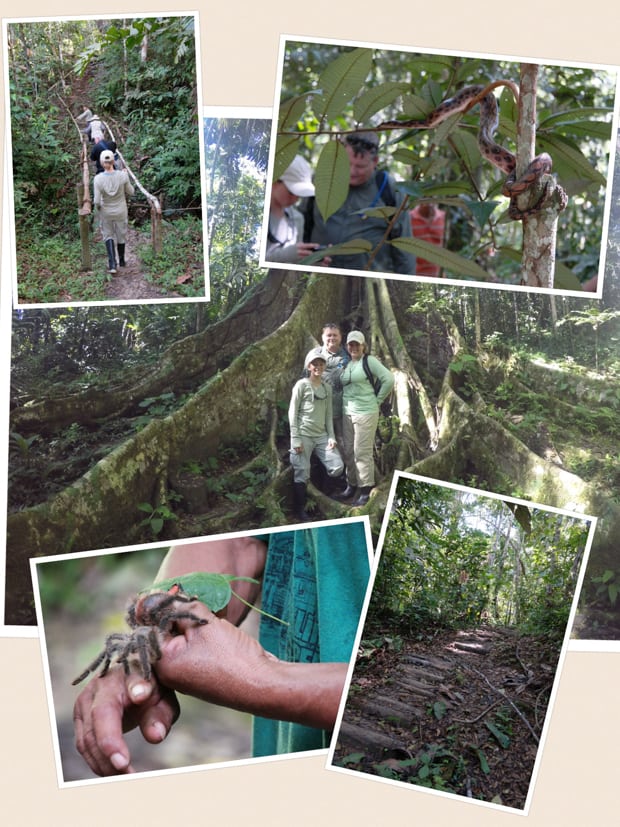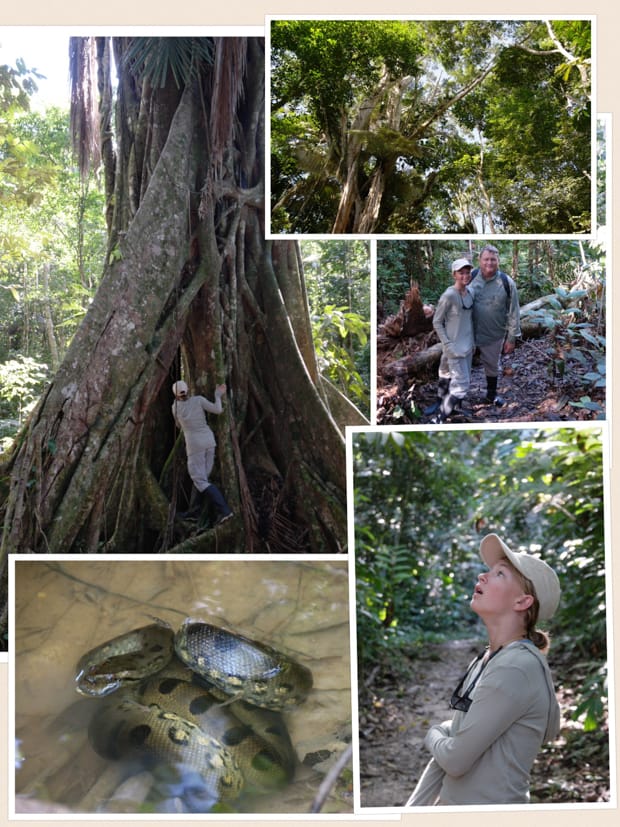 We returned to the Delfin II for a welcome shower, beautiful lunch and brief relaxing respite while we enjoyed our picturesque view as we flowed down the Amazon to the next destination.
One of the top 5 rare things that we can say that we did is actually spent an afternoon swimming in the Amazon. Our 12-year-old daughter (who is a natural fish by nature) found this to be huge highlight of the trip. Of course she will be including in her storytelling how clean the water actually is, what really causes the caramel brown color, and how may Piranah fish really nipped at her toes!
The most striking part of the swim was the different number of temperature differences in the soft currents and varying depths of the 7 meters we were in. Our GoPro footage of the underwater swimming was a fascinating 4 minutes of the sunlight dancing into the tan water, and nothing else six inches past the lens. If something wanted to come and play with us, which we were rest assured was nothing, we would never have seen it coming. The pink dolphins that we viewed along the way weren't interested in coming over to play.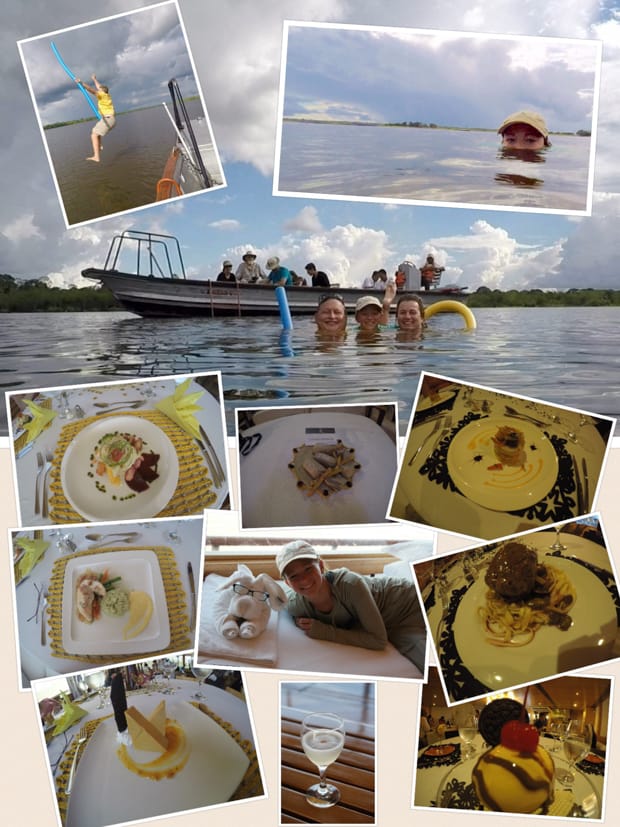 Day 4 – Aboard the Delfin II, a Special Breakfast Out on the Amazon, Fishing for Piranahs, and a Night for Caimans
The next day, we rose early and climbed aboard skiffs to see the sunrise and watch the Amazon awaken. Then, the skiffs rafted up together and we were treated to a full-service plated breakfast, in the water under a canopy of trees. It was special and the most excellent coffee was very welcome.
We returned to the Delfin II and moved onward to our next location on the Uyaquil River. On the Defin II's beautiful covered open air upper deck we relaxed on the plush couches and ejoyed an educational sweet and sour Amazon fruit tasting experience followed by a traditional cooking demonstration.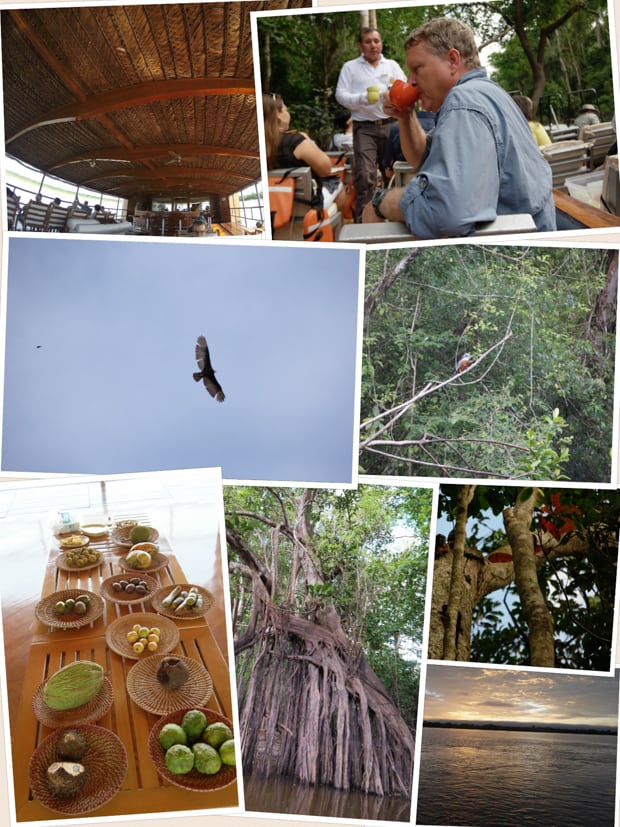 After lunch we ventured out for another scenic afternoon learning about local commerce fishing and took our own shot at Piranah fishing the traditional way. We passed several local fishermen in groups of rafted together handmade wooden skiffs. Our guides explained to us that these folks would come to the area for days at a time and fish, then sell their catch to communites on their way back down or up the river. We tied up to one group who proudly showed their fresh catch. No high-tech fishing here, but an amazing amount of fish caught. Simple nets strewn across sectons to trap, a seine net or two, and a lot of simple stick/line/hook work.
We took our hand at catching some Piranah. It was very exciting. Just a little piece of meat dropped in the water for a second after slapping the stick once or twice on the water (mimicking an animal hitting the water), resulted in many quick fire tugs on the short fish line. Much was left to the imagination because we could not see them, just the ripples in the water. Of couse we soon realized that we were missing a skill that is only locally aquired of being able to actually "hook" the Piranah. One "Amazon Sardine" was caught (and released – too small).
As the sun began to set we were finished feeding (not catching) the Piranahs. We pulled slowly off the side river we were on, into an even smaller tangent of river with marshy grassy banks. It was starting to get pretty dark, another set of sights and sounds seemed to be waking up, and our guide Denis broke out the spotlight – not to see where we were going, but to "hunt." In the marshy grass right next to us, the light stopped short on a pair of glowing red marbles. We were curiously silent with anticipation. Before I could even process two thoughts about what I was looking at, Denis reached out over the front of the skiff and with one very fast hand, grabbed a 3-foot Caiman right out of the water! He then casually proceeded to tell us all about the Caiman, and after being reassured that momma Caiman was not about, we did the photos and let the Caiman carry on with its evening. Our daughter's excited giggles, and my astonishment, fueled our skiff ride back to the Delfin II. A hearty buffet cuisine dinner at our beatifully decorated table was accompanied with lively music provided by the guide and crew 3 man band.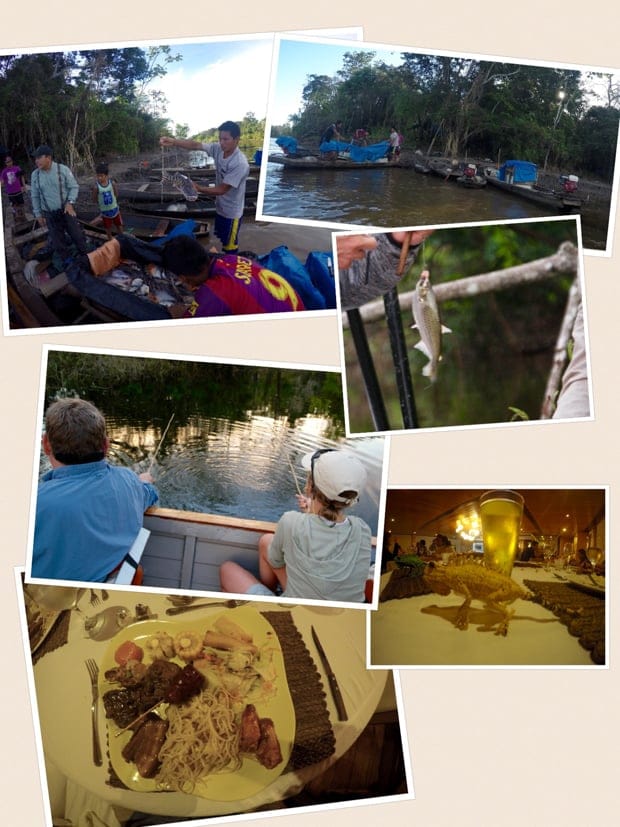 Day 5 – Aboard the Delfin II, Monkeys, Lilly Pads, Happy Children & a Fond Farewell
Our skiff driver Larry was deftly expert at getting us very close, then smoothly backing out when a monkey was just on the verge of being able jump in and become a passenger.
The morning's first skiff excursion was to "The Monkey Island," an island where communities in the area take endangered, injured and orphaned monkeys and rehabilitate then release them. The monkeys have the open run of the island, no cages. As the skiff aproached a patch of grass and trees that looked like any other riverbank, the tree branches started swaying and twitching with their occupants. As we moved closer in, the more the activity increased, more monkeys arived. They were obvioulsy not afraid of people, and very enthusiastic; my daughter obliged the monkeys by feeding them with little bananas on the end of a long stick. It was an amazing, crazy, fun time! Our skiff driver Larry was deftly expert at getting us very close, then smoothly backing out when a monkey was just on the verge of being able jump in and become a passenger.
The next light hike a little bit further down the river on the skiff was to view the famously huge lilly pads. They were gorgeous. We were just on the start of the low water season. A reminder how high and low the water level changes, something like 45–75 feet in that area. These lily pads were underwater just a month ago as evidenced by the color change in the trunks of the surrounding trees.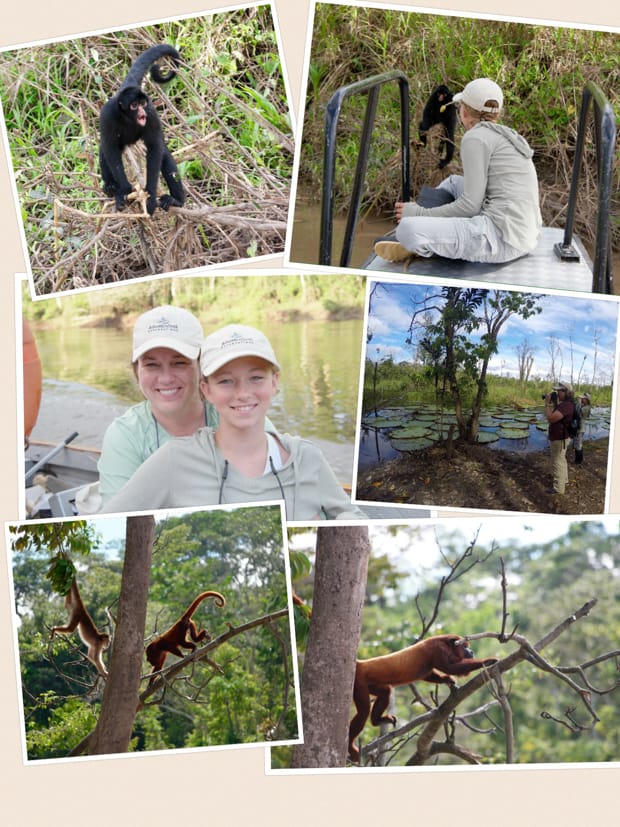 The handmade dock and a colorful plywood sign welcomed us to the village of Puerto Miguel. We had the privldge of taking a brief personal look at the daily life of its residents. The highlight was being allowed to step in on a classroom in the school. It was inspirational to see part of the reason why such a commitmment to education, even in these remote areas, makes for a 91% literacy rate. The young children were all smiles! We had the opportunity to share with the students the boxes of large magnifying glasses and assorted supplies that we had brought as donations to the schools. The students also shared with us a bit of their stories about what they like, who and what they aspire to be. We all could have spent all day there discovering them, and they us, but school was in session after all.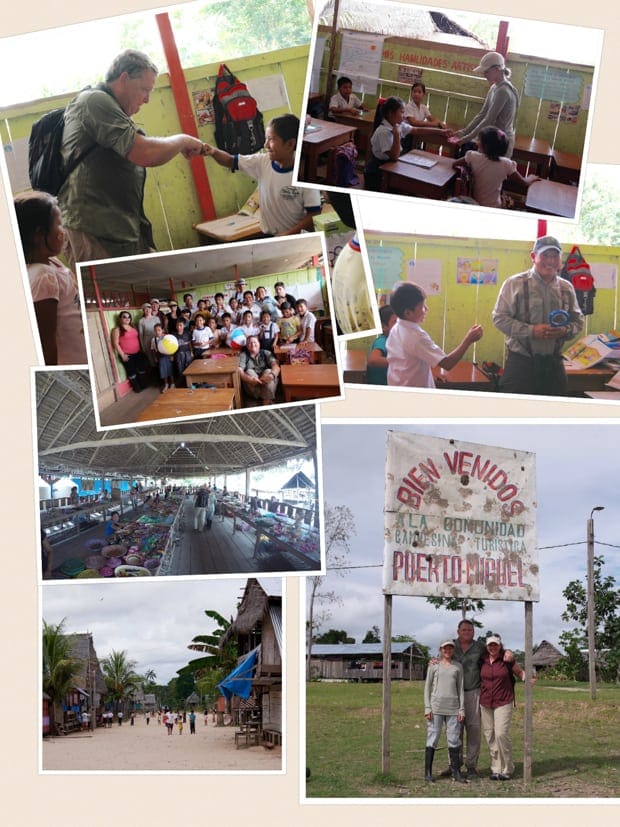 In Iquitos we said our farewells to the Delfin II crew over a fabulous Doncella fish lunch. Our family's minds were full of new wonderful memories and facinating stories to tell, even more thankful, humbled, and appreciative of another part of the world that we fortunate to experience.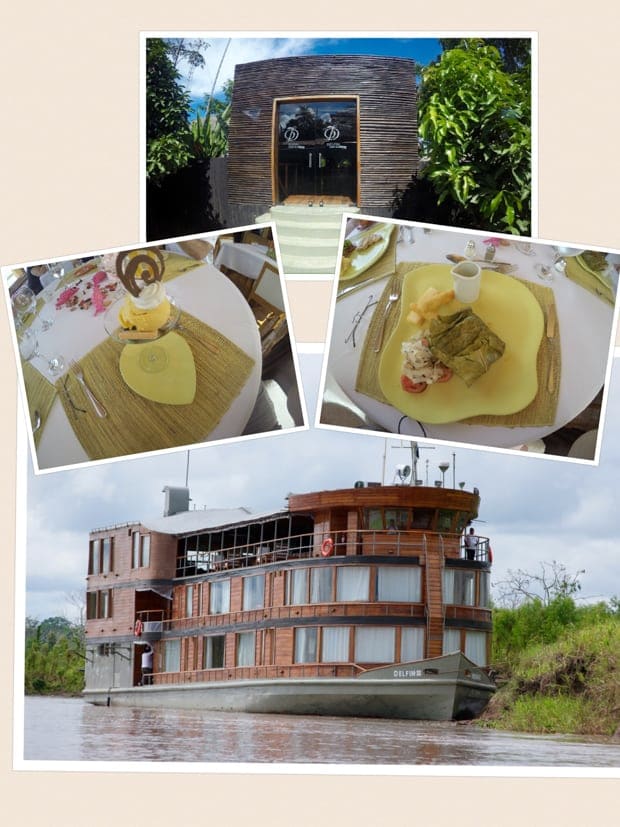 To view more photos from the Ross family's Amazon cruise, see their Delfin II Amazon Cruise Facebook album.
Read more cruise reviews for additional insights from our alumni travelers and experts, or contact one of our Adventure Specialists to learn more about family small ship cruises and adventure trips: 1-877-620-2875.