AdventureSmith Explorations Adventure Specialist Aaron Gaines reviews his Antarctic Explorer expedition. Note that while the vessel he reviews is no longer sailing this route, the itinerary he sailed and the ship operations remain the same. View all Antarctic cruises.
This is my story of an 11-day trip to the Antarctic Peninsula and back. I start this way because it is ultimately only my own experience, and it's important to explain at the outset that yours will be different than mine. Indeed, a ship following ours on the exact same route just a day ahead or behind could well have an entirely different exposure to weather, ice conditions, wildlife sightings, etc. Antarctica simply has more variables at play on any given day than perhaps any other "tourist" destination on the planet. So, please enjoy these words about my experience, plan your own, and know that your own journey will ultimately be unique and absolutely incredible. Read my story to get an idea of things, just as a ship's Captain brings an idea of what he expects on the Drake Passage, and as a penguin on Deception Island wakes up with an idea of what the day may bring.
The Drake Passage, one way or another, will let you know how very small you are in the scheme of the things, and this humbling feeling serves as a useful orientation to the destination, Antarctica, where a visitor struggles constantly to comprehend the scale and power of the place.
In mid-November, we crossed the Drake under sunny skies, carried by a rolling 2- to 3-meter swell. Our vessel was the 114-guest Sea Spirit, and our itinerary the Antarctic Explorer. Albatross and other seabirds joined our pilgrimage and for two days we saw nothing of human invention outside of the hull of our ship. The Drake Passage, one way or another, will let you know how very small you are in the scheme of the things, and this humbling feeling serves as a useful orientation to the destination, Antarctica, where a visitor struggles constantly to comprehend the scale and power of the place. As we fresh travelers became acquainted with the many comforts of the well-appointed ship, the Captain and his crew labored to reach the protection of the South Shetland Islands ahead of a storm barreling into the Drake that threatened to undo our maritime tranquility.
Settling in, we were introduced to the impressive and veteran Expedition Staff and the kind, professional members of the ship staff. We made our first affiliation with the fantastic dining experience aboard the ship and had time to chat over coffee or cocktails with our fellow travelers who were interesting and fun people from all around the world. I walked around the ship and found several comfortable and pleasant public spaces, including a large presentation room and a lounge filled with comfortable chairs, a full bar and large windows. The entire outside of the ship was accessible for fresh air and photography—we even enjoyed several meals on an outdoor patio in the sunshine. Despite its small size, the Sea Spirit handled capably in the open ocean with the assistance of stabilizers. The ship would become a very pleasant home for our journey.
The ship's Expedition Staff was without question the finest I have encountered anywhere in the world. They set the tone for the entire experience in terms of safety, communication, organization, excursions, naturalist interpretation and (critically) the on-board culture that we guests were meant to join into. From the moment we boarded the ship on Day 1, the Expedition Leader, Chelli, and her staff made it very clear that we were going to have 10 days of laughter, camaraderie, learning, jaw-dropping natural beauty and a cavalcade of penguins. Our naturalists hosted numerous lectures on their respective specialties including polar history, ornithology, glaciology and cetology, the study of whales, dolphin and porpoise. They were very available for questions and open discussions with guests in the lounges, at meals and out on deck. It is rare that such a group of guides would combine such impressive credentials with really glowing personalities—they are a great credit to the Antarctic Explorer as an expedition.
The fun-loving yet professional attitudes that the Expedition Staff members exuded were mirrored by the dozens of other staff around the boat. At meals we were attended to by a first-class crew who created a true fine-dining setting. The dining room staff remembered my name and were very attentive. Our meals were a delight throughout the Antarctica trip as they featured a huge amount of variety and unfailing quality (as a note, it can't be easy to please one hundred international diners, yet somehow this was accomplished with flying colors). Every day there were delicious options for travelers with dietary restrictions, and each night's supper was offered with complimentary wine pairings. Such detailed service extended beyond the dining area to the thoughtful hospitality staff attending to our cabins. From cabin cleaning to laundry to questions about using the internet, a friendly person was always nearby to help. The ship's doctor, Chris, was available to assist any traveler complaint. Guests were invited onto the Bridge to watch the crew navigate the seas.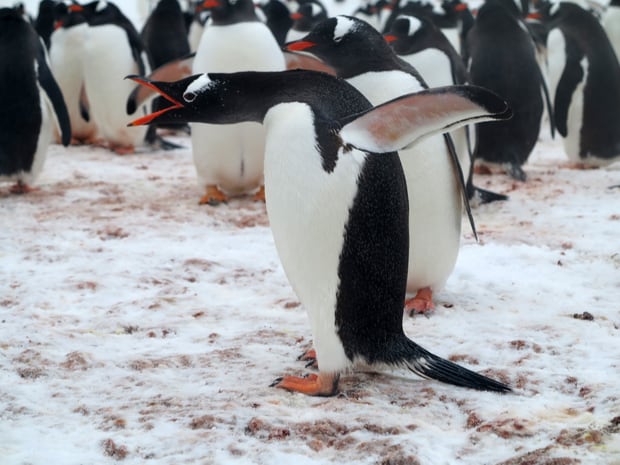 Penguins are very charismatic creatures, and it is difficult not to anthropomorphize them—they flirt, they chase and bully, they preen, they gesture, they slip and fall, they carefully tend to their little pebble nests. It really is a special feeling to be among them.
The first I saw of the South Shetland Islands was a towering rock hulk that materialized out of a thick fog bank in front of the ship. That moment had the feel of a dream and was the first time during the trip when I'd need to pinch myself and ask genuinely, "Am I dreaming?" After being at sea for two days it was exhilarating to see land. We almost immediately made our first excursion to shore, in the Aitcho Islands group, where I found myself standing on a pebble beach jammed with hundreds of busy Gentoo penguins. These animals were just setting foot on land for the season after months at sea and they had urgent business to attend to! Every few minutes dozens more birds would emerge from the ocean and waddle up the embankment. As far as the eye could see were penguins, each in some type of motion. Penguins are very charismatic creatures, and it is difficult not to anthropomorphize them—they flirt, they chase and bully, they preen, they gesture, they slip and fall, they carefully tend to their little pebble nests. It really is a special feeling to be among them. I walked over a snowy hill to see a small group of Chinstrap penguins and a sleeping fur seal before making my way back to the zodiacs. As I ate my dinner of salmon, green salad and onion soup, I reflected that I felt I had just visited another world.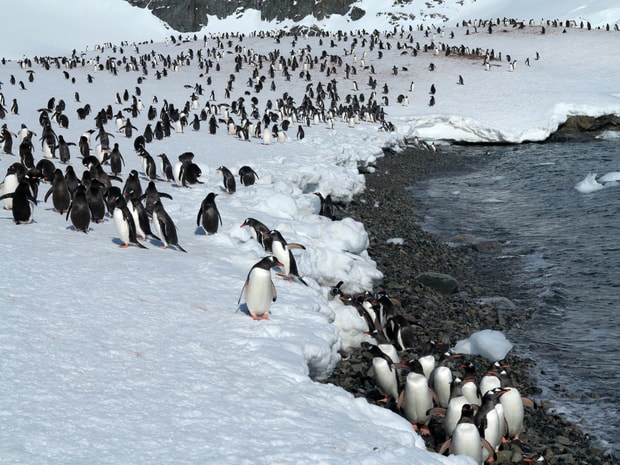 The next morning we eagerly disembarked at Half Moon Island to visit overlapping colonies of Gentoo and Chinstrap penguins. On the pebble beach a Weddell seal nursed her pup near our landing site. We walked along a long hill that was capped with tall rock formations, with penguins occupying all elevations. Young elephant seals lounged on the snow away from the loud squawking of the penguins. The sun was shining, and it was clear that the Expedition Staff and guests were truly happy, like children.
After lunch we sailed into Neptune's Bellows, the narrow entrance to Deception Island. The island is a caldera of an active volcano and presents a very dramatic scene of tall red cliffs, steaming black-sand beaches and a ringed ridgeline around the edge. We boarded zodiacs and landed at Whaler's Bay. Here we saw the wood and metal remnants of a time gone by. Ghostly shacks and half-buried rowboats and barrels were scattered about. Huge rust-colored tanks and machinery from the whaling operations looked like something out of science fiction. We took a walk along the steaming beach and up to Neptune's Window overlooking the open sea. Along the way I passed Weddell and Crabeater seals, penguins and nesting sea birds. A long-abandoned British science station sat beyond the whaling facility and was a great site for photography—the stark old buildings lacking doors or windows with peeling paint on the outside and smooth snowdrifts filling the inside. I walked a bit farther behind the beachfront buildings to visit a lone gravesite composed of a wooden cross and a small pile of stones sticking out from the snowdrifts.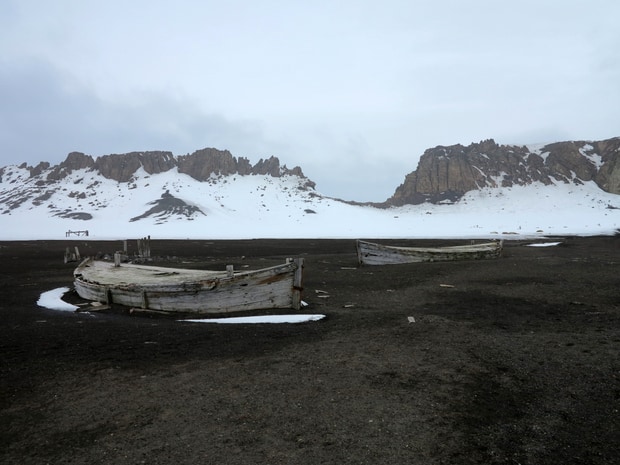 The next day was stormy as snow fell and the wind whipped. Our guides decided to abandon our planned excursion at Michelson Harbor in favor of sheltered Cierva Cove. Limited by this wild weather, they did their best to get us off the ship by giving zodiac tours around the huge icebergs of all shades of blue, white and gray. In places the water was crowded with tiny bits of ice that made a sparkly crackling sound as we motored slowly through it. The ice formations, shaped by wind and water, were beautiful and utterly gigantic. Back on board, a cup of tea (okay, it was scotch) helped with the chill as Sea Spirit motored down Gerlache Strait toward our next destination.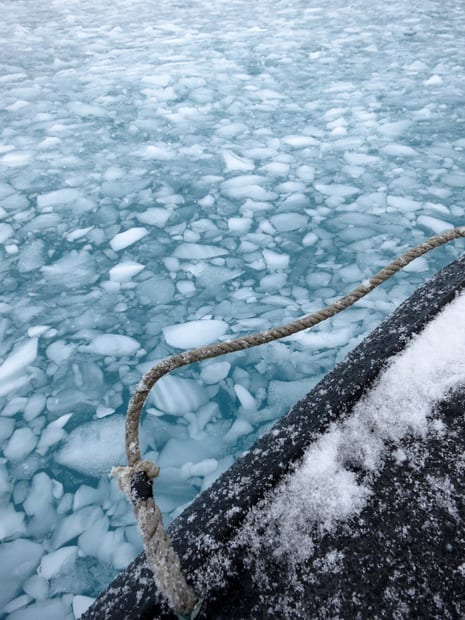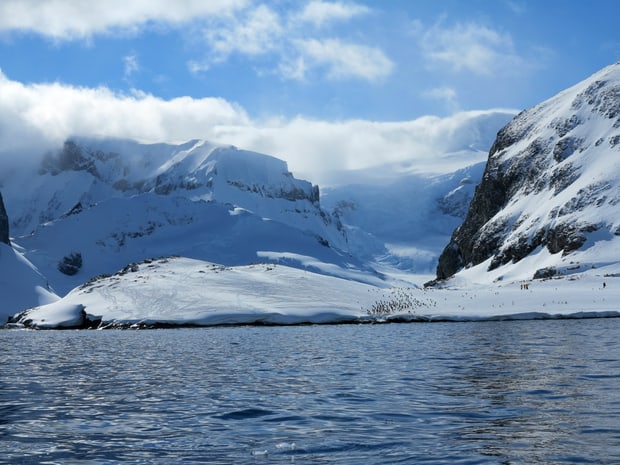 A stunning blue-sky morning greeted us at Cuverville Island. We were surrounded by immense continental mountain peaks and dramatic glaciers as we headed to shore. There, at the mouth of a steep valley of rock and ice, we spent several hours in sunny weather and surrounded by many hundreds of Gentoo penguins. The combination of scenery, animals all around and the great weather made this stop a highlight for me, something I will never forget.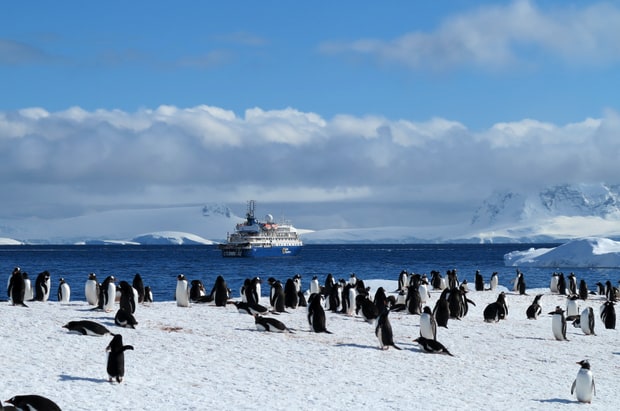 Midday the ship gingerly cut a path through a narrow channel choked with huge icebergs. Several of us went to the Bridge to watch the crew as they negotiated the route. Among the icebergs I saw a Weddell seal, a Minke whale and a host of resting seabirds. We reached our destination, Neko Harbor, where we set foot on the Antarctic continent for the first time. When we stepped off the zodiacs we were greeted by hundreds of Gentoo penguins and a scene of tall peaks and hanging glaciers looming above. After the obligatory photograph (we made it!), I hiked up a tall snowy hill to gain a long view of the area. From that perch I had innumerable mountains, glacier fields, icebergs and waterways spread out before me, and the only thing providing a sense of scale was theSea Spirit, now looking insignificant far below. Some of my fellow travelers sat up on that hilltop with me but no one spoke a word.
Later that day an adventurous group of campers, myself included, prepared for a night out on the snow. We had an early dinner and were kitted out with our bivouac sacks and sleeping bags before boarding the zodiacs to shore. We set up camp on a spit of snow-covered land on Ronje Island as the Sea Spirit sailed out of sight, leaving us to see only nature all around. Penguins splashed in the water near our landing site, and a hanging glacier topped a tall rock cliff behind us. We were able to spread out and set our gear where we chose. I picked a spot right above the water's edge, dug a shallow pit for my bivvy and proceeded to spend several hours sitting by myself to soak in the peaceful scene. My meditation was interrupted only by a couple of penguins who walked by—they'd come onto land to escape a leopard seal who I saw lurking off shore. They waddled around my sleeping area and peeked into the tent of a nearby camper before laying down to rest. At "sunset" in the late evening the sky took a pink glow that provided an eerie and beautiful aura, and though the sky never truly became dark, stars were visible. Once I'd crawled into my bivvy a powerful gust of wind hinted ominously at a change in the weather. Soon, our campsite was being buffeted by constant strong winds that whipped large quantities of snow off the nearby cliff. The noise of the winds and the nuisance of blowing snow intruding into my sleep sack kept me awake through the night—something that did not bother me at all. I embraced this evening as a chance to clear my mind, to enjoy the remoteness that I felt on this bank of snow at the bottom of the world, and to consider what it must've been like for the earliest polar explorers.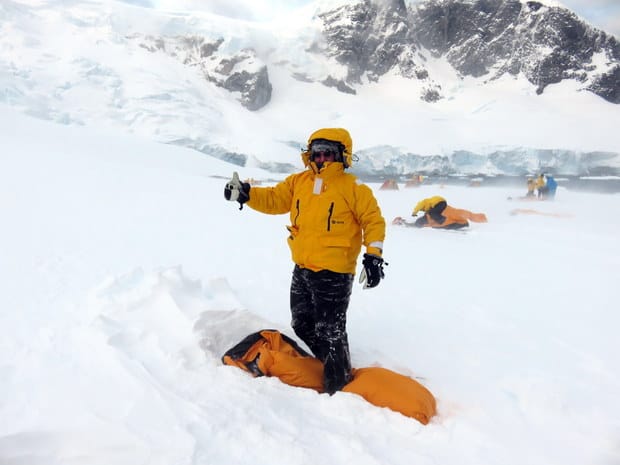 In the early morning we dug ourselves out of our new snow cocoons and headed back to the ship where all of the campers immediately sought out warm showers and hot cocoa. We were considered by the non-camping contingent of guests to be foolhardy for having spent the night out, and we received a lot of good-humored mockery at their hands after we returned. But, for each camper, the experience of snow camping immediately became a happy memory to place among the other signature moments of the trip.
Most of the campers slept until noon to catch up on rest, only emerging from our cabins after our Expedition Leader alerted us via intercom to the presence of Orca near the ship. Zodiacs were dispatched and some guests were able to follow the Orca closely as they meandered past the icebergs along the coastline of the Neumayer Channel.
Our route was taking us toward the former British science base, Port Lockroy. Just a day before, another ship had been denied by ice, but we were able to approach the humble red and black compound. Our Port Lockroy hosts boarded the ship to give us a briefing on the history and current state of the base. Once used for science experiments focused on the function of radio waves in the atmosphere, the base is now better known as the "penguin post office." Sure enough, when we arrived we saw that dozens of Gentoo penguins were living around each of the buildings. Entering the base was like opening a time capsule; except for the small gift shop and post office, each room was preserved in the manner it was left after the 1950s research concluded. A workshop, living quarters, a kitchen and rooms full of scientific equipment were contained in the building, which was about the size of a tiny farmhouse. In the sleeping quarters, hand-painted pictures of bawdy ladies adorned the walls (in the style of WWII fighter plane decorations). I was sure to mail postcards to friends and family from this very novel southern post office and to buy a "Port Lockroy Ski Club" patch in the gift shop featuring a skiing penguin.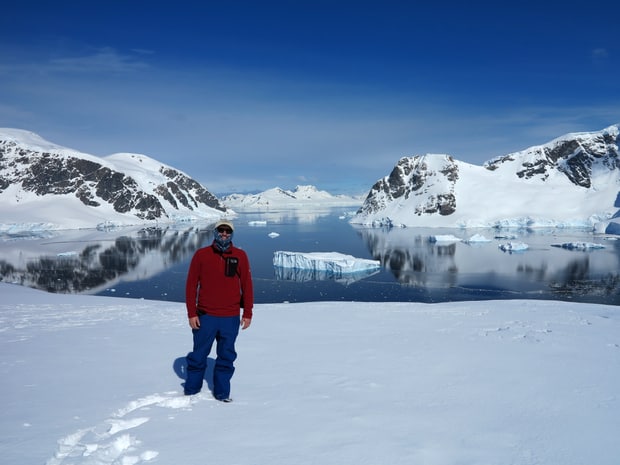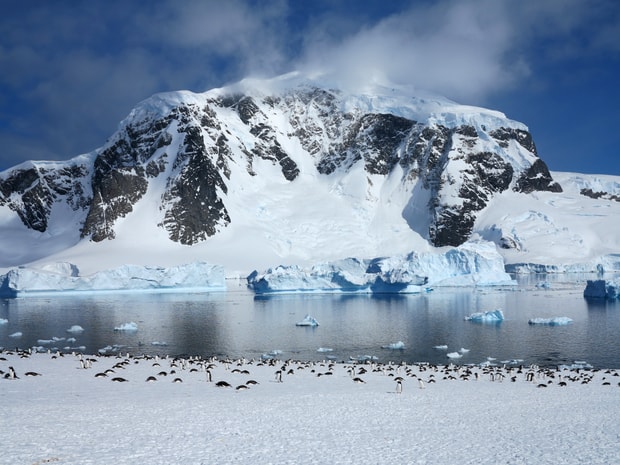 We awoke the next morning to sunny skies at Danco Island. We spent hours walking around a large colony of Gentoo penguins spread across a sprawling snowy hillside. From the top of the hill were 360-degree views of tall mountains, glaciers sitting atop all forms of rocky peaks and valleys, icebergs, penguins and winding channels of water. The bright sunshine, and the vantage point, made the underwater ice of the icebergs appear to glow bright blue. Penguins walked all around us. Several hours spent exploring that spot was enough to leave me with a minor sunburn and a very large grin.
Before leaving Danco, a number of my fellow travelers participated in the polar plunge, diving into icy seawater as penguins looked on from a berglet just 20 feet away. Each person jumped in the water with a rope tied round their waists and then seemed justifiably motivated to swiftly climb the ladder back out. We then motored up to Wilhelmina Bay. This was our final afternoon on the Peninsula, and we were blessed with another gorgeous sunny day to enjoy the passing scenery. As we sailed we saw Minke whales and enjoyed the passing mountains and icebergs. Horseshoe-shaped Wilhelmina Bay was a tranquil and stunning vision. Later in the season this area hosts scores of feeding whales ("Whale-mina Bay"), but in November we would be happy to tour in zodiacs around the sculpture gallery of icebergs. The ring of six-thousand foot peaks sat high above the water, and glaciers occupied all of the space in between. We witnessed several avalanches whose scale was large but hard to accurately gather. We saw tiny krill swimming next to the zodiac. We saw big tabular bergs that themselves were tourists in the Bay, having come from other locales often very far away. We picked up slivers of very old ice from the water and saw that the long streaks inside the ice were actually air bubbles that had been stretched by the changing shape and pressure of the ice over time. Time, really, is the most awe-inspiring feature of Antarctica, though probably the most difficult for us to grasp in terms of magnitude.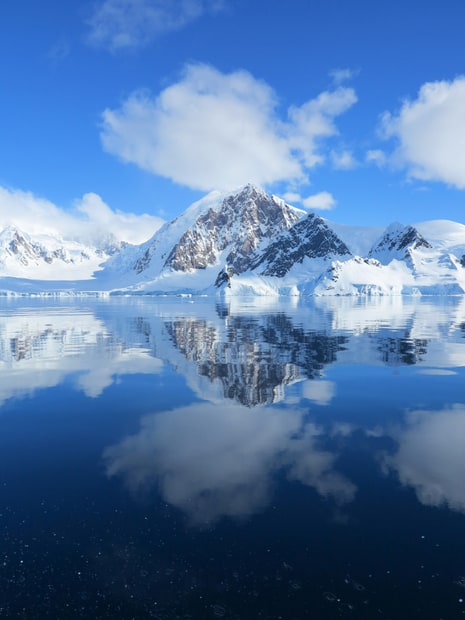 Regardless of where they'd been before or where they were headed next, all would agree that they'd never been to a place anything like Antarctica.
Speaking of time, our time in Antarctica had come to an end. Sea Spirit pointed toward the wide open Drake Passage and we left the penguins, the ice and the mountains behind. Our crossing consisted of 3- to 4-meter swell and some nasty winds that upset the waters around us and thus our stomachs. Most of the passengers aboard were either ill or uncomfortable during those two days, though some managed to continue to enjoy lectures, meals and evening drinks. Amidst the rolling I walked outside and saw seabirds as well as several Humpbacks sharing our transit. Generally I was feeling rather bad and thus tried to sleep as much as possible until we crossed into the quiet waters past Cape Horn. Once inside the Beagle Channel guests headed outside and shared in the bittersweet feeling that the trip was truly ending. Anchored in the still waters near Ushuaia, Sea Spirit's guests were treated to a great supper and a slideshow of our voyage. I thanked as many of the staff as I could locate. We enjoyed one last night on the boat with our new friends from around the world.
In the morning the one hundred travelers boarded planes and buses that carried them off to their next adventure, or back home. Regardless of where they'd been before or where they were headed next, all would agree that they'd never been to a place anything like Antarctica.
This Antarctic Explorer review was written by an AdventureSmith Explorations crew member. Use the AdventureSmith team's Antarctica cruise reviews and small ship cruise reviews for insights to inform, inspire and book your next trip aboard a small cruise ship then contact one of our Adventure Specialists to learn more about these small ship cruises and wilderness adventures: 1-800-728-2875.