Baja California, and its Sea of Cortez are competing with the world's best adventure cruise destinations like Alaska and the Galapagos thanks to a fantastic climate, miles of rugged shoreline and abundant wildlife. These five must-do adventures are best achieved via Baja cruise aboard a small ship, (8 to 100 guests on board) because the smaller the ship, the better access you have to remote coves and shores. Small ships also offer more flexible itineraries and off-ship activities that a larger-passenger cruise doesn't have the guide staff or equipment to do.
The smaller the ship, the better access you have to remote coves and shores.
Activities such as hiking, kayaking, snorkeling and even paddleboarding allow ordinary travelers to experience Baja's backcountry in a safe and easy way, and it's all included in the cost of the cruise. So skip the midnight buffets, crowded swimming pools and expensive tourist traps, and opt for these five amazing Baja-specific adventures via small ship.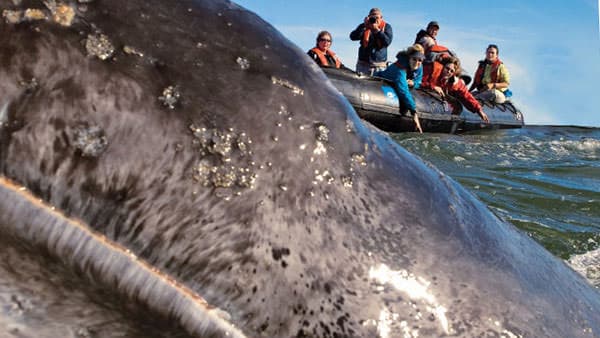 1. Trek Across an Island
One bonus of exploring the Sea of Cortez is that many islands are small enough to cross on foot during an adventurous day hike. Start from a beach on the Sea of Cortez's west side and wind your way up an arroyo, passing barrel cacti, sandstone formations, palo verde and most likely a few endemic species. Keep climbing and the arroyo gives way to a rock mesa with stunning views back down to your ship anchored near the beach and out to the towering Sierra de la Giganta mountain range. Walk long enough and you'll likely cross the island, stopping on a cliff's edge that drops hundreds of feet down to the crashing surf below. Birds riding thermals cruise past your head, and a cool breeze and an endless ocean horizon reward your effort.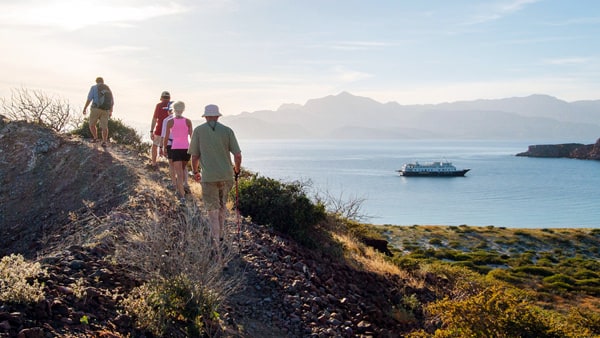 2. Kayak in the Sea of Cortez
The protected coves, abundant wildlife and white-sand beaches on the accessible shores of the Sea of Cortez are a kayaker's dream, but there are many more remote treasures to discover while paddling. Most islands off the mainland are typically available to only the most experienced and organized kayak groups due to unpredictable seas and winds, but on a small ship this is just another part of the experience. Seasoned guides choose the most inviting coves on remote islands to offer you some of the most pristine wilderness kayaking. Rugged red-ash cliffs break through the azure water's surface. Clarity reaches some 50 feet into the depths. Rays breach and crash down with a pop. And you're right on the surface of it all in a kayak.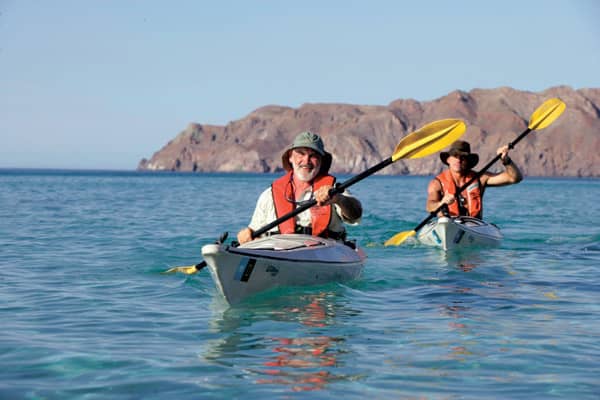 3. Snorkel with Wildlife
Snorkeling in most places is all about the fish. Snorkeling in Baja, however, is about larger marine life: sea lions, manta rays and whale sharks are the goal. You can expect to see colorful fish and some reef, of course, but the encounters with marine mammals is like no other. While bobbing the surface, keep your eye out for California sea lion haulouts and large schools of rays. Perhaps play with a sea lion, as they're known to swim and dive around snorkelers and blow bubbles in your path. As one traveler put it:
"A juvenile [sea lion] came darting past me several times and I playfully swam with her (I like to think it was a she) diving, twisting and blowing bubbles. She responded with twists and turns of her own and soon I was back on the surface, exhausted and elated. I stopped and became very still, just bobbing in the water waiting for her to make the next move. Suddenly she stopped too and slowly swam towards me. Over the course of about 10 seconds she seemed to drift right at me until she was right in front of my mask. I could see her doglike nose, whiskers swaying in the current and the deep black of her eyes locked right onto mine. Closer, closer and closer she came until she finally touched my nose with hers and shot away. She turned so fast I could feel the water pushing against me. It was the closest I have ever been to nature. As I recounted the story for my friends later they insisted I had a new girlfriend, and I had a memory that would last a lifetime."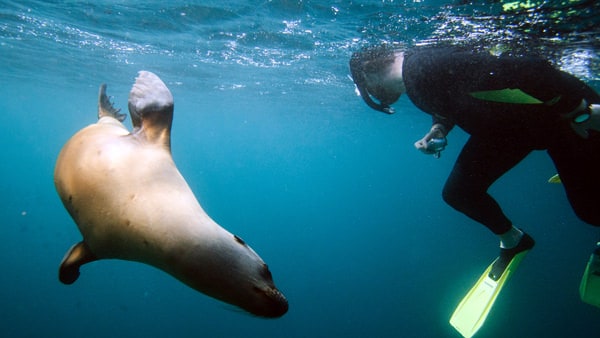 4. Birdwatch off Isla Raza
About two-thirds up the Sea of Cortez lies Isla Raza, a humble rock outcropping barely a mile across. It's only 100 feet at its highest point, yet a million birds call it home each April and May during nesting season. Only a handful of travelers and researchers visit the island each year because it is challenging to access and strictly protected as a bird sanctuary, being a key site for Caspian terns, Heerman's gulls and ninety percent of the world's elegant tern population. Small ship cruises are a great way to see Isla Raza because they offer minimal disturbance to the birds and guests have the great advantage of having expert birding guides on board.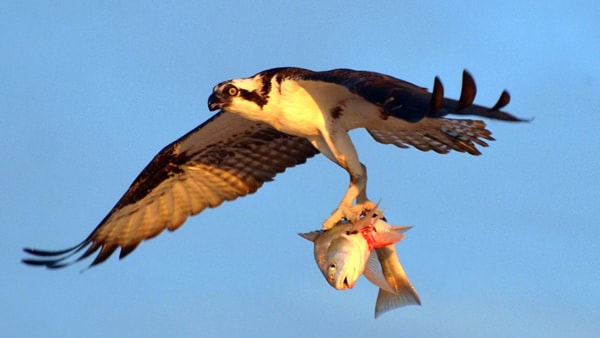 5. Cruise with Great Whales
Baja is known for its whale watching and many travelers are familiar with typical half-day whale watching tours. Aboard a small ship cruise, however, you are whale watching 24 hours a day, for an entire week, in the Sea of Cortez. Plus many Baja small ship cruises through AdventureSmith Explorations also include a trip to view gray whales along Baja's Pacific coast. The Sea of Cortez is home to many migratory and resident whales, including humpback whales, sperm whales, orca whales, gray whales, fin whales, blue whales, pilot whales and others. In addition you may encounter dolphins and porpoise. On occasion, a small ship may become surrounded by thousands of dolphins or porpoise, sometimes taking up to twenty minutes for the pod to pass by. Here's an account from an AdventureSmith traveler:
"One night after dinner a small group of guests had gathered on the bow of the ship where our guide was giving a presentation on stars, planets and constellations. After the talk many of us lingered enjoying the views of the Milky Way, the warm breeze and the solitude. Suddenly a woman screamed, "Look at that, what is that?" We all hurried to the railing to an amazing sight. The foam stirred up by the movement of the ship was glowing fluorescent green. Our guide explained that the bioluminescence was created by plankton and algae blooms in the water. We accepted his answer and went back to our silence, watching the light show. A few moments later we began seeing small sparks of light shooting forward from the ship. First one, then three, then many. It soon became clear that a pod of dolphins was riding the bow of the ship and when they would break the surface to breathe it would light up the dark black water in front of the ship. It was one of the most amazing and unexpected encounters of the entire trip."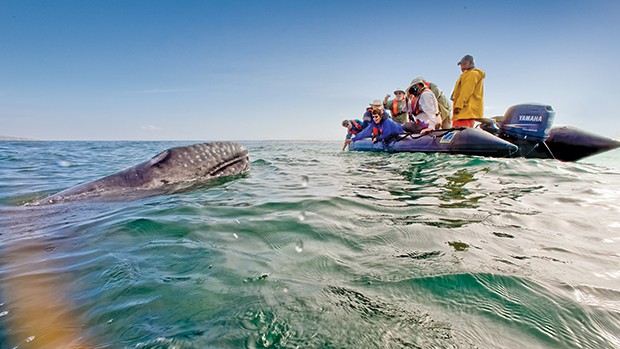 What to Expect on Your Baja Adventure Cruise
If you're new to small ship cruising, the hallmark of this type of travel is the ability to get off the ship away from crowded ports. Expert naturalist guides on board help you actively explore remote islands, reefs and beaches. Each day offers activity options, like our top 5 above, and more that are catered to all levels of activity, from those who just like to stroll the beach to those who'd like to trek across an island. On small ship cruises, experiences that would otherwise take months of training, planning and logistics are available to everyone—plus they're included in the cruise price. Back on board after your day's adventure, clean up with a hot shower, a glass of wine and a delicious meal. You rest while the ship relocates to another postcard-perfect location to repeat the fun the next day.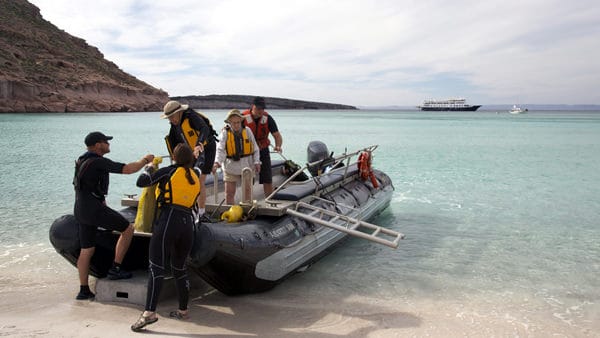 MORE BAJA RESOURCES:
Baja Cruises
Baja Cruise Reviews
Best Time to Visit Baja
How To Choose Your Baja Cruise


Images courtesy of our partners at UnCruise Adventures, Lindblad Expeditions and Pacific Catalyst II.