AdventureSmith Explorations Founder and President Todd Smith reviews his Costa Rica and Panama cruise aboard the 72-guest Variety Voyager.

In December 2013, my family and I were invited to join the inaugural Costa Rica, Panama and Colombia Cruise aboard the 72-guest Variety Voyager. Note that this cruise aboard the Variety Voyager was an abbreviated version of the Costa Rica, Panama Canal and Colombia Cruise. Instead of the usual 8-day cruise from Cartagena, Colombia, to Herradura, Costa Rica, we took a 5-day cruise from Colon, Panama, to Herradura, Costa Rica.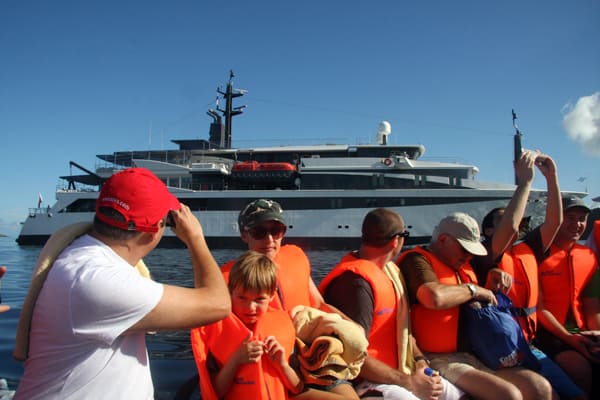 Prior to our cruise we explored Panama on an 8-day custom trip to Panama City, Bocas Del Toro and Gamboa, which was the perfect compliment to this cruise.
Day 1 – Panama Canal Transit
We boarded the Variety Voyager midday in Colon and began our passage toward the Panama Canal. As we waited our turn to pass through the Gatun Locks we floated and bobbed among countless other ships waiting their turn. There were huge Panamax container ships, specially designed with just 2 feet of space when passing through the locks, giant oil tankers, car carriers, cruise ships, private yachts and almost every type of ship one can imagine representing about 5% of worldwide shipping traffic and 70% of all cargo to and from the U.S. From this vantage point it is clear that Panama is at a global crossroads of international trade.
Special Panamanian pilots and Panama Canal crew transferred aboard, and finally it was our turn. As we approached the Gatun Locks we noticed four gigantic doors to the left of the canal. The doors looked like large buildings and they dwarfed everything around us, including the enormous Gatun Locks directly ahead. We learned that the Panama Canal is being expanded to accommodate today's behemoth freighter ships and oil tankers, and these were the doors for the new locks.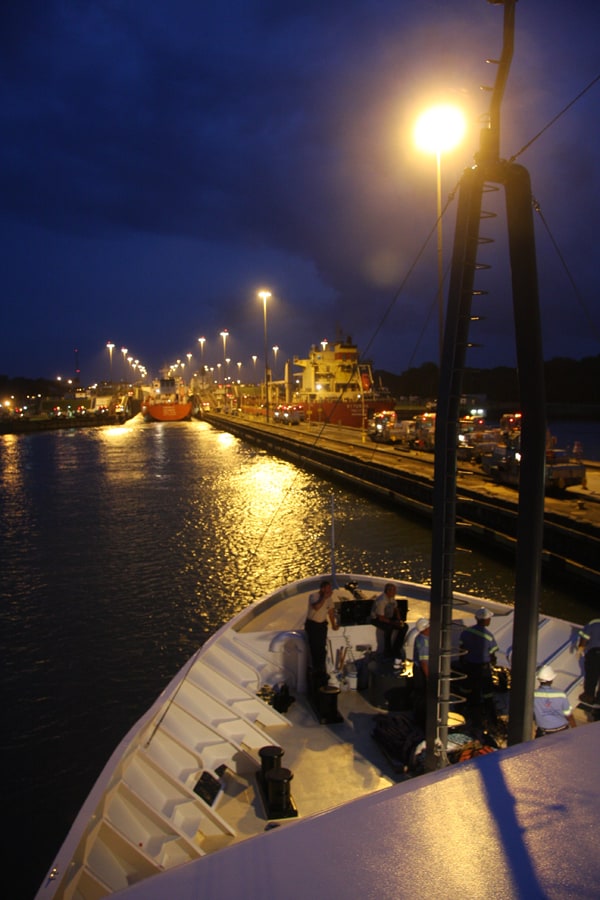 Aboard a small ship like the Variety Voyager, the scale of the locks and the canal are astounding. The freighter that we follow into the locks dwarfed us. Just as we are about to enter this marvel of modern engineering, a very low-tech and tiny two-person rowboat appears and it seems for a moment as if we might run it over. The crew on board throws special lines to the rowboat and it tows them ashore to attach to the electric rail cars that will tow the ship as we pass through the locks. We float into the first lock, and the doors close behind us it starts filling with water and raising our ship. This was the Variety Voyager's inaugural cruise through the Panama Canal, and so the crew invited everybody to the top deck for a Champagne toast.
To fully pass through all three Gatun Locks took about two hours from start to finish. Just as we pulled through the last of the three Gatun Locks and into Lake Gatun, 85 feet above sea level, dinner is served. We select an outside table with a view behind the ship and watch as the lights of Colon and the locks recede into the night and our ship enters Panama. One last set of bright lights appears and we realize it is a city-sized construction site, where crews are building the new locks. I had taken this trip because of the wilderness aspects and did not expect the Panama Canal to be very appealing to me. But after having passed through and learning the history of the canal it was a moment and experience I will never forget.
After dinner my family and I wander up to the wheelhouse and the captain explains to us importance of the red and green navigation lights that direct our path forward. During the night we would pass through two more sets of locks that would lower us back to sea level and early tomorrow morning we would pass through the locks at Miraflores and would enter the Pacific Ocean. Then entire voyage takes about 8 hours and covers 48 miles. I settle into bed eager to read the Panama Fever, the book I had brought on the history of the Panama Canal, a fascinating story now coming to life.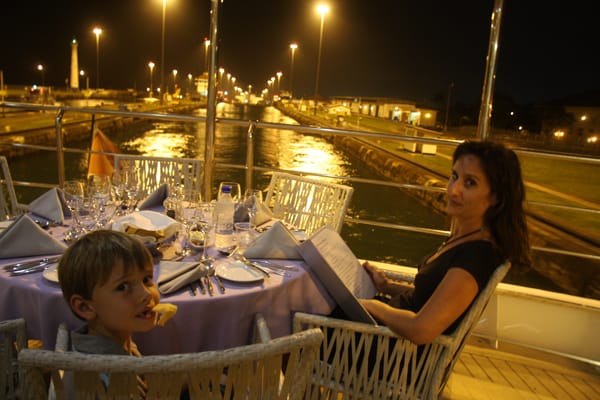 Day 2 – Panama City
A number of guests awoke early to view another passage through the Miraflores locks. We chose to sleep in and awoke to a similar scene as yesterday outside the locks. Dozens of ships were at anchor waiting to pass through the Canal, except this time the backdrop with the gleaming, modern skyline of Panama City. After breakfast we took zodiacs to a marina situated on former islands that were connected to the mainland using the dredgings from the canal.
Our tour began with a stop at the Miraflores Locks visitor center. It was interesting to view the operation from above and during the daylight. The visitor center had a nice exhibit covering the history of the canal, a lesson on canal operations, an overview of ships that pass through the canal and its importance to global trade, and a sneak peak at the new canal and how it is being built.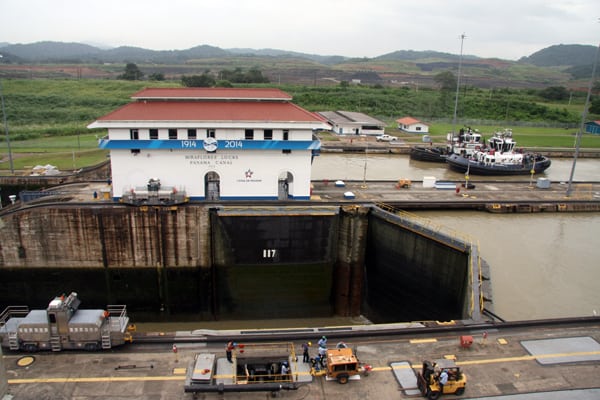 From the locks we continued to Panama Old Town. Panama City has been at a crossroads nearly since it was settled by Spain. Tons of Inca gold acquired by Spanish conquistadors in South America made its way to Panama City where it was transported across the isthmus and on to Spain. 49ers used the route on their way from the East Coast of the USA to San Francisco and the gold fields of the Sierra Nevada. Before the canal, there was a train and Panama City has benefitted from its location for hundreds of years. The original Panama City was sacked by the notorious pirate Henry Morgan in 1671 who reportedly made away carts loaded with gold and silver.
The second city, the one we are visiting now, was built on a promontory overlooking the Pacific with a shallow estuary surrounding it, keeping out enemy ships. A high wall was built to defend the city from attack. Today the wall remains and surrounds a UNESCO World Heritage Site known for its historic cobblestone streets, colonial architecture and scenic views. Old Panama City is also going through a massive restoration, and it seems every other building is under construction. I imagine in 5 years this is going to be the place to stay when visiting Panama City. The new city, or third city, is visible across the bay and it is impressive. A modern skyline of glass and steel skyscrapers extends for miles along the waterfront and once again affirms Panama as an important center of trade and finance.
Our guide points out the elaborate building that housed the French Canal Authority, the private company that first dreamed and attempted to build the canal. Across the street is La Cathedral Metropolitana and surrounding the main plaza are a number of historic buildings being turned into hotels and restaurants. One corner building is almost in ruin but has been converted to an indoor/outdoor market where we join other travelers shopping for art and tchotchkes. We return to the ship for lunch and begin making our way into the Pacific Ocean.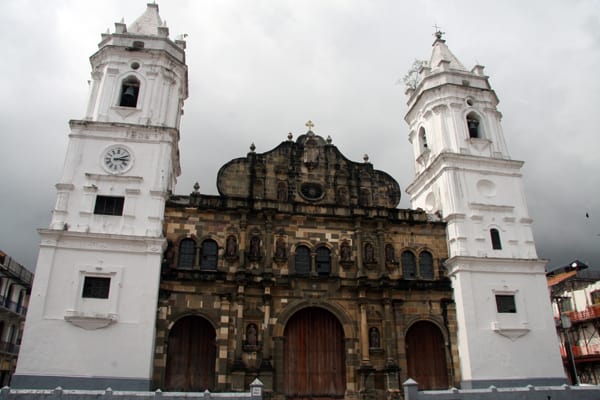 The afternoon is spent at sea where we relax and read on the observation deck of the Variety Voyager (read a full description). Recently built in 2012, the Variety Voyager is luxurious by small ship standards. She has a very modern feel with steel, glass, lighted accents on mirrored walls and stylish new accents and amenities. Cabins are small but comfortable ranging from 129 to 248 square feet. Most cabins feature portholes, but our Category A portholes were quite large and effectively served as windows, although they could not be opened. There is plenty of storage and a small desk in nearly every room, but note that travelers from the USA should bring an adapter as power outlets are European round style 220 plugs. The bathrooms are modern with beautiful glass doors and furnishing, and the shower is fantastic with lots of water pressure and a rain shower option that felt great after a long day of activity. We also appreciated the air conditioning in each room.
Common areas aboard the Variety Voyager are spacious and comfortable. It seems that every day we found a new place to relax. We especially like the outdoor alfresco dining area and the Oceans Lounge on the upper deck. Large outdoor couches, chairs and coffee tables served by a full bar with fantastic views made this a popular outdoor deck. The upper observation deck was rarely used by other guests and provided a peaceful resting area with a 360-degree view. The ship has a small workout room with a full spa and on board spa treatments. The crew gave us informal tours of the wheelhouse and engine rooms, which my kids loved.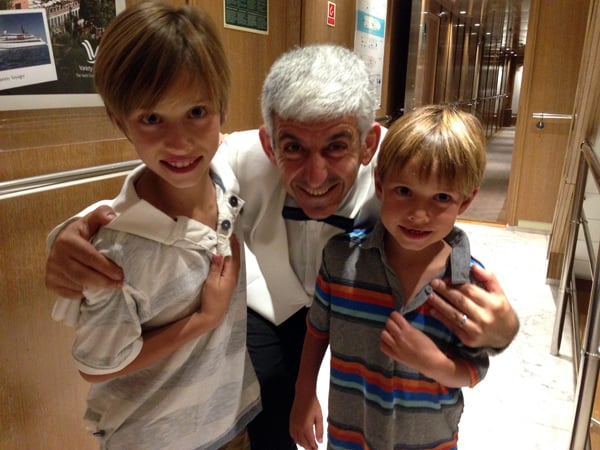 Even more impressive than the ship itself is the white glove style service and the attentive crew on board the Variety Voyager. Our rooms were cleaned several times each day, empty glasses and other stray items were immediately picked up and we were constantly pampered by an attentive and well trained staff. Meals were an event and the food was good. Breakfast and lunch were served buffet style with lots of variety and always some made to order option. Dinners were five courses and lasted into the evening. The fine dining room was always kept immaculately set with more silverware, plates and cups than my kids knew what to do with. Dinners did sometimes run a bit long for my kids so we began to ask that they be served their entrée first and the crew was happy to oblige. Many crew members took time out of their busy schedules to make sure my kids felt at home and had plenty to do.
Day 3 – Coiba Island
The overnight crossing from Panama City to Coiba Island was rough, and a number of passengers complained of seasickness. It was my understanding that during the Variety Voyager's operating season of December through March the Pacific side of the itinerary was typically calm. The onboard naturalist, who has worked about ships in the area for a number of years, corroborated my impression saying that last night's crossing was unusually rough. He also advised that it was the Caribbean side that could be rough this time of year and added that guests should be prepared for rough conditions when crossing from Panama to Colombia.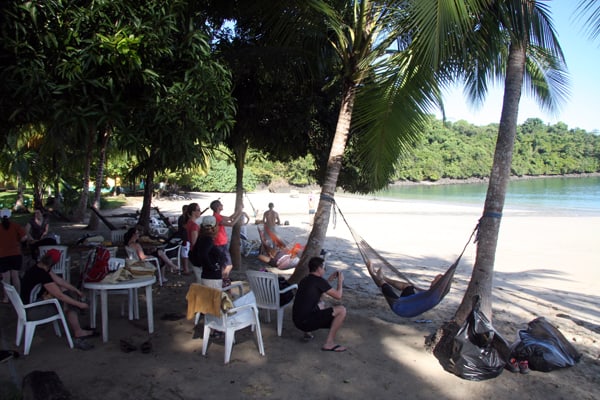 We awoke to a postcard-perfect scene with azure water lapping on white-sand beaches fringed with lush palms and green jungle. While enjoying an alfresco breakfast, and staring out at the perfect beach, my sons could hardly contain themselves. We joined the first zodiac ashore to maximize our time at the beach at Coiba Island. The kids swam and built sand castles while my wife relaxed on the beach and I joined the guided nature hike. The hike was short but steep on a slippery, muddy trail. Along the way we heard and spotted a troop of howler monkeys. Our effort was rewarded by fantastic views of our beach and out onto an archipelago of scenic islets dotted among the blue Pacific. Upon returning the beach I grabbed my boys because a troop of white-faced capuchin monkeys had come to investigate our beach. We watched them eat and play while an agouti and an iguana watched us watch the monkeys. Across a narrow isthmus from our beach was another beach where we were told not to swim because it was inhabited by a large crocodile named Tito. We looked for Tito but were advised that he is only seen at high tide, and we only swam where we were told.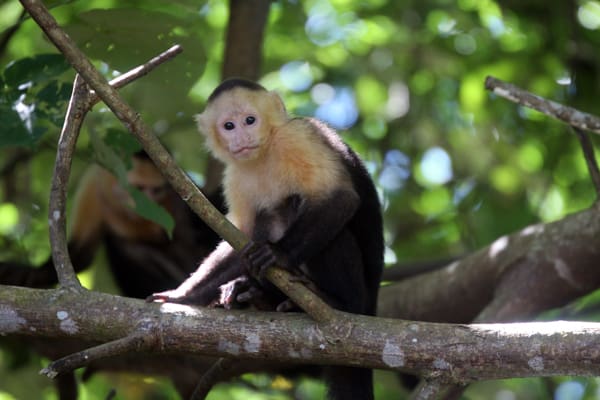 The crew had brought snorkel gear and we made our way to the rocky edges of the beach for a swim. Just a short ways out was an incredible coral reef. Some guests saw a sea turtle while we saw colorful fish and numerous coral species. Just as we were beginning to relax we were told we had to return to the ship for lunch and we were a bit upset until we saw another ship, beginning to disembark guests on our beach. We were rewarded for our flexibility when, after lunch we visited Granita del Oro, a Robinson Caruso-type island no bigger than a city block. It had a small white half-moon beach fringed by towering palms and a rocky islet just off shore. This became our private playground for the afternoon and the snorkeling was even better here. This time rocky outcroppings replaced the coral reef and were home to huge schools of fish, much larger fish. My young son and I saw a white-tipped reef shark and other guests saw another sea turtle. We returned to the ship in time for a spectacular sunset.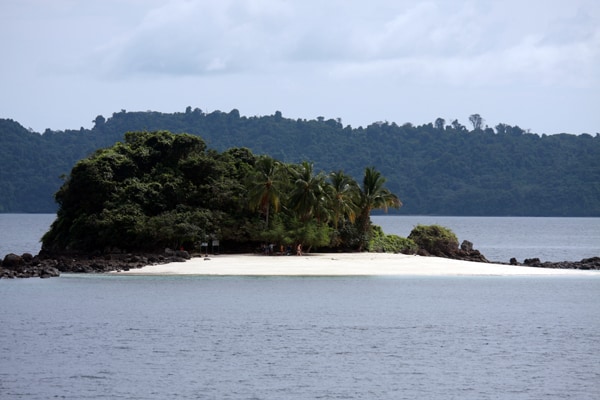 Day 4 – Corcovado National Park
Corcovado is a special place and is considered the crown jewel of the internationally renowned Costa Rica National Park System. Corcovado is one of Costa Rica's most remote parks and difficult to access overland but relatively easy to explore by small ship. We anchored in nearby Drakes Bay where a number of local pangas arrived to guide our explorations. Guests chose from two excursions today. My wife and kids opted for the marine wildlife safari, a small craft excursion along the coast seeking out whales and dolphins. I opted for the guided hike inside Corcovado from the San Pedrillo ranger station.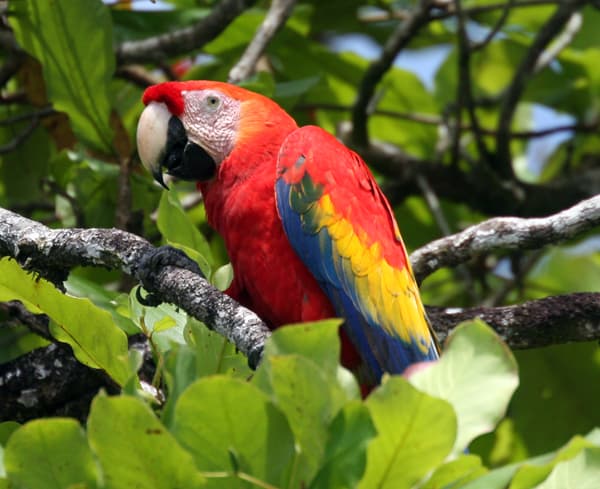 Immediately upon landing on a white sand beach we were greeted by two bright red scarlet macaw's n the trees above the beach. Our jungle walk was flat and easy with a very knowledgeable guide. The loop trail took us out through the jungle where we did not see a lot of wildlife other than birds and bugs, but our guide brought the rainforest to life with fascinating explanations of the local ecosystem. We returned along the beach were the views around each corner were more spectacular than the last. We did see more macaws throughout the hike. After the hike we had time to swim along the beach before returning to the ship for lunch. I heard reports of several dolphins sighted on the Marine safari and the kids got some extra beach time, which they loved. After lunch guests were invited to go ashore to explore the town of Drakes Bay or visit another nearby beach. Our trip concluded with a special Captain's dinner where the entire crew was introduced and received standing ovations.
Day 5 – Disembark at Los Suenos, Herradura
Our final morning we docked and disembarked at the Los Suenos Resort in Herradura, Costa Rica. A low tide and shallow dock meant we actually anchored just away from the dock and the crew ran a gangway for us to disembark. Transfers to the airport in San Jose are not provided by the cruise line so we arranged a private transfer to the San Jose airport. This made sure we had plenty of time to make our afternoon flight and we could make a few stops along the way to view crocodiles and for one last shopping stop. Unfortunately we did not have time to stay in Costa Rica but I suggest travelers consider a pre or post cruise extension to visit the Monteverde Cloud Forest and Arenal Volcano.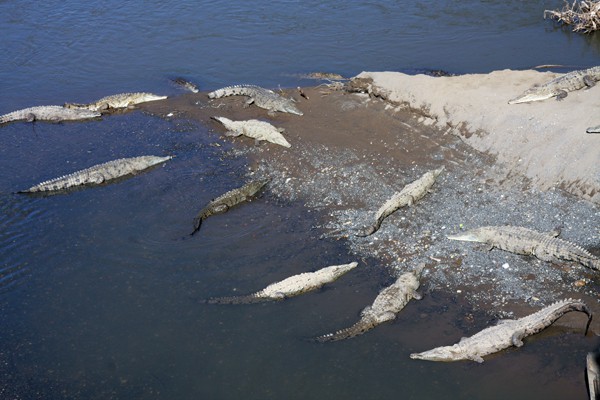 As an abbreviated cruise we missed the exploration of Curu and Tortuga Island in Costa Rica , the Kuna Indians and beaches of San Blas and the colonial city of Cartagena. But I did get a good sense of the Variety Voyager and her new operations in Panama, Costa Rica and Colombia. As her first cruise in this region things were still being worked out. For instance they did not yet have any kayaks or paddle boards for guests to use, the timing of the Canal Transit was uncertain and shore transfers took longer than they should. But I am sure that the fantastic captain and crew aboard the Variety Voyager will work out these issues quickly and this cruise will be a popular choice for many years to come.
This Variety Voyager cruise review was written by an AdventureSmith Explorations crew member. Read all AdventureSmith Expert Reviews for more trip reports, or contact one of our Adventure Specialists to learn more about these small ship cruises and wilderness adventures: 1-800-728-2875.