AdventureSmith Explorations' Meghan Robins reviews her Galapagos Cruise aboard the 16-passenger Alya luxury catamaran. Learn which of her Galapagos highlights can only be found on the southern islands and how to do a short 4-day trip right.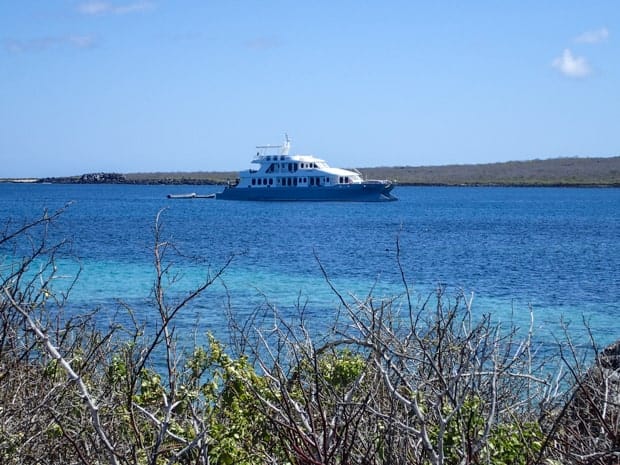 Arrive at Galapagos Islands: Puerto Basquerizo Moreno, San Cristobal Island
It's Monday, January 8, 2018—the middle of the Ecuadorian summer. Thanks to my one-day layover in Quito, Ecuador, I am well rested for my 4-day Southern Galapagos Islands small ship cruise. After landing at San Cristobal Airport around noon, we take a quick 10-minute bus ride to Puerto Basquerizo Moreno where—in the turquoise bay floating amidst yachts and fishing boats—is our 16-passenger catamaran, the Alya. Learn how to get to Galapagos.
Private balconies, large exterior windows, three tiers and generous teak decking … she is the envy of all other boats in the bay.
We can tell immediately during our short Zodiac approach that she's a well-maintained luxury vessel. I hear whispers of excitement from my fellow travelers (many of whom are seasoned small ship cruisers) upon seeing her. Private balconies, large exterior windows, three tiers and generous teak decking … she is the envy of all other boats in the bay.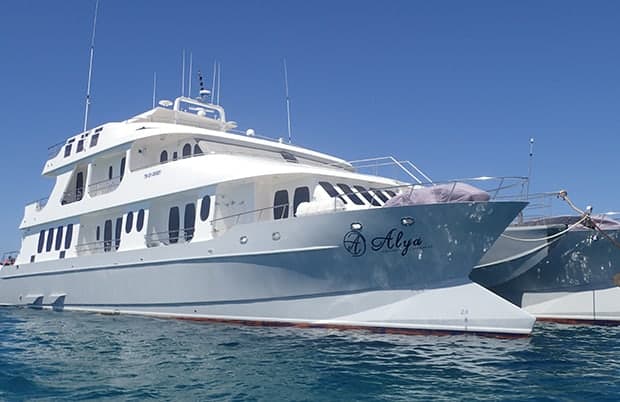 Insights on Alya Cabins
On board, we are greeted by our friendly cruise director and given a refreshing wet towel and welcome cocktail drink. We are asked to take off our shoes and stow them in a tidy shoe shelf at the stern. For the duration of the trip, we are either in sandals, slippers or barefoot while on board, a casual and clean touch that makes me feel at home. We're given cabin assignments and our luggage is already waiting in our rooms.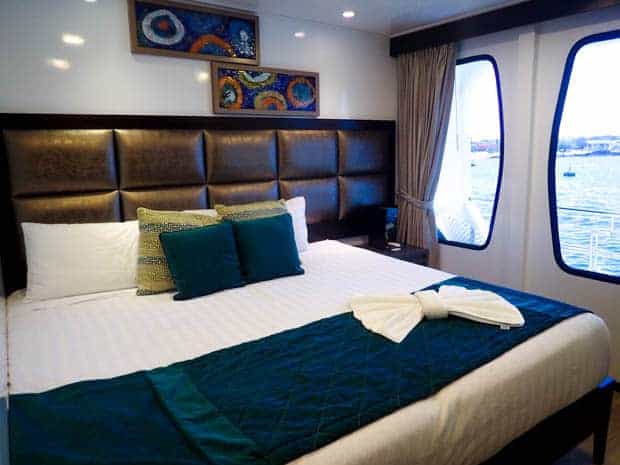 I am on the Upper Deck in cabin 9. The king-sized bed is huge! The windows offer so much natural light that I'm immediately pleased with my home for the next four days. I unpack in the large closet and drawers and realize I could have brought way more. I'm giddy about the thick, white robes and I take a quick inventory of the room: a desk with pen and paper, fully equipped bathroom with decent sized shower, lifejackets, a small safe—all the details a luxury ship should have. I lay on the bed. I step onto the balcony and breathe in the Pacific Ocean. I am actually in the Galapagos!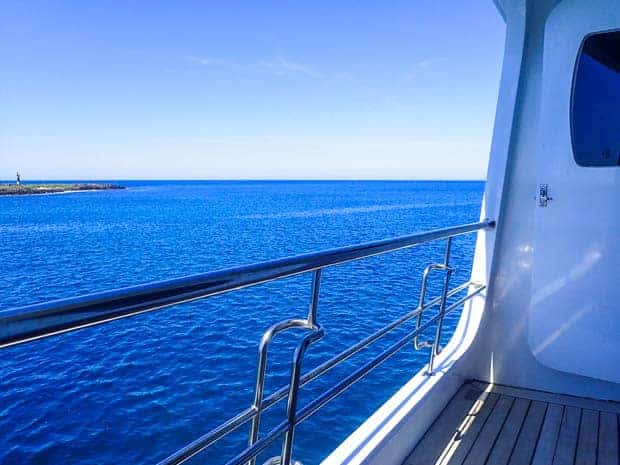 I am able to tour the Main Deck cabins (#2, 3, 4 and 5) and notice their rooms and bathrooms are even larger than mine. While the Upper Deck cabins (#6, 7, 8 and 9) are 172 square feet with two large bay windows, the Main Deck cabins are 215 square feet, with three large bay windows and even larger showers. I don't need a lot, but I could live comfortably in any Main Deck cabin aboard the Alya. The only thing to note is that they are closer to the engine room and thus a bit louder. Those of us on the Upper Deck still hear some engine noise (it's a small ship, after all), but it is much quieter.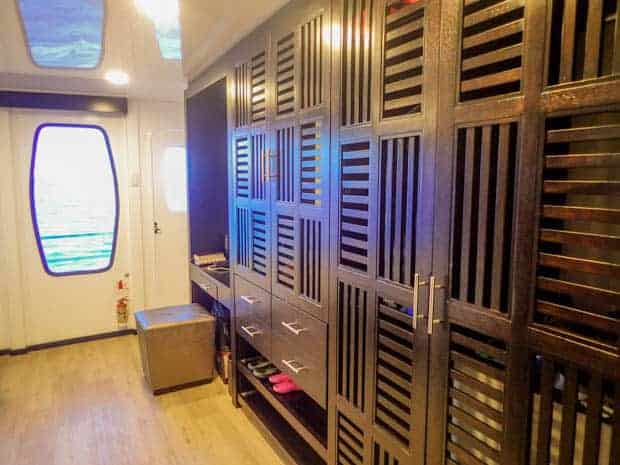 During our 4-day itinerary, we cruise at night at least twice and only for about half the night. One night we fall asleep while cruising, and I only notice the sways of the calm seas a little. Another night, they start the engine at 2am, which we all notice, but less so on the Upper Deck. Overall, on this 105-foot luxury catamaran, the quality of accommodations and service are equal regardless of where you are sleeping.
Life Aboard the Alya Luxury Ship
Aside from daydreaming on my private balcony, I do not spend much time in my cabin. Though I could. The Alya is equipped with so many common areas, the ship feels larger than it is; everyone is finding both alone time and social enjoyment. The decks are made of fine teak, the outdoor furniture is comfortable and plush, and the dining table is always set as if every meal is an occasion. Plus, Jamie, the bartender, is always nearby serving beer, wine and cocktails. The lounge and dining areas are cozy with couches, contemporary artwork and decorations, natural light, friendly guests and a jovial staff.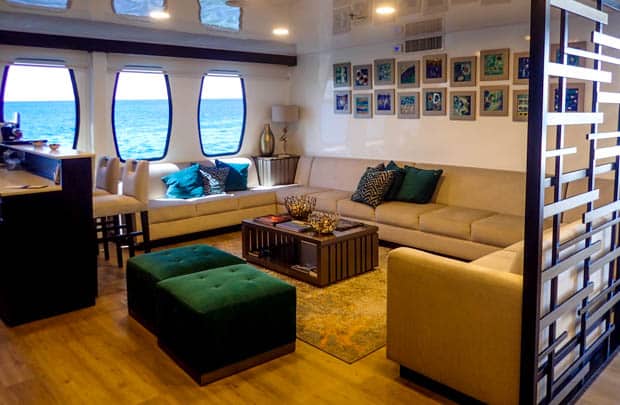 The Top Deck has a Jacuzzi, but the crew cannot keep it filled while cruising. Whenever the ship is still and the Jacuzzi is full, guests are using it, often in the afternoons and when we're at anchor. After snorkeling and a Jacuzzi dip, I always enjoy a consistently hot shower.
Out of the three boats he's captained over the last 12 years, the Alya is his favorite.
If there's anything you want on the Alya (within reason), just ask and the crew and staff finds a way to accommodate. We ask to have the Jacuzzi operating as often as possible and they comply. Another night, we ask to dine on the Upper Deck (something they don't normally offer on the 4-day cruise) and the staff makes it happen. One evening after dinner, I wander into the bridge, which does not typically have an open bridge policy, and the captain hands over the helm! He points out what we're aiming for, and tells me why, out of the three boats he's captained over the last 12 years, the Alya is his favorite. "Simple, it's the newest!" he says with a grin.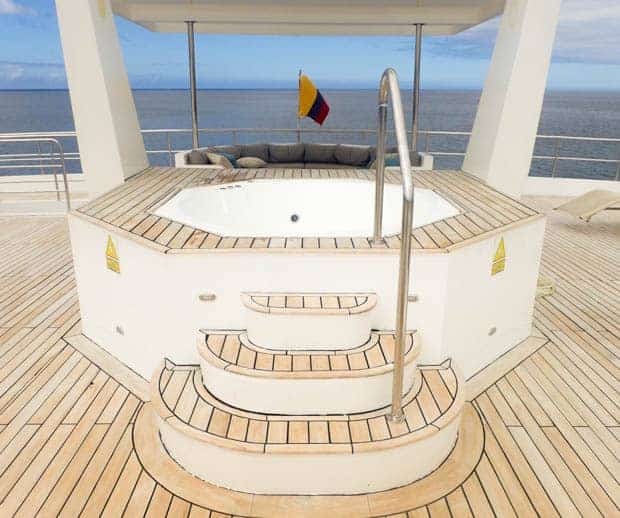 Snorkeling in the Galapagos Is a Must!
While the Alya ship provides a perfect home base, I'm here in the Galapagos to explore. Namely, among the sea life. Despite growing up on the water, I have never been snorkeling. And now I've been three times in four days. I would go every day if I could! Our guide and Alya crew are so helpful (always with suds for goggle defogging and Zodiacs nearby to pick us up) that I'm eager to jump right in. Those of us who are new to snorkeling, start from the shore and those who are experienced start from the pangas.
If you have a chance to snorkel in the Galapagos, don't pass it up.
Right away, we see everything: golden rays, sea lions and more colorful fish than seem possible. Sea urchins poke out of rocky nooks. Pink coral crackles in my ears (gray coral is sadly silent). The rhythm of my masked breathing and the lull of the ocean encourage me to slow down, take in this once-in-a-lifetime Galapagos experience. On another excursion we see sea turtles and at least five white-tipped reef sharks, and I'm so happy I could stay in the water forever. If you have a chance to snorkel in the Galapagos, don't pass it up. It is by far the highlight of my entire Galapagos small ship cruise. And it is as rewarding for a first-time snorkeler as it is for the more experienced divers.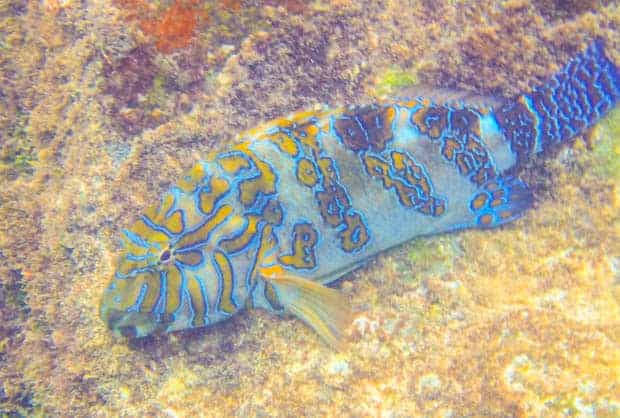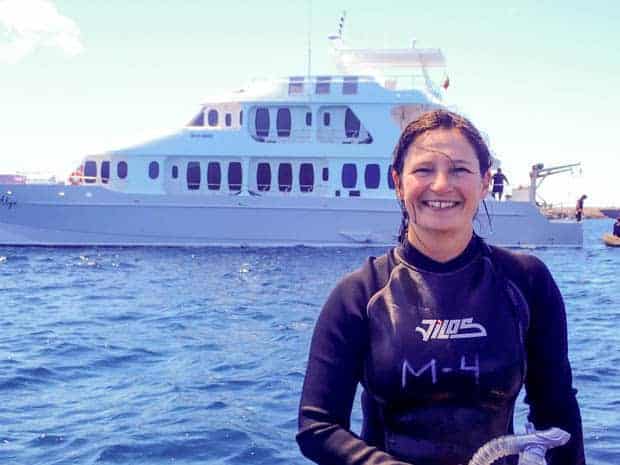 On day three, we go kayaking, which has its own allure. Alya carries four two-person kayaks, allowing for two shifts of eight passengers each. We explore caves near Punta Pitt and are followed by some playful sea lions. Kayaking is fun and cave exploration is exciting, but now that I know what's underneath the surface, I'm glad our itinerary focuses more on snorkeling. My advice about choosing a Galapagos trip is to get in and under the water's surface as much as possible!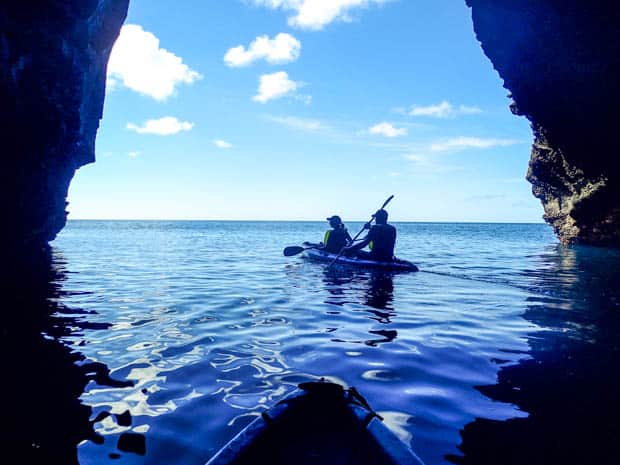 Land Excursions in the Galapagos
The 4-day Southern Galapagos Islands Cruise explores San Cristobal Island and Espanola Island, with Lobos Island, Punta Pitt, Suarez Point and Gardner Bay as the main onshore visitor sites. On Suarez Point, a heron swallows a juvenile Sally Lightfoot crab and our guide tsk-tsks and shakes her head. "That crab is too big for him." But the heron cocks his neck back, opens his gullet and forces the pinching claws down. He hops around, shaking it into place. We look at our guide, her eyebrows are raised. She nods. She's impressed. We all walk away, nod and commend his ambition as well.
The animals are so foreign to me and so unphased by me. Every shore activity seems a miracle of wildlife.
The Galapagos Islands animals are so foreign to me and so unphased by me. Every shore activity seems a miracle of wildlife. Before we make a dry landing at Lobos Island, we linger in the pangas where playful sea lions approach. I snap a photo of a sea turtle with a Sally Lightfoot crab hitching a ride.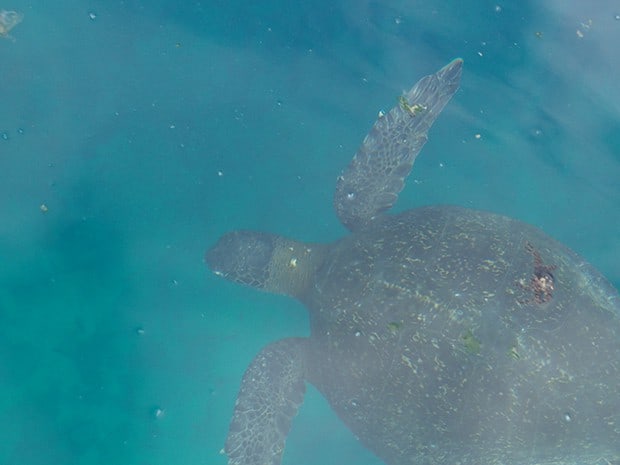 On Lobos Island, we spot our first blue-footed booby and so many frigatebirds. On shore, sea lion pups, juveniles and adults play and lounge in the shade.
At Punta Pitt, there is deep water near the cliff line, perfect for snorkeling. Later, we hike a steep trail up to the bluff where blue-footed and red-footed boobies are choosing nesting sites. They act like retired couples: Honey, look at this spot. No, it's so much like that spot. But it's flat. You're right. I'm hungry. We don't have predators. Should we stop for tea? Probably.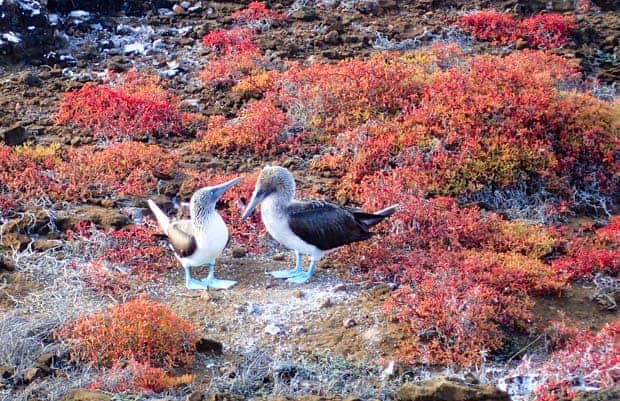 My Favorite Galapagos Visitor Sites: Why Sail the Southern Islands
Of all the visitor sites, Suarez Point and Gardner Bay (both on Espanola Island, the southernmost Galapagos Island) are my favorite. There are species you can see on Espanola that you may not see on any other island. For example, the waved albatross at Suarez Point. The only time they are not on Espanola is January through March, so I am thankful to catch the very end of the nesting season. I'm captivated by the few lingering juveniles practicing their wing strength. My guide tells me they are preparing to spend the next six years at sea and can specially lock out their (adult) eight-foot wingspan to save energy. Waved albatross are large, beautiful creatures and to me, the most impressive species I've seen on my entire voyage (yes, even more so than reef sharks because what kind of animal can fly for six years straight?).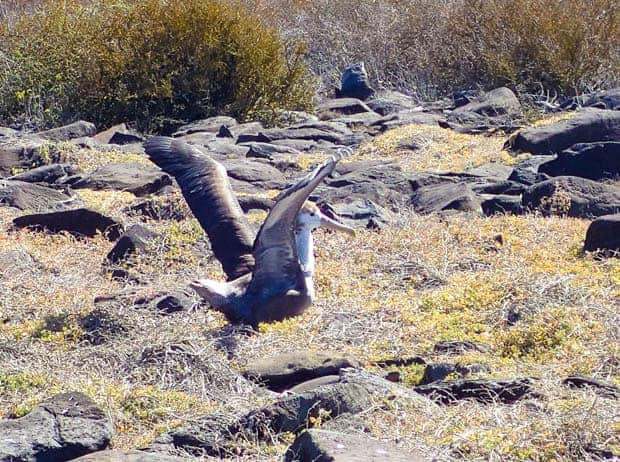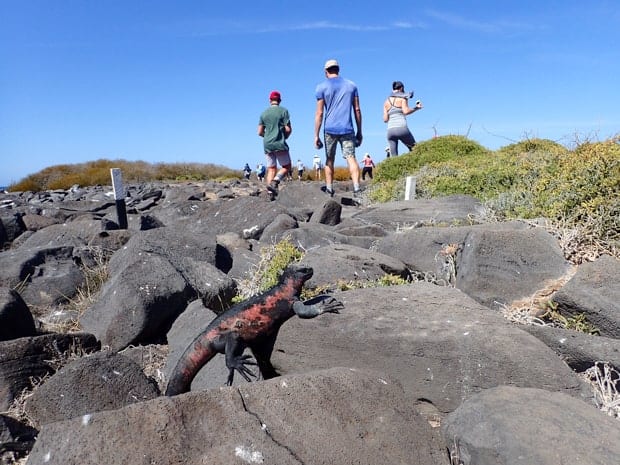 Suarez Point is where we see the most concentrated and diverse collection of animals.
Suarez Point is where we see the most concentrated and diverse collection of animals. I can hardly take a step without snapping photos of marine iguanas, lava lizards, Sally Lightfoot crabs, sea lions, mockingbirds, Galapagos hawks and of course, my new favorite: waved albatross. I actually have to put my camera in my backpack—a decision I highly recommend making at least once every day—so I can just be there with these animals.
Also on Espanola Island is Gardner Bay, a white coral beach freckled with sea lions and the feeling of true paradise. Human visitors swim from the shore alongside playful sea lions or lounge on the sand with the pups. Everyone enjoys this relaxing and (for us) final visit.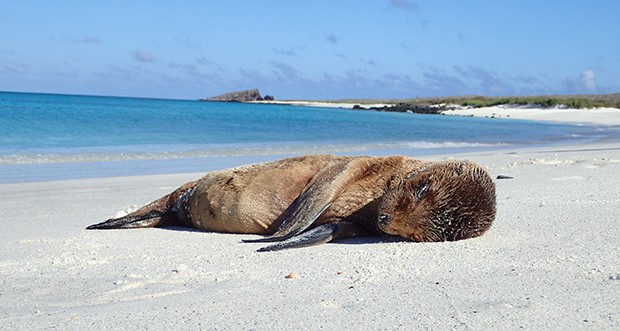 4 Days, 16 Guests – The Perfect Small Ship Galapagos Cruise for Me
It is hard to leave after only four days in the Galapagos Islands. But this length trip works perfectly with my busy schedule. I left California on a Saturday morning and I am back home the following Friday night. Regardless of the length of your cruise, I highly recommend adding this Galapagos Cruise Package, an especially important added-security measure to not miss a minute of a shorter itinerary.
A ship with only 16 guests fosters unique conversations and a true sense of unity.
Cruising aboard the Alya is an ideal combination of luxury, activity and comradery. A ship with only 16 guests fosters unique conversations and a true sense of unity. It is an ideal way to experience a place that truly is as magical and otherworldly as promised.
For more photos from this trip, including life beneath the surface and more iconic Galapagos wildlife, view my Facebook album on AdventureSmith Explorations' Facebook page.
MORE GALAPAGOS RESOURCES:
Galapagos Cruises
Galapagos Cruise Deals
Galapagos Islands Yacht Charters
Galapagos Luxury Cruises
Galapagos Family Cruises
Galapagos Diving
How to Choose the Best Galapagos Cruise
Galapagos Island Hopping or Cruise?
Best Time to Visit Galapagos
How to Get to Galapagos
Galapagos Islands Animals
Galapagos Trips
Galapagos Tours
Galapagos Cruise Reviews
Galapagos Travel Guide
This Galapagos cruise review was written by an AdventureSmith Explorations crew member. Read all AdventureSmith Galapagos Reviews for more trip reports. For dates, rates and booking information on Galapagos trips, contact one of our Adventure Specialists to learn more about our small ship cruises and wilderness adventures: 1-800-728-2875.