AdventureSmith Explorations Adventure Specialist Arielle Lightcap reviews her Natural Paradise Galapagos Islands Cruise aboard the luxury 16-guest Natural Paradise. Her itinerary followed the 5-day Eastern Galapagos Islands route.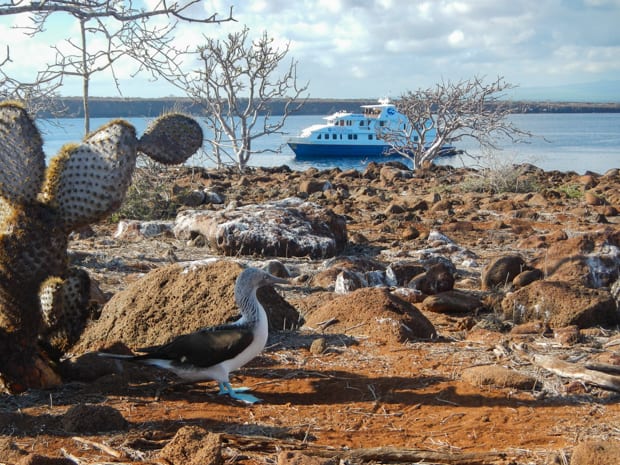 The Galapagos is truly unlike any other place on earth. Nowhere else can you find penguins above the equator, or the silly clown-like blue footed boobie walking comfortably next to a 4-foot-long iguana before it slips into the sea for a swim. And nowhere else can you find the creature responsible for the island's namesake, the giant Galapagos tortoise. The diversity of the landscape is also something to call attention to. From the dynamic lava flows of Santiago's Sullivan Bay to the lush highlands of Santa Cruz Island and all of the beautiful beaches in between, the Galapagos tells a story of the Earth in motion, ever changing and evolving just like those who inhabit the islands.
Reading about the Galapagos can only do so much justice; seeing the enchanted islands that led to so much development and understanding of our world is something else entirely. Visiting the Galapagos by small ship is an experience that will no doubt leave a lasting impression on your life. Below I detail my Galapagos home for four nights, the Natural Paradise yacht, as well as a day-by-day look at my Eastern Islands itinerary.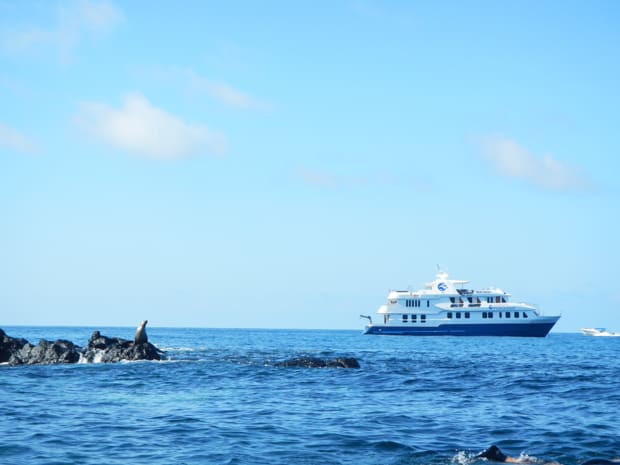 My Home Base: The Natural Paradise
Natural Paradise, built in 2016, is one of the newest yachts cruising the Galapagos and is surprisingly "roomy" for a 16-passenger yacht. The ship feels chic and comfortable, but not overly luxurious. The main deck hosts a large social area with a small library and a full bar. The dining area has a central serving table for the three buffet meals we received each day, two eight-person dining tables and a coffee and tea station that we could access at any time. The sun deck was a great place for us to relax and breathe in the fresh ocean air, and many of us did after our meals! The cruise director, Ricardo, explained to me that he intends to add more seating to the sun deck and equip the BBQ area with a fully functional setup so that they can host more meals up there. A Jacuzzi and al fresco dining area are also located on the sun deck.
After spending time on the Natural Paradise, I feel that a 16-passenger boat is the way to go in the Galapagos.
Age ranges for my group aboard Natural Paradise were 19 to early 70s, and everyone really seemed to enjoy the cruise. After spending time on the Natural Paradise, I feel that a 16-passenger boat is the way to go in the Galapagos. Our evening presentations of what was to come the following day, paired with the attentiveness of the crew and small guest count made getting off the boat and out for our excursions very efficient. One thing to consider though on a small ship is that less levels of activity are available since there are simply fewer passengers and guides. A larger ship might be able to provide more activity options for families or someone like the gentleman on my cruise who had a bad knee and didn't come out with the group the day we walked the steps on Bartolome. Also, something extraordinary to note about the Natural Paradise is that we snorkeled more than the itinerary had listed, and that was a true highlight because there is so much marine life in the Galapagos.
Day 1 – Getting to the Galapagos Islands
My adventure began with a late night arrival to Ecuador's capital city, Quito. An overnight hotel stay was provided complimentary with my cruise, but truth be told it was tough to sleep due to my anticipation for what I knew what was to come tomorrow. On the morning my Galapagos cruise was set to begin, I learned that my flight to San Cristobal was delayed by 3 hours. This was disappointing news, but completely out of anyone's control. At the airport I was met by a representative from the ship who helped me check into my flight and assured me that the ship would wait for those of us arriving late.
Even feeling as prepared as I did, I was still blown away by what the islands had to share with me.
At 1:30pm I finally boarded my plane for the Galapagos. Flights to the Galapagos originating out of Quito make a stop in Guayaquil to refuel and pick up more passengers. Now that everyone bound for the Galapagos was on board, I was finally off to my final destination! As my plane approached the island of San Cristobal, where one of the two airports of the island is located, I was more than ready to be onboard my floating home for the next 4 nights. After going through the check-in process I was met by the ship's Naturalist Guide, Peter. Once we were all accounted for, we headed to a large van that would take us to the dock in Puerto Baquerizo Moreno where we would board the ship. We waited for a few moments for the pangas (dinghy) to transfer us to the boat, and then a warm welcome from the crew (and the welcome cocktail!) helped lift our moods from the long day.
After we were given our cabin assignments we gathered in the ship's main seating area for an overview of the following day's schedule. Peter had put together a presentation outlining where we would be going, what we could expect to see, and what to bring and wear. After the presentation all of the guests gathered for dinner and a chance to get to know each other. After the long day of travel I was ready to get a good night's sleep and officially begin my journey!
Day 2 – North Seymour & Santa Fe Islands
As our guide had prepared us for, the morning was an early one. A wakeup call came to us over the ship's intercom system at 6:00am, an American-style buffet breakfast was served at 6:30 and by 7:00 we were boarding the ship's two pangas and heading for our first landing sight: North Seymour Island. This small 1.41-square-mile island packed a punch of endemic Galapagos Island animals from the moment we set foot on the rocky shore. I was immediately greeted by a number of Sally Lightfoot crabs; so many that I had to be mindful not to step on one! Our next welcoming local was the Galapagos seagull, the only nocturnal seagull on earth. They squawked at us as if to say welcome to our home. The magnificent and great frigatebirds were a real treat to see. These birds are like nothing I have ever seen before. Huge land and marine iguanas meandered past our group not caring one bit that we were there, and blue-footed boobies carried on courting one another without skipping a beat. It was life as usual on North Seymour Island, life unlike any other, for many of these creatures are only found in Galapagos.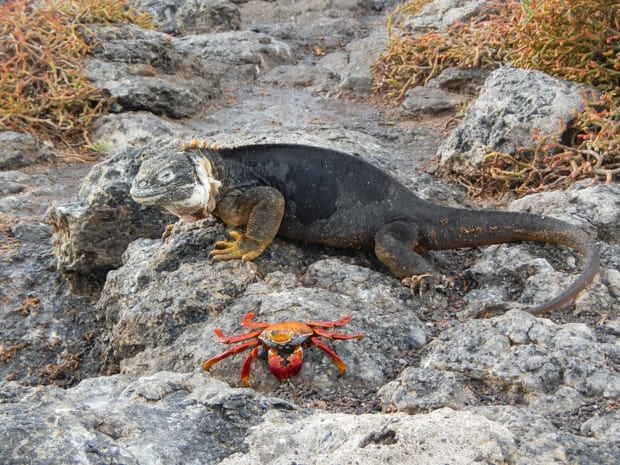 After this organic display of nature we boarded the pangas once again and headed back to the ship to transition to our next activity, deep water snorkeling. Once in our snorkel gear we cruised away from the ship before sliding out of the panga and into the warm clear blue water. Immediately there were fish galore, white-tip reef sharks, rays, sea cucumbers and turtles. It was wild! We snorkeled for about an hour before making our way back to the ship for lunch.
After the walk and swim I was definitely hungry. After a lunch of salad, pasta and fish in a light red sauce I made my way up to the sundeck to try to even out my wetsuit tan as the ship cruised to the next land site, Santa Fe Island. We had about 2 hours to relax and let our food digest before our next snorkeling excursion.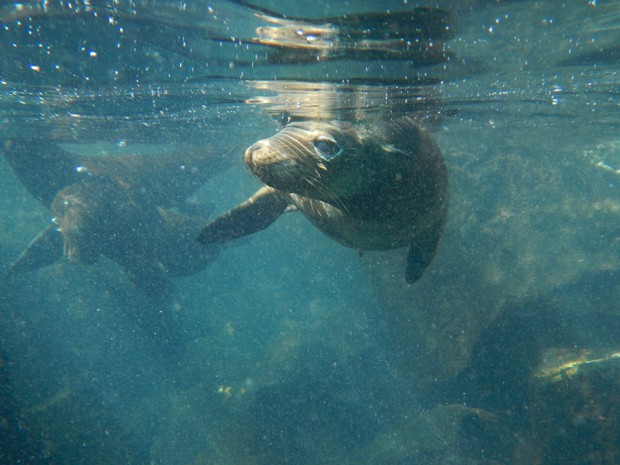 Back in my wetsuit and into the water I had the delightful experience of swimming with some very playful sea lions. It was amazing how close they would come, but still manage to gracefully avoid bumping into the curious snorkelers. After the swim we had a short time to change our clothes for our walk on Santa Fe where we would be loudly greeted by a sea lion colony following wet landing on the small beach in Barrington Bay. Massive Santa Fe Opuntia cactus were seen along our walk, as well as Santa Fe land iguanas and Galapagos doves. The sun was just beginning to drop below the horizon by the time we left for the ship, which created a beautiful light for some final photo opportunities.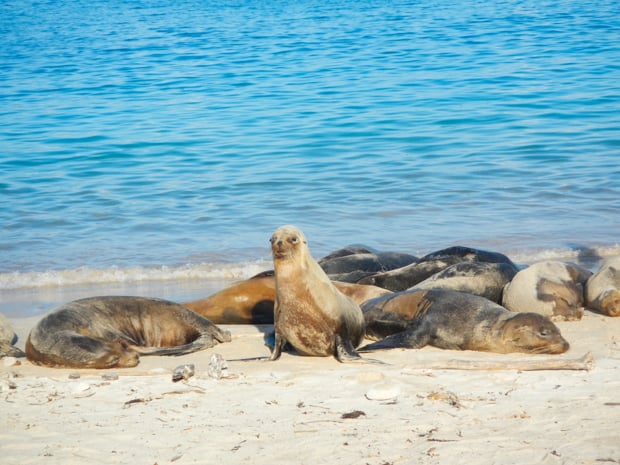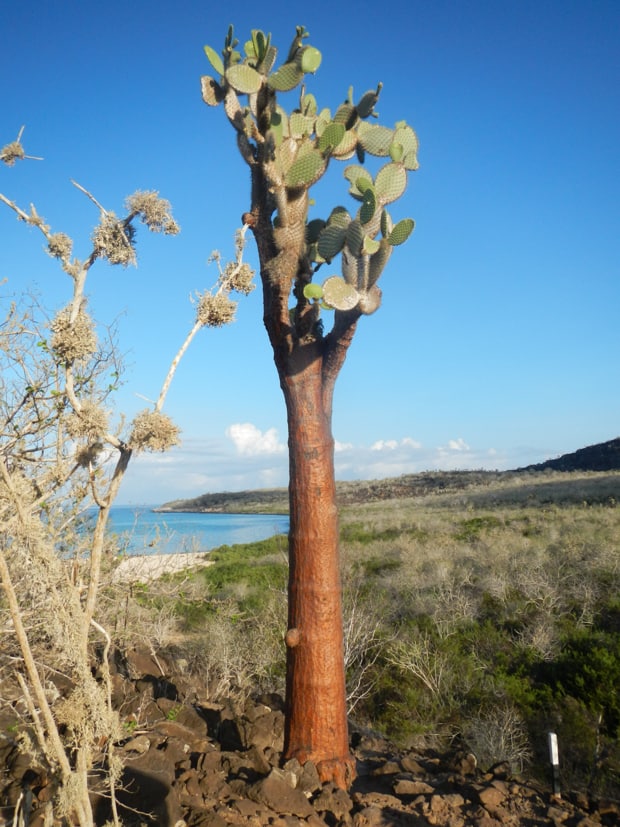 My first full day was nothing short of amazing. Even feeling as prepared as I did, I was still blown away by what the islands had to share with me. Knowing what was to come the following day, I turned in for the night fairly early so that I could be up and ready for the next day's visit to Santa Cruz and the Charles Darwin Research Center.
Day 3 – Santa Cruz Island
The boat had anchored in Academy Bay outside of Puerto Ayora for the night. It was a bit of a rocky night, but thankfully no one had gotten sea sick. This was an exciting day for me since this was the day I would get to see the legendary Galapagos giant tortoise! Following an early-morning breakfast we headed into the town to board our bus that would take us to the highlands. The road to our first visiting site was a smooth 25-minute drive to the twin craters, or Los Gemelos. The craters are sinkholes that were created as a result of the volcanic roof of empty magma chambers collapsing. Along the craters is a walking path that leads to the other side of the road to the second crater. As we walked our guide pointed out some of the invasive plants that are growing in the highlands like blackberries and quinine. We continued on to the Scalesia forest where our guide pointed out various birds for us to photograph. After about an hour we were back on the bus, and sweating like crazy already due to the humidity!
At the ranch these beautiful tortoises roam freely, seemingly without a care in the world.
Next we continued on the road until we reached El Chato 2 Ranch for our first up close glimpse at the giant tortoises. Once at the ranch we got off the bus and walked to a covered seating area to put on rubber boots, which were available for us to use during our walk. As we started down the dirt path it began to lightly rain, but I didn't mind since it had been so warm earlier in the day. At the ranch these beautiful tortoises roam freely, casually eating the low-lying vegetation seemingly without a care in the world. It was such a delight to experience such a safe and relaxed atmosphere full of these tortoises since their history is quite sad. After a short time of following a dirt path we made our way back to the main building to return our boots. Our timing was perfect since it was now down-pouring rain. We left El Chato 2 and head to Rancho Manzanillo for a delicious pre-fixe lunch and another opportunity to see giant tortoises in the wild. I casually took myself on a walk of the grounds and took in some very peaceful moments with the magnificent creatures of the ranch.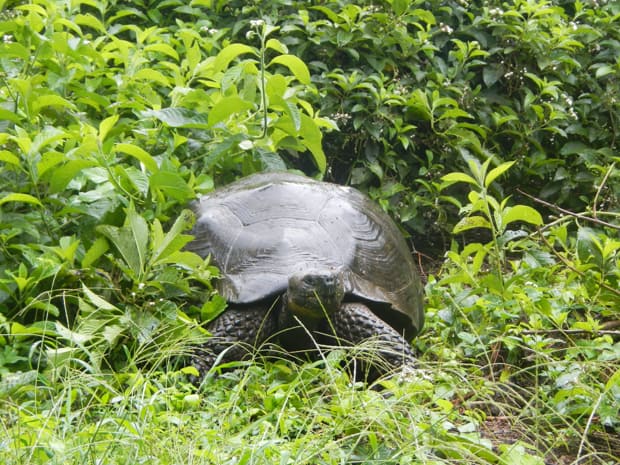 After the highlands we headed back down to Puerto Ayora for a visit to the Charles Darwin Research Center. Since its beginning the Charles Darwin Research Center has dedicated much of its resources to the rehabilitation of the various giant tortoise species, and it has done a remarkable job. Throughout the grounds were a number of baby tortoises from the islands carelessly roaming within their enclosures. When the tortoises reach a certain age and strength they will be delivered to their originating islands to carry on life in the wild. Another highlight of my visit to the research center was the chance to see the Galapagos's most famous resident, Lonesome George. About a month before my cruise George made his way back to the islands for the first time since his death in 2012. Lonesome George was in an exhibit all to himself, standing tall with his long neck outstretched. He was glorious.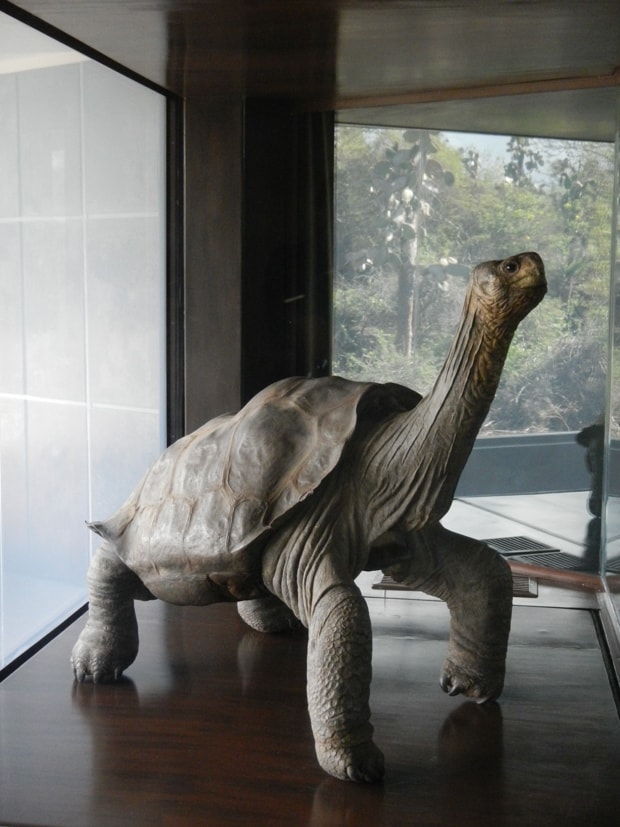 After a visit to the town of Puerto Ayora for some shopping and independent exploring we headed back to the ship for the night. Another delicious meal and great conversation around the table brought this wonderful day to a close. The next day would be earlier than the last since we would be starting our day on the barren lava flows of Santiago's Sullivan Bay.
Day 4 – Santiago & Bartolome Islands
A morning rain shower delayed our getting off the boat, but by 6:45am we were on our way to our first excursion of the day. One might consider an area once completely covered by lava to be an unattractive site, but this was quite the opposite. A once violent and destructive river of lava has over time morphed into a stunningly unique landscape. In this case even apparent destruction can create beauty.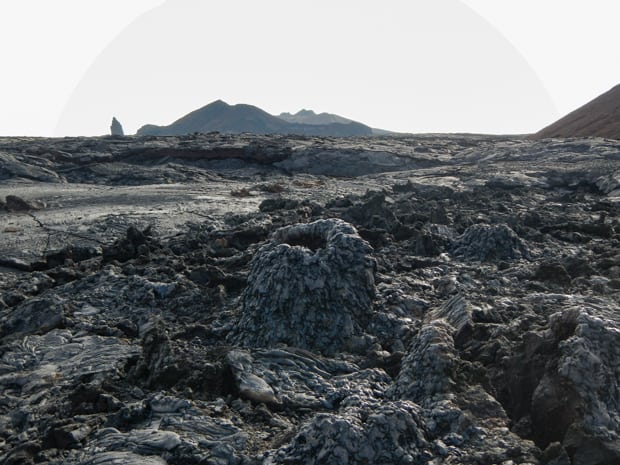 Our naturalist guide, Peter, explained that the lava flow was formed in the second half of the 19th century, and he pointed out the various types of formations such as the rope lava and lava ovens. One of my fellow passengers even noticed a Galapagos dove and two chicks resting in a fissure of the lava. While wildlife is sparse, the focus of Sullivan Bay was the lava; some of my favorite photos of the trip were taken here.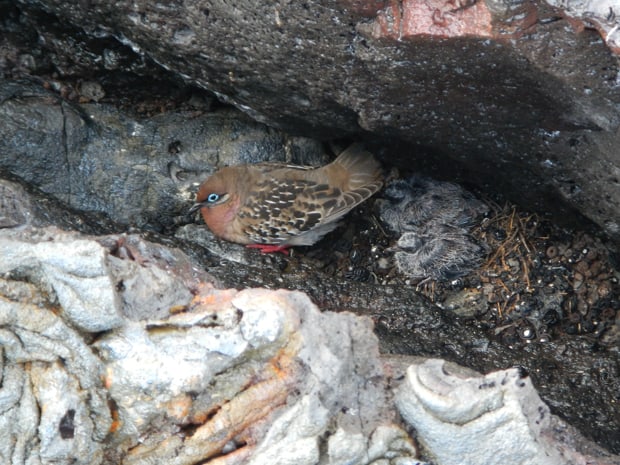 Our next stop was Bartolome for a chance to snorkel with the Galapagos penguins. I was all geared up in my wetsuit, flippers and mask with sea stars and colorful fish all around me, but no penguins. I was just starting to get discouraged when all of a sudden one darted past me! My attempt to keep up with the little torpedo was futile; these penguins are such efficient swimmers. I positioned myself closer to the rocks in the hopes of seeing more, and sure enough there they were peppering the landscape. It was such a blast to swim in the warm water with the penguins! Over lunch back onboard Natural Paradise those of us who went out for the snorkel joyfully shared our photos with one another as the ship moved to our next landing site.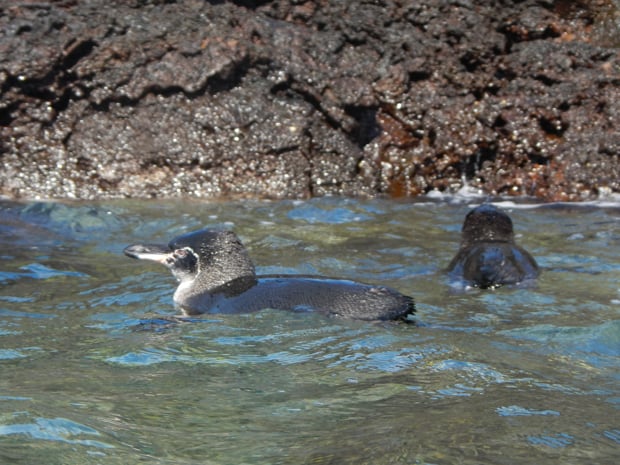 The afternoon activity was a walk up a wooden staircase on Bartolome Island, which leads to a breathtaking overlook. The staircase is well maintained by the park and was manageable for everyone in my group. As we climbed the steps, our naturalist guide had us stop at viewing platforms along the way to take in the scenery and catch our breath. Once at the top the view was absolutely outstanding with Sullivan Bay, the Plaza Islands, Chinese Hat and of course Pinnacle Rock all within sight.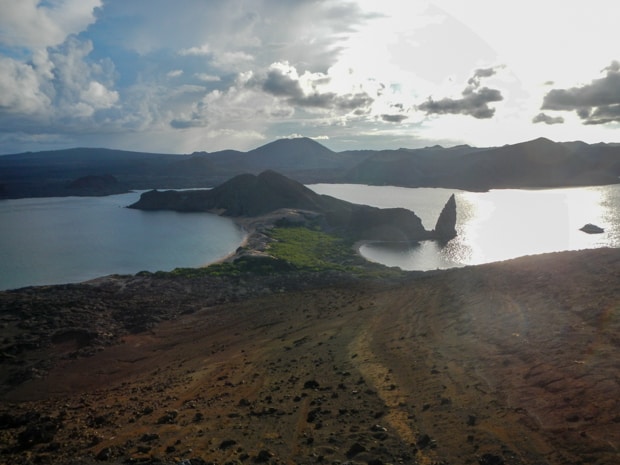 This presented a great photo opportunity for us so we gathered together for a group shot. It was a perfect way to end my last full day with my shipmates.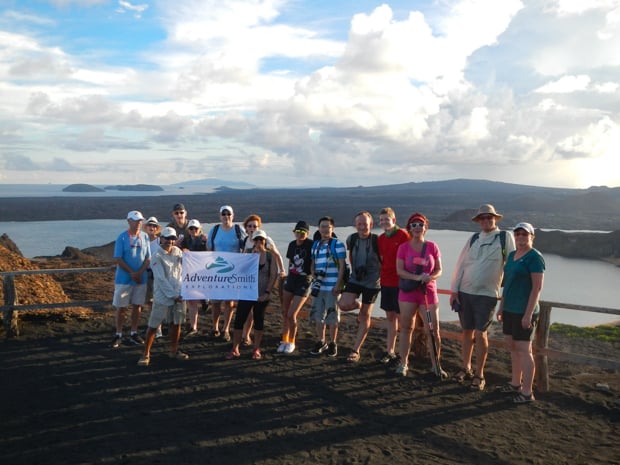 Day 5 – South Plaza Island
Even on the final day of my cruise, the Galapagos blew me away yet again. A visit to South Plaza Island would be my last excursion, but definitely not one to forget. Just as we landed on the rocky island and watched our pangas cruise away we began to feel drops of water from the sky. Within two minutes it was down pouring. We trudged on following the designated walking path laughing at the fact that the majority of the group had left their rain jackets on the ship – me included. Eventually the rain came to a stop and we were left with the sun glistening off of the wet rocks and cacti. The end of rain had also summoned the creatures of South Plaza. Countless iguanas slowly made their way to the puddles of rainwater for a fresh drink. Even our naturalist guide who has been guiding in the Galapagos for over 25 years was in awe of the photo opportunities brought on by the rain.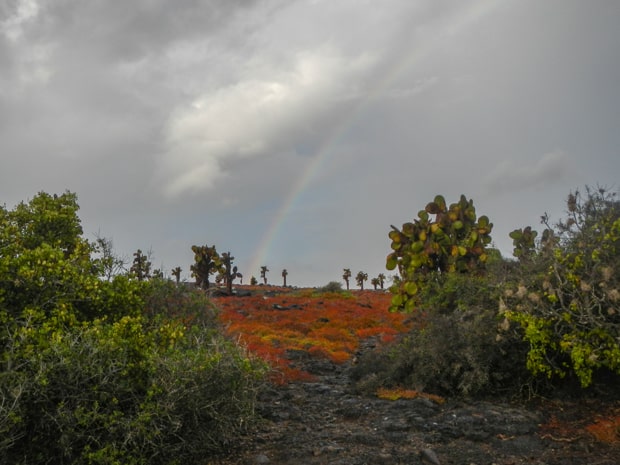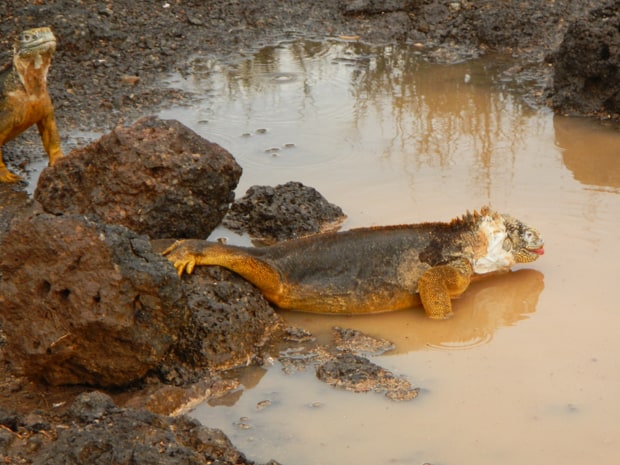 As I said my farewells and made my way to the Baltra airport, a sense of fulfillment came over me. I was able to see all of the wildlife I had hoped for, plus so much more. If you have the chance to visit the Galapagos, take it! It will be an unforgettable journey that will connect you to our world in ways you can't even imagine.
For more images from my Galapagos trip, view my AdventureSmith Natural Paradise Facebook album.
MORE GALAPAGOS RESOURCES:
Galapagos Cruises
Galapagos Cruise Deals
Galapagos Islands Yacht Charters
Galapagos Luxury Cruises
Galapagos Family Cruises
Galapagos Diving
How to Choose the Best Galapagos Cruise
Galapagos Island Hopping or Cruise?
Best Time to Visit Galapagos
How to Get to Galapagos
Galapagos Islands Animals
Galapagos Trips
Galapagos Tours
Galapagos Cruise Reviews
Galapagos Travel Guide
This Natural Paradise Galapagos Cruise review was written by an AdventureSmith Explorations crew member. The Natural Paradise is perfect for a full boat charter, read more about Galapagos yacht charters. Read all Cruise Reviews for more trip reports, or contact one of our Adventure Specialists to learn more about these small ship cruises and wilderness adventures: 1-800-728-2875.