AdventureSmith Explorations' Lis Larson reviews her Quito & Guayaquil Galapagos Travel Package based in Guayaquil, Ecuador.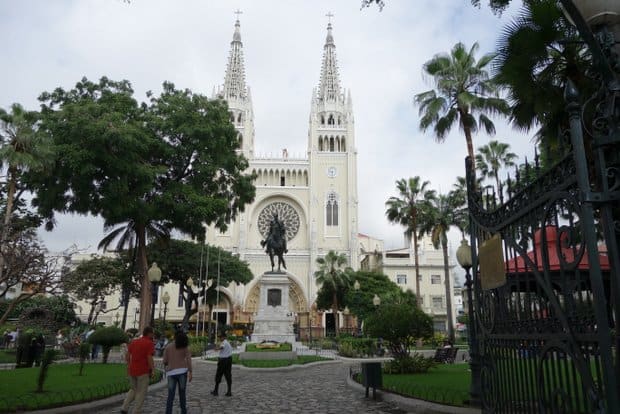 The Quito & Guayaquil Galapagos Travel Package organized by the experts at AdventureSmith Explorations made my trip to the Galapagos Islands a seamless travel experience. I've always just winged my travel somewhat, getting by with the Spanish I know and getting lost along the way without knowing all the little things only a local or well-seasoned traveler has learned about his or her home airport and city. But with this all-inclusive cruise package, all the details were taken care of, from the time I landed at the Guayaquil airport to the time I crossed back through security. Below is a brief introduction to the logistics of getting to the Galapagos Islands, as well as my personal Quito & Guayaquil Galapagos Travel Package review. I'm typing this on the plane as I return from an absolutely unforgettable journey aboard the M/V Santa Cruz and through the city of Guayaquil. Read my M/V Santa Cruz review.

Getting to the Galapagos Islands from North America requires quite a bit of travel and preparation. Because the islands are located 600 miles off the coast of Ecuador, east of the city of Guayaquil, you need domestic flights in Ecuador, in addition to your international ones. Because of this and the uncertainty of any flight arrival combined with the firm embarkation schedule of Galapagos boats, you need a full extra day in mainland Ecuador to account for any flight delays. Plus, there are national park fees and transit control cards to pay, and language barriers to cross if you don't speak Spanish fluently.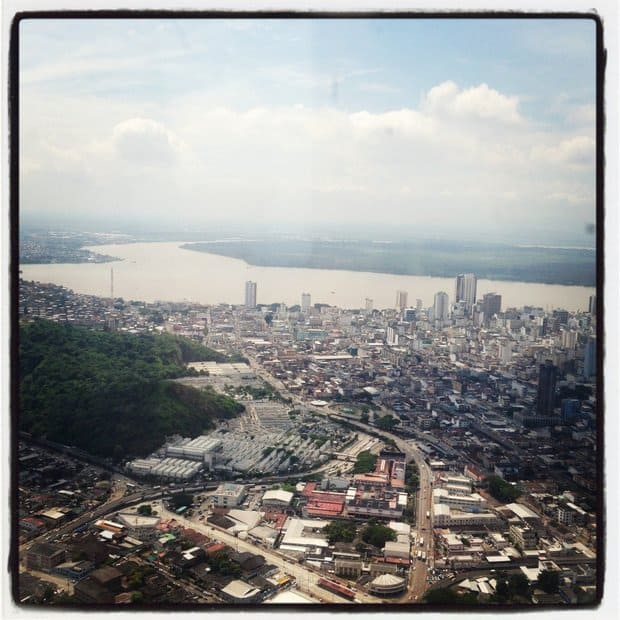 The Quito & Guayaquil Galapagos Travel Package organized by AdventureSmith allowed me to simply handle my international flights (with their guidance on flight arrival/departure times); they organized everything else! Being a single female traveler arriving to Guayaquil, a city that guidebooks insist you use caution in, at 10:30pm, I was able to rest easy knowing a representative would greet me. And much to my luck, that representative was a beautiful, friendly woman of my same age! Diana's warmth and organization was my first introduction to Guayaquil, and I'll never forget that feeling of complete ease upon our first meeting in the busy airport. On our way to my hotel, she immediately began introducing me to the culture of Guayaquil. The airport in Guayaquil is just a short drive from the city center; without traffic, it can take as few as 7 minutes. Both Diana and Alejandro, our driver, remained with me for the duration of my Quito & Guayaquil Galapagos Travel Package. This was something I was not expecting, and it was reassuring throughout and very nice to recognize a face each time we'd meet again for other transfers and tours. As you enter the city for the first time, be sure to look out for the large mosaic monkey sculpture on the left side of the road just before the Santa Ana hill, home of the Las Peñas neighborhood. Upon arrival to my hotel, the Hampton Inn (I chose to stay in two different hotels to inspect them for AdventureSmith, so see my review of Hotel Oro Verde below), Diana helped me check in and arranged for our city tour meeting time the next morning.
Diana's warmth and organization was my first introduction to Guayaquil, and I'll never forget that feeling of complete ease upon our first meeting in the busy airport.

The Guayaquil Hampton Inn is what you would expect of any American Hampton Inn: very comfortable. Bottled water in the room and the safety deposit box were much appreciated, and the iPhone-charging alarm clock and lap desk were two much-used amenities. There is a business center for any computer or printing needs, a small no-frills gym and spa area. The dining area is a highlight as its second-floor floor to ceiling glass windows afford great views of the very busy city street below. This hotel is also very centrally located. The gift shop is sparse, so don't count on buying anything here. My favorite feature of the Hampton Inn Guayaquil is its location: four blocks from the river and El Malecon, and only five blocks north of Bolivar Park (Iguana Park). After my morning city tour the day after my arrival, this location allowed me to walk around exploring the popular city sights on my own with ease.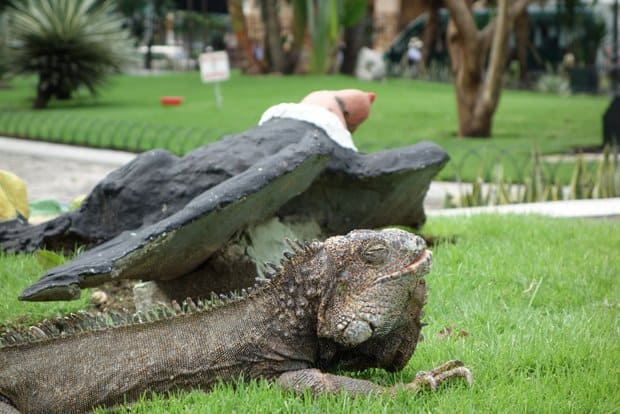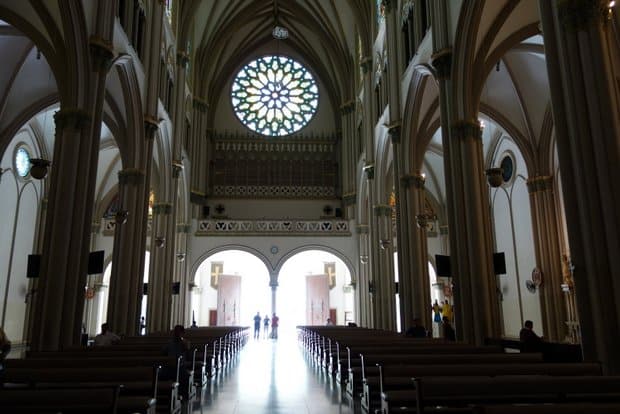 On day 2, Diana met me in the lobby at 9am to begin the three-hour private city tour included in the AdventureSmith Quito & Guayaquil Galapagos Travel Package. This is certainly the way to see Guayaquil as other travelers I met in the Galapagos had done bus tours that they said were not worth even the $8 they cost. On my way to Guayaquil, I had researched the places I wanted to see in the city: Bolivar Park, Las Peñas, El Malecon and the city's cathedral and artisan market. This tour took me to ALL of them, and more! With Diana providing a perfect blend of history and modern culture information, I really felt like I got to experience Guayaquil to the fullest. It's amazing how much we fit into three hours, but never felt rushed.

The next day, it was on to the Galapagos! Diana helped me navigate through checking in, which was very helpful as there were a number of steps including paying fees and control cards in different lines that she handled. She also secured me a first-class window seat!
If you want a luxury experience to be a grand finale to your cruise, or just a simple room paired with exquisite hotel amenities, this is the place.
When I finished my cruise and returned for one last night in Guayaquil, Diana was at the airport to greet me again. No sign with my name on it needed this time – it was like being greeted by a friend! We met up with Alejandro again and were off to check in to Hotel Oro Verde, the premier hotel in Guayaquil. If you want a luxury experience to be a grand finale to your cruise, or just a simple room paired with exquisite hotel amenities, this is the place. Marble floors, professional staff (many English speaking) every amenity… and a special tower dedicated to suites. I opted for the upgrade here and felt like a VIP in my room. All Hotel Oro Verde rooms come with a safety deposit box, flat-screen TV, iPhone alarm clock and complimentary sparkling water, bottled mineral water and soft drinks (two of each) in the room's mini fridge. My suite came with a fruit bowl, a sitting room and extra bathroom, two flat-screen TVs, a dedicated desk area with comfortable modern leather chair, a gorgeous view of the Catedral de Guayaquil, a large changing room, a luxurious rain shower and an ultra comfortable bed and TV movie selection that kept me up a bit later than I should have for my 4:30am wake-up call. A complimentary drink at the hotel's bar, use of the OroFit fitness center, outdoor pool and spa, and WiFi access are also included. Though I stayed in a suite, the concierge supervisor allowed me to tour the standard Oro Verde rooms and was a great companion as we both practiced our language skills, teaching each other new words and phrases. The standard tower is not as new, nor does it have the luxury finishes and furnishings, but it surely has all the comforts one needs in a hotel room.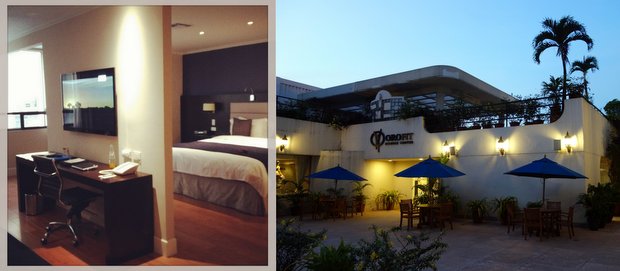 After my days at sea, I was ready for a run so I went down to check out OroFit treadmills. Located between the suite and standard towers, OroFit is an oasis with lush plants surrounding the outdoor pool and lounge chairs. The indoor gym has a trainer on staff and in the ladies changing area there is a steam room, sauna, key-accessed lockers, showers and a glass-domed Jacuzzi to let in the natural light. After my workout, I checked into my next day's flight and printed out my boarding passes in the Oro Verde's business center. Across the lobby hall is an excellent gift shop. The gifts here are fairly priced, with some higher-dollar items like local alpaca wool blankets, fashion items and artwork also available. The gifts and souvenirs here were much more unique and made with care than some of the more mass-produced souvenirs I saw at Guayaquil's artisan market. If you're staying at Oro Verde on both ends of your cruise, I'd suggest scoping this gift shop out first, then visiting the artisan market, then returning to the Oro Verde shop post-cruise for anything you might not have found during the rest of your travels. The Galapagos stores were for the most part over-priced tourist traps, so I found the most authentic, quality gifts here, like a screenprint on handmade recycled paper with old letters and fibers showing. The shopkeeper was able to tell me the artist's name and where he lived.

There are a number of in-hotel restaurants available serving various international cuisine, as well as a simple deli. I chose to eat Ecuadorian cuisine at El Patio, a bright, simple restaurant with entrees ranging from $10 to $20. After dinner, live piano music in the lobby was a treat, as was my free glass of vino tinto at the intimate El Capitan Bar.

After one final transfer to the airport from Alejandro and Diana, and Diana seeing me through check-in (which went smooth, but often does not, Diana said), I bid my new friend farewell. I highly recommend the AdventureSmith Explorations Quito & Guayaquil Galapagos Travel Package. Not only were the logistics of my travel smooth, I got to know the city with the guidance of one of its finest residents.
MORE GALAPAGOS RESOURCES:
Galapagos Cruises
Galapagos Cruise Deals
Galapagos Islands Yacht Charters
Galapagos Luxury Cruises
Galapagos Family Cruises
Galapagos Diving
How to Choose the Best Galapagos Cruise
Galapagos Island Hopping or Cruise?
Best Time to Visit Galapagos
How to Get to Galapagos
Galapagos Islands Animals
Galapagos Trips
Galapagos Tours
Galapagos Cruise Reviews
Galapagos Travel Guide
This Quito & Guayaquil Galapagos Travel Package review was written by an AdventureSmith Explorations crew member. View all our land based Galapagos Tours. Read all Cruise Reviews for more trip reports, or contact one of our Adventure Specialists to learn more about these small ship cruises and wilderness adventures: 1-800-728-2875.