This Travel Journal submitted by AdventureSmith traveler J. Orecchia details their honeymoon Hawaiian Islands cruise: the Hawaiian Seascapes cruise aboard the 36-guest Safari Explorer.
What's the first question a newly-married couple gets? "Where did you guys go on your Honeymoon?" At first, we were against the idea of going to Hawaii, we didn't want that stereotypical Hawaiian Shirt, plastic lei, cheesy idea of a honeymoon. After all we are John & Theresa, the couple that spent a week hiking through the Grand Canyon.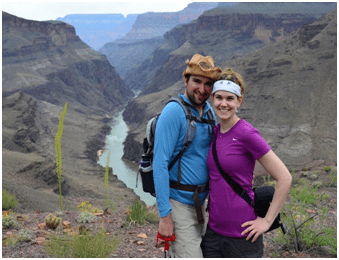 We are outdoorsy and adventurous. We enjoy Hiking and getting out there, we want to experience things that others could only read about. We didn't want to completely rough it on our honeymoon but we also didn't want the resort or the 2,000 person cruise ship.So, after doing some research we came across AdventureSmith. Initially, the idea of the Galapagos Islands appealed to us; the ships seemed the perfect size and had that perfect balance of outdoors and relaxation. After talking to travel consultant Aaron Gains at AdventureSmith and working out dates/flights, it turned out that Hawaii was the best fit. He eased my worries about having the typical Hawaiian experience and from that point on we began to plan our ideal Hawaiian Honeymoon!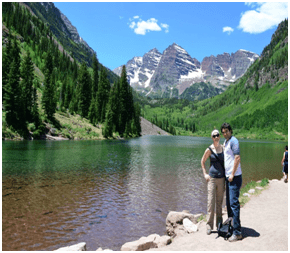 Aaron from Adeventuresmith called me and we went over some great ideas. We were spending some extra time in Oahu and on the big island before going on our "uncruise". He ensured we received all travel documents and gave us some good reading materials. Throughout the process he was in constant contact and put us completely at ease.
On March 14, 2014, a snow-capped, sunny Friday afternoon Theresa and I shared the happiest day of our life! We were married at the Lake House Inn, Perkasie, Pa.
After the Wedding we took two days to decompress and then on Monday March 17 it was adios NYC and Aloha Honolulu !
Monday March 17. Travel NYC to Honolulu, Hotel and Luau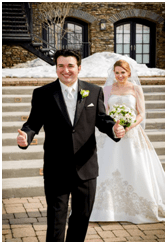 We arrived bright and early at Newark Airport for our DIRECT flight to Honolulu via United. The flight left right on time at 9:15 AM and we arrived in Honolulu at about 2PM local time. I would encourage every- one to fly direct! There are no worries about lost luggage, transfers or any other headaches. I was able to get a few hours shut-eye on the plane and Theresa had her choice of movies via the free in-flight entertainment from United. The flight was well worth it and we upgraded via miles to extended leg room (for our direct overnight flight home we used all our miles and got first class!)
Hawaii really is amazing in that it feels like a foreign country but has all the amenities of the USA. Not having to clear immigration was great. The Honolulu airport is easy to navigate; we received our luggage and found the Hertz rental car kiosk with no problem. We were upgraded from our subcompact car and got behind the wheel of a 2014 Mustang Convertible! Having three full days planned on Oahu involving a lot of driving, it was a most welcomed upgrade! 360 Degrees of AMAZING Hawaiian scenery.
We left the airport and headed toward our base camp of operation for the next 3 days: The Hawaii Prince Hotel Waikiki. Before we left, everyone gave us warnings about the horrendous Honolulu traffic, but perhaps because I'm a New Yorker who drives through NYC traffic every day, Honolulu was a breeze. After taking the long scenic route we arrived to our hotel in down town Waikiki.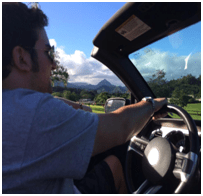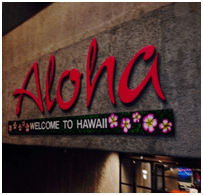 We then prepared for our first Hawaiian night and experience, a Luau. Everyone told us we had to do a Luau and after a lot of thought, we chose the Starlight Rooftop Luau at the Hilton Hotel. Even though I was weary about the Luau not on a beach we decided on this one because of the close proximity to our hotel. Well we were wrong. This Luau was the quintessential tourist-trap!. It was crowded, uninspired and felt manufactured. Anyone considering a Luau do not do this one!! After the "Luau" we walked though Waikiki and rescued the rest of the night by taking a nice long stroll through downtown Waikiki. We were exhausted and back in the hotel in bed before 10 PM.
Tuesday March 18. Diamondhead hike, Pearl Harbor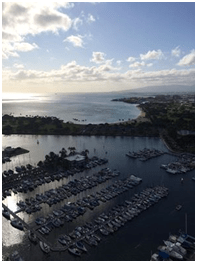 We arose nice and early today for our hike up the fabled Diamond Head volcano crater. We made it to the Diamondhead trail head a little after 6AM. It was a nice start to the day! After hiking to the top and it being so early I was expecting a quiet uncrowded scene. Instead, the Summit was a mobbed center of tourists taking photos. Maybe we went up after an excursion bus let off its passengers, but it was a bummer. It was a pretty hike and the views of downtown Waikiki really are great but we just wanted to get away from the crowds.
After our morning exercise we headed over to Leonard's bakery for some Malasadas. A Malasada is basically fried dough or the Hawaiian version of a doughnut. Our two favorites were the sweet/spicy and the original. We also had some Asian inspired breakfast sandwiches. The Japanese influence here is very apparent and as such we made sure to try as much authentic food as we could.
After our nice calorie filled breakfast we drove over to Pearl Harbor. Honolulu traffic at 10 AM was not bad at all, (NYer here though).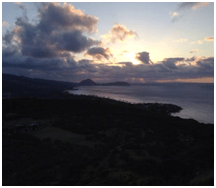 Before going to Pearl Harbor make sure you buy tickets on line as they sell out fast. I believe it was a $3 charge to gain access to the site and see the Arizona. The site is hauntingly beautiful considering the horrors that happened there 50 years earlier. We walked around the grounds and waited for our ticketed time to see the Arizona. There was an informative film about 10 minutes and then we were ferried over to the Memorial. The memorial is amazing and a must do for anyone visiting Oahu. It is incredibly powerful through its simplicity.
Pearl Harbor is very sombering so afterwards we just wanted to cruise through the middle of the Island and go for a quick hike. We drove to the Pali Lookout and WOW what a view. The overlook is right off the highway and easy to get to. We went for a small hike down an abandoned road known as the Pail trail. We killed 2 hours but could have easily spent the whole day.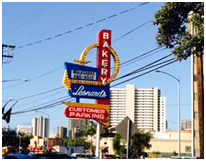 We were back on the road and passed the Marine Corps base of Kaneohe Bay. (The food suggestions and sightseeing tips were provided by a buddy who was stationed here for 4 years.) Our last stop before sunset was the Byodo Temple in the Valley of the Temple. This is a replica of a temple in Uji Japan. It is a beautiful, peaceful and quiet place. If you want to get away for peaceful reflection this is the place.
The sun was beginning to set so we set off for Puu Ualakaa state park for the sunset. The drive was beautiful, just be sure you can handle winding roads. Tanatlus Drive can cause a little dizziness but it is well worth the trip. We had a clear sky and a panoramic 180 degrees view from Koko Head and all of Honolulu. We enjoyed the evening drive back to our hotel and decided to experience some of the Waikiki night life. We walked through the strip and eventually found our way to Duke's Surf Bar and Restaurant. Live music right on the beach with some tasty beverages. couldn't ask for more!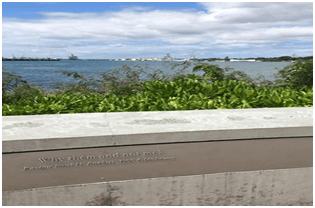 Wednesday March 19. North Shore, Helicopter, food trucks, Liliha Bakery
We spent another morning experiencing local foods and started our day at Liliha Bakery where we tried some local favs including cocoa puffs, chantelle cake and a Hapui malisada. Very good, but a little too creamy for my taste. After our very sweet morning breakfast we started our drive to the interior of the island to see the Dole Plantation. One striking thing was how red and rich the soil looked on this side of the island. When we got to the Dole Plantation we were informed that volcanic soil is best for growing all sorts of vegetation. While you are at the plantation be sure to try the pineapple (it really does taste better here), the pineapple ice-cream is a must and catch the demonstration on how to pick and cut a pineapple. We spent about 1 ½ hours here and that was more than enough time. If you want to do the maze, make sure you allow enough time to get out!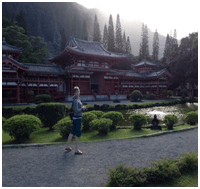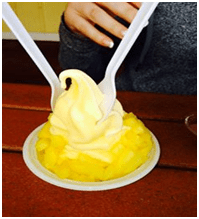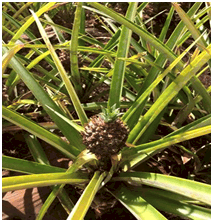 After the plantation we headed to the turtle bay resort where we had a helicopter tour booked with paradise helicopters. We got to turtle bay a little early, checked in and got to explore the turtle bay resort(where they filmed forgetting sarah marshal). The beaches and the grounds are breathtaking however I liked it for an afternoon, the place is so far removed from anything else.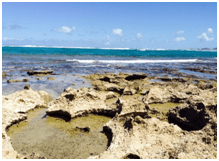 Now the fun part: A doors-off helicopter ride. This was my first ever helicopter ride and what an experience. There were four of us onboard and seeing Oahu from the Air, with the wind blowing was an unforgettable experience. We did a circumference of the island and there are so many valley, peaks and waterfalls, if we had two months we would not be able to experience it all. I would recommend this to anyone who has the stomach. Note: with the doors off , it does get chilly so be sure to dress warm!
After our helicopter tour we worked up quite an appetite. We had heard of the famous shrimp trucks on the North Shore where all the surfers would get their chow. We headed right for the real deal, Giovanni's Shrimp Truck and man it did not disappoint. They only make three different variations but that's all that is needed. After lunch we wanted to do something nice and cool and heard rave reviews of Matsumoto's shaved ice. After standing in line for 20 minutes, we tried the tropical shaved ice and to be honest nothing to write home about. Just go to any local stand and it is just as good. How could you go to Hawaii and not see surfers? So, after our nice lunch, we headed toward the North Shore beaches with the rolling barrel waves and surfers at sunset. It was a perfect end to the day.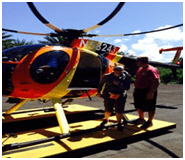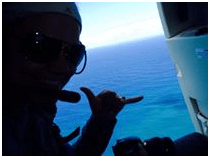 Thursday March 20. Flight to Big island and Hapuna Beach Prince Hotel
We had a nice lazy morning, taking our time getting to the airport. We boarded Hawaiian Airline for our flight to Kona Hawaii! The plane wasn't a crop duster and we had an easy flight and arrived in Kona in just under 50 minutes. Landing in Kona is an amazing expense! The airport is literally right off the water in the middle of a vast lava field. It looked like you were landing on the moon. Before we left NY I had called and spoke with Margaret the concierge over at the Hapuna Beach Prince Hotel. She set us up with a shuttle to the hotel and gave us a great breakdown and possible itinerary for the next day (more on that later). Leaving the airport we met Kona (same name as the town) our driver who happened to be one of the nicest guys. We told him how we enjoyed poke and he made a pit stop for some local poke, soo soo good!! The drive over was about 40 mins and it is literally through miles and mile of lava fields made by 3 different volcanoes. It was pretty cool looking! We arrived at the hotel and after a busy few day we just decompressed at the beach and ordered room service at night.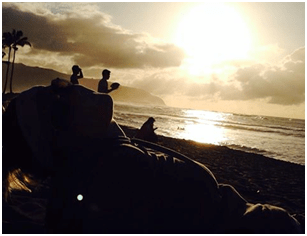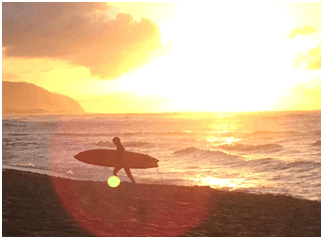 Friday March 21. The Volcano Van
We woke nice and early and had the breakfast buffet at the hotel, a large spread with fruit, breakfast meats and all other food you could think of. Quite tasty!! So Margaret the concierge at the Hapuna Beach Prince set us up on a tour. I know what you are thinking… the dreaded tour bus. This could not be further from the truth. The tour is called the Volcano Van and Margaret sold us on it. This was possibly the best tour I have ever taken. We met Scott the volcano van owner and operator. He is the only one that does the tours. He is a high energy guy whose knowledge was matched by his enthusiasm for the topic. We started by driving over the lava fields and experiencing the island. It has over ten different climate zones and is larger than all the other Hawaiian islands combined! Scott took us through the rainforest, to black sand beaches, to Volcano National Park and then returning at night for the glow from the caldera. We were with Scott all day, he provided lunches for the day and then we had a delicious dinner at a local diner. I cannot emphasis enough how amazing Scott and his Volcano van was. There was no end time. He had us the entire day and finished well after the 8 hour tour time. The amount we learned not only about volcanoes, rift zones, climate, rainforests and the island as a whole was only matched by the amount we laughed. After a full day with Scott in his van we got back to the hotel and crashed.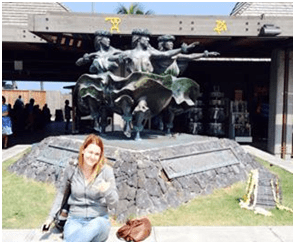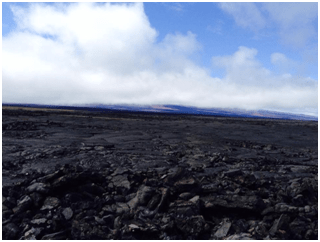 Saturday March 22. Blue Hawaii Helicopter tour and boarding the UNCRUISE
We started this day much like the other, a large hotel breakfast. Margaret was able to get us extreme last minute reservations on a Blue Hawaii helicopter tour of the big island. This tour was on a much larger helicopter with 4 other people in an enclosed helicopter. While it was beautiful and informative it was nowhere near as exhilarating as the doors-off helicopter tour done by Paradise Helicopter. Don't get me wrong, if you get the chance to go definitely do it!
It was now afternoon and time to check out and meet our shipmates at the Hapuna meeting rooms. Check-In was a breeze (same hotel), we were met by an uncruise representative. She took our bags and we were free to lounge at the beach and pool until 3PM. It was a truly relaxing afternoon. The Hapuna Beach is one of the few beaches on the Kona shore of Hawaii. Also don't be alarmed by the large population of cats on the hotel grounds. They are friendly and FAT!!
Turned out we had more fun with these folks who shared our interests than we would have with people our own age. I learned the people who take this kind of trip want to be out there and experience things off the beaten path.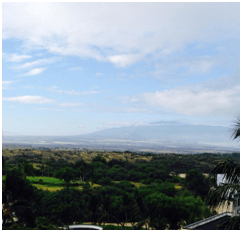 We met the 34 other folks that were traveling with us on the Hawaii Seascape cruise! Truth be told, we were the youngest couple by about 20 years and we got a little nervous. Turned out we had more fun with these folks who shared our interests than we would have with people our own age. I learned the people who take this kind of trip want to be out there and experience things off the beaten path.
We headed to Kawaihae Harbor to board the Safari Explorer. We were met by Captain Winston and the whole crew of the Safari Explorer. We were escorted to our room by Darcy and had a Wedding congrats basket of champagne, chocolate and fruit. Our cabin was equipped with everything we needed included water bottle and binoculars. We set sail, leaving the dock as the sun was setting and we headed towards Kailua-Kona to anchor for the night. We got to know Captain Winston and the crew on board the Safari Explorer, had an amazing welcome dinner and got settled into our home for the week after doing an abandon ship drill.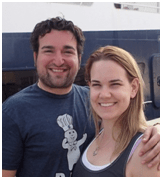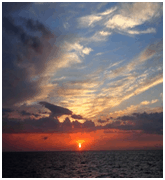 Sunday March 23 Kailua Kona
We pulled anchor before breakfast and headed to a calm anchorage just outside of Kailua Kona, as conditions were perfect for snorkeling at Pawai Bay just north of Kona town. On our way to snorkel, we had our first Hawaiian Spinner Dolphin sighting from the skiffs!
Pawai Bay had excellent visibility for snorkeling, calm waters, and an array of beautiful butterfly fish and moorish idols. The Jills were the marine biologists on board and brought a pillow sea star and sea cucumber up to the surface for all of us to get a closer look . After a wonderful lunch, we headed down to Keauhou for lazy afternoon of paddle boarding and swimming off the back deck.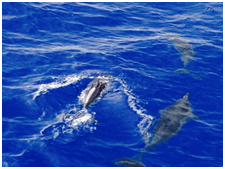 We then made way to the night manta ray snorkel site off Keaho Point. Katie, from Kona Diving Company, came aboard and taught us all about manta rays before we wiggled ourselves into our wetsuits and slid into the dark ocean water for our night snorkel. An amazing experience was had by all! Nine manta rays in total were identified, and everyone enjoyed the underwater light show – with some of the mantas swimming quite close to us at the surface!
Back on the vessel Chef Nate prepared cheese and chocolate fondue for us to finish the night.
Monday March 24. Kealakekua Bay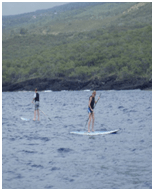 After breakfast, Captain Zodiac came to the Safari Explorer and picked us up for an adventure on their Zodiac 733 Hurricane boats.
We went snorkeling in Kealakekua Bay where the Captain Cook monument is. On the way, some of us saw more Hawaiian spinner dolphins as well as in the bay. One of the boats was incredibly lucky to have a close encounter with a pod of pilot whales! Inside the bay, some snorkelers spotted a white tip reef shark and a small octopus. Captain Zodiac then provided us with a fun and wild ride checking out lava tubes and sea caves on the way back.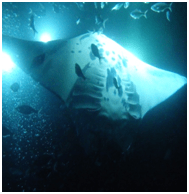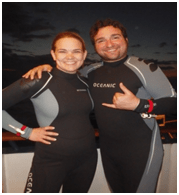 After lunch, we went into Kona town for shopping and a tour of Hulihe'e Palace. Our Bosun Mitch arranged for a small group of passengers to paddle our way into shore in the double hulled outrigger canoe! Following a wonderful dinner and surprise birthday celebration for Lynne & Jo, we set sail for Maui across the Alenuihaha Channel. We were warned that the channel crossing could be rough and to secure all items in the room. I thought it was a fun ride and got rocked right to sleep J
Tuesday March 25. West Maui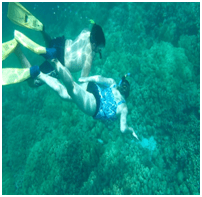 We had a good crossing with average wind and swell in the middle of the Alenuihaha Channel. Once we reached West Maui, we headed to a wonderful snorkel spot known as Mala Wharf. Here we snorkeled with Hawaiian Green Sea turtles over a submerged, collapsed pier that has become a healthy artificial reef. The pier was once used as a shipping facility for Maui pineapple and agriculture but collapsed beneath 30 foot waves from Hurricane Iniki in 1992. Today, the pilings and rubble at the ocean floor provide great hiding spots for the Honu (Hawaiian green sea turtles), reef sharks, butterfly fish, and other marine critters. Not only did many of us see several Honu, but we also saw a sleeping white tip reef shark!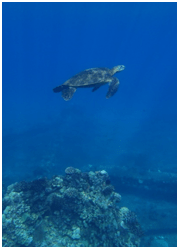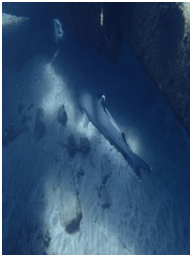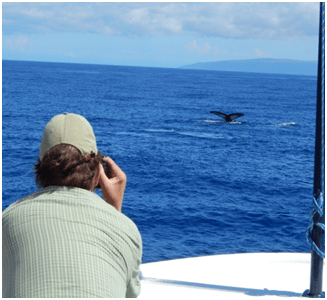 After lunch, some of us enjoyed massages by Shannon, while others Humpback Whale watched from Safari Explorer in the 'Au 'au Channel off West Maui. Humpbacks come to Hawaii from Alaska to give birth and mate. Fortunately, unlike most whales, Humpback Whales seem to really enjoy splashing around at the surface. We watched a very active competition group, where several male whales were competing for a female whale! Jill B gave a whale presentation on the bow about the Humpbacks and explained the behaviors we were witnessing. After whale watching, we anchored just off of Launiopoko for dinner.
Wednesday March 26. Lana'i
We spent the day on the island of Lana'i. Lana'i known as the private island. 98% of the island is privately owned, currently by Larry Ellison. The island is also home to the largest pineapple plantation in the world. First we traveled around the island to Nanahoa (Seven Sisters) for kayaking, skiff tours, and outrigger canoe paddling. This coast has some dramaticallky beautiful sea stacks. Originally nicknamed for seven towering sea stacks, now only five remain after two tumbled at the mercy of hurricane weather. Not only did we have beautiful coastline and sea cliffs to marvel at, but a large pod of spinner dolphins paid us a visit while we were kayaking, skiff touring and paddling!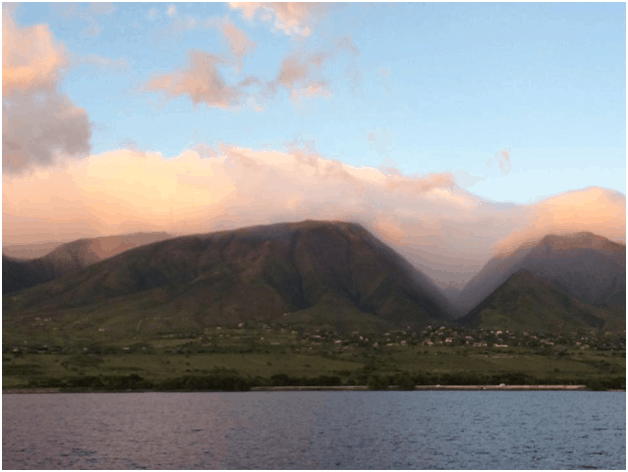 After lunch we went into Lana'i City to the Lana'i Cultural Heritage center and learned about the many attempts at ranching and agriculture on the island, followed by a walk around the quaint little town. Many of us found some unique souvenirs. Then we headed back to the harbor and hiked up to Pu'u Pehe rock where we had a breathtakingly scenic view of Hulpoe Beach and the Four Seasons on Manele Bay. Jill B also told us the Romeo-and-Juliet-like-story of Princess Pehe, for whom the large sea stack is named. The heiau structure on top is believed to be Pehe's tomb.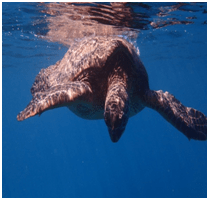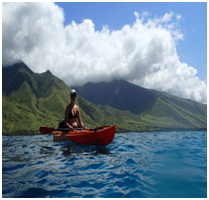 Thursday March 27. Lahaina
Several started the day with some early morning whale watching from the skiffs and a glorious sunrise from behind Haleakala's summit. After breakfast, we snorkeled at Olowalu with some green sea turtles! The green sea turtle eats algae and has green body fat, which is why they are called green turtles. Olowalu was beautiful, clear, and we spotted lots of beautiful reef fish in addition to the turtles.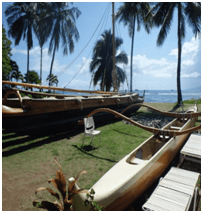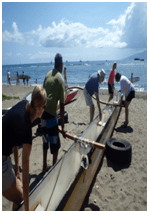 After lunch, we went into Lahaina where we saw the famous 100 year old Lahaina banyan tree. Many of us visited the Maui voyaging society (Hui O Wa'a Kaulua) where we learned about their plans to sail interisland and to Tahiti, navigating solely by the stars. A few of us even tried out paddling in six-man outrigger canoe. You can follow the canoe's journey at www.huiowaa.org. Lahaina Town is also a historical district and full of whaling history. No one ever actually whaled there but whalers often spent the winter here for safe harbor. With a beautiful sunset over the island of Lana'i, we made our way back to the Safari Explorer for dinner.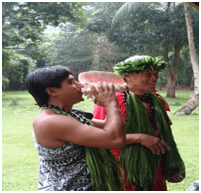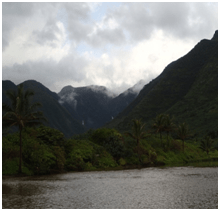 Friday March 28. Moloka'i
We woke up to a beautiful sunrise while docking in Molokai. After breakfast, we met Thadd, Jessica and Hans, our drivers and historians. We left the ship and headed into town to meet Aunty Terry and DJ who welcomed us to the island and introduced us to Hina, the mother of Molokai. After meeting Hina and a visit to Aunty Terry's bookstore, we loaded up into the van and headed towards Halawa Valley. Thadd and Hans told us all about ancient fish ponds, Pu'u O Hoku ranch, and some Molokai history. Upon arriving in Halawa Valley we met Anakala Pilipo who invited us into the valley with a traditional Hawaiian Protocol. Pilipo's family has been living in the valley for 50 generations, the longest continuous civilization known in Hawaii. Due to the large amount of rainfall the night before, we all stayed at the hale pavilion at the base of the valley out of the rain. Here we learned about the valley's history, the infamous tsunami, kalo fields, and how to pound poi.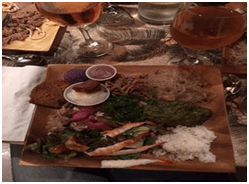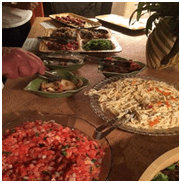 Then on the way back to Seafari Explorer, our historians took us to the Kaulapapa Pennisula Overlook. Kalaupapa Penninsula is famous for its historical Hansen's disease colony and Father Damian who spent his life there in service of the people of Kalaupapa. Before leaving the overlook, some of us visited the nearby Phallic Rock – a natural rock known by Hawaiians as a powerful and sacred rock said to promote fertility in women. We returned to the Safari Explorer to freshen up for dinner. For our last dinner, we enjoyed a beautiful evening onshore of hula, song, and local food at the Pa'ina. A Pa'ina is a party amongst friends Hawaiin Style. It is everything a "Luau" wishes it could be. Afterward, we returned to the ship and all shared in laughter and smiles as we viewed a slideshow of all the photos taken for the week.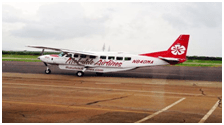 Saturday March 29. Time to head home
We woke to a lovely farewell breakfast. It was a small intimate group and we grew to really enjoy the company of everyone aboard. After exchanging emails and information it was time for our transportation to the Molokai Airport. We boarded a much smaller prop plane and landed in Oahu in less than 20 minutes. From there we had about a 4 hour layover which was spent in the United Lounge. We boarded our flight in the late evening and thoroughly enjoyed our first class "Pods". Basically the seat goes completely horizontal and I was able to get almost a full night of sleep.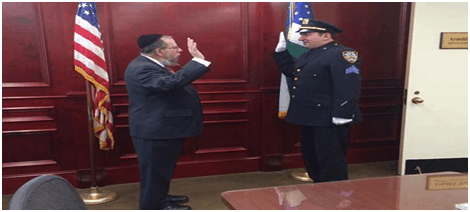 Once I got home and back to work I got the great news of a promotion…… Thank you for the good luck and great Memories Hawaii!! We will always remember our honeymoon off the beaten path in Hawaii!