AdventureSmith Explorations Founder and President Todd Smith reviews his Adriatic Odyssey Mediterranean small ship cruise aboard the Panorama. Read on for his expert review and photos.
When I explained to family and friends that I was taking the family on a cruise in Croatia, I received two consistent responses. The first was awe and wonder from people who had been or had heard from someone who had traveled to Croatia. The second response was shock and concern, primarily from people who misunderstood the region's history or mistook its proximity to eastern European trouble spots. In the end Croatia has become my new favorite country in Europe.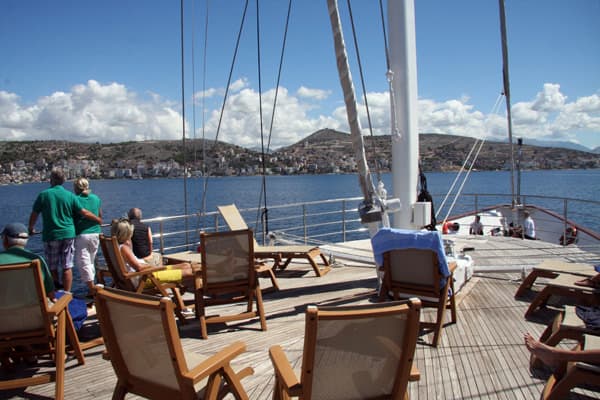 Adriatic Odyssey Review
The Adriatic Odyssey is a cruise back in time to ancient sites and cities only reachable by small ship. Highlighting much more diversity than most Mediterranean cruises the voyage begins in Dubrovnik and includes visits to Croatia, Montenegro, Albania and Greece. Ancient cities, sites and culture dates back centuries and small ports remain much as they have been for hundreds of years.
Croatia Pre Cruise Extension
Traveling with my wife and two young sons we first explored Croatia's interior including castles in the Zagorje region and the spectacular waterfalls of Plitvice Lakes National Park. Our five night tour ended in Dubrovnik where we would board the Panorama for our Adriatic Odyssey cruise. It is advisable to arrive Dubrovnik at least one or two days prior to the cruise and one could easily spend more time in this historic medieval port walled city.
Embarkation in Dubrovnik
Our ship, the Panorama, was easy to find among the mega ships dominating the waterfront. Dubrovnik's main cruise ship dock and ferry terminal are located in Gruz Harbor, 2.5 miles from the old walled city. Our private driver had a special permit to proceed onto the dock and delivered us right to the Panorama's gangway. Those arriving by taxi or bus must walk up to a quarter mile to the embarkation point, depending on the location of the ship which can vary each week.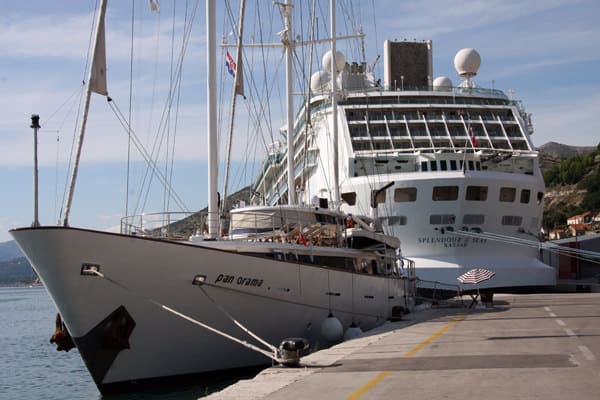 After checking in to our upper deck cabins at 3pm we had a couple of hours to explore before returning to the ship for dinner and a welcome orientation. Our enthusiastic cruise director Ninna welcomed us and got everyone excited with an orientation and review of our itinerary that would span 2500 years of history and four countries including Croatia, Greece, Albania and Montenegro. Many guests were from other parts of Europe while some came from as far away as Australia, Mexico and the United States. During a welcome dinner we were introduced to Captain George and his crew, largely hailing from Greece. The Panorama then stayed in Dubrovnik overnight providing guests a chance to enjoy the nightlife.
We departed Dubrovnik before sunrise and several guests arrived on deck to experience the departure. The city lights faded and we were now cruising the Adriatic Sea. Those who remained on deck were treated to a beautiful sunrise framed by the dramatic white sails of the Panorama. A perfect way to begin our Mediterranean cruise.
Korcula
Our first day found us on deck watching scenic islands and towns slowly cruise by. The captain had lowered the sails because the wind was now blowing the wrong direction and we had a schedule to keep. The ship eased into a turquoise blue cove surrounded by rolling hills and white sand beaches. The crew lowered the anchor and dropped a few kayaks for our first swim stop. The water was cooler than we expected, but not cold (about 70 degrees). The ship provided snorkel gear and guests hopped off the swim step and into the Mediterranean. Of course my kids were thrilled this was our first stop.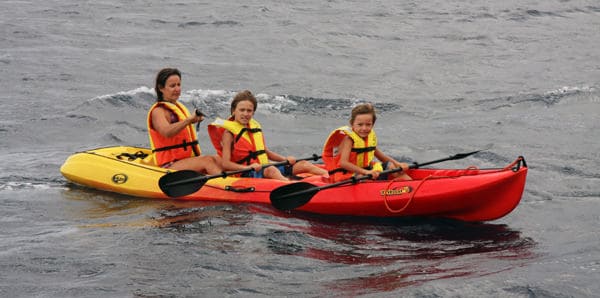 As we returned from our swim the waters were becoming increasing choppy. By the time we reached Korcula the wind was blowing, the boat was rocking and dark skies were pouring rain. The walking tour was cancelled but our guide came aboard and gave a great talk about the history of Korcula, purported to be the birthplace of Marco Polo. The town is famous for its 6th century building codes, architecture and design that lets the sun warm in winter and keeps the breezes cooling in summer. We gladly accepted the umbrellas offered by the crew and headed into town. Walking the narrow streets of this ancient walled city was like walking back in time and despite the rain we knew we had arrived at the Mediterranean we had come to see.
Back on board by dinner and it was raining even harder. The Captain prepared us for a night of rough seas and he advised that our itinerary may change tomorrow, depending on the weather. After a very rough night the boat finally settled down in the early morning and we awoke calmly approaching the dock, back in Dubrovnik. A fierce storm with 60 knot winds made the trip to Bar, Montenegro uncomfortable at best and unsafe at worst. Breezy conditions are common during Mediterranean summers but winds this strong are rare the captain advised me. The guests heartily agreed at the decision to return to Dubrovnik and we spent the morning exploring on our own.
Back to Dubrovnik
We walked from the dock to the city center and after a beautiful quiet stroll along the water and among picturesque narrow alleys we were shocked at the mid-day crowds at Pile Gate, the entrance to Dubrovnik's old town. We made our way into the ancient city without rush knowing we would spend three nights here after the cruise. By afternoon the sun was out and we were relaxing on deck cruising south to Albania.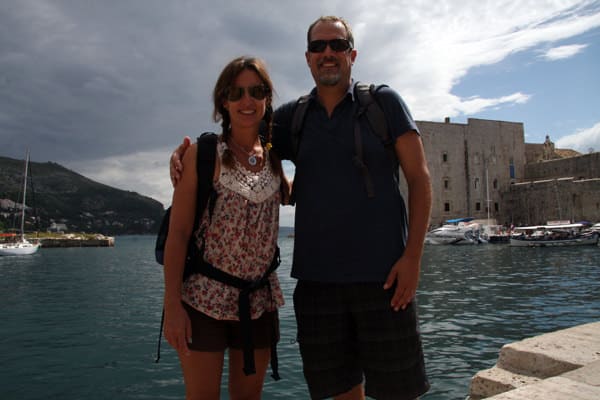 Because of the weather the remainder of our itinerary varies from the posted itinerary. We would visit Saranda, Albania, then Corfu, Greece then Paxos Island and back to Corfu before resuming the normal itinerary in Kotor, Montenegro on the last day. We missed the visit to Bar, Montenegro entirely.
Albania & Butrint National Park
As we approached Saranda, Albania I knew this would not be an ordinary cruise stop. I had little idea what to expect and confess that I had to read the guidebook the night before to have any sense of the place and its history. Saranda itself is a congregation of colorful concrete and glass mini high-rises catering to European beachgoers. The architecture seemed to struggle to break free from years of communist dictatorship but the town also exuded a sense of opportunity and hope for a better future. We joined the optional excursion to the ancient, excavated city of Butrint National Park, a UNESCO World heritage site. Butrint's history spans two thousand years and features a spectacular amphitheater, a Venetian town, a roman bath house, a Christian basilica, exquisite mosaic floors and an early 6th century baptistery with columns holding an array of beautiful statues which are now housed in the parks museum. Our guide Dimirti was a wealth of knowledge and very entertaining. Because we knew so little and had no expectations this was one of the stops we enjoyed the most.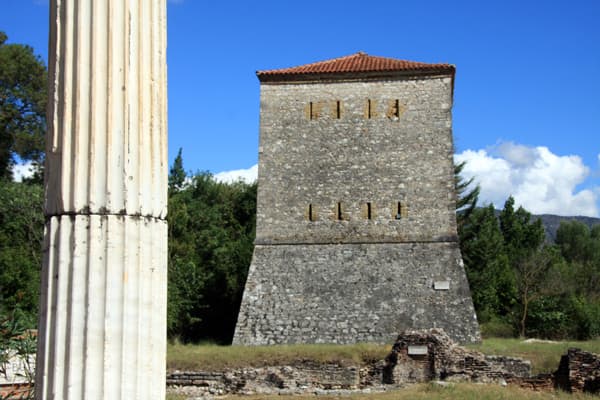 Corfu, Greece
Back on board we cruised a short distance to Corfu, Greece. The approach to Corfu is amazing with dozens of scenic islands housing beautiful architecture. Corfu (Kerkyra) town is dominated by Paleo Frourio and Neo Frourio, old and new forts, with huge walls and high towers over crowded red roofs and church minarets that are unmistakable as you approach from the sea. The busy cruise ship port is located a short cab ride from the historic city center.
After dinner on board many guests shared taxis into Corfu town. The old town was beautifully lit up at night. Shops, cafes and street artisans were busy with tourists and locals alike. Corfu, it is said, is where local Greeks gather and tourists come to watch them.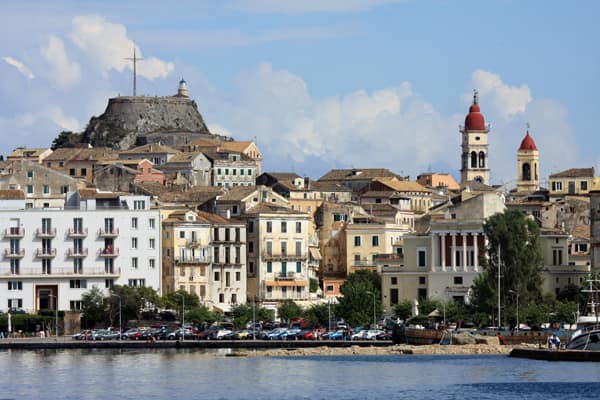 Paxos Island, Greece
The next morning we were on our way to tiny Paxos island, a quaint sleepy place dotted with picturesque seaside fishing villages. As we walked from the dock into town we saw several fishermen on colorful boats working their nets and unloading the morning catch. Not surprisingly it was also here that we began to notice the abundance of cats in this part of Europe. It seemed the town was frozen in time and life remained much as it has for hundreds of years. After an hour walk and a relaxing coffee overlooking the harbor we still could not find any other travelers beside those from our boat.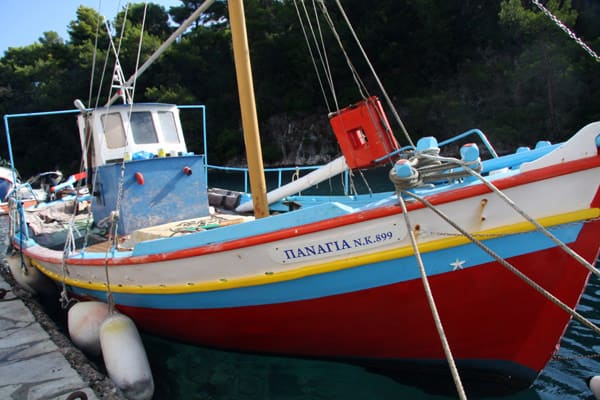 Back to Corfu
Returning to Corfu the captain anchored in another postcard beautiful cove for a swim stop. Calm water and a relaxed pace ensured everyone had their fill of swimming, snorkeling and kayaking before we continued to Corfu. Again we had time to explore on our own. We challenged ourselves with the climb up the old fort. The views were spectacular with sunset over Corfu town on one side and green islands of the Mediterranean on the other. Even though dinner was served on board we chose to dine in town and enjoyed one of our favorite meals of the trip. We returned to the Panorama in time for a performance of traditional Greek dancing. By the time it was over even Captain George was showing off his moves.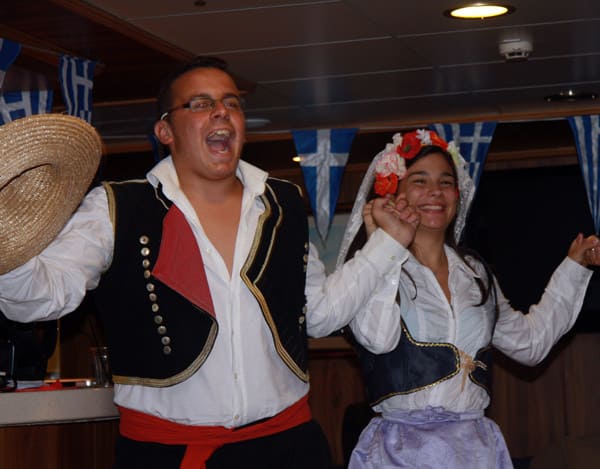 The next day should have been a guided tour of Corfu, but with all the changes to our itinerary the tour was not possible. Since we had already explored Corfu town we rented a tiny car to explore the rest of Corfu Island. First stop was the grandiose Palace Achillion. Built in 1890 by the Empress of Austria the hilltop palace features splendid views, pleasant gardens and a vast collection of art, furniture and sculptures.
A beautiful drive across the island led us to Gordios Beach, a crescent of golden sand guarded by towering sea stacks overlooking turquoise blue water. The beach was predictably busy this time of year with rows of lounges and umbrellas for rent. A relaxing beach day was a nice break to the history and culture of the trip thus far. And we enjoyed the best beachside gyros of our lives.
Bay of Kotor
On the last day we finally resumed the scheduled itinerary arriving in Kotor, Montegro which is another UNESCO World Heritage Site. Like, Albania I knew little about Kotor but it blew me away. The bay of Kotor is similar to a Norwegian fjord with high walls and narrow waterways, except that Kotor is lined with picturesque Mediterranean towns, churches and ancient armaments. Just when you think you have arrived the ship turns another corner and another tiny walled city appears. Finally you arrive at the end of the bay where the walled town of Kotor seems to crawl straight up the mountainside.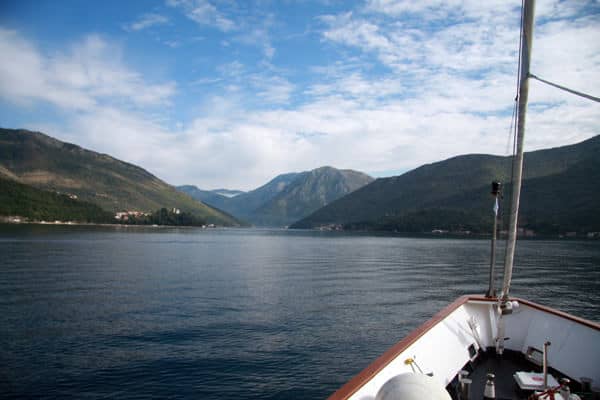 With a full day in Kotor we had plenty of time to explore. Ninna advised which sights would complement the optional guided walking tour so we set out to explore the churches, museums and a street so narrow only one person could fit. The guided tour was excellent and her insights helped us fit Montenegro into the context of the Balkans region we have been exploring. After the tour we climbed 1350 steps to the crumbling fortifications that once protected the city. The views were incredible.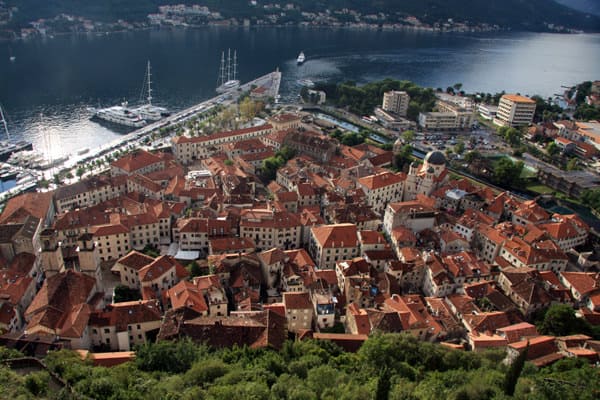 Goodbye Adriatic
After the Captain's dinner we returned through the Sea Gate to explore the town at night. As we sat atop the walls overlooking the town and our ship, we reflected on the incredible journey we had just completed. The Adriatic Odyssey took us to four countries and history spanning thousands of years. It was a wonderful introduction to this region, its people and history.
We had thought this trip might be too dry for our kids, but in the end they loved it. We rarely altered our travel style because of them and having them along helped break down cultural barriers with locals. Because they incorporated this trip into their schoolwork we received additional educational experiences that we might have otherwise missed. I highly recommend this region for family travel.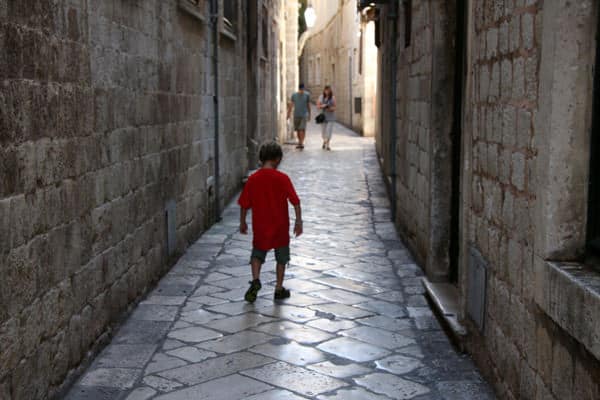 Our final morning found us back in Dubrovnik where we said farewell to the Captain, Ninna, the crew and our fellow passengers. Most made their way to the airport while some, like us, stayed in Dubrovnik for a few more days.
Panorama Ship Review
The Panorama is a modern two masted sailing ship that is 164 feet long and accommodates up to 49 guests. We had the only two A category cabins that are located on the upper deck and have view windows. We found the cabins lovely although when the lounge was busy (which it was a couple of nights) we could hear it. In retrospect, as a family, we would have preferred an A cabin on the Main deck where kids do not have to walk through the lounge to get from one room to another. The remaining A cabins are on the Main deck while less expensive category B and C cabins are found on the lower deck. Many cabins can convert from twin to double beds and all cabins have a window/porthole, air conditioning, private bath with shower, TB, telephone, hairdryer, mini safe and mini fridge. Power on board is 220v, so bring a European adapter.
The service aboard has a European flare and the crew is a mix of Greek seamen, professional small ship crew from around the world and hotel staff from Southeast Asia. All speak English and getting to know them was a highlight of the trip. Ninna, the cruise director who is from Croatia, was enthusiastic and knowledgeable. She relied on a bevy of excellent local guides in each port. On board programs focused on preparing us for our port visits to ancient sites and recapping our experiences after dinner.
Meals are hearty with lots of choices highlighting many local delicacies. Breakfast and lunch are served buffet style while dinner is an elegant five course event that always had a meat, fish or vegetarian option. While the food on board was good, our most memorable meals were when we ate ashore in the various towns.
This Adriatic small ship cruise review was written by an AdventureSmith Explorations crew member. Read all AdventureSmith Expert Reviews for more trip reports, or contact one of our Adventure Specialists to learn more about Greece small ship cruises, all our small ship cruises and wilderness adventures: 1-800-728-2875.