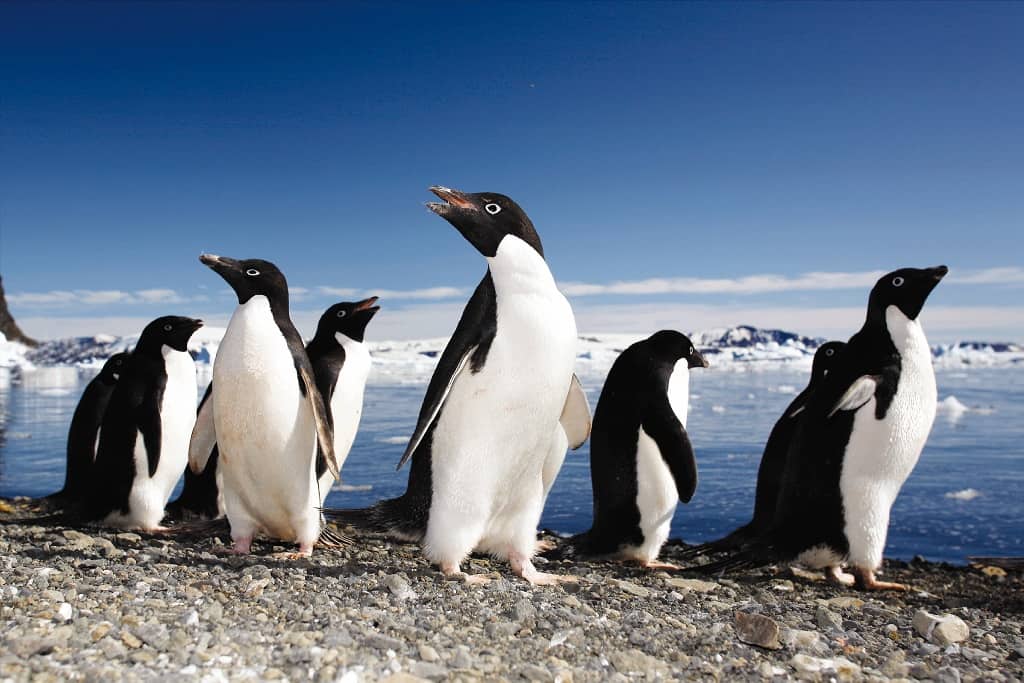 Penguins are marvelous creatures that capture the imagination of travelers young and old. The dream of encountering penguins in the wild, in their natural habitat, for some, like me, is the holy grail of wildlife adventures.
There are 17 species of penguin, all of which, except for the Galapagos Penguin, live in the Southern Hemisphere. For example, there are six common penguin species in Antarctic regions alone: Adelie, Chinstrap, Emperor, Gentoo, King and Macaroni.
Small ship expedition cruises make viewing penguins in the wild easy, comfortable and low impact. Ice-strengthened hulls allow small expedition vessels carrying between 49 and 149 guests to navigate around the ice and into protected coves and bays. Once in the region, expedition leaders take over, presenting the life and lore of penguins during shore excursions and through on-ship education programs. Depending on the cruise guests can often ski, camp, snowshoe and kayak among the friendly creatures.
Following are my top-five locations for viewing penguins from the comfort and vantage of small ships.
Patagonia
Megallanic Penguins live along the coasts of South America and are easily observed in Chile's Tierra del Fuego region of Patagonia. Patagonia Explorer- Ushuaia to Punta Arenas aboard the 210 guest Ventus Australis or Stella Australis operates September through April; penguins can be seen throughout this time. Cruises begin in Ushuaia, Argentina, and end in Punta Arenas, Chile, or reverse. These cruises are commonly combined with overland explorations of Patagonia's Torres del Paine, the Atacama Desert or Santiago, Chile.
Antarctica and New Zealand
Cruises to Antarctica from New Zealand are adventures to the most remote regions on the planet. Midway between Oceana and Antarctica are the New Zealand's Sub Antarctic Islands, home to a huge variety of penguin species congregating in vast colonies and are visited on Macquarie, Snares and Stewart islands on a National Geographic Epic Antarctica or on the New Zealand by Sea: East Coast Expedition that follows the east coast of New Zealand with a stop that includes Doubtful Sound and Thompson Sound, home to fiordland crested penguin colonies.
The Antarctic Peninsula & Weddell Sea
Expedition cruises visiting the Antarctic Peninsula and Weddell Sea are the most popular and most affordable way to view a penguin in Antarctica. A wide variety of small ships carrying 49-149 guests offer a choice of programs from easy cruising to extremely active expeditions with hiking, kayaking, skiing or even camping. These cruises usually depart from Ushuaia, Argentina. Among the most popular is National Geographic White Content aboard the National Geographic Explorer (Smith said, "Quite simply this is the finest Antarctica Cruise available.")
Quark Expeditions Antarctic Explorer operates aboard an updated fleet of upscale expedition ships. (There's a 20 percent off offer on 11-12 day programs.) Weddell Sea Emperor Penguin Voyage is a specialty cruise for penguin purists who specifically want to see Emperor Penguins. Helicopters fly guests from the ship (the The 100 passenger M/V Ortelius) to the island where the colonies are located. A guide then leads the group overland to view the Emperor Penguin colonies.
Galapagos Islands
The Galapagos Penguin is endemic to the Galapagos Islands and is the only penguin to live north of the Equator in the wild. They have the smallest range and population of any penguin with less than 1,000 pairs mostly found on the Islands of Fernandina and Isabela. These penguins don't migrate, breed year round and are most active in late August through early October when the water temperature is coolest (about 64F). For the many options available view AdventureSmith's Galapagos Cruises.
South Georgia & Falkland Islands
The remote archipelagos on South Georgia and the Falkland islands are home to a variety of species in vast colonies numbering in the millions. Entire hillsides and beaches may be covered with nesting penguins rearing their young. Suggested itineraries include the 24-day National Geographic Antarctic Peninsula, South Georgia and Falkland Islands aboard the spectacular expedition ship National Geographic Explorer. Explorers & Kings is an affordable 20-day expedition with an experienced Antarctic team.
This blog detailing the top five regions for viewing penguins by small ship is among AdventureSmith Explorations' extensive travel resources. Visit our Small Ship Cruise Guides page for even more tips and inspiration to plan your cruise.