AdventureSmith Explorations' Tiffany Corbell reviews her time on the Ecuador Amazon Adventure at Sacha Lodge.
When traveling to Ecuador, goals of visiting both the Galapagos and the Amazon really go hand in hand, if your schedule allows for it of course. Though Ecuador is relatively a tiny country it is remarkably and richly diverse. Quito being the hub for accessing both of these locations makes it easy to combine these two destinations into the same trip. In January of this year I was fortunate to do just that. After traveling to the Galapagos Islands I spent three nights in the beautiful UNESCO world heritage site and capital city of Quito before heading into the Amazon and Sacha Lodge. It takes only a 30 minute flight to reach the hot and humid city of Coca which is a drastic change from the high Andean city of Quito. This industrial and relatively unimpressive city was built up from its beginnings as a small town to a large populated city with the discovery of nearby oil reserves in the 1970s. Coca is a popular tourist destination as it is the convenient gateway into the Amazon rainforest.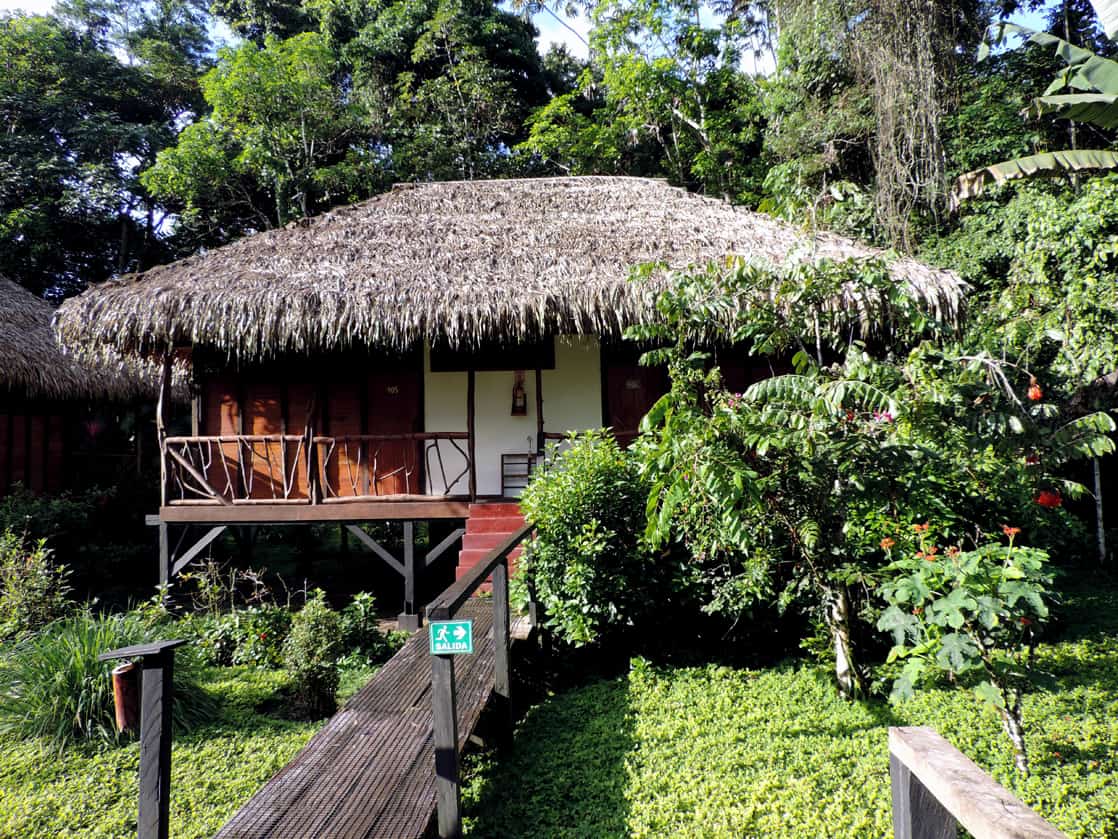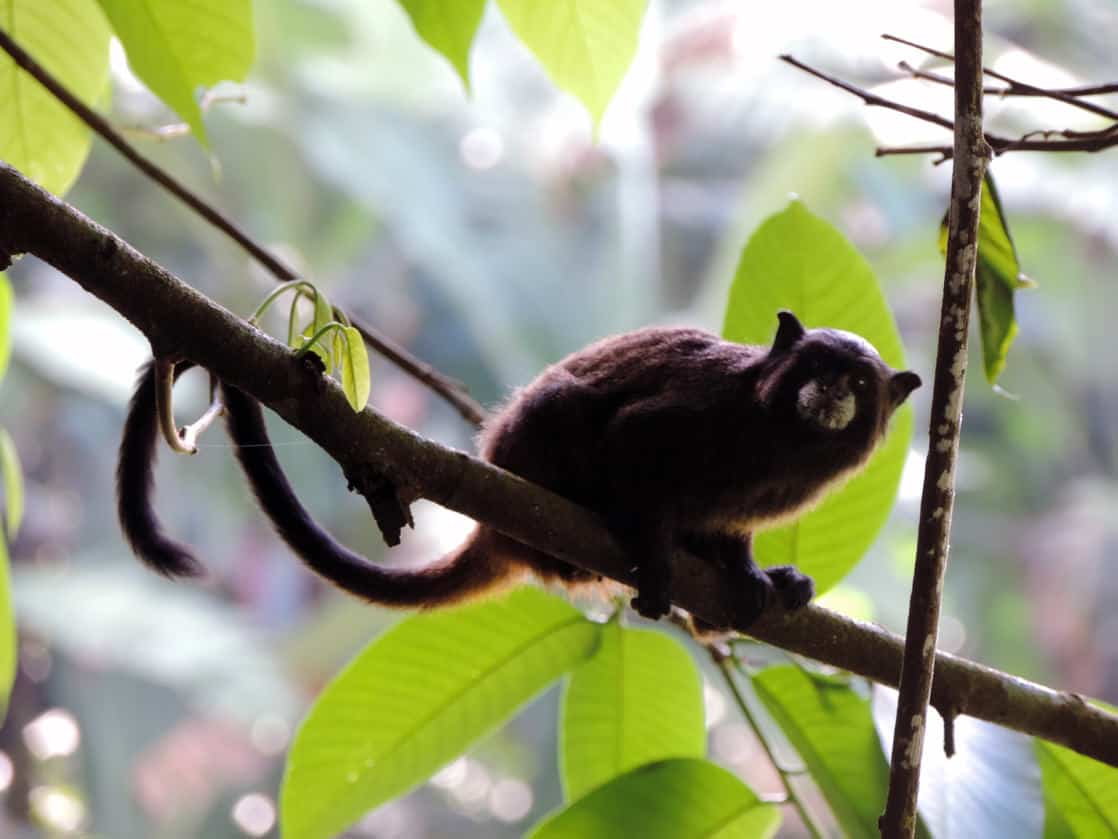 After collecting my luggage, I found the Sacha Lodge guide easily and the other travelers who were also on their way to the same destination. The remote location of Sacha Lodge makes the journey of traveling deep into the rainforest all part of the adventure. The only way to reach the lodge is by a 2 hour motorized canoe ride down the muddy Napo River. Along the way, we passed dense rainforest, Amazonian villages and oil platforms. I couldn't help but wonder how the oil exploitation has affected these remote villages and its' people. I was happy to know I was visiting an Amazon lodge where thanks to continued ecotourism many jobs were provided to locals from this region. The Sacha reserve is comprised of over 4000 acres making it the largest private reserve in the Ecuadorian Amazon and thus protected from logging, mining or oil drilling.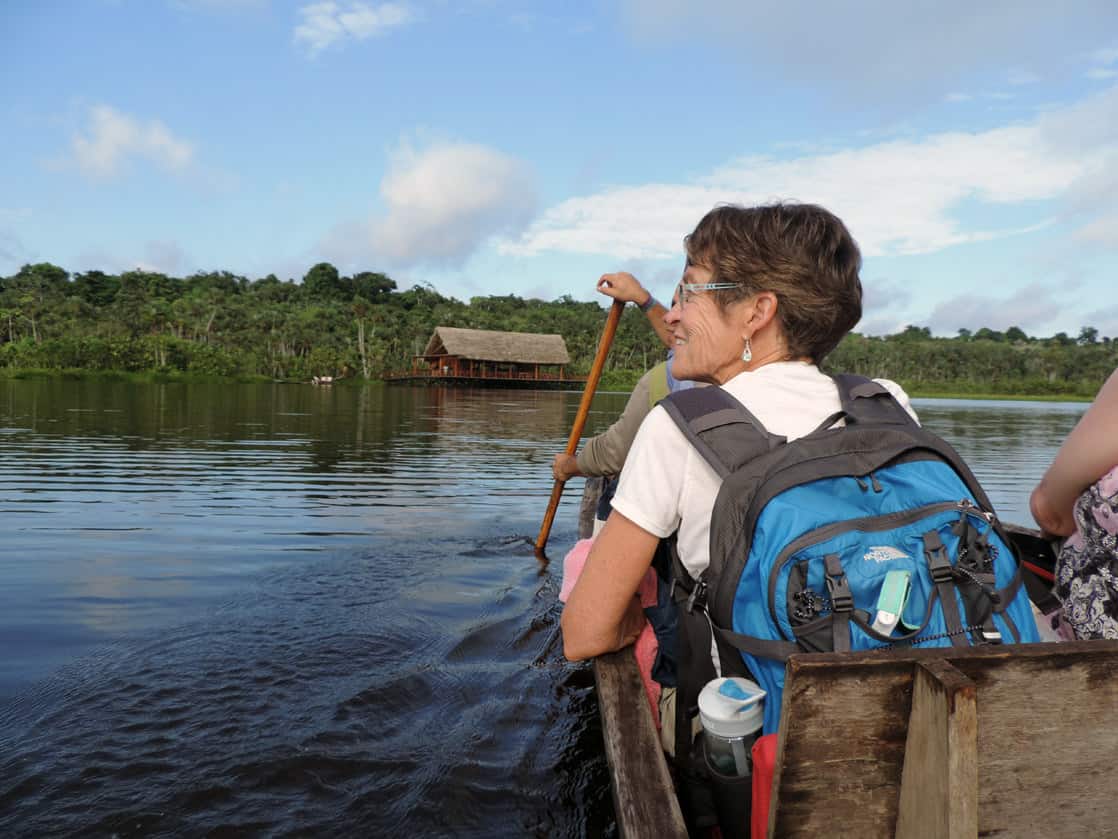 After navigating the Napo River for 2 hours we arrived to the Sacha Lodge dock, where our naturalist guides led us on a 30 minute walk along a boardwalk through the lush rainforest. From there we reached our final leg of the journey, under a thatched roof hut sat various indigenous dugout canoes. Our guides paddled us quietly through the narrow canal until we reached the black Pilchicocha lagoon where finally Sacha Lodge becomes visible to us. We are greeted by the Sacha staff with beverages and snacks in the thatched roof open dining restaurant which is raised above the perfectly still Pilchicocha lagoon. We are then given our cabin assignments and I was on my way through the many boardwalks that are built in perfect unison within the rainforest. About a five minute walk from the main dining restaurant I discover my new rainforest bungalow for my 4 day/3 night stay.
The lodge was carefully designed to preserve the environment and the rainforest ambience while offering comfortable cabin accommodations. Each of the 26 rooms at Sacha offer screened in rooms with very nice private bathrooms and hammocks on the private back decks. As a person typically nervous to travel to the jungle because of my fear of mosquito bites, I was very happy to see my screened cabin walls. During my stay I was actually very astounded to notice that mosquitoes did not swarm as I had imagined they would and that I didn't need to use very much insect repellant. These screened walls did provide me with assurance though that these few mosquitoes, spiders or any other of the many creepy crawlers wouldn't interrupt my sleep.
On this first day, we were issued our rubber boots and rain ponchos that were completely necessary for visiting the very wet rainforest. During my stay it did rain a lot but sporadically throughout the day with also periods of sunshine. On the first day we were also assigned to a small group of fellow travelers and to two guides: a naturalist guide and a local Amazon guide. The naturalist guides are typically from outside of the Amazon region but the local guides being from this Amazonian region added a wonderful dynamic to the experience. Our Amazon guide only spoke Spanish but through translation taught us so much about the traditional way of living in symbiosis within his home of the rainforest. I also loved that I was assigned to a small group for the duration of my trip. We set out on all adventures together and enjoyed meals together. I believe this really enhanced my stay at Sacha by allowing me to really get to know these six other travelers (rather than the 50 total travelers staying at the lodge) and discuss our experiences together at the end of each day.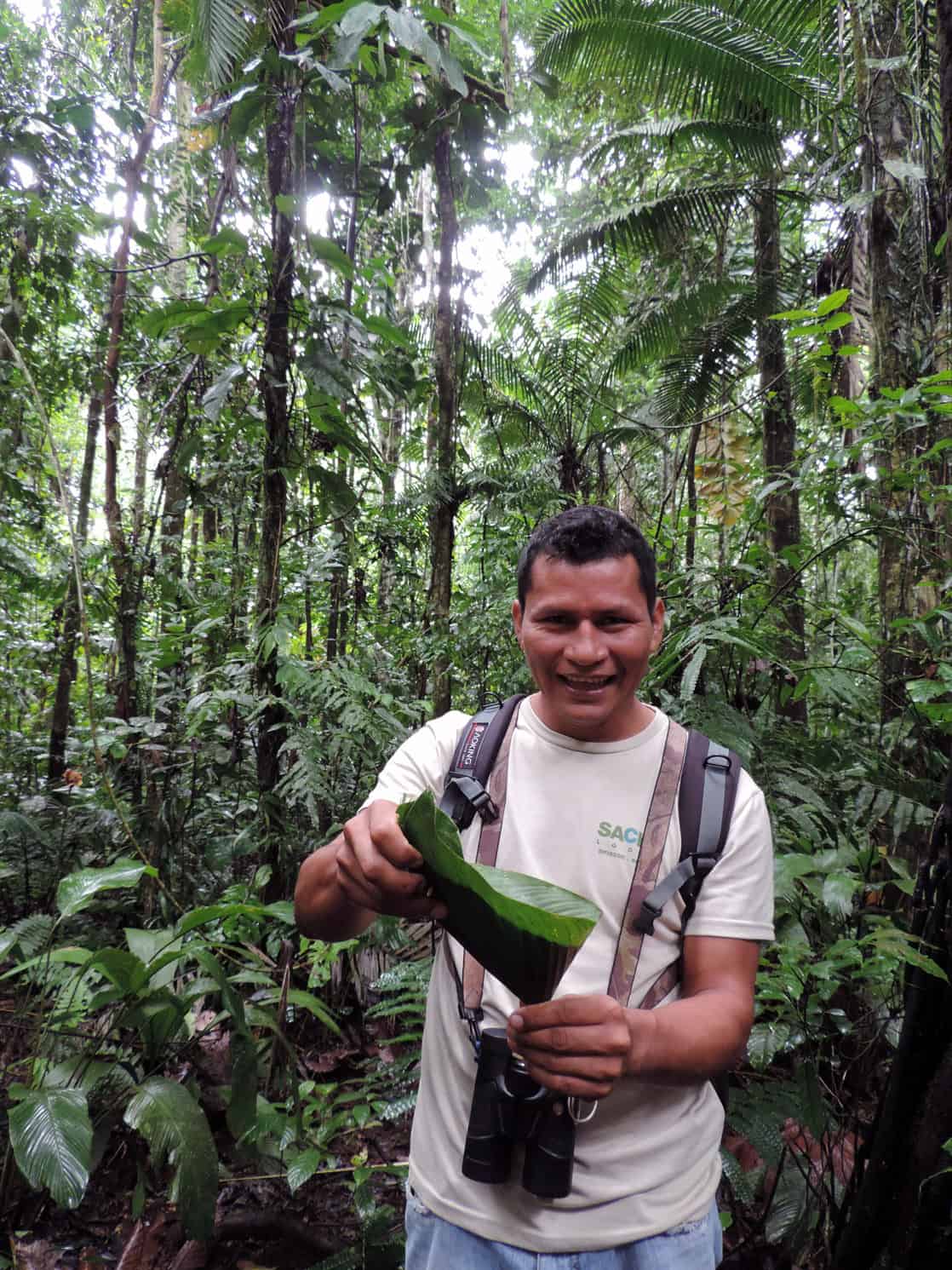 The next few days I spent here were incredible and were filled with long days of wildlife searching and rainforest exploration. Early mornings (wake up calls between 5 – 6 am) are a must in the Amazon as the cool mornings are the best times for spotting wildlife especially birds and monkeys. If you are not an avid birder before coming to the Amazon you will definitely leave one! Along with my new friends, Sherryl and Tony, who were avid birders I quickly became one myself and was excited to find out by the end of the trip that we had seen 55 unique Amazonian birds. These early morning birding viewing locations were best accomplished by climbing the various very tall towers that Sacha has built throughout the reserve. This allows for one to climb up above the canopy to get the best perspective for wildlife viewing. One of the mornings we enjoyed our wildlife experience from the suspension canopy walk which is connected by 3 towers and is 118 feet high and 902 feet long. I never thought I was scared of heights but I must admit my heart was racing a bit faster walking across this canopy walk.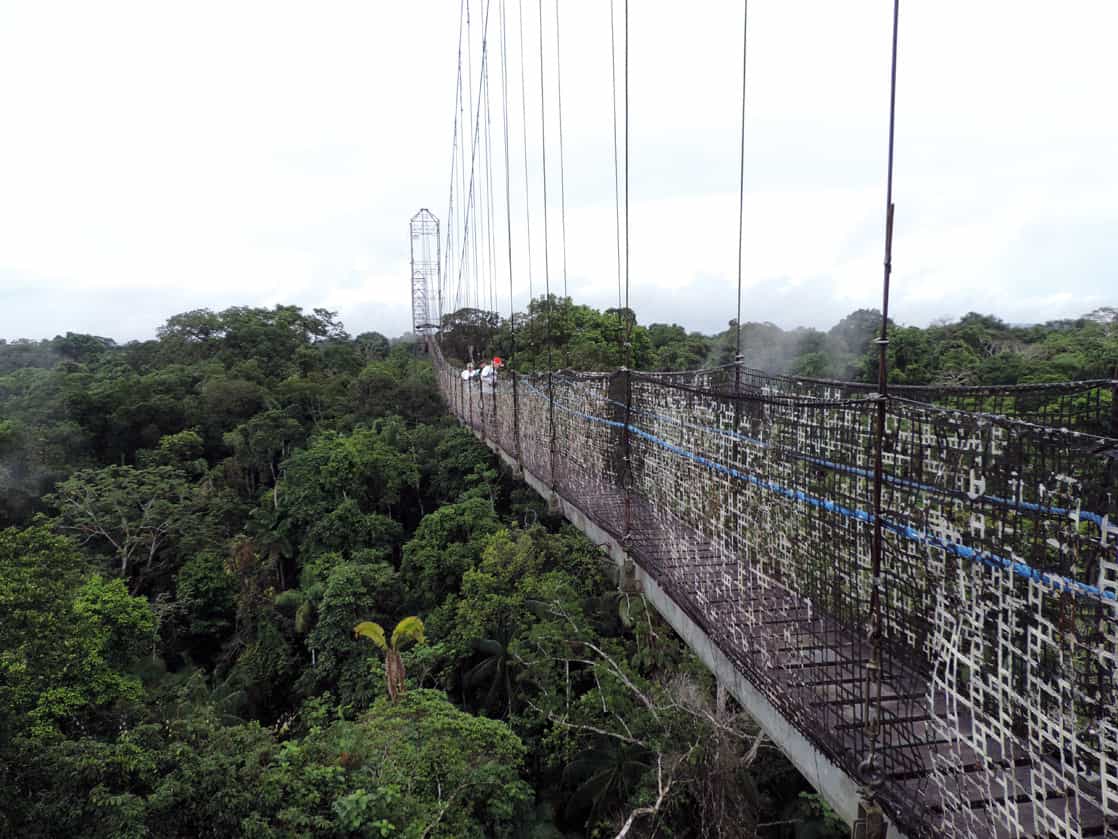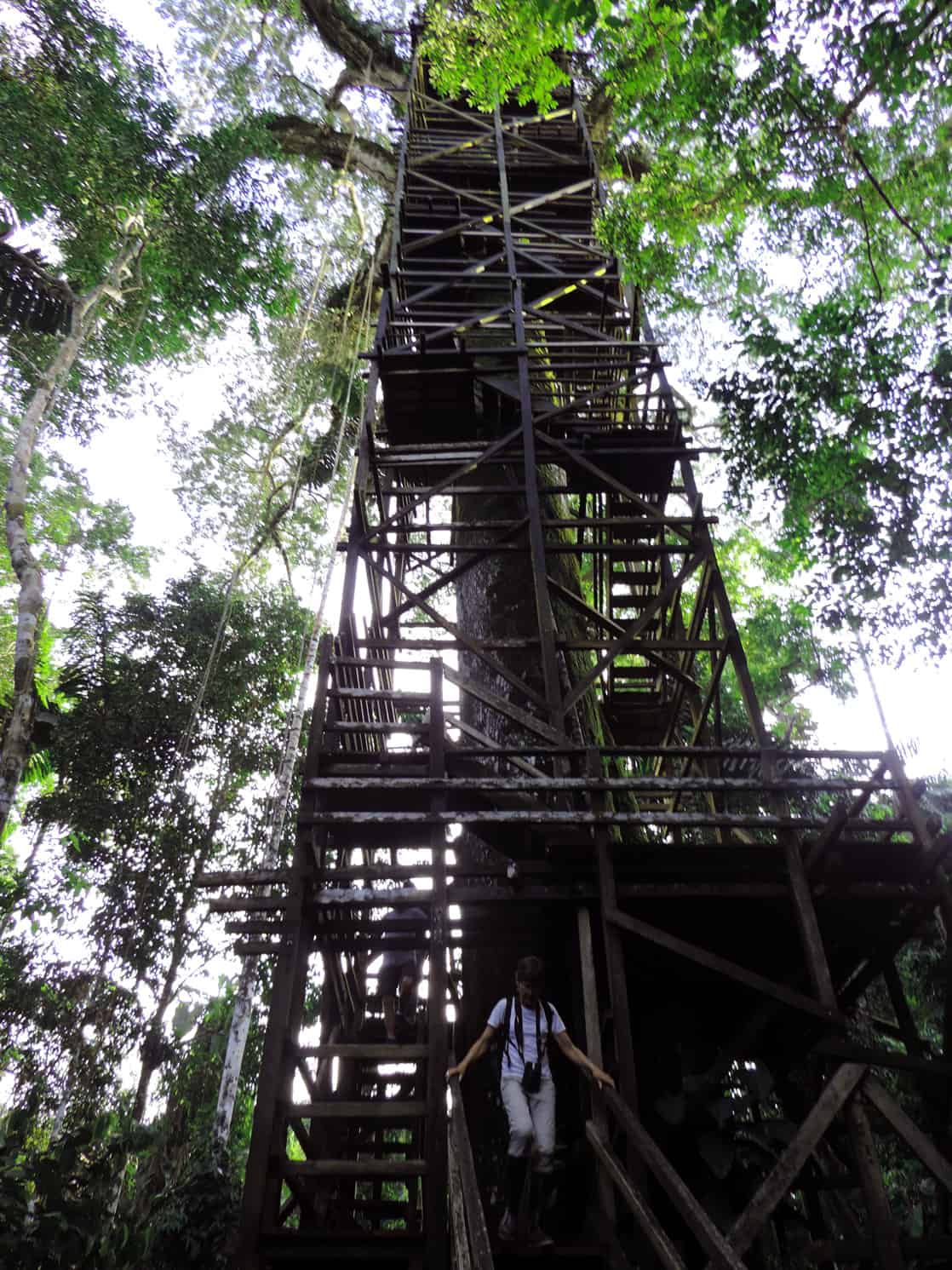 The remainder of each day was filled with walks through the rainforest, peaceful canoe rides through small estuaries and nighttime walks in search of nocturnal creatures. The rich biodiversity of the Amazon is the perfect home for numerous creatures and there was no shortage of seeing wildlife during my stay here in the jungle. I was fortunate to see night owl monkeys, squirrel monkeys, howler monkeys, a sloth, tons of birds, butterflies, Caymans and of course plenty of crazy insects. Our guides added to each excursion by providing us with knowledge of the area and they were also great at finding wildlife for us.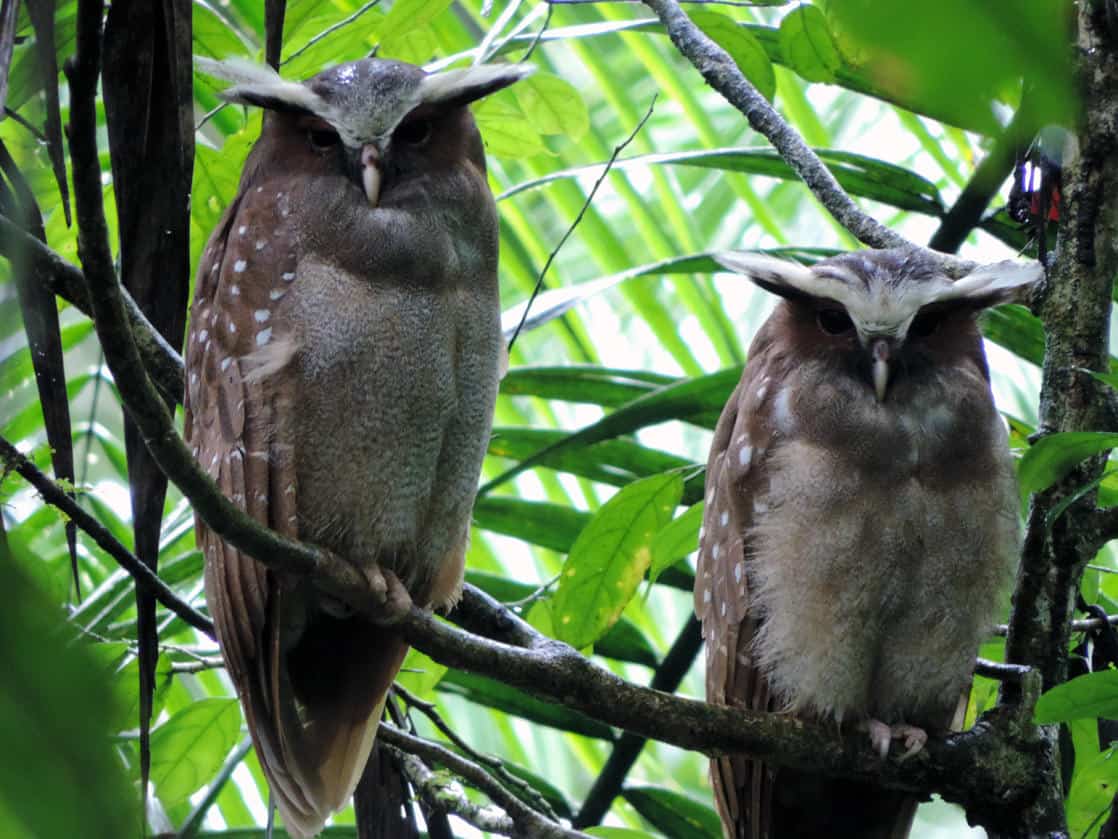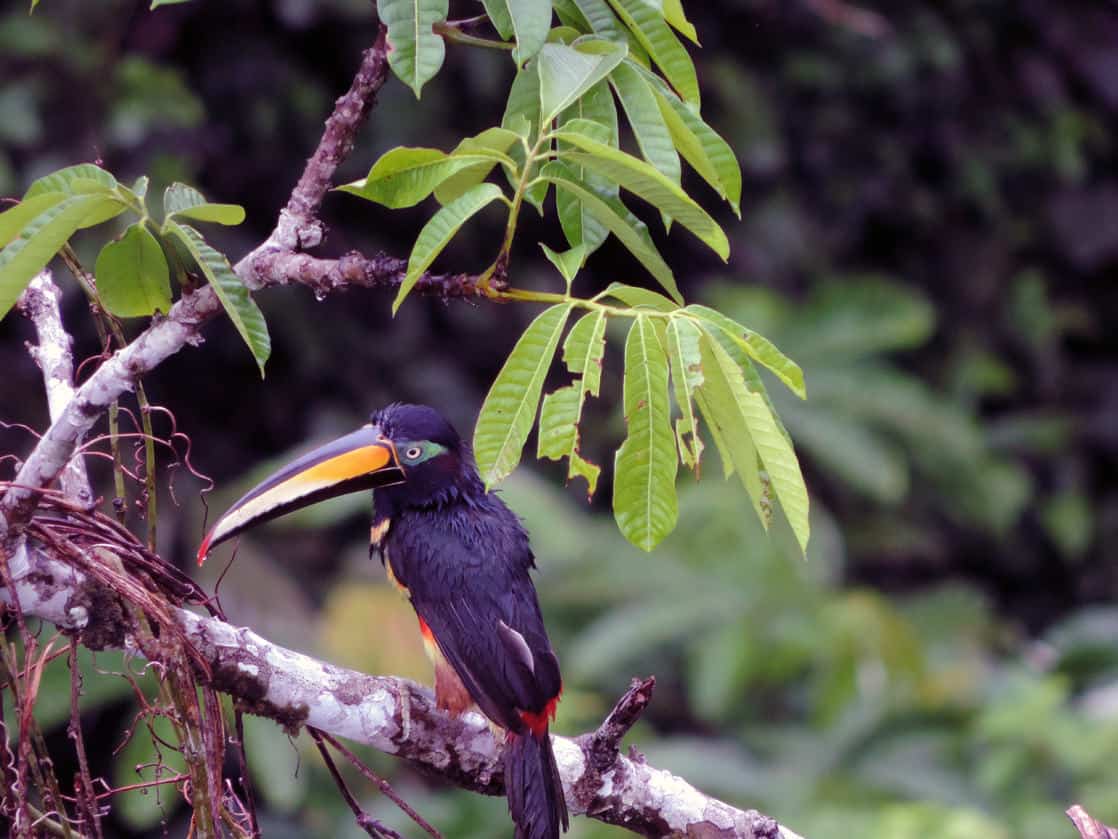 Each evening (despite the rain that fell sporadic throughout the day) we were lucky to enjoy beautiful vibrant sunsets across the Pilchicocha lagoon while enjoying freshly made popcorn and cold beer. This pristine rainforest sanctuary was perfectly complemented by the amazing meals, service and comfort that the Sacha staff provided. All meals were served buffet style and they offered a great variety of Ecuadorian and international options that seemed to please all guests. I was thoroughly impressed with how well they took care of all their guests. The remote location of this lodge means that all supplies (including food, beverages and fuel for the generators) must travel in the exact same way that we traveled to the lodge: down the river from Coca, over the boardwalk and then paddled across the lake. And then all garbage transported back out in the reverse manner. The Sacha staff and guides were incredible and it was obvious that they worked hard to maintain this pristine remote eco lodge. They created a very enjoyable and comfortable jungle adventure for all their guests and I felt lucky to experience four peaceful days of rainforest exploration here at Sacha. On my final morning, it was hard to say goodbye to the six other wonderful travelers in my small group that I had spent so much time together with. We then set out for our return travel back to the boardwalk by one last canoe ride and then down the Napo River once again to where I found myself just a few hours later back on my flight from Coca to Quito. As I returned to the busy city of Quito, I quickly began to miss the very slow pace and the exotic sounds of the jungle that I had woken up in just a few hours prior.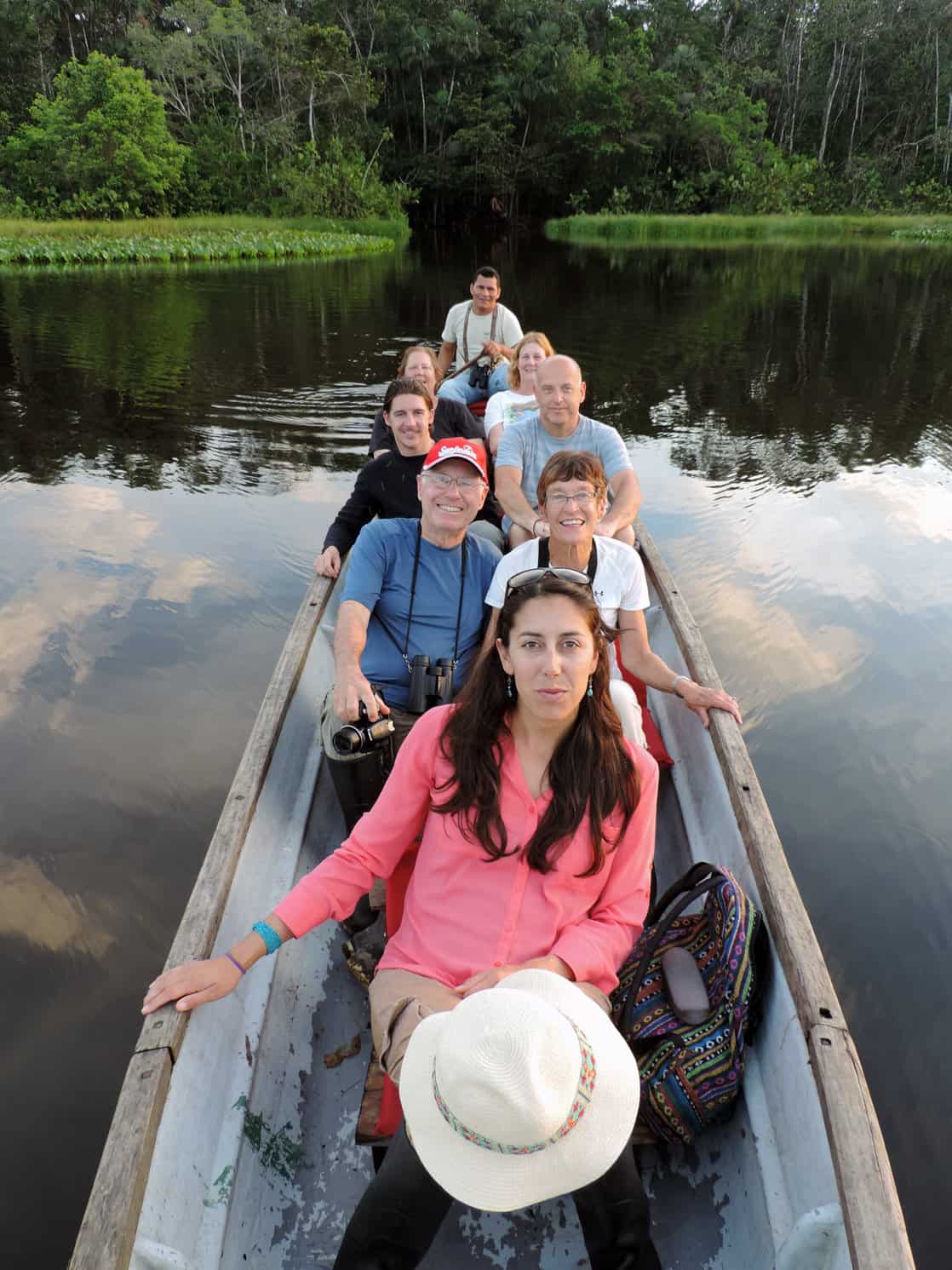 Traveling to the Amazon is a wonderful complement to any Galapagos cruise and I can highly recommend this combination of trips when visiting Ecuador. AdventureSmith Explorations can help you to arrange an Ecuador Amazon Adventure of various lengths (at Sacha Lodge or any of the other eco lodges we work with) as an independent trip or as a Galapagos extension.
This Sacha Lodge review was written by an AdventureSmith Explorations crew member. Read all AdventureSmith Expert Reviews for more trip reports, or contact one of our Adventure Specialists to learn more about these small ship cruises and wilderness adventures: 1-800-728-2875.