After traveling on the Machu Picchu Explorer trip with AdventureSmith Explorations, Adventure Specialist Taylor Cranney writes this expert review of the trip logistics. Use it as a guide for how to visit Machu Picchu and how to customize your own trip to Machu Picchu with an expert's advice.
Why Visit Machu Picchu – The Allure & Many Ways to Go
The idea of traveling to the Peruvian Highlands is one that is not lost on the eager traveler. I myself traveled to this region at a younger age, and like many I was in search of the famed Machu Picchu Citadel on a backpacking tour. I remember being exposed to this world wonder for the first time during a class presentation in college, and it stuck with me ever since. In a large way, this droplet of a travel idea may have been the catalyst for wanderlust that has rippled through my life ever since, and even into my professional life now. During my travel to Peru over a decade ago, I got as close as Cusco, only to learn that the trains to Machu Picchu were shut down due to landslides. I had to revise my travel plans and was never able to check these famed archaeological ruins off my bucket list. As fortune should have it, I was provided with a second attempt via the Machu Picchu Explorer tour, and it delivered with great success. I've taken what I learned on my journey and made this Machu Picchu 101 guide to assist you in planning your own trip.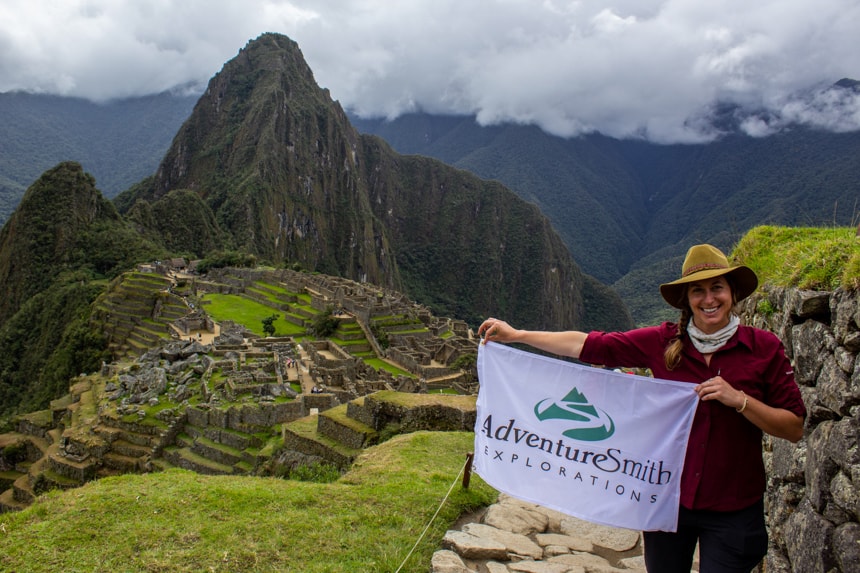 There are many ways to visit, including treks on the Inca Trail, along the Salkantay Trail or through the Lares region. But the beauty of the hotel-based Machu Picchu Explorer itinerary is its ability to be customized for different interests, budgets, timelines and activity levels; it truly is a trip for every traveler.
Before you plan any Machu Picchu trip, my advice is to approach it holistically, making time to immerse yourself in the hubs and towns along the way to understand on a greater scale what the Peruvian Highlands truly represent. Imagine a world built by the richly intricate pre-Inca and Inca—who had a complex awareness of astronomy, agriculture and engineering—that now meets modern-day society. This is what you will find has percolated into every corner of Peruvian life as you travel through any of its regions, and there's no better way to experience this history than with a visit to Machu Picchu.
Machu Picchu 101 – The Regions, Towns & Sites of the Peruvian Highlands
To get to Machu Picchu, you must fly into the high-elevation city of Cusco, pass through the Sacred Valley, reach the town of Ollantaytambo, take a train to Aguas Calientes and then hike or bus up 1,200 feet in elevation to the Machu Picchu Citadel. How you approach this long yet beautiful journey will be integral to your overall Machu Picchu experience. Here's a breakdown of the legs of the trip, as experienced on my recent Machu Picchu Explorer trip:
Arrive to Cusco
Every aspect of Cusco is entrenched in history, and yet modern-day life continues in its footprint. Many of the modern hotels, restaurants, and miscellaneous shops you will find are built on authentic ruins dating back through the life span of different cultures that inhabited this area over time. With your keen eye, and by paying attention, you will begin to see evidence of it everywhere. The half-day city tour will bring you to several iconic ruins, cathedrals and sites like Tambomachay, Puka Pukara, Saqsaywaman, Cathedral Basilica and Qorikancha.
The main tourism areas of Cusco are policed, safe and clean (always use your best judgement when traveling abroad), and it is worth having a little extra time to walk around and explore. Between Cusco proper and some of its surrounding neighborhoods there are interesting walkways, staircases, stone paths and courtyards to keep even the most discerning traveler interested. Be sure to research restaurants and consider making reservations before you arrive; Peru is a world-renowned culinary destination and Cusco is no exception!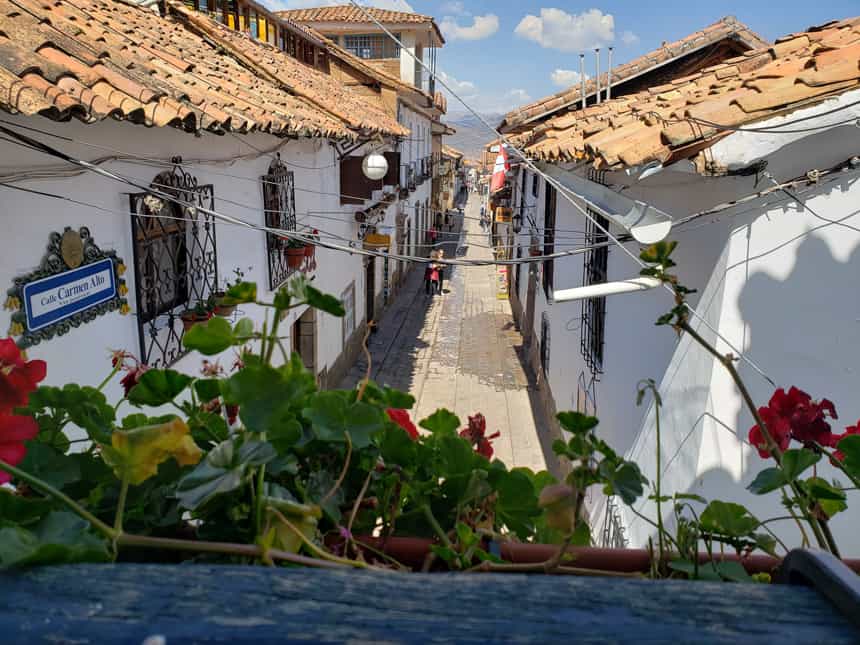 Pass Through the Sacred Valley & Reach Ollantaytambo
The Sacred Valley is a fertile stretch of land within the Peruvian Highlands, which traces the banks of the Urubamba River. On average, the valley is about three-quarters of a mile wide. And with the impressively scenic foothills of the valley towering alongside, you truly feel immersed in the trough. Throughout the 36-mile span of road between Pisac and Ollantaytambo, you will pass through a number of small colonial towns, as you travel from one famed archaeological site to the next. Your tour of the area will include stops at the Pisac ruins and Pisac market as well as the Ollantaytambo ruins. Your day will also include a flavorsome buffet lunch at a well-appointed hacienda along the way.
Take the Train from Ollantaytambo to Aguas Calientes
After boarding the train in Ollantaytambo, Aguas Calientes is your next stop before reaching the famed Machu Picchu Citadel. This juncture of a town is located at the base of steep jungle-laden massifs and has become the gateway to its nearby famed ancient ruins. There are a smattering of eateries and craft shopping opportunities within it, though your time here (unless you build in extra days) is likely limited, and spent mostly at your hotel or traveling to/from Machu Picchu. I had the pleasure of staying at the Inkaterra Machu Picchu Pueblo property, which with its secret garden-meets-jungle vibe and stone pathways, is tucked just far enough away on the outskirts of town to make you feel like you're miles away from anything else. An extra day here, just to soak in the property, would be a day well spent in my opinion.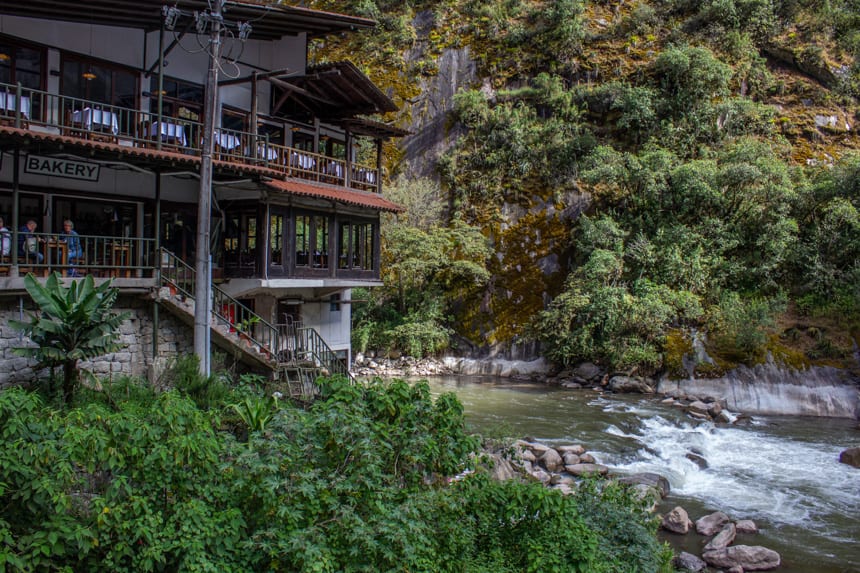 Arrive Via Bus or Hike to Machu Picchu
And for the grand finale… Machu Picchu Citadel. This is what you came to see, what brought you (and me 10 years ago) great distances to visit this region in the first place. And let me tell you it lives up to its hype. If I could travel back in time and be a fly on the wall of day in history, I would travel back to the moment when these old stone walls were filled with Incan royalty and when the great political, religious and economic minds of the Inca Empire gathered. It would undoubtedly be a fascinating sight to see.
And for the grand finale… Machu Picchu Citadel. And let me tell you it lives up to its hype.
Nowadays, it is no surprise that there are thousands of tourists who enter the gates of Machu Picchu every single day. As the buzz of visiting these ancient ruins continues to ripple around the planet, more and more people seek it out each year. Because of this, strict guidelines and a permit system are now in place to maintain the integrity of the ruins. These guidelines limit the number of visitors each day, at which times you can enter, where you can go once inside, and with whom you must enter.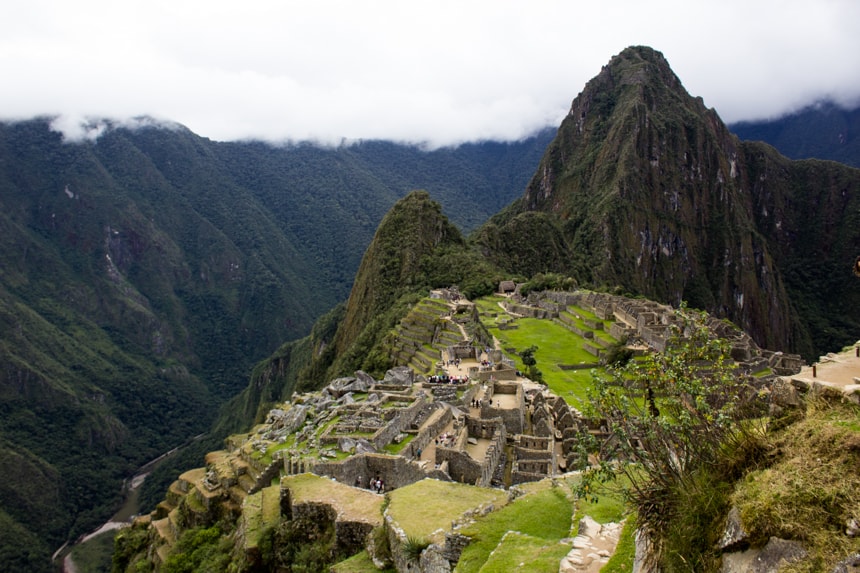 Once inside, there are of course numerous considerations, but going with a trusted guide is the best way to ensure you are getting the most out of your experience. And prepare for the crowds. Long gone are the days of having viewpoints to yourself. However, if you can overlook the people, and indulge in your imagination of the pre-Incan world, your experience can be quite a treat. My colleagues at AdventureSmith have already written in great detail about the citadel, so review these posts for further information: The Best Way to See Machu Picchu and Machu Picchu Hike Options Explained.
On my trip, I chose to hike Machu Picchu Mountain (see video), which is the less publicized of the two main hikes (the other being Huayna Picchu). My hike up Machu Picchu Mountain was an arduous thigh buster. It consisted of a 2.4-mile roundtrip journey traveling up relentless stone step after stone step with few straightaways. However, since this hike is far less popular than the alternate Huayna Picchu, I was able to travel for long-ish stretches of time without seeing any other hikers. I found because of this I was able to zone out and enjoy my surroundings more than if I was constantly passing shoulder to shoulder with another hiker. And the viewpoint from the top, albeit shared with other people, was as ethereal and scenic as I hoped it would be.
Choosing Your Mode of Transportation
Considering the sequential chain of events to get from point A to point B each day on your way to Machu Picchu, you might feel like you are in redux of the movie Planes, Trains and Automobiles. Except this sequel would more aptly be titled Vans, Trains and Motor Coaches. Linking all these pieces together takes some doing if you were to attempt it all on your own. On our Machu Picchu Explorer trip or any of our inclusive treks, AdventureSmith coordinates the logistics for you, and blends it into one seamless trip, so you don't have to do the guess work.
Here's how it works: Your first method of transportation will be a private van in Cusco, with which you will have your own private guide and driver. This will be your chariot for outings such as a Cusco city tour, an entire day spent in the Sacred Valley and lastly when you are picked up at the train station and brought back to Cusco. Your second method of transportation will be the train. The classic train trip is between Ollantaytambo and Aguas Calientes, following along the banks of the Urubamba River. If you opt for an upgraded train experience (see further details below), there may be variations on which train station you use on the Sacred Valley/Cusco side of your journey. The third and final form of transportation before reaching Machu Picchu is by bus. These modern, updated motor coaches will bring you from Aguas Calientes on a 30-minute journey along a slow, windy road and up to the gates of Machu Picchu. From there you take it on foot, to explore these great ruins you have traveled so far to see.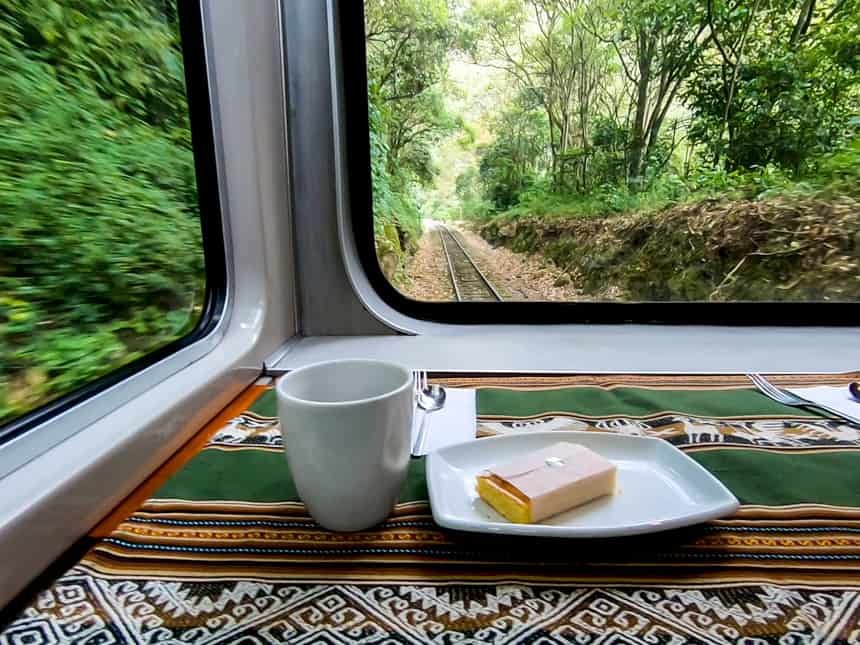 Customizing Your Machu Picchu Trip
Along the way to Machu Picchu, there are many ways to customize your trip. Whether you build a custom trip from the ground up, or if you just switch out a piece or two, there is a customization that works for everyone. And if customization is not your thing, then our baseline 5- to 6-day Machu Picchu Explorer itinerary is tried and true as a great way to experience the region.
Cusco, Sacred Valley & Machu Picchu Hotel Upgrades
Our standard itinerary includes proven hotels that are clean, comfortable, and conveniently located for optimal exploration. If you felt inclined to upgrade your hotel, there is an incredible selection of luxury accommodations available throughout Lima, Cusco and Sacred Valley. In Cusco, you even have the option of adding supplemental oxygen to your hotel room (at select hotels) in case you are worried about acclimating to the altitude.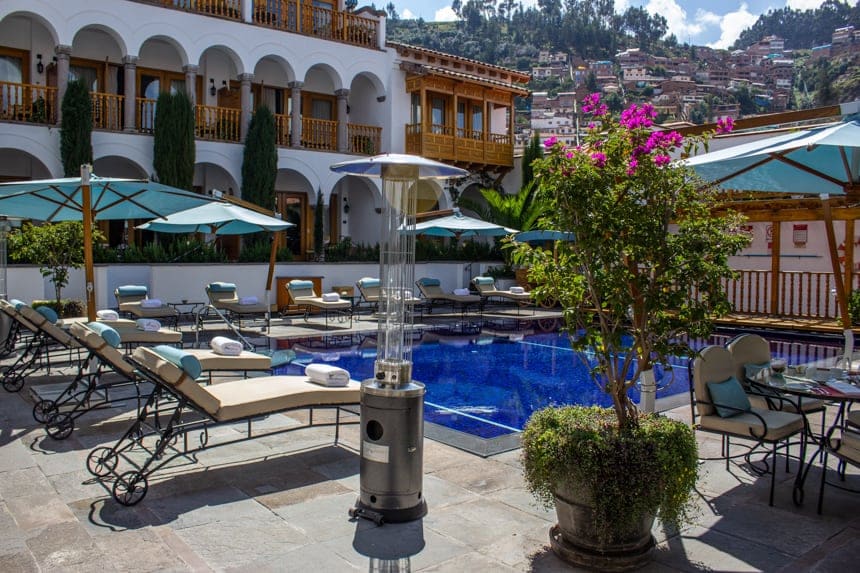 Machu Picchu Train Upgrades
The standard Machu Picchu Explorer will bring you on the Vistadome train, which runs from Ollantaytambo to Aguas Calientes, and return. The Vistadome train has panoramic windows (video below) plus an en route entertainment fashion show and live dance performance, and offers basic refreshments. If the idea of an elevated train experience is beckoning, then you won't regret opting for an upgrade here. Upgrading your train experience will include everything the Vistadome train does regarding entertainment. But it has some other key benefits.
Generally, the greater the upgrade, the more time you spend on the train (using a train station closer to Cusco). The first upgrade available is the Sacred Valley train, which travels to and from Urubamba station. This premium experience includes more spacious seating, an observation bar car, gourmet lunch or dinner and a glass of wine. The top-tier train upgrade experience is on the acclaimed Hiram Bingham train, which operates out of Poroy station (closest station to Cusco). This personalized and exclusive experience offers a dining car, a separate bar car and an open-air observatory caboose. You will have live music entertainment, a fine dining experience and complimentary (non-premium) beverages and wine throughout your journey.
A Note about Machu Picchu's Altitude & Elevation
The highest point of your journey will be Cusco, in all its 11,152 feet of elevation glory. At this altitude, you lose about 7.2% of the effective oxygen you would receive at sea level (Hypoxico Altitude to Oxygen Chart). This brings a noticeable difference in the perceived exertion of everyday activities like walking around the block or climbing a flight of stairs. There are a handful of different tactics to mitigate the symptoms of oxygen deprivation-based illness. Some of these strategies are as simple as staying hydrated and eating bland foods; booking a hotel room which offers supplemental oxygen; or possibly obtaining a prescription medication. Though beware of medication side effects, which may also have adverse effects on the enjoyability of your trip.
Another mitigation tactic is to begin your tour by heading straight down to the Sacred Valley after arriving at the Cusco airport. You would then spend time in Cusco after you return from Machu Picchu and after you have acclimated (note: traveling to Sacred Valley first may necessitate removing one of the Sacred Valley ruin visits from your itinerary). There are pros and cons to each, and you have to find the option that works best for you. But overall, unless you have specific health issues you are concerned with, I believe taking basic precautions will ease most altitude sickness concerns. At the very minimum, it's easy enough to slow down to a more casual pace and take extra time getting from point A to point B as you proceed through your day. And ultimately, you will only be in Cusco for 24 to 48 hours on a standard Machu Picchu Explorer. The symptoms typically go away once you go down in elevation. And staying hydrated is among the best things you can do.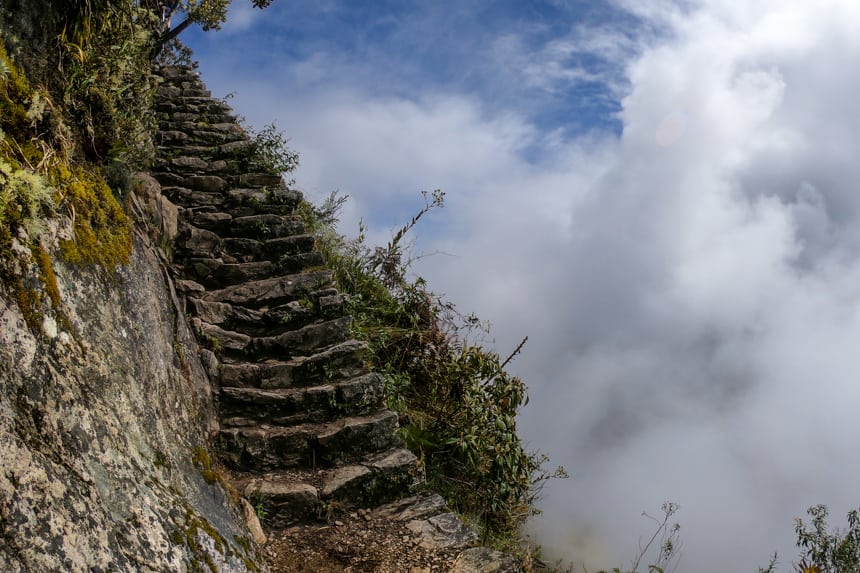 A Final Note on Visiting Machu Picchu
While traveling within any foreign country, there are hurdles to overcome. Perhaps negotiating through the complicated logistics seems like an insurmountable obstacle? Or maybe you don't know how to pick which hotel is best, or whether a train upgrade is worth it? By arranging your Machu Picchu trip with AdventureSmith Explorations, you're provided with experienced and unbiased opinions of how to best put it together for you. In a region where the options are endless to customize and curtail your experience into the perfect fit, it is paramount to have the guidance and advice of someone you trust. But do yourself a favor and put Machu Picchu on the bucket list. You won't regret it. Whether you are a history nut, a fitness buff, a foodie, a handicraft connoisseur or a collector of world wonders… the Peruvian Highlands has something for you.
Whether you're a history nut, fitness buff, foodie, handicraft connoisseur or a collector of world wonders..the Peruvian Highlands has something for you.
After you have committed to this once-in-a-lifetime trip, and all that is left is the journey itself, the best advice I can give is to show up with an adventurous and flexible attitude. Travel in South America is commonly disrupted by flight delays, traffic and even the occasional government strike. These seemingly adverse experiences are all par for the course and part of the experience. Give yourself plenty of time to get to your flights, especially on weekdays. And if you find yourself having to make adjustments to your schedule due to unforeseen circumstances, rest assured that you are in good hands with our local operators who will remain a resource for you throughout your journey.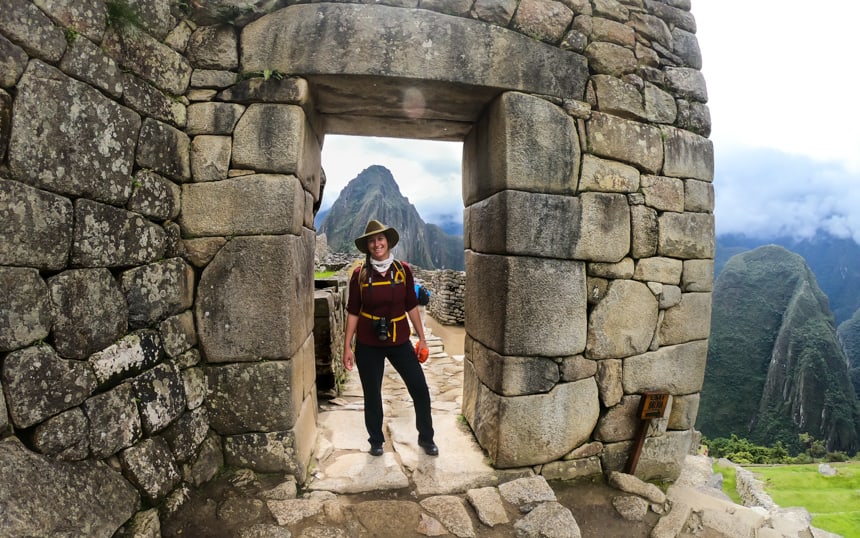 This Machu Picchu 101 guide and trip review was written by an AdventureSmith Explorations crew member. Read all AdventureSmith Trip Reviews for more reviews from our team, or contact one of our Adventure Specialists to learn more about our Peru tours: 1-800-728-2875.