If you haven't placed Machu Picchu on your bucket list yet, then put this—one of the Seven Wonders of the World—at the very top and come prepared with these insider tips and curated trips. As a travel advisor who's now been there twice and booked many travelers on various styles of Machu Picchu trips, I hope my insight can help you plan the best way to see Machu Picchu for your interests and activity level.
ON THIS PAGE – The Best Way to See Machu Picchu:
1. Ask an Expert
2. Go on a Guided Multi-Day Tour
3. Keep Close to Your Guide
4. Choose Your Hike Wisely (Before You Go)
5. Prepare for Crowds
6. Pack Smart
7. Prepare for Any Weather
8. Do This Before You Enter
9. Enjoy the Ride
10. Be Patient As You Exit
11. Don't Miss Cusco
12. Visit Cusco Last
View Our Curated List of the Best Trips to Machu Picchu
1. Ask an Expert about Machu Picchu
So you've decided you want to go—now what? There is infinite information online about how to do it right, but I highly suggest you seek advice from a travel expert who knows the nuances to tailor the right Machu Picchu experience to your travel style and budget. Not all trips to Machu Picchu are created equal, and as you will read below, there are a lot of logistics to consider. Be sure to do your research to ensure you're going with a reputable company. From getting a good guide and gear to ensuring the health and safety of any pack animals and porters, it's important to give the destination the respect and sustainable travel it deserves.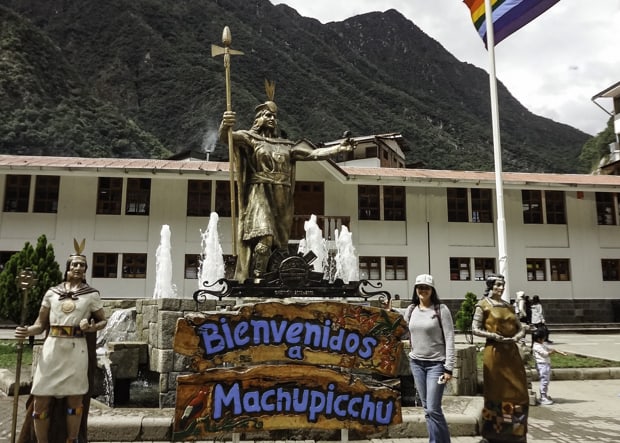 2. Go on a Guided Multi-Day Tour
I've done Machu Picchu both ways: on a budget trip with minimal guiding in 2008 (hiking and camping on the Inca Trail for three nights) and on a fully guided weeklong Peru tour of the region with AdventureSmith Explorations in 2018. In hindsight, I see how much I missed not having had a skilled guide throughout my first trip. I now have a much deeper appreciation of the Incan Empire because someone was there to point out all the archeological structures and their significance along the way.
It's now required to be guided within the ticketed Citadel of Machu Picchu, but my argument having done it both ways is to go all in and book a guided journey of the whole region, spending at least two half-days or one full day up at the Citadel so you can be sure to tour one of the main circuits as well as do one of the hikes mentioned below. Having my trip arranged as a comprehensive guided tour, including all my hotel arrangements, transportation and a guide along the way, allowed me to sit back and enjoy my trip without having to do anything but soak up the views and information.

3. Keep Close to Your Guide – the Citadel is Fascinating
When you enter Machu Picchu, you will head along a path to get your first glimpse of the Citadel, and there is a grassy staging area where many guides gather their groups for an introductory chat before beginning one of the main circuits. We took the Circuit 1 route, and over the course of a few hours we saw structures for the royalty and non-royalty, Sun Temple, Temple of Three Windows, etc. It was absolutely worth having a guide who described each structure, the history, as well as the rediscovery of Machu Picchu. It was fascinating learning how intuitive they were in using astrology and weather patterns when constructing the Citadel without any modern technological resources. It is because of these engineering feats relating to the environment that all of it still exists to this day.
Guided tours of Machu Picchu last 2.5 to 3 hours. There are three main circuits, or routes, to visit the sanctuary, and most of our trips take advantage of Circuit 1, the most comprehensive circuit of the site. Each visit always depends upon your group's individual wishes and abilities, so circuits with less walking or elevation gain can be arranged.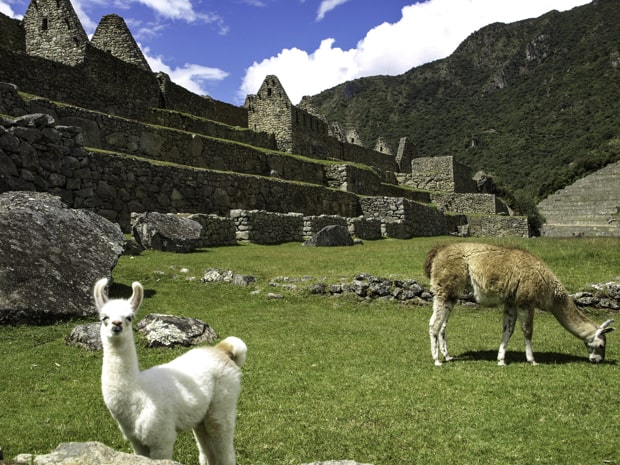 4. Choose Your Hike Wisely (Before You Go)
There are a number of ways to walk and hike in the Citadel, and some require additional permits, so knowing what you want out of your hiking experience will set you up for success. I like to put it simply to my clients traveling there: outside of the main circuits you will hike with your guide, you have three hike options: Huayna Picchu, Machu Picchu Mountain or the Sun Gate, the first two requiring an additional permit to access them.
You can read more about each Machu Picchu hike option in detail, but in a nutshell: choose Huayna Picchu if you are in good shape and not afraid of heights; opt for the more mellow Sun Gate for a similar bird's eye view but without the arduous climb; and choose Machu Picchu Mountain if you are somewhere in the middle (seeking an active, long hike that covers more miles than Huayna but with less exposure).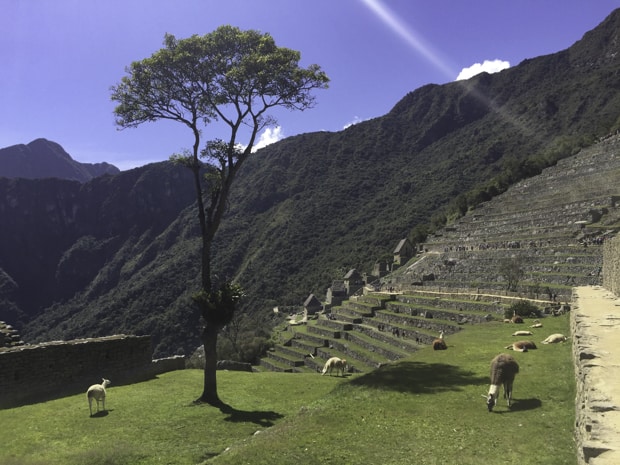 5. Prepare for Crowds
When visiting Machu Picchu it is important to set correct expectations for the sheer number of people who will be visiting alongside you. Machu Picchu sees over 1 million visitors each year (some 5,000 people a day in the high season). On my first trip in 2008, the Sacred Valley and Cusco had all just been named UNESCO World Heritage Sites and Machu Picchu was named one of the new Seven Wonders of the World the year prior. Such prestigious recognition quickly brought in travelers from all over the globe, evidenced by the multitude of languages heard when I was wandering the Citadel and a lack of organization in managing the crowds.
Three months before my recent arrival, new Machu Picchu rules and regulations had been put in place making it mandatory to have a guide at Machu Picchu, to enter at a scheduled time and to be on designated walking circuits. The magnitude of these changes has made viewing this UNESCO World Heritage Site much more manageable and enjoyable. Now while walking any of the circuits, there is no turning around or taking shortcuts as there are officials at almost every corner who do not hesitate to blow their whistle in order to steer you back on track. View the latest Machu Picchu safety protocols.
Having once visited Machu Picchu without these regulations I can attest that this was a welcome and appreciated change that helped alleviate congestion and chaos that I once encountered. My overall advice is to not let the crowds dictate your experience. Know that they exist and plan to breathe and be patient, especially if you are hoping to take any iconic photos without people in them. That requires some serious craftiness!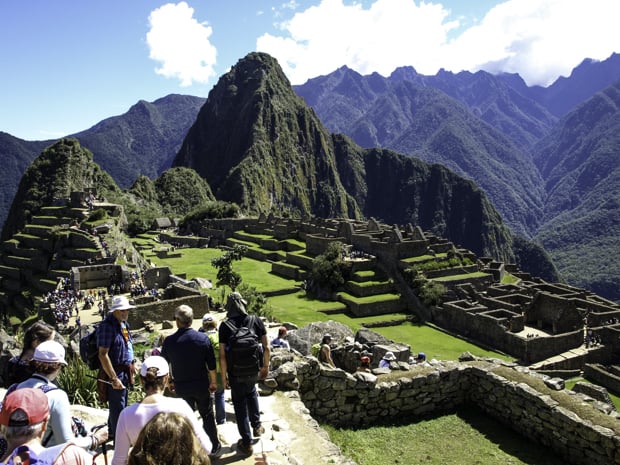 6. Pack Smart
Though magical and intriguing as Machu Picchu is, it can still feel overwhelming despite the new systematic organization. I recommend coming prepared by packing wisely and knowing where your essentials are. Fumbling around with gear, wearing too many bulky layers and not knowing your camera settings can all waste precious time/moments when there's a crowd. Pack leave-no-trace quick snacks and water as you will be in there for a few hours. Sunblock, a hat and a rain jacket are also essential as the weather changes quick, and when the sun pops out, it's strong! There are also quite a few things to NOT pack, including selfie sticks, tripods, walking sticks and large backpacks.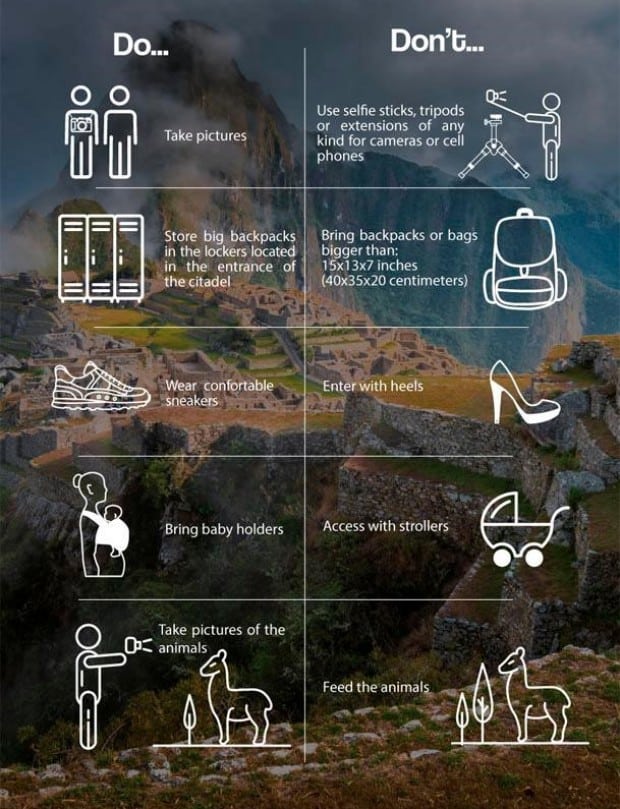 For your overall trip among the Peruvian Highlands, plan for cooler temps (read more about Peru's climate for travel). That being said, your trip will almost certainly bring you through Lima, which has much warmer and humid temperatures all year. Don't forget to pack a lighter layer of clothes if you plan to explore Lima in any depth.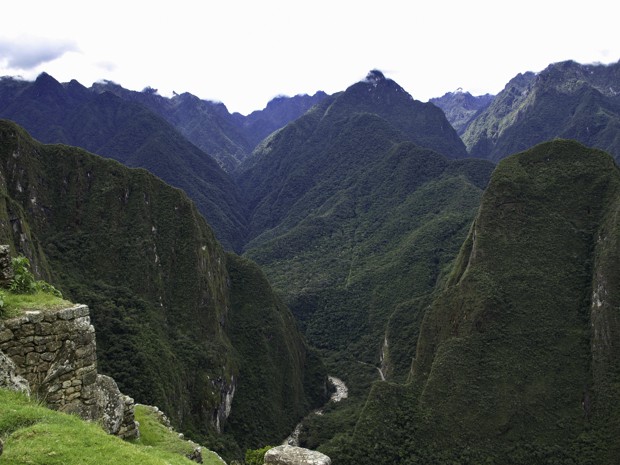 7. Hope for Sun, Prep for Clouds (& Be Amazed Regardless)
Machu Picchu sits between the Andes and the Amazon, lending its spectacular, ever-changing weather patterns. My advice is to not fully plan your trip around any weather statistics but to just prepare for all types of weather here. I've seen Machu Picchu enshrouded in clouds as well as on a warm and sunny day and both experiences were spectacular. My first trip on a gray day really showcased the mystery and allure of Machu Picchu, with peeks of the green grass and stone among fast-moving clouds.
Aim to not fully plan your trip around any weather statistics but to just prepare for all types of weather.
My trip on the cloud-free day allowed for epic views of the stunning mountains that encompass Machu Picchu. February is historically the rainiest month, with the Inca Trail closed during this time. If you must travel in February, the tradeoff for more rain will be less crowds, so every season has its advantages and disadvantages.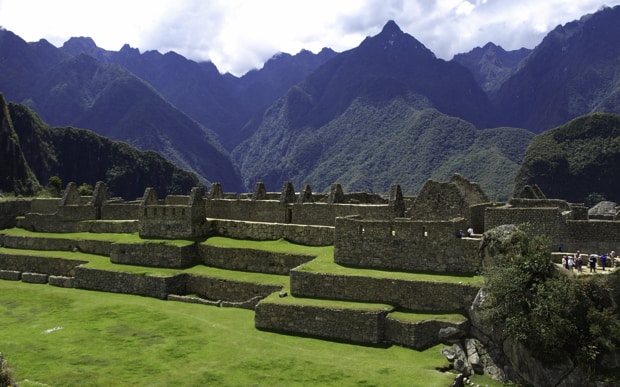 8. Take Care of Business Before You Enter
Want another pro tip? Use the restroom before you enter the Citadel since the new regulations state there is no reentry. Be sure to bring a few pesos as it costs a small fee, and it never hurts to pack your own toilet paper as it's quite a crowded "visitor site." While it may seem like a hassle to wait in the line, it only took me 5-10 minutes on my last trip and it was well worth the added time.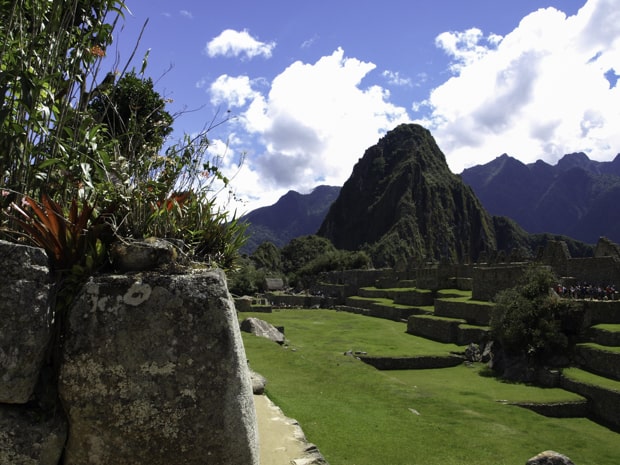 9. Enjoy the Ride: Getting to Machu Picchu
While Cusco is often perceived as the gateway to Machu Picchu as that is where the airport is located, traveling to Machu Picchu requires more logistics than just getting yourself to Cusco. Once you make the trek (by foot, rail and bus), you'll see why it was the Lost City of the Incas for so long. It truly is a journey to get there and I suggest you enjoy the ride!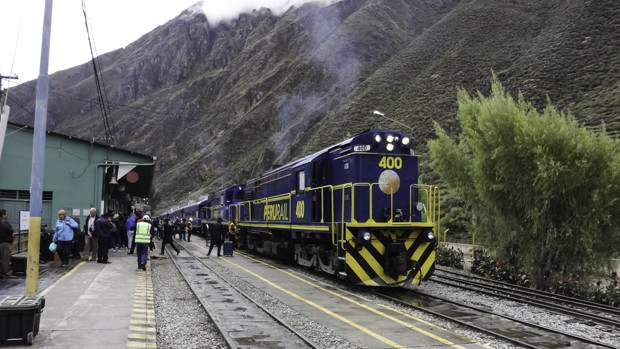 Aguas Calientes, the town at the base of Machu Picchu, is only accessible by foot or train, so Ollantaytambo (a 2-hours' drive from Cusco) is the car-accessible hub from which to begin your trek or train journey. Technically, everyone takes the train for a bit, but those who trek on the Inca Trail (as I did on my first trip) are on the train for a shorter amount of time before continuing the journey on foot. For those who take the train for the full 90-minute ride to Aguas Calientes, I recommend ordering a pisco sour (as I did on my second trip) to enjoy with your incredible views of the Urubamba River.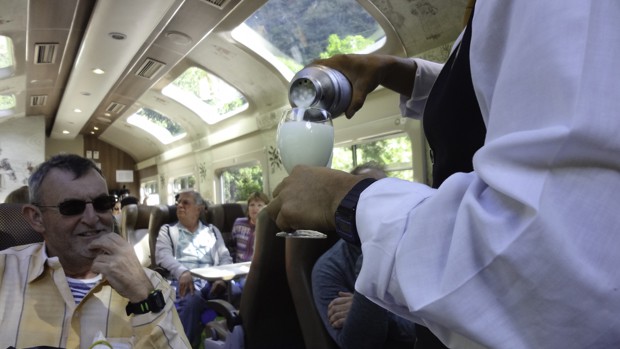 Once in Aguas Calientes, it's a 25-minute bus ride, or steep 90-minute hike, up to the Machu Picchu entrance. Most travelers take the bus. On my recent guided trip with AdventureSmith, all our bus tickets and Machu Picchu entrance tickets were arranged in advance so all we had to do was wake early and stand in line at the bus queue. The bus line is infamous, so having a guide walk you through the process can make things go smoother and swifter. The buses begin transporting passengers at 5:30am and go until 3:30pm, running every 5-10 minutes rotating with 30+ buses. Some people begin lining up at 4:00am in order to be one of the first inside the Citadel at 6:00am and view the sunrise from the Sun Gate. This isn't completely necessary unless it's a clear morning, but most of the time you can expect it to be cloudy. On my recent trip, we waited in line for one hour, a less-than- average wait, before we were on the bus working our way up 1,000 feet in elevation (around 25 minutes) to the entrance.
10. Be Patient as You Exit
While everyone warns you about the crowds, it's easy to forget that they exist as you leave as well. While the bus lines back down to Aguas Calientes are typically shorter than the way up, I've realized that leaving the Citadel always takes a bit more time than anticipated due to the one-way paths leaving Machu Picchu. It's like being in stop-and-go traffic. My advice again is to not worry too much and buffer in some time for your departure (versus rushing to make an afternoon train) if possible.
11. Don't Miss Spending Time in Cusco & the Sacred Valley
As mentioned above, to get to Machu Picchu, you have to pass through Cusco and the Sacred Valley, so why rush and miss out on visiting three of Peru's most iconic World Heritage sites? Having traveled extensively throughout South America, Cusco is one of my favorite cities, and the people, architecture, restaurants and energy are unlike any other city found in South America. My trip with AdventureSmith Explorations also included visits to Moray, Maras, Pisac and Ollyantaytambo in the Sacred Valley, which afforded us the opportunity to learn about the massive and organized structure that the Incas ruled over throughout much of South America. Each of these sites had a distinct function, whether it was to house the elite, stand as military outposts or act as an agricultural hub. Having a trained guide along at each of these sites made it not only educational to learn how they were all connected, but also efficient given the distance it takes to get from one location to the next.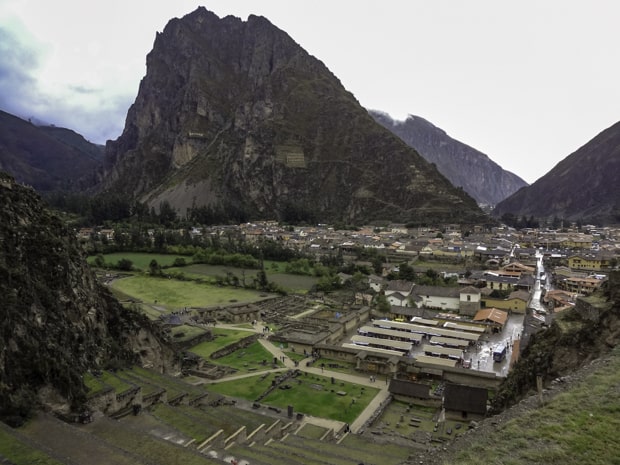 12. Visit Cusco Last
While you will fly into Cusco to begin your Machu Picchu trip, I recommend saving your Cusco city time until the end of your trip and heading first to the Sacred Valley and Machu Picchu. Not only is this becoming more of a preferred route due to altitude sickness abatement, it also flows really well in my opinion. If you plan your trip this way, you will see the fertile lands of Sacred Valley, Moras, Moray, Pisaq (all around 9,500 feet in elevation), then Ollyantaytambo and then Machu Picchu (7,874 feet) and the Inca sites get bigger and better as you go.
Finishing the journey in Cusco at 11,154 feet last helps you acclimatize and enjoy the city more instead of huffing and puffing with every step. And you can also appreciate the cuisine, stonework and energy of the city as well as be more engaged at the museums after having experienced the region first. Many clients of mine have been surprised to learn just how high Cusco is, and the elevation can even hamper travel for some so be sure to check with your doctor about traveling at such a high elevation.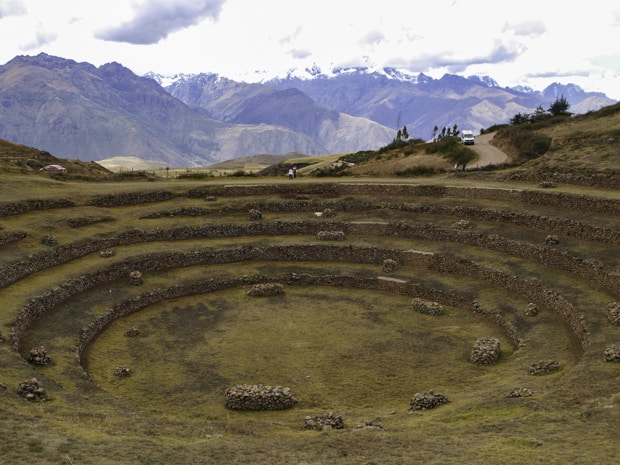 View Our Curated List of the Best Machu Picchu Trips
Visiting Machu Picchu in the best way depends on your individual travel style and interests. Our team at AdventureSmith Explorations can help you do just that with all your needs in mind. Get started by browsing our curated Machu Picchu trips below, then contact us to learn more and book.