The world's best birding trips are, of course, found near water. A small ship cruise has the great advantage of being able to maneuver into small coves and get close to shores and cliffs, which affords travelers multiple opportunities to view birds during planned excursions and between them. Hiking and kayaking is abundant and accompanied by an expert, often local, naturalist guide. Many trips offer complimentary bird check lists for the region and binoculars. Ask an AdventureSmith Specialist if your trip comes with these perks. If you're looking for a true birder's vacation, here are seven of the top small ship cruise and eco-lodge vacations for bird watchers.
Best Bird Watching Cruises
Alaska Birding Cruises
For best viewing during your next Alaska trip, consider traveling when the birds are most prolific. Alaska birding is best in spring (May 15 to June 15) and after August 15th, when there are migrations. Hundreds of bird species migrate to Alaska's Arctic each summer, crossing over Alaska's Inside Passage Glacier Bay National Park is a hotbed for birders with cute puffins and the rare Kittlitz's Murrelet. The 7-day Sea Wolf Glacier Bay Adventure Cruise spends several days inside Glacier Bay, where guests spend plenty of time off the ship. The renowned South Marble Island is home to nesting puffins, kittiwakes and cormorants, and it's a popular haunt for predators such as bald eagles and Peregrine falcons. About 240 species of birds have been recorded in Glacier Bay National Park. For a full list, visit the National Park Website birds page. View small ship Alaska cruises and cruises to Glacier Bay National Park.
Best Alaska birding time: May 15 to June 15; after August 15

Galapagos Birding Cruises
While guests on any Galapagos Islands cruise will view many species, bird enthusiasts will appreciate the experts from National Geographic aboard the National Geographic Endeavour II cruise and National Geographic Wild Galapagos Escape Cruise. There are 56 native bird species in the Galapagos, with 80 percent found only there. Thirteen species of Darwin's finches are notoriously hard to identify but are a highlight for nature lovers and can be found throughout the archipelago. Choose an itinerary with Espanola Island during the breeding season of May to November to view the waved albatross with its seven-foot wingspan. Flightless cormorants, another oddity of evolution, can be found on Fernandina and Isabela Islands, and flamingos can be seen at various visitor sites.
Birds in the Galapagos evolved without any predators, so they have no innate fear of humans.
The Galapagos penguin is the northernmost penguin in the world and the only penguin found north of the equator. Birds in the Galapagos evolved without any predators, so they have no innate fear of humans. This behavior is startling at first as birds don't flee when hikers walk past a nest. Eventually birders grow used to it and use the opportunity to take photographs that would be impossible anywhere else. Learn more about Galapagos birds from our partners at the Galapagos Conservancy.
Best Galapagos birding time: all year, but if there's a specific species you're interested in seeing, make sure to plan your small ship cruise at the correct time of year.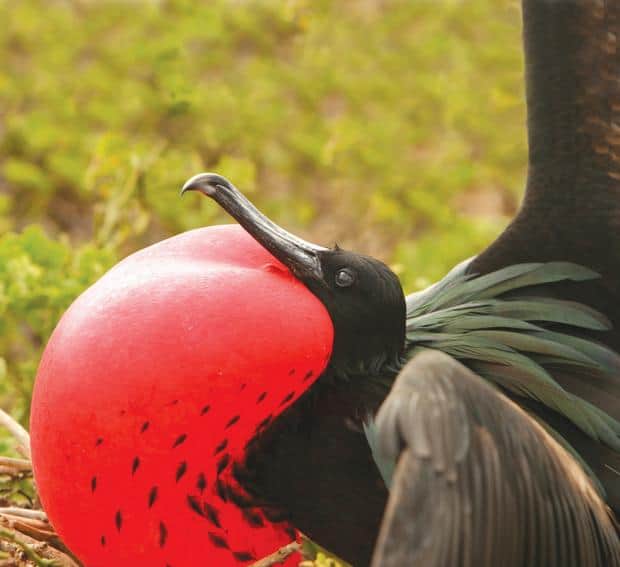 Amazon Birding Cruises
The rainforest surrounding the upper Amazon River and its tributaries in Peru is one of the most biodiverse places in the world. An astounding 1,700 plus birds (close to 20% of the world's total) can be found here, of which more than 300 species are endemic. On a Delfin I Amazon River Cruise guests can easily add 100 birds to their life list. Colorful macaws and toucans get the most attention, but serious birders delight in finding local species such as Antbirds and Hoatzin's during excursions into small tributaries and lakes that increase chances of viewing a variety of species.
Colorful macaws and toucans get the most attention, but serious birders delight in finding local species.
Travel during the high-water season of December through May for the best chance to see a variety of birds. Clay licks are a spectacular natural show where parrots, macaws, parakeets and other birds regularly come to lick the clay, which rids their bodies of toxins that accumulate due to their diet of seeds. Early morning, evening and night excursions are often offered to make the most of bird and wildlife watching opportunities. Local guides on these Amazon trips and Amazon cruises enhance identification and scientific knowledge with interesting information on cultural and mythological stories behind the birds you encounter.
Best Amazon birding time: December through May

Papua New Guinea Birding Cruises
The Frontier Lands of New Guinea is one of the most exotic locations for viewing birds aboard a small ship in the Pacific Islands. The diversity of species rivals anywhere on earth, and bird watching is combined with authentic cultural interaction and incredible snorkeling. The region is particularly famous for endemic species such as the Raggiana, Blue and Wilson's Birds of Paradise and rare finds including the Fire Maned Bowerbird.
Best Papua New Guinea birding time: October and November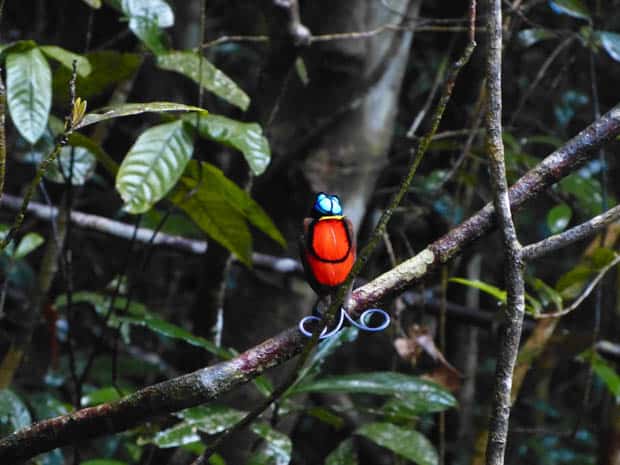 Antarctica Birding & Penguin Viewing Cruises
Cruising the Antarctic Peninsula reveals many species of penguin, such as Chinstrap, Adelie and Gentoo. For a greater diversity of penguins, including King penguins, and the chance to witness huge colonies of up to a million birds, select an Antarctic cruise that includes South Georgia and the Falkland Islands.
The photography is amazing, and you may just end up with a penguin at your feet.
The Antarctic cruise season is short and penguins mate, nest and rear their young from November to February. Travel in the early season of November and December to view courtship behavior, nesting and eggs. January and February are best to view newly hatched chicks and adolescents entering the water. Penguins in Antarctica have no land predators and as such they have no fear of humans. Try sitting near a penguin colony with your camera, watching Gentoo males stealing rocks from other nests to bring to their mate for her nest. The photography is amazing and you may just end up with a penguin at your feet.
Best Antarctica birding time: November to December for courtship, nesting and eggs; January to February for newly hatched chicks and adolescents.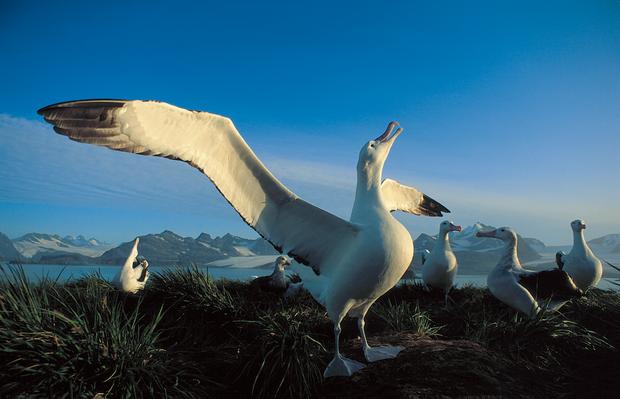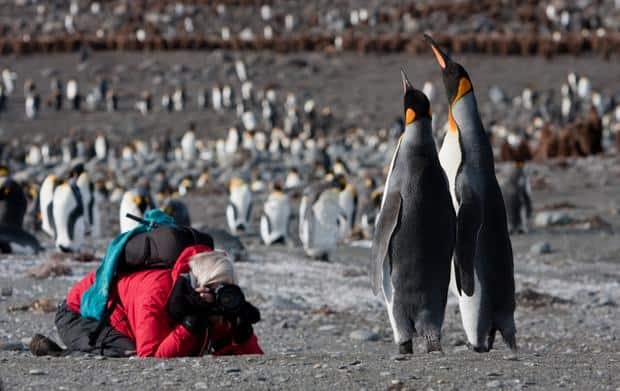 Best Bird Watching Lodges
Mashpi Lodge
The elegant and innovative Mashpi Lodge Tour is a perfect hideaway for birders going on. Featuring floor-to-ceiling windows, each room is immersed in the rainforest canopy. With 400 different species of birds recorded, the 3,000-acre property is dedicated to the conservation of Ecuador's beautiful flora and fauna. Onsite features include the Observation Tower, which climbs 162 steps to a platform 100 feet above ground, enabling an exciting bird's-eye view; the Dragonfly Gondola canopy ride that glides between tree tops, covering 1.25 miles in a relaxed 40-minute ride; the Sky Bike designed for two, that stretches over 650 feet of cable above a river gorge; and the Hummingbird Viewpoint shelter, which offers opportunities to see some of the 32 species of hummingbirds identified on the property to date.
With 400 different species of birds recorded, the 3,000-acre property is dedicated to the conservation of Ecuador's beautiful flora and fauna.
Organized night walks afford the chance to spot those quiet nocturnal birds as well. Between the open windows, daily excursions and nighttime strolls, the odds of seeing more birds than you expect are high. Plus, the Mashpi Lodge is a National Geographic Unique Lodges of the World because its existence protects one of the last remaining stands of old growth forest in the Chocó.
Best Mashpi Lodge birding time: all year, but some species only visit November through May with a population peak in February due to migratory birds.
Ecuador Amazon Adventure Lodges
Ecuador's Amazon region is a pristine sanctuary and these three unique eco-lodges offer world-class birding opportunities with features like suspension canopy walks, nighttime tours and expert naturalists. The Napo Lodge has a 118-foot canopy tower on the Napo River that emerges on top of a huge Ceiba tree. Birds like toucans, parrots and macaw, some of which are virtually impossible to see from the forest floor far below are suddenly right beside you. At the famed parrot licks, a total of 11 species of parrots, parakeets and macaws can be seen. At La Selva Lodge, a 125-foot observation tower sits on sustainable steel, offering a 360° view while bird watching. Sacha Lodge's canopy walk is a suspended bridge 94 feet high above the treetops and is a sturdy 940 feet long, and their Kapok Tower offers soaring vistas 135 feet above ground, affording panoramic views of the forests where over 500 bird species live. Each Ecuador Amazon Lodge has a parrot clay lick where parrots and other birds frequently gather to eat salty clay to aid their digestion of seeds.
Best Ecuador Amazon birding time: July to February
Best Bird Watching Guides
Every AdventureSmith Explorations traveler is outfitted with a detailed reading guide for the destination they will visit. Here are some of our favorite bird guides and bird books for the destinations listed above.
Alaska Bird Guides
Guide to the Birds of Alaska by Robert Armstrong
Alaska Birds (field guide) by James Kabanaugh
National Geographic Field Guide to the Birds of North America by Jon Dunn
Galapagos Bird Guides
Galapagos, A Natural History by Hichael H. Jackson
Galapagos Wildlife, A Visitors Buide by David Horwell & Pete Oxford
Birds, Mammals and Reptiles of the Galapagos Islands by Andy Swash & Robert Stills
The Beak of the Finch by Jonathan Weiner
Amazon Bird Guides
Birds of Peru by Tom Schulenberg, Dan Stotz, John O'niel, Dan Lane
A Photographic Guide to the Birds of Peru (Field Guide) by James L. Castner
Antarctica Bird Guides
Complete Guide to Antarctic Wildlife by Hadoram Shirihai and Brett Jarrett
Antarctica, A Guide to Wildlife by Tony Soper and Dafila Scott
Penguins of the World by Wayne Lynch
Ecuador Bird Guides
The Birds of Ecuador: Field Guide by Robert S. Ridgely and Paul J. Greenfield.
Of course there are countless other locations than the ones above that offer excellent bird watching opportunities. One of the best ways to increase the number of birds on your life list is to explore by small ship. Whether you choose a small ship cruise or a unique eco-lodge, the above trips are some of the world's best for birding, with low guide-to-guest ratio, environmentally conscious footprints and locations in the most diverse and gorgeous environments. Call an AdventureSmith expert today to plan your next birding lodge trip or small ship cruise.
This blog detailing the world's best birding trips is among AdventureSmith Explorations' extensive collection of travel guides. Find more on the AdventureSmith Travel Blog.