AdventureSmith Explorations Adventure Specialist Aaron Gaines reviews his Alaska small ship cruise from Ketchikan to Juneau aboard the 76-guest Wilderness Discoverer. Please note: The primary ships operating the mentioned itinerary can change from year to year, so the ship Aaron cruised on may no longer be sailing this exact route.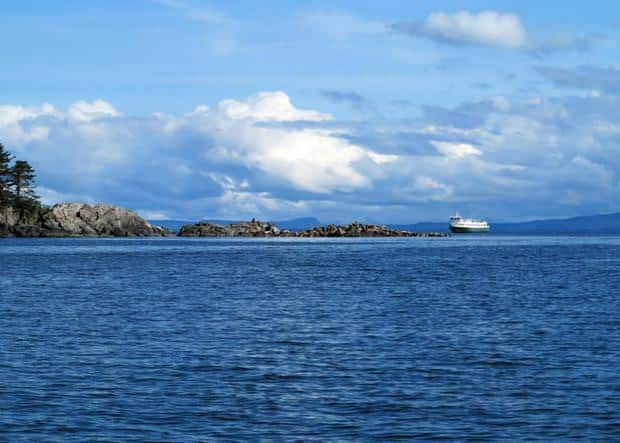 Flying up the West Coast is a great way to change gears mentally and prepare to enter a much wilder place than home – Alaska. Our small turbo-prop buzzed by Crater Lake, the Three Sisters volcanoes in Oregon, Mt. Hood and later, Mt. Rainier. Departing Seattle and heading north, it took only a few moments for the terrain below to become utterly free of roads, buildings or people. Gazing at British Columbia's jumbled maze of snowy mountains, waterways, lakes, islands and evergreen forests, I began to remove some of the hats I wear back home, and put on a few others that I don't always get to wear. Before touching down in Ketchikan, I consider a few: curious little kid, explorer, photographer, scientist, detective, anthropologist, Jacques Cousteau, sailor, travel journalist, foodie, kayaker, rolling stone. I turned on all five senses (plus my sense of adventure) and turned off my smartphone in order to make the most of my time in Alaska's Inside Passage.
I began my cruise in Ketchikan, a small fishing community built largely upon stilts and pilings on a sliver of land between sea and mountainside. I spent a day exploring the village and outskirts such as Totem Bight State Park and Saxman Village (both of which feature totem poles and a clan house). In town, I stopped into Parnassus Books for the friendly atmosphere and great selection of Pacific Northwest and Alaska-oriented books. Riding a red funicular to the hill-top Cape Fox Lodge, I found a surprisingly extensive collection of Native artwork including woven baskets, leatherwork and clothing on display. Any visitor must also stroll down Creek Street, which despite its bawdy history is quite charming.
On Saturday afternoon I met the cruise group at a local hotel and we took vans to the marina. The green-hulled Wilderness Discoverer looked like a toy compared to the hulking cruise ships docked behind it. After I was shown to my room personally by a crew member, I joined the other passengers in the lounge to receive a warm welcome from Captain Danny and the entire crew. We soon motored away from the marina into the silver and gray landscape of Clarence Strait. I quickly became acquainted with my fellow guests, all of whom seemed exuberant to be undertaking a trip they'd long been anticipating. I also familiarized myself with our 76-passenger small ship, which surprised me with its level of comfort, amenities and pleasant public spaces. Our Expedition Leader explained that we were out in search of fun, adventure and natural beauty, and that our course could be changed at any time when opportunities popped up.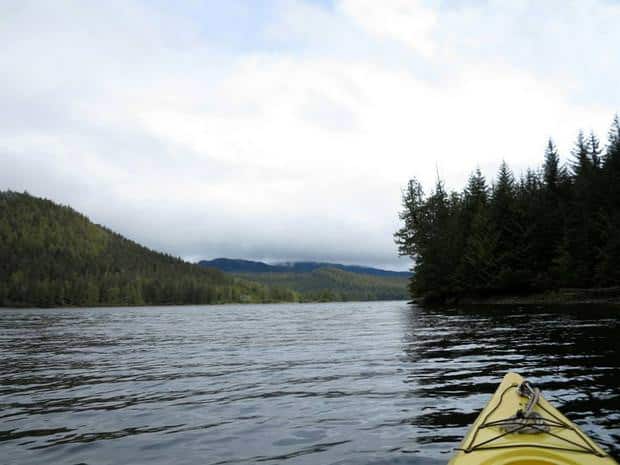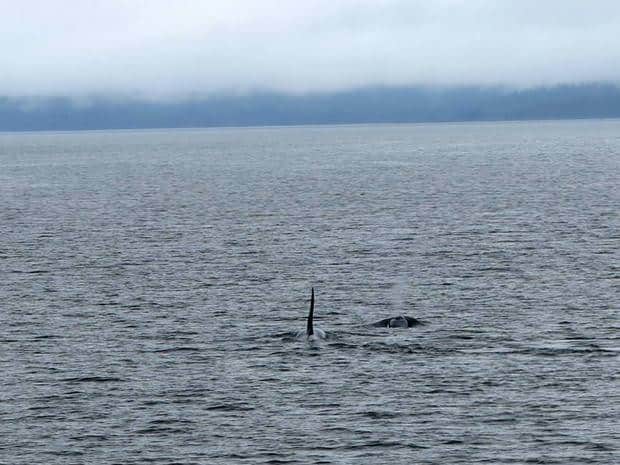 My Pathfinder cabin on the ship's Observation Deck was comfortable and functionally organized. The highlight of the cabin was unquestionably the bed's Tempur-pedic mattress, which made for great sleeping and a few unplanned naps, as well. Multiple coathooks allowed for the drying of wet clothing, and ample storage was available in a cabinet with shelves, under the raised bed platform, and on the floor. A small flat-screen TV broadcast the ship's position on a map, as well as daily itinerary details, meal times and menus, and a live view from the underwater camera. A ceiling-mounted heating unit was easy to control and provided plenty of heat when the nights became chilly. The shower and toilet were located together in a stall configuration, with a curtain to separate them during showers. I was happy to find that the room contained at least 6 standard electrical outlets for charging my camera batteries and iPad. The sliding cabin door, with a sliding glass view window beside it, opened to the outside passageway. Though the cabin was comfortable, I must say that I spent very little waking time in it due to our fun and busy daytime schedule!
I did spend time, however, in the lounge and dining room with my fellow travelers. The lounge allowed for many guests to sit together at once on bench seats and at tables, and was the preferred location for reading, card games or cocktails during the voyage. Large view windows prompted guests to spend long periods peacefully observing the passing scenery and searching for wildlife. A well-stocked bar separated the lounge from the dining area. There, booths lined each side of the room and tables filled the center. Breakfast and lunch were typically served buffet-style, and dinners were plated. The dining room staff was very attentive to the needs of guests during meals, which provided a bit of an upscale feel to an otherwise casual dining atmosphere. Two other prime hang-outs on the boat were the Sun Deck and the Bridge. When the weather allowed, guests would wander up to the Sun Deck to sit on deck chairs and relax. One afternoon, the naturalists hosted a terrarium-building activity using materials that were gathered on a hike. Up on the Bridge, guests were invited to interact with the crew and Captain as they discussed navigation, itinerary and logistics. I was impressed by their ability to handle their professional duties while also chatting with curious guests.
I won't linger too long on the details of our ship's interior, because so much of our activity, time and focus was outside and off the ship:
We spent a misty day in El Capitan Passage exploring by foot, kayak and skiff. Bald eagles, sea otters, seals and waterfowl populated the area. As we had entered the passage early that morning, we had spotted several humpbacks and a pod of four orca whales. I stood on the bow and listened to the whales breathing. Being so early in the season for humpbacks, both crew and passengers were delighted and greedily snapped photos. Our halibut supper that night was a celebration of our good fortune in wildlife spotting, and the guests all relaxed a bit and settled in for a week of delicious fresh food, laughter and shared discovery.
The next day we visited the village of Klawock, on Prince of Wales Island, for an introduction to the history and traditions of the Tlingit people. Few travelers, and no large ships, visit the town. Our guide, Leslie, gave us a local perspective of life, and I was fascinated to hear how old ways are being incorporated into the modern world we live in today. The carving shed, whose floor was covered in cedar shavings, contained two in-progress totem poles, each with their own story. In the afternoon we headed back to sea and discovered more humpbacks. A group of mature bald eagles circled above a small island as the sun went down. All of the Discoverer's guests were very social people and the dinner atmosphere was jovial, inclusive and full of laughter.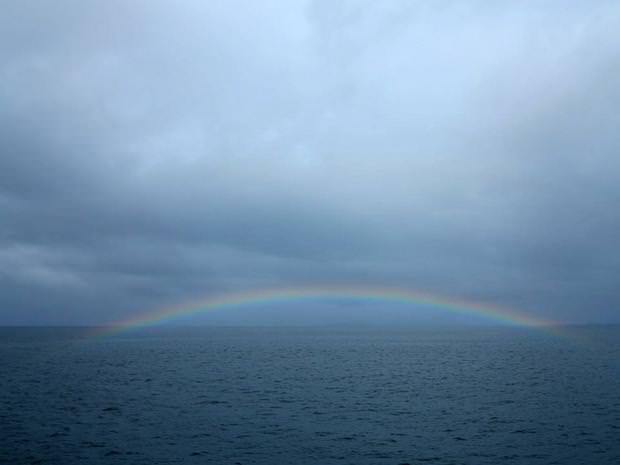 In the Bay of Pillars, I joined an all-day kayak expedition that featured a black bear, sea otters, seals, eagles, anemones, jellyfish and the spooky remains of an old salmon cannery. I enjoyed the fresh air and exercise, and was grateful for my excellent foul-weather gear as a steady rain poured all day. In the late afternoon I accompanied a group taking an exploratory walk in search of a beaver dam area, which we located beside a lake bordered by stands of moss-covered Sitka spruce. My MVP this day was my 15-inch neoprene boots (every inch came in handy during a day of getting in and out of kayaks and skiffs). A Dungeness crab dinner, and a few beers, finished the day.
A wonderful highlight of the journey was the opportunity to snorkel. I admit that I'd signed up just for the novelty, expecting little. However as soon as I dipped my face into the waters of Saginaw Bay, I was amazed at the volume and diversity of living things. Every inch of the sea floor seemed to be covered in life, including brightly-colored starfish, huge Sunflower Starfish, hermit crabs, giant clams, sea anemones of many shapes, barnacles, sea lettuce, bull kelp, crabs, mussels and sea urchins. 60 minutes was about all we could handle of the chilly water (even in my thick wetsuit, booties, gloves and hood), but I wish I could've stayed in all day. A dip in the Sun Deck's hot tub and a cup of tea warmed me up in no time. I then took advantage of the sunny blue-sky morning to do some stand-up paddleboarding (SUP) around the cove. A long afternoon and evening of whale watching in Frederick Sound followed, and included at least 10 humpbacks and a gorgeous clamshell-hued sunset. A dinner of halibut and a comical game of charades capped off my favorite day of the trip.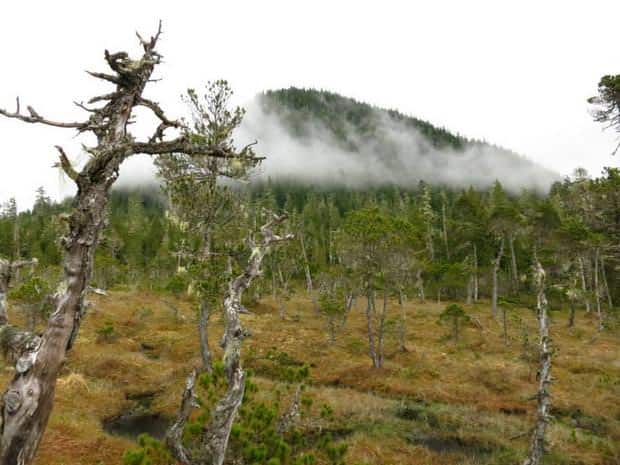 We spent a nice morning in the fishing village of Petersburg, during which I joined a muskeg walk and marveled at the delicate yet hardy plants that thrive in that unwelcoming habitat. In the dense forest leading to the muskeg meadows, tree trunks were thickly covered in mushrooms, ferns and mosses. After a lunch of taco salad and veggie green chili, the Discoverer motored north to Farragut Bay, where I kayaked for a few hours under a light rain with my new friend Julie. It's much easier to tolerate wet weather when you know you have a hot shower, a cocktail and an incredible salmon dinner waiting for you back on board. The evening featured a talent show, which my fellow guests had insisted on (we were a charismatic group, after all), and we had a blast sharing stories, original poems, songs and jokes. One musically inclined passenger, Marj, wrote a song and several of us performed it as she sang and played her guitar. My joke involving the sounds of humpback whales apparently drew four of them to the side of the boat!
The last full day of cruising began when I awoke to the sound of small icebergs clanging off the hull of the boat. I opened my cabin door to find that we had entered Endicott Arm, a 35-mile fjord lined with tall, smooth granite walls. The waters shone a bright bluish-green and were filled with chunks of ice whose hues ranged from crystal clear to turquoise to navy blue. Waterfalls cascaded down the stone cliffs, and arctic terns flew slow circles in the air above us. The towering face of Dawes Glacier soon came into view at the far end of the fjord. Large peaks towered above it and skewed our sense of scale. Only when we approached closely did we understand just how massive the glacier was. We spent hours aboard the Discoverer and on skiffs admiring the sight. Huge chunks calved into the water, creating thunderous booms and large waves. Seals napped on bergy bits around us. Large waterfalls fell at either side of the fjord. My Kiwi friends Allen and LeAnne jumped into a hot tub, calling it "the best seat in the house." The day flew past and soon we were headed for Stephen's Passage and the amazing farewell dinner that the chef, Jo, was preparing for us.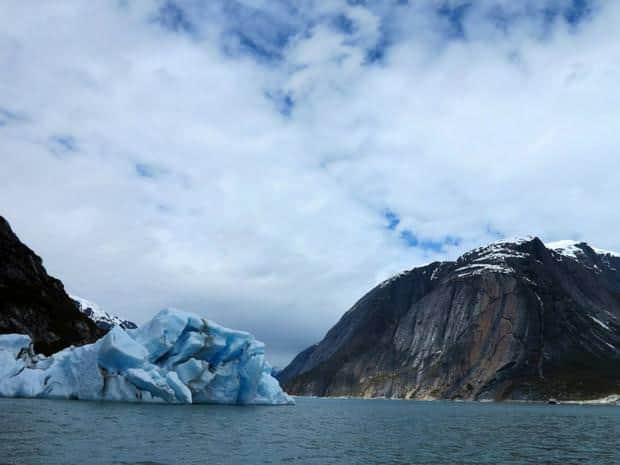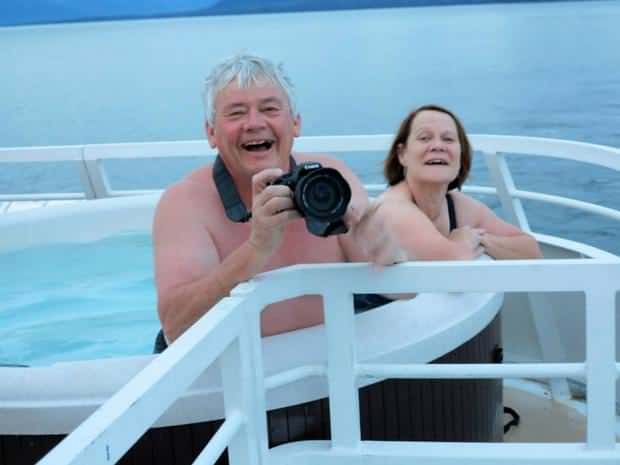 After disembarking the ship the following morning, I explored Alaska's capital city, Juneau, and began to digest the incredible, life-affirming experience I'd had aboard the Wilderness Discoverer. I wondered at our luck in seeing so much wildlife. I smiled as I recalled the great food, drinks and company on board. A Juneau highlight was the upscale dining room at the Westmark Baranof Hotel, where I enjoyed a great supper of Salmon Wellington, roast vegetables and sauvignon blanc. On instructions from my boss, I headed to the Alaska Bar for a beer (good advice, thanks boss). In the morning I visited the Silverbow Bakery for delicious coffee and fresh bagels, and then drove to Mendenhall Glacier for a walk with two of my cruise companions. Mendenhall Glacier is a very worthwhile trip if one has at least 3 hours to spare in the Juneau area, as the glacier is impressively mammoth and its features are distinctly different than those of a tidewater glacier like Dawes. A paved path leads about 1.5 miles from a visitor's center to a waterfall and viewing point. Soon enough, it was time to head to Juneau's small airport, and as the sun set I was flying back over the Canadian mountain ranges back toward home.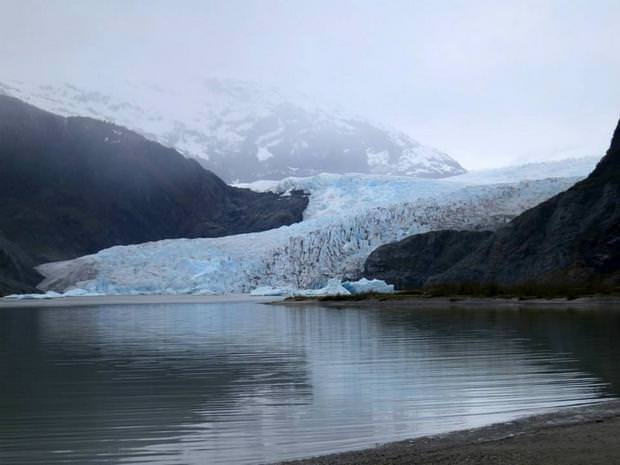 The crew aboard the Wilderness Discoverer helped and encouraged me to accomplish my trip goals. I had the chance to wear all of the "hats" that I'd hoped to, and I left Alaska filled to the brim with good feelings and happy memories. It is telling that, during probably the rainiest week of my life, I scarcely noticed the weather and never let the smile be wiped from my face.
This Alaska small ship cruise review was written by an AdventureSmith Explorations crew member. Read all Cruise Reviews for more trip reports, or contact one of our Adventure Specialists to learn more about our Alaska trips: 1-800-728-2875.