AdventureSmith Founder and President Todd Smith reviews his family's Great Barrier Reef Cruise in Australia, aboard the now-retired Coral Expeditions II. Learn why remote Australia small ship cruising and snorkeling are some of the best ways to see the Great Barrier Reef and its famous coral.
The farther, more remote sections of reef are mostly unvisited, and perfect for an overnight small ship cruise.
Any traveler who loves the water has a trip to Australia's Great Barrier Reef on their bucket list. It's one of only seven Natural Wonders of the World. It's so large it can be seen from space. It's home to 600 types of hard and soft coral, and 10% of the world's fish species. The list goes on. Since most of the reef is located 10-100 miles off Australia's Queensland coast, most of the two million annual visitors here explore by day tour. This leaves the farther, more remote sections of reef mostly unvisited. These remote reefs are perfect for an overnight small ship cruise, which will visit nearly a dozen separate reefs over the course of one week. If you want to explore the Great Barrier Reef in depth and up close, this is the best way to go.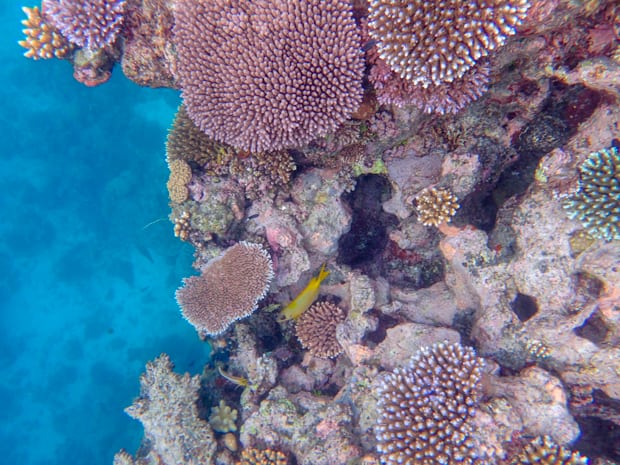 Like many travelers, I have heard news that the reef is in trouble. In fact, a report in the Journal of Sustainable Tourism found that 69% of tourists are seeking travel to the Great Barrier Reef in a bid to see the reef before it's too late. As an Australia cruise specialist, it is important for AdventureSmith Explorations to have firsthand experience, so I traveled to the Great Barrier Reef with my family to see for myself. Snorkeling above a veritable multilayered city of coral and colorful tropical fish, I had a hard time reconciling those headlines with my experience. Here are the details of my journey, a review of our small ship, my impressions of the state of the Great Barrier Reef and my hope for its conservation.
Embarking the Cruise in Cairns, Gateway to the Great Barrier Reef
My Great Barrier Reef Cruise aboard the 42-guest Coral Expeditions II began and ended in Cairns (pronounced "Cans" by Australians) in Northwest Queensland. As part of a longer itinerary across much of Eastern Australia, I chose the 5-day Northern Itinerary that visits Cookstown, Lizard Island, Ribbon Reefs and Escape Reef. This cruise seemed long enough to explore the reef in depth but short enough to fit into our larger trip. Also on the table for travelers is the shorter 4-day Southern Itinerary, which visits Fitzroy Island, Thetford Reef, Sudbury Cay, Nathan Reef and the Family and Hinchinbrook Islands. For the ultimate exploration these two itineraries can be combined into a full week adventure of cruising and discovery on Australia's Great Barrier Reef.

Cairns is easily accessible by daily flights from Sydney, Melbourne or many other Australian cities and is a popular itinerary stop. Our morning flight from Brisbane arrived in plenty of time to explore Cairns before boarding the ship midafternoon. The Coral Expeditions II was conveniently docked at the Cairns Cruise Liner Terminal, just south of a huge megaship we were thankful to avoid. The crew allowed us to check our bags early so we could explore town on foot for a few hours before embarkation.
Upon boarding the ship, we were relieved by the cool air conditioning in the upper deck lounge. Cairns has a tropical climate and we were hot and sweaty from our exploration of town. The crew presented us with welcome drinks and showed us to our rooms, followed by a safety briefing. As part of the briefing, Captain Gary reviewed sea conditions and prepared us for the possibility of rough seas on certain stretches of the trip. This stretch of the Coral Sea is affected by southeasterly trade winds that can occur throughout the year. His advice was spot-on and while there were some rough patches, he always gave ample warning so we could prepare (learn more about how AdventureSmith prepares for seasickness). We enjoyed happy hour cocktails on deck as the sun set and the lights of Cairns faded into the distance.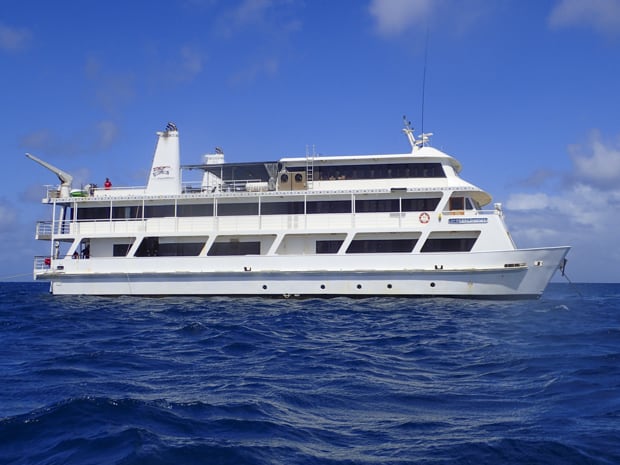 In James Cook's Footsteps in Historic Cooktown
Our first morning found the Coral Expeditions II approaching the ramshackle frontier town of Cooktown. We were eager to get to the reef, but I was instinctively drawn to this place because of the history of its namesake Captain James Cook, who I had learned about in prior trips to Alaska and Hawaii. The legendary explorer ran the HMS Endeavour into the Great Barrier Reef and limped to shore here in 1770. Our expedition leader Liv, led an informative morning walk along the waterfront, pointing out the site where Cook and his crew first came ashore; the James Cook Statue, which marks the site of a yearly reenactment of Cook's landing; and the Queen's Steps made for Queen Elizabeth II on her visit to Cooktown in 1970 to commemorate the historic voyage and open the James Cook Museum.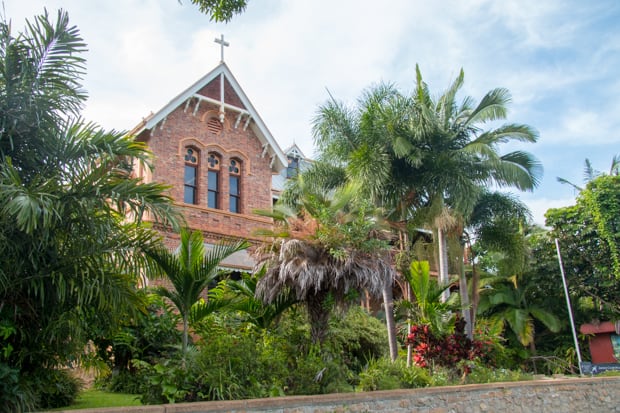 Few travelers make it this far in Australia, but our small ship made this remote outpost easy and accessible.
The highlight of our visit was the James Cook Museum housed in a stunning nineteenth century former convent. The museum's Endeavour Gallery provides a fascinating insight into the seven weeks that Cook and his crew spent here. The gallery contains an original anchor and cannon from the HMS Endeavour, both jettisoned from the ship in 1770 and retrieved from the reef in the early 1970s. These were the artifacts I came to see, and they provided a tangible connection to the man and his exploits, but I ended up spending more time upstairs in the Indigenous Gallery learning about the Guugu Yimithirr aboriginal people. The museum also helped me appreciate just how remote Cooktown is. Few travelers make it this far in Australia, but our small ship made this remote outpost easy and accessible.
Our First Great Barrier Reef Snorkel at Lizard Island
Back on board we cruised toward Lizard Island, the northernmost point on our voyage. Along the way, Liv and scuba diving guide Colin prepared us with a fantastic presentation of the geology, coral and fish of the reef. They also presented an activity orientation outlining snorkel safety procedures and how to participate in the optional scuba program. Snorkeling is included in the cost of this cruise, with a snorkel mask, snorkel and fins also provided. Snorkel experience is not mandatory, but I would advise novices to practice with a mask and snorkel before they embark to be ready for the fun. Snorkeling was certainly a highlight of the voyage and provided an experience that even the scuba divers on board were pleased to have for the ease of access it provided to the reef.
The crew also warned us about box jellyfish, which are among the most venomous marine animals in the world. Box jelly season runs from November through April and while sightings are uncommon and stings exceptionally rare, an encounter would require evacuation to a hospital. To prevent stings, the ship offered stinger suits, which all guests eagerly purchased and dutifully wore throughout the trip. We did not see any jellies during our visit.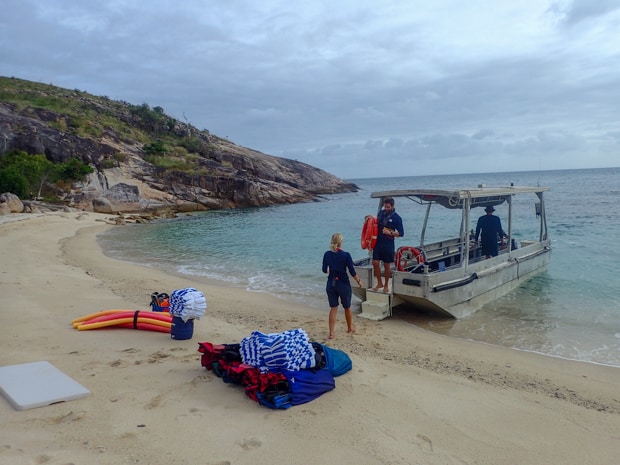 We arrived at Lizard Island in the mid afternoon and the crew quickly set about launching the Zodiacs and Glassy (the glass-bottom boat). Soon we were landing on a postcard-perfect beach and snorkeling on Australia's Great Barrier Reef. I suppose it is by design that the first snorkel spot is from a sandy beach. The island provided shelter from the wind ensuring calm seas and the white sandy beach made for easy access to the reef.
The first snorkel did not disappoint with my kids excitedly shouting, "did you see this, did you see that!"
The first snorkel did not disappoint with my kids excitedly shouting, "did you see this, did you see that!" Skies were gray, and the reef colors were muted, but the visibility was astonishing. There were lots of fish, of course, including triggerfish, parrotfish, angelfish, butterfly fish and more. The diversity of coral was incredible. Highlights were an octopus and giant blue clams as big as a person. I must have been in the water for nearly two hours when I realized I was all alone. Where had everyone gone? I returned to the beach to find all the guests enjoying a sunset happy hour with appetizers and drinks set up by the crew. As the sun set over the Coral Sea, we toasted our first snorkel on Australia's Great Barrier Reef.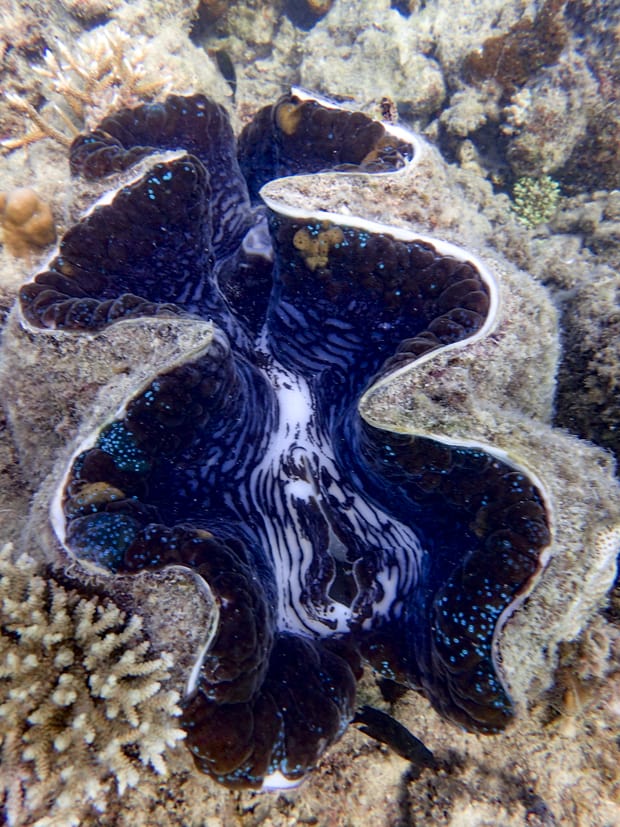 Great Barrier Reef Hiking at Lizard Island
The next morning, the more active guests awoke early and headed ashore for an optional hike to Cook's Look. The short but steep hike ascends to the highest point on Lizard Island and offers sweeping 360-degree views of the island and surrounding reef. It was here where James Cook was caught in a labyrinth of reefs and "altogether at a loss which way to steer." He climbed to this same high point on the island and noticed a narrow break in the reefs, which offered an escape to the open sea. Today that channel is called Cook's Passage. Cook noted, "The only land animals we saw here were lizards, which occasioned my naming the island Lizard Island." After over two hours of hiking we returned to a beach even more picturesque than the night before, just as the morning snorkel groups were arriving.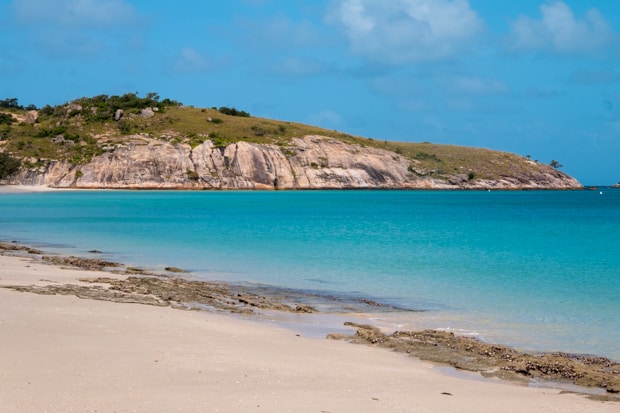 Close Encounters of the Squid Kind
The bright sun illuminated the reef with its astounding colors and variety of corals and fish. Venturing far from the white-sand beach, my sons and I appreciated floating resting stations strategically placed near the reef edge where we could take a break and talk about what we had seen. A support Zodiac always hovered nearby in case any snorkelers needed help. We marveled at the colorful surgeonfish, damselfish, needle nose fish and large schools of colorful wrasse and angelfish. We even witnessed an underwater "cleaning station" where large fish would open their mouth to allow small shrimp to enter and clean out dead skin and parasites, without eating the shrimp. Away from the reef, over the white sandy bottom near the beach, I encountered a group of small translucent squid. After following them for a few moments I obviously bothered them because they "inked" me and disappeared in a flash.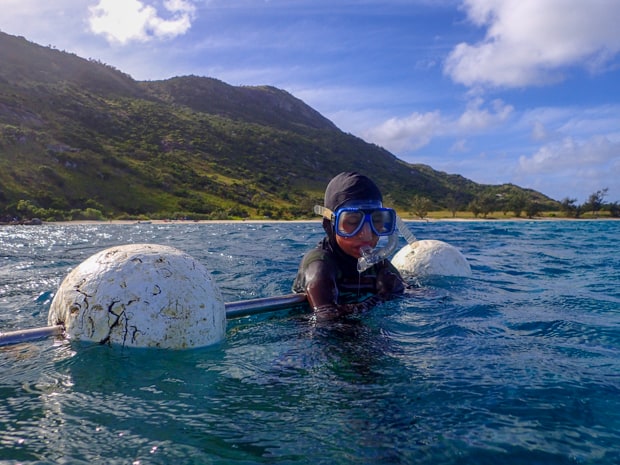 Beyond Snorkeling – Kayaking, Glassy & Scuba Diving the Great Barrier Reef
The cruise offered a number of interesting ways to explore beyond snorkeling, including scuba diving, sea kayaking, and excursions in Zodiacs and a glass-bottom boat. Beginners can join guided snorkeling tours or introductory and resort-style scuba dives, while more experienced certified divers are able to participate in more challenging dives. My wife and I, as certified divers, were able to dive with my older 14-year-old son, who was authorized to participate in the resort dives. My 10-year-old was able to participate in the introductory dive to experience the thrill of breathing underwater, but not the actual resort dives later in the trip. Of course, he now wants to become a certified diver.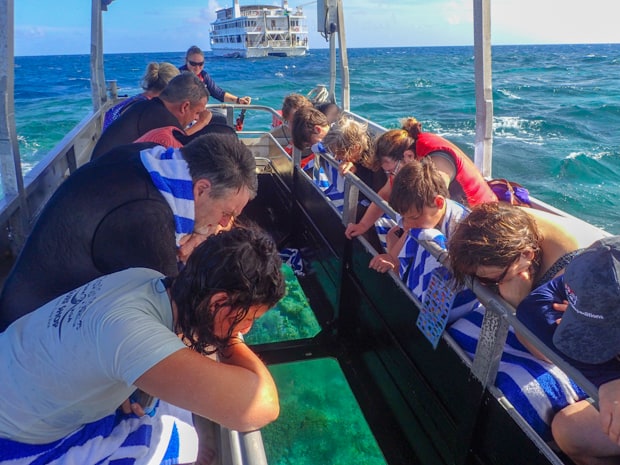 We ended up snorkeling and diving two to three times each day, but we also looked forward to our excursion on the Glassy where everyone could learn from our guide.
Kayaks were lowered on calm days and offered fun exploration from protected beaches on the islands, although many days on the outer reef were too windy to kayak. We ended up snorkeling and diving two to three times each day, but we also looked forward to our excursion on the Glassy. This allowed the entire family to learn from Liv who would identify the multitude of coral and fish we were seeing and explain their relationships to their underwater environment, providing a welcome education of the reef and its inhabitants.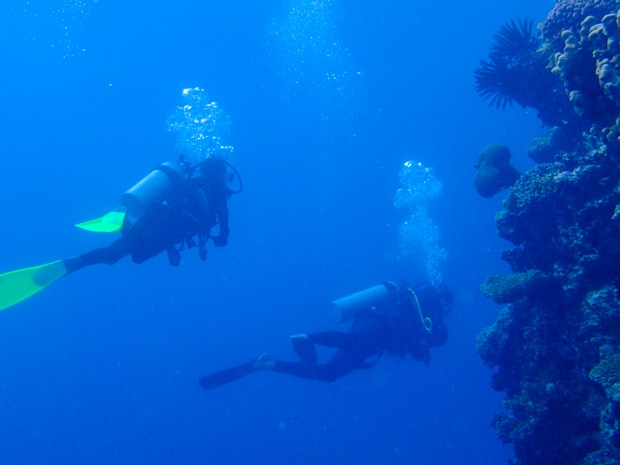 Ribbons of Reef – Exploring the Remote Outer Reef
Ribbon Reef #9 was our first exploration of the outer reef and it was incredible. The ship backed in and moored very close to the reef before the swim platform lowered to the surface, allowing us to snorkel right from the back of the ship. We jumped into a deep-blue abyss and swam to the edge of the reef, which presented a stark contrast between the shallow reef and the wall that descended to the depths. This precipice is where the action was, and we snorkeled along the entire edge of the reef, which took about 20 minutes.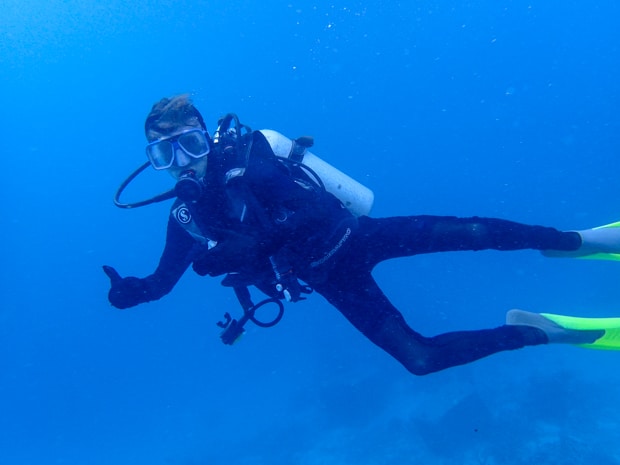 My son's first scuba dive was particularly exciting. Colin led our group from the swim step to a depth of about 40 feet using the ship's mooring line as a guide into the blue. The first half of our dive I spent nervously watching my son on his initial dive. He did great and flashed me two thumbs up every time he noticed me watching him. Colin led us to a bommie, or outcrop of coral reef, and pointed out a miniature forest of anemones with two orange clownfish swimming within their tentacles. We proceeded to the base of the wall we had snorkeled above earlier. The diversity of coral and color was beyond belief. Trusting that my son was OK, I now focused on the intense purple, red and yellow corals, the schools of fish, starfish, weird alien worms and brightly colored mollusks. It seemed that every surface was covered with life.
I sat beaming that I had finally experienced the Great Barrier Reef in such an amazing way with my entire family.
Back on the ship we warmed up with hot tea before deckhand Ricardo offered the kids an adrenaline thrill ride on the Zodiac. Finally, we boarded the Glassy with Liv for another educational tour. That night, over a delicious dinner prepared by chef Matt, I sat beaming that I had finally experienced the Great Barrier Reef in such an amazing way with my entire family.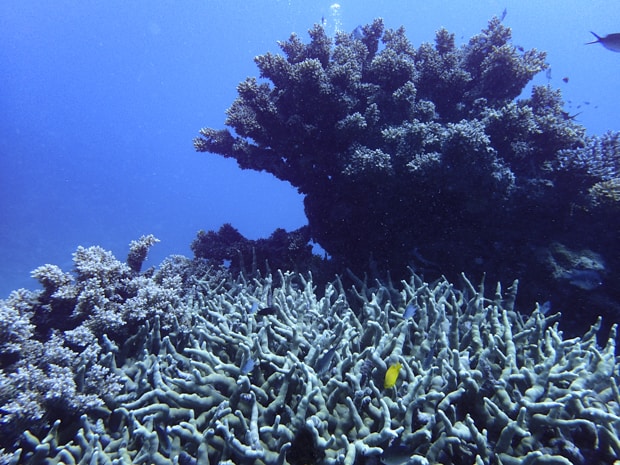 The Benefits of an Overnight Great Barrier Reef Cruise
One of my favorite moments was standing on the upper deck as we approached the reefs. Seen from above they appeared to me as a single organism with beautiful azure color and texture, like an island just below the surface. Conditions were windy on Ribbon Reef #3, so the crew deployed the Glassy to the far side of the reef where we were able to snorkel back to the ship without fighting the waves and current. This flexibility and choice of activity options made us nimble explorers, ready to experience the best of the Great Barrier Reef under any condition. Over 5 days, we were able to leave any crowds and tourist feel behind for the remote, intimate exploration that is the hallmark of small ship cruising.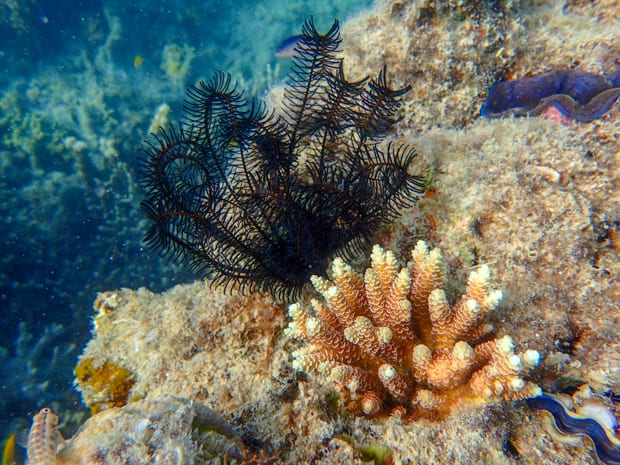 The final afternoon on Escape Reef was simply astounding and among the best snorkeling and diving I have ever encountered.
At some point I began to run out of adjectives and descriptions for my experience on the reef. Each day seemed to offer more clarity, more color, more coral, more fish and more fun. The final afternoon on Escape Reef was simply astounding and among the best snorkeling and diving I have ever encountered.
Coral Expeditions II Ship Review
The Coral Expeditions II is a utilitarian three-star vessel that is not glamorous, but she is comfortable and very well suited for her mission of reef exploration. The upper deck lounge has been recently refurbished with modern, bright design elements and 360-degree view windows. The lounge is spacious for lectures and evening happy hour with a bar and small library. Adjacent to the lounge is an upper sundeck with comfortable outdoor couches, tables and deck furniture. This was a favorite place for guests between activities and the lounge chairs were frequently occupied if you didn't arrive early.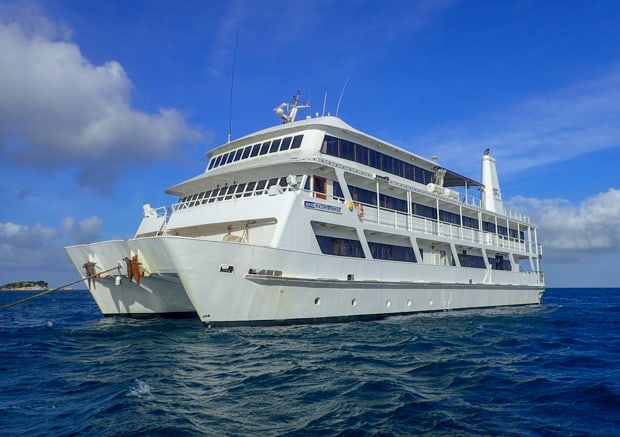 Our cabins were Upper Deck (Deck B) Staterooms #305 with a double bed for the parents and #307 with twin beds for the kids. All cabins open to an interior hallway, which is reassuring for families with kids. The rooms are finished with wood trim; view windows; and a private bath with sink, toilet and separate shower. The water pressure was amazing and a hot shower was welcome after a full day immersed in salt water. Deluxe Staterooms are larger and include a sitting area. Bed configurations (double or twin beds) are fixed, so book early to ensure your desired layout.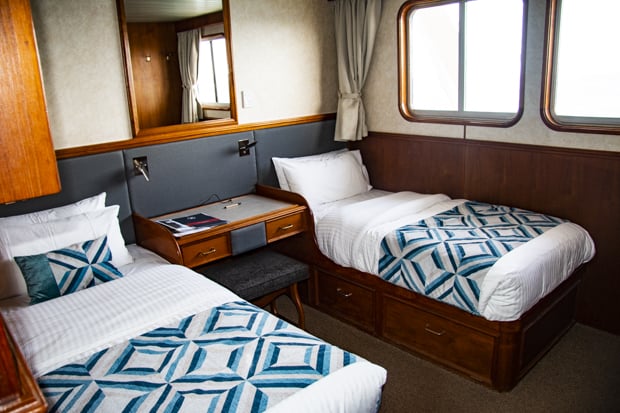 The lowest deck (Deck C) contains the Dining Room and another small lounge with a bar. Staterooms and Cabins on this deck are the most economical but be aware that staterooms near the Dining Room can be noisier and forward cabins can also be noisy with the sound of the waves crashing underneath the hull. These cabins are a good value but if you are a light sleeper then consider Staterooms on the Upper Deck (Deck B). All cabins have individual air conditioning providing a respite from the humid tropical climate outside.
Snorkel and scuba excursions depart right from the platform and guests only need to swim 20-30 feet to access some of the most pristine reef in Australia.
Where this ship really stands out is on her back deck. The Coral Expeditions II is outfitted with a glass-bottom skiff carried on a hydraulic platform making water-based activities easy and efficient. Easily board the Glassy on the platform and it is lowered into the water for launch. Likewise, scuba divers and snorkelers can outfit on the swim platform, which is then lowered into the water where all you need to do is swim away. To get as close to the snorkeling sites as possible, the ship backs up into shallow reef, tying off on stationary lines fixed to the bottom. This allows her to safely access the reef up close without damaging the reef with an anchor. Snorkel and scuba excursions depart right from the platform and guests only need to swim 20-30 feet to access some of the most pristine reef in Australia.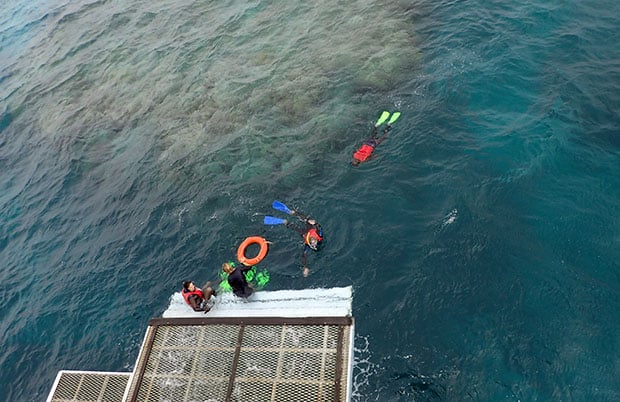 Current State of the Great Barrier Reef from My Eyes
Over the course of the cruise, I pressed Liv, a marine biologist with 15 years of experience leading trips on the Great Barrier Reef, and Captain Gary about the state of the reef; of course they were concerned. They have read the research and seen the coral bleaching first hand. Liv had pointed out some bleached branching coral as well as hundreds of newly established elephant ear coral, which are taking advantage of warmer water to expand their range.
Guests are left with the knowledge that if we change our behavior, then we can change the conditions that are affecting the reef.
But nowhere on this trip could I see evidence of massive bleaching or large swaths of dead coral. They advised that the reef is huge and you can find areas affected by bleaching, particularly on the far northern portion of the reef. But they cautioned that an overnight cruise such as this can visit the most pristine, untouched portions of the outer reef. They are in the business of showing off this natural wonder of the world, educating people about it and leaving guests with the knowledge that if we change our behavior, then we can change the conditions that are affecting the reef.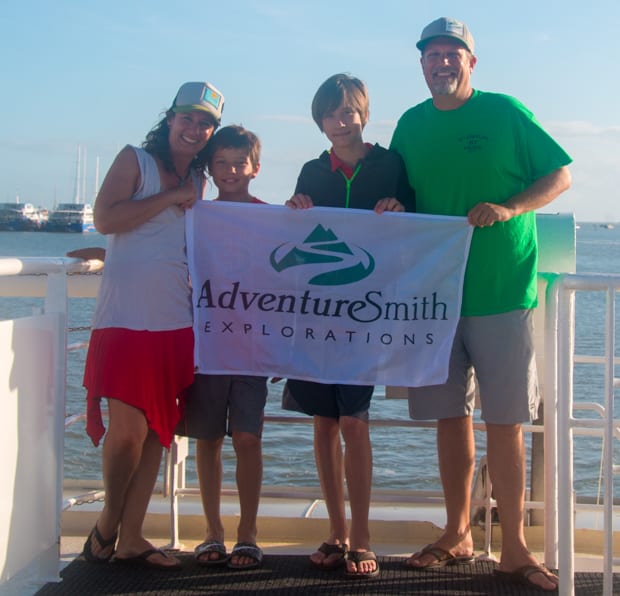 While I am still concerned about the condition of the Great Barrier Reef, I can wholeheartedly recommend that travelers visit there. You will not be disappointed. Some might be inclined to visit "before it's too late," but I recommend you visit now to experience one of the greatest concentrations of marine life on our planet. Hopefully you will be amazed and inspired to help protect it.
For more photos from this trip, including coral reefs and remote beaches, view my Facebook album on AdventureSmith Explorations' Facebook page.
This Great Barrier Reef cruise review was written by an AdventureSmith Explorations crew member. Read all AdventureSmith Expert Reviews for more trip reports or view our guide to the best Great Barrier Reef Cruises. For dates, rates and booking information on this trip, see Great Barrier Reef Cruises, or contact one of our Adventure Specialists to learn more about our small ship cruises and wilderness adventures: 1-800-728-2875.