There are hundreds of Great Barrier Reef tours to choose from. Which trip or cruise is best for you? Like any wilderness, the more time you spend the better chance you have to experience wildlife, learn about the ecosystem and immerse yourself in the environment. Because Australia's Great Barrier Reef is an underwater wilderness, it presents unique challenges to travelers wishing to explore it up close.
This Great Barrier Reef Cruise guide will help you distinguish among different types of cruises and learn why an overnight cruise is the best way to immerse yourself in the reef and its inhabitants. Read on, or contact our team of travel specialists at AdventureSmith Explorations any time for a personalized recommendation for how to plan the best Great Barrier Reef cruise.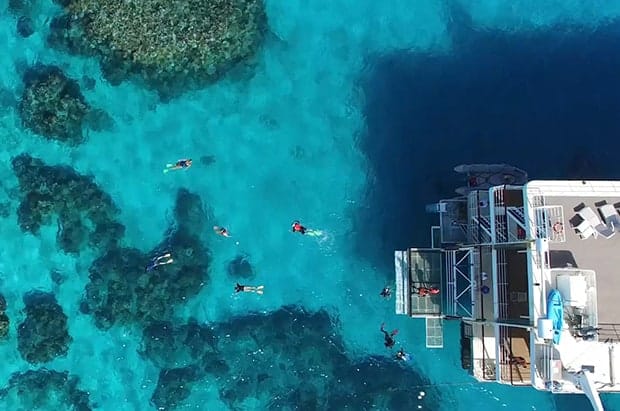 The Best Place to See the Great Barrier Reef
Australia's Great Barrier Reef is vast; covering more than 900 islands and stretching over 1,800 miles. With so much reef to consider how does one choose the best place to visit or experience it all? The reef is also extremely popular, attracting two million visitors each year. So travelers must not only consider where to go but also how to avoid tourist crowds. Overnight cruises on Australia's Great Barrier Reef address both questions.
Travelers must not only consider where to go but also how to avoid tourist crowds. Overnight cruises address both questions.
Aboard an overnight Great Barrier Reef cruise you don't have to decide the best place to visit. The expert captain and crew—including experienced marine biologist expedition leaders—choose for you. They have a variety of locations penciled in for any given week and select the best spots based on local wind, weather and wildlife conditions. With two to three excursions each day you will experience an assortment of locations and ecosystems, covering a wide range of reef types and providing ample opportunity to encounter all the wildlife the Great Barrier Reef has to offer. With options ranging from 4 to 7 days, overnight cruises venture to the most remote regions of the reef where you are inherently away from day-tour crowds. Snorkel and swim with your fellow guests and guides where you are only crowded by schools of colorful fish.
Day Tour vs. Overnight Cruise
If you're thinking that a day tour might suffice for your Great Barrier Reef travels, we offer a few more comparisons of the travel experience. Most travelers who snorkel the Great Barrier Reef will do so on a day tour. There are a huge variety of reef day-trips aboard everything from simple yachts to elegant sailing vessels as well as large catamarans that rendezvous with massive pontoon platforms anchored near the reef. Group sizes can range from as few as 12 to as many as 450, so if you do choose to day-cruise, we recommend understanding the type of experience you are signing up for. Day cruises typically visit the same reef locations every day due to time/distance logistics, so the larger tours inevitably damage the reef people pay to visit.
The overnight, liveaboard nature of these cruises eliminates the long transit time to the outer reef.
Overnight cruises aboard small ships are fundamentally different from these day snorkel tours. These expedition cruises are truly immersive, going beyond the reach of day trips to the outer reef with exclusive mooring destinations to access remote, pristine reef locations up close. The overnight, liveaboard nature of these cruises eliminates the long transit time to the outer reef and offers up-close exploration of a wide variety of incredible snorkel and diving sites, so they truly are the best Great Barrier Reef cruises if you are seeking an immersive, sustainable experience.
Ships are small enough to allow efficient boarding and disembarking on the reef with minimal waiting. Small ships' shallow drafts allow them to moor adjacent to the reef meaning you can snorkel right from the ship. Yet they are large enough to reach remote reef and islands, navigate safely through open water crossings and accommodate guests for up to a week. Overnight cruises also carry a fleet of sea kayaks, Zodiacs and even glass-bottom boats so your daily activities can be varied for individual interests and ocean conditions.
What Is a Liveaboard Cruise?
Sometimes you hear overnight cruises described using the term liveaboard. Technically these are the same and describe a cruise in which travelers sleep aboard the boat. Liveaboard is most commonly used though to describe a dedicated scuba diving cruise. We use the phrase overnight cruise in this post to describe multi-day cruises where guests sleep on board and enjoy activity options beyond just diving.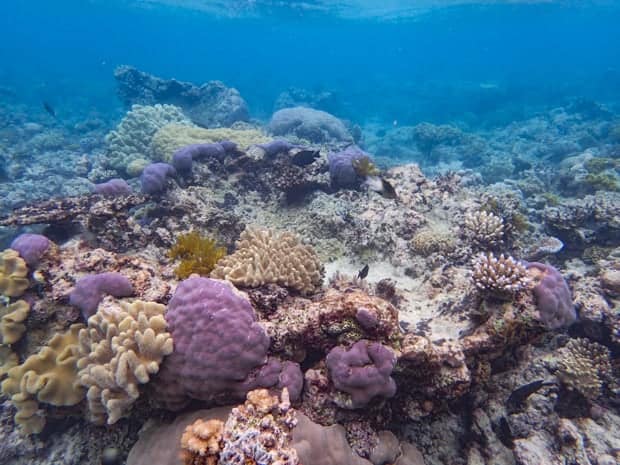 Snorkel vs. Scuba Diving the Great Barrier Reef
Many travelers ask us, "Should we consider a snorkel or scuba diving trip on the Great Barrier Reef?" Aboard an overnight cruise you don't have to choose; you can do both. Anyone can snorkel with no experience required, although it is helpful if travelers give it a try beforehand to get comfortable with a mask and snorkel. We find that most travelers are content to snorkel and advise folks that you will see everything the reef has to offer while snorkeling from the surface.
While an added bonus to overnight cruises, scuba diving is not necessary for travelers to experience the reef up close.
Scuba diving typically requires advance certification and training. Those with prior certification will not want to miss the opportunity to scuba dive on Australia's Great Barrier Reef, one of the prime diving destinations in the world. As mentioned above, diving is not necessary for travelers to experience the reef up close though. Unique on overnight cruises is the opportunity to participate in a "resort dive," sometimes also known as introductory diving or trial diving. These are scuba dives where people without diver training or certification can experience scuba diving under the guidance of a recreational diving instructor. We find that many groups and families are a mix of snorkelers and divers and that adventurous snorkelers enjoy giving a resort dive a try. Overnight cruises allow groups of all interests and ability levels to enjoy the reef together.
Travelers also ask us, "Should we bring our snorkel gear with us?" All our overnight cruises will provide a mask, snorkel and fins free of charge. We advise that if you own your snorkel gear, you are likely an avid snorkeler and that your own mask and snorkel might fit better than the equipment provided on board, so bring it along. Fins are large and bulky so don't pack them and use the fins provided on board. Scuba diving is often at an extra cost, with scuba equipment included in that price.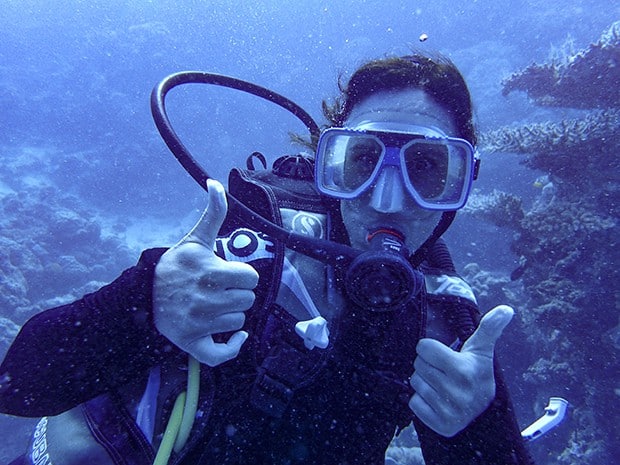 Beyond Snorkeling & Diving
Overnight cruises offer several activities in addition to snorkeling and diving. Cruises will stop in isolated towns, rainforest reserves or uninhabited islands to explore on foot and relax on the beach. This can be a welcome addition to water-based activities, resulting in a greater understanding of the nature, history and culture of the reef. Many small expedition ships also carry glass-bottom boats. These craft can offer an alternative for folks who don't want to snorkel. We recommend that even avid snorkelers give the glass-bottom boat a try. Time on these small vessels offers a chance to ask questions and learn from your expedition leader who will point out species of coral and fish, which will enhance your knowledge on the next underwater excursion. Each evening, the crew will provide informative and entertaining lectures about the reef and its inhabitants. Going beyond a simple identification guide, these lectures and thoughtful interactions with expert guides are appreciated by nature travelers seeking a deeper appreciation of the Great Barrier Reef.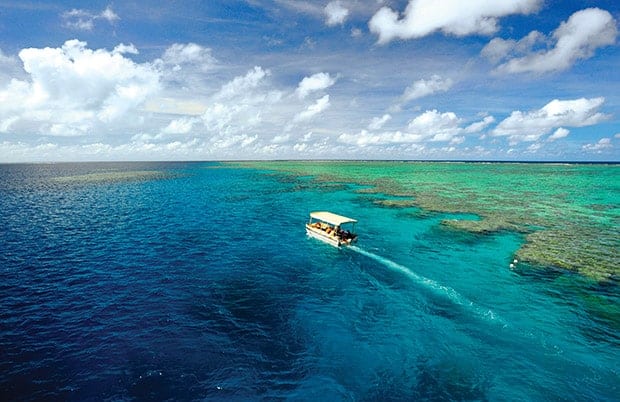 Inner Reef, Outer Reef vs. Ribbon Reef
When searching for snorkel or dive cruises on the Great Barrier Reef you will hear the phrases inner reef, outer reef or Ribbon Reef and you may wonder which reef is best for your visit?
Outer Reef
The outer reef is the barrier reef farthest from the mainland. Beyond the outer reef, the Centennial Shelf drops off into the open ocean of the Coral Sea. Being farthest away from the mainland and urban development, the outer reef is less affected by human impact and runoff, resulting in increased visibility and the most pristine conditions. Visibility averages about 50 feet on the outer reef. The outer reef also offers a higher degree of marine biodiversity with coral-dwelling fish and deep-water pelagic fish and reef sharks. The outer reef takes longer to cruise to and is out of reach of most day cruises.
Inner Reef
The inner reef consists of locations inside the outer reef. These are closest to the mainland and take less travel time to reach. Visibility will be lower than the outer reef with an average of 15-30 feet of visibility on the inner reef. The inner reef has less diversity than the outer reef with lots of soft coral and smaller fish species but also larger fish such as trevallies, Maori wrasse, green turtles and reef sharks.
Ribbon Reef
The Ribbon Reefs are recognized as the most pristine of the Great Barrier Reef environments.
Stretching north of Cairns to Lizard Island, the magical "Ribbons" are a string of 10 long, thin and shallow coral reefs only accessible to a few liveaboards and overnight cruises. Adjacent to the deep-water Coral Sea trench, the Ribbon Reefs are home to beautiful coral gardens and isolated bommies (individual outcrops of coral), recognized as the most pristine of the Great Barrier Reef's environments. Snorkelers and divers might encounter huge giant clams, moray eels, reef sharks and giant Napoleon wrasse, as well as pelagic fish and gorgonian fans.
North or South Great Barrier Reef?
Some cruises have southern and northern routes (with Cairns being the hub/central spot for embarkation), which can be combined for longer week-long trips to see it all. If you do not have time for a more comprehensive journey, here are few highlights from each region:
South Great Barrier Reef
The southern reef features a range of biologically significant areas to offer travelers a sample of rainforest, mangrove and reef. From the mangrove channel at Hinchinbrook Island, to the ancient rainforest of Dunk Island and the pristine remoteness of Sudbury Cay, myriad habitats both on land and at sea can be seen on a Southern Great Barrier Reef expedition. Coates and Nathan Reefs are notable in this region, and look for an itinerary that visits the Turtle Rehabilitation Centre on Fitzroy Island if you want a greater chance to swim with a sea turtle!
North Great Barrier Reef
The northern stretches of the Great Barrier Reef are some of the most pristine. The reef here is remote and untouched, ideal for divers, snorkelers or marine enthusiasts. Routes here can include mooring sites at Ribbon Reefs #3 and #9, time on Lizard Island, visits to historic Cooktown and the opportunity to see unique wildlife such as Christmas tree worms & giant clam gardens.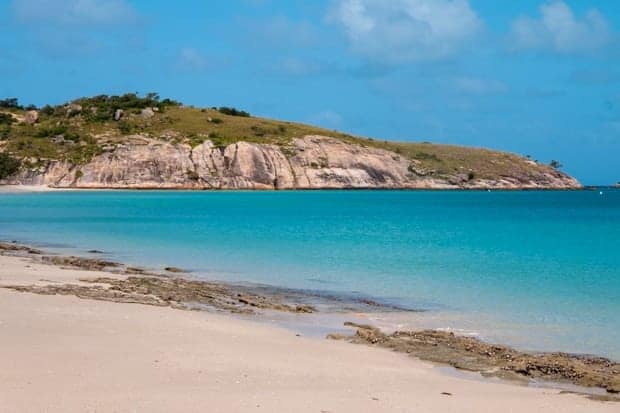 How to Get to the Great Barrier Reef
As noted above, the Great Barrier Reef is massive and has many entry points along the North Queensland Coast. Popular towns include Bundaberg, Townsville and Port Douglas, but the undisputed king of reef trips is Cairns. Cairns is easily accessible by air from Sydney, Brisbane or most airports in Australia, making it a logical hub to explore North Queensland and the Great Barrier Reef. All of our overnight reef cruises begin and end in Cairns.
How Much Time to Spend on the Great Barrier Reef
Like any wilderness, the more time you spend exploring the more you will see. Especially with an underwater wilderness, the more opportunities to get in the water, the more you will encounter. The Great Barrier Reef is huge, with a wide variety of unique islands, reef types, coral and ecosystems.
A day trip only provides 2-3 hours on the reef, while weeklong cruises offer more than a dozen chances to snorkel, dive and explore up close.
A 7-hour day trip to the outer reef includes only about 2 to 3 hours of time to snorkel and explore in one location. This natural wonder of the world surely deserves more than a few hours. An 8-day overnight cruise will transit hundreds of miles, traversing the inner and outer reef from south to north, with more than a dozen chances to snorkel, dive and explore up close.
The Best Time to Visit the Great Barrier Reef
North Queensland has a tropical climate with lots of sunshine, warm seas, balmy year-round temperatures and refreshing sea breezes. The Great Barrier Reef is suitable for travel year-round although there are two distinct seasons. Remember that Australia is in the Southern Hemisphere, so seasons are reversed for those of us in North America and Europe.
Winter Season (May-November)
The winter dry season occurs from May through November and is characterized by warm temperatures, lower humidity and little rainfall. Air temperatures range from upper 60s to mid 80s (Fahrenheit) with water temperatures in the mid 70s to low 80s and less rainfall. Winter is whale watching season with minke and humpback whales visiting from May to September and July to August respectively. Winter is the high season when Australians flock to northern beaches to enjoy the sun and escape cooler weather in the south.
Summer Season (December-April)
The green summer season begins in December and runs through April. Temperatures rise to nearly 90 degrees with humidity and rainfall increasing in concert. 70-90% of the region's rainfall occurs during this time so rainforest flora and fauna are in their prime. Warmer water in the mid 80s makes snorkeling pleasant. There are fewer travelers during the green season, making this a good time to find travel deals.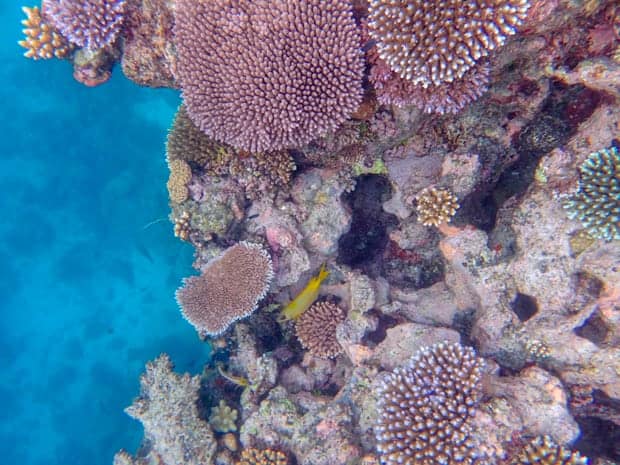 Great Barrier Reef Ocean Conditions
Great Barrier Reef cruises are inherently protected from large ocean swells by the barrier reef itself, however this stretch of the Coral Sea is affected by southeasterly trade winds, which can occur throughout the year. These winds can produce choppy waves that may cause seasickness for some travelers. Rocky conditions typically occur when taking seas on the beam, or side of the ship. On the Great Barrier Reef, this means when cruising from the mainland to the reef and back (i.e. the exact conditions encountered on most outer-reef day tours). Overnight cruises must also transit from the mainland to the outer reef; however once there, they travel along the protective reef and anchor in sheltered coves, thereby avoiding rough conditions. A good captain will alert guests to upcoming sea conditions in time to take medications or make preparations to minimize the impact of rough seas. Learn more about How to Prevent & Treat Seasickness on Cruises.
A Word About Great Barrier Reef Guides
As AdventureSmith Explorations is a company founded by guides, we know that the experience and demeanor of your guide will have a profound impact on your experience. Great Barrier Reef guides, especially those on day tours, vary considerably in their skills and experience. We have found that a guide's personality and ability to engage travelers is just as important as his or her level of knowledge. In general, the most experienced guides gravitate toward the overnight cruises. These experienced professionals—many are marine biologists or scuba certified—choose overnight cruises for the same reasons that travelers do. They want to experience the best of the reef and share their passion by engaging and educating travelers about this region that they love.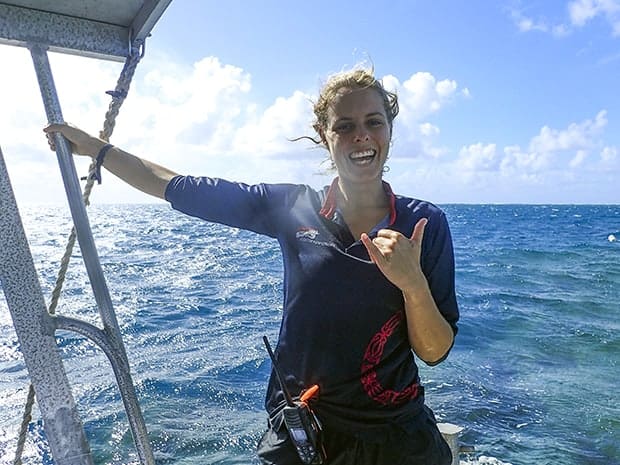 The Great Barrier Reef for Kids
A visit to the Great Barrier Reef is a highlight for kids, parents and grandparents alike. Like any family travel to a remote wilderness location, a trip to the Great Barrier Reef requires careful consideration and planning. Consult our dedicated post on The Great Barrier Reef for Kids & Families to assist with planning the perfect family vacation. Learn more about family cruises to destinations worldwide.
Threats to the Great Barrier Reef & How to Protect It
There is no doubt that the reef is being affected by humankind—most notably evidenced by increasing sea temperatures and acidification due to climate change. Headlines in recent years highlight studies that warm water has increased coral bleaching events, leaving coral little time to recover in a natural timeframe. Other threats to the reef include runoff from urban development and agriculture on the mainland, overfishing and outbreaks like the voracious coral-eating crown-of-thorns starfish. The reef is well studied, and scientists report that unprecedented bleaching events in 2016 and 2017 have affected 30-50% of the reef. Rest assured though that cruises are not in the business of taking people to see bleached or dead reef and that the areas visited on overnight cruises are spectacular. The reef is massive and there are areas that remain unaffected. Some species, such as elephant coral, are taking advantage of these events to spread, while others are in decline. A good naturalist guide will not shy away from talking about threats to the reef and how travelers can become ambassadors for the reef and its inhabitants, educating guests about the threats and how their actions can make a difference.
A good naturalist guide will not shy away from talking about threats to the reef and how travelers can become ambassadors for the reef and its inhabitants.
When choosing a reef trip, be sure to check the conservation credentials of the operator. Australia has an extensive Eco Certified Tourism certification that assures travelers that products are backed by a strong, well-managed commitment to sustainable practices and high-quality, nature-based experiences. Other sustainability initiatives include Eye on the Reef (a reef monitoring program run by the Great Barrier Reef Marine Park Authority) and the Crown of Thorns Starfish (COTS) Control Programme to remove and control this reef threat. Travelers on AdventureSmith's Great Barrier Reef Cruises support these programs as well as the Fitzroy Island Turtle Sanctuary and Lizard Island Research Station.
Many travelers will admit to last-chance tourism saying, "I want to see it before it is gone." While this is a natural reaction, we prefer to advise folks to visit now in a sustainable way. We encourage travelers to experience this natural wonder of the world, to fall in love with it, to be inspired to change their behavior and become an advocate for its protection.
This blog detailing how to choose and the best Great Barrier Reef cruises is among AdventureSmith Explorations' extensive travel resources. While originally published in 2019, it has since been updated by our experts to reflect updated cruise information. Visit our Small Ship Cruise Guides page for even more tips and inspiration to plan your Australia cruise.