When it comes to family travel, space matters. You're carrying along extra essentials, so the sprawl is real. Interconnected cabins—that is, cabins with adjoining interior doors—are key for properly attending to an active family as most cabins only allow for double occupancy. And amenities can really add up: for instance a mini fridge can save the day for tired, hungry little ones. Another factor we often recommend families consider is a cabin with doors that open into an interior hallway versus an outside deck. Keeping all this in mind, here are our top small ship cruise cabin picks for families:
Chichagof Dream – Deluxe Suite
The 76-guest Chichagof Dream offers a unique quadruple configuration in her Deluxe Suite. This spacious suite is 218 square feet and features one queen bed with a separate seating area with two chairs; these can be replaced with one twin bed or one twin bunk bed. Several other cabin categories can accommodate triple occupancy, so this a great small ship for families traveling together. Every cabin aboard Chichagof Dream also provides guests with a pair of high-powered, lightweight binoculars for use while on the cruise – a bonus to help kids spot wildlife.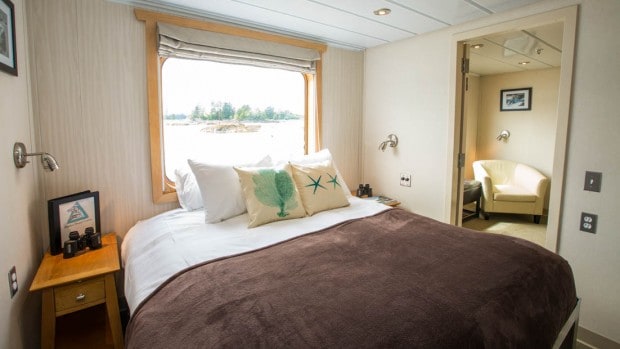 Santa Cruz II – Darwin Suite
The 325 square foot Darwin Suites (pictured below left) aboard the Santa Cruz II have two large picture windows, a sitting area with couch, and can be interconnected with a neighboring Explorer Double Cabin (below right) to increase space by 163 square feet! This would be the perfect spacious setup for a family of four. Plus, Darwin Suites come with elevated service and carefully refined extras such as a take-home Galápagos coffee table book, a tablet loan during the cruise, complimentary drinks and VIP lounge access at the Galápagos Islands airport. The Santa Cruz II accommodates 90 guests on its Galapagos Islands itineraries so you can really bring a large group on this ship. 36 of its 50 cabins can be interconnected, making it even more family friendly.

Safari Voyager – Owner's Suite
A 2016 remodel on the 66-guest Safari Voyager added a 250 square foot Commodore Suite on the bow, highlighted by a panorama of bow-facing view windows. Guests in this suite choose either a king or twin beds and enjoy a private bath with a shower and Jacuzzi tub, a separate living room/sitting area with a pull-out sofa bed to accommodate a third person, two entertainment centers (one for each room) as well as a wet bar and mini refrigerator (pictured below), ideal for families. The room plan below really highlights this cabin's largeness and versatility: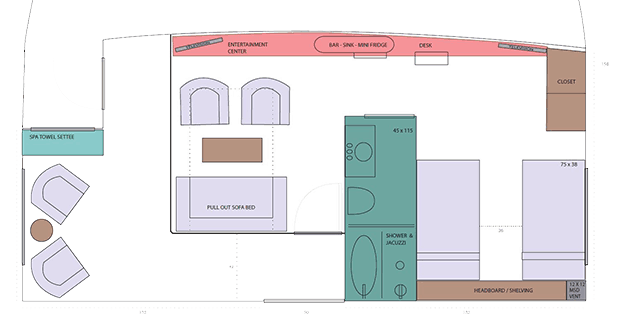 Origin, Theory & Evolve – Stateroom
All cabins are created equal on the luxury 20-guest Galapagos vessels Origin, Theory & Evolve, which is great for groups to avoid in-fighting on who gets the best cabin! Each yacht's 10 double staterooms all measure 140 square feet, feature large panoramic view windows, satellite TV/DVD, iPod docking station and private baths, and can be arranged with twin or king beds. Two cabins can accommodate triples, and two can be interconnected (pictured below), a further bonus for families traveling with children.

Nat Geo Quest – Category 5
Want the latest and greatest in cabin design for your family? Choose a Category 5 cabin aboard the 100-guest National Geographic Quest. Category 5 cabins are located on the uppermost Observation Deck in between the Bridge and Sun Deck, with large view windows to take it all in. Triple configuration is available via the convertible sofa bed, in addition to the twin beds that can convert into a queen. This ship also features 22 cabins with private step-out balconies plus six sets of convenient adjoining cabins in a variety of categories. This purpose-built expedition vessel, USA-made in Washington by Nichols Brothers, extends such thoughtfulness into every inch of its design, which translates into a more seamless experience for families thanks to added features like a mudroom for your expedition gear, tiered bow-viewing platforms (a bonus for your shorter sailors when whale watching!), premium glass windows for clearer views and a Sun Deck bar for taller sailors who need a sunset sip.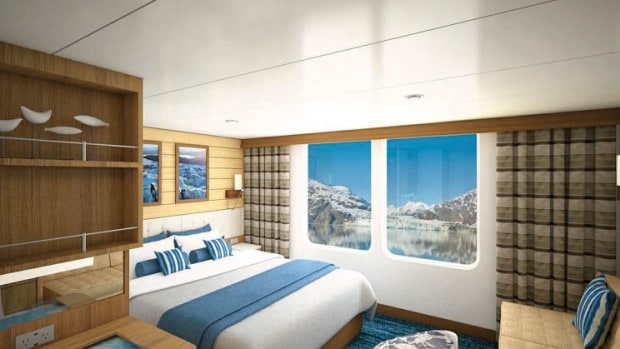 There are numerous other cabins our experts recommend, including suites aboard the Hebridean Sky in Antarctica, interconnecting cabins aboard the Aqua Mekong on the Mekong River, and numerous other options on small ships around the world. Contact AdventureSmith to find the best family cabin for your small ship cruise group.
This blog detailing the best family cruise cabins is among AdventureSmith Explorations' extensive travel resources. Visit our Small Ship Cruise Guides, Galapagos Family Cruises and Alaska with Kids: best Alaska cruises for families pages for even more tips and inspiration to plan your family cruise.