AdventureSmith Explorations Adventure Specialist Taylor Cranney reviews her Galapagos Legend Cruise aboard the 100-guest Galapagos Legend boutique expedition ship. Find out why snorkeling topped her Galapagos cruise highlights, including a rare mola mola encounter.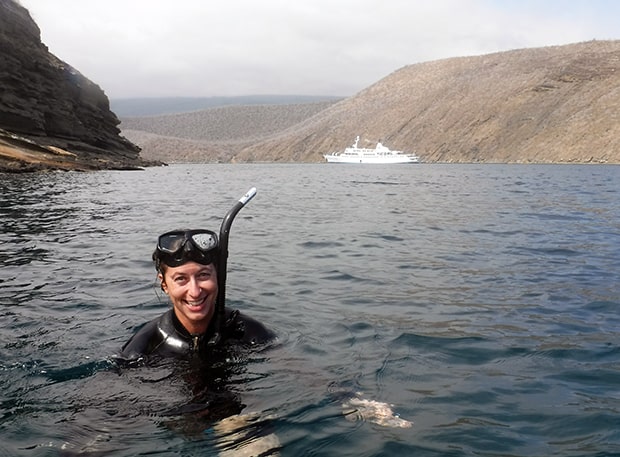 My time in the Galapagos was a whirlwind of the most biodiverse and engaging critters on the planet.
What a magical and enchanting place the Galapagos Islands are. My time there was a whirlwind of the most biodiverse and engaging critters on the planet. My Galapagos trip began with a very-early-morning flight out of the Quito airport, but I didn't mind. In a few short hours I would be on the 100-guest Galapagos Legend, which had been recently refurbished in 2017 and I was excited to see what the updates had to offer. The ship and all activities I was to experience over the next five days would go beyond my expectations. There were so many wonderful moments, it would be impossible to recall them all, but I will do my best to give you the highlight reel!
Legen… wait for it… Dary: Arriving to the Expedition Ship
Shortly after arriving to Baltra, we hopped on our first panga (the little Zodiac boats that shuttle you between the ship and land). First impression: the Galapagos Legend looked as glorious in person as I had imagined her. Upon embarkation, we were encouraged to head upstairs to the orientation area where welcome mimosas were waiting for us. Our first briefing gave us a rundown of the ship and how the rest of the day, and trip, would go.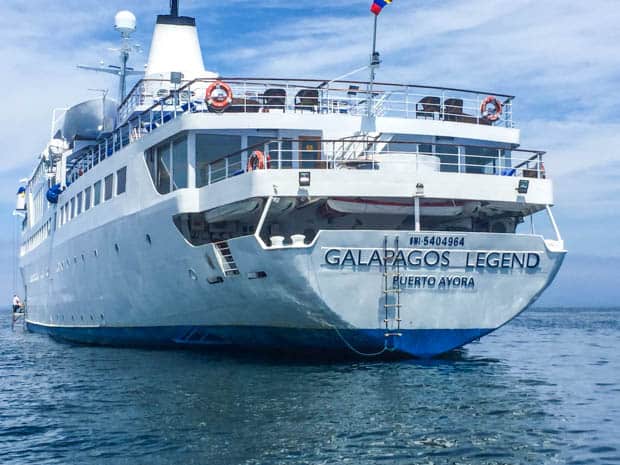 Entering My Cabin: Balcony Suite
After our welcome drink and a quick safety and procedural briefing, we were directed to our cabins. I was brought to the Balcony Suite (pictured below), which would be my home for the next five days. The first thought that crossed my mind when I opened the door was that there was so much sunlight. Not only did the room have its own full private balcony but also a separate forward-facing room with another wall of windows. I enthusiastically explored my cabin, wanting to familiarize myself with all the unique features and details. There were two reusable water bottles provided to keep, an alarm clock with many charging ports and a speaker to play music, and a robe to use while on board (only given to the Balcony Suite residents). The room had ample shelving and drawers to unpack my belongings as well as hooks to hang wet clothing or jackets. In my closet was a safe to secure valuables as well as a mini fridge containing a complimentary bottle of champagne. Did someone say celebration?
The first thought that crossed my mind when I opened the door was that there was so much sunlight.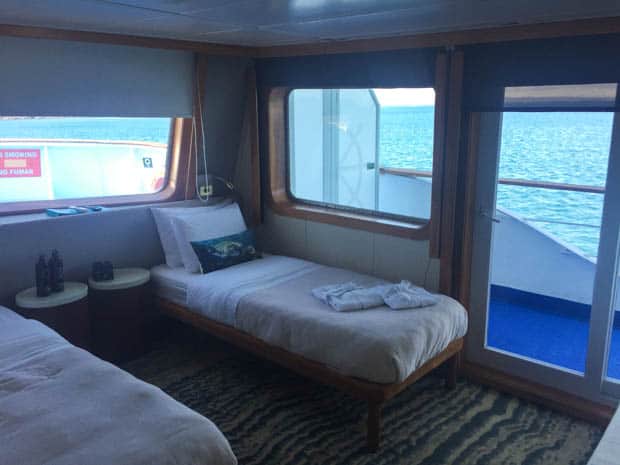 When recommending the Galapagos Legend to travelers, I advise booking at least a Junior Suite, all of which have big panoramic windows. Sometimes it's nice to have visibility to what is happening outside from the comfort of your own room. The portholes in the standard cabins don't afford that.
Life Aboard the Galapagos Legend
There was so much room to move around on the Legend. I could always find a cozy nook to hang out, both inside or outside, and there were lots of decks and levels to experience on the ship. I can imagine being a kid and having a lot of fun exploring. The crew always had treats and snacks ready for our return from activities. Be sure to show up early when dining is offered outside to score a coveted seat at the booth constructed out of a lifeboat. I really liked the outside Fisherman Bar too. Since the Galapagos is a place you want to be outside, it was fun to have a bar right outside where you could get a drink and hang out in the shade while watching the scenery pass by. Premium beers, liquor and wine were all available, and guests can opt for a drink package on board to save money if you expect to spend some time at the bar.
Sand as Red as a Rusty Bucket: Rabida Island
The most visibly jarring of the islands we visited was Rabida Island, which had a deep-red hue to the sand caused by a high amount of iron in the lava that formed the island. We approached the island on our pangas and got off onto the maroon sand via wet landing. It was smooth and sandy underfoot, so disembarkation was an easy feat. A frisky sea lion approached the beach from the water to our left to play at the waterline. With the sun setting to my right, it was a perfect opportunity to document the unique sight.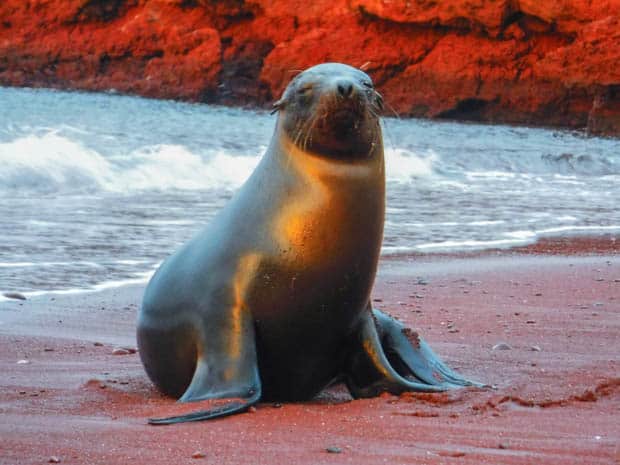 Once off the panga, we gathered in our small group by the shoreline, where our guide began describing the features of the island. Not a moment later, a Galapagos hawk flew up and perched on a branch just above our heads. We are talking an arm's distance away! We admired the winged beauty with much respect, as he had given us the opportunity to regard him from so close. We then began our interpretive walk, exploring the brush-filled hills, the rocky coastline and smelling the occasional palo santo tree. We meandered along the trails, under the direction of our guide, for an hour and a half before returning to the beach. To our surprise, our buddy Mr. Hawk was still there! But he had moved down from his tree perch to investigate the strange blue tarp bag that was housing all of our life vests from the panga ride. We all felt so lucky to have witnessed a hawk in such close proximity, as we learned that these Galapagos Islands animals are more uncommon to see.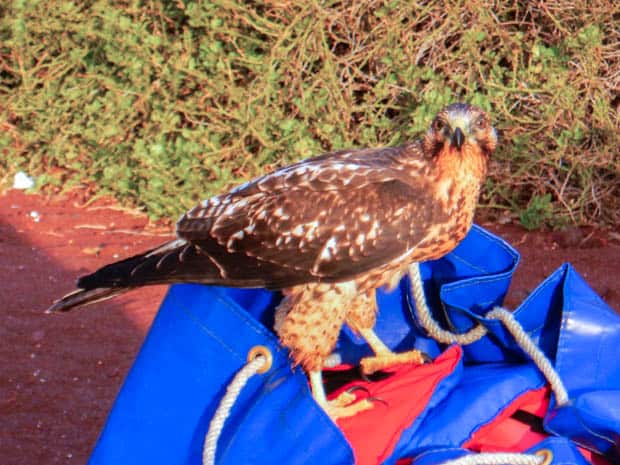 Snorkeling in the Galapagos Receives my Sea(l-ion) of Approval
We were given the opportunity to snorkel every single day, often multiple times a day. Some snorkeling was "shallow water," which meant entering gradually from the beach. Usually the afternoon snorkel was "deep water," which meant being driven on a panga out to a cliff or reef area that was only accessible by jumping off the panga, straight into the depths. I've always been an avid water-baby, so naturally I always looked forward to the deep-water snorkels.
These are the moments that travelers dream of when considering this locale.
It seemed like every time we got in the water to snorkel, it would out-do the previous time. There were a handful of really significant snorkeling moments on the trip—moments where we basked in the awe of the Galapagos because the animals came so close, or were so unaffected by our presence. These are the moments that travelers dream of when considering this locale. One such occasion began with a curious sea lion, who kept appearing around me, swimming in circles, making U-turns and coming back. She would swim straight toward my face, seemingly about to bump noses, until at the very last moment she would dive down and avert my nose. A playful game of chicken with the resident mama sea lion. I liked it. And I felt playful too! So I began to play back. The next time she came around I decided to dive down with her at the exact time she did. We came close to bumping noses once again and both plummeted towards the reef about 15 feet down. When we got to the bottom of the ocean floor we both paused and looked at each other. I'd like to think that her puppy brown eyes glimmered with appreciation, and if she could have spoken she would have said "Okay, you oddly shaped fellow sea lion… you're cool." It wasn't long after that her two pups came out of nowhere and joined us in an underwater tango. Our dance consisted of flips, twists, dives, and seemingly impending nose bumps. It was miraculous. Of all the unforgettable experiences I had while in Galapagos, that may have been the most remarkable for me.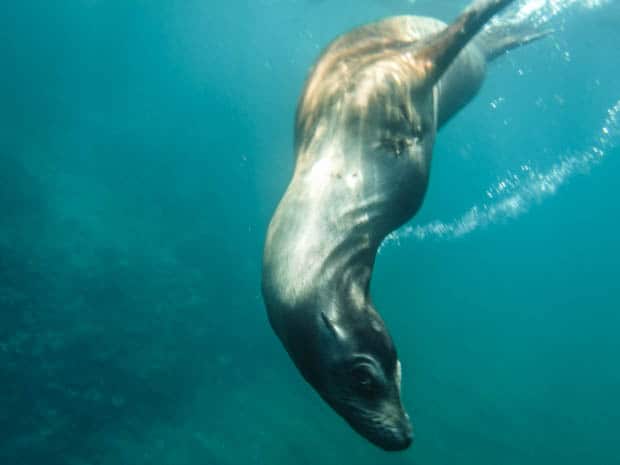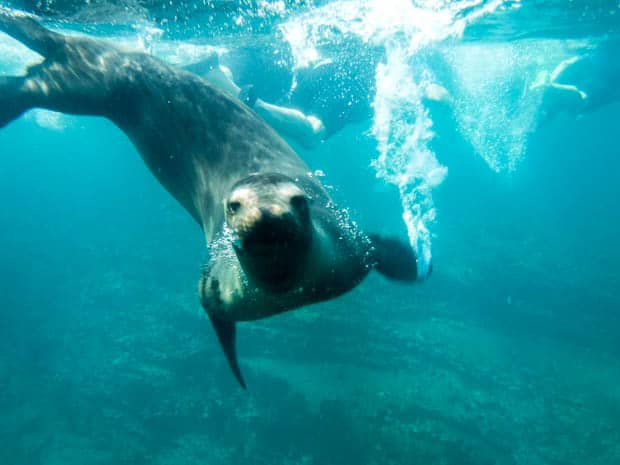 Iguana Pee or Turtle Blood? That Is the Question
Since the Galapagos National Park has strict guidelines that prohibit visitors from being on land after dark, it means that the evenings are spent exclusively on the ship. The Legend staff did a fantastic job of keeping the guests highly entertained during these idle periods. The first evening was a bit of a wash, since everyone was tired after the early-morning flight, and returned to their cabins relatively early. However, on night two, they held a trivia night, where each of the excursion groups faced off against one another in a relentless battle of brains and wit. The winning team (yours truly) received none other than a bottle of Champagne to celebrate their victory. The losing teams had to come up one at a time and dance like a Galapagos animal of the winning team's choice. I learned that night that even the docile, sunbathing marine iguana has some dance moves!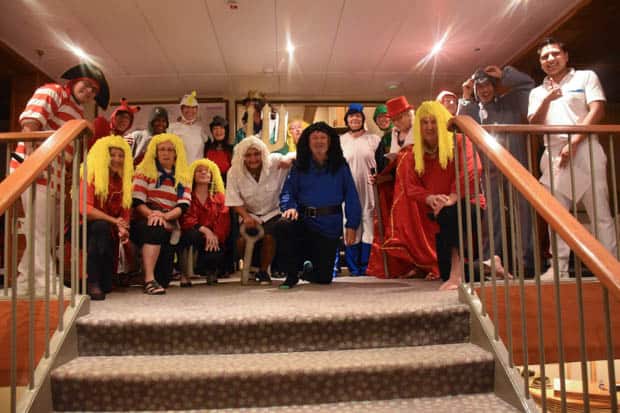 The following night the Legend staff threw King Neptune's Party, complete with costumes and guest participation. What a riot this was! Throughout the course of the cruise thus far, guests had silently signed up as a character in this play, which no one knew anything about. Saturday night was the culmination of all our talent. The plot line entailed a drunk captain, power-hungry oceanic gods, a menagerie of Galapagos creatures and the doomed consumption of turtle pee or iguana blood. Drinker's choice.
Reptilians of the Sea: More Galapagos Snorkeling Highlights
Okay, okay, I know I already went to town talking about how amazing snorkeling with sea lions was. And it was! But I can't leave out some of my other snorkeling highlights. I could write an entire other review about everything I saw underwater. On the fourth, and last full day, we had finally reached the hugely anticipated far western island of Fernandina. Did you ever see that Planet Earth clip of the racer snakes chasing the baby marine iguana? Yeah, that happened on THIS island. I had the distinct fortune of swimming among these prehistoric-looking dragons. Which I must say is a very different experience than watching them lazy and immobilized on the beach. Suddenly, when underwater, they swim with effortless agility. Their limbless locomotion propels them to algae-covered reefs to feed.
I could write an entire other review about everything I saw underwater.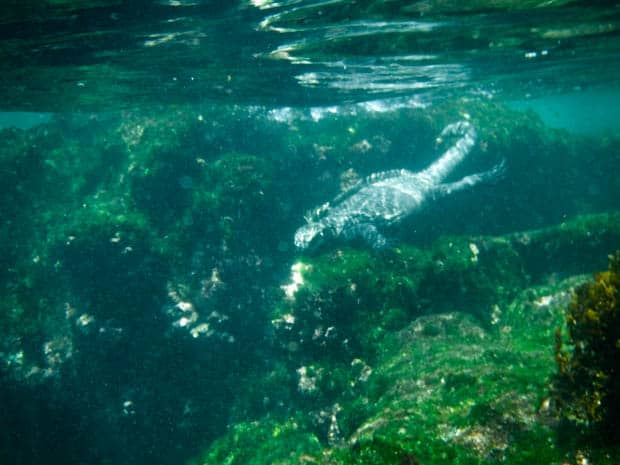 Later that afternoon, we had another chance for a deep-water snorkel. We were dropped off along some steep cliffs, where we were instructed to hug the shoreline and swim into a protected alcove to the end. We were not at all warned of what we were about to encounter. I refer to this place endearingly as "Sea Turtle Planet," because… well… it was just that: a bale, or turn, of turtles as they call it. There were at least 20-30 within sight at any given time, and the visibility wasn't even that great. Every time you stopped you would get surrounded by them, and the exit strategy would become a difficult task without touching one.
Gorgonzola, Pensacola… Mola Mola?!?
After Sea Turtle Planet, we were directed back onto the panga, which concluded our final snorkeling excursion. How sad. But wait! What is that fin in the distance? The entire panga is crooknecked, looking in the direction of the fin. The captain of the Legend (who was snorkeling with us and happened to be riding back on our panga) exclaimed, "mola mola!" with his finger pointed eagerly at the fin. It was the elusive sunfish! There had been muttered rumors of this fish throughout the entire cruise among staff and guests alike. Apparently, they are very rare to see.
It took me a minute to set pace with the fast, car-sized, disk-shaped creature.
Since I had my trusty underwater camera still in hand and ready to go, I asked if I could jump back in for one last snorkel. I got the green light and in I went! It took me a minute to set pace with the fast, car-sized, disk-shaped creature. I had to use every ounce of my kick, and even a single wind-milling arm to keep up. But I got my shot. Evidence of the mola mola!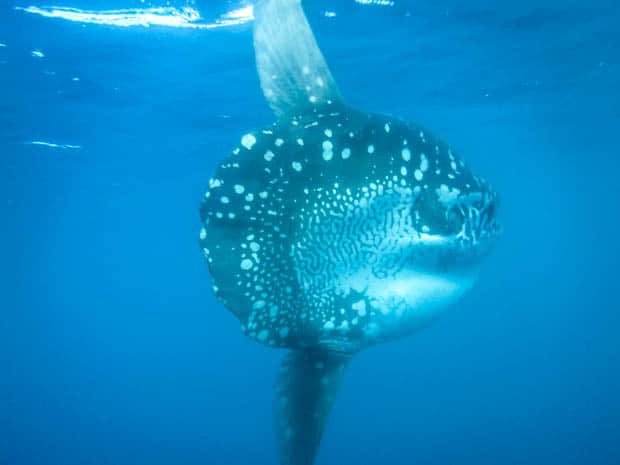 Sayonara to the Galapagos Legend
After our very last snorkel, we fired up the engine and set sail back toward Santa Cruz Island (a journey that would take us overnight). We made it just in time for a sunset cocktail with all the guests and the whole crew just as we were crossing the equator.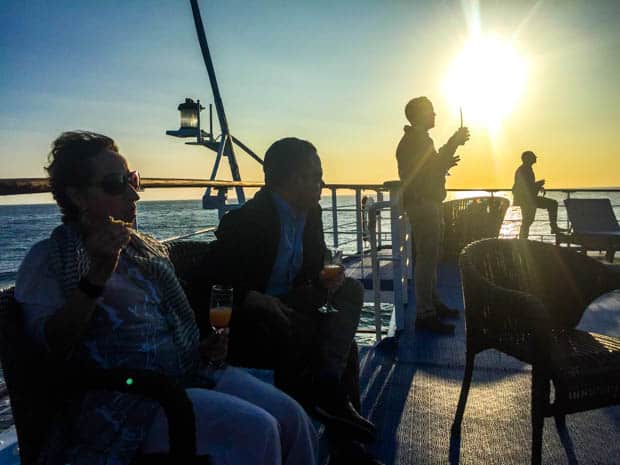 We toasted one another in satisfactory delight from all we had accomplished over the last several days. Still in front of us was a visit to the Santa Cruz Highlands, before I would branch off on my own independent travel on the islands. Just another day in the life… a very good life. The Legend created a trip, and memory, that I will cherish forever. Cheers to the Galapagos Islands!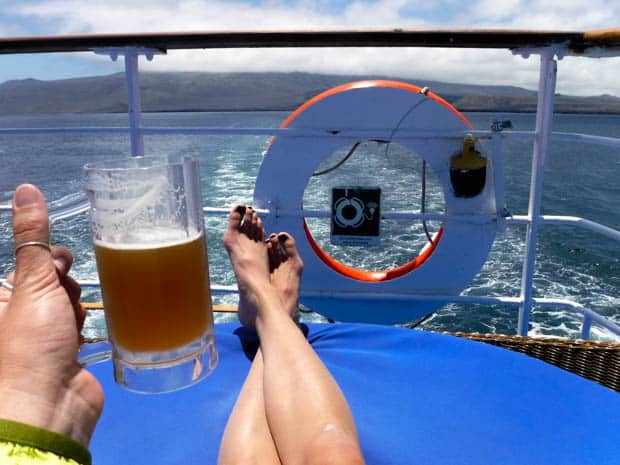 For more photos from this trip, including seals, blue-footed boobies and marine iguanas, view my Facebook album on AdventureSmith Explorations' Facebook page.
MORE GALAPAGOS RESOURCES:
Galapagos Cruises
Galapagos Cruise Deals
Galapagos Islands Yacht Charters
Galapagos Luxury Cruises
Galapagos Family Cruises
Galapagos Diving
How to Choose the Best Galapagos Cruise
Galapagos Island Hopping or Cruise?
Best Time to Visit Galapagos
How to Get to Galapagos
Galapagos Islands Animals
Galapagos Trips
Galapagos Tours
Galapagos Cruise Reviews
Galapagos Travel Guide
This Galapagos Legend cruise review was written by an AdventureSmith Explorations crew member. Read all Cruise Reviews for more trip reports, or contact one of our Adventure Specialists to learn more about these small ship cruises and wilderness adventures: 1-800-728-2875.