AdventureSmith's Chris Harter shares his experience on the 8-day Hawaiian Seascapes cruise aboard the 36-guest Safari Explorer.
We couldn't wait to begin exploring the islands of Hawaii, Maui, Molokai and Lana'i on this one of a kind active, small ship cruise through paradise.
Travel does not always go as planned. This might be stating the obvious, but as a travel professional one expects that the years of accrued knowledge, tried and true tricks of the trade and preparations made to prevent the occasional bumps in the road would help serve to insulate you from having to experience major delays or set backs in your travel plans. Yet there my wife and I were, faced with canceled flights for our day early arrival into Kona, Hawaii for the start of our eight day active expedition cruise aboard the Safari Explorer. Not only were we not arriving the day before our cruise, we were now faced with arriving well after our scheduled afternoon embarkation, and fighting a snowstorm and closed highway to board a flight we weren't entirely confident would accommodate a boarding on our vessel at all. After some frantic calls, creative driving and a break in the weather we both breathed a collective sigh of relief as we made our way across the Pacific on our five hour flight to Hawaii. Fortunately for us, the captain of our vessel was able to accommodate our late arrival by sending a zodiac and driver for our private escort to where our vessel was anchored and waiting for us just off the Kona coast.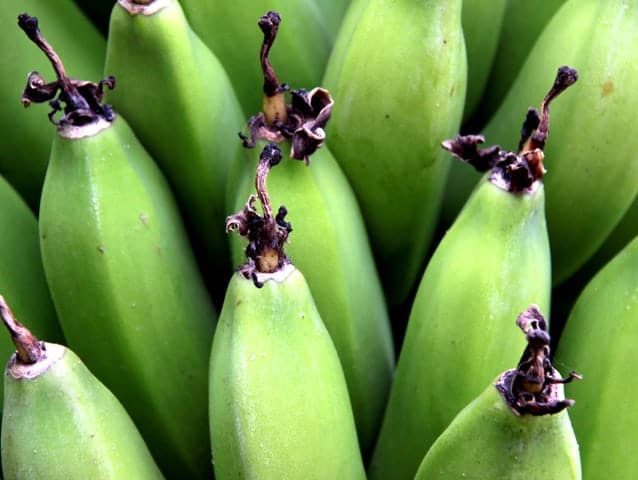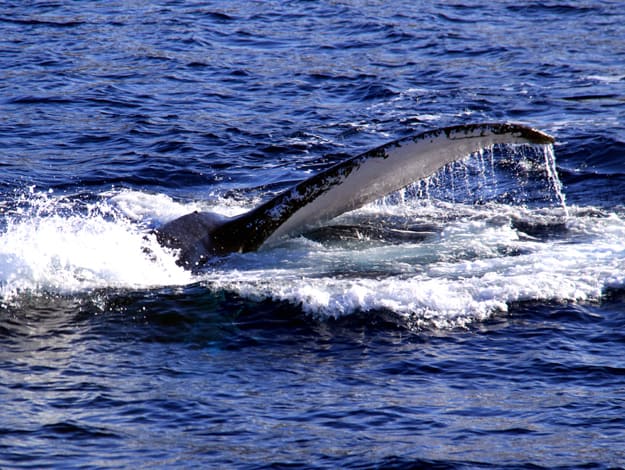 As we greeted the next day it became immediately clear that our efforts from the two previous days were well worth all of the trouble. The 36-passenger Safari Explorer with her comfortable amenities and staterooms, inspired food service, accommodating crew and all the fun activity toys on board made it abundantly clear that this was going to be an absolutely incredible week. Having left a snow storm in Lake Tahoe, our excitement was palpable. We couldn't wait to begin exploring the islands of Hawaii, Maui, Molokai and Lana'i on this one of a kind active, small ship cruise through paradise.

Our very first morning aboard we were greeted by a pod of curious pilot whales on our way to a snorkel excursion off of Honomalino Point on the big island, giving us a taste of the prolific sea life surrounding the Hawaiian islands. Approaching the reef by zodiac our attention was torn between the incredible clarity of these deep azure waters and the dramatic black lava flows that created this stark, new peninsula just a few thousand of years ago. Once in the water the variety of corals and fish did not disappoint. A riot of color was swimming just below us with parrot fish, pencil urchins, trigger fish, spotted eels, stick fish and even one feeding octopus. With excited passengers retelling their snorkel experiences over an incredible lunch we made our way along the big island coast to the sea cliffs of Opihi Hale for our first kayaking excursion. Before arriving at our destination once again the islands demonstrated their diversity with a group of hammerhead sharks circling off the bow of the ship. Welcomed wildlife diversions such as these were to be a theme throughout our voyage. As soon as we began loading our kayaks it became clear why this area was chosen for our kayaking activity. We paddled along side ancient red and black volcanic formations that took form of basalt columns, lava tubes that formed deep grottos, archways and even one tunnel that allowed passage from one end of a peninsula to the other. The variety of formations we encountered made for a very dynamic paddling experience. Once back aboard the Safari Explorer we were greeted with refreshments on the stern of the vessel followed by happy hour appetizers in the lounge. These welcome back drinks and pu-pus (appetizers) were to be a theme as well throughout our voyage. That night, as with all others, we dined on gourmet offerings catering to fish, meat and vegetarian palates, all paired thoughtfully with wonderful wines.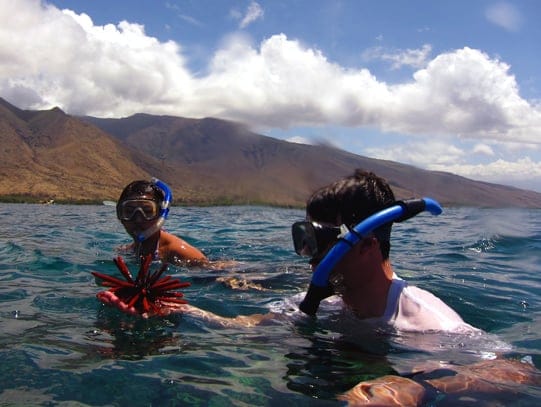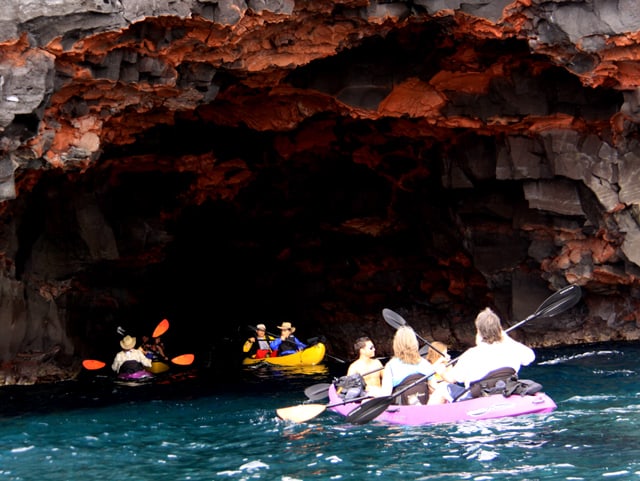 Our second full day aboard the Safari began with an exciting zodiac cruise with Captain Zodiac and their fleet of 300 horsepower inflatables searching for marine life, dropping anchor for a snorkel at a rarely visited coral garden and a lesson in geology and Hawaiian lore along Hawaii's southwestern shore. Once again the wildlife did not disappoint with spinner dolphins living up to their name providing an aerial show in every direction. After an incredible snorkel at the impressive coral gardens of Kaelakekua Bay we made our way back along the nooks and crannies of the impressive shoreline noting some of the more impressive geologic features and sites of reverence and significance to the peoples of Hawaii. Once back to the vessel we shuttled ashore to the town of Kona for a guided tour of Hulehe'e Palace, a residence of Hawaiian royalty during colonial times steeped with history during Hawaii's age of rapid change. The highlight of the day for many however was to occur after the sun set for our night snorkel at Garden Eel cove to witness an incredible sight, a massive feast of plankton for the areas giant Manta Ray population. Floating in the cove with illuminated surfboards we waited patiently for the plankton to arrive, hopeful that these filter feeding giants would not be far behind. Not ten minutes passed before 15 or more manta rays began their loops and rolls directly below us, mouths agape, feeding on the thick clouds of plankton that were drawn to our lights. Excited yells and gurgles were heard under water from our fellow snorkelers as some of the manta rays came within inches of us, some even touching us briefly with their massive wings. The profound experience and ensuing stories at dinner that evening was not something that any of us would soon forget. For me personally, it was one of the most memorable and magical wildlife encounters of my life.
Later in the week we all had the great pleasure of visiting Molokai, one of the less frequented islands of the Hawaiian chain boasting only one hotel and allowing only one vessel to be docked at her port, the Safari Explorer. Our first day ashore we were afforded two options, tour some of the farms that make this island the breadbasket of Hawaii or visit Father Damien's leper colony settlement at the town of Kalaupa'a accessed by the same sheer, vertical cliffs that helped keep this area virtually inaccessible by land for many years. We opted for the dramatic hike to the infamous leper colony. Although arduous, the views from the top and bottom of the cliffs were spectacular. That same evening we all enjoyed a rare and special treat of an authentic Pa'ina dinner at the Molokai museum, complete with traditional hula dancing and music This rare and precious glimpse into the heart of Hawaiian culture was a gift to all of those aboard, and certainly the privilege and honor to be allowed ashore on this seldom visited island was not lost on any of us. The second day on Molokai provided an amazing hike into the Halawa Valley, widely regarded as the first settlement in the Hawaiian island group. Here we walked through ancient taro ponds, learned of local flora and fauna that helped sustain the earliest settlers and even managed to swim in a brisk tropical waterfall with local families and their children. This was a side of Hawaii that even few Hawaiians get to see!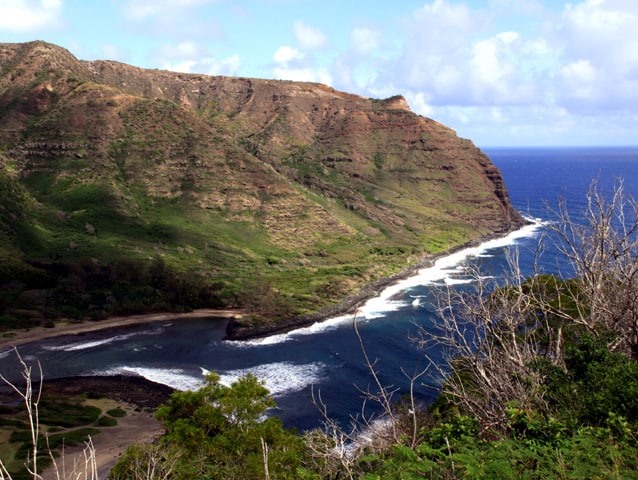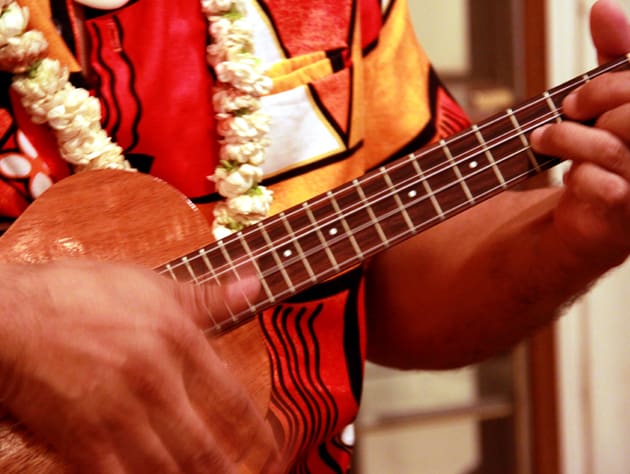 Days aboard the Safari Explorer progressed throughout the week in similar fashion with a perfect blend of adventure, activity, wildlife and culture, all the while being pampered by the incredible crew on our luxurious floating home base. With the Safari Explorer spending the months of October through April in Hawaii, this trip is an ideal winter getaway for northern hemisphere travelers. Hawaii could not have been more beautiful, and it certainly lived up to its reputation as an active water playground. This was my first trip to Hawaii, and I'm sure it won't be my last! Give us a call to discuss why our Hawaiian Seascapes itinerary is the perfect winter getaway.
View more Hawaiian Seascapes images on my Facebook album.
This Hawaiian Islands cruise review was written by an AdventureSmith Explorations crew member. Read all AdventureSmith's cruise reviews for more trip reports, or contact one of our Adventure Specialists to learn more about these small ship cruises and wilderness adventures: 1-800-728-2875.