Seaman Journey Galapagos reviews from our expert staff and client travelers. Find a detailed account of the Seaman Journey's cabins, food and highlights from AdventureSmith Specialist Lauren Pilholski, followed by testimonials from our passengers who've been aboard Seaman Journey Galapagos cruises.
ON THIS PAGE – Seaman Journey Galapagos Reviews:
My Favorite Places on the Ship
Tips for Choosing a Cabin
The Helpful Crew
What Activities to Expect
A Review of the Food
Seaman Journey Compared to Other Catamarans
More Seaman Journey Reviews & Comments
I've spent a lot of time at sea on ships, but this was my first experience on one as small as 16 guests. The intimate atmosphere of this catamaran coupled with the efficiency of activities off the ship was the perfect way to experience the Galapagos and maximize my time with a short 5-day cruise.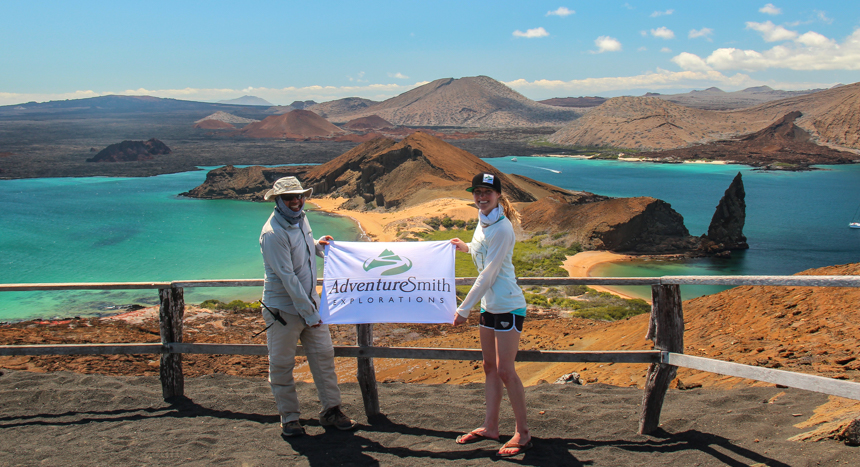 I immediately felt at home on the Seaman Journey, thanks to the welcoming crew and the casual ambiance. The ship was recently remodeled and the soft and simple touches inside allowed the gorgeous views from the widespread panoramic windows to steal the show.
My Favorite Places on the Ship
The catamaran felt much larger than I expected. The cabins have more than enough space and there are plenty of public areas around the ship to spread out and enjoy. I found that I rarely spent time inside my cabin and instead spent most of my time on the outside decks enjoying the breeze and good weather, even at night.
During the day, my favorite spot was the top sun deck, where you can choose from a number of lounge chairs in the full sun or under the shade. In the evening, I still spent my time outside, but preferred the aft outdoor bar and lounge on the upper deck, which is more protected from the wind as we cruised to our next destination. I was surprised that there were quite a few times while on the outdoor decks I felt like I was the only guest on a private catamaran.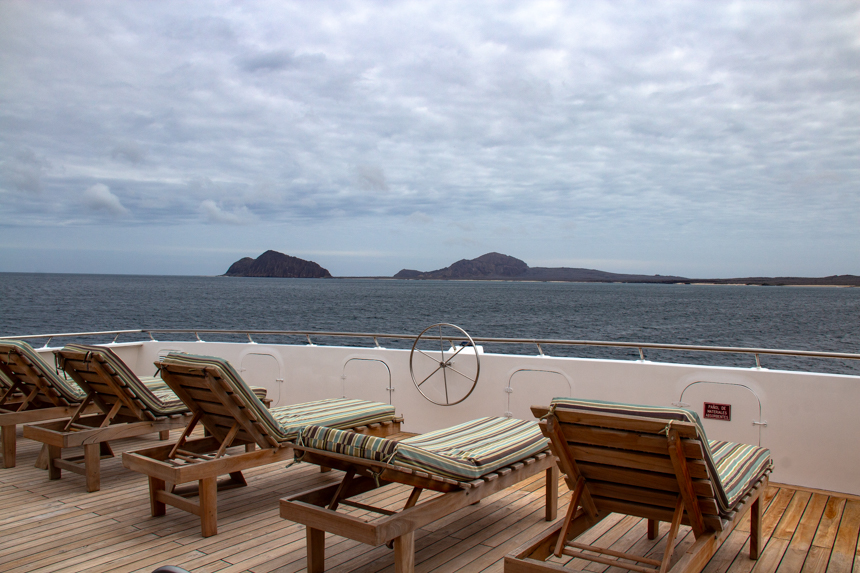 Guests can also access the bow for more outdoor space and an excellent viewing platform. The only time I saw people on the bow was when a pod of dolphins were swimming alongside as we were cruising. Everyone had a prime spot against the railing of the bow watching the dolphins directly below us.
My fellow travelers seemed to enjoy spending their time in the indoor lounge and saloon and lingering in the dining room after meals. As a solo traveler, I appreciated the long communal dining room table to easily get to know my shipmates over meals. The indoor lounge and dining room have panoramic windows, so you never feel like you are missing out on the scenery and wildlife watching from inside. Each evening, the entire group was able to comfortably gather on the sofas in the lounge to recap the day and prep for the next day's adventure with our guide.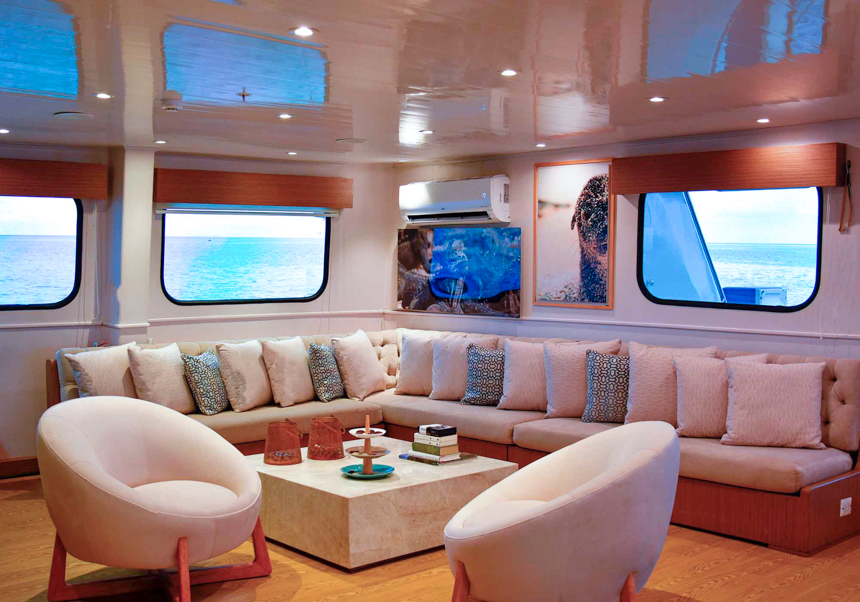 A Review of My Cabin & Tips for Choosing Yours
I stayed in an Upper Deck Suite on my cruise and was very happy to have the easy outdoor access, with my cabin door opening directly to the outside deck. It was exciting to wake up each morning and check out the great view of where we were about to go explore. There were also many times I spotted wildlife from my cabin window and immediately grabbed my camera to step outside and take pictures. People were rarely outside on the deck in front of my cabin window, but if someone happened to walk by my window during the day, they would not be able to see inside my cabin because the window is heavily tinted. In the evening, there are blinds to pull down for privacy, so I was never concerned.
Alternatively, the Standard Ocean View cabins on the Main Deck open to an interior hallway, with a privacy door separating the cabin hallway from the main lounge and dining room.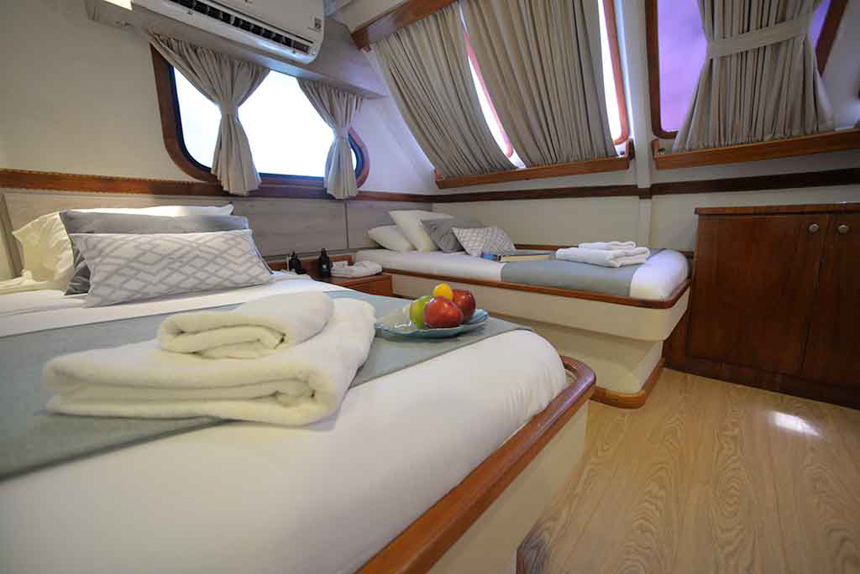 Both the Standard Ocean View twin cabins and the Upper Deck Suites have more than enough space for two people and all their belongings. There is ample storage in two closets, numerous hooks on the walls, plus bedside tables with storage. All cabins also have a powerful remote-controlled air-conditioning unit, but I never felt the need to use it on my cruise in December. The cabin doors do not lock from the outside, but there is a safe to store any valuables. All cabins also have robes, slippers, daily clean towels, hand soap, body wash and shampoo (no conditioner).
Other than the locations and bed configurations, there are a few other items to note between the different cabins. Of the 6 Main Deck twin cabins, four are identical (#3-6), while two have a slightly different layout (#1-2). Cabins 1 & 2 are located at the front of the ship and have two angled walls with a total of 5 windows (compared to one window in all other cabins). However, since cabins 1 & 2 are closest to the bow, they experience the most noise from the anchor.
Another difference between the cabin categories is that the Main Deck twin cabins have much larger bathrooms than the Upper Deck Suites, with larger showers and more counter space. The cabin size of the Upper Deck Suites are slightly larger in general though, and therefore are able to accommodate a third guest (a child on a sofa bed).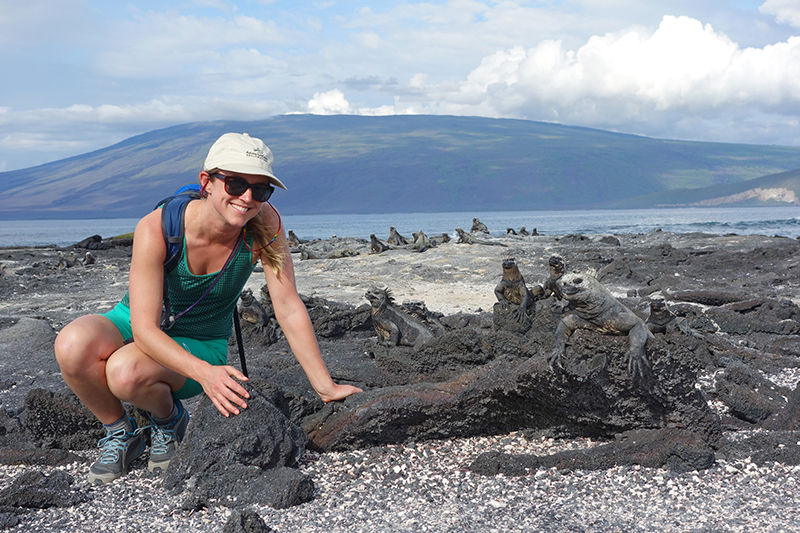 CONNECT WITH AN EXPERT
You have questions.
We have answers.
A Genuinely Helpful Crew
The crew made sure every single guest was taken care of and they were available if you needed anything, but they were never over the top. With a small ship and crew, each member wears many hats and it's common to see them constantly rotating – you might see the chef helping with housekeeping duties or the bartender driving the panga and acting as a second hand to the main guide while on excursions.
There is one certified national park guide onboard Seaman Journey, with a maximum group size of 16. For all excursions on land and in the water, there was always at least one other crew member who joined our guide to offer extra help in answering questions or helping with different ability levels amongst the group. Thoughtful touches such as bringing towels for us to wipe our feet after a wet landing before putting our shoes on and carrying extra water bottles in case anyone ran out while on an excursion was much appreciated.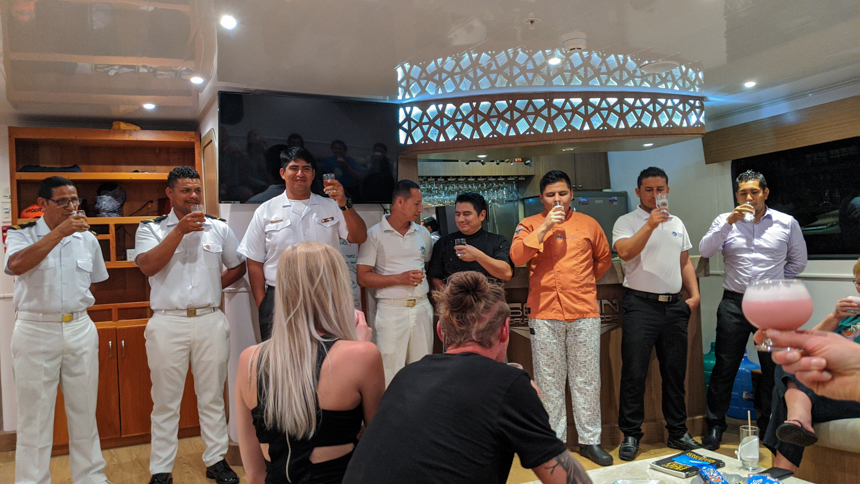 All the crew members, including the Captain, were always at the stern of the ship to welcome us back from each excursion and to lend a helping hand from the panga to the ship. While the crew members were busy, they were always available and happy to answer any questions. You could tell they genuinely wanted each guest to have a wonderful time.
For example, there were two guests on my cruise who could swim but had never snorkeled before and had no intentions of getting in the water. While each activity is optional, it's recommended to try snorkeling at least once in the Galapagos since the underwater life is a huge aspect of the experience. The crew quietly encouraged these guests to try snorkeling and made them feel safe and comfortable with life jackets, a life ring for extra support, a crew member swimming right beside them, and the assurance of another crew member following closely behind in the panga to swoop them out of the water within a moment's notice. These guests were so grateful and elated with their snorkeling adventure they couldn't stop talking about it.
What Activities to Expect
The excursions were plentiful on my 5-day cruise and every single activity ran smoothly. I was impressed with the efficiency of getting all guests ashore at the same time. Having two pangas allowed all 16 guests to shuttle ashore together, so we were never waiting.
Having a briefing with the guide each evening was very helpful in getting the group prepared for each activity on time. During the nightly briefing, our guide went over in detail what we should expect for the next day's activities and weather, so we knew exactly how to dress and what to bring. We were informed if it would be a wet or dry landing and we even saw pictures of the terrain that we would be hiking so we could see if it was rocky and to wear shoes instead of sandals or bring walking sticks if needed.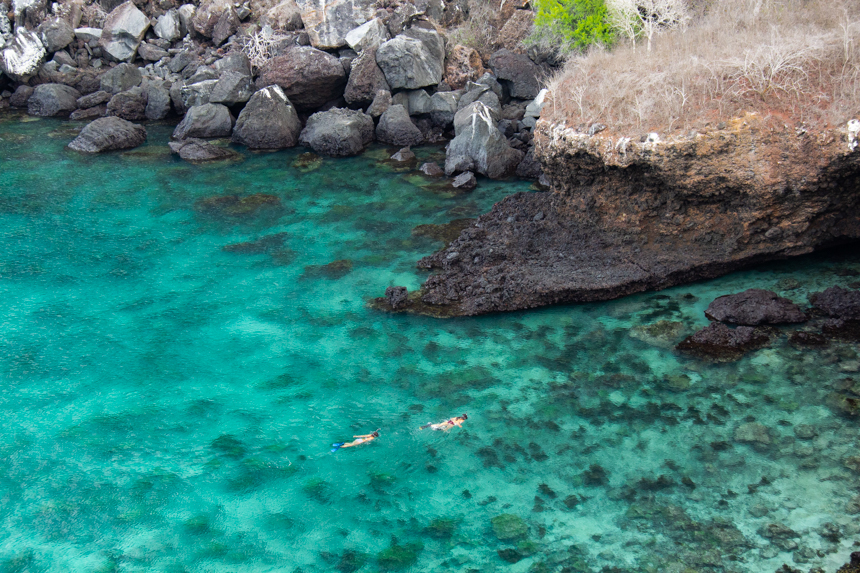 For the three full days on the ship, we had excursions at two different landing sites each day. The amount of time off the ship was more than we all expected. I never felt rushed on the excursions and there was always extra time to stroll away on my own and take pictures. It often felt like I had the entire island to myself, despite being with a guided group.
Although there was only one National Park guide, there was always another crew member with our group to help. While on the longest hike of our cruise, the extra crew member was able to take several members of the group who were ready to return to the ship, while the remainder of the group stayed with the main guide and continued on. Another time, the crew members were assisting guests who needed an extra hand on the rocky portions of a trail. Everyone was well taken care of and was able to participate in as much of the activities as they wanted.
The other guests on my ship were surprised at how often snorkeling was offered. They felt that the amount of snorkeling was not properly advertised. In addition to the two excursions on land each day, snorkeling was also offered at least once from the ship each day. The crew were able to cater to all levels of snorkeling, including first timers. The guests comfortable with deep water could jump in directly from the ship, while those who preferred to go in shallower water close to the shoreline were always able to hop in the pangas for the quick transfer.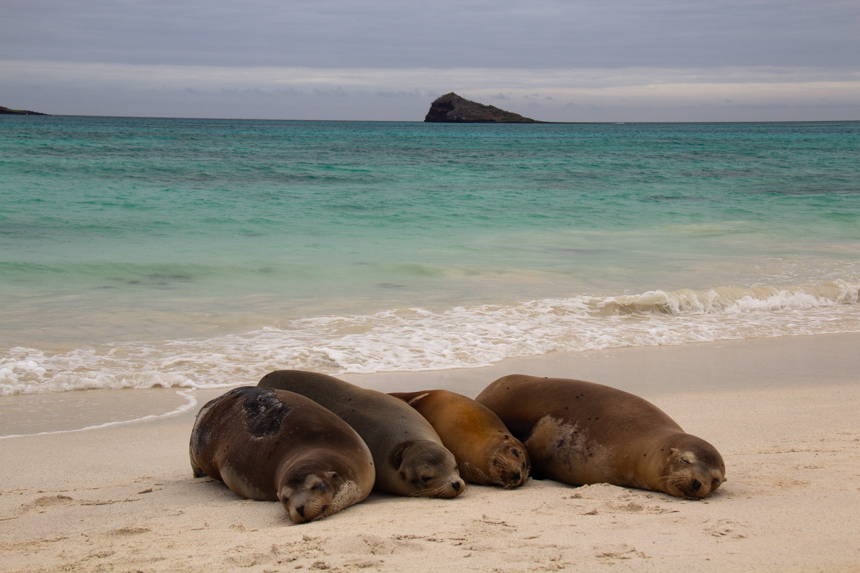 When snorkeling from the ship was offered, it was also usually possible to kayak instead. Most of the guests in my group preferred snorkeling over kayaking, but I did witness the kayaks in use at least once or twice on my short cruise. The Seaman Journey is equipped with 4 double sit-on-top kayaks, which is enough for half the group to go kayaking at a time and was never a problem for us.
Although I wish I was able to spend more time on the ship, I was satisfied with the number and variety of excursions. In fact, I was slightly exhausted by the end of the cruise, because I did not want to miss out on anything. On that note, I recommend renting a wetsuit so that you can stay in the water as long as possible when snorkeling! By the end of the cruise, several guests who were on for the full 15 days even skipped a few of the activities in order to relax and have the ship to themselves. No one needs to be worried about not having enough to do while on a Galapagos cruise!
My Review of the Meals Aboard Seaman Journey
The variety and the quality of food was always a discussion topic at each meal while onboard Seaman Journey. Those who had been on for a full 15 days even commented that the meals were never repeated. Each meal (always buffet style) had plenty of fresh local fruits and vegetables, along with meat, seafood, and vegetarian options. It was a pleasant mix, with some traditional Ecuadorian dishes, as well as nights including sushi and pizza. I learned that the owners of Seaman Journey live on San Cristobal Island and frequently come visit the ship on embarkation day, bringing fresh produce from their garden for the chef each time.
My favorite meal on the cruise was when the crew had the outdoor dining table on the Upper Deck set up with an elaborate display after we returned from an afternoon excursion. This only occurred once on my 5-day cruise, but those who were on longer experienced it several times.
After each excursion, we were welcomed back to the ship with warm towels, a platter of hors d'oeuvres, and a specialty beverage. Although I never went hungry on the ship, I was always eager to see what the appetizer would be after returning from an excursion.
VIEW ALL SEAMAN JOURNEY CRUISES
See the full list of itineraries aboard this ship
Comparing the Seaman Journey to Other Catamarans
Compared to the other Galapagos catamarans offered by AdventureSmith, the Seaman Journey is not the newest, but it is popular for certain reasons. Some distinctions are that it does not have a Jacuzzi, stand-up paddleboards, a cruise director, private balconies, configurable beds or any dedicated single cabins for odd groups. You have to pay extra to rent wetsuits on Seaman Journey, and some other luxury ships have a higher guide-to-guest ratio. But the other catamaran options cost $300 to $500 more per person/day. So if you want a top-notch reliable ship but don't need all the extra bells and whistles, the Seaman Journey is a great choice.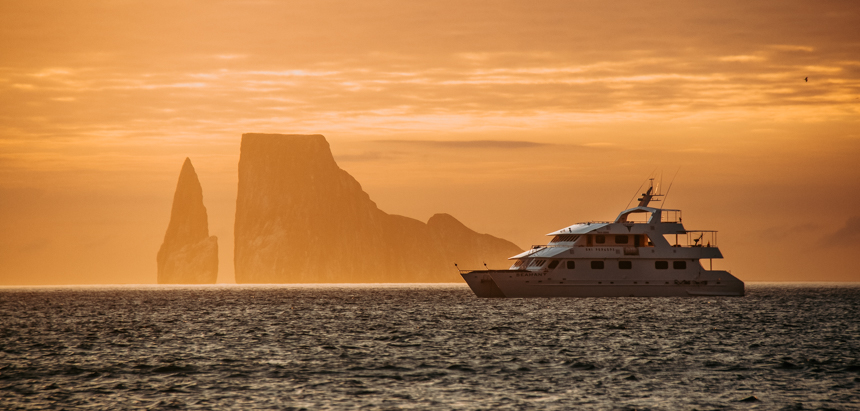 MORE GALAPAGOS RESOURCES:
Galapagos Cruises
Galapagos Cruise Deals
Galapagos Islands Yacht Charters
Galapagos Luxury Cruises
Galapagos Family Cruises
Galapagos Diving
Galapagos Island Hopping or Cruise?
Best Time to Visit Galapagos
How to Get to Galapagos
Galapagos Islands Animals
Galapagos Trips
Galapagos Land Tours
Galapagos Cruise Reviews
Galapagos Travel Guide
For more photos from this cruise aboard Seaman Journey view my Facebook album on AdventureSmith Explorations' Facebook page.
Read more Galapagos cruise reviews, comment with your own Seaman Journey Galapagos reviews or view testimonials from our traveling clients who've been aboard below.