Lapa Rios Eco Lodge
Lapa Rios Eco Lodge, a National Geographic Unique Lodge of the World, is located on Costa Rica's beautiful Osa Peninsula in the southern part of the country near Panama. Set among a private 1,000-acre rainforest reserve, the property overlooks the point at which the Pacific Ocean meets the Golfo Dulce.

Nature trails for bird and wildlife encounters, numerous guided activities, massage, yoga and an eco-friendly salt-based pool offering stunning panoramic views of the Pacific Ocean are what make this hidden gem a true luxury escape. Private bungalows dot the property's hillside, punctuated by a dining area with viewpoint canopy rooftop. Climb the spiral wooden staircase for sweeping 360-degree views over the rainforest, ocean, gulf and nearby beaches and farms.
Sustainability at Lapa Rios Lodge
Because Lapa Rios reserve is nearby the Osa Peninsula's Corcovado National Park, it contributes to the large swaths of land that are home to 2.5% of the world's biodiversity and thousands of trees, plants, birds, insects and mammals. Their successful model in sustainable tourism is helping to protect Costa Rica's biodiversity and is encouraging new skills and professional opportunities to the remote communities of the Osa Peninsula.

Additionally, Lapa Rios works with local nonprofit Earth Equilibrium to build school classrooms, dining rooms and playgrounds. They provide school supplies and have installed water pumps and solar panels to supply clean water and electricity in local communities. A new conservation easement ensures that the property's 1,000 acres, including old-growth primary forest, will be preserved in perpetuity.
Nat Geo Unique Lodges of the World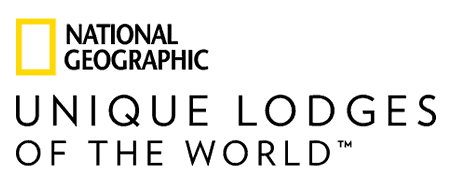 Lapa Rios Lodge is on National Geographic's list of Unique Lodges of the World because it was founded with the goal of preserving one of Costa Rica's most unspoiled wildernesses and engaging in local communities to encourage economic opportunities that are directly tied to the conservation of the rainforest. When former Peace Corps volunteers John and Karen Lewis opened Lapa Rios Lodge in 1993, they were pioneers in the concept of environmentally friendly luxury vacations. They have been demonstrating that ecotourism and upscale rainforest adventures are the best way to celebrate and preserve Costa Rica's biodiversity.
Getting to Lapa Rios Lodge
Access to Lapa Rios Lodge is from the airstrip in Puerto Jimenez, 12 miles away, which is a short 50-minute flight from Costa Rica's San Jose Juan Santamaria International Airport (SJO). Driving from SJO to Lapa Rios Eco Lodge takes about 7 hours.
Bungalows at Lapa Rios Lodge
17 luxury reed-thatched bungalows are nestled along the reserve's ridge, each with open-air screens that allow you to experience the sounds, sights and smells of the rainforest and the ocean. All bungalows have ceiling fans (no air-conditioning) and offer stunning views of the Pacific Ocean or Golfo Dulce from your bed or spacious private deck with outdoor shower.
Other inclusions and amenities are king or queen beds with 400-count organic cotton sheets, hammock and lounge chairs on your deck, 110-volt electrical outlets, safety box, complimentary local coffee delivered to your bungalow each morning, and cleaning and turn-down service. Note that bungalows do not include internet or WiFi, phones, TV, radios, hair dryers or room service. And as the bungalows are situated along a ridge climbing up through the rainforest, getting to the main lodge requires uphill walking (from the lowest bungalow to the dining area is roughly 200 steps).