AdventureSmith Explorations' Lis Larson, our resident llama whisperer, reviews her Sacred Valley & Lares Adventure to Machu Picchu, a 7-day culture-trek in Peru. Read on for her expert review and photos.

Our first few miles of descent from Chinchero wound us through eucalyptus groves and past potato fields flanking a small creek. The light drizzle of rain had just scattered. I rounded a corner and there it was: my first peek of Peru's Sacred Valley, a small inverted triangle of brilliant green rising from the muted hillsides of the Andes. My Sacred Valley & Adventure to Machu Picchu had just begun, but this first glimpse set the tone for the next week: remote, unique adventuring. Never have I been on a guided group tour so immersive and exploratory.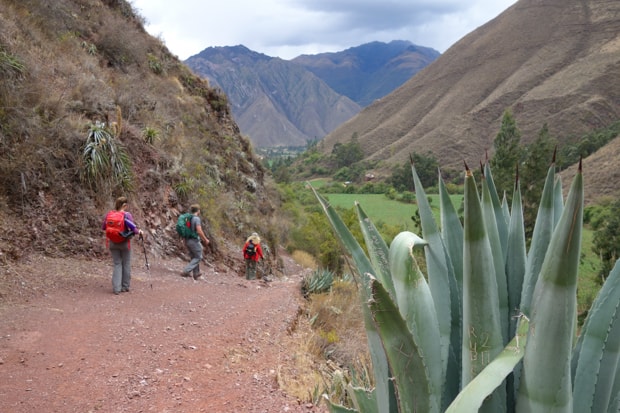 There are thousands of kilometers of Inca trails, and on the Lares Adventure you get to sample some of these ancient pathways without the crowds (or the camping).
While the popular 26-mile "Inca Trail" is what most people think of when they hear of traveling to Machu Picchu, there are thousands of kilometers of Inca trails throughout the region. On the Lares Adventure you get to sample some of these ancient pathways without the crowds (or the camping). On our first day we hiked such an off-the-beaten-path Inca trail, from the archeological site in Chinchero to the small town of Urquillos. I loved this introduction to the fertile Sacred Valley, which runs roughly 62 miles along the Urubamba River from Pisaq to Machu Picchu, as we were able to witness the terrain change over 5 miles. On our 2,725-foot descent, agave and various cacti hugged the dry hillside trail down to the more lush valley. We didn't pass a single other hiker. In Urquillos it was a fun change of scenery to go from the solitude of the trail to the bustle of the small village and see children walking home from school, old men carrying feed home on their backs, the occasional tuk-tuk passing on the dirt road, chickens free ranging in yards and dogs on every stoop.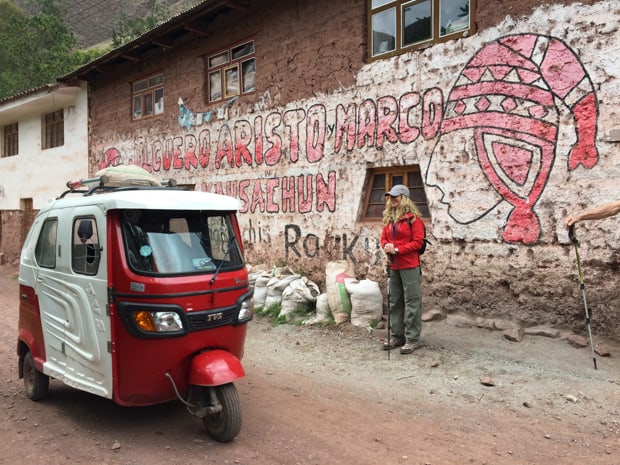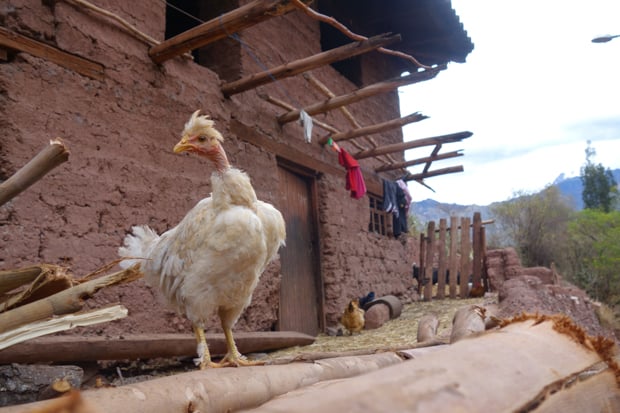 Our van drivers met us at the town's cathedral, and a 30-minute drive later we had our introduction to the Mountain Lodges of Peru experience: custom-built lodges tucked in remote villages so you can stay in top comfort on your trek. Lamay Lodge, a short drive from Urquillos, is the first accommodation on the Lares Adventure. Greeting us were staff with warm towels, hot drinks and a pair of llamas grazing in the back courtyard complete with a hot tub. Eucalyptus hiking poles with traditional textile handgrips were piled in a basket at the door to add a little extra stability to your treks.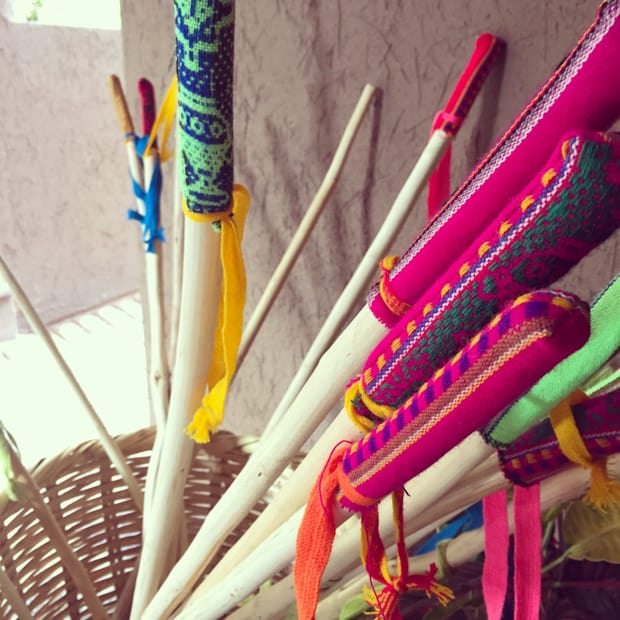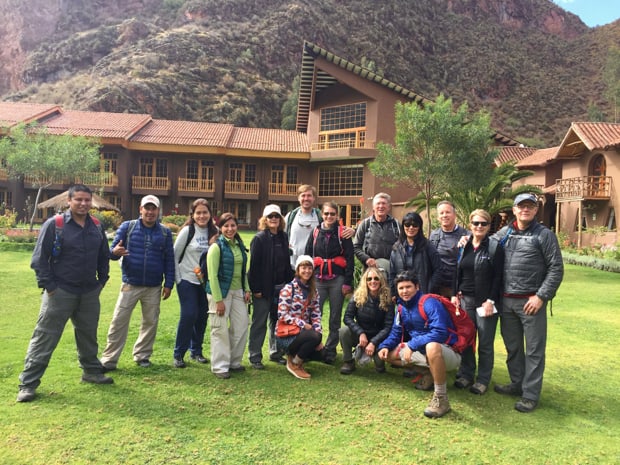 Huacahuasi Lodge was built in partnership with the community so that they have a stake in the tourism.
Our second lodge of the trip, in Huacahuasi, was even more off the beaten track, accessed by a long, dirt, one-lane road up a mountain. Our van often had to stop to let farmers with their horses pass, and some sections were so rough you could see why this trip doesn't run in the rainy-season months of January and February. Huacahuasi Lodge is stunning in its setting and design and is well worth the ride or hike to get there; depending on your activity choice, you can hike in or out or be driven to/from the lodge). Here, a few extra amenities stand out, such as Jacuzzis on private balconies in each room, radiant heated floors and high-ceiling window walls in the common room. Being the only lodge in this remote village, the property is staffed by locals and was built in partnership with the community so that they have a stake in the tourism. My guide informed us that this year alone 18,000 soles (over $5,000 USD) was given to the Huacahuasi community to use on education.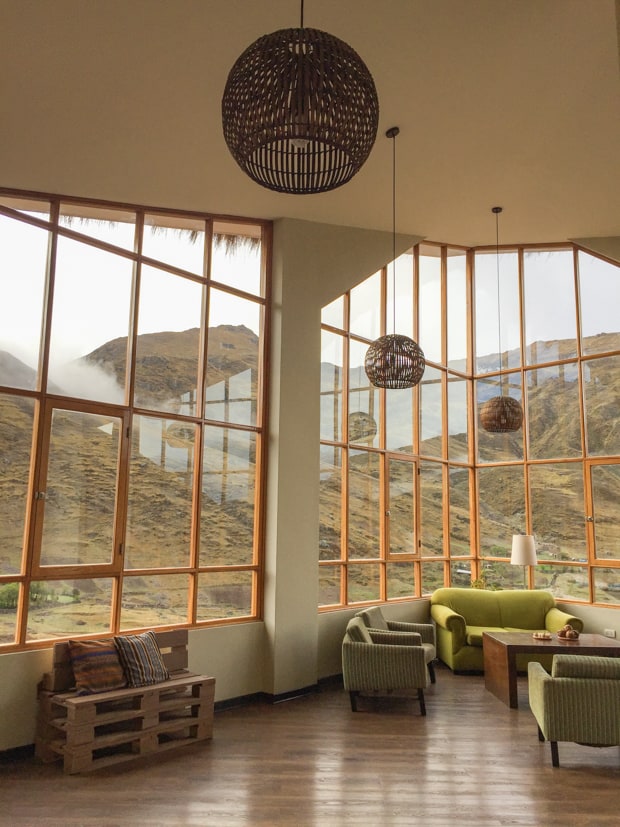 Each morning we could choose from assorted breads and Andean cereals with yogurt from the breakfast bar or order a custom hot breakfast. A build-your-own snack bar was also in the lobby at the start of each day so we could assemble trail mixes along with other goodies into a reusable canvas snack bag. Lunch was typically served out in the field, either by box lunch (which varied from sandwiches to chicken/quinoa salads) or a fully plated and served hot meal under a tent. The tent lunch option was a big highlight of the trip as some days involved long mileage, sometimes in rainy conditions, and we would have a warm, dry refuge to refuel. Along with the makeshift tented "dining room" with plastic table and chairs, there was always a place to store gear as well as a separate tent for the cook and a mini tent with a dry toilet (pictured below). A unique feature of this trek is that the same chef travels with you lodge to lodge throughout the trip, and uses mules to hike into the remote locations to set up these lunch camps. Quite the impressive operation!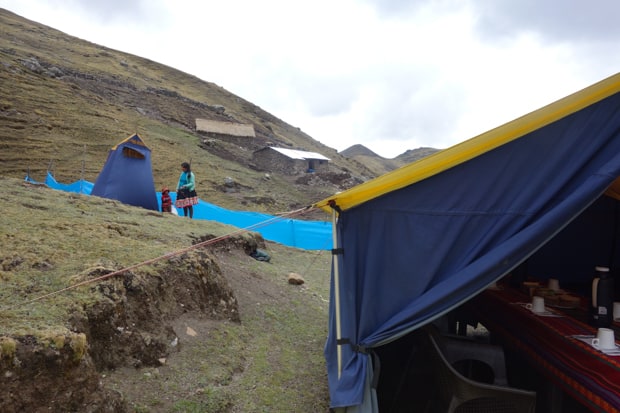 Hike options each day varied from as little as 3 miles on gradual terrain up to an 8-mile day ascending 2,250 feet and descending another 2,211. Mountain passes ranged from 12,595 to 14,646 feet. One of my favorite routes was the descent from Viacha to the Pisaq Archeological Complex—such a unique experience to arrive to the site from the mountain above it. The bird's-eye views of the terraces were incredible, plus we got to pass a dozen or so children on their ascent home from school.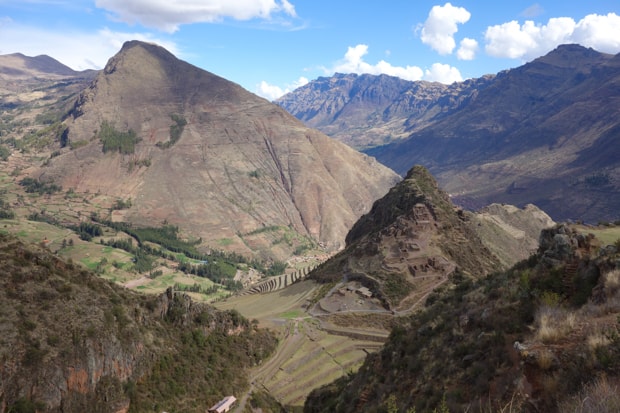 I especially loved the hiking on the Lares Adventure because of all the llamas and alpacas. Due to the fact that we were on remote farmland, and not established trails used by other tourists, our routes were very "real" in this regard. We were alone on the trail except for passing the occassional sheep/llama herder or farm family who would run out to set up a mini shop on a blanket when they saw us coming. Be sure to pack soles in your daypack to take advantage of these opportunities to buy handicrafts on the fly. There were multiple times I wished I had exchanged more dollars into soles, but my guide was nice enough to back me up with a loan.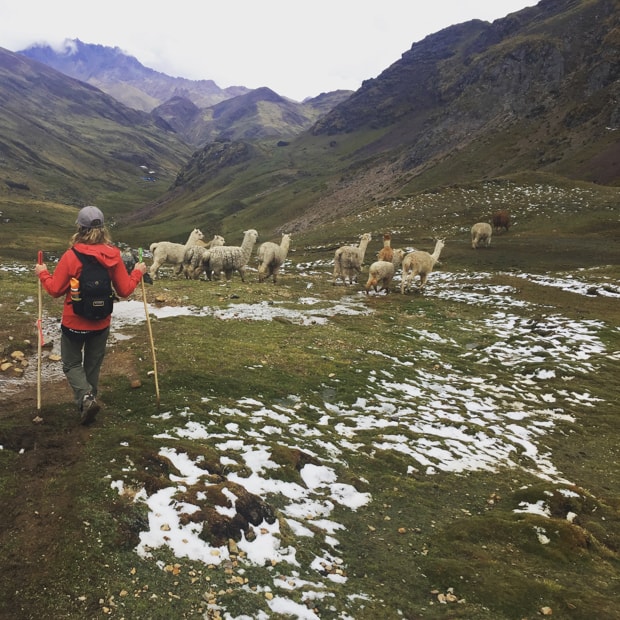 I chose to hike most days, which also didn't lack in culture as our tent lunches were usually hosted by the landowner.
We were always point-to-point hiking (never out-and-back or looping trails), which made every mile of our routes new. A cultural activity option was available in lieu of the hikes, and these included visits to archeological sites, town markets, botanical gardens and local people's homes. I chose to hike most days, which also didn't lack in culture as our tent lunches were usually hosted by the landowner who we'd meet and chat with. One day I traded hiking for a visit to Choquecancha, famed for its weavers. The day involved more driving—well, riding in my case—but it was fun to dip into this really remote village where no other tourists but those on the Lares Adventure go. The women weavers we met did not even speak Spanish, only the native quechua, which our guide was able to translate.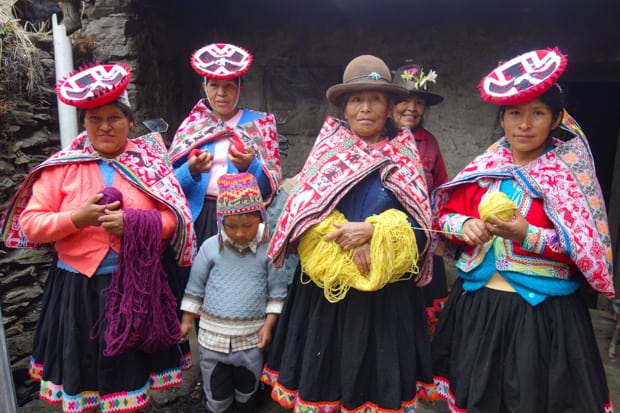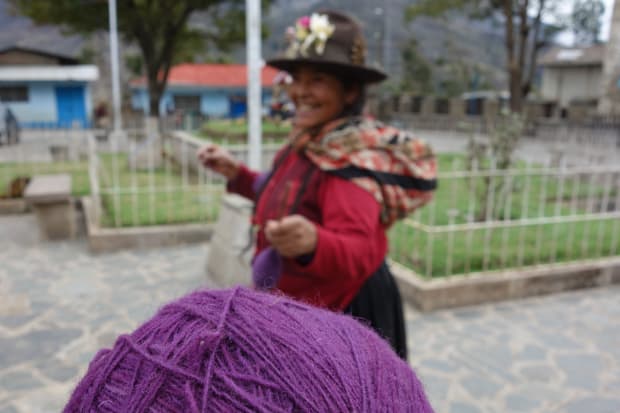 After six full days of exploration, we reached the grand finale: Machu Picchu. I have to admit our group was in culture shock as we drove through bustling Ollantaytambo, from where you take the train to Aguas Calientes town at the base of Machu Picchu. We instantly felt the rush and were sad to leave behind our remote lands where we were the only foreign things in sight. But upon reaching the Sanctuary (by a steep switch-backing bus ride), the place validates the bustle. Machu Picchu truly is a sight to behold.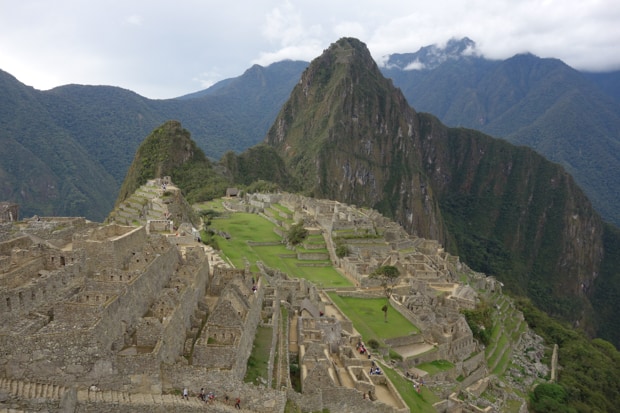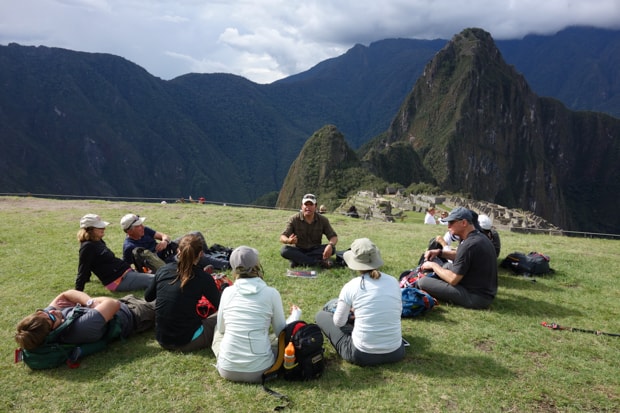 Our group opted for an afternoon arrival to Machu Picchu on day 6 in addition to our planned next-day visit. Though it was an added cost, this afternoon tour was key to a more leisurely guided experience with less crowds. (Note that this extra Machu Picchu visit is also time and conditions dependent, so not always available to add on.) Beyond the stunning overlook views of the site, it was especially interesting to wander among the different ceremonial and sacred sites of stacked and carved boulders. We even saw a chinchilla cross right through the center of the Temple of the Sun! Photo evidence below. The next morning I returned with a few hearty trekkers from my group to summit the towering Huayna Picchu—a steep hike that requires using all-fours at times, but well worth it for the adventure and views!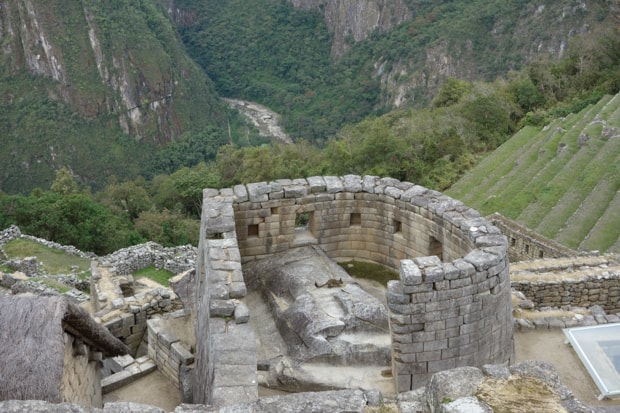 I met so many amazing souls along the trail, learned so much from my guides and made great friends of all ages in my group. Ranging from age 27 to 70-something, our group comprised architects, advisors, entrepreneurs and a pilates instructor from New York City who kept our photo game strong. Being a single traveler, I really enjoyed this trip as each day's a la carte options had me spending quality time with different people. I'll let my photos speak for the rest if you want a fuller picture of my journey: see my Lares Adventure Facebook album.
This Sacred Valley & Adventure to Machu Picchu review was written by an AdventureSmith Explorations crew member. Read all Trips Reviews for more trip reports, or contact one of our Adventure Specialists to learn more about these small ship cruises and wilderness adventures: 1-800-728-2875.