AdventureSmith Explorations' Chris Harter reviews his Antarctica expedition aboard the M/S Multanovskiy.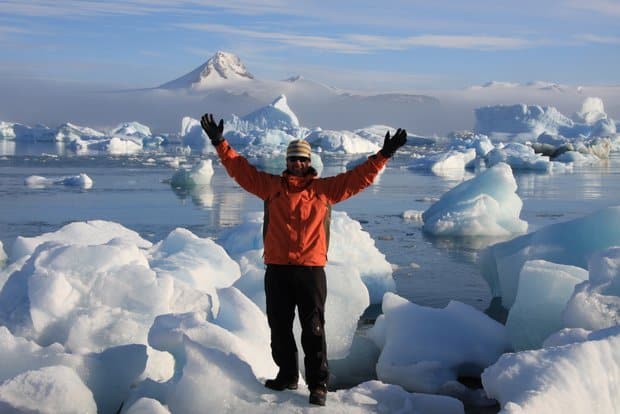 Antarctica is simply a destination without comparison. I have trekked in the Himalayas, been a rafting guide on the mighty Colorado, sailed the Galapagos Islands, flown in a bush plane over the Denali range, watched sunrise over the ruins at Machu Picchu, and traveled to and experienced many of the world's other great and remote attractions. But nothing, and I mean nothing, prepared me for what I experienced on a recent late season trip to Antarctica. It is a destination that immediately and profoundly impacts those that make the arduous and rewarding journey.

Prior to my voyage to the Antarctic continent I spent a few days in Buenos Aires and Ushuaia, Argentina. The warmth of the people, the beauty of the cities and surrounding countryside, and of course the incredible wines all warrant a trip unto itself, however if travelers have just a couple additional days before or after their Antarctic cruise their time can be well spent in Argentina. Buenos Aires oozes colonial charm and is a food lovers paradise with some of the best wines, seafood and meats in the world. Combined with a vibrant arts scene and it's famous tango shows it is a wonderful city to enjoy in conjunction with your cruise. Although Ushuaia, the southern most embarkation point for Antarctic cruises, lacks the cultural highlights of Buenos Aires, it makes up for it with is surrounding wilderness. Tierra del Fuego national park is a mere 15 minute drive, the entire town faces the expanse of the famous Beagle Channel, and everywhere you look massive glaciated peaks dominate the view. Not a bad start to one of the best trips of my life.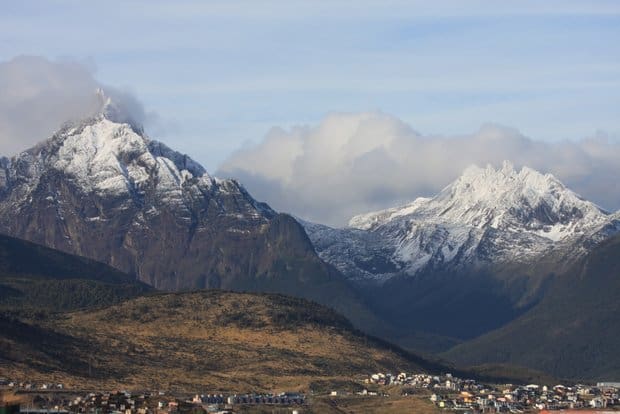 After making my way along the town's only pier, I found the M/S Multanovskiy and boarded what was to be my home for the next 11 days. After settling in and getting underway for the evening passage through the Beagle Channel, myself and 48 other passengers met in the lounge for our first and most important briefing on the safety procedures for our vessel. After donning life preservers and loading into the life boats for our evacuation drill it became abundantly clear that this was not your typical cruise. The emphasis on safe and responsible conduct while on board and during our landing excursions was to be a steady theme throughout the cruise. While all of the precaution and education made me feel very secure and comfortable about our purpose built vessel and it's very experienced Russian crew, it also made me very aware that our sailing course and ultimate destination is the most remote location on earth. It wasn't lost on anyone why precaution is so crucial to any successful Antarctic voyage.

The ensuing two day voyage across the famously rough Drake Passage was an unusually gentle one broken up by educational lectures and slide shows on various topics from seal and penguin populations to ice dynamics to the history of exploration on the continent mixed with the occasional whale or wandering albatross sighting on up on deck. Upon the morning of our first landing on King George Island in the South Shetland Islands the excitement among fellow passengers was palpable. After an extensive briefing the previous day on landing regulations and procedures as outlined by the Antarctic Treaty we were well prepared to comfortably and safely explore while minimizing our impact on the environment. As we approached the Fildes Peninsula on King George Island we were greeted by a group of curious gentoo penguins circling the vessel. Upon landing amongst the penguins and research station facilities we began our island trek across the peninsula. What was immediately apparent to all of us was the extremity of the environment we suddenly found ourselves in. Carcasses of all manner of wildlife in various degree of decay attested to the extreme nature of this habitat. Once on the other side of the peninsula we were treated to elephant, fur, and Weddell seal colonies all on the same expansive beach. On the return hike we headed for higher ground into the gravel moraines of the islands glaciers where we were educated on the areas geologic processes and on the delicate mosses and lichens that grew there, but not further south on the Antarctic Peninsula where virtually no flora grows. In the afternoon we were granted access to both the Chilean and Russian bases where we explored a beautiful and tiny orthodox church, perhaps the only church at such remote southern latitude, and listened to how life is for the temporary occupants of these stations in such harsh living environments.

Through the night we sailed further south to the actual Antarctic Peninsula. This following day brought incredible weather and astounding scenery and wildlife viewing. As we sailed into Petrel Cove just off the continent on Dundee Island the fog gave way and allowed for glimpses of city block sized blue and white icebergs and the ice field covered mountains surrounding us. After a zodiac cruise through icebergs of every shape and hue of blue we landed for perhaps the best hike of our trip up onto hilly glacial deposits and expansive ice fields of Dundee Island for views in very direction. Alaska on steroids became a common descriptive amongst my fellow travelers, but even this does not adequately describe the otherworld beauty that we were fortunate to view on this day. Even our veteran guides seemed awestruck at the scenery that they had seen countless times before. After a hike down the ice fields to a large beach we were greeted by a fur seal colony of a couple thousand strong, a rare sighting for a late season trip such as ours. After boarding the Multanovskiy we made our way to Brown Bluff on the continent for an afternoon landing. Once on land a fellow passenger and I made our way down the ice free beach through the barking fur seals and curious chinstrap and adelie penguins to a tidal glacier where we sat for a couple hours in the unusually warm sun. With inquisitive chinstrap penguins waddling up for a closer look, seals splashing and playing below us and the occasional calving event from the nearby glacier I was more than content to simply sit and contemplate exactly where we were. I have never been so affected by an environment, and still weeks later when I return to that moment at Brown Bluff I can't help but get goose bumps. On the way back to the vessel our zodiac driver made a special stop to view a very full and very sleepy leopard seal up close on a grounded iceberg, almost too close for some! The consensus that evening at dinner was that we could all end the trip right then and there and we would all still be satisfied with our Antarctic adventure.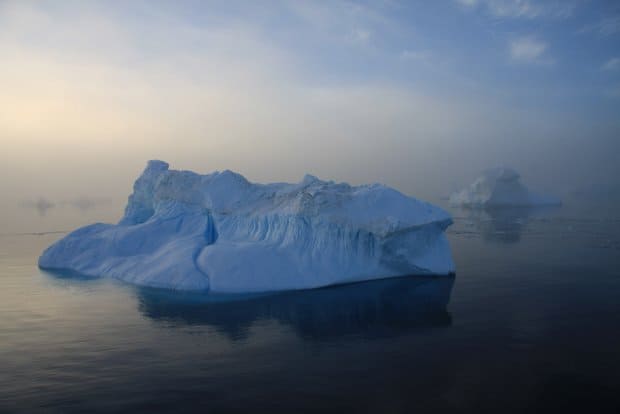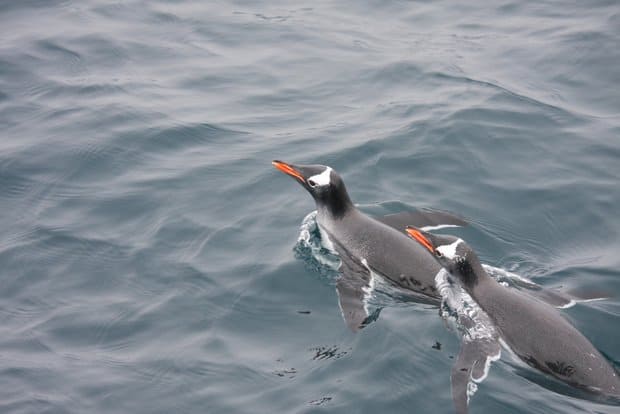 The following two days were spent further south with visits to the old whaling outpost of Deception Island, a collapsed volcanic caldera, and spectacular Neko Harbor. At Deception Island we hiked past steaming fumaroles and up over the island's rolling volcanic topography to an enormous chinstrap penguin rookery on the islands exterior coast where we were fortunate enough to spot a dozen or so humpback whales surfacing just off shore. After a short cruise to an alternate bay in the caldera of Deception Island we landed again to walk amongst an old turn of the century whaling station complete with intact buildings and massive rusty drums that were used to store whale oil. Hiking amongst the ghostly architecture was an eerie experience, especially with our recent historical lectures that referenced the death toll that was enacted both on the wildlife and the men who worked the same waters many years ago. The following day we were met with more typical Antarctic conditions with howling winds and stinging precipitation. On our way to Neko Harbor we stopped briefly at Cuverville Island to walk amongst a large gentoo penguin rookery there. With horizontal sleet, ice in every direction and penguins huddled together it provided a brief glimpse into the extreme world in which these creatures live, an environment clearly not suited for the colorful Gore-Tex clad visitors. Fortunately, as we made our way inland along the long and deep channel to Neko Harbor the weather abated. As the clouds parted and the views of glaciers became clear we were welcomed by two humpback whales off the bow of our vessel. It was a good omen for the afternoon as we were surrounded by the most beautiful and varied glaciers of the trip. The entire harbor was ringed by pristine glaciers of every shape and hue, some were hanging glaciers atop 1000 foot cliffs others were tidal glaciers with jagged blue edges, all connected in a continuous ice field extending off into the distance as far as the eye could see. Although no hikes were offered due to the very dangerous crevasse filled terrain we did managed to find an ice free rocky beach where we were able to photograph gentoos amongst old whale vertebrae while obsessively gathering stones for their long abandoned nests with the occasional booming sounds coming off the calving glaciers. Our guides were ever vigilant with passenger's locations on the beach to ensure no waves from the glacier calving events would catch anyone off guard. As the sun set and the temperature dropped we headed back to the vessel for a chilly and festive outdoor barbeque dinner on the bow of the Multanovskiy. With our spirits incredibly high the passengers and crew ate, drank and danced below the glaciers with an occasional display of ice and debris crashing down around us at a safe distance from our anchorage. At the time none of us were aware this was to be our last evening in Antarctica.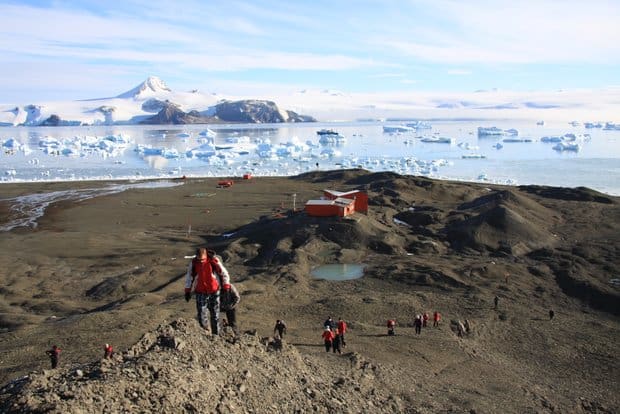 A couple hours later our group leader Troels made the announcement that we would be heading back to Ushuaia immediately, a day earlier than planned. After everyone was settled back in the warmth of our vessel it was announced that due to a serious and impending storm we were going to leave the continent early to ensure we made it back in time. Of course there was disappointment among the passengers, but as time passed and details were conveyed it became very clear that not only were we leaving early to get back on time for our scheduled disembarkation, but more importantly we left early to get back safely. The voyage back was through extreme seas, and took a day and half longer than the voyage down due to the heavy winds and large swells we encountered. Although no one wanted to leave the continent early, after arriving back into Ushuaia no one faulted captain or crew for their decision. We made it back safely and in time. Had we not left when we did not one passenger would not have made their return flights, and the conditions of the crossing would have been considerably worse. It is an excellent example of how any itinerary to the Antarctic continent should be viewed as an outline only. Ice conditions, seas, weather and wildlife opportunities all can effect and alter any itinerary at anytime. Those that are prepared for this likelihood will undoubtedly have a better and more fulfilling Antarctic experience when changes do occur. These itinerary deviations are normal for Antarctica and should be expected, and at the end of the day these changes are made to make the most of each vessel's time there and to help ensure a safe return for all passengers.

What surprised me most about my time in the Antarctic was how truly comfortable I was throughout the trip. Looking outside on any given day it was shocking how dry, warm and protected we all remained during our voyage. Of course we all had proper clothing and gear, but if anyone became cold or tired when on land a zodiac driver was waiting to escort the passenger back to the comfort of the vessel. If anyone had wet or inadequate garments the guides always managed to find jackets and pants for them to borrow. The food, incredibly, remained fresh and varied. Whenever someone failed to show for a meal due to seasickness there always seemed to be a guide or crew member on hand to deliver food to their cabin. If anyone spotted something worth investigating from the zodiac the driver's were always willing to oblige with a small detour. When I pause to think about exactly where we were it's difficult to believe just how comfortable we all remained throughout the voyage. Beyond the amenities of our vessel, this was of course in larger part to our incredibly attentive and helpful crew.

Antarctica is unlike any other destination in the world, and travel there should not be taken lightly. But if you have interest in visiting this one of a kind natural wonder please do give our team a call. We can answer any questions that only firsthand travel can provide and outline the travel options that are available in Antarctica.

This Antarctica expedition review was written by an AdventureSmith Explorations crew member. Use the AdventureSmith team's Antarctica cruise reviews and small ship cruise reviews for insights to inform, inspire and book your next trip aboard a small cruise ship then contact one of our Adventure Specialists to learn more about these small ship cruises and wilderness adventures: 1-800-728-2875.