This Travel Journal submitted by Binod Thapa details his Antarctica small ship cruise with AdventureSmith Explorations, on the Quest for the Antarctic Circle Cruise aboard the Expedition. Read his day-by-day account on this 14-day itinerary!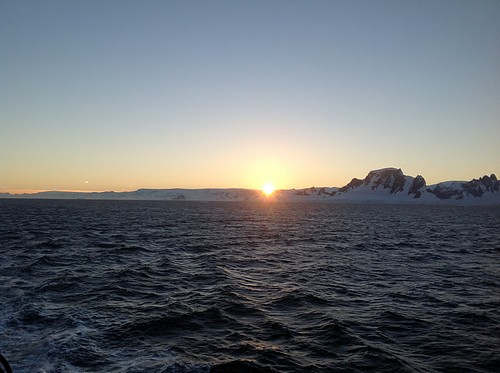 Background
My name is Binod Thapa and I am originally from Nepal. I have been living in the Washington, DC area for last 25 years. I am married and we have three teenage children.

I always wanted to go to Antarctica, but I wanted to visit and see other continents before going to Antarctica. In 2012, I completed my sixth continent tour – visiting Australia. So the last trip for me was to Antarctica. I tried to convince my wife to come along with me, but she didn't and she couldn't. She cannot handle the ship, especially this long trip, and Drake Passage's rough water would have been extremely difficult for her. Beside she doesn't have the interest going to Antarctica. In addition, both of us have never left the kids with their grandparents or other family members even to go to short vacation in the U.S., let alone overseas especially this far down south. So I went myself. Before going to Antarctica, I read many articles and watched the Frozen Planet series several times, other documentaries on Antarctica and March of the Penguins. After watching documentaries and reading articles, I would say I was fascinated about the White Continent even before going to Antarctica. I thought there was no better planet than Antarctica.
Day 1
G Adventures staff picked us up from the Ushuaia (Argentina) airport and brought us to the hotel. Ushuaia is the southernmost city in the world. There were 6-7 other people were in the van going to the hotel, but not any of them were from the U.S. The hotel was just about 3 miles away from the airport. The hotel was very nice and very good location, just across from the embankment area. I took a nice tour of the city just walking, not big area to cover. Ate dinner and came to the hotel, missed my family at home. Roommate was a gentleman from Australia. Talked to him and he seemed very nice. He had been to Nepal for 3 weeks in 2008. It was easier talking him and he was interested talking about Nepal. I was tired from the long 4 flights in two days from Washington, DC so I fell asleep early.
Day 2
Next morning G Adventures took us for a National Park tour. Initially I was focusing on playing golf and was not interested going to this National Park tour. But I decided to go and I had made the right decision. Within the Ushuaia National Park, the tour bus took us 5-6 places which were very good. A special place was the Beagle Channel, about 18km area which connects Pacific and Atlantic oceans at the bottom end. They also took us for hiking within the park, which was very pleasant. There were about 40 people in this tour from all over the world.

After the tour, I had arranged with the tour guide to drop me off at the Ushuaia golf course (the southernmost golf course in the world). I had planned to play golf there for a long time. Because they had a very important tournament all day that day, I was not able to play. But I was able to swing the club and practice chipping. I took few pictures and bought some golf course souvenirs from the pro-shop. The course and surrounding area were absolutely beautiful. From there, I took a taxi and got to the hotel.

Everybody gathered at the hotel lobby and they took us to the boat at 4pm. By the time I got to the cabin on the ship, my three roommates were already unpacking. One gentleman was from Australia, second one was from England and third one was from Sweden. Cabin was fairly small for four people but I had to get used to it. Beside, except for sleeping at night, we would not be in the room anyways.

The boat left 6:05 in the evening. It was sprinkling, cold and very windy. But while boat was leaving, I texted my family and few minutes after that, there were no phone service the entire time. The city of Ushuaia was just beautiful on the back. At the boat, they had presentation and introduction of the staff members which was well organized and a good presentation. There were 26 hotel team members, 12 G Adventure members, and 132 travelers on the boat. I had a good dinner, then went to sleep. I got the upper bunker which was ok; I didn't have any preference beside they had already chosen the lower level bunkers.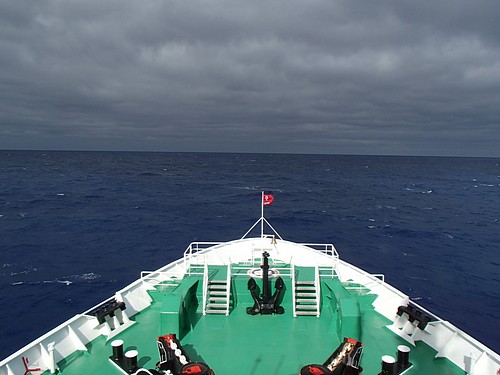 Day 3
Day 3 was kind of quiet. No landing, ship kept on going straight to the south. Just miles of miles water everywhere you look. Some birds started to follow the boat, and I thought about my youngest daughter, Serena, because she loves birds. I took some pictures of those birds and the water.

People on the ship were from all over the world. I met people from North America, Australia, Europe, Africa and Asia. Most were world travelers and they had the similar idea of coming down like me and travelling to different continents – but Antarctica was not the last one for them.

We had a class for kayaking, and the kayak master and the staff provided good instructions. But they also warned us if we did not have enough kayaking experience, we should not try kayaking. Breakfast and lunch were buffet style, but dinner was sit-down menu. Food was still good so far. The ship was very bumpy for day and half in Drake Passage. But I slept and didn't realize the strong swells especially at night.
Day 4
The day didn't start good because it was cloudy and windy and visibility was low. After two hours, it changed and started getting a whole lot better but we were still not to Antarctica yet. All of a sudden we see sunshine and clear sky and we could see miles and miles away now. We started to feel like we were in Antarctica. Then there was an announcement that we are now in Antarctica. There was a big and loud "Yeah" cheer from all the people on the ship at once. We could see small white-mountains and icebergs. It was such a peaceful feeling to see the calm and beautiful Antarctica the first time.
We could see small white-mountains and icebergs. It was such a peaceful feeling to see the calm and beautiful Antarctica the first time.
Later that morning, we did 3.6 miles of kayaking in Aitcho Island (in between South Shetland and Antarctic Peninsula). We Kayaked just on calm water. It was great to kayak on this part of the world (or any part of the world. I had not kayaked before, but I had the idea how to paddle. I started a little slow, but after that I did fine. While we were kayaking and focusing to pace with the other kayaking groups, all of a sudden we saw 20-30 small penguins close by. They just emerged from the water. Kayaking staff told us that these types of penguins (Gentoo and Chinstrap) are found in these parts of the islands. After an hour of kayaking, we stopped in one island for some hiking. We saw more penguins, birds and leopard seals. I am glad they had trained us the night before that we need to stay about 15 feet away of the penguins unless they come to you. Penguins come literally next to you. For the leopard seals, they had told us they will charge at you and you don't move otherwise they will keep on coming and chase you. While I was taking pictures of 2-3 sea lions, one of them came charging at me. It was a little scary, but I didn't move and kept on taking pictures and he went back. I checked my camera later, and one of the pictures came out really good where the leopard seal was charging at me.

This was the first day we saw, kayaked and walked in Antarctica. We were able to see penguins, leopard seals, icebergs – it was great day!!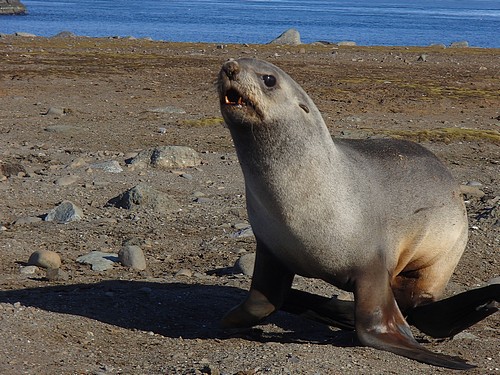 Day 5
In the Discovery Lounge on the ship, the night before they had announced that if we wanted to see the first sunrise in Antarctica we needed to wake up around 5:30 to 5:45am next morning. They did announce at 5:15am the next morning and asked people to start coming out on the deck. I went out with my iPad and took a lot of nice pictures of icebergs, snow-covered small mountains and lots of small islands. The sun didn't rise until 6:30, but it was great. Most people were out there with their coffee and enjoying talking to each other.
Since the day was nice, sunny and calm, they announced us kayakers to meet in the mud-room in 10 minutes. When they announce, we all need to be there as soon as we can and put on all the kayaking gear, shoes etc. This day we did 7 miles of hard kayaking in Neko Harbor in Antarctic Peninsula. The first day kayaking was just in plain water, but today was mostly in soft/hard ice and we had to keep breaking the ice to move our kayaks forward. Half of the kayaking was in ice and half was in open water. Only 4 people on two kayaks came on this second day. Some kayakers were tired from the first day of kayaking and some went for a continent landing. We saw 2 whales just on the left about 50 feet from the kayak. We also saw another whale just a minute after to the right-hand side and I took some pictures. According to the kayak expedition leader, the whales were just checking us out. All of a sudden we saw 7-8 penguins line together and jumping in and out of water about 20 feet away. We saw seals and some birds as well. Good adventure kayaking. There was always a zodiac few hundred feet back so if anyone needed help or if the zodiac needed to break the ice in some places so kayakers could move forward. In this particular day even the kayak leader couldn't break some of the ice, so the zodiac broke the ice 3-4 places for all of us. After 7 miles, the leader decided to put two kayaks on the zodiac and brought us to the ship – too hard for kayaking in this hard condition and for this long. But it was a great experience kayaking in hard ice, low visibility, a little bit raining, windy and in very cold temperature.

Later in the afternoon, they took us for landing in Cuverville Island on the peninsula. We saw thousands of thousands of penguins. It was nice and sunny afternoon. One side if you look, there were small and big white islands and icebergs, and on the other side of the island (we were in), thousands of penguins and some seals. It was nice, quiet and such a beautiful living creatures and nature scene. I taped some of these penguins. Penguins make a sharp noise and have a strong smell. Seals just like to take a sunbath on the rocks. When they were sunbathing and enjoying, penguins were not bothered by them and came as close as few feet away. I sat down on the rock, listened those songs my son AJ had downloaded for me and enjoyed alone for about half an hour looking at the views of Antarctica with all the living creatures beside me.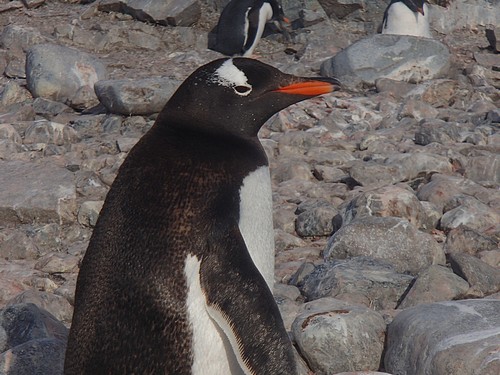 The staff picked us up from the island in zodiac (about 10 people in one zodiac) and brought us to few other nearby islands where we could see seals, more penguins.

It was migrating season for whales. On the way back, the zodiac also stopped to show whales coming in and out of water in two, three different areas. It was pretty amazing to see all these whales at once.

At night after dinner, they started showing part one of Frozen Planet. Since I had already seen Frozen Planet few times before coming to Antarctica, I sat down and started to write to my family.
Day 6
In the morning, the water was extremely rough, cold and very low visibility. I just went outside on the deck once. It was very windy and cold. It was just what Antarctica is supposed to be like and expected. After breakfast, I started to write. Boat was bumpy. I just had breakfast and usually I don't do good typing in car/boat while it is moving. I had to go to bathroom and threw up. (I don't remember when I threw up the last time, but it was not sea sickness.) Then I worked out at the gym that morning and went to the sauna. We were just few hours away from crossing the Antarctic Circle.

After lunch, they announced that no one can be out on the deck until they announce again. The boat was extremely shaky. The ship was going 5km or less an hour; I guess they had to keep moving the ship, couldn't stay in one place, probably too dangerous. Because of bad condition and wind, instead of going south straight, now the ship was going first west then south, west and south.
Few hours after lunch, they announced that water was getting better and we were heading straight south again and we should cross the Circle in about an hour. Later they announced us to meet at the Discovery Lounge in 10 minutes. Because wind was blowing from south to north they asked us to meet on the opposite side of the boat. When it was time to cross the Circle, they started counting 10, 9, 8… like the New Year's Eve ball dropping in Times Square. After finishing counting, there was a big loud crowd cheering. We crossed the Circle, they provided warm punch. Everybody was happy, you could see on their faces, people started talking to each other and started taking pictures. I used my iPad to record this joyful event. People also took pictures with the "Crossing the Antarctic Circle" sign around their necks. The day had been very dark, windy, cold and water had been very rough and visibility was very bad. But we came to Antarctica to see all these, not to see hot and sunny day weather like in the Bahamas. Things happen for reason, and this kind of day was for the reason.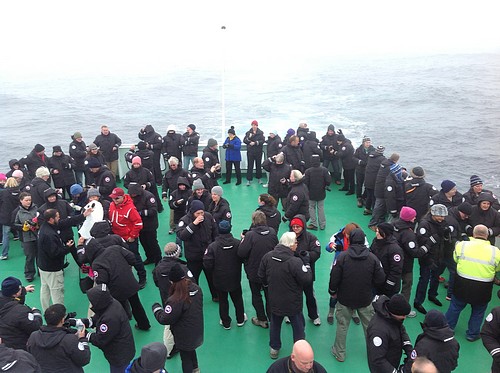 Rest of the day was the same – rainy, cold and windy and snowing a little bit. After dinner, they started showing second part of Frozen Planet. Then I started to write again to family.

The expedition staff said conditions are not getting better in the south. Because of more and more ice, now they started to head north.
Day 7
We were north of the Antarctic Circle. The day was cloudy, windy and cold. After breakfast, they said they would do another continental landing. I was in the first group to get into zodiac with about 10 people. I brought my cameras and also the golf club that I had brought along with me. (I had brought my golf club and golf items all the way from Washington, passing through four airports.) Even on the boat, I had to hide because I didn't want them to say to not to bring golf club with me to the shore. They are pretty strict on what we can bring and what we cannot bring to the shore. Once we landed and they dropped us off, they said we could spend about 2 hours at the shore. But weather could change drastically just in matter of minutes in Antarctica. So I didn't want to lose the opportunity and few minutes after our landing, I started swinging golf clubs few times looking at the beautiful view of Antarctica. One person asked whether I would like him to take my picture swinging the golf club. I said sure and he took few very nice and memorable pictures which I will never forget.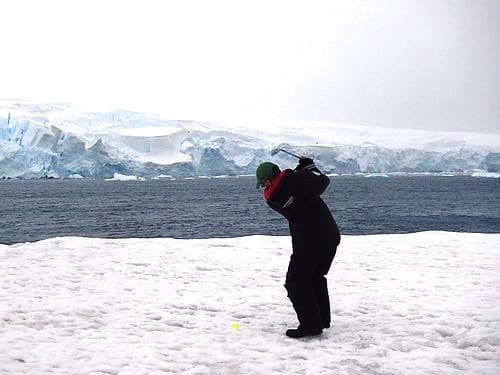 I also took pictures of beautiful scenery with my iPad. The iPad takes much better panoramic view pictures and I was happy that I brought it along with me. It was not even 10 minutes after we landed in Prospect Point, Antarctica, that the staff members said the weather was getting really bad and we needed to go back to ship. Our zodiac was the only one landed and we returned. On the way back, just in matter of minutes, the weather got bad to worse. It started to ice-snow and it was extremely windy and cold. Even the zodiac started to really struggle to move in the water. Everybody was holding ropes with two hands and some of them were shivering and looked a little worried I could see. I know it was really bad condition, but on the other hand, this is what we came down to see and somewhat expected. It was like Antarctic weather – sometime what we see in the documentary.

After we came back on the ship, we felt safe and definitely hot coffee and chocolate made us warm. Some people said what a wild idea to bring a golf club and be able to swing the golf club in Antarctica. Three or four people asked me to borrow the club so they could have the experience as well. They also took pictures swinging the club. But some people who were near the shore but couldn't get out of the zodiac because of the bad condition but saw me with golf club probably thought it was a little crazy. All that day was kind of same bad condition so they ended up showing some more documentaries and getting us involved in other things inside the ship. For a few people the talk of the day was the golf because there was nothing else to do that day. A few people came up to me and asked about the golf: How did you bring club, why swinging in Antarctica, etc. I told them, I have played golf in other continents. Since we can't play golf in Antarctica, I wanted to have the experience. Later, one expedition team member found out that it was me swinging golf club on the landing, came and talked to me. She asked me about the golf club and I explained I brought the club from Washington through four flights. She asked me whether they could use a couple of pictures on their slides and I gave her two pictures.

It was the same all day long and the same bad weather all day and the evening. People started to watch part 3 of Frozen Planet then I started posting Day 1 thru Day 6 notes to families in WordPress.
Day 8
The day was pretty cloudy but the visibility was pretty good. While we were about to eat breakfast, they announced that all kayakers should meet in the mud room in ten minutes. I ate breakfast quickly and ran into the mud room. Then we went kayaking. There was no wind and the water was pretty calm. We did 7.5 miles of kayaking. It was different than first two kayak trips we did. It was the longest, and we went through lots of big and unique looking icebergs. Saw different kind of birds which my daughter Serena would have like to see. We saw crab seals, leopard seals and other types of seals. We also saw Adelie penguins. They said this was the end of the season and we would not be seeing Adelie penguins anymore when going north. Mostly in these areas, they had Gentoo penguins, which are smaller about 18 inches in height. Most importantly I saw a whale not farther than 30 feet away. We stopped to take pictures every half an hour during this kayaking trip. During one stop, everyone was taking pictures of icebergs and I was too. So this time my camera was ready, all of a sudden this big whale comes out of water about 30 feet away a little bit to the right. I still didn't get a chance to take a picture of the whole body but got pretty good picture of whale's body from the back. I was very happy to see this whale up close.

After lunch, they took us for a landing in Vernadasky (Ukrainian) research center and Wordie House in different islands. According to the scientist we met there, eleven out of twelve months, scientists live in Vernadasky. They gave us a good introduction of this research center. We could also buy stamps and postcards to send families and friends. I wrote 8 postcards with few lines each for families and friends. They also had gift shop, I bought some gifts there. At this research center, they make vodka and most of us wanted to try it, but they didn't have any left because it was toward the end of the season and it was out. But at least I was able to take pictures of the bar there.

No more activities for that day. They gave us some briefings of the day and for next day's upcoming events. Some staff performed in a band in the Discovery Lounge which was good.
Day 9
It was the usual Antarctica-like weather, a little bit of ice raining, cold and not good visibility. After breakfast, they announced us to be in the library in 15 minutes for the kayaking group. We got together at the library. We had a choice either to go to the two landings for historic islands or to go kayaking. Half of the people went kayaking and another half decided to go to the islands including myself. They allowed us to stay up to 2 hours on this island. From this place, we could see to the left on the top of a mountain that there were some people. I took some pictures, and if we really look at them in detail, you would see some people climbing the mountain near the top. It was pretty neat to see the completely white mountain, and people were like very small black ants from the distance. It was pretty neat.

After lunch, they offered another round of kayaking. I wanted to go but my kayaking partner had some back pain so he couldn't come. So I paired up with the kayaking leader. He also gave me some good tips for kayaking which helped me during the rest of the kayaking trips. This was the fourth time in five days I had gone kayaking. Again, the day was not that good – ice raining and cold. But I guess for kayaking this kind of weather was ok. It was not as bad as the second day of kayaking (lots and lots of ice breaking) but there was still some ice. Again, we saw some whales. I got one great picture of the whale with our ship showing in the back. After two hours of kayaking, we came back. This was the first time we spent enough time for resting, viewing and enjoying the scenery while we were in kayaks.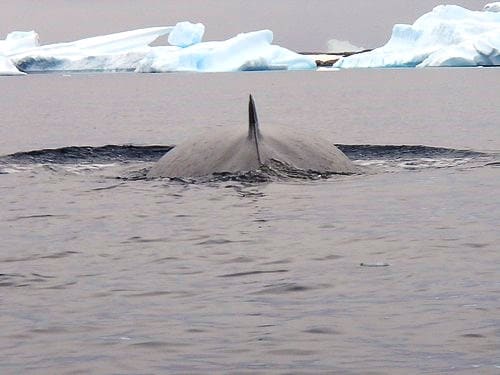 Today was also the camping night in the continent. The first couple of times camping was cancelled because of bad weather. The zodiac took us to the camping site. It was just an absolutely gorgeous site. Mountains on three sides and one side we could see the ocean. The staff members were encouraging us to pair up with our roommates. I talked to staff separately and requested whether I could use just a separate tent and I got one. I watched my next door camper how he put together and I put together tent the same way but he also helped me a little bit. I lied down inside the tent for few minutes. I also took some pictures of my tent and other people's tents. Then we came back to the ship for dinner. Weather continued to get bad, and around 7pm they cancelled the camping for the third time in as many days. Later in the briefing, they said, this was the last place for camping and we would not have camping this trip. Staff members were very professional and we knew they tried. Sixty some people were disappointed, but this was the mother-nature and this is Antarctica. Cannot predict the weather, and weather could change very quickly. Now back to the ship and sleeping in the same bunker, ohh!
Day 10
It was cloudy but better in the morning, water was calmer. I went kayaking in the morning. Again, kayaking had been the best part, seeing whales, seals and penguins up closely. Twelve to thirteen seals were just lined up and playing for about 20 minutes, in and out of the water and climbing to the small iceberg. I recorded about 8 minutes.

Because of bad condition, they couldn't not bring us to the landing today, instead they brought us on a zodiac ride. From the distance, when I looked back, the boat was completely rocking, kind of scary. This is one of the interesting days, everywhere all ice patches and hard to see the water in the ocean. Kind of another Antarctic typical scene we see in the documentaries. Not much after that, people spent two hours eating three courses of dinner. I sat down with a mother and daughter from Australia for dinner. Daughter was in Nepal last year for 3 weeks for trekking. After dinner, I spoke with my family at home in Washington.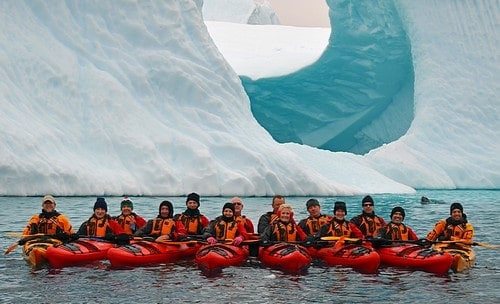 Day 11
Today we were supposed to go hiking for 2 hours in the morning. Right before the hiking time, they cancelled because of low visibility and raining. Instead we went for kayaking. Kayaking was better. Out of six kayaking trips, only two trips have been similar. Every other kayaking trip has been different. Obviously different places to kayak, condition, settings, views and level of effort we had to put. Today's kayaking was only about an hour and we stopped at the Whalers Bay. There were lots of seals on the shore. These seals were very aggressive compared to other seals. Also, at this place, they had hundreds of one particular kind of white flock of birds. I had not seen that many birds at once here in Antarctica. The island site was just breathtaking. It was pretty unique, the whole mountain looked like a red mountain, similar to images of Mars. In this island, they also had a lighthouse, pretty special.

Later in the morning, we went to Deception Island; it is a historic place. There were 3 or 4 abandoned houses, and 8 or 10 big fuel storage tanks. In early days, researchers and inventors used to use this place for a station and these tanks were for fuels for the boats. I took nice walk along the shore and visited these abandon historic houses. Wherever we went, continental landings, islands, I usually liked to walk myself even for few minutes alone. I visited these places, but at the same time I enjoyed quite time on my own, thinking about the historic place, Antarctica and thinking about my own family. I also enjoyed the time outside on the deck of the boat looking at the mountains, beautiful views and far, far away in the water. I also listened to music and enjoyed the quite time very much.
This was the place for the polar plunge. They had suggested we go in the water at the end of the tour so right after the plunge, you could get on the zodiac and get to ship so you would not be too cold for a long time. I took the polar plunge at the end, probably 50-60 people went into the water earlier. I was the last one to take the plunge in the water. Most of them had already left the island. Just a few people were left on Deception Island. While I was going in the water, one gentleman offered to take my pictures in the water, and he did. The water was obviously too cold, and it hits you once you get in, but then when you start swimming, you will forget that. I was in the water just about a minute. They had towel for us there so we couldn't be too cold. I put clothes back on and rode back to the ship on the zodiac. This Deception Island is also active volcano site.

Now we were heading back north, nothing much happened after that. They showed us few more presentations and part four of Frozen Planet.
Day 12
The ship was heading to Ushuaia. We were in the middle of Drake Passage. I didn't realize this was the hardest area for the ship captain and crew members to sail the boat. On the way down here passing the Drake, I had heard it was pretty rough, but I fell asleep and didn't realize. Now heading north, it didn't seem that windy outside, but swells were pretty bad and ship had been rocking all day. I heard that we had as much as 6 meters of swells the night before. Because of ship's rocking condition, people again started to feel a little sick. You could see from people's faces; they were not the same just few days ago. Probably they were anxious like they were when we were coming down about 12 days ago heading south. Drake Passage has the roughest water in the world. It meets the Pacific and Atlantic oceans. That was why they sell t-shirts on the ship that say "I survived the Drake." Nothing much exciting all that day except miles of miles of water everywhere you look. Since the boat was rocking it was hard to walk straight. People had to hold on to the railing or the wall. It looked like drunk people walking, very funny.

I went to the gym and sauna. Also, now people couldn't go outside of the boat (no kayaking, landing), they put a boxing punch bag at the mud room. That was good for me; I punched the bag for 15 minutes for a good cardio exercise. Then I started taking some pictures of inside the boat, some of them had good information. I had a little hard time going back to sleep after I woke up this night because of extremely shaky boat. It seemed a lot of people take sea sickness medicine. I could see they have patches on next to their ears. At the ship, they had provided those medicines for free; they don't want people to get sick.
Day 13
Ship was still heading north in the Drake Passage. Wind was blowing hard, and the ship seemed like it was dancing or doing a penguin walk. It was the daytime and psychologically people didn't seem to mind because they knew the ship would arrive at the dock in Ushuaia in the evening. I recorded the wind blowing and ship struggling; it was crazy. While I was recording on the roof of the ship, this gentleman started to walk toward the stairs and wind was blowing so hard, probably it took him about 4 minutes to walk just 20 steps. He would try to walk and wind would push him back. It didn't just feel like wind, it felt like a small tornado.

Later in the afternoon, it started to get better once ship started to sail thru the Beagle Channel. One side on the left you could see Chile and other side on the right Argentina. Wind was still blowing but it started to get clear and sunny. We were in the clear water now, small mountains both sides, beautiful rainbow and birds were following the ship and it was just a beautiful scene.

Around 6pm they started to give us closing presentations, with nice music played by staff members. After dinner, the ship docked around 8pm in Ushuaia. They let us go outside in the city. Four of our ship friends went outside and bought some gifts and went to a cafe. Two of our other groups were already there at the cafe but it was good to see them. Then we came back to the ship and packed for the next day.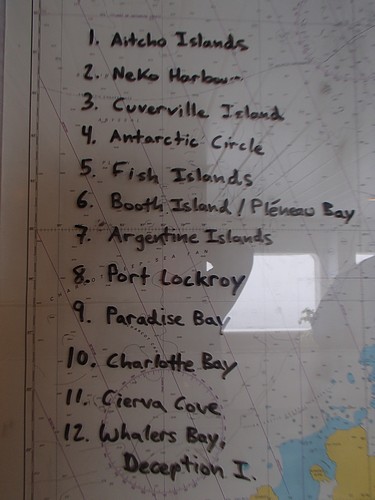 Day 14
Got up at 6am and started preparing to leave. They started serving breakfast at 7am. After breakfast, I took some pictures with some people who I had regularly talked on the boat. Then we said goodbye to each other. All the staff members were waiting outside of the ship to say goodbye to us; it was very nice. The bus took us to the airport.

Two weeks and my Antarctica journey ends. It was good and fun, but I would have loved if one of my family members (especially my wife) was there with me.
Summary
Definitely I would have enjoyed this adventure of my life if my wife could have come. After the trip, I realized that about 25 percent of men who came to Antarctica were in similar situation like me: their wives didn't want to or couldn't come to Antarctica, the same reason my wife couldn't come. They couldn't handle the ship or no interest in going to Antarctica.

I will not forget the ship embarkation in the evening – cold, misty, little cloud over the mountain, but just beautiful setting in the back, city of Ushuaia. Most people were on the rooftop of the ship and enjoying the view and I could see the excitement in their faces with the anticipation of traveling to Antarctica, like me. The rocking boat in famous Drake Passage and people getting sick was not pleasant, but a lifetime experience. I was thrilled to see Antarctica the first time. To see my first sunrise there and make our first continent landing were special. Buying the kayaking trip was one of the best things I did. I went kayaking six times and paddled more than 42 miles of water in Antarctica, hard to imagine. Being able to see penguins, seals and whales this close, we have to be lucky. Not just being able to go to Antarctica, but go pass through the Antarctic Circle was also memorable, people were cheering, laughing and happy. Being able to swing a golf club for the experience was unique and bold, but I had to do it. Being able to send postcards for families and friends from Antarctica, which took one year to arrive, was unique. It was not a happy moment to see the abandoned research stations and museums, but because of the extreme cold temperature, most of these items in the stations and museums had been preserved for the decades and were good to see. Even though we didn't go camping overnight because of bad weather, at least we put up the tent and I was able to enjoy few moments lying down inside it. The polar plunge was too cold and bold, but it was a lifetime experience. Also I enjoyed seeing the active volcano site in Antarctica. When the ship returned north to Ushuaia coming through the Beagle Channel, it was a beautiful scene – sunny but sprinkling with rainbow in the back, water was clean and calm, we saw few miles to the left Chile and few miles to the right Argentina and beautiful small mountains on both sides. Everything was memorable, pleasant and a once in a lifetime experience for me.

I met so many wonderful people all over the world in the ship. Most people would eat breakfast, lunch and dinner with different people in one table. This way they would get to know each other and I did the same thing, sat at different tables and talked to different people. All these people were friendly and helpful. They would come and talk to you, share their experiences and stories, ask whether they could take picture of you without you asking them first. For example, people came asking me to take picture when I was golf swinging, during polar plunge and just sitting on rooftop of the boat. All of them were very nice and polite. It was pleasure to know all of them. I still keep in touch with some of these wonderful people.

Staff members on the ship were very professional, knowledgeable, and efficient. It was also good to see most of them were crossed trained. These staff would provide information to travelers immediately and in timely manner. Because the weather would change in minutes in Antarctica and sometimes some scheduled plans would not work, staff would have to come up with another plan and activity for the travelers, which was always good to see. I was also amazed by the kitchen staff. They would prepare meals for these many people for this long trip, and each and every meal would be as good as we eat at home, a restaurant or even better. I had heard before that ship meals would be tiring after a while, but not in our ship.

Last but not least I would like to say thank you to Adventure Smith Explorations staff members, especially to Chris Harter for all his help. He was not just knowledgeable, but he was also extremely helpful. I am not an easy traveler especially while preparing for the Antarctica trip. I called Chris too many times and sent too many emails before going to Antarctica, but he was always answering my calls and emails promptly, which I always appreciated. Now I have visited all seven continents; I have completed my mission, and my dream came true. Thank you to AdventureSmith Explorations and your staff for making this happen!!!
This Travel Journal submitted by Binod Thapa details his Quest for the Antarctic Circle Cruise with AdventureSmith Explorations. Read all Antarctica Small Ship Cruise Reviews and worldwide cruise reviews for more insights from our alumni travelers and experts, or contact one of our Adventure Specialists to learn more about these small ship cruises and wilderness adventures: 1-877-620-2875