Note that this Expert Review covers the Eclipse and Athala II, now no longer sailing in the Galapagos Islands. The ships were purchased by Celebrity Cruises in 2015 and rebranded as the Xperience and Xploration. View all of our partner Galapagos small ship cruises to discover the best in small ship expedition cruising in the archipelago today.
I don't know one person that doesn't have the Galapagos Islands on their travel wish list. The giant tortoises, the blue footed boobies, the history and the remote location are only a few highlights that add to the appeal and mystique of traveling to these Enchanted Islands. The Galapagos are truly a once in a lifetime destination and my dream of exploring this magical place finally became a reality earlier this year. In January I had the amazing opportunity to travel to the Galapagos with AdventureSmith Explorations on a custom 8 day itinerary aboard two luxury vessels: the Eclipse and the Athala II. My first five nights were spent on the Eclipse on their Espanola Itinerary and my last two nights on the Athala on their Genovesa itinerary.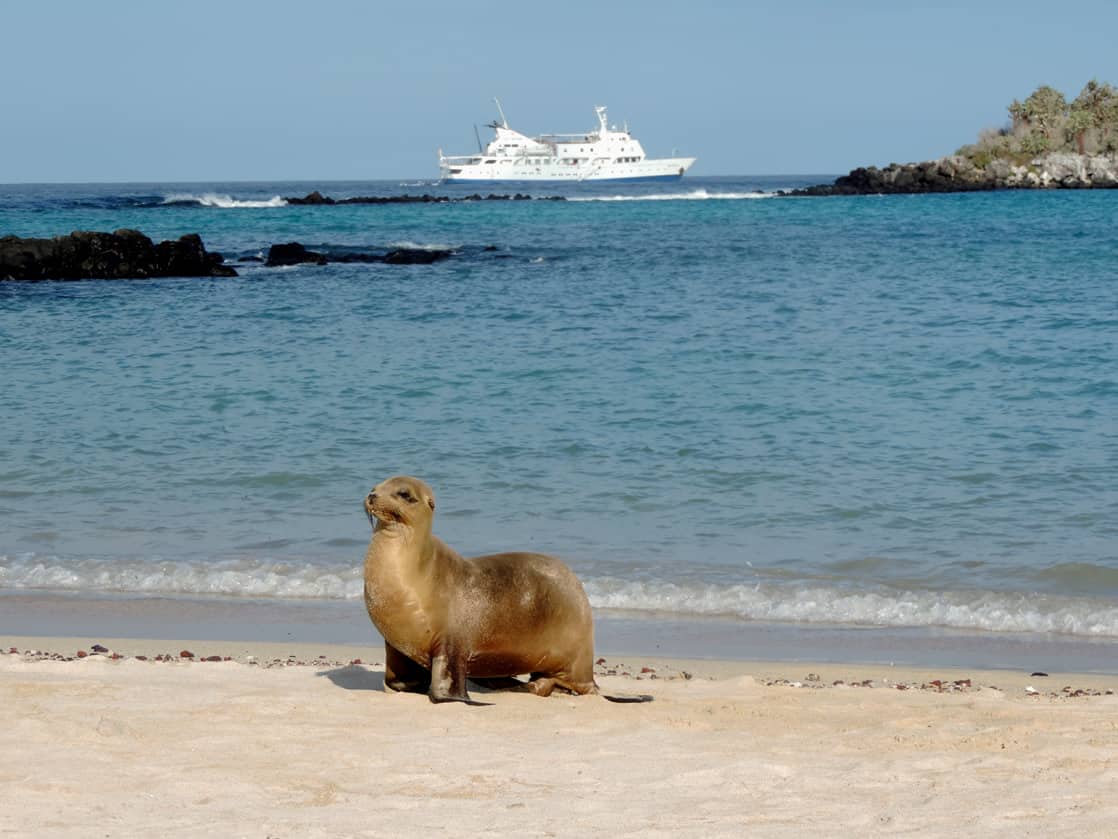 Truly the best way to experience these islands is by a small ship cruise which allows for visiting hard to reach and incredible places throughout the archipelago. I was able to experience the Galapagos in style on each vessel with amazing crew, service, accommodations, food and of course, unique itineraries. Snorkeling was definitely my highlight of these Galapagos cruises and if I could do one thing differently I would have brought an underwater camera. The marine life was so abundant, unique and beautiful. I know I enjoyed every moment I spent underwater but I wish I had some photos to show my friends and family. I know those memories will last with me forever though and I often dream about snorkeling with playful sea lions, flightless cormorants and hammer head sharks!
My journey began with a flight to Guayaquil arriving two nights before my cruise start date. AdventureSmith has a wonderful mainland Ecuador hotel and transfer package (the Galapagos Cruise Package) that I was very happy to take advantage of, especially as a single female traveler. Upon my very late night arrival, I was greeted by a very welcoming English speaking guide that took me to the Oro Verde Hotel. The following morning, after an amazing Ecuadorian buffet breakfast, the same guide picked me up from my hotel and took me on a morning tour of Guayaquil. My favorite part of this tour was the Parque Seminario (also known as Iguana Park) because of the hundreds of iguanas everywhere! I felt that seeing all of these iguanas was a great first glimpse of the unique wildlife I was about to experience in the Galapagos.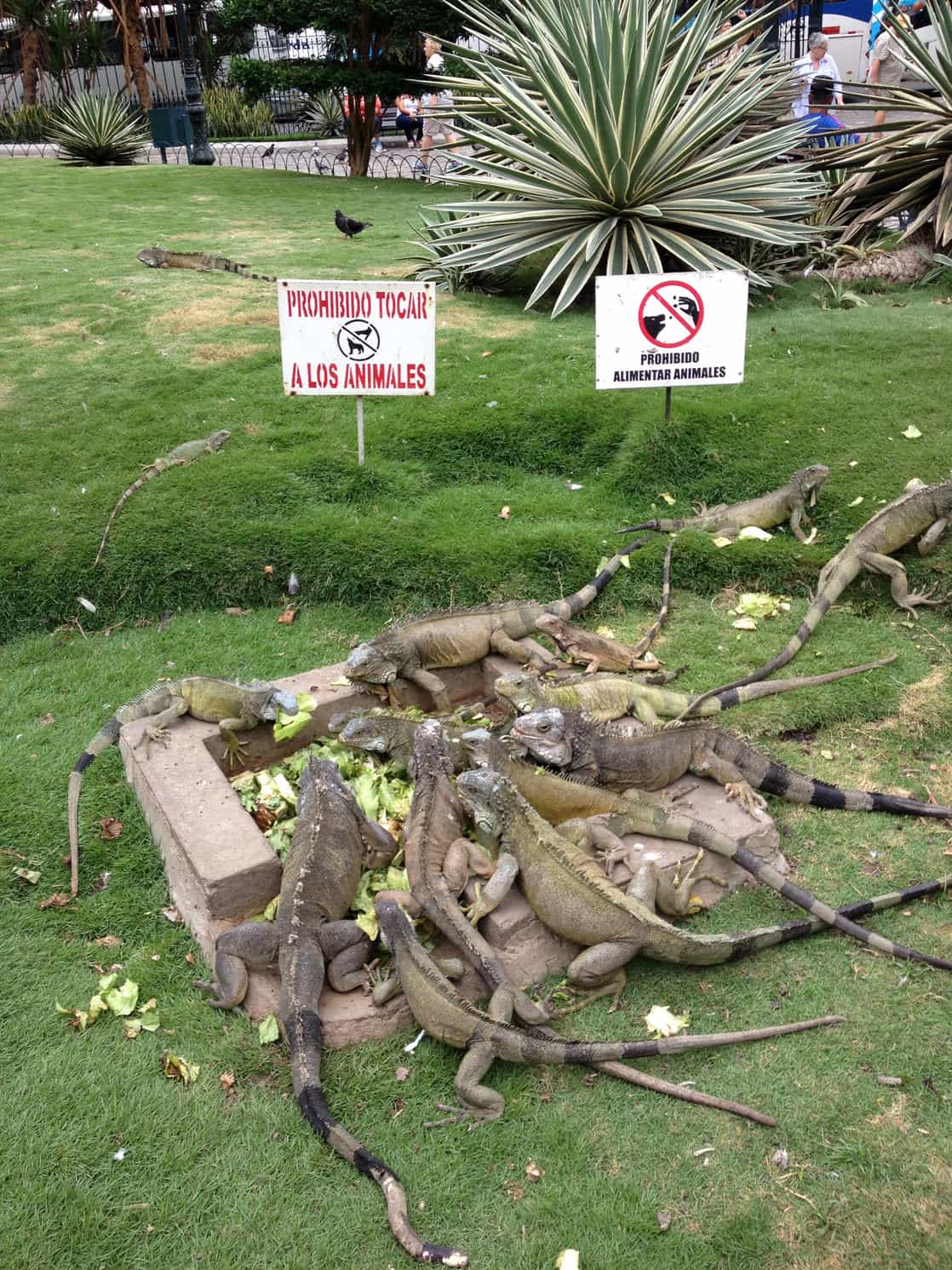 The following day, I felt well rested and beyond excited for my morning flight to the Galapagos. Once again, the seamless transfer package made me feel at ease as my guide and driver met me in the lobby to take me to the airport and help with check in. On my 1.5 hour flight to Baltra my excitement continued to build until I could see the islands and the bright turquoise waters out of my window. It felt like a dream that I was finally about to experience these Enchanted Islands!
Upon arrival, the line through the Galapagos immigration seemed to take forever since I was very anxious to start the cruise. It wasn't long before I was at baggage claim meeting one of the Eclipse naturalist guides and my fellow Eclipse travel mates. We were then transferred by a short bus ride to the Baltra dock and waited to board zodiacs to be transferred to our ship. The Eclipse is a 48 passenger luxury small ship and Stateroom #9 on the Main Deck became my new home for the next six days. I was very impressed with how spacious and comfortable the room was since it was one of the more economical options. The Eclipse has many areas to socialize, enjoy the views and of course relax both inside and outside. The Sun Deck on the top deck was definitely the favorite location on the ship amongst all the passengers (especially after lunch) since it was an open deck with lounge chairs where you could choose to be in the shade or to sunbathe while taking in the views (or taking naps).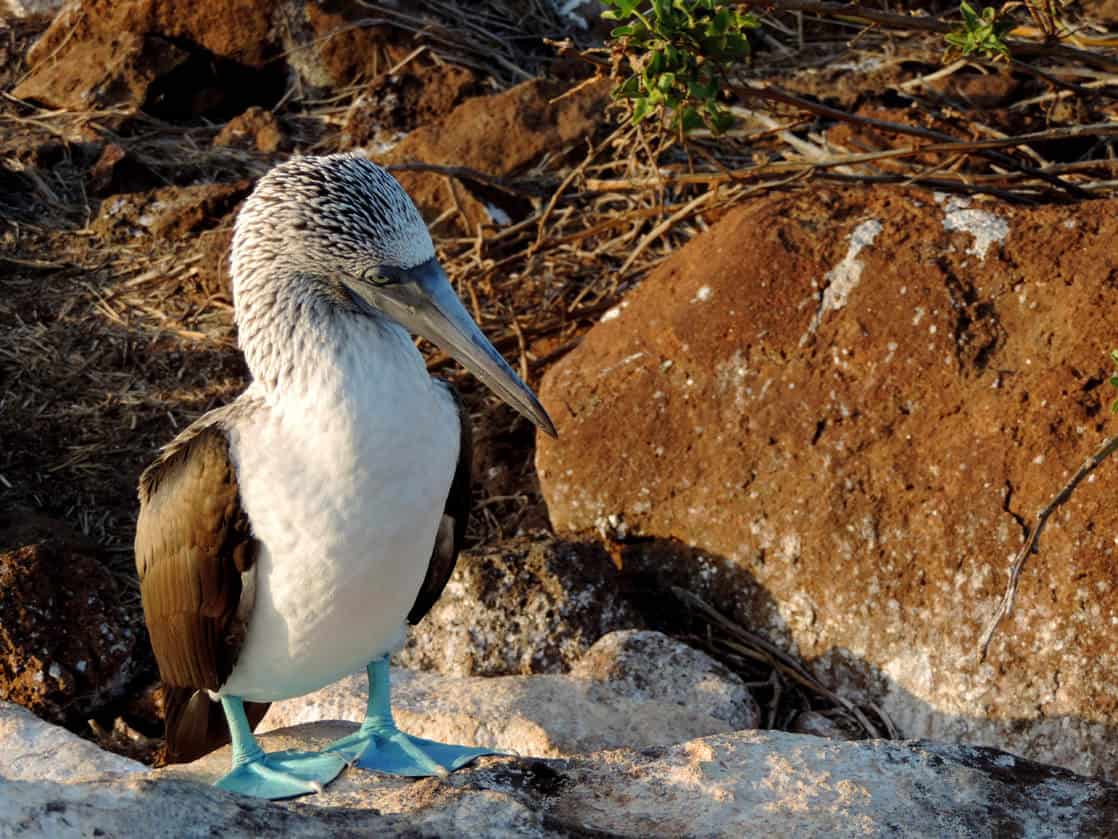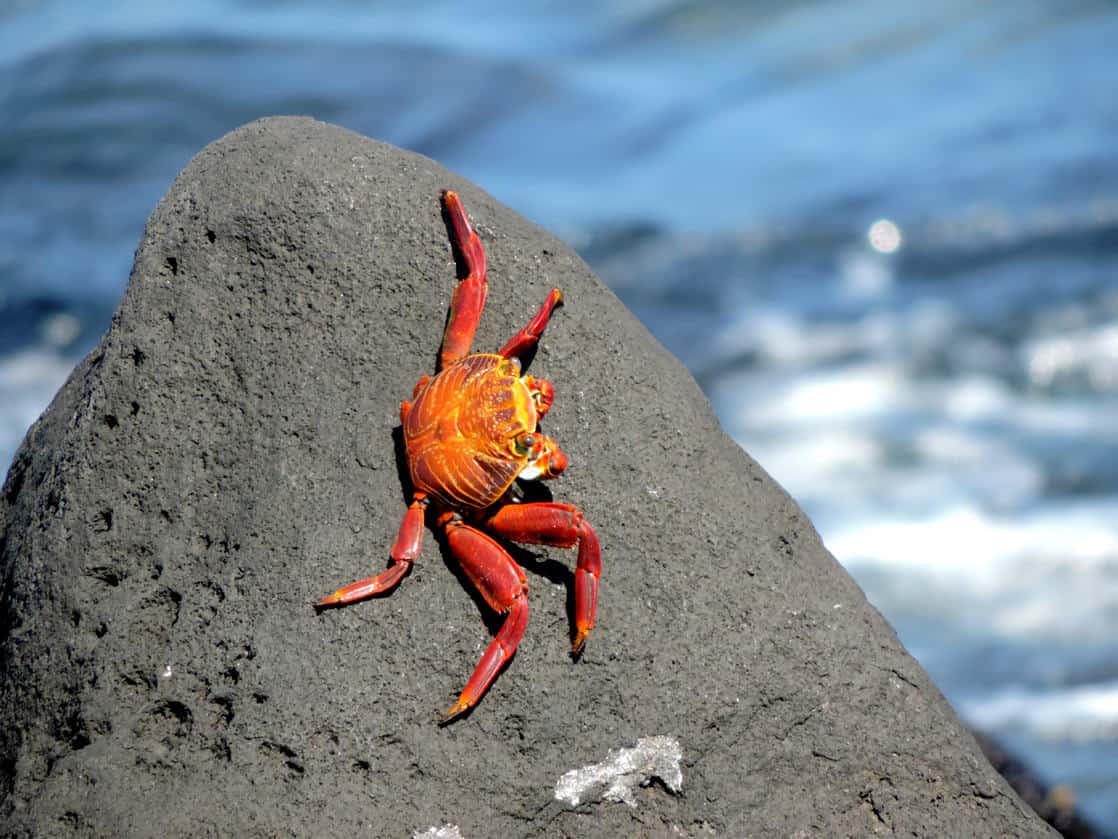 After a safety briefing and lunch we were ready to make our first landing on North Seymour Island. There was quite a bit of swell which made the dry landing off the pangas a bit adventurous. This first landing immediately blew my mind and really set the tone for what I was about to experience during these 8 days in the Galapagos. I knew that the Galapagos Islands animals were supposedly extremely tame due to the lack of natural predators but when I finally saw it for myself I was astounded. Baby sea lions, blue-footed boobies, nesting frigate birds with their fluffy frigate chicks and marine iguanas outnumbered us and didn't flinch as we walked past them. The wildlife combined with the knowledge of our naturalist guide really made North Seymour the perfect introduction to the Galapagos. This excursion was a combination of walking on sand but also on very rocky terrain. I would recommend walking sticks for those that might need a little extra balance support. Our 1 hour walk concluded during the most beautiful sunset as we loaded the pangas to return back to our floating home. That evening after a delicious dinner and getting to know my fellow passengers we were treated to the most interesting sight. Off the stern of the vessel, 8 – 10 foot Galapagos sharks were feeding in the light that the Eclipse was shining onto the sea. Many of us watched for a long time because we couldn't believe what we were seeing. There were moments when up to ten of these huge creatures were swimming together putting on quite the show for us. I must admit we were a little nervous to snorkel the next day!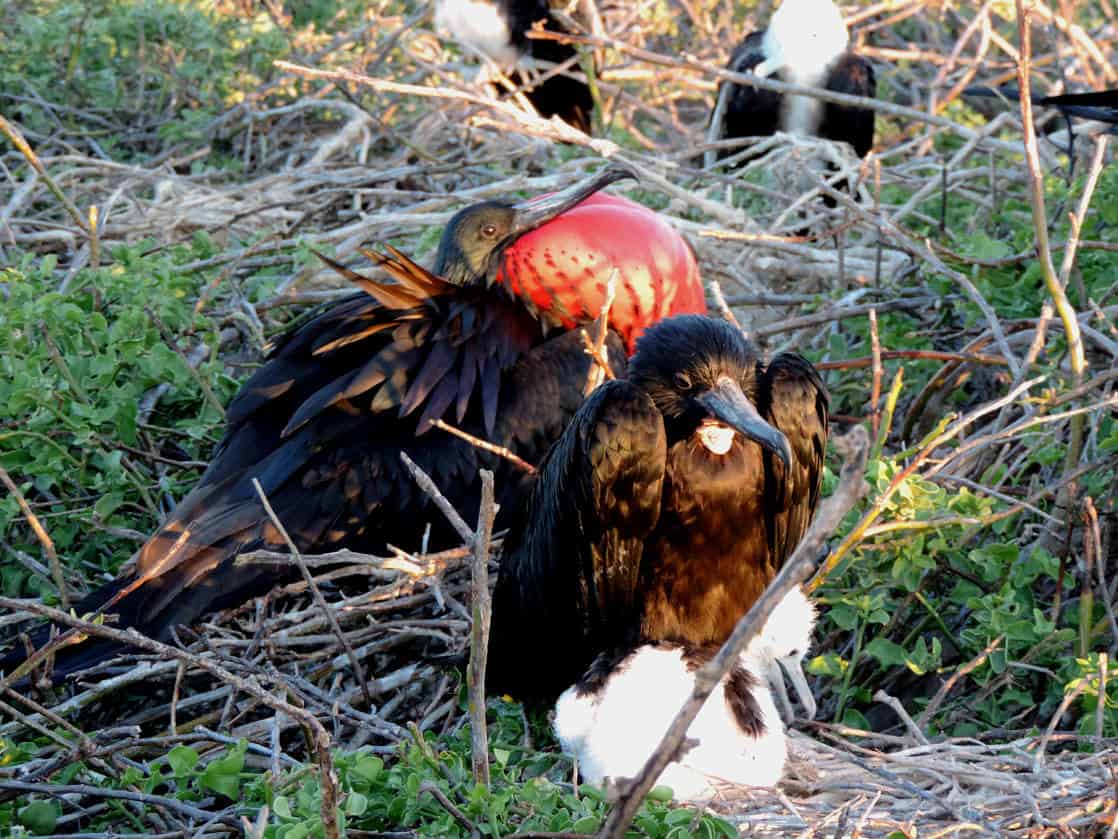 The following day on this Espanola Itinerary we visited South Plaza Island for a hike then to Santa Fe Island for a snorkel and then another hike. Every day continued in this same pattern filled with multiple excursions. This made for early bedtimes after busy and exciting days! Each activity was definitely enhanced by having our naturalist guides teach us about the history, the wildlife and of course always being there to point out wildlife we might not otherwise had seen on our own. After lunch, we were issued our snorkeling gear and wetsuits that were ours to use for the remainder of the cruise. Even traveling when I did in January, which is the rainy and hot season, I found the water to be chilly and happily used a shorty wet suit. Our first snorkel did not disappoint and we saw lots parrot fish, scorpion fish, angel fish and large graceful eagle rays.
Each evening after dinner we would all meet in the presentation lounge where our guides would recap on the day's activities, what we saw, where we went and then highlight what to expect the following day. They made it really easy to remember the following day's busy itinerary by putting these details up in the main lobby. Morning wake up times ranged from 5 am – 7 am, so early bed times were a must after these long days.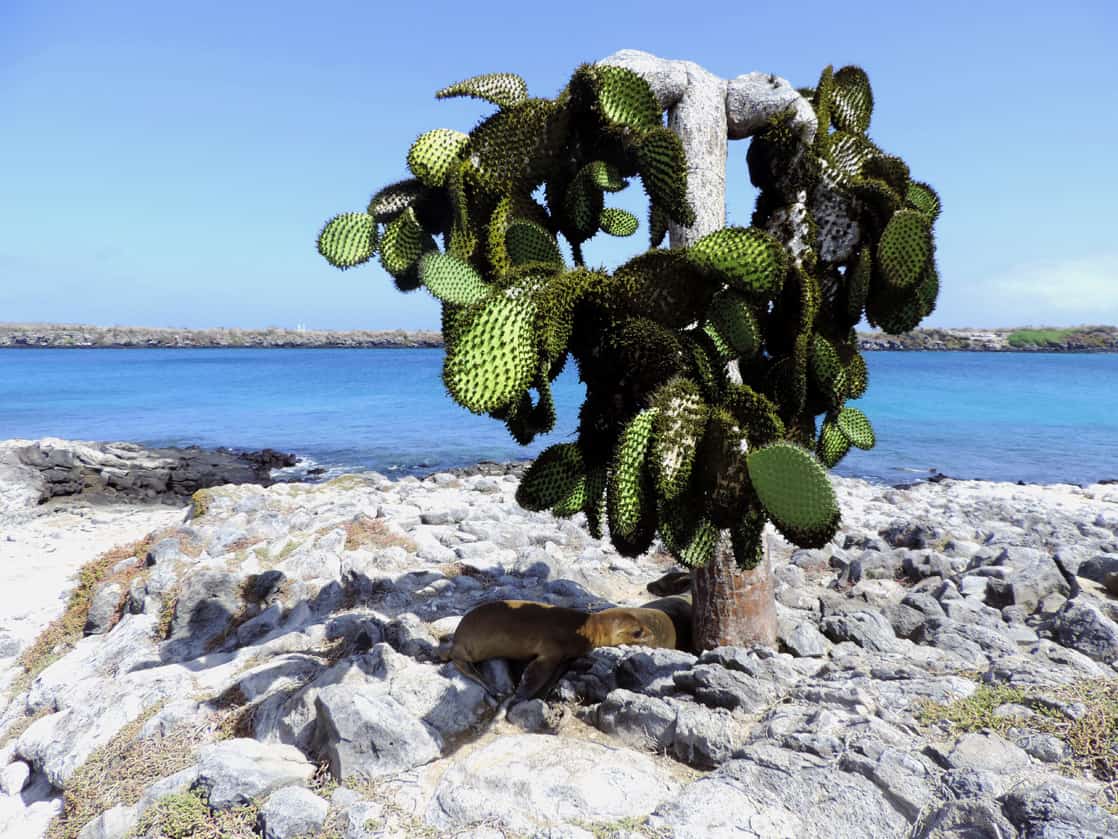 The following morning we woke up at Punta Pitt on San Cristobal Island. The long distance navigations between islands are done during the night, arriving first thing in the morning for the next adventure. We were given the option for an early morning "power hike" before breakfast and about half of the passengers took on the challenge. Punta Pitt is located on the eastern tip of San Cristobal and after a wet landing onto the island this hike took us through a steep narrow canyon climb. From there we reached a large plateau where the views were spectacular and where we saw our first red-footed booby. It was then and there that my love shifted from the blue-footed booby to the red-footed booby. Their diverse and vibrant face colorings combined with their red feet made me smile and when you look at them straight on it looks like they are smiling right back at you! The rest of the day was filled with panga rides through caves, enjoying Cerro Brujo's pristine white sand beach and once again snorkeling with sunny weather. That evening after dinner we enjoyed yet another magnificent Galapagos sunset with the infamous Kicker Rock (Sleeping Lion Rock) as the backdrop.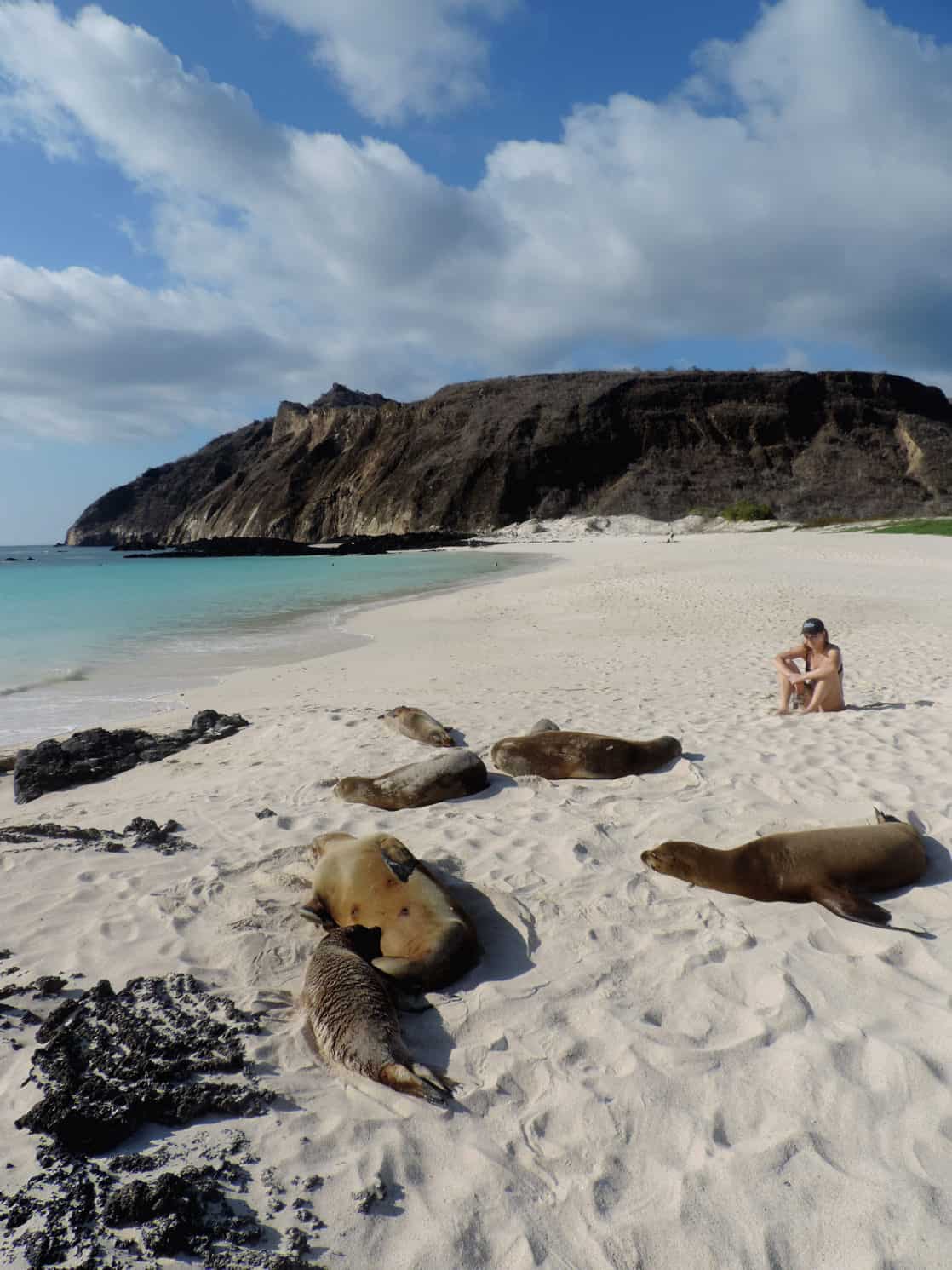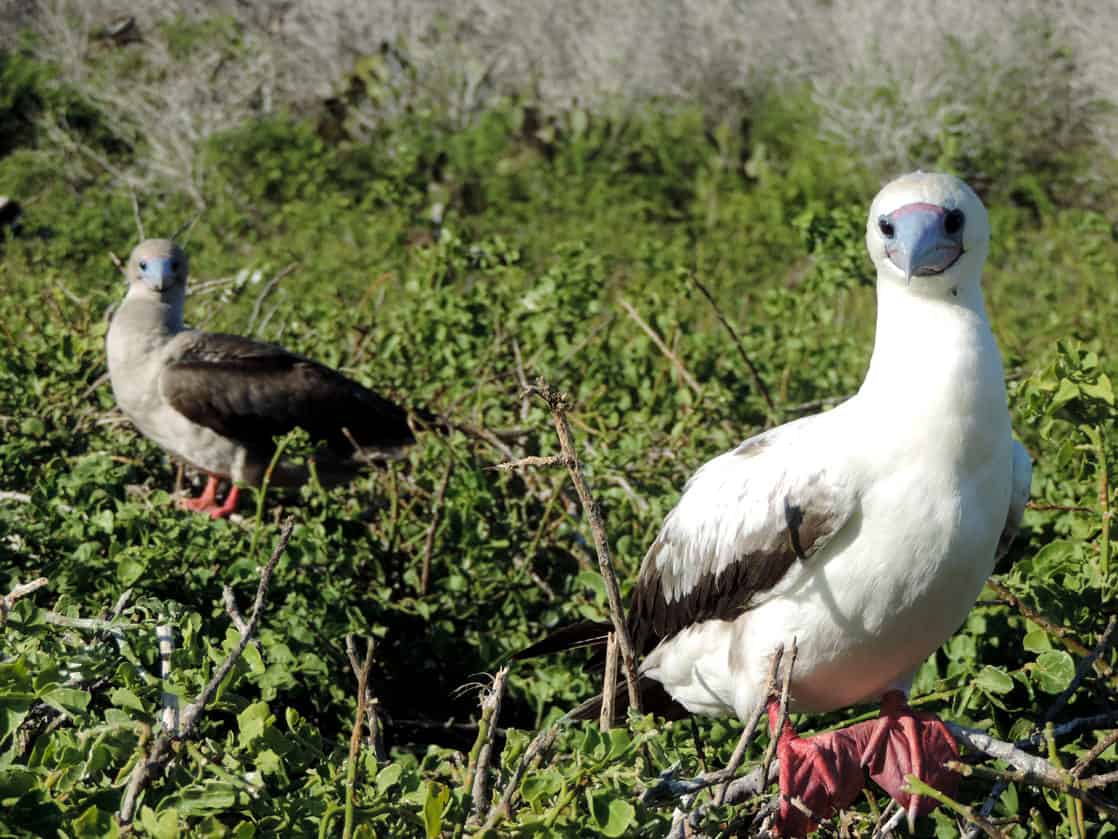 On Day 4 of our itinerary we spent the entire day on Floreana Island which was a highlight of the trip. The early morning was spent kayaking amongst playful sea lions, sea turtles and herons. During the late morning we visited the famous Post Office Bay, which is inspired by the 18th century whalers, pirates, explorers and residents who used a wooden barrel as an unofficial mail box at this same location. This barrel today was loaded with post cards from all over the world just waiting to be hand delivered by the next traveler that lived close enough to accomplish this task. I think it is so amazing that this tradition continues on today by Galapagos tourists. After visiting the "post office" we went for a snorkel for the first time with sea turtles! Swimming next to them and with them was a highlight of the day. But the lunch that followed quickly became yet another highlight. Lunch consisted of a typical Ecuadorian feast of ceviche, fish stew, rice and plantains that was served on the Al fresco outdoor dining area. After a much needed siesta nap we were all out snorkeling at Champion Islet, right off the coast of Floreana. This time the abundance of fish species, turtles and sea lions blew our minds once more. Swimming with the playful sea lions in a cave and along the sea shore left quite the impression on us as we headed back to the ship by panga to prepare for our next activity.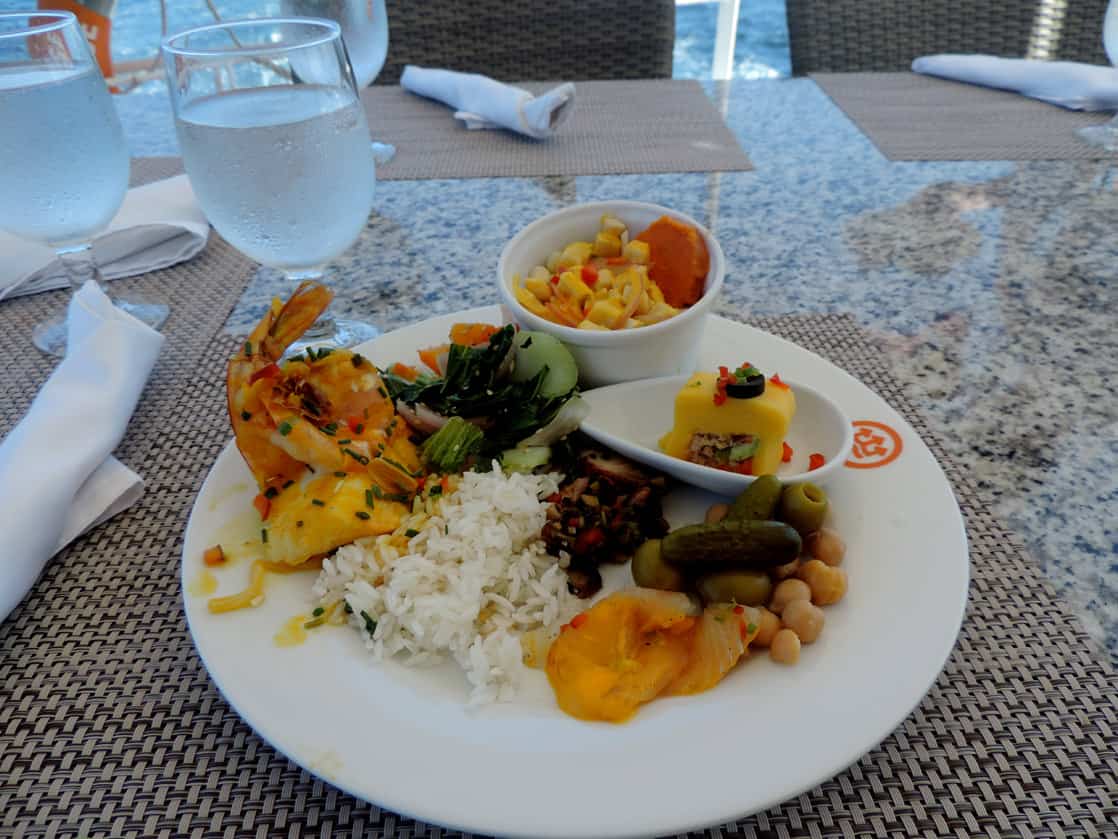 Right before sunset our guides took us back to Floreana for a walk on the beach to a brackish lagoon where we spotted our first Galapagos flamingos. From there we continued onto another white sand beach where about 30 sea turtles were swimming before coming back to shore where we could see their nesting sand pits. We watched them for a long time and then left them in peace as we knew they were waiting for dusk to return to their nests. We walked past the flamingos again now with the vibrant pink sunset colors behind them. We said our goodbyes before heading back to the ship for a delicious meal that would put us right into dreaming sleep.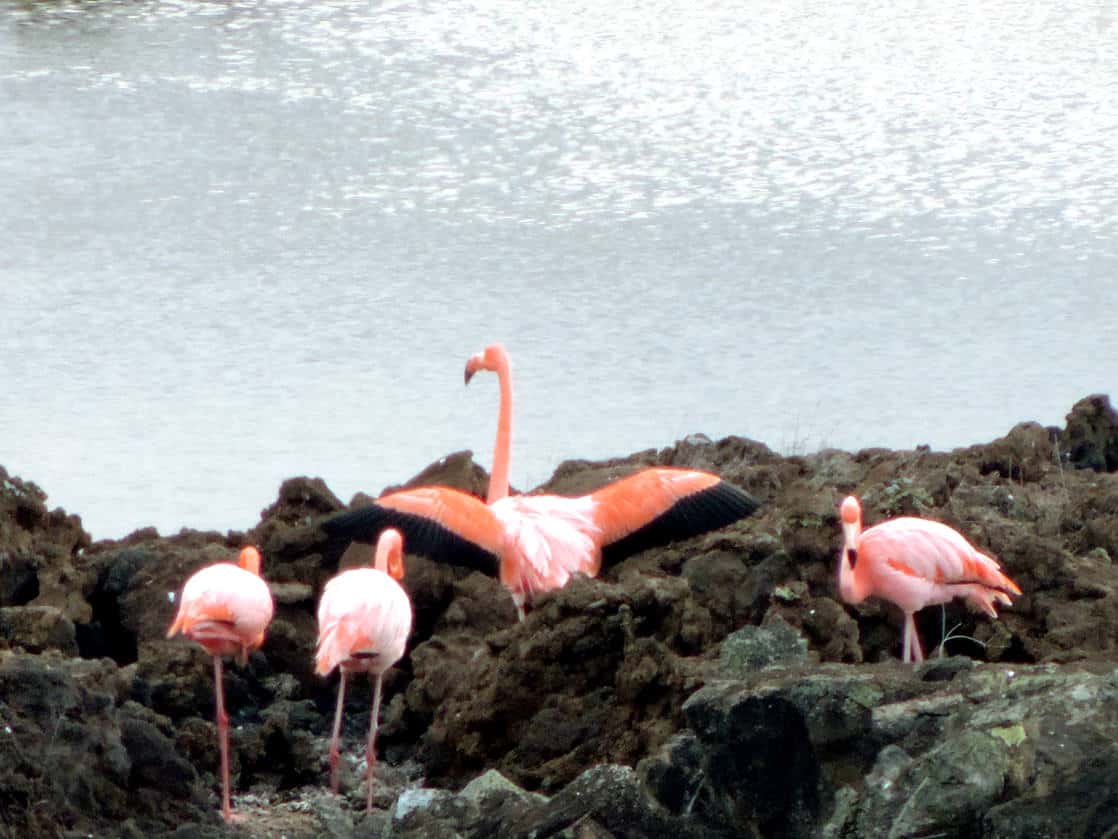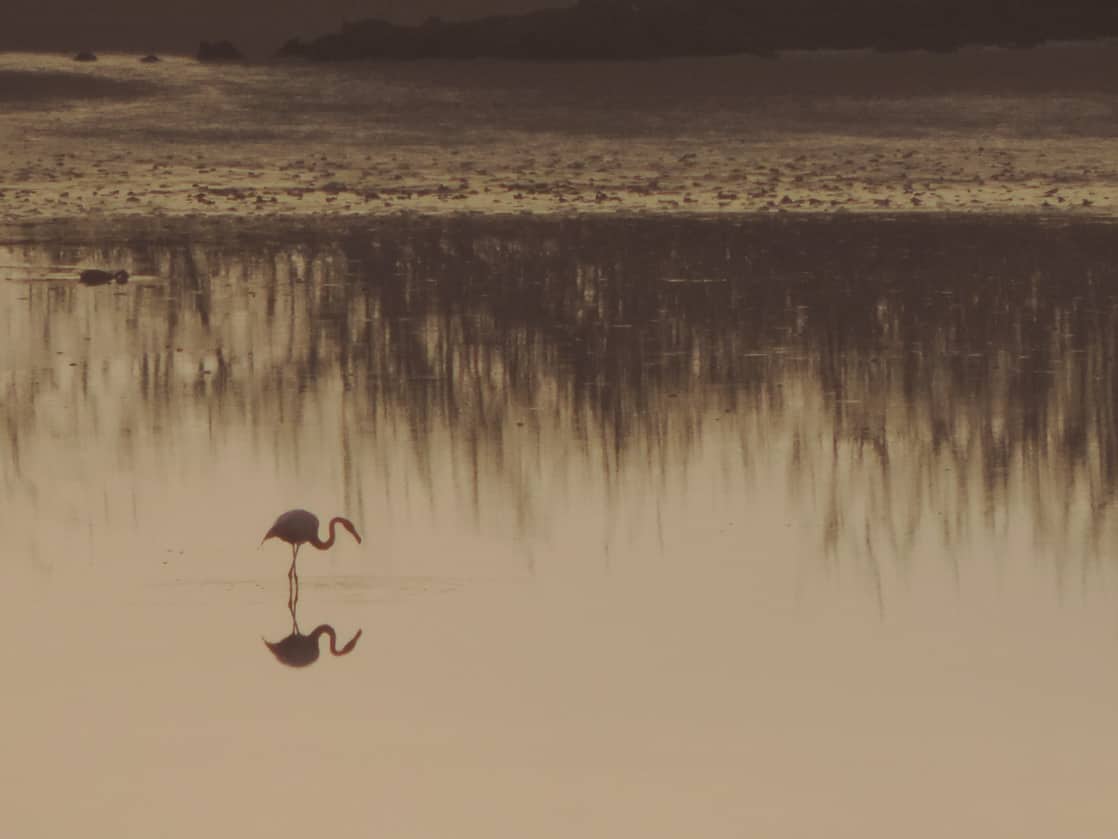 That night we traveled 12 hours from San Cristobal to Isabela Island. A long crossing that was a little bit rough and left us anxious to arrive at this western island. The day was spent with panga rides through mangroves where we watched Galapagos penguins feeding on schools of fish, snorkeling with seahorses, octopi, sea turtles and flightless cormorants and hiking on lava rock at the base of Sierra Negra Volcano. For those that had only booked the 6 day itinerary this evening was our farewell dinner to them. This also included myself since I would be transitioning over to the Athala tomorrow.
The following morning we returned back to civilization and woke up anchored at Puerto Ayora on Santa Cruz Island, the biggest town in the Galapagos. Waking up surrounded by tons of small cruise vessels made me realize how well the Galapagos National Park arranges all the specific landing permits. All landings are regulated by the park and even with the multitude of vessels that operate in the Galapagos I never felt like my experience was overcrowded with other travelers. At each anchor location throughout the week we were never in sight of more than two or three other vessels at any given time.
We spent the morning visiting the Charles Darwin Research Station just outside of the main town center of Puerto Ayora. Although the center is a bit run down, I still found it interesting to see the various island species of baby tortoises and then finally get a glimpse of the famous giant tortoise! The highlight was definitely not seeing these giant tortoises here but instead was once we traveled by bus 20 minutes from town up to the rainy highlands. Watching them roam around like dinosaurs in the lush vegetation that encompasses the highlands was absolutely mesmerizing. It was like going back in time; I couldn't believe I was finally seeing them in person. It truly was a dream come true and I wish I could've stayed there all day. It was time though to return to town and then back to ship where I would have my final meal onboard the Eclipse.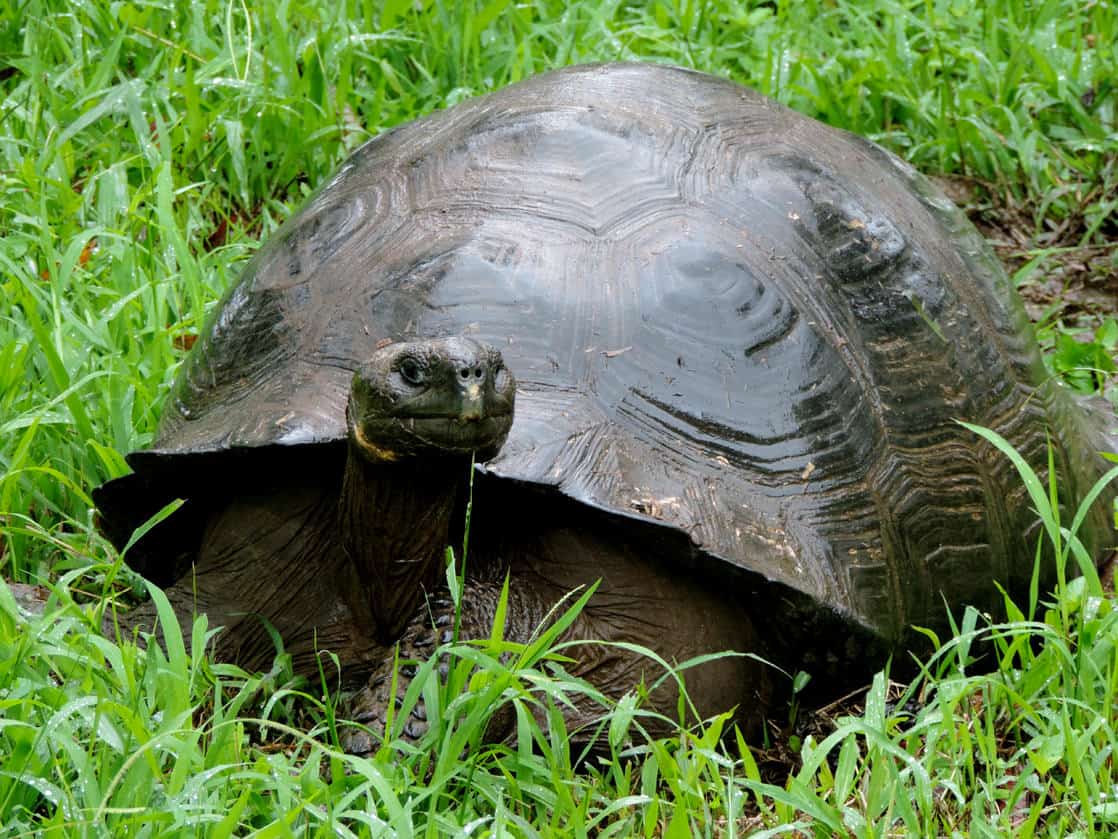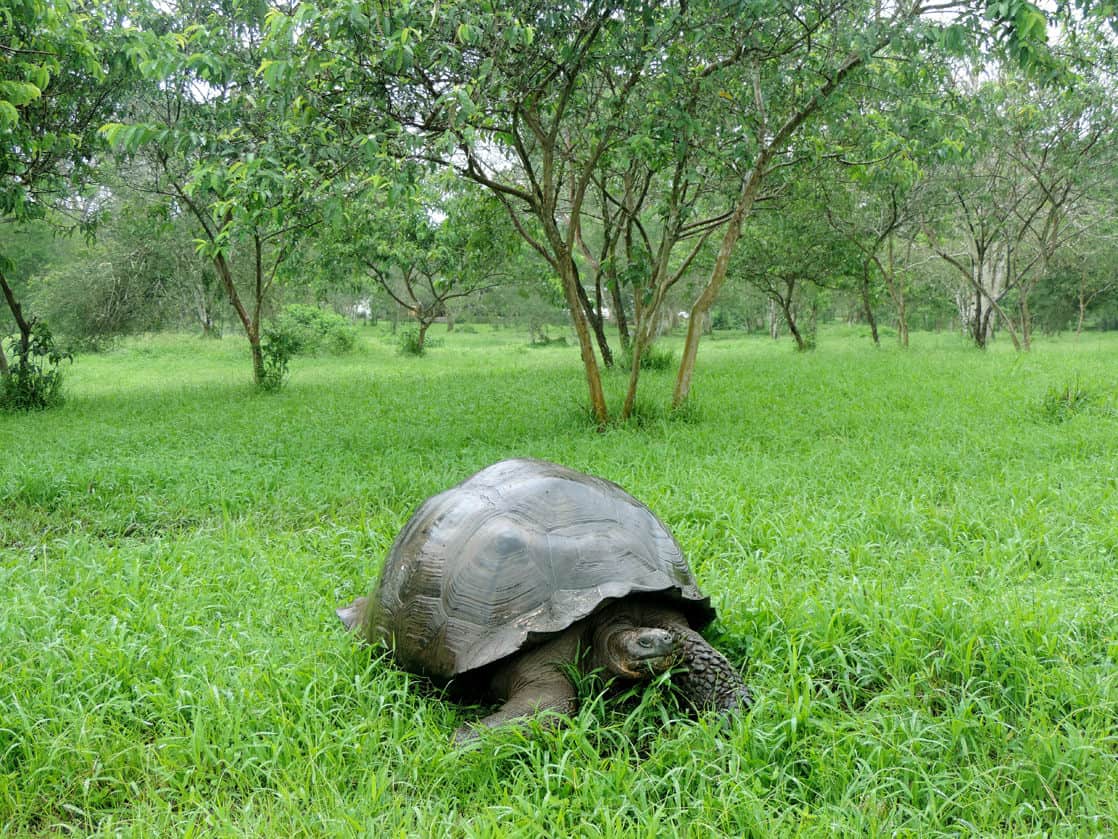 After lunch on the Eclipse it was time to say goodbye to the amazing crew and other passengers that I had just spent the last six days with as it was time for me to move to my new home, the Athala II. The Athala II is a 16 passenger luxury catamaran that I was lucky to experience for my final 3 days/2 nights in the Galapagos. I had been so comfortable on the Eclipse and to be honest a 48 passengers vessel felt like a small group to share the experience with but when I got onboard the Athala it immediately felt like I was joining a very intimate family setting. The Athala II has eight cabins total with four cabins on the Upper Deck and then four cabins on the Main Deck that have small balconies. There are plenty of areas on this small vessel to relax and enjoy the scenery outside of your cabin. I really enjoyed having meals on the Al Fresco deck just as I had enjoyed this same experience on the Eclipse. The crew and the food were once again top notch on this vessel as well and I felt very well taken care of. It really felt like being part of a Galapagos family. It was great to be able to talk to all the other passengers around one table during meal times. The food onboard both the Eclipse and the Athala was outstanding with a lot of variety. All meals were served buffet style in a very casual setting but at dinner time they do ask that men wear pants.
After dinner on my first night onboard the Athala II, we started our eight hour journey to the Northern Island of Genovesa. Immediately the boat started rocking as it crossed the Pacific Ocean. I rarely get sea sick but this night I definitely felt it a little before falling asleep. For those that are prone to sea sickness I would definitely recommend bringing seasickness medication (pills and/or patches) because there can be a lot of swell rocking during open water crossings at any time of the year. January is part of the calm season but I know people that got sea sick on both the Eclipse and the Athala during these cruises.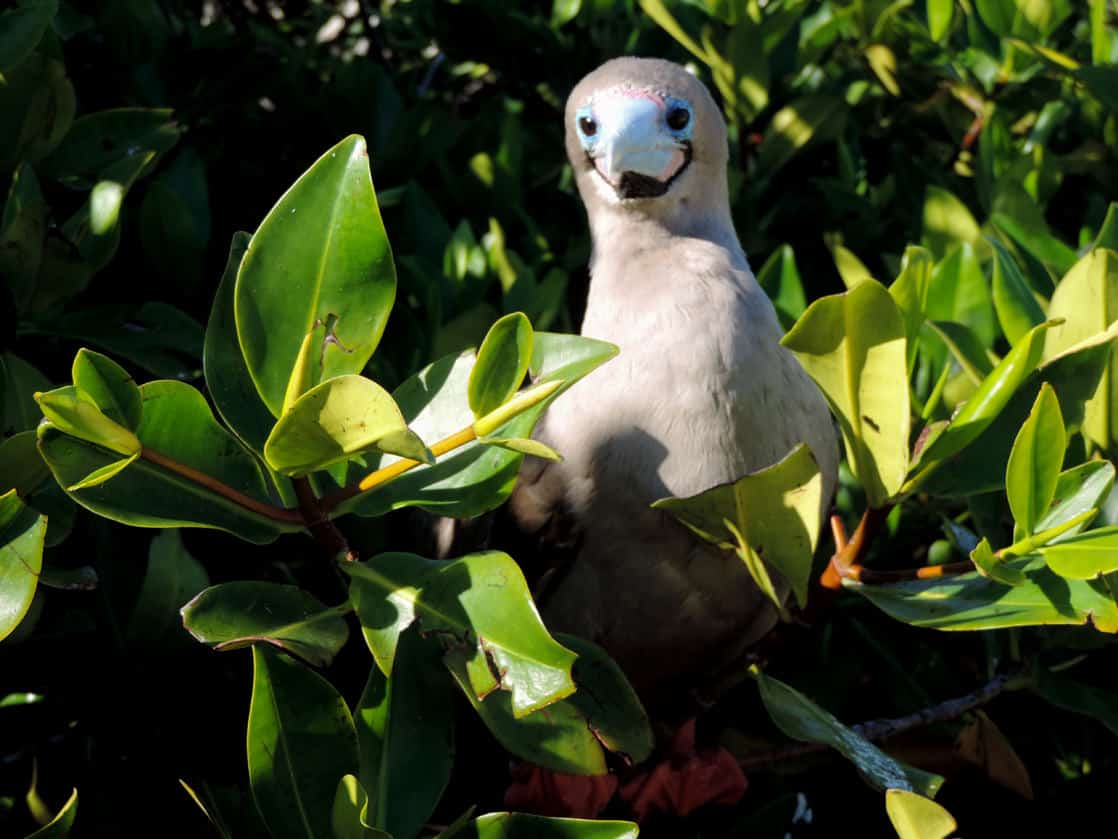 The next morning we awoke at the horse-shoe shaped island of Genovesa within its pre-existing volcanic caldera that is now Darwin Bay. This island is also known as Bird Island and it definitely lived up to its name. We enjoyed the early morning at El Barranco where we climbed the steep Prince Phillip's Steps to a plateau full of bird life amongst a Palo Santo Forest. We saw red-footed boobies, Nazca boobies, frigate birds, doves, finches, petrels and even a short eared lava owl! The remainder of the day was filled with snorkeling with eagle rays, large hammerhead sharks, nurse sharks, colorful fish and of course playful sea lions. We were fortunate to enjoy one last magnificent Galapagos sunset here in Darwin Bay. I was filled with such happiness and contentment as I took in this final sunset and thought back on my beautiful week here in these truly Enchanted Islands.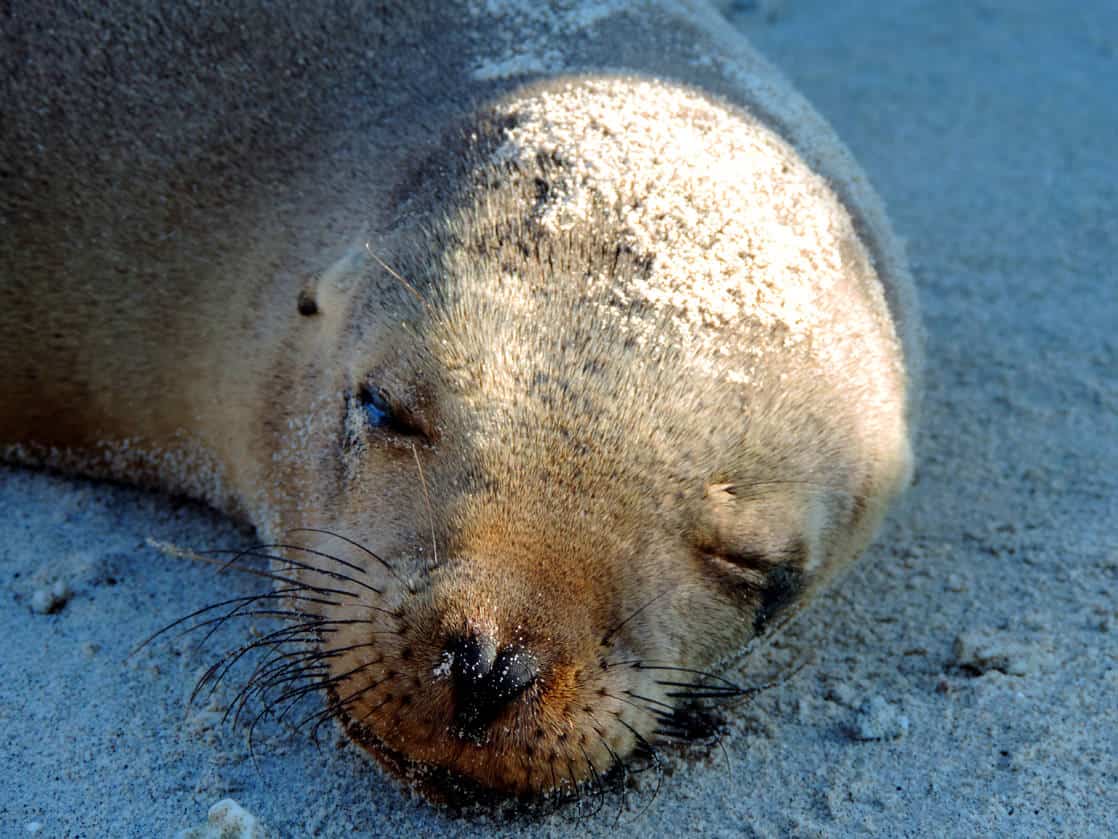 My final morning in the Galapagos ended right where I had began, North Seymour Island. Even though I had already visited this island on Day 1 (when on the Eclipse) I could not pass up another opportunity to see the Galapagos wildlife up-close. And I am so happy I didn't decide to sleep in because this time on North Seymour I was lucky to see the famous blue-footed booby courtship dance! This last memory really filled my heart as we made our way to the airport and said our goodbyes before flying back to mainland Ecuador.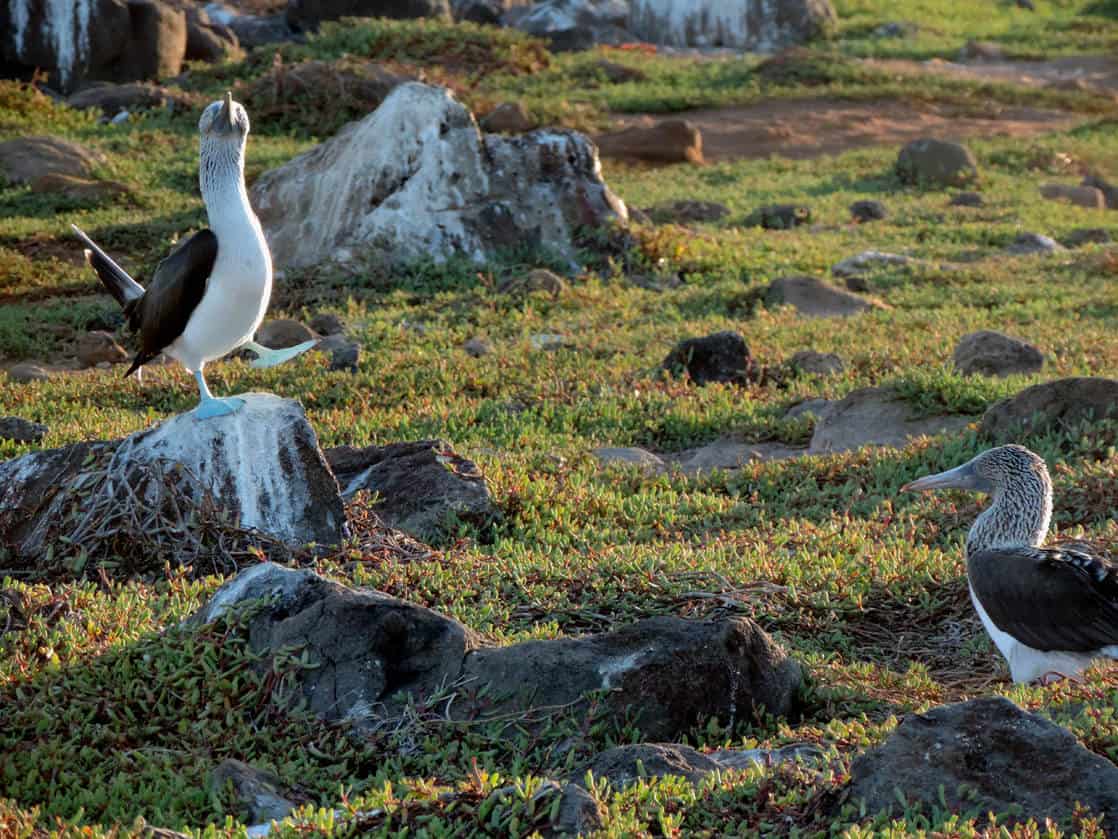 The Galapagos Islands are such an incredible destination that really surpassed my expectations. I highly recommend Galapagos travel to all ages of adventurous travelers and I am happy to discuss the many exciting options that are available to help make this Galapagos trip a reality for you!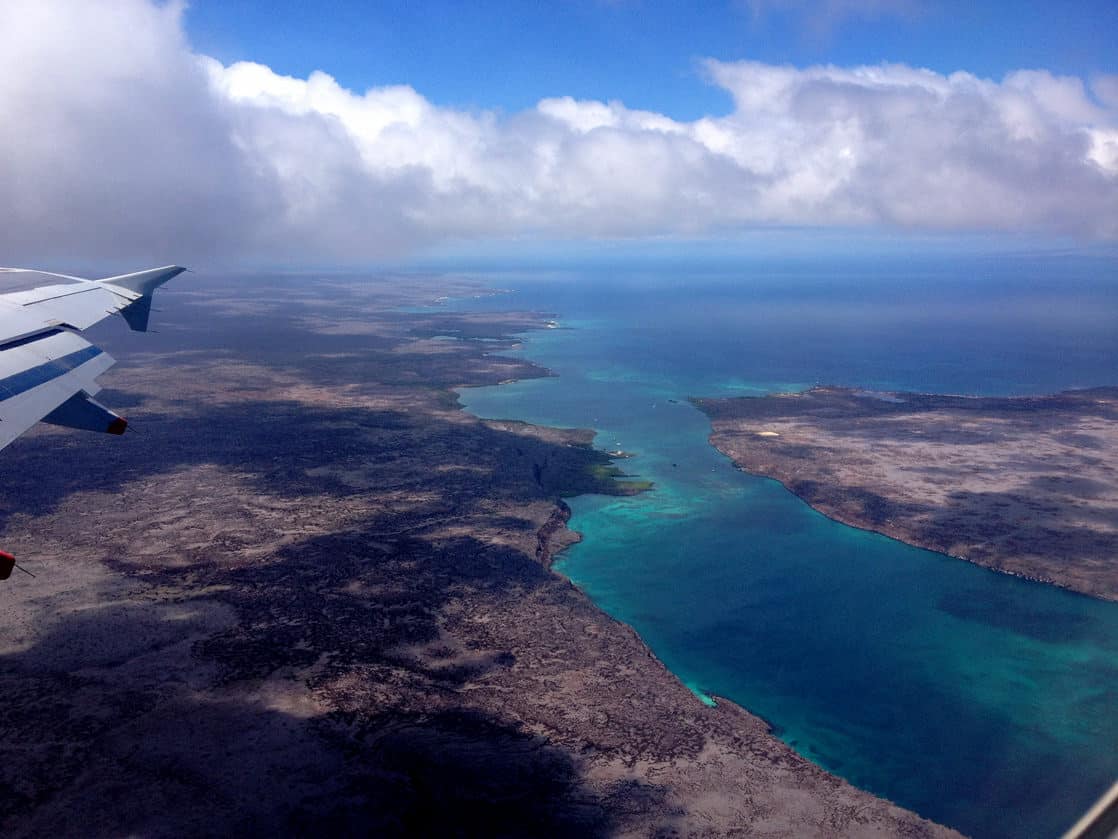 Upon returning back to Quito, I also experienced the incredible Ecuadorian Amazon. You can access a separate review of my Amazon trip here: Expert Review: Ecuador Amazon Adventure Sacha Lodge.
MORE GALAPAGOS RESOURCES:
Galapagos Cruises
Galapagos Cruise Deals
Galapagos Islands Yacht Charters
Galapagos Luxury Cruises
Galapagos Family Cruises
Galapagos Diving
How to Choose the Best Galapagos Cruise
Galapagos Island Hopping or Cruise?
Best Time to Visit Galapagos
How to Get to Galapagos
Galapagos Islands Animals
Galapagos Trips
Galapagos Tours
Galapagos Cruise Reviews
Galapagos Travel Guide
This Galapagos cruise review was written by an AdventureSmith Explorations crew member. Read all Cruise Reviews for more trip reports, or contact one of our Adventure Specialists to learn more about these small ship cruises and wilderness adventures: 1-800-728-2875.