AdventureSmith's Peter Avedschmidt takes us on a wildlife whirlwind in this exciting La Pinta Galapagos Cruise review, recapping his time aboard the 48-guest La Pinta expedition ship. While he sailed on the 7-day Western Islands route, the shorter North and East itineraries are of the same caliber experience, with landing sites that are just as varied. Use his in-depth insight to plan your trip or get inspired for your upcoming adventure.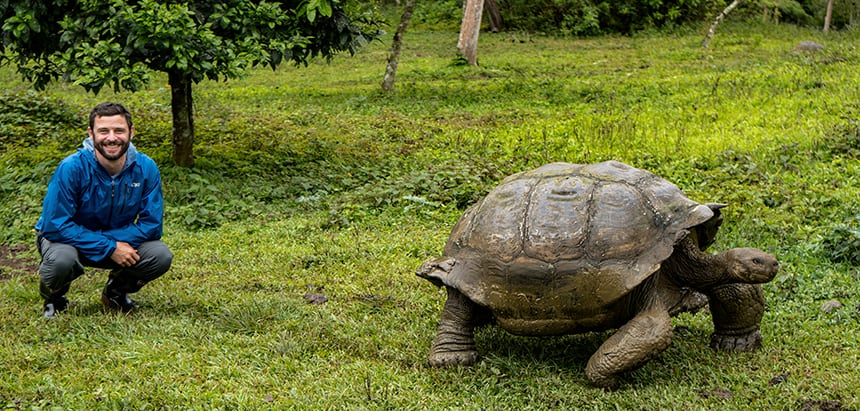 Like many animal-enthralled world travelers, the Galapagos Islands have been at the top of my must-visit destination list since I can remember. However, no matter how much I studied, read, watched or learned about this enchanted haven hosting some of the world's most unique and remarkable endemic wildlife, it did not prepare me for the mind-blowing, endorphin-dumping experience the archipelago showcased every day I was there.
To make the most of my time and maximize what I would encounter on this truly epic trip, I traveled by small ship aboard La Pinta luxury yacht on a 7-day Western Galapagos cruise. I visited five islands home to the bulk of the top iconic Galapagos Islands animals (and countless others), witnessed some of the most incredible biodiversity above and below the water, and relished in gorgeous sunsets nightly, all while being pampered by one of the best small ship crews around.

Ship Size Matters… And Everything is Relative
Carrying 48 passengers, La Pinta is larger than most small ships plying the Galapagos waters. When looking through all the Galapagos cruises on the AdventureSmith website, one may be skeptical of a vessel this size compared to a smaller, more intimate yacht or catamaran. However, a larger boat comes with many advantages. With a huge fleet of exploration gear, spacious cabins and common areas, an array of daily activity options, a minimum of 1 naturalist guide per 16 guests (we had a 1:10 ratio on our September cruise), and a highly organized staff that pieces everything together with machine-like precision, I would choose to cruise on this ship again in a heartbeat.
La Pinta's size was very welcoming as a solo traveler. Instead of having the potential of feeling like a 5th wheel among a few groups aboard a smaller vessel, there were so many clusters of people that it created an open and unexclusive atmosphere that offered opportunities to easily connect with fellow shipmates. Because of the large common spaces, multitude of activities and relaxed environment, La Pinta's size was also a good option for families with kids.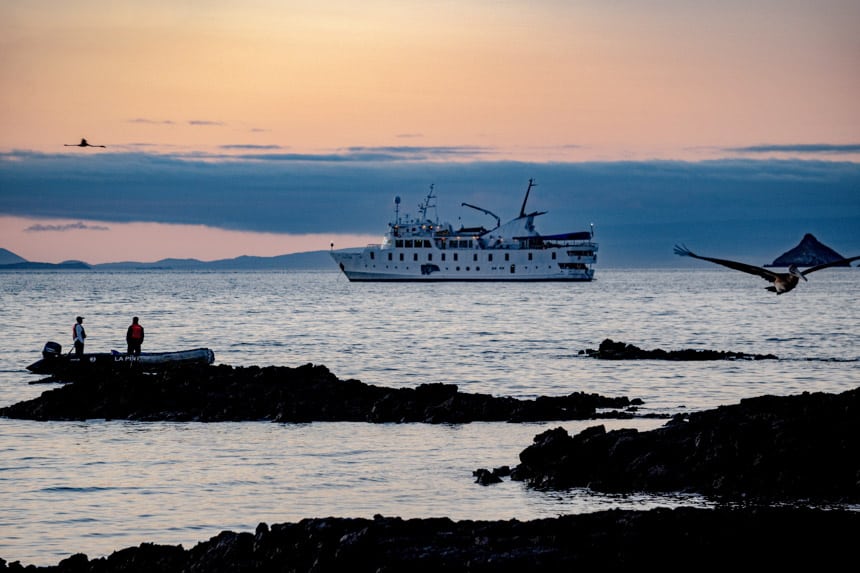 La Pinta Galapagos Cruise Review: Activities & Action-Packed Days
The day-to-day activities were on point. They started and ended within a minute or two of my printed itinerary, yet it was done in a relaxed fashion (and if you were ever late, the crew would find a way to transport you to the rest of the group). As one of my fellow cruisers, Nick from New York put it, "There's nothing island time about this Galapagos Islands cruise." He was spot on.
"There's nothing island time about this Galapagos Islands cruise."
This is something to note: If you haven't cruised on a small ship, especially in the Galapagos, know that your travel style may be constrained more than you are used to in certain ways, but this high-efficiency structure allows for maximizing amazing experiences each day. It's worth it, and everyone on board, regardless of age or fitness level, was stoked for the entire 7 days of the cruise.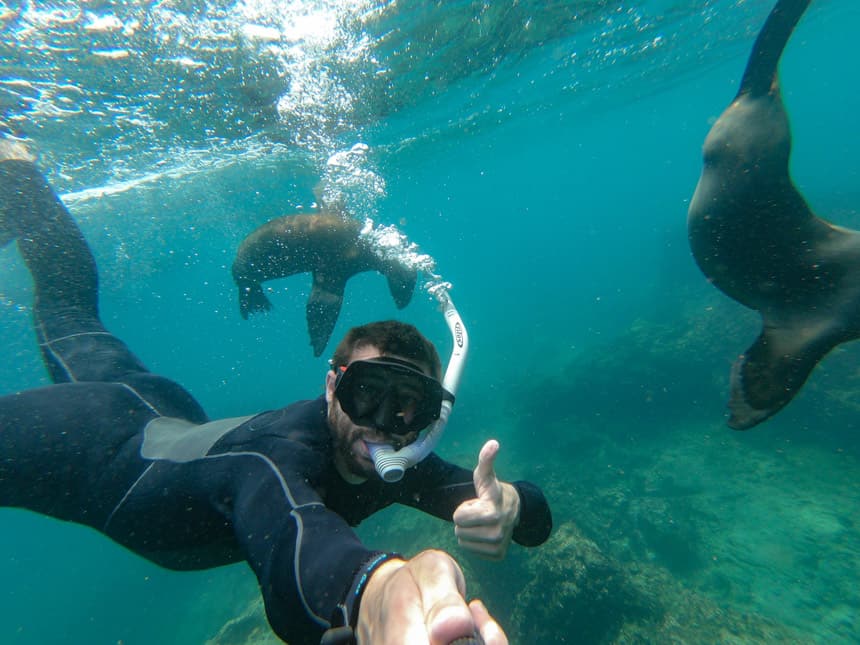 The cruise was dense with a variety of optional activities, one after the other, only pausing between meals. It helped that the crew was so well organized—we never fell behind schedule and were able to do everything stated in the itinerary. There was always enough gear to satisfy our exploratory cravings: eight double kayaks, three stand-up paddleboards and snorkel gear. Snorkeling was the true highlight activity for me, but I was happy to have packed along my full wetsuit in September's chillier waters so I could stay in the water longer; the ship only stocks shortie wetsuits for passengers to borrow. The kayaks were easy to get into and maneuver. We always saw different animals when paddling around the tranquil coves the crew took us to. Sea lions escorted us from one point to the next, jumping in and out of the water alongside our kayaks. Green sea turtles poked their heads out of the water to stare at us, then casually dipped back under. One penguin came out of nowhere, swam playfully around us, then darted away as quickly as it greeted us.
The glass-bottom boat was a top choice for those who wanted a break from snorkeling. With a canopy top and comfortable seats, it offered spectacular views of the underwater world. One group was lucky enough to see a manta ray underneath it!
Another great option for those who wanted something less activity-intense was exploring the coast by panga. Many times, these rides would be offered before or after activities so everyone could participate. We saw penguins on multiple occasions, a mother and baby humpback whale swimming with sea lions jumping out of the water in front of them, seabirds roosting, blue-footed boobies resplendently modeling themselves on rocks and much more. The panga drivers always had our safety in mind and took it slow and smooth.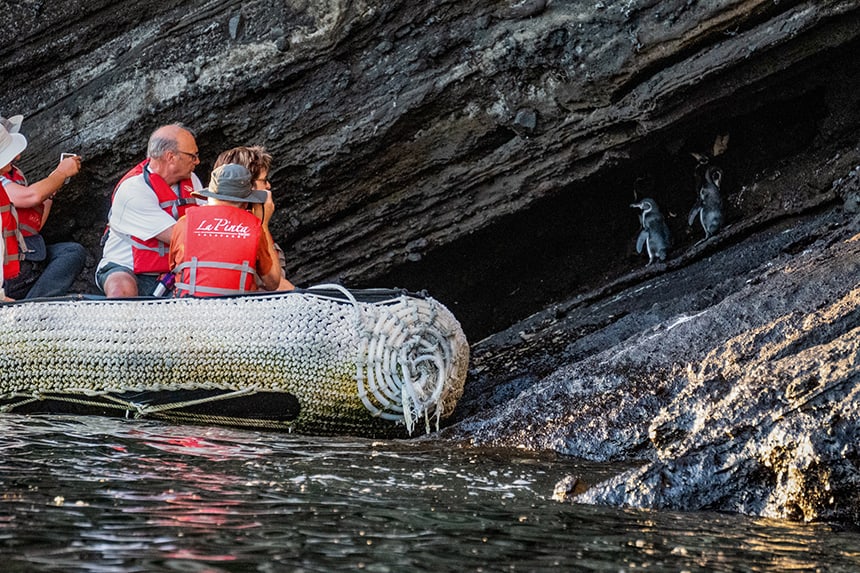 The hikes were fantastic, with something different to see on each one. The amount of knowledge the guides possessed was astounding and gave so much more value to our time out in the wild. They allowed us ample time to take pictures, stop and rest, ask questions and take in beautiful vistas. No one felt rushed and no one seemed antsy.
The hikes varied in wet vs dry landings (your feet would get wet on some landings; on others you could step directly onto a dock or the rocky shore), which the guides always gave a clear notice of beforehand, so we knew what type of footwear to use. It was easy for passengers of all ages to get in and out of the panga, with the guides giving each of us the "Galapagos handshake" (grabbing each other's right forearm to create a strong lock), then carefully swinging over the panga to the landing, where another crew member was waiting.

Galapagos Wildlife Highlights from My Cruise
The animals and excitement of exploring the famed Galapagos Islands are the main attraction—what bring most travelers to this special archipelago; the ship and crew are the catalyst (and why not cruise with one of the best catalysts around). As this Expert Review would be 50 pages long if I wrote out every wildlife encounter I'll remember forever from the La Pinta cruise, here are some notes I wrote during my speechless moments that will still only lightly cover it:
The snorkeling spots were always different, always fantastic. Extreme biodiversity. The underwater rock formations were stark yet gigantic. Landscapes unlike the coral you will see in the Caribbean or Hawaii host a smattering of different animal class combinations. Sometimes fish + birds + reptiles, sometimes fish + reptiles + mammals, sometimes all of the above, and sure, throw in a cephalopod.
On Day 2 as we were ending a coastal exploration at Punta Vicente Roca, we were lucky enough to cross paths with an orca! It surfaced about 20 feet away from the panga. It would dive down, then back up next to us, swim alongside us and then dive back down. This lasted about five minutes, and when it was ready to move on, we parted ways and headed back to La Pinta, hooting and hollering the whole way back.
Sea lions are extremely playful. Even though they are much larger and faster than we, the aura they project makes you immediately feel at ease when they race and dive around you. People who had never snorkeled before were laughing out loud in the water.
Many times, you experience animals en masse. On the last snorkel at Champion Islet, our guide Fernanda's favorite spot in the Galapagos, I hopped off the panga to behold a carpet of fish starting 10 feet below the surface, as far as the eye could see wide. I free dove down until I was completely encapsulated by the school (more like a throng). It was addicting to do over and over.
I wasn't a birder before this trip. I have become immensely fascinated by some species.

Blue-footed boobies dive-bombing from 80 feet in the air and swimming underwater as a single unit, making synchronized passes at the same bait ball for hours, is mesmerizing.
Two flamingos flew right above us at Punta Cormorant; seeing them in flight was surreal—how I would imagine watching wild giraffes running at full speed.
Penguins shot through the water next to us at Tagus Cove like torpedoes—much faster than I ever imagined (over 20 mph!). Side note: Although wildlife is never guaranteed, penguins are typically more abundant in September. Our group was lucky enough to see about 20 of them during our small ship cruise!

We saw marine iguanas eating underwater at several locations. When standing eating underwater they look exactly like Godzilla.
I never saw the red-lipped batfish I was hoping to see. This gives me a thousandth excuse to return.
For the animals, it was just another day in the Galapagos. For us, it was a transformative experience that took us back to the days when "adulting" didn't matter.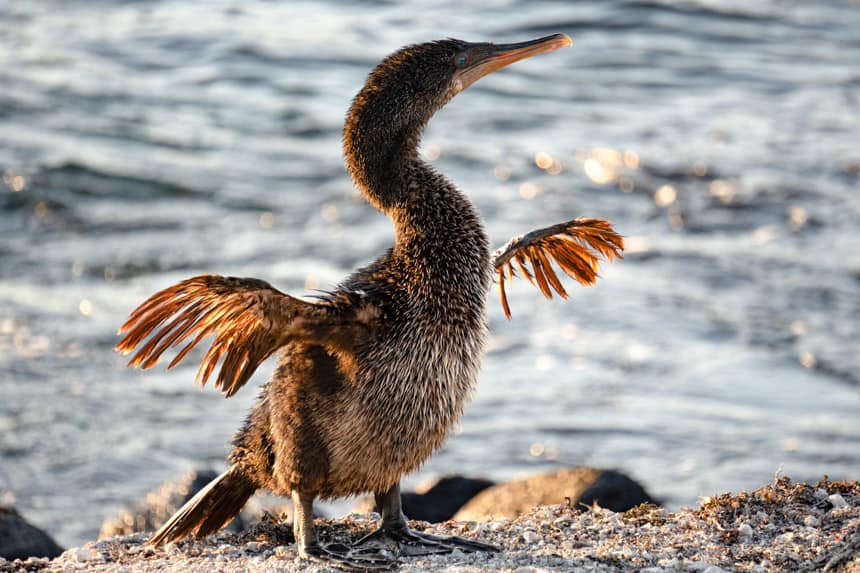 For the animals, it was just another day in the Galapagos. For the passengers aboard La Pinta small ship, it was a transformative experience that took everyone in our cohort back to the days when "adulting" didn't matter. We could all squeal together, attempt to bypass language barriers (many times terribly) to re-enact what we just saw and how incredible it was, high-five after seeing the thing that was even more awesome than the last thing, or sit in silence as we watched the sun set on another perfect day.
My Review of the Ship's Social Spaces & Cabins
There are two cabin categories aboard La Pinta: Luxury and Luxury Plus, all located on the Cabin Deck (middle deck) of the ship. All cabins are outfitted with huge windows, chairs and desks, numerous lamps and outlets, large closets with safes, private bathrooms stocked with toiletries and hairdryers and large, very comfortable beds. The beds paired with La Pinta's large size, which absorbed any swells the ocean threw at us, meant remarkable shuteye. Around Day 3 of the cruise we stopped asking each other at breakfast how we slept. It was a resounding "Amazing. Like a rock." Ready for the day's myriad adventures.
The common areas are well appointed and spacious. Safety briefings, naturalist lectures and hosted cocktails were held in the Observation Lounge & Bar on the Boat Deck (top guest deck), which had an abundance of tables and chairs throughout. The bar was complete with any spirit you desired (as high-end as Johnny Walker Blue Label).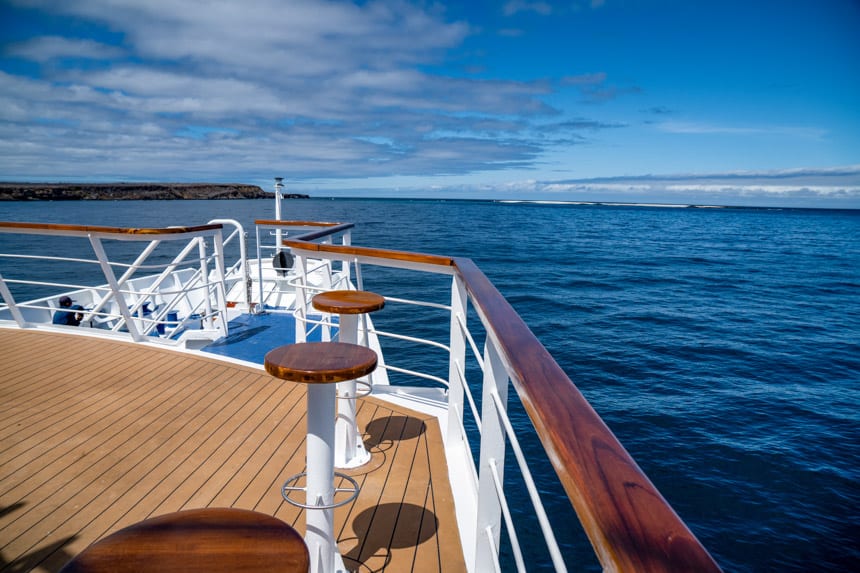 The Outside Sky Bar on the Boat Deck was the place to be when on board. Not only is there a bar but the deck has a hot tub, 10 four-top tables peppered throughout and barstools lining the back railing. After the last activity of each day was finished and everyone was on board, the La Pinta staff would hold an "apps & drinks hour" where we would enjoy a drink of the evening and an assortment of tasty aperitifs while watching a different-but-equally-as-beautiful Galapagos sunset, many times with a small island or two fading into the darkness as we wistfully reflected on the day's events. The Outside Sky Bar is also where the lunch buffet is served; breakfast and dinner were served in the large Dining Room on the Main Deck (lower deck).
The La Pinta Small Ship Crew: Champions of Champions
A small ship's crew is typically comprised of three units: guides, hospitality and deck crew. Optimally they work in harmony, guest-facing and behind the scenes, to give travelers the best possible cruising experience. The La Pinta crew took it a step further and operated similarly to how I would imagine the lovechild of a ballroom dancer and a German factory engineer: top-tier organization, grace, speed and flair.
All the guides were fantastic. They were licensed naturalists educated in biology, enthusiastic, and had a deep knowledge of the local flora and fauna. Our primary guide Carlos described himself, with his contagiously booming laugh, as a sea lion. He wasn't too far off. He was friendly, hilarious and made everyone around him comfortable and relaxed. He sat at different tables during dinner to get to know the passengers better, asked us about our lives and where we traveled from, and patiently fielded our thousands of incessant questions in stride, with a wide smile and always-ardent responses.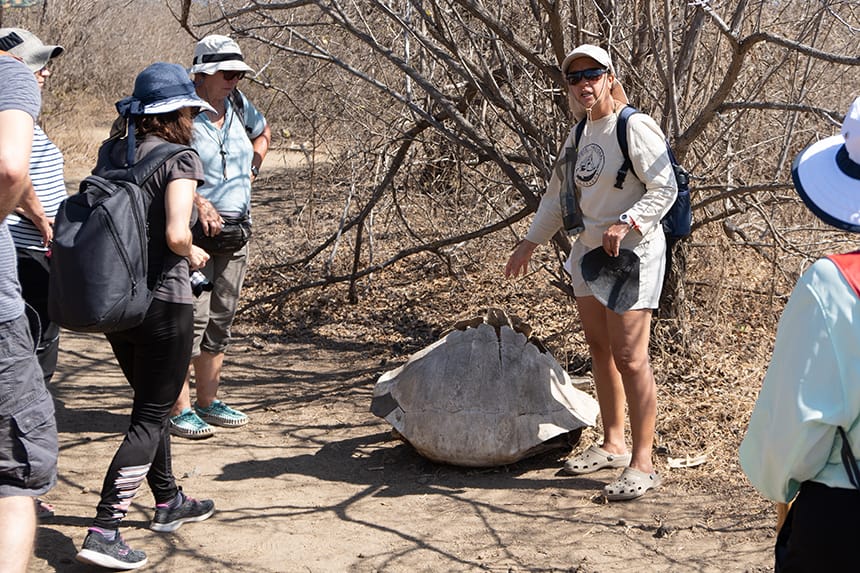 The other two guides, Fernanda and Paul, were equally as knowledgeable and truly loved the archipelago. All the guides had different passions on subjects they could talk about in depth, which we thoroughly enjoyed. All three would go into great detail about the islands' formation, history and wildlife; when we were on land excursions, they would stop short mid-stride to give well-rounded and detailed descriptions of everything we saw around us.
The hospitality crew was always smiling and quick with a warm greeting. Often you would see a hospitality staff member wearing a housekeeping uniform one moment, then a food and beverage uniform the next. They were polished at morphing from one role to the next, gracefully jockeying back and forth, always with our needs at top-of-mind whether we realized it or not.
The table service was fast, which was fine because the food was fantastic; paired with the heaping list of activities we accomplished each day, each course was wolfed down as quickly as they could bring it out (forget the food pyramid—think the food octagon). The breakfast and lunch buffet options were superb and plentiful, and the plated dinners were delectable and filling, and just the right portions. I never heard anyone say they were hungry. Most meals featured at least one authentic Ecuadorian dish, and one night there was an Ecuadorian themed dinner complete with a whole roasted pig! It was delicious.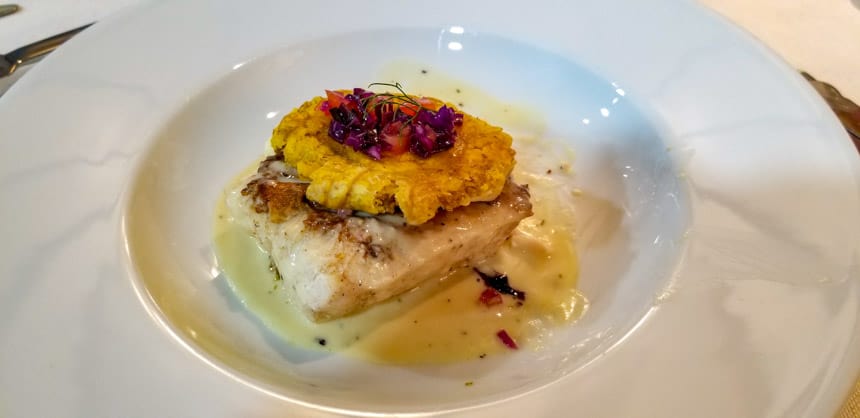 The bar staff was friendly and convivial, and at one point when I ordered a pale ale, the bartender took 20 minutes to serve it because they ran out at the bar, so he scoured the entire ship, found the last case and served me one in a chilled glass, slightly sweating and out of breath. He politely declined my invitation to buy him a drink.
One of the most memorable moments from the cruise happened on the last day. I was up early (it's difficult to sleep in when you have the unavoidable child-on-Christmas-morning level eagerness that comes with waking up on a small ship in the Galapagos), and out my huge bedroom window I saw not one, but an entire hatch of blue-footed boobies dive-bombing down into the ocean. I ran up to the Boat Deck and came upon a feeding frenzy complete with about 50 boobies, 4 sea lions, numerous brown pelicans and sea birds and 5 Galapagos sharks!
Just as I started taking pictures, a crew member stopped me and told me to follow him. He took me down to the Main Deck, where he lowered the stairs to ocean level and let me sit and take pictures and videos for as long as I wanted. I sat there for over an hour with a swarm of cross-class predators feverishly yet silently working toward making a dent in a millions-large bait ball. This crewmember didn't have to go out of his way to give me this experience—I would have still had an amazing cruise without it. This was simply par for the course on how the staff operated. They not only did their jobs excellently but were always on the lookout for how to go above and beyond to make our Galapagos trip the best it possibly could be.
My La Pinta Galapagos Cruise Review Final Thoughts
Wildlife-based travel has been a fixation of mine for quite some time. After the La Pinta Galapagos Cruise, I can now advocate to others to go to the Galapagos, preferably sooner than later, for a completely different and absolutely phenomenal experience.
I will be going back, next time with my wife and daughter (I will wait until my daughter is at an age where she will understand and remember everything). I will again cruise by small ship to maximize the number of locations visited and variety of wildlife encountered, to not have to worry about money or meals once on board and have the opportunity to connect and build relationships with other like-minded travelers. There's a good chance I'll be going back on La Pinta for its large cabins, many common areas, relaxed atmosphere, friendly crew and knowledgeable guides.
Traveling by small ship made each day feel like a new mini sub-vacation.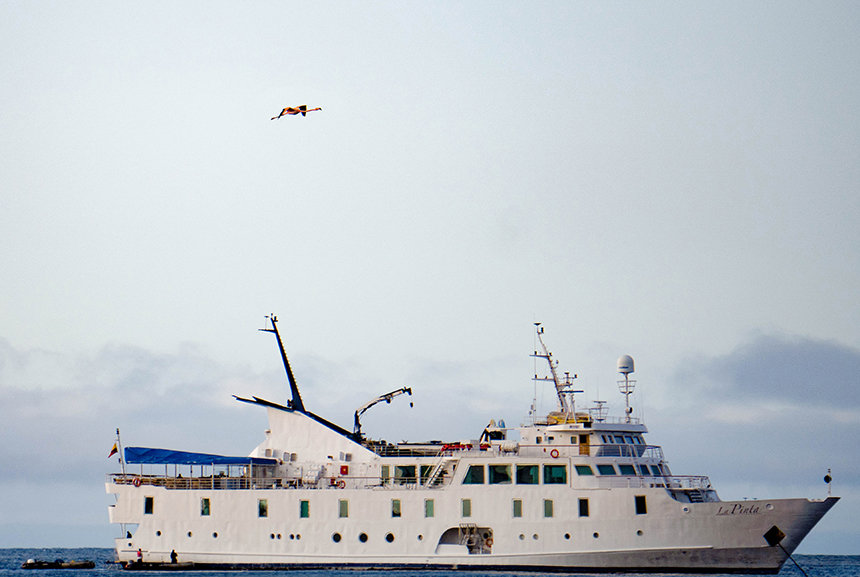 Traveling by small ship made each day feel like a new mini sub-vacation. I later found this Darwin quote that embodied what I and so many fellow passengers maintained during the cruise: "…by far the most remarkable feature in the natural history of this archipelago… is that the different islands… formed of precisely the same rocks, placed under a quite similar climate, rising to a nearly equal height, would have been differently tenanted."
There are a variety of ship options, itineraries, weather and animals you'll experience at different times of the year. I loved the size of La Pinta, the Western Islands itinerary and traveling during the September low season, but if you can't decide (it can be quite difficult), contact one of our Adventure Specialists today and they'll give you a deeper understanding and pair you with the perfect Galapagos small ship cruise.
For a visual recap, here is a video with some of my favorite clips from this incredible cruise:
For more photos from this trip, including the Galapagos Giant Tortoise and our trip to the highlands of Santa Cruz view my Facebook album, on AdventureSmith's Facebook page.
MORE GALAPAGOS RESOURCES:
Galapagos Cruises
Galapagos Cruise Deals
Galapagos Islands Yacht Charters
Galapagos Luxury Cruises
Galapagos Family Cruises
Galapagos Diving
How to Choose the Best Galapagos Cruise
Galapagos Island Hopping or Cruise?
Best Time to Visit Galapagos
How to Get to Galapagos
Galapagos Islands Animals
Galapagos Trips
Galapagos Tours
Galapagos Cruise Reviews
Galapagos Travel Guide
This Galapagos cruise review was written by an AdventureSmith Explorations crew member. Read all our Galapagos Cruise Reviews for more trip reports, or contact one of our Adventure Specialists to learn more about these Galapagos cruises and wilderness adventures: 1-800-728-2875.