What themes are on your romance bucket list? Exotic? Remote? Epicurean? Luxury? Our expert trip matchmakers highlight romantic cruises in 2023 and beyond for honeymoons, anniversaries, amorous getaways and self-love solo adventures. Review our all-inclusive romantic cruises for couples or solo travelers below, or contact us to plan a romantic cruise that you'll be sure to fall for.
IN THIS POST – Romantic Cruises:
Exotic: Tahiti
Tropical Luxury: Belize
Vintage: Greece
Remote: Indonesia
Epicurean: Scotland
Upscale: Galapagos
Fairytale: Norwegian Fjords
Twist on a Classic: Hawaii
Charming: Glacier Bay, AK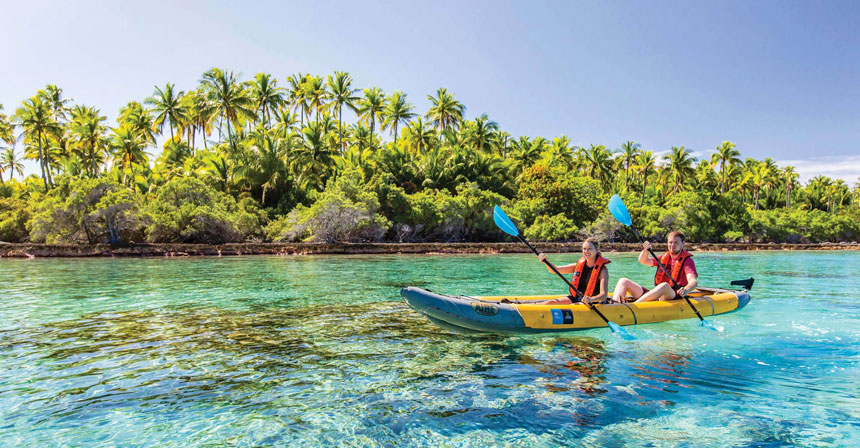 Exotic: Island Hop French Polynesia
A longstanding romantic destination, Tahiti and French Polynesia are magical places featuring rich culture, unique history and otherworldly beauty. Island hop in an exotic locale with an azure sea on the Polynesian Discovery: Exploring Tahiti, Bora Bora & The Tuamotus romantic cruise. Enjoy dinner under the stars, kayak in a lagoon, snorkel among turtles, wander exquisite beaches or simply relax on deck with cocktails over a tropical sunset.
Romantic Cruise Tip: Choose a cabin with a private balcony for special moments taking in the awe-inspiring wilderness.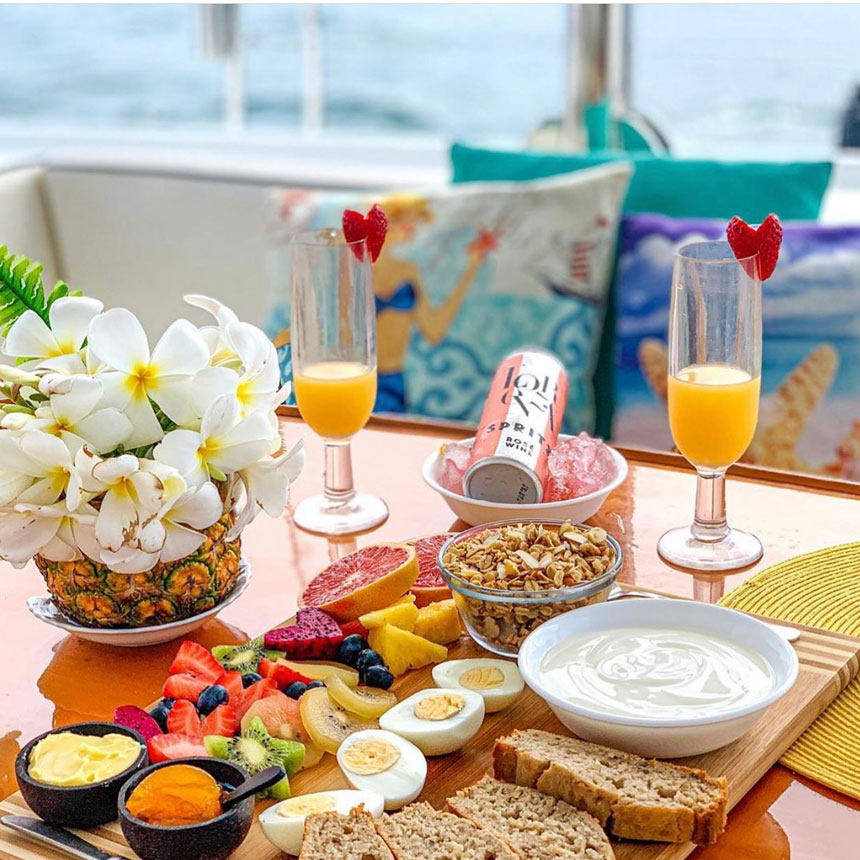 Tropical Luxury: Charter A Belize Boat
For a private romantic cruise, craft your own Belize Catamaran Charter Cruise. A captain and first mate attend to your every need on a customized itinerary based around your interests. Expect tropical sippers and colorful gourmet meals made with fresh local ingredients. Indulge in white-sand beaches, remote islands, and options to fish, snorkel, dive, kayak and stand-up paddleboard…you can even get married on a beach or on board!
Romantic Cruise Tip: Craft a lifelong memory with a stop on a secluded caye for a special moment or ceremony.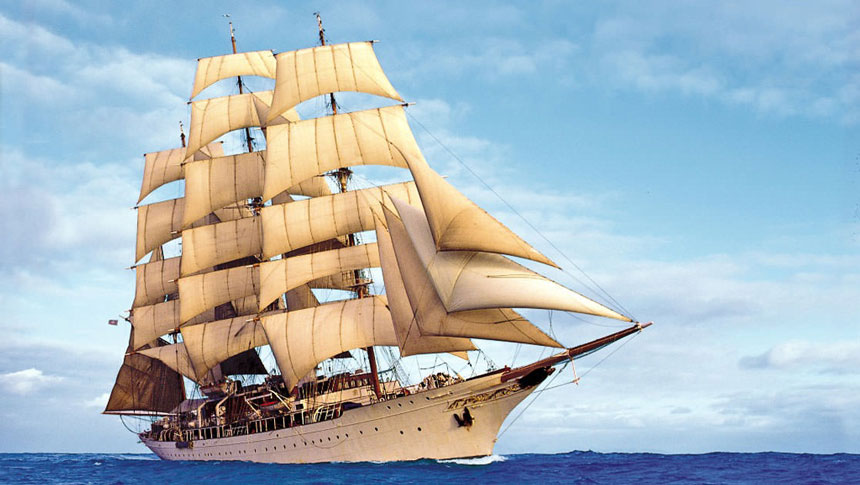 Vintage: Sail Greece Aboard Sea Cloud
Relive an era of opulence aboard Sea Cloud, a historic ship styled by former owner Marjorie Merriweather Post. Sea Cloud's Sailing the Greek Isles Aboard Sea Cloud romantic cruises feature Cyclades island highlights, profound history and Mediterranean flavors. Our experts have helped numerous couples celebrate their wedding anniversary aboard this cruise—we're ready to help you do the same.
Romantic Cruise Tip: Splurge for a Deluxe A, B or Owner's cabin so you can draw a bubble bath in a gorgeous marble bathtub.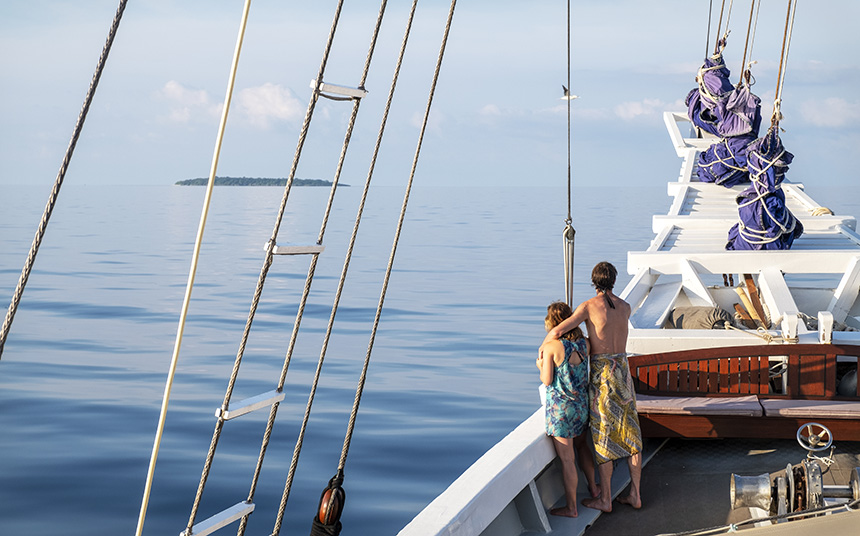 Remote: Sail Indonesia as Soulmates
Fall in love with a nation of exotic oceanic sites, secluded beaches and warm Balinese hospitality. The Sailing Indonesia: Bali, Komodo & Flores romantic cruise inspires amour upon stepping aboard its traditional pinisi-style ships. With action-packed itineraries, colorful wildlife and unique local culture; Indonesia is the closest thing to paradise.
Romantic Cruise Tip: Draw a heart in the pink sand and dance the night away at a beach bonfire with live music by your talented ship crew.
Epicurean: River Cruise in Scotland
Foodies will delight in the gourmet menu and curated onboard selection of included wine and spirits served on hotel barges, while riving cruising along the Highlands on the Classic Scotland Barge Cruise. On a ship of 8 or 12 guests, gently meander along rivers, across lakes and through famous lock systems, visiting castles, bagpipers, falconers, historic battlegrounds, a whiskey distillery and more.
Romantic Cruise Tip: Grab bikes from on board and spend an afternoon pedaling along enchanting rivers, forest and rolling hills.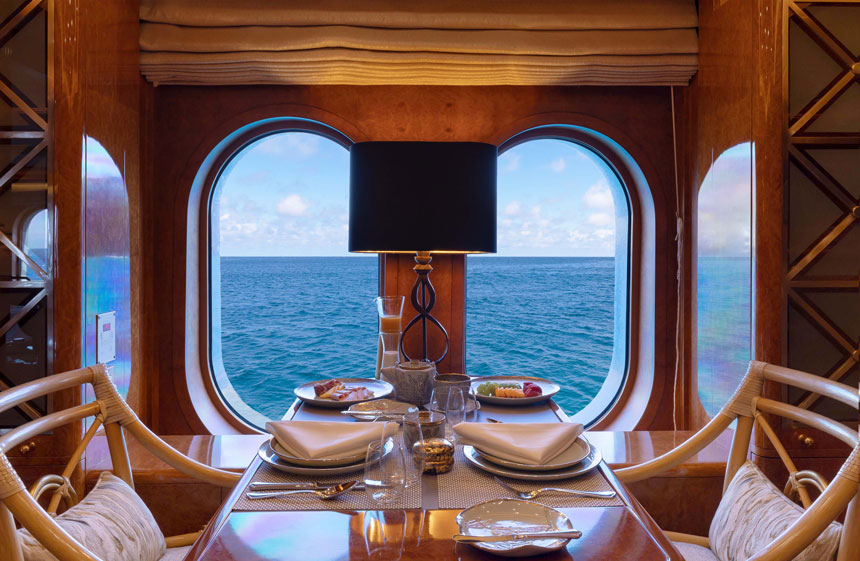 Upscale: Tour Galapagos on Aqua Mare
Galapagos offers nature lovers long walks on the beach, endemic flora and fauna found nowhere else on Earth, and private visits to unique islands. The lavishly designed Aqua Mare superyacht elevates any experience in this special destination. On Aqua Mare Galapagos Cruises, explore the Galapagos with the feel of a private yacht. Consider the massive 861-sq-ft Owner's Suite for your own butler service and breakfast nook.
Romantic Cruise Tip: Let our experts pre-arrange a relaxing massage or private dinner for an exclusive experience.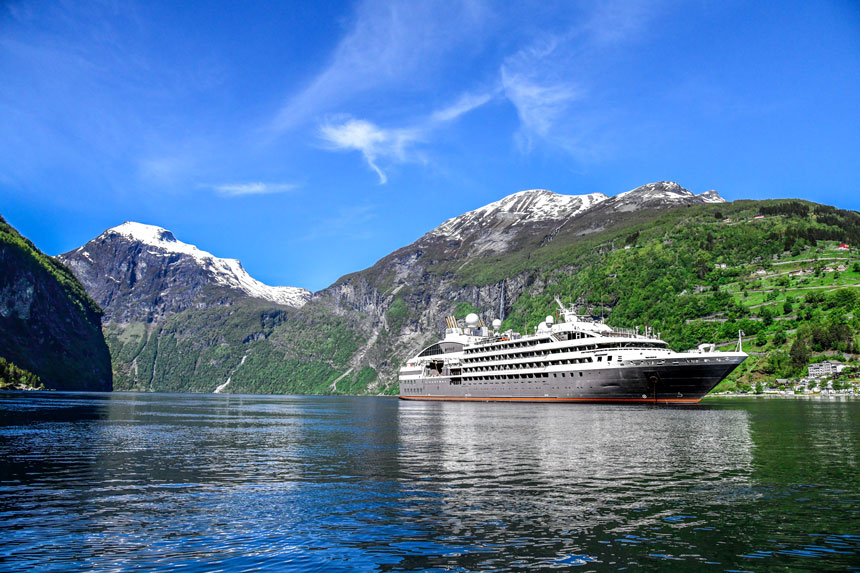 Fairytale: Navigate Norwegian Fjords
The dazzling (and dizzying) Norwegian Fjords offer a romantic setting straight out of a fairytale. On a Norwegian Fjords Cruise, take in idyllic waterfalls, towering mountains, glittering glaciers and serene small towns. Return on board to top-notch, French-inspired luxury, including options for fine dining, a private balcony or terrace, special food and drink tastings, theater performances and daily lectures on the stunning landscape and wildlife experienced both off ship and on.
Romantic Cruise Tip: Dress to impress at a gala dinner, or book a couples massage for ultimate tranquility with a breathtaking backdrop.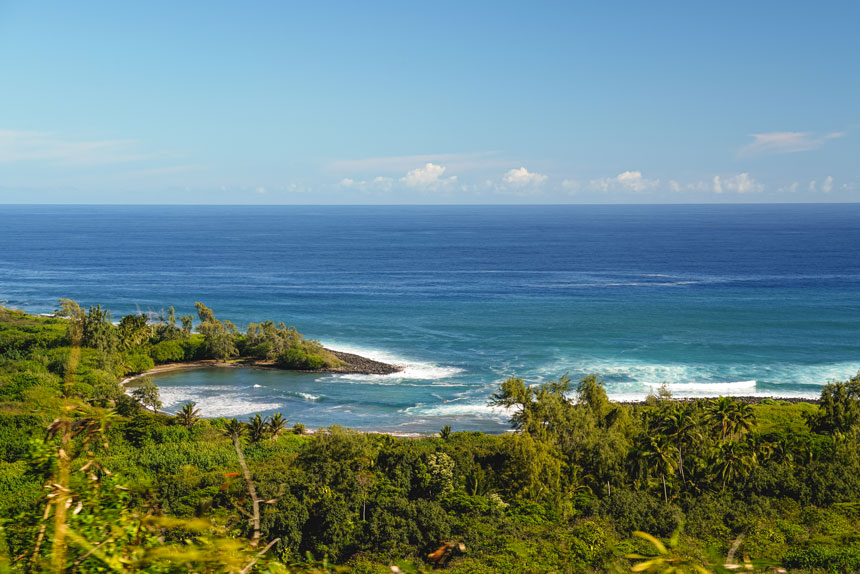 Twist on a Classic: Island Hop Hawaii
Hawaii is the perfect romantic getaway, and Hawaiian Seascapes romantic cruises offers a unique twist. Actively explore lesser-known ports, islands and beaches, tucking into coves only accessible by small ship. Enjoy uncommon experiences such as a night snorkel with manta rays, a visit with a native family and a musical jam session. Hawaiian Island cruises don't get more romantic than this as most visitors explore by day boat or stick to resorts. Impress your love with something different.
Romantic Cruise Tip: Enjoy a complimentary romance package when booking an Admiralty cabin or higher.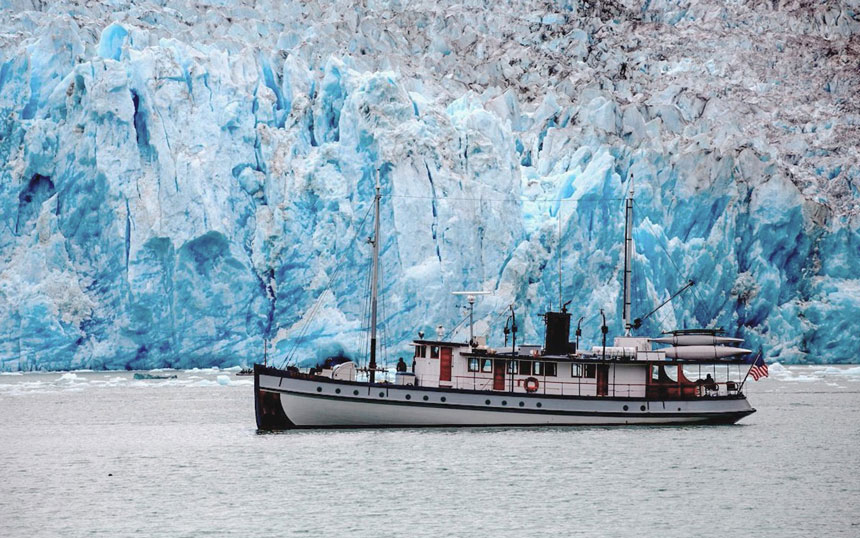 Charming: Glacier Bay by Historic Ship
John Muir famously wrote: "To the lover of wilderness, Alaska is one of the most wonderful countries in the world." Experience it from a charming historic ship that harkens back to the time of Muir's own exploration. Discover Glacier Bay romantic cruises offer an incredible 6-8 days exploring Glacier Bay National Park. Seek whales, mountain goats, sea lions and more by hiking and kayaking. Return on board to fresh and creative food, friendly crew and fireside chats.
Romantic Cruise Tip: Treat your special person to a pre-cruise jaunt in the historic town of Juneau, staying at a cozy B&B.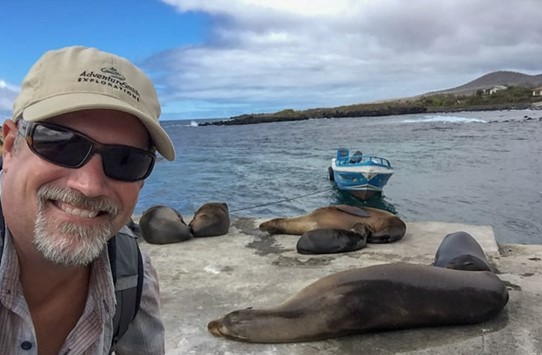 Connect With Your
Cruise Matchmaker

Free consultation.
Start planning today.

Have any tips for romantic cruises or ideas we missed? Let us know in the comments. Our love language is matchmaking for our clients' next anniversary, Valentine's Day, honeymoon, romantic cruise or solo treat-yourself trips.