Safari Endeavour Alaska reviews from our expert staff and verified travelers. Find a detailed account of the cabins, food and highlights from AdventureSmith Explorations Founder and President, Todd Smith, followed by testimonials from our many passengers who've been aboard.
ON THIS PAGE – Safari Endeavour Alaska Reviews:
Where the Ship Shines
Pros & Cons of My Cabin
Tips for Choosing a Stateroom
A Review of the Food
Second to None Activities
Highlights from My Cruise
More Safari Endeavour Reviews & Comments
The 86-guest Safari Endeavour hits the sweet spot of Alaska expedition cruising. While I've been to Alaska dozens of times as a passenger, and lived there working on small ships for years, I had yet to sail on this particular ship. After being aboard for a week on the Northern Passages & Glacier Bay Alaska cruise, here's what I think sets her apart, and some tips if you're considering getting aboard.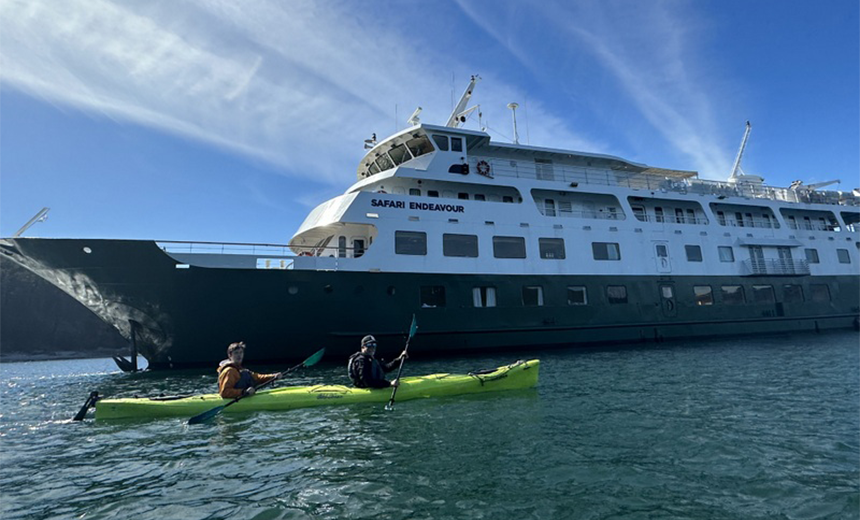 Where the Ship Shines
The Safari Endeavour is not quite luxury by traditional hotel standards; I rate her as four stars. She is a cut above most expedition ships but is not as luxurious as some newly launched vessels such as the Sylvia Earle or National Geographic Venture.
Built in 1983 and remodeled in 2012, she shows her age in cabin size and finishes. However, when compared to the entire fleet of Alaska small ships, she easily makes our list of top Alaska luxury cruises. Why? In Alaska the wilderness experience is paramount, and the Safari Endeavour delivers as a true expedition ship.
The captain and crew know where to find whales and how to position the ship for wildlife viewing close to shore. Sitting at the top of the UnCruise Adventures fleet, the Endeavour garners the longest tenured and most experienced guides and crew, resulting in an unparalleled on-board and off-vessel experience. Her crew-to-guest ratio is higher than other ships. As such, the onboard service and off-vessel guiding are impeccable.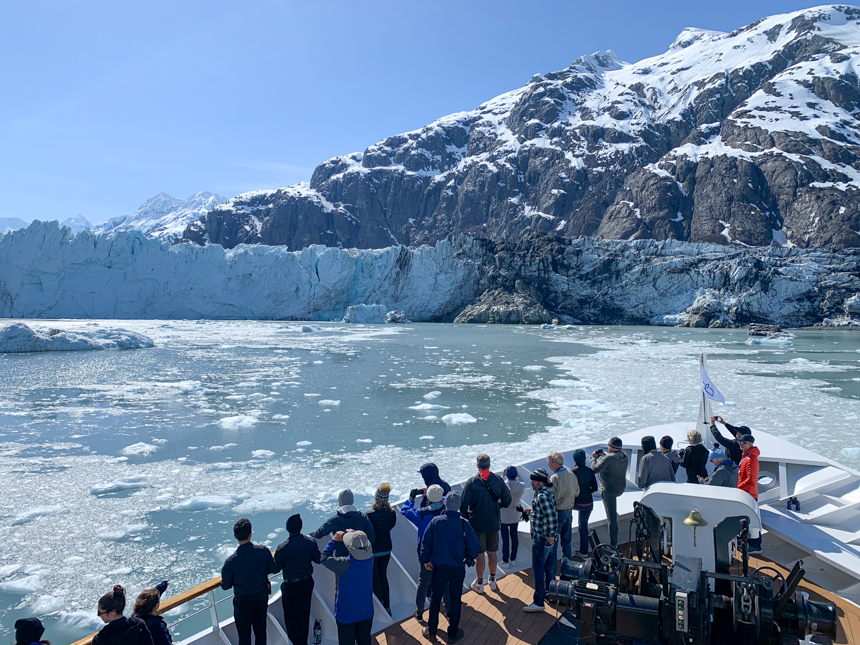 Pros & Cons of My Cabin
My Admiral category stateroom #201 on the Cabin Deck had plenty of room for my adult son and me. We had ample closet space and many hooks inside and outside the cabin to dry rain gear or wet bathing suits.
The bathroom is small, but the heated floors are a nice touch keeping the room dry, which can be an issue aboard some vessels. Bathrobes are a nice touch for our evening soaks in the hot tub and the exciting polar plunge.
An ensuite mini fridge was appreciated. It was stocked with cold sodas and we used it for personal beverages we had brought and smoked salmon we purchased in Juneau. Only the Admiral staterooms and Commodore suite have a fridge, so if you have medications that need to be kept cold these categories are a good option.
The large view window was wonderful. Each day we would wake early, open the blackout curtains (a necessity with long Alaskan days), then lie in bed watching the scenery flow past.
Only one power outlet with two plugs at the desk was limiting for charging our many cameras and devices. Bring a power splitter if you have one. The bedside light was not quite bright enough for me to read in bed. I was glad I had packed a headlamp.
Our stateroom was conveniently accessible to the main lounge and bow viewing area, yet isolated (not sharing any walls with other cabins). As such there is no noise from neighbors. Even though our stateroom was adjacent to the stairs, we never heard any sounds from the stairway.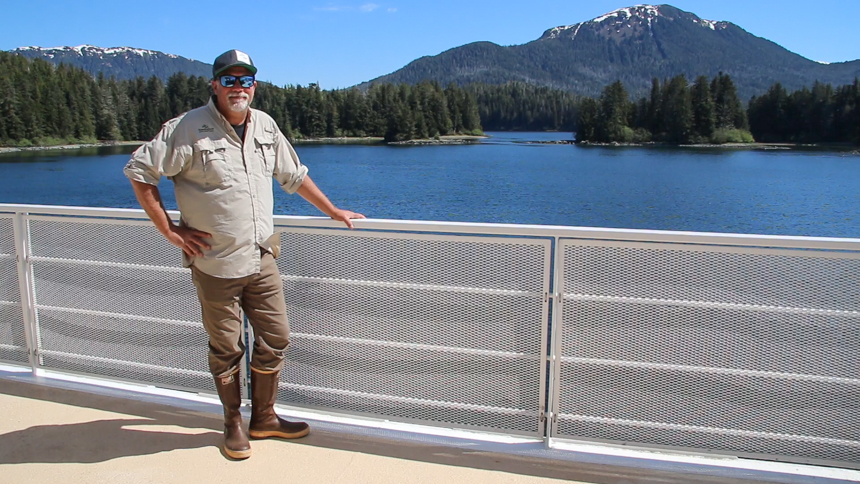 Tips to Choose Your Stateroom
Navigator staterooms on the Main Deck have portholes, whereas the same category on the Cabin Deck and Upper Deck have windows. Windows makes a difference, so book early and ask for the higher deck when booking Navigator category staterooms.
The most luxurious staterooms are the Commodore Suites. The added space with sitting area, step-out balcony and larger bathroom are worth the price for travelers seeking the finest accommodations.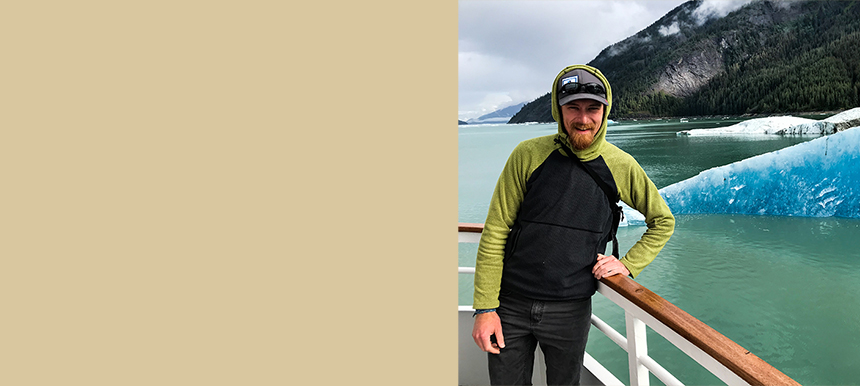 ASK US ABOUT
ALASKA
One-on-one advice from experts
who've been aboard
Main Deck and Cabin Deck staterooms are what I call "interior," opening to an interior hallway. The Upper Deck staterooms are "exterior," opening to an exterior outside deck.
Many travelers prefer interior staterooms for their easy access to common areas such as the lounge or dining room. Some people also prefer interior staterooms because they don't like other guests walking or standing on the deck outside their stateroom window and door. There are no interconnecting cabins aboard the Safari Endeavour, so families with smaller children may appreciate interior cabins. This way kids aren't exposed to the exterior of the ship. Read more of our tips for Alaska family cruises.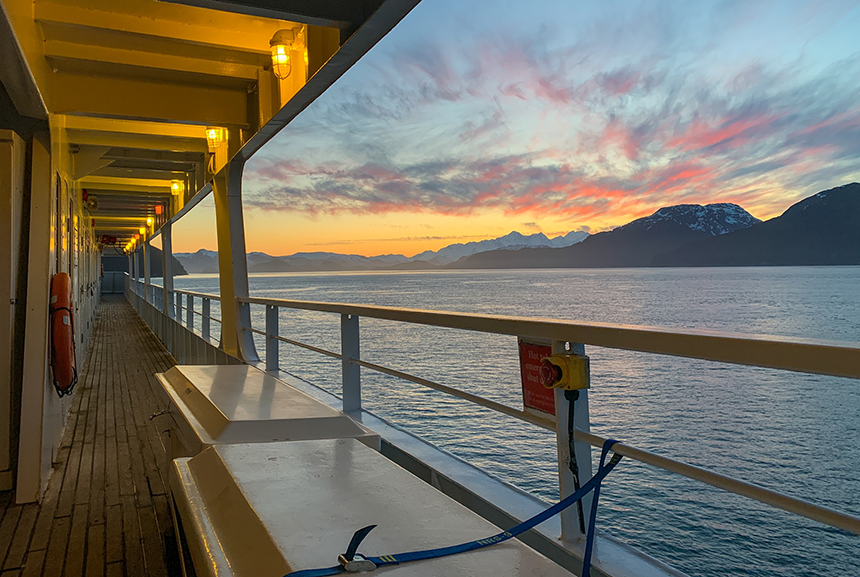 Personally, I prefer exterior cabins in Alaska. Mostly because of the immediate access to the outside observation deck. Step out your door, and you are experiencing Alaskan wilderness. Upper Deck cabins access a walkway that runs 360 degrees around the ship, so when whales were sighted, you'll have immediate access to wildlife viewing. In addition, Upper Deck staterooms are the farthest away from the noise of the engine, generators and anchor. This makes them the quietest staterooms on the ship.
A Review of the Food Aboard Safari Endeavour
When talking to other guests aboard Safari Endeavour, their biggest surprise was the quality and presentation of the food.
All our meals were exceptional with fully plated dining service. Lunch and dinner were usually themed: BBQ, Italian, Mediterranean, etc. At lunch you could always order a delicious salad with fresh fish, a BLT (try the ship's legendary bacon) or hamburger. A choice of meat, fresh fish or vegetarian dinners were paired with fine wines. You can even order split entrees or a double entrée (as my son did) for a surf and turf option. Desserts were creative and decadent.
One standout dinner was the crab-stuffed salmon with a white-wine lemon butter sauce. The all-you-can-eat crab feast was also a big hit.
Each morning the chef would come out after breakfast to announce the lunch and dinner options. He highlighted any locally sourced ingredients such as fish and produce. Sometimes guides would even forage for fiddleheads, seaweed or fungi that made it into our meals. The experience of adventuring in Alaska gave guests a greater appreciation for what was served on our plates.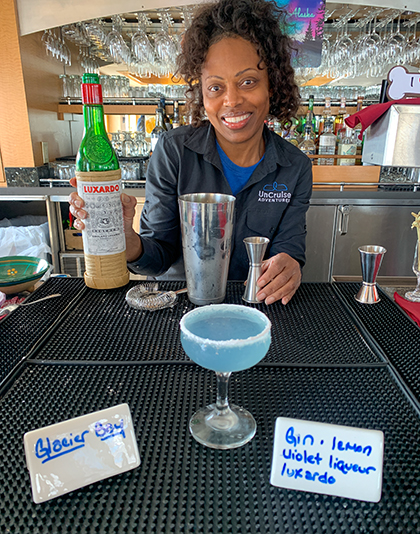 Everyone raved about the fresh breads and ship-cooked pastries. At the end of the cruise when the captain introduced the crew, the pastry chef received a standing ovation.
Included alcohol made drink choices fun and easy. Be sure to try the daily themed drink at happy hour. The "Glacier Bay" a blue concoction served over glacier ice was aptly served at happy hour after a full day cruising Glacier Bay National Park.
Second to None Activity Variety
Of course, the star of the show is wild Alaska. But how an expedition presents and accesses Alaska is important. The team of naturalist guides and expedition leaders on my voyage were exemplary. The variety of activities was second to none among Alaska small ship cruises.
During the activity orientation, and throughout the cruise, I loved the way the expedition team described the off vessel excursions. Typically, groups are divided into easy, moderate or challenging groups. But in Alaska, where there are no trails to hike, these descriptions fall short.
Instead, they offered an eco-meander, indicating a slower pace focused on stopping frequently to talk about natural history. A meadow walk would venture farther over easy, flat terrain. A forest poke would hike along the beach, but periodically "poke" into the forest to see what it was like. Kayaking 101 was offered on the first day for novice paddlers or folks who wanted a refresher.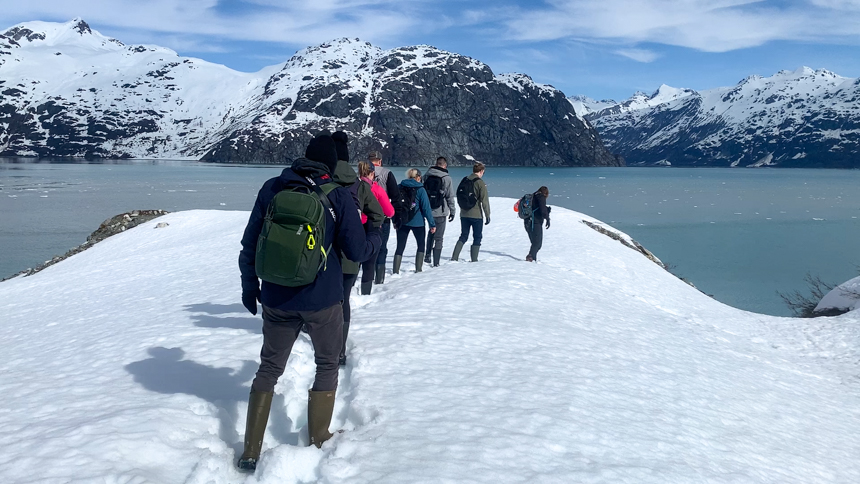 A full-day or half-day bushwhack was as advertised: hiking, crawling, climbing and getting whacked by foliage while exploring deep into old-growth forest. A full-day, six-hour bushwhack traversed just over three miles. It was a challenge, but the group loved it.
Each day on the water, a naturalist-guided skiff ride was available. This was great for folks not interested in kayaking or for photographers. A skiff ride can move faster than a group of kayakers. As such they have a greater chance to encounter wildlife.
The Safari Endeavour is outfitted with a high-tech kayak launching platform that saves time and makes getting in and out of the kayaks a breeze. A mix of guided and free paddles were offered. No experience is necessary, so I highly encourage giving kayaking a try. Paddling in front of a tidewater glacier or just getting away from the ship, immersed in quiet solitude, is a once-in-a-lifetime Alaskan experience.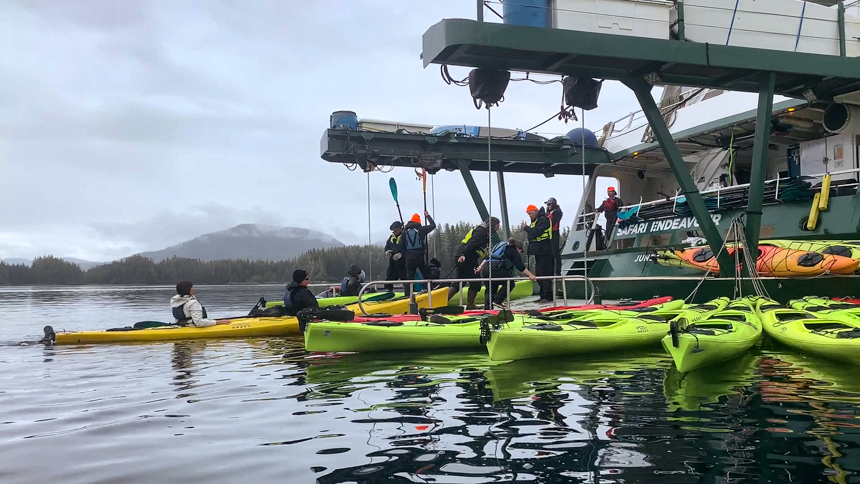 Highlights from My Safari Endeavour Alaska Cruise
A magnificent sunny day in Glacier Bay National Park showed the Fairweather mountains in all their glory. We hiked next to a glacier, paddled among icebergs and viewed brown bears, mountain goats, sea lions, humpback whales and bald eagles. The captain positioned us in front of the Margerie and Grand Pacific glaciers for nearly two hours. Huge chunks of ice broke off the glacier's face, thundering into the fjord. What made the day even more special was watching other cruise ships quickly come and go, while we stayed and played from dawn until sunset.
A skiff ride and ambitious kayak paddle in the Inian Islands, just outside of Glacier Bay, were incredible. On a mellow morning skiff excursion our guide pointed out sea otter mothers with babies, we witnessed two bald eagles engaged in a death-defying cartwheeling courtship, we heard and smelled huge stellar sea lions at a rocky haul out and saw more eagles than we could count. After we returned to the ship two humpback whales traversed a nearby shoal for nearly an hour while we watched from deck.
Kayaking to a magnificent rock arch with whitecapped peaks in the background and the low horizon of the open Pacific Ocean felt like a true expedition.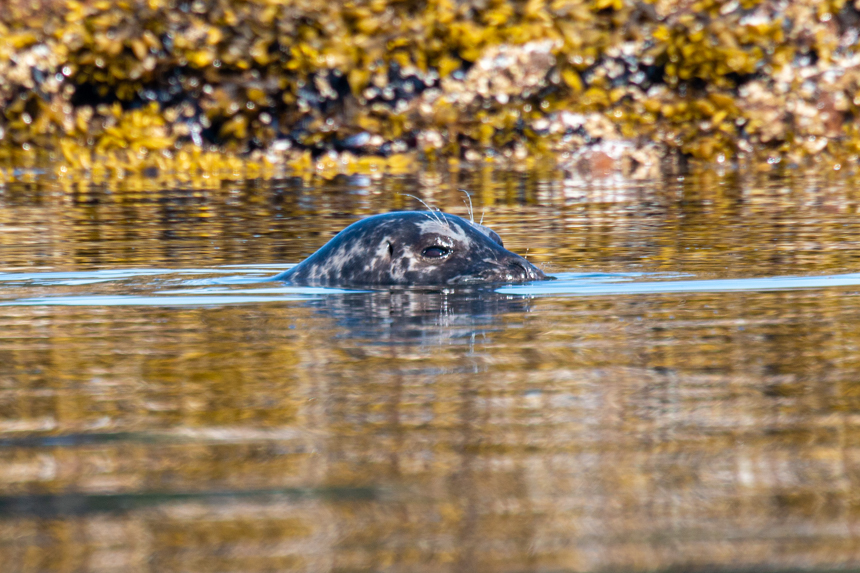 It almost seemed like the wildlife was timed to clear out the dining room after dinner. One night a pod of Dall's porpoise surrounded the ship and rode the bow wave. Peering over the railing they looked like tiny killer whales. We could see and hear them surfacing to breathe and surfing the bow. They seemed to be having as much fun as us.
Another night it was a family of orca whales gently surfacing. First in the distance, then up close, they lingered as our ship floated downwind for nearly an hour. The captain seemed to position the ship in the perfect spots for natural, unhurried encounters. As the huge dorsal fins retreated into the horizon we remained on deck for hours talking about the importance of wilderness, how lucky we were, and life in general.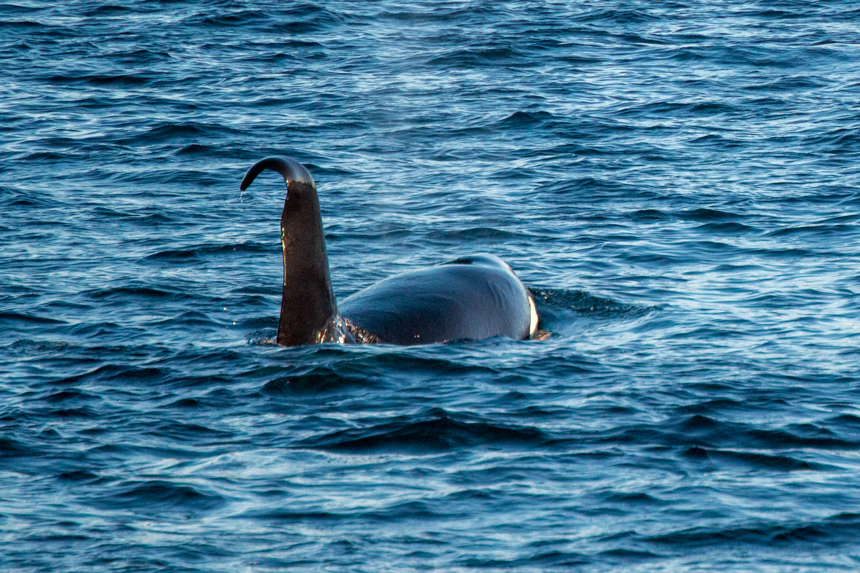 MORE ALASKA RESOURCES:
Alaska Small Ship Cruises
Alaska Yacht Charters
Luxury Alaska Cruises
Alaska Cruise Guide
Alaska Cruise Deals
Small Ship Alaska Cruise Reviews
Best Alaska Cruises for Families
Small Alaskan Cruise Lines
Glacier Bay Cruises
Alaska Inside Passage Cruises
Alaska Whale Watching Cruises
Alaska Trips
Alaska Tours
Visiting Denali National Park
Alaska National Park Tours
Best Time to Visit Alaska
For more photos from this cruise aboard Safari Endeavour view my Facebook album on AdventureSmith Explorations' Facebook page.
Read more small ship Alaska cruise reviews, comment with your own Safari Endeavour reviews or view testimonials from our traveling clients who've been aboard below.