This Travel Journal submitted by Jessica Wright details her Alaska land tour with AdventureSmith Explorations, on Alaska Coast to Denali Journey. Read on for details about her and her husbands 7-day itinerary.
Day One: Anchorage, Seward & Kenai Fjords
After many years of planning and anticipation, my husband and I had finally arrived in Alaska! Our first morning in Anchorage we woke early and sat eagerly awaiting the arrival of our guide, Julie, and the other individuals we would be spending the next 7 days with.
By 7am, our group had departed downtown Anchorage and we were heading south via Turnagain Arm. Within minutes of departure we entered the "real" Alaska. During the first of our scenic drives, our guide provided much information regarding the Alaska we were viewing.
The destination of our drive that morning was Seward, AK. Being Alaska's most southern, deep water port we were met with a port full of vessels. It was also our first glimpse of the deep teal glacial water that is so very stunning.
While trying to absorb our surroundings and wondering how our first day in Alaska could get any better, a pod of Orca whales traveling with a calf was spotted. Our day truly could not have been any more perfect!
We immediately boarded a small boat to begin our 4 hour journey to the Glacier Lodge in Kenai Fjords National Park, an area of Alaska almost exclusively accessible via air or boat. During the next 4 hours, we were spellbound by our surroundings. Our guides continuously spotted wildlife including sea otters, harbor seals, stellar seals, porpoises and mountain goats all amongst the most spectacular scenery including enormous glaciers and towering mountains. While trying to absorb our surroundings and wondering how our first day in Alaska could get any better, a pod of Orca whales traveling with a calf was spotted. Our day truly could not have been any more perfect!
We ended our day with our arrival at the Glacier Lodge. We quickly settled into our personal cabin overlooking Pedersen Glacier.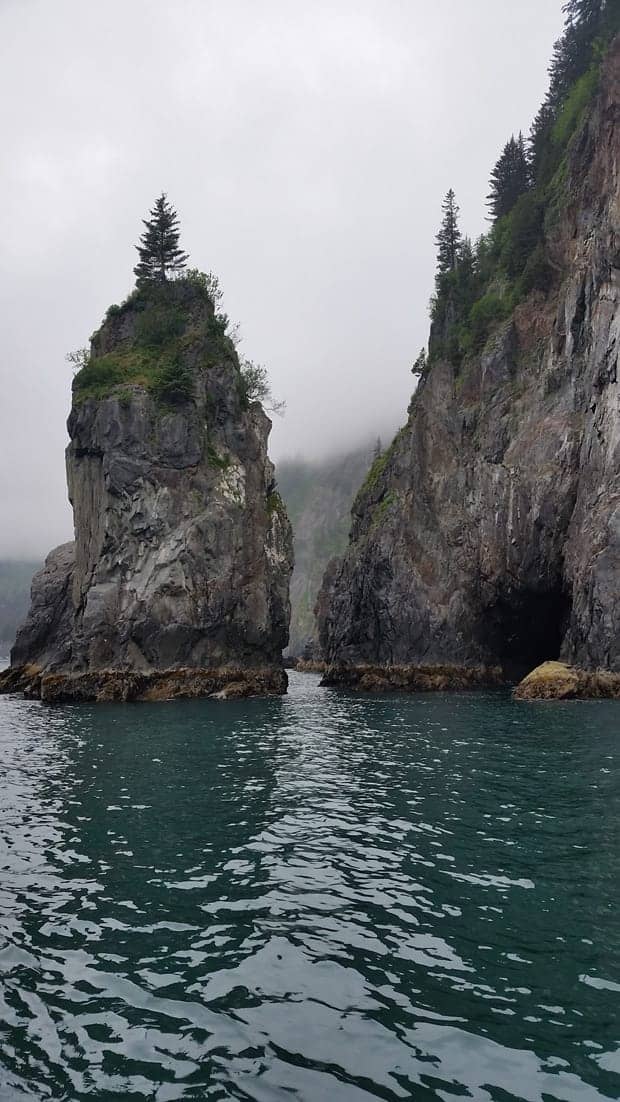 Day Two: Kenai Fjords Exploration
Day two began shortly after breakfast in the main lodge as we set out on our first excursion in Kenai Fjords.
We chose to begin our day with a canoe trip across the sea inlet followed by a hike to the foot of Pederson Glacier. While canoeing towards the trailhead we were closely observed by the harbor seals and sea otters that call this body of water home. While the sea otters lazed about on their backs the harbor seals followed us more closely, often popping their heads up just ahead of our canoe.
After arriving on land and reviewing what to do if we were to encounter a bear, we set off towards the base of Pederson Glacier. Along the way, our guide for the morning taught us about our surroundings including the edible plants, that each of us bravely ate, and the various kettle ponds that had been formed with the retreat of the glacier. Upon reaching the base of the glacier we were greeted by an awesome sight. For set in the foreground of the glacier were the many icebergs that had calved from the glacier and on some of those icebergs were harbor seals with their pups!
As we hiked back to our canoe we listened to a thunderous boom. We later learned it was a hump back whale that was repeatedly thrashing his tail in the water
After another great meal in the main lodge we started out on our afternoon hike. While our views from the top were limited due to fog, our climb allowed us to experience a temperate rainforest firsthand. Again, we had an exceptional guide that made sure we didn't miss anything along our trek.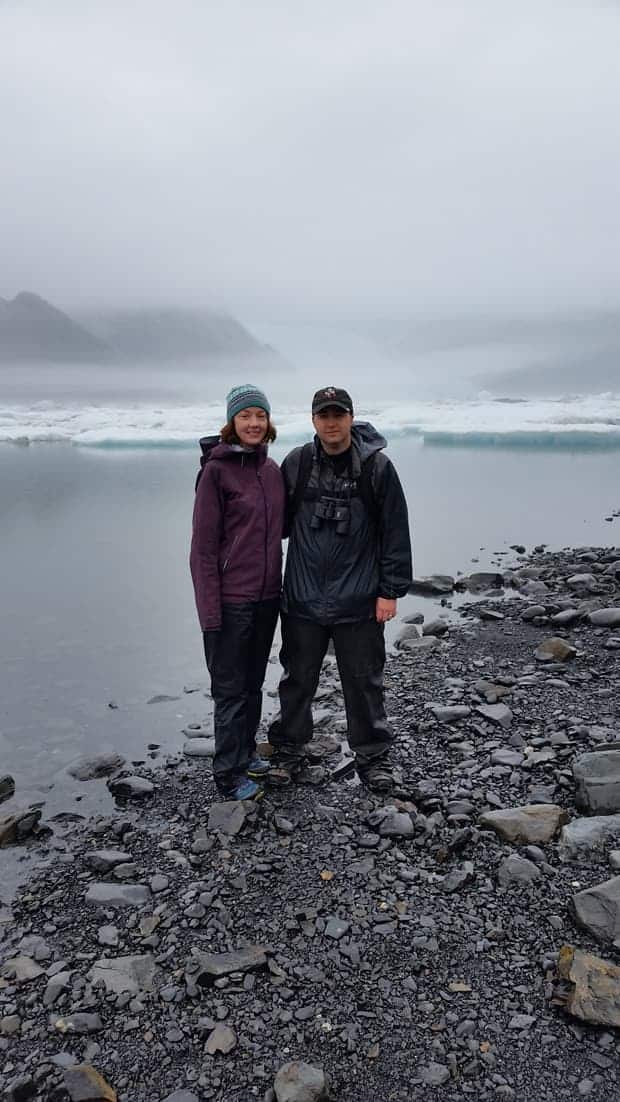 Day Three: Cruise to Seward
Despite being in a two person kayak fighting the waves of an incoming storm, my husband and I somehow remain married despite the stressful return trip to shore! I attribute it to the coaching of our very experienced kayak guide.
Fortunately, we had an additional morning in Kenai Fjords. We decided to brave the cool, rainy weather and go sea kayaking. Being in a small boat allowed us to explore some of the crevices and rock formations that the glaciers had formed up close. Again, the curious harbor seals followed close behind watching what we were up to. Despite being in a two person kayak fighting the waves of an incoming storm, my husband and I somehow remain married despite the stressful return trip to shore! I attribute it to the coaching of our very experienced kayak guide.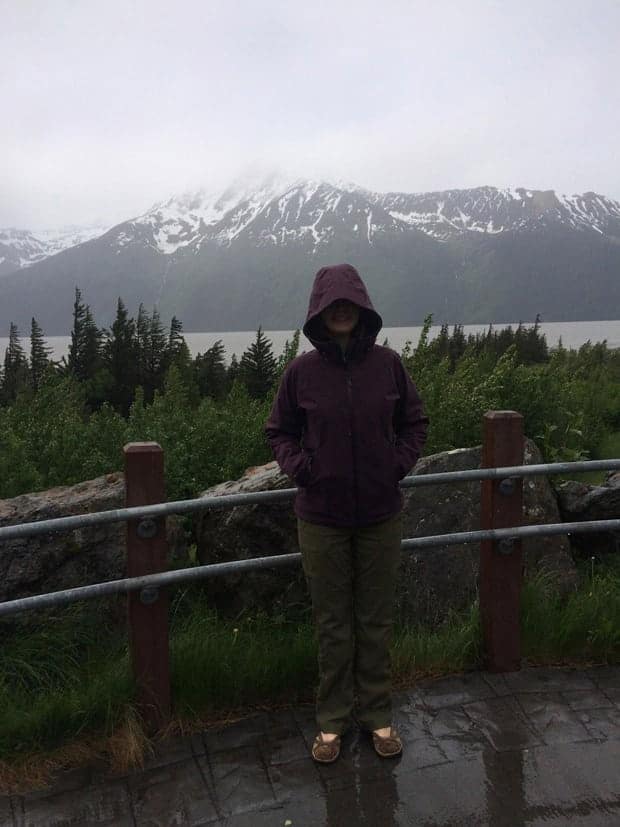 After returning to the lodge in an effort to dry out, it was time for us to end our time at Glacier Lodge. We boarded the same small boat we had arrived on. Our return trip to Seward did not allow for as many sightseeing opportunities as we were racing the storm to the mainland. But, the ride was exciting none the less with the waves our small boat continued to crash over.
Upon arriving in Seward we made our way to the Windsong Lodge for dinner. We spent the night here in preparation for our travels north towards Denali.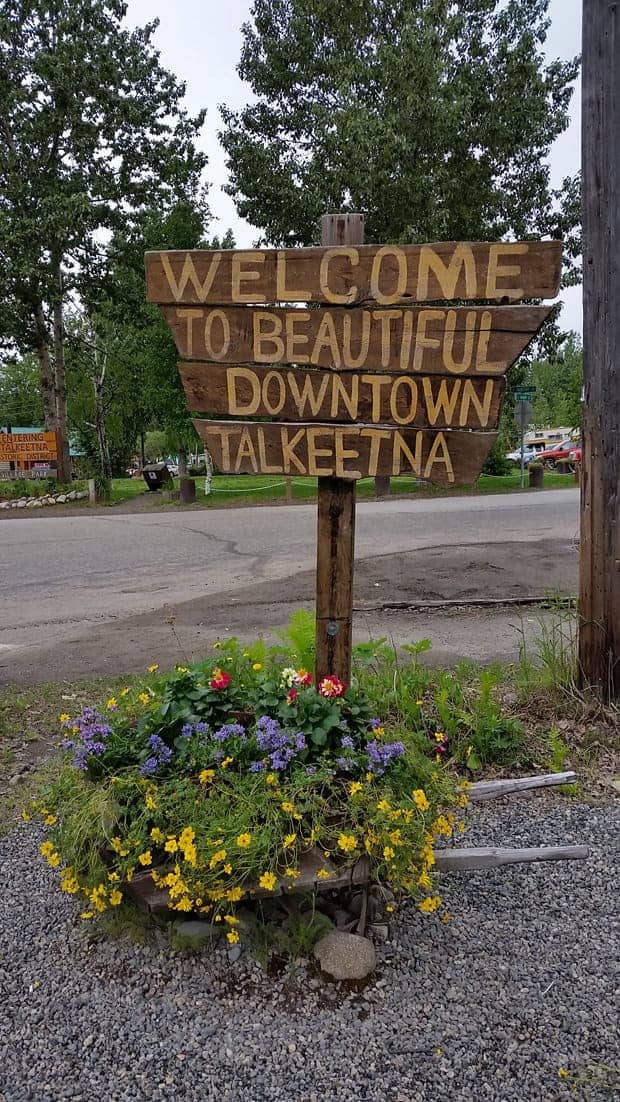 Day Four: Talkeetna, Alaska
Day four was designated as a travel day as we had to cover the many miles that exist between Seward and Denali National Park and Preserve. But, because we were in Alaska there was much to see along the way!
One of our more noteworthy stops along the way was at Potter Marsh, a marsh that was inadvertently created by the Alaskan Highway Department with the installation of a new highway. While at the marsh we were able to walk along the extensive boardwalk and view the wildlife that have made this man made marsh their home. The greatest sight that morning was a bald eagle who decided to take a lengthy bath in one of the streams running through the marsh before returning to his nest with his mate.
After leaving Potter Marsh we continued north. We were able to stop in Wasilla for any supplies we may have forgotten to pack initially. Unfortunately, despite having our eyes peeled, a Sarah Palin spotting did not occur.
By late afternoon we arrived in Talkeetna, a quaint town that is believed to be the inspiration for the once popular show Northern Exposure, but now serves as a base camp for those intending to climb Denali. We chose to spend our evening wandering the main road that is lined with quaint shops, restaurants and taverns.
After a long day of travel, we settled in at the Talkeetna Lodge for the evening before setting out again the next morning. Almost to Denali!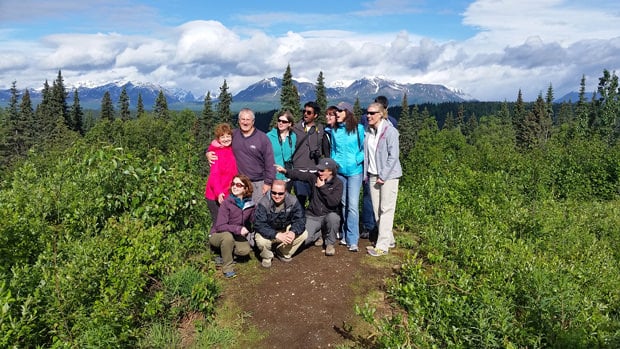 Day 5: Denali National Park
Day five marked the day we would enter Denali National Park and Preserve!
Shortly after entering the park we left our small bus behind. Unlike most visitors who travel along only the first 14 miles of the Park Road, the picturesque road that bisects the park while running parallel to the Alaska Range, we would be traveling the entire 90 miles of the Park Road. In order to do so we had to ride in a park vehicle operated by a trained park guide.
The Park Road quickly turned to dirt after passing mile 14. During the next 6 hours we slowly weaved our way along the road, often balancing along dramatic cliffs. While the ride may not have been for the faint of heart, it allowed for amazing site seeing!
Our guides readily spotted wildlife along the way including caribou, dall sheep with their kids, a grizzly bear with her cubs and a moose with twins! Considering the great vastness of the Park we considered ourselves very fortunate to see so much wildlife along this one road.
As we continued along the park road we remained in awe of Denali's tremendous "foothills". The snowcapped mountains and brilliant blue sky created quite the setting. However, Denali is what we were truly eager to see. Our guide informed us that fewer than 40% of those who visit Denali National Park actually get to see the elusive mountain due to the weather patterns she creates often obstructing one's view of her. But, as we continued into the park the clouds surrounding Denali lifted and we had a nearly perfect view of her in all of her glory. We could not believe that we continued to have such great fortune on our trip!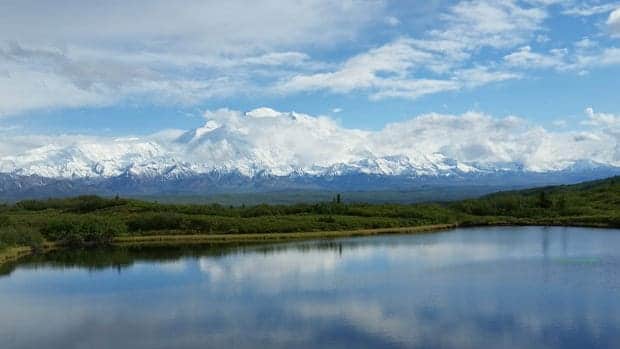 After a long but exciting day of travel we arrived at Denali Backcountry Lodge. Here we had dinner and settled into our private cabin for the night in preparation for the next day's excursions.
Day 6: Denali National Park
Our second day in Denali National Park started as we waited patiently to hear whether or not we would able to go flightseeing around Denali. The pilot reported that conditions around the mountain were such that tours were able to go up that morning. Five of us quickly assembled to head over to the waiting aircraft. Up until the moment I saw the plane that was to take us around the mountain, I was really excited to go. But, once realizing how incredibly small the plane was my stomach thought maybe this was not the best idea I had ever had. I was able to overcome my nerves and the views we had for the next hour were well worth the initial fear! We flew along the Alaska Range and were able to see not only both the North and South Peaks of Denali up close but a group of climbers on their way to the top. To see this tremendous block of ice from such a perspective was truly awe inspiring!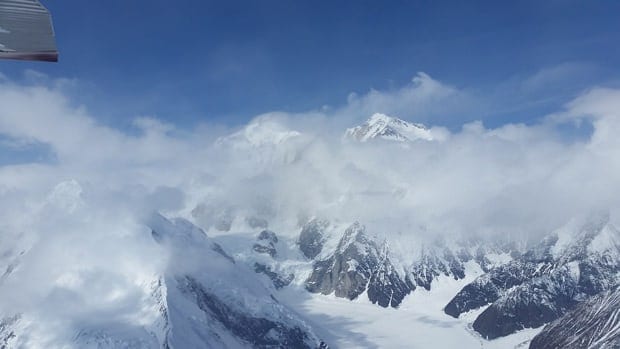 Imagine being in a park that is 6.2 million acres and hear not a sound. It's breathtaking.
After landing safely, and not too soon as the turbulence was a bit too much for my liking, we headed out on our afternoon hike to McKinley Bar. Our guide told us about the trees that surrounded us, hundreds of years old but only 20 or 30 feet tall, the numerous tracks along our path including those of moose, bears and wolves, and the vegetation of the Alaskan tundra. The most striking moment on our hike was when our guide asked us to stop walking and shuffling about. Only then could you appreciate the absolute silence. Imagine being in a park that is 6.2 million acres and hear not a sound. It's breathtaking.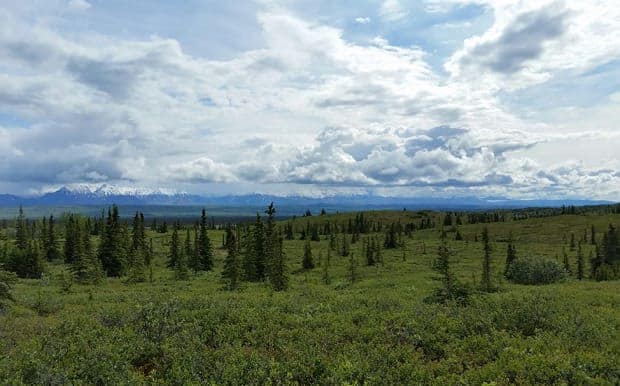 Day 7: Alaskan Railroad
Our final day in Alaska started early as we had to retrace our steps on the Park Road and start heading south to board the Alaskan Railroad. We would spend our final eight hours in Alaska on this historic railroad. The train travelled slowly enough that we were able to catch our final glimpses of this beautiful place. The conductor also made sure we didn't miss anything, narrating our ride as we went. If something particularly interesting were spotted, we would visit the glass-domed car to get a better view.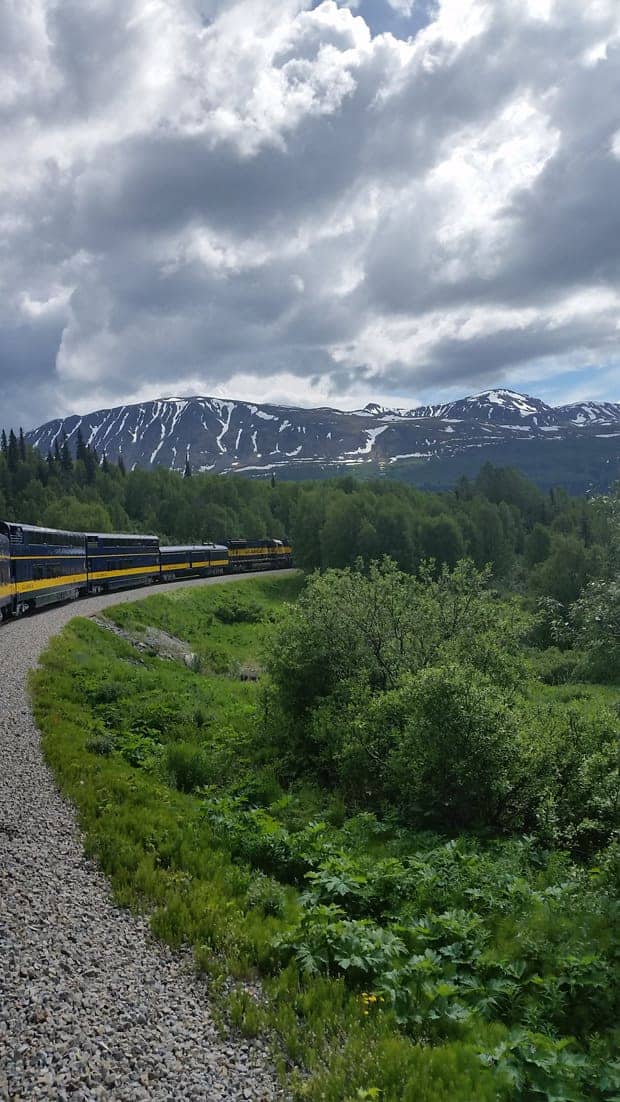 After arriving back in Anchorage we headed straight to the airport. While we never saw Russia, we left Alaska having experienced more than we could have anticipated. We were very lucky some of our days to see and experience what we did. But, what made our trip truly special was our guide Julie. We were so fortunate to have someone so passionate and knowledgeable about Alaska. Throughout our trip she made sure that we learned and experienced all that Alaska has to offer. She truly made our trip a trip of a lifetime!
This Travel Journal submitted by Jessica Wright details her Alaska Coast to Denali Journey land tour with AdventureSmith Explorations. Read all Travel Reviews for more insights from our alumni travelers and experts, or contact one of our Adventure Specialists to learn more about our Alaska trips and small ship Alaska cruises: 1-877-620-2875