AdventureSmith Founder and President Todd Smith lends his insights on his week of Canada adventure travel, Churchill polar bear viewing in this Classic Polar Bear Adventure trip review.
In northern Canada, on the shores of Hudson Bay where the boreal forest turns to tundra, I came face to face with a polar bear—many bears, actually. It was among the most amazing wildlife encounters of my life and somewhat unsettling that it was so easy to get so close to the largest carnivore on earth.
An Introduction to Churchill Polar Bears
The polar bear (Ursus maritimus) is a highly adapted hunter who spends most of its time on artic sea ice preying on seals. During October and November, when Churchill polar bear tours operate, the bears are in a state of walking hibernation. They haven't eaten since the ice melted in July. Needless to say, they are very hungry.
In the fall, when snow begins to fly and cold winds whip off Hudson Bay, the bears sense that the ice is forming and gather along a specific stretch of coastline near Churchill, Manitoba. A unique combination of geography, currents and wind means ice will form here first, giving this population of bears a head start on the seal hunting season. It is during this time when Churchill polar bears are uniquely accessible in large concentrations.
The Best Place to See Polar Bears: From Inside a Polar Rover
Just because the bears are accessible, doesn't mean they are easy to view. An important development that allowed me to easily and safely engage with the polar bears of Churchill was the invention of the polar rover. These massive all-terrain vehicles, with tires over five feet high and three feet wide, safely traverse a system of old military trails in the Churchill Wildlife Management Area on the outskirts of Wapusk National Park. A polar rover is much larger than a bus with a heated interior, a wide aisle dividing rows of roomy seats, large windows, a bathroom and an outdoor viewing platform. They are designed to accommodate up to 36 people, but on our tours the limit is 16 ensuring everyone has their own seat and more importantly their own window for viewing and photography. Polar rovers are the heart of any bear-viewing trip here, and as you plan your trip, consider how much time you will have on the rover. My trip, the 7-day Classic Polar Bear Adventure, includes 2 full days of bear viewing on the rover and 1 evening rover excursion.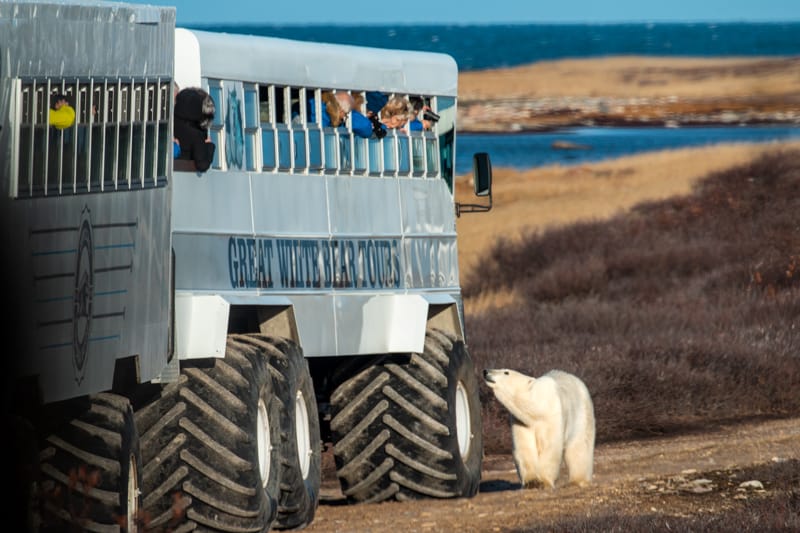 My first encounter went from ordinary to exhilarating in a moment. The bear was sleeping about 50 yards away, with its massive head on a rock, seemingly using it as a pillow. As we watched, it would occasionally raise its head to look around. Perhaps it was watching for other bears or perhaps sniffing the strange smells coming from the polar rover. Polar bears have a much larger head and nose than other bears and have developed a keen sense of smell. It is said that a polar bear can smell a seal on the ice from 20 miles away. It was thrilling to see our first bear, but the experience soon left us eager for more activity.
It was right underneath my feet! I looked it right in the eye through the steel corrugated decking of the rover's observation platform.
As we watched, two more rovers arrived, and it seemed this bear would not budge. Suddenly another bear appeared, casually ambling in front of the row of rovers. This one was much more active, walking and sniffing around the rovers and looking up at the excited occupants inside. From my perch on the open-air viewing platform at the rear of our rover, I watched as the bear sniffed curiously around the rovers and made its way toward ours.
It walked right under the windows of our rover, sniffing and looking, until it came to the viewing platform. It was right underneath my feet! I looked it right in the eye through the steel corrugated decking of the rover's observation platform. A hushed silence fell over the guests as we held our breath, a massive bear in our presence. The bear, being a predator, was amazingly silent. In a minute or two it passed and we collectively sighed, relieving the tension of our close encounter. Everyone remained quiet, in awe perhaps, as the bear slowly marched across the tundra into the distance. We looked over to see the first bear, still sleeping on its rock.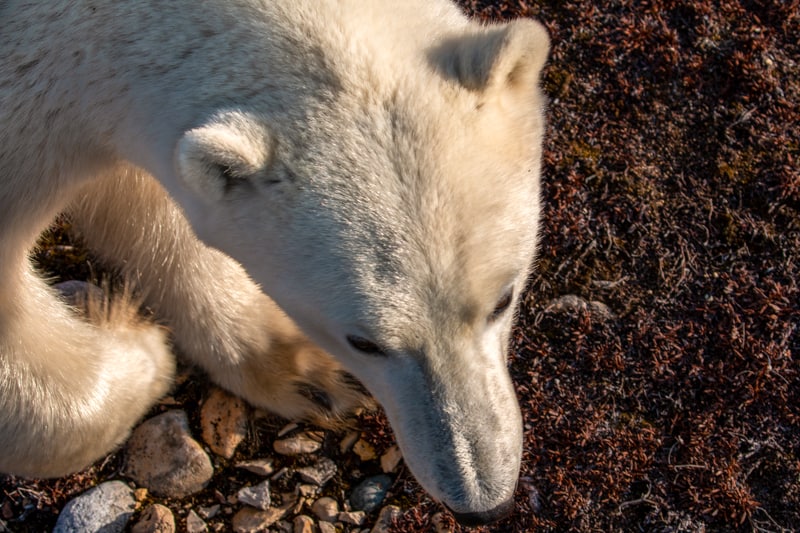 Exciting Polar Bear Encounters Continued
Our polar rover driver, Arnar, was a seasoned veteran with many years' experience on the tundra. He seemed to know intuitively where to position the rover for the best encounters and bear viewing. On our second day he diverged from the pack of rovers and headed out to a spit of coastal land separated from the tundra by a series of shallow ponds. He seemed to be taking a risk as we could hear other drivers on the radio announcing where they were spotting bears. His intuition paid off when we encountered a large bear traversing the spit in the same direction our rover was moving. We followed for about 15 minutes before it turned and walked right in front of our rover. About this time a second bear appeared, and it became clear by the way they looked at each other that there was going to be a standoff.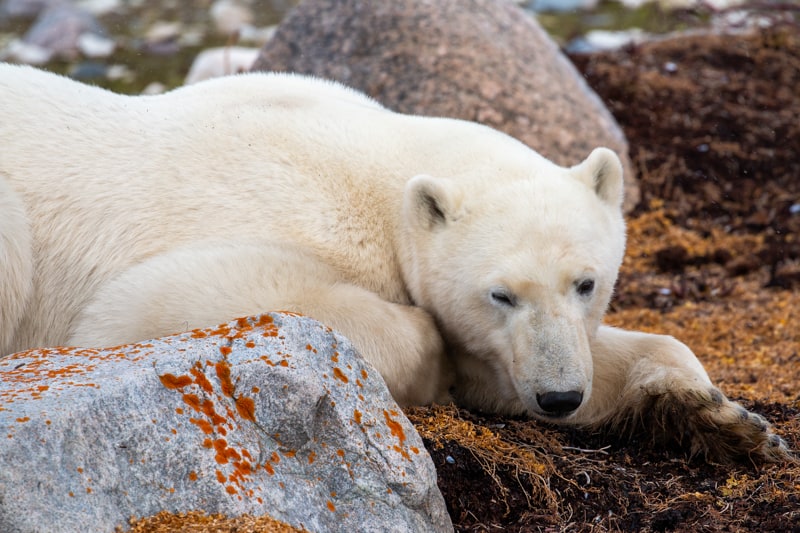 Like most bears, polar bears are solitary creatures and prefer to stay away from one another. But the crowded conditions in Churchill mean bears will meet and must tolerate one another. This seemed to be the case of a younger, smaller bear encroaching on a larger bear's personal space. The two glared, huffed, charged and chased each other while we slowly crept behind, witnessing the encounter. The larger bear didn't have to do much to assert its authority, and as the smaller bear retreated, it would rise on its hind legs to seemingly check that the altercation was over. The larger bear then laid down, again with its head on a rock, and took a nap.
Here I was eating a sandwich while a 1,200-pound predator slept less than 50 feet away.
With the exciting encounter complete and a napping bear just outside our window, our guide Jean declared this was a fine place to eat lunch. Once again, the incongruity of our easy access to the bears crept in. Here I was eating a sandwich while a 1,200-pound predator slept less than 50 feet away.
Seasonality in Churchill Polar Bear Viewing: When Is the Best Time?
Within the short polar bear viewing season in Churchill, from about mid-October to late November, there are important variations in weather and bear migration patterns to consider. The first few weeks of the season, when I traveled, the weather may be mild and the tundra characterized by fall colors. You may see fewer bears than at the end of the season, but other animals such as arctic fox, arctic hare, snowy owl and willow ptarmigan stand out against the colorful background. Mid-season's arrival fluctuates each year and is characterized by colder temperatures and tundra gives way to winter snow. Bears enjoy the cold and become more active, unless they hunker down during wind and snowstorms. As the final weeks of the season approach, the edges of Hudson Bay begin to freeze and bears actively anticipate access to their winter home on the ice. The highest concentrations of bears occur until the bay freezes solid and they depart for seal hunting grounds. There is no way to predict when this will occur from year to year.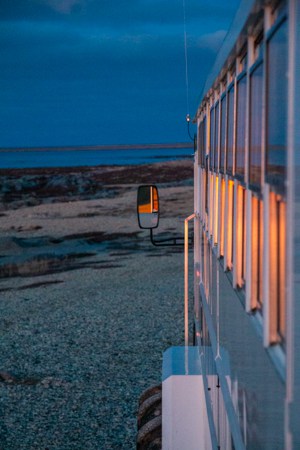 Overall, I encountered about 16 polar bears in two full days of bear viewing from the rover. Some were very close encounters while others were farther way requiring binoculars or the guide's spotting scope to view. In late October many arctic animals have moved south but we did also encounter willow ptarmigan, snow buntings, artic hare and red fox among others. We even spotted a beluga whale swimming close to shore with our binoculars. On the evening rover excursion, we witnessed a spectacular artic sunset and dinner on the tundra. With clears skies overhead I had hoped to view the Northern Lights, but alas they were not out, and the rest of the trip was cloudy, as they often are during the fall Canadian bear season.
If you're particularly interested in whale watching, consider returning for Churchill's beluga whale watching season in July and August, which is when our Arctic Watch trip (hosted farther north during the beluga migration) features optimal beluga viewing. Note that the Northern Lights are best seen during cold, clear winters, so consider a trip in January through March (like our North Norway, Aurora Borealis & Whales Arctic Cruise) if the aurora is on your bucket list.
My Review of the Classic Polar Bear Adventure Logistics
This trip is fully guided and operated seamlessly. The pace is quick with full days and lots to see and do, but the activity level is low. The trip is easy and suitable for almost anyone since most exploration is done from the rovers. Travelers with limited mobility could enjoy this trip with shuttles provided for all transfers in town and otherwise. Because of the presence of bears there is little in the way of hiking or unexpected exploration. Our guide Jean was on her fifth season in Churchill and kept us educated and informed throughout. Our driver in Churchill, Lindsay, was a delightful local full of stories and entertaining anecdotes.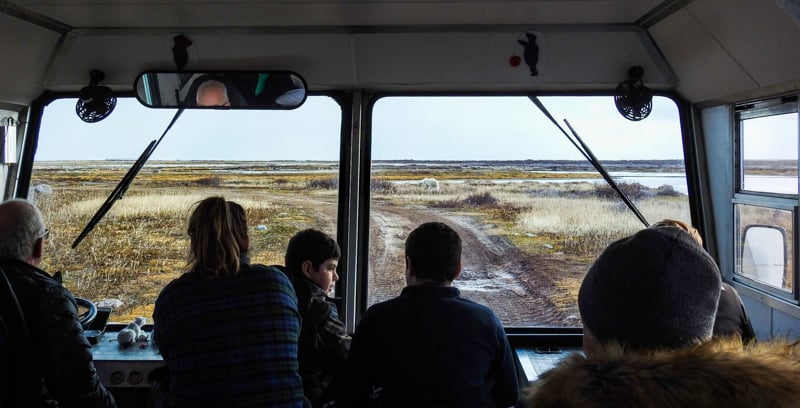 Upon arrival in Winnipeg I was greeted by cheery welcome staff, and from that point forward everything was taken care of by a professional and courteous crew. The historic Fort Garry Hotel in Winnipeg is an architectural landmark and its location near the Forks National Historic Site and the Exchange district offers museums, restaurants, theaters and festivals that are worth an extra day. A charter flight between Winnipeg and Churchill saves valuable time and maintains a cohesive group tour atmosphere. Overall, I was impressed how quick it was to get to this iconic location from my home in California, have such an incredible wildlife experience and be back home all within a short week's time.
Life & Lodging in Churchill
Churchill is remote and not accessible by road. Being isolated and accessible only by air, rail or sea, the town of about 900 people is a curiosity. In Churchill the trip includes the fascinating Itsanitaq Museum (formerly Eskimo Museum), a dog sled ride with local dogs and mushers, a visit to Cape Merry and the historic Prince of Whales Fort, the Churchill Northern Studies Center field station and tours to a series of oddball attractions in this quirky frontier town. I also recommend a visit to our conservation partners Polar Bears International House.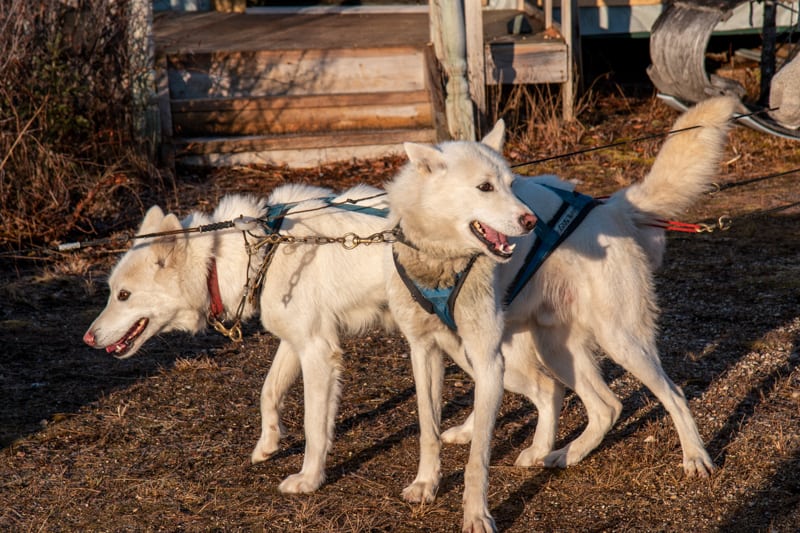 The town of Churchill has had a tumultuous relationship with their bears over the years. To the indigenous Inuit people, the polar bear, or Nanuq, was revered and prized. Bears provided an important source of food, clothing and tools. The Hudson Bay Company established a trading post in the area, and Canada's need for a grain port brought the construction of the railroad to Churchill. This led to an era where bears were feared and hunted by residents. Rangers were brought in to manage bears with lethal force. Then in the 1970s locals decided it was time to find a better way to live with their great white neighbors. A humane system for deterring bears was established, along with a polar bear holding area or "jail" for animals that might otherwise be shot. The system, which remains in place today, allowed for the emergence of wildlife viewing, which is now a mainstay of the town.
The accommodations in Churchill are simple and comfortable. The walls can be thin so pack ear plugs, but the rooms are clean and the service is personal. Travelers who really want to immerse themselves in bear habitat should consider the Tundra Lodge Adventure based from a custom-designed rover hotel. On my trip, a buffet breakfast was served daily at the hotel. Boxed lunches were provided on the polar rover and hearty dinners were eaten in one of the two main restaurants in town. Each evening after dinner, presentations were conducted by local characters adding unique insights into this atypical place.
Citizen Science in a Changing Environment
One of my last bear encounters was the most unusual. The bear was eating, and we struggled with our binoculars to determine what was on the menu. Jean explained that while seal was their preferred diet, and they were essentially fasting during their arctic summer on land, they are opportunistic and will scavenge food given the opportunity. It seemed that this bear had encountered the carcass of red fox, shriveled and dried into a state of tundra jerky. More playing than eating, the bear tossed it around like a dog with a chew toy (video below). It seemed so playful and cute that it belied the difficult circumstances and harsh conditions these bears face each year.
Arctic summers are growing longer with the average ice melt coming weeks earlier and the freeze coming later each year. This means fewer months to feed and more time to fast. Jean shared a graphic showing bear size from skinny to fat, and our group would categorize each bears' size, noting its location and date. If a tagged bear was viewed, its tag number was noted. This citizen science was then shared with researchers providing important data to help study this iconic species in a changing environment.
Akin to a Safari – My Overall Polar Bear Adventure Review
As a bear lover, I thought this trip was the thrill of a lifetime. As a lover of wilderness, I also appreciated the access we had to this remote and inhospitable landscape. Yet I had a hard time reconciling the ease of access and close proximity to the bears with the insulated nature of the experience. The polar rover, of course, made the experience safe and possible. If outside the rover I wouldn't stand a chance with hungry polar bears around. But the rover also created a material separation from the animals and the environment that I am not accustomed to. Perhaps like an African safari, where animals are viewed from the safety of a vehicle, this is the compromise one makes for the chance to encounter dangerous animals in the wild. If you want to view polar bears up close, I highly recommend this trip. The Classic Polar Bear Adventure is surely the easiest way to view polar bears up close in the wild.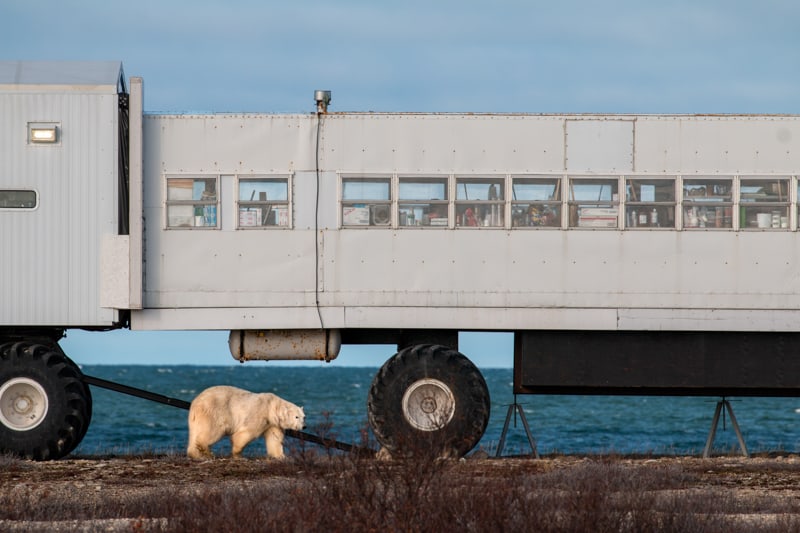 For more photos from this Arctic land trip, featuring the included dog sledding activity, the charming town of Churchill and even more arctic wildlife, view my Facebook album on AdventureSmith Explorations' Facebook page.
MORE ARCTIC RESOURCES:
Arctic Tours
Arctic Expeditions
Arctic Cruises
Svalbard Polar Bear Cruises
Arctic vs Antarctic Cruises
Arctic Animals
Iceland Cruises
Arctic Cruise Deals
Arctic Trip Reviews

This polar bear trip review was written by an AdventureSmith Explorations crew member. Read all AdventureSmith Trip Reviews for more reviews from our team, or contact one of our Adventure Specialists to learn more about our Arctic tours: 1-877-620-2875.