This Travel Journal submitted by Cameron Young details her Galapagos small ship cruise with AdventureSmith Explorations, on La Pinta Galapagos Cruise. Read more about Cameron's time aboard La Pinta and the 7-day itinerary.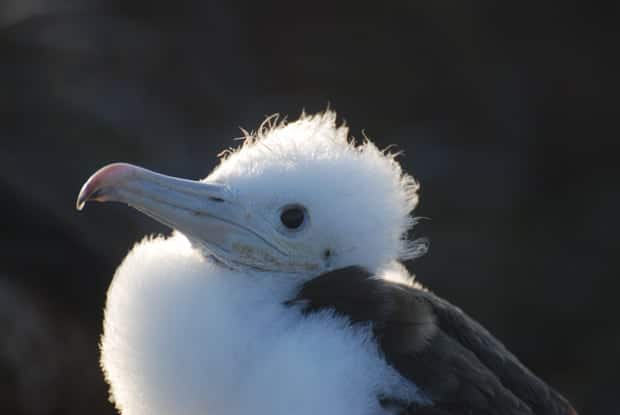 Day 1
My husband and I were so fortunate to find AdventureSmith and partake in their world class voyage on the 40 passenger boat La Pinta, with a Western Galapagos itinerary for 8 days. Although this cruise was a "splurge" for us, we cannot imagine it any other way. The crew was incredibly friendly and helpful, the food, phenomenal, and the naturalists first rate. Everyone spoke English and often multiple languages. They were exceedingly patient with our Spanish!
Before we had time to catch our breath, we noticed pelicans fishing, iguanas warming themselves in the sun, and sea lions playing in the surf.
We began our adventure by flying into Baltra airport where we met with our group and were immediately impressed with the warmth, humor and organizational skills of the crew. We were all transferred out to the dock where we sat briefly and took in our first fresh air glimpses of the Galapagos! A dream come true! Before we had time to catch our breath, we noticed pelicans fishing, iguanas warming themselves in the sun, and sea lions playing in the surf. We soon loaded onto pangas (large, inflatable boats we call zodiacs in Alaska) and headed out to meet La Pinta, a gorgeous boat with comfortable cabins. The safety speech, a bite to eat and we were underway with full confidence that we were in excellent hands for the week.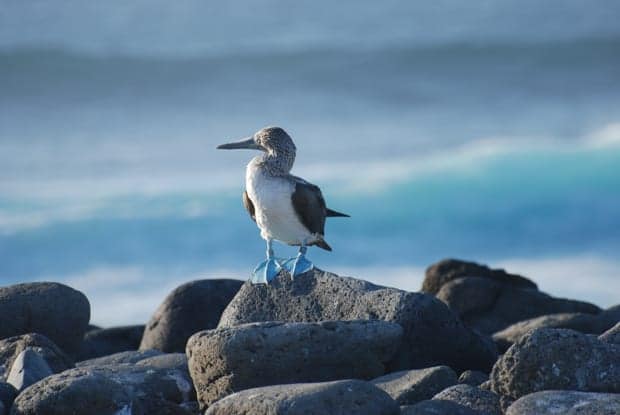 Our first excursion was to North Seymour Island in the late afternoon. Beautiful weather, light breeze, gorgeous light and birds and iguanas everywhere! We had to watch where we stepped, so we wouldn't accidentally harm a nesting bird or snoozing iguana. Living in Alaska, we are used to animals being somewhat elusive and tourists are fortunate to see wildlife. It's important to be quiet and not startle animals, who will quickly retreat into the forest or water to hide. To our amazement, the blue footed boobies, frigate birds, iguanas, and sea lions simply stayed put and stared back at us. Even nesting mamas did not hide their babies or flee from nests as we walked by. These are birds and animals without predators. Such confidence in the world! It was difficult to keep up with the naturalist leading my small group as every time I took a step there was another photo to take. Fluffy babies covered in down peering out from nests, soaring frigate birds with undulating puffed out ruby throats, indicating readiness to mate, and of course, those blue, blue webbed feet of the boobies! Bring extra Scan discs and batteries for your camera. You will take hundreds more photos than you ever imagined you would!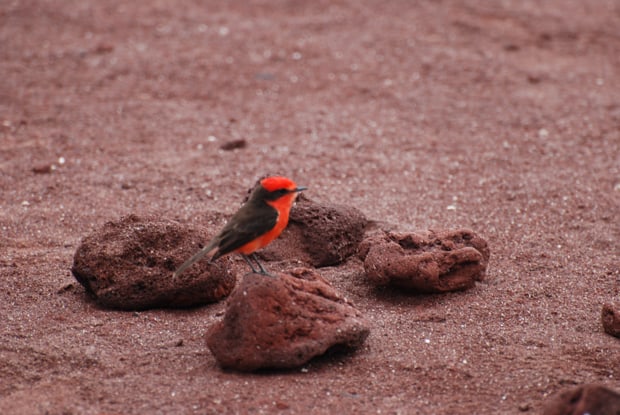 Back on board La Pinta, we had time to freshen up and have a drink with new-found friends, before heading to dinner. Wonderful cuisine, several choices of entrees, fresh vegetables, friendly and prompt service from attentive wait staff. It was the first of many delightful meals. Afterwards, we attended an informative chat by one of our naturalists, along with the presentation of our itinerary for the following day.
Day 2
We traveled overnight north and around the top of Isabela Island, waking to find ourselves in a cove just below the "snout" of the seahorse that Isabella is shaped like. As we sipped morning coffee on deck, we watched sea turtles swimming around the cove, lifting their heads periodically to look about and take a breath. Breathtaking indeed!
After breakfast, we were outfitted with wetsuits for snorkeling and headed back onto the pangas for a ride to the cove. Swimming with sea turtles, white-finned sharks, and brilliantly colored fish of all shapes and sizes. My husband and I kept track of each other by holding hands, snorkel-floating along the shoreline, and excitedly pointing out fish and other marine life to each other. A diving cormorant topped off our gleeful time in the water.
The afternoon was spent on Fernandina Island, one of the youngest of the Galapagos Islands and home to the marine adapted iguana, which is equally at home on land and swimming in the water. A swimming dragon! They laid about in piles, dozens of these prehistoric creatures, warming themselves on the rocks and staring back at us, basking in the glory of the transient papparazzi we, as tourists, presented to them. Oh, and sea lions, playing in surf, nursing babies, calling to each other in their special sea lion burp-like vocalizations. Playful, curious, protective and full of personality, they are always fun to watch and I find myself smiling after each encounter.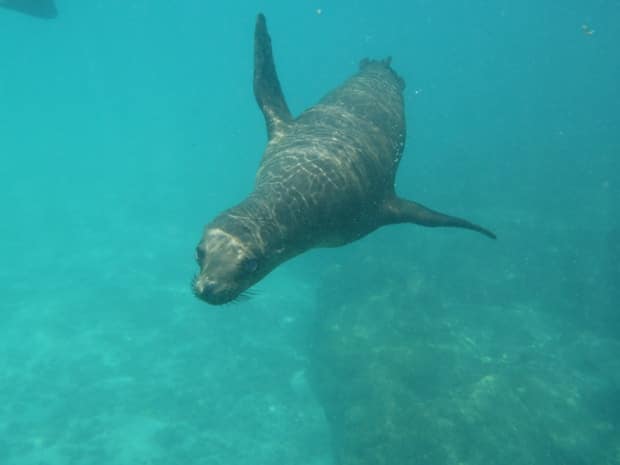 Dinner is filled with excited conversation about what we each saw and enjoyed during our day. The naturalist's talk is the finale to each day. The next day's itinerary is outlined for us and there is an opportunity to ask questions, get to know our crew and naturalists, read, chat with other passengers, or catch up on our journaling.
Day 3
We awake in Urbina Bay and head for Tagus Cove on Isabela Island for more snorkeling. The sea turtles were extraordinary! Even they appeared non-plussed by our presence and they continued to glide and feed on green algae as we snorkeled around them in amazement. On land there were yellow iguanas! Yellow! I had no idea iguanas came in yellow. And they're beautifully juxtaposed against black sand volcanic beaches. How kind of Mother Nature to provide such a glorious contrast for the photographers in the group! We are starting to gain a sense of the biodiversity and uniqueness of each island. You can read about it, but until you actually see the differences from day to day, one cannot imagine the prehistoric, volcanic, time warp this place provides its visitors.
In the afternoon, a hike up a collapsed caldera with Darwin Lake where we could see the other side of the island and ancient lava flows. Parts of Isabela have been uplifted 5 meters during a sudden event that happened in the 1950's. Good to stretch our legs on this hike and the vantage point of seeing much of the island and the changes in biodiversity as we hiked from sea level were stunning.
Day 4
The Galapagos has caused me to want to leap out of bed with a life-force of excitement to see and do and learn and swim…
I'm a fairly even-keeled personality who rises each day thinking positive thoughts but the Galapagos has caused me to want to leap out of bed with a life-force of excitement to see and do and learn and swim and laugh and listen and touch. Every moment seems to bring out the best in me. The animals, birds, fish, geology, history, kindness and knowledge of others. I fall into bed with a deep contented sleep every night, helped by the gentle vibration of the engine and the sway of a boat on the ocean.
This morning I awoke to our ship underway, cruising along the east coast of Isabela Island heading to Rabida Island. It's as if we've travelled from one planet to another, this island has red sand beaches and although I've been focused on what's happening above sea level, I'm suddenly struck by what's happened below the ocean. How is it possible in a few short miles that the terrain could change from black lava to red sand? Our naturalists are patient with all of our questions and answer each with enthusiasm. All four are kind and endlessly passionate about the Galapagos Islands and sharing it with others. They are all Ecuadorian, in line with park regulations, and it adds an authenticity rarely found in our world travels. This is home for them and they treat guests with the graciousness of a host sharing his or her most treasured possession.
In the afternoon we find penguins! Some of the smallest in the world, second only to the blue penguins of New Zealand. We saw penguins, "fly" underwater, went nose to nose with a curious, playful sea lion, and saw more brightly colored fish, swimming in our own tropical aquarium. On land, a vermilion flycatcher captured our attention and admiration as we learned more about the geology of the area.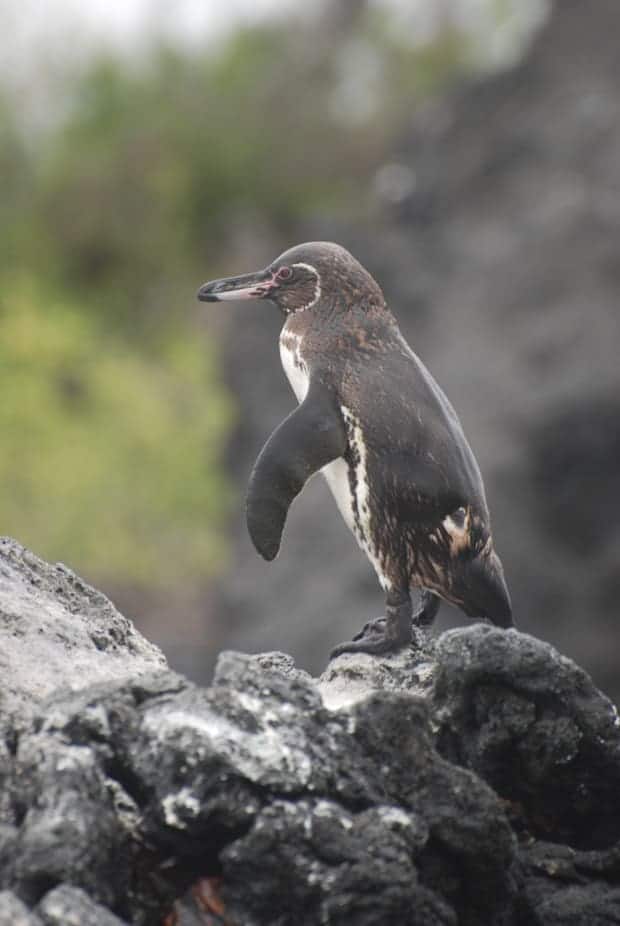 Day 5
An excursion into city life in Santa Cruz, the largest town in the Galapagos. Our morning was spent exploring the town, purchasing a few souvenirs for family, and observing a wild fish market where the pelicans and sea lions come so close the merchants have to shoo them away every few minutes. They could reach out and swat them on the nose if they wanted to!
In the afternoon, a highlight visit to the Charles Darwin Research Station where we learn about the giant tortoise incubation center. Here scientists are doing research on all aspects of flora and fauna in the Galapagos, although certainly, the giant tortoise are the rock stars. We hear about Lonesome George, who was the last of his species and the efforts to find a mate for him. Although he died never having successfully bred, scientists are finding tortoises from other islands who have up to 50% of the same DNA as George. Efforts are underway to try to breed these turtles to recreate George's species! Biology in action is astounding!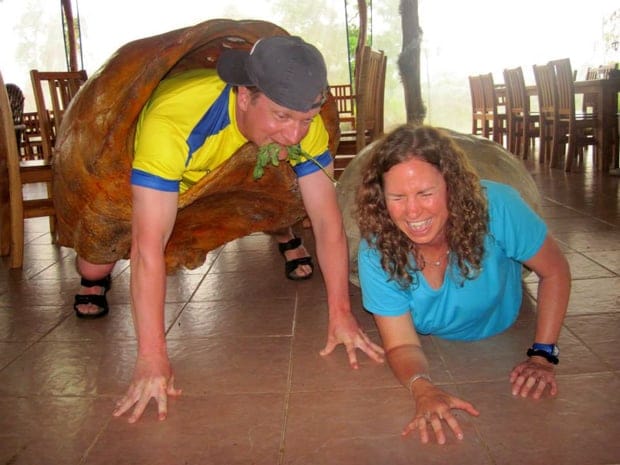 We take a bus through town and out to a farm where giant turtles roam. We roamed around with them as in a sedate Jurassic Park. They're huge! The way they move, those gigantic shells, prehistoric feet and curious blue eyes. You cannot stop watching them because you've never seen anything like them, nor will you anywhere else. A thrill we will not forget.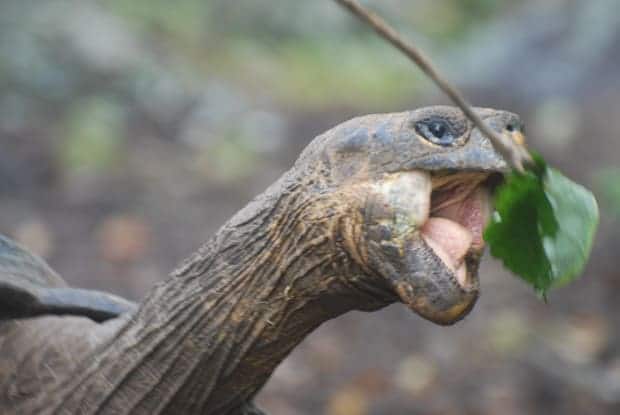 Day 6
Snorkeling at Post Office Bay and a relaxing morning on the beach. There's a bag of postcards where travelers leave a postcard with their hometown listed on it and try to exchange it for a found postcard from their hometown. We dig through the pile in an attempt to find a card from Juneau, Alaska, our hometown. Although we didn't have high hopes, we actually find one with an address about a mile from our home. A fun travelling coincidence that helps us feel connected to this place, our home, and a shared experience of adventure and the fullness of life.
The evening brings Christmas Eve and a walk in the saltwater estuaries of Floreana Island with evening light, a warm gentle breeze, flamingos, and a sea turtle coming ashore to lay eggs. A panga ride back to the ship by a crescent moon. No one is talking; in this moment, we are awestruck. Our bodies are relaxed, our minds at ease. Content in the moment, it is a time to simply be.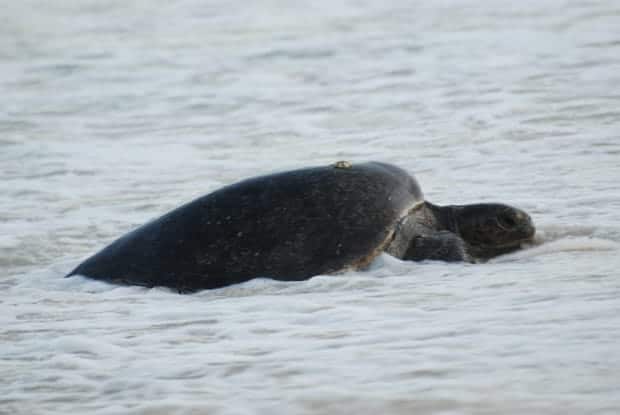 Day 7
The tenacity of this place! This is why it will touch your soul.
Santa Fe Island and South Plaza Island. Breathe in the air. Take in every detail. This is our final full day of our tour and we are still learning about ecology, still marveling at sea lions and iguanas and birds, still feeling the white sand and turquoise water on our skin. An afternoon hike along a cliff with iguanas sleeping on top of sea lions, gulls soaring in the thermals, cactus and succulents growing from dry sand and rock, punctuating this tiny, windswept island, a volcanic rock rising from the sea, battered by wind and waves, yet insisting on being alive. The tenacity of this place! This is why it will touch your soul. Years from now you may think you've forgotten it, but it lies dormant within you, a gift of phenomenal peace, diversity, and life you can believe in. You will never be the same.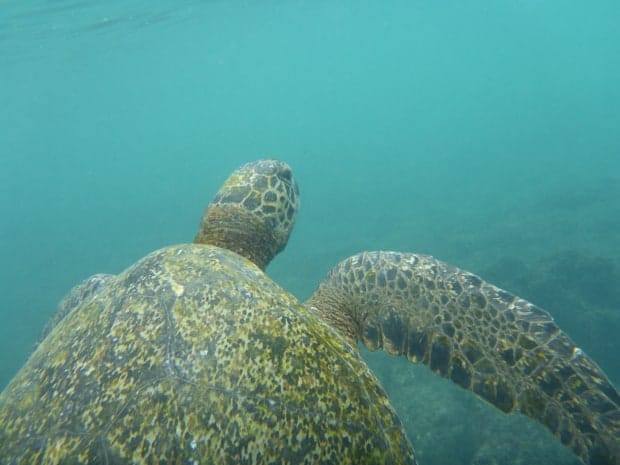 Day 8
San Cristobol Island. We walk through the visitor center and learn about the history of people who've inhabited these islands. Oh yeah, people. I forgot about them, being preoccupied by the animals, fish and birds. The people who have lived in the Galapagos have a past as colorful as the variety of iguanas. In the present, I think of the people who have shared in our journey this past week and have been a special part of the trip. The chefs, purser, boatmen, naturalists, and captain all created a well-conducted symphony of food, safety, hospitality, knowledge and joy to make our Galapagos adventure unforgettable.
MORE GALAPAGOS RESOURCES:
Galapagos Cruises
Galapagos Cruise Deals
Galapagos Islands Yacht Charters
Galapagos Luxury Cruises
Galapagos Family Cruises
Galapagos Diving
How to Choose the Best Galapagos Cruise
Galapagos Island Hopping or Cruise?
Best Time to Visit Galapagos
How to Get to Galapagos
Galapagos Islands Animals
Galapagos Trips
Galapagos Tours
Galapagos Cruise Reviews
Galapagos Travel Guide
This Travel Journal submitted by Cameron Young details her Galapagos small ship cruise with AdventureSmith Explorations, on La Pinta Galapagos Cruise. Read all Galapagos Cruise Reviews and worldwide cruise reviews for more insights from our alumni travelers and experts, or contact one of our Adventure Specialists to learn more about these small ship cruises and wilderness adventures: 1-877-620-2875