AdventureSmith Explorations' Lis Larson reviews her Santa Cruz Galapagos Islands Cruise, visiting North Seymour, Isabela, Fernandina, Santa Cruz and Floreana islands.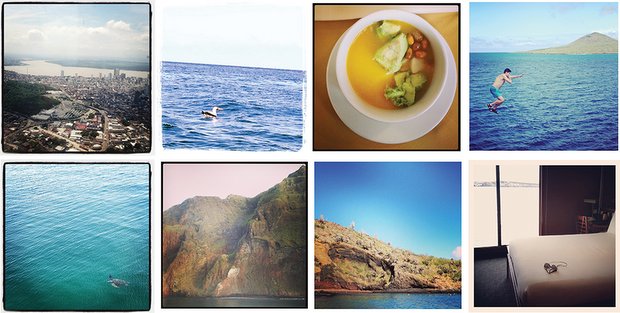 I had the amazing opportunity to cruise the Galapagos Islands aboard the M/V Santa Cruz on the Western Islands Itinerary, and WOW. This magical place is truly heart opening. All of my expectations were magnified upon being there. The Galapagos Islands are more wild, more remote and bigger than I ever imagined. The Galapagos wildlife was everything you read: up close and innocent. I swam with penguins, flightless cormorants, sharks, sea turtles, sea lions and rays off Floreana and Isabela Islands. I was mere feet from the celebrated blue-footed boobie dance on North Seymour Island, and almost got hit by a diving blue-footed boobie while deep-water snorkeling. I saw giant tortoises on Isabela Island. I watched marine iguanas swim on Fernandina Island. I relaxed on tropical Tortuga Bay on Santa Cruz Island and explored the huge shoreline opuntia cactus forest there. And I made friends with the ship's crew and fellow travelers from all over the world. Below is my review of the M/V Santa Cruz and its six-day Western Islands itinerary. I also opted for the AdventureSmith Galapagos Cruise Package, which took care of all the other essentials of getting to the Galapagos (park fees, hotel nights in Guayaquil before/after, a city tour, etc); read my Galapagos Cruise Package review.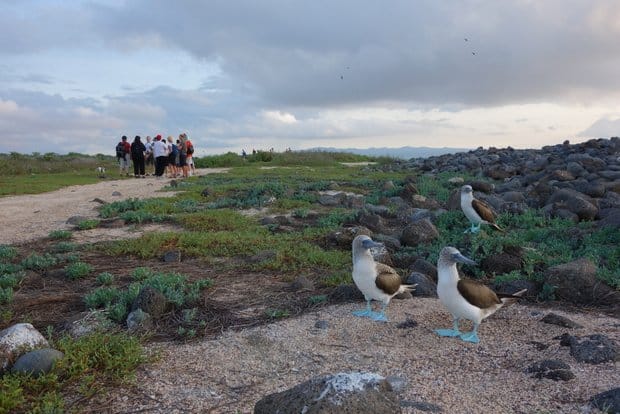 I chose the Santa Cruz Western Islands cruise specifically for its itinerary, which for its length of six days packs in more islands (five) than most other itineraries of the same length. I was only able to take a week off of work, so this Galapagos trip fit that schedule perfectly as I flew out to Guayaquil on a Monday, boarded the ship Wednesday, disembarked the following Monday and flew to Guayaquil, arriving back home, on Tuesday, a week and a day after I left. (Read about my time in Guayaquil and how all my transfers went in my Galapagos Cruise Package review.) While I thought this might have felt a little rushed before I did the trip, it actually felt like a perfect getaway. And I saw so much of the Galapagos, starting from day 1, aboard the Santa Cruz that my Galapagos dreams were certainly fulfilled in a big way! Of course, I'd love to see the eastern and northern islands, so if I had the time and money, I'd extend this cruise and add on the Northern Itinerary (5 days, for a total of 10 days) or go all out and also add the Eastern Itinerary (for a total of 14 days). Out of all of the Santa Cruz Galapagos cruise itineraries, I specifically chose this Western route as I wanted to see the newer Western Islands and explore the colder Humboldt current that makes the marine life over there so rich. The Western Islands are more likely to have penguins, which was definitely a species I wanted to encounter – and did! This itinerary also visits the Darwin Research Station and the town of Puerto Ayora as well as the southern island of Floreana, which has gorgeous white sand beaches and marine floor for that brilliant turquoise water, and is home to Post Office Bay, a must-see for me, a postcard collector. At Post Office Bay, whalers once set up a makeshift post office in a barrel, and visitors today get to continue the tradition by picking postcards left by former travelers to then hand-deliver. I was a little ambitious and picked up four cards to deliver in Reno, Sacramento, Bishop and Roseville. There is a flamingo lagoon on Floreana too, so that was a bonus, though the one flamingo we saw was very far away. And this island is close to the best snorkeling spot in the archipelago, Champion Islet, which definitely is worthy of its superlative.

Being a young, active single traveler, I was curious as to how the age range would be on the trip, as well as if the activity options would keep me entertained. I soon learned that these were of no concern at all aboard the Santa Cruz! The activity options on this boat, led by the tenacious expedition chief Ramiro, are as active as you want to be. This truly felt like an expedition as we were almost constantly entertained with activities off the ship. I took advantage of every activity, so my only rest came right after lunch each day and during day 4's excursion to Tortuga Bay where I relaxed on the beach. Others on the trip who did not want to participate in every snorkeling or hiking excursion had options to rest on board more or do lighter hikes and easier snorkels. I was also curious how such an active trip would manage to get its 90 passengers on and off the ship efficiently and not crowd the visitor sites on the islands. Ramiro had his crew excellently organized so this was not a concern either. From the start, we were divided into groups of 12 or so that gave us a sense of camaraderie and a disembarkation order for activities. For the excursions that had options by difficulty level or preference, we divided by preference. So we had a core group that we'd come back to for most activities, but then would split off and meet new passengers for some other activities, like deep-water snorkeling. On land excursions, we were well spread out. Only a few times (for instance, at Post Office Bay) were we all the Santa Cruz's passengers at a visitor site together at once. Only then would a smaller boat have been preferred, but by then so many of us had become friends that it was a joy to be there with the whole group.

The Santa Cruz captain, crew and naturalist guides were exceptional. I felt completely at ease with, and even friends with by the end, much of the crew and guides. The crew had the magical ability of being funny yet professional at the same time; a big shout out to hotel managers Christian and Alex, who made me feel very welcome and special. Christian even taught me some meringue steps on the dance floor. Captain Christian was a true seaman and a joy to meet. I was lucky enough to sit next to him in the Baltra airport while we waited for the bus to take us to the ship. We continued our conversation (in Spanish – he was patient with my rusty language skills) on the bus ride, so my first glimpse of the M/V Santa Cruz was with its captain by my side – a great introduction to what was to become the best trip of my life. I visited Christian twice during the sailing and he showed me his charts and technical instruments. My primary naturalist guide, Daniel, was a sweetheart – a true gentle soul who moved to the Galapagos at age 10. He was knowledgeable and great at answering our group's questions and accommodating all of our needs as we were a motley crew of ages ranging from 11 to 70-something. One of our group members had some knee issues, so we all pitched in to assure she was stable in some of the rockier sections. My group also had some younger couples and three other single female travelers in it, one my age, so we all hit it off great.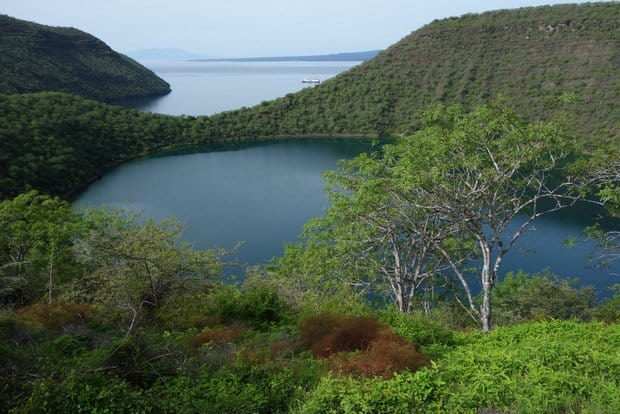 It was nice to see in our group two grandchildren and their grandparents traveling together. Due to the number of options available on the Santa Cruz they were able to enjoy an extremely active vacation together, while each being catered to at their level. I doubt that a smaller ship would have the ability and number of guides to pull this off. For instance, at Champion Islet you could deep-water snorkel or take a ride in the glass-bottom boat. At Tagus Cove you could do a fast hike up to a view, or opt to take a mellow stroll. Because of this variety in activity, I had the opportunity to go on excursions with most of the other guides as well and they were all top notch – I'm talking about you especially Pablo and Lorenzo! The panga drivers also deserve a special mention as they were the silent but sweet presence throughout, getting us as close and safe to wildlife as allowed. They worked well with the guides to help us spot wildlife, and then would reposition the panga so that each side could get the best view. On my final day the panga driver overheard me saying that I still had not spotted a Nazca boobie. As he was driving us fast back to the boat, he stopped and pointed out to me one that was swimming in the water nearby. Wish I could remember his name to give him due credit!

My accommodations were amazing. On the Boat Deck, my cabin (B12) was in the Superior category/Boat Deck with floor-to-ceiling double windows and a double bed. I've often heard that you don't spend much time in your cabin so it's not that important to splurge on if you want to save money, but I might be forever spoiled. Having such an amazing view from my bed, in such a stellar location on the planet as the Galapagos Islands was icing on the cake. It truly made my trip extra special and comfortable to have a bit more room all around and to most especially be able to enjoy the view at all hours. A couple minutes after first entering my cabin I saw a sea turtle swim by, so that was very exciting. I would also note that being on the port side of the ship provided some great views of Isabela Island for the first part of this trip. I was impressed with all the clever storage options (lots of space under bed) and towel racks and hooks for convenience. I used the iPhone docking station too so I could take photos with my phone and use the onboard WiFi (extra charge, sometimes slow and spotty, only available in lounge). My cabin was kept remarkably clean and tidy by the diligent Angel, who was a pleasure to pass often in the hall. He kept close watch of our deck to make sure he could clean our cabins as soon as we left them. Special chocolates on our bed each night were a bonus too! I enjoyed being on the Boat Deck as it is closest to the outdoors. The outdoor access doors are located on the Boat Deck, and then you can take one more flight up to the top Sun Deck, where there is a Jacuzzi, bar and sun chairs. At first glance, the Santa Cruz isn't the brightest ship in the port. Her name paint needed a bit of a spruce on one side when I sailed, but once I was aboard all was in top shape. You can rest assured that this ship is well cared for, and led by a captain who takes great pride in his company and work. Christian has worked in the Galapagos for 20 years, and touts Santa Cruz boat operator Metropolitan Touring as the best. I chatted with him at length about his job and he spoke very highly of the level of professionalism on the Santa Cruz, the quality and stability of the ship, and how well Metropolitan treats its employees. And you can tell such on board. It truly is a happy place.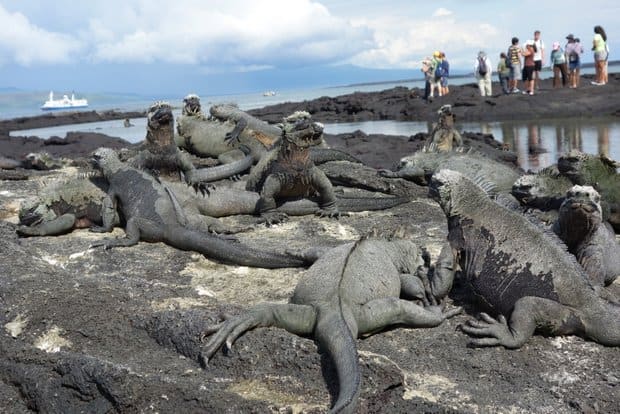 March weather was a bit hot for sun bathing while at anchor, but we usually only had about an hour to lounge anyways so I tried to take advantage of the sun as much as possible. The bar area is shaded, and there are shade structures over the Jacuzzi and its surrounding area that many people would use to read, play cards or relax. I was surprised at how pleasant the weather was being a very hot time in the Galapagos. For the most part, there was a breeze to cool us off and occasional passing clouds. We were in the water a lot. I rented a shortie wet suit, which was nice to have as we would snorkel for 45 minutes or more at a time and by the time we'd been in the water 30 minutes, I was glad I had it. Also, the wet suit provides nice buoyancy, which made being in the water so long very effortless. Snorkeling was definitely a highlight of my trip. My advice would be to take every opportunity to deep-water snorkel. On this itinerary in particular, the deep-water snorkeling options came first, so those who waited for shore options were likely disappointed as the shore areas were rougher with less visibility during the time I was there. I should probably mention my initial concern with sea sickness. I am very susceptible to motion sickness, but had no issues on this trip. I brought Scopolamine patches with me, but opted to try more mild Bonine instead. That worked great for me and I had no drowsiness side effects. There was quite a bit of rocking during open ocean crossings on the north and south ends of Isabela.

The meals on board were delicious and well proportioned. Highlights were a daily soup (traditional Ecuadorian potato soup with avocado, cheese and corn nuts was my favorite), cassava bread and fresh fish caught near the Galapagos. A latte machine produced coffee, lattes, cappuccinos and hot chocolates at the push of a button 24 hours a day. I really enjoyed the no-waste attitude on board the Santa Cruz. The food buffets for breakfast and lunch were not unlimited (but not too scarce), which means the items were fresh and well planned. We were each given a water bottle in our rooms upon arrival and were asked at the introductory briefing to reuse this water bottle for the duration of the trip, and then pack it out with us when we left. The crew also asked us to be very conscious of what we leave and throw out on board. Anything left in a cabin after disembarkation would be rushed to us at the airport under the assumption that it was forgotten. If we did not want anything we bought or packed then there was a dedicated bin to donate that.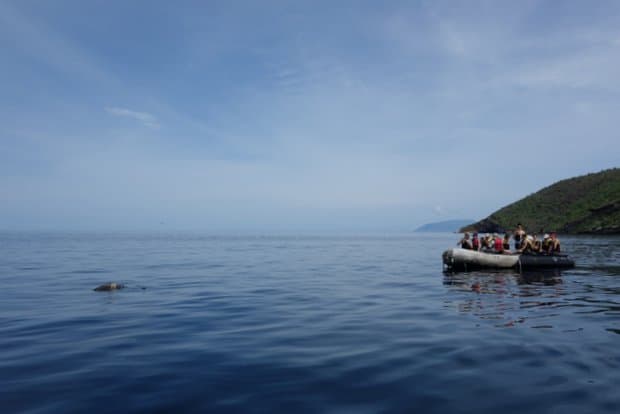 The Santa Cruz is also unique as it donates any extra cabins to local Galapagos students and teachers with the Galapagos Foundation, providing a chance they might not otherwise get to experience the Galapagos as the tourists do and spread the conservation message to the islands' permanent residents. There were two Galapagos Foundation students aboard my cruise.

There are so many positives to this trip that I could go on and on for thousands more words listing all the little details that made this Galapagos trip so special for me. I hope you can simply experience the islands for yourself, and I highly recommend you do it aboard the M/V Santa Cruz!
For more photos, view my Galapagos Santa Cruz Facebook album and my Galapagos videos on our YouTube channel.
MORE GALAPAGOS RESOURCES:
Galapagos Cruises
Galapagos Cruise Deals
Galapagos Islands Yacht Charters
Galapagos Luxury Cruises
Galapagos Family Cruises
Galapagos Diving
How to Choose the Best Galapagos Cruise
Galapagos Island Hopping or Cruise?
Best Time to Visit Galapagos
How to Get to Galapagos
Galapagos Islands Animals
Galapagos Trips
Galapagos Tours
Galapagos Cruise Reviews
Galapagos Travel Guide
This Galapagos cruise review was written by an AdventureSmith Explorations crew member. The Santa Cruz is on our curated list of Galapagos Family Cruises. Read all our Small Ship Cruise Reviews for more trip reports, or contact one of our Adventure Specialists to learn more about these small ship cruises and wilderness adventures: 1-800-728-2875.