This Travel Journal submitted by Robert Rhodes details his Galapagos Small Ship Cruise and Ecuador land extension with AdventureSmith Explorations, on Origin Galapagos Cruise and Sacha Lodge Amazon Adventure. Read more about his and his grandson's travels aboard Origin as well as Sacha Jungle Lodge!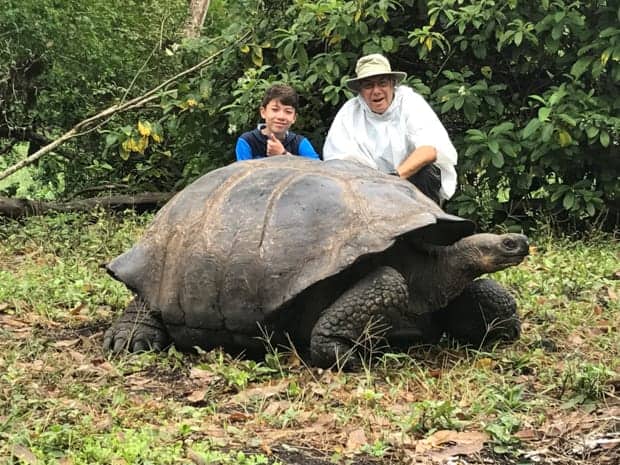 Day 1
Flew from non-stop JFK to Quito on TAME (Ecuador Airlines). Checked in at the Posada Mirolindo, a combination B and B and farm not far from the Quito airport that provides free shuttle service. Dinner at a restaurant in Cumbaya.
Day 2
The 5 boys hit it off immediately, and their relationship throughout the Galapagos portion of the trip was a highlight.
Flight from Quito to San Cristobal via Guayaquil. Transferred to the Origin, a one-year old and well-appointed 20-passenger ship and got acquainted with our two naturalist guides, the ship's crew and our fellow passengers. The latter included 5 boys roughly the same age of our grandson, Avery. They hit it off immediately and their relationship throughout the Galapagos portion of the trip was a highlight.
After lunch, returned ashore for a brief hike on San Cristobal. Then dinner and a preview of the next day's activities. Ship sailed overnight to Punta Pitt.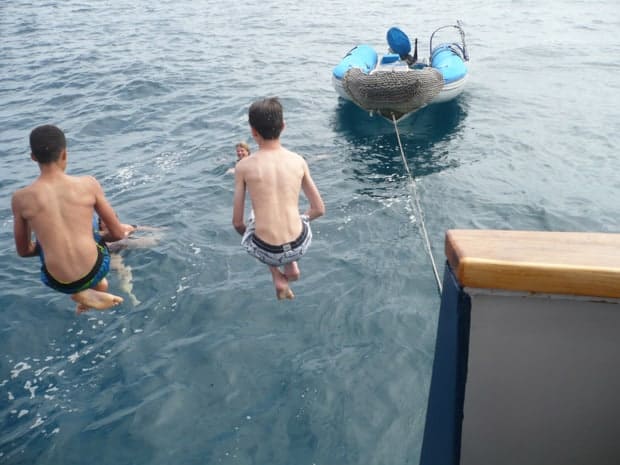 Day 3
A hike at Punta Pitt to see lots of wildlife. This is the only spot where all three-species of Boobies nest: Blue-Footed, Red- Footed, and Nazca (masked). During the post-lunch siesta the ship sailed to Cerro Brujo, a beautiful beach for walking swimming, and snorkeling. Overnight sail to Espanola.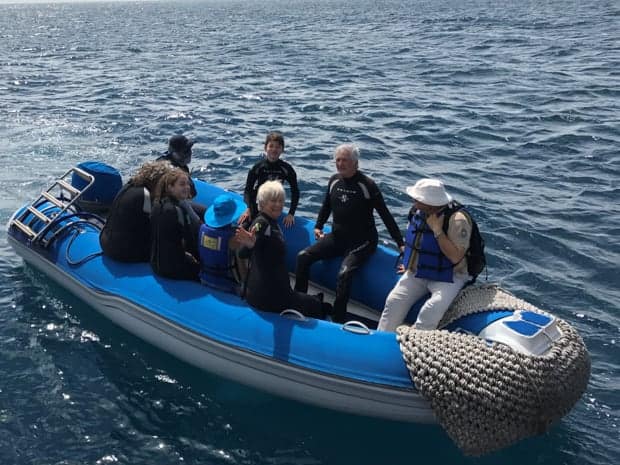 Day 4
Nature walk at Punta Suarez with a view of many albatrosses that include their mating rituals. Lunch on the ship's sundeck. More activities that include a stop at Gardner's Bay with a beautiful beach, swimming off the boat, deep water snorkeling, and paddle boarding. Overnight sail to Floreana.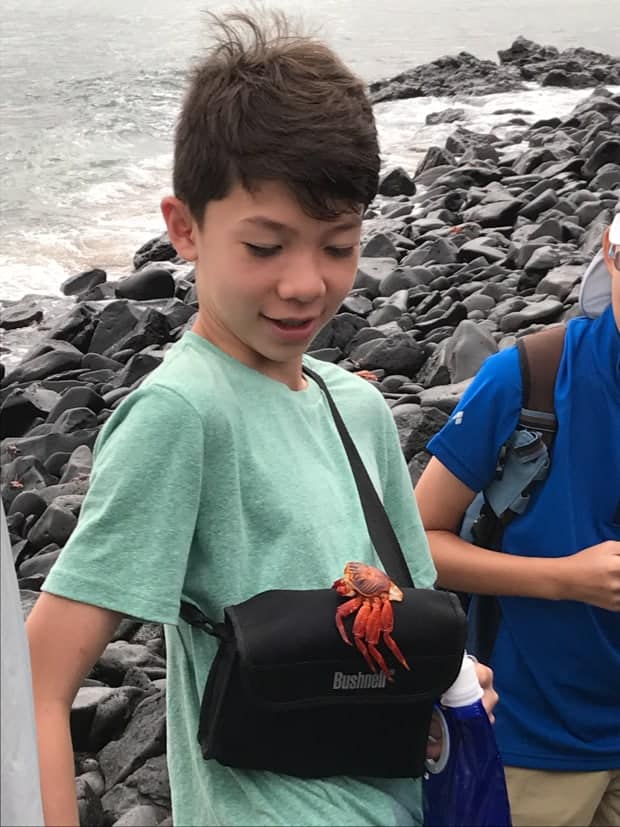 Day 5
Highlights included flamingos in brackish water. Their diet of shrimp gives them their pink color. The stop at Post Office Bay revealed unstamped mail to people near our homes that we took for future delivery. Overnight sail to Santa Cruz.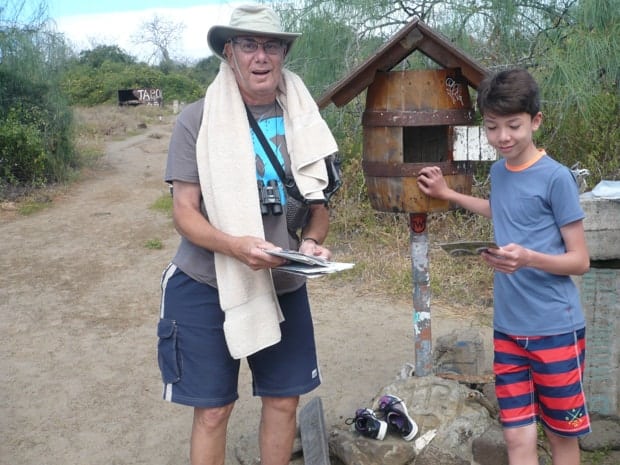 Day 6
A busy day that included visits to Los Gemelos, two sink holes that formed when the magma collapsed, to the Manzanillo giant tortoise preserve, a lagoon walk, and the fish market. Overnight sail to Santiago.
Day 7
The day started with kayaking at the Chinese Hat. Avery took charge – a good thing since Grampie didn't make it all the way as the kayak overturned in a swell. More snorkeling and a nature walk that included Nana in a lava tube.
More snorkeling and a nature walk that included Nana in a lava tube.
After lunch a short sail to Bartolome. Avery climbed the 375 wooden steps for the great view of Pinnacle Rock. Saw many penguins. After dinner we were musically entertained by the ship's crew and this ignited a disco party. Later we saw many sharks feeding off the stern of the boat.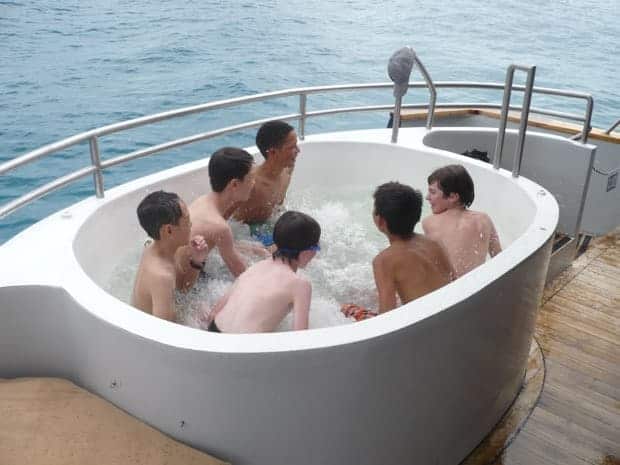 Day 8
A stop at Plazas Island for more deep water snorkeling. Near-by North Seymour was the breeding grounds of frigates with the males attempting to attract females by inflating a red pouch on their necks.
At the pre-dinner farewell Avery was chosen by his pals to deliver a thank you on their behalf. His comments were very well-received.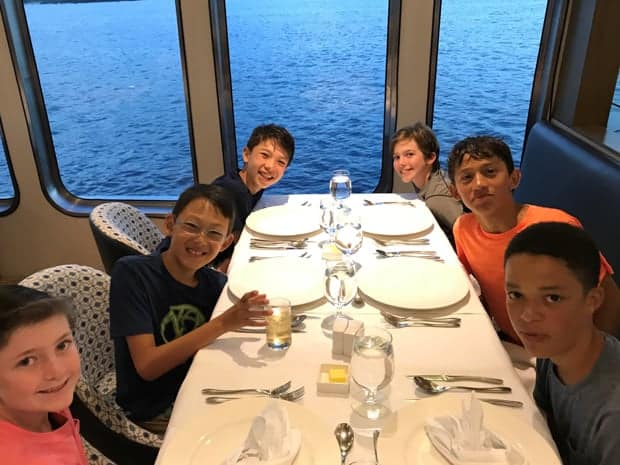 Day 9
A sad departure from the ship and flight back to Quito and the Posada Mirolindo. The pilot expertly handled a high crosswind situation.
Day 10
A flight to Coca and a nearly two-hour canoe ride to Sacha Lodge. The only but a substantial rain marred our final leg to the lodge.
Day 11
A view of parrots at the riverside mineral lick. Then a visit to an indigenous family living within the Yasuni National Park. We tasted their foods, Avery had his face painted with tribal symbols and also participated in learning to use the blow pipe. The day concluded with a night nature walk.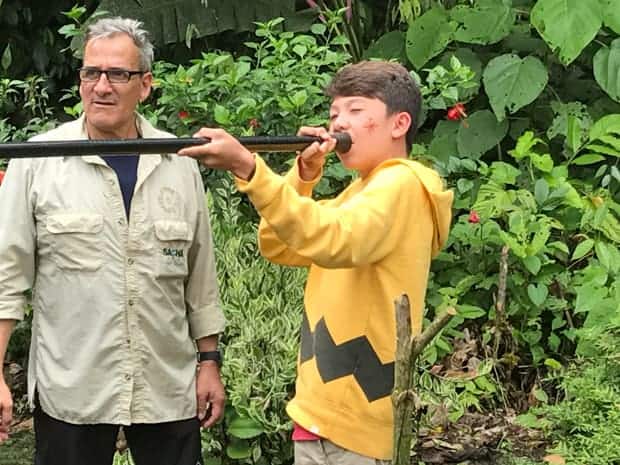 Day 12
Today's nature walk included a climb up the 135-foot kapok observation tower for bird watching. After lunch we climbed the 94-foot canopy walk. The long walkway between towers on a suspension bridge was memorable! The Butterfly House was a fascinating look into the stages of their development.
The lodge prepared Avery a birthday cake for dessert and he was serenaded by the other guests.
Day 13
A return to Coca and then Quito. During layover hours we toured the equator museum, the Quito basilica, and the plaza. An overnight flight back to New York ended a fantastic trip!
MORE GALAPAGOS RESOURCES:
Galapagos Cruises
Galapagos Cruise Deals
Galapagos Islands Yacht Charters
Galapagos Luxury Cruises
Galapagos Family Cruises
Galapagos Diving
How to Choose the Best Galapagos Cruise
Galapagos Island Hopping or Cruise?
Best Time to Visit Galapagos
How to Get to Galapagos
Galapagos Islands Animals
Galapagos Trips
Galapagos Tours
Galapagos Cruise Reviews
Galapagos Travel Guide
This Travel Journal submitted by Robert Rhodes details his Origin Galapagos Cruise and Sacha Lodge Amazon Adventure. Contact one of our Adventure Specialists to learn more about these small ship cruises and wilderness adventures: 1-877-620-2875