This Travel Journal submitted from former AdventureSmith intern Kimberly Schembari, details her Galapagos Small Ship Cruise on the Seaman Journey Cruise. Read more about Kimberly's time aboard the Seaman Journey.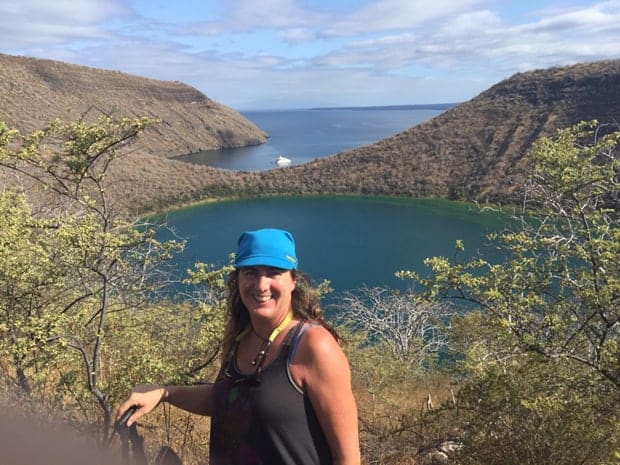 I've been an avid traveler my whole life and I was very fortunate to do an internship for a well organized international adventure sales team, right in my home town – Lake Tahoe, California. I got to know this company from the inside and experienced their professionalism organizing first class trips.
Yet I headed off to Ecuador without booking a trip to the Galapagos, thinking I'll find one down there like I did before. I had plenty opportunities in Ecuador to book a 'cheaper trip' like I did before. But honestly I started to recall how poor my first trip to the Galapagos was. I started hearing travelers share their experiences about their boats in the Galapagos. I heard horror stories about different boats; bad service, poor gear, guides unable to speak English, and even hunger from running out of food! The wise mother came out in me as I was traveling with my 8 year old. It now seemed vital that I book with someone I trust. I had watched AdventureSmithExplorations really use their expertise back home. They really know what kind of trip people desire and they only worked with the very best world-wide!
Of course I emailed AdventureSmith Explorations and they booked me into a palace, a floating five star hotel -a yacht named Seaman Journey. We had been in Ecuador for over a month and traveling just turned into a vacation when a local at the airport greeted us at 5:00am and took care of us. Then again on arrival in the Galapagos a local guide showed us the way and being taken care of was relaxing. We were assured that our luggage would end up on our boat and not to worry about anything as we hopped on a public bus to a small boat to cross between the islands of Baltra and Santa Cruz. Then we had our own mini bus to take us an hour from the north to the south where our ship awaits. I enjoyed this ride, as it was the greenest part of our journeys with a stop to meet the giant tortoises. Arrived just before dark to see the lively town of Puerto Ayora cheering on the volleyball game and all the kids on a fun playground (including my daughter).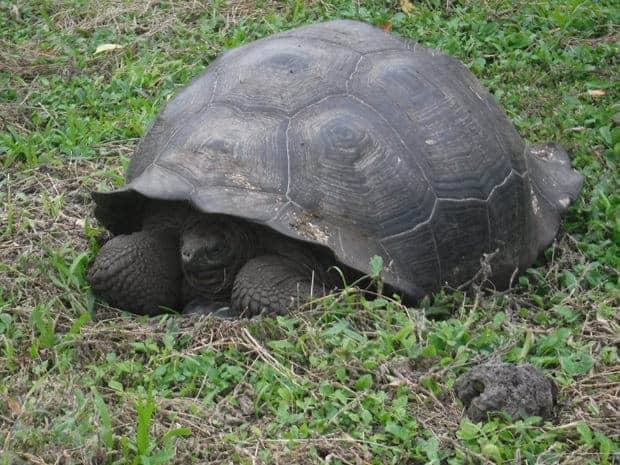 We were so excited to be aboard the Seaman Journey in our spacious room with quite a big bathroom for a boat. The sundeck up on the very top was the best lounging area, day and night. We had two outdoor meals, which made it seem like a super special occasion.
Every night before dinner we would have a briefing of the next day's activities. I must admit that seeing a disembarking time of 6:15am made me a little nervous. But I felt for the Australians that chose to sleep in and miss out because it was a magical introduction to the island of Isabela. Our guide grew up on this island and shared stories of swimming in shark channels. Now the Galapagos are extremely regulated and not only for tourists, but locals have strict hours when they can go to certain places. I felt fortunate to have seen these sleeping sharks, definitely worth getting up early for! Yes the days were filled with quite a lot to do; yet there was time to relax as well.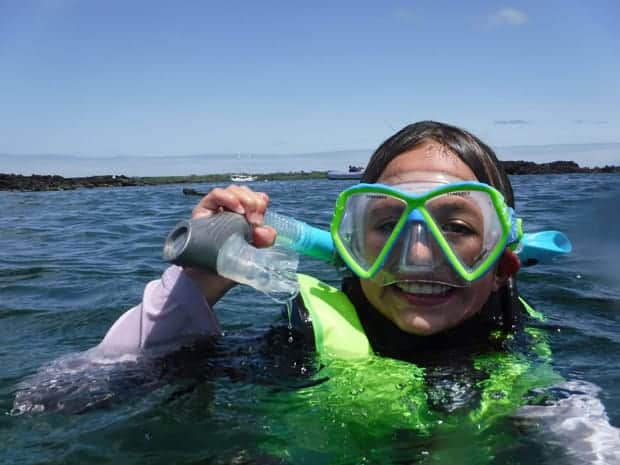 No where else in the world do sea lions come to play with you. It's amazing how the animals welcomed us everywhere we explored! When our boat was in route in between Isla Isabela and Isla Fernandina it took us a while to see the whales behind us, but the captain turned the ship around and all the dancing frigate birds above continued north and we on the Seaman Journey turned around to observe these whales put on a show for us.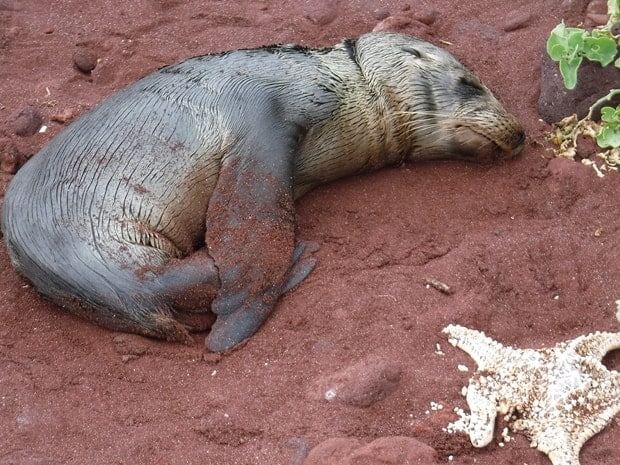 Rabida island was one of the raddest reddest beaches I've ever been to! Also, this is where the sea lions played the most with us.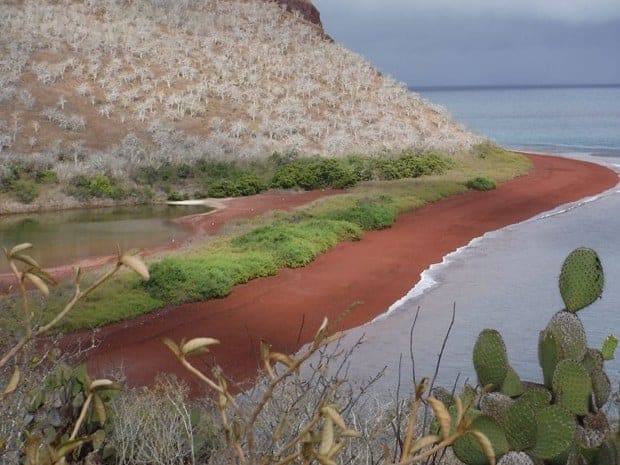 The land iguanas were fun to search for as they bopped their heads up and down as a form of communication.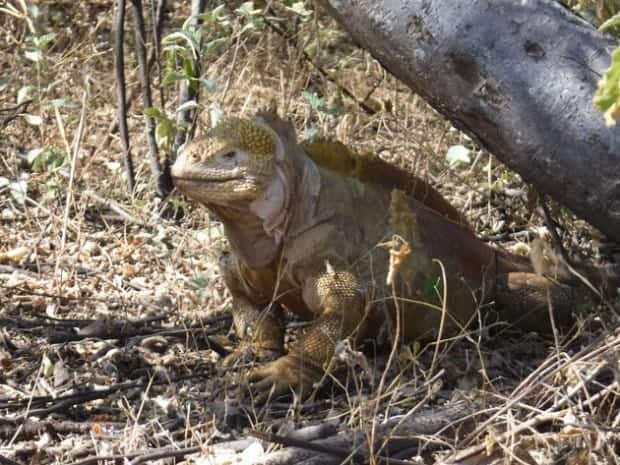 The marine iguanas would be baking themselves on volcanic rock then slowly walk to the water's edge and then feed underwater on anything green. They weren't underwater for that long but actually swimming on their side and seeing them swim back to land was one of my highlights.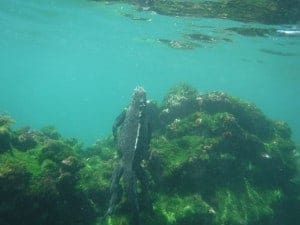 When a penguin was spotted everybody would silence themselves because it truly felt surreal.
Not sure how everybody felt when my daughter drove the panga back to our boat, but it was one of her highlights as she laughed the whole way.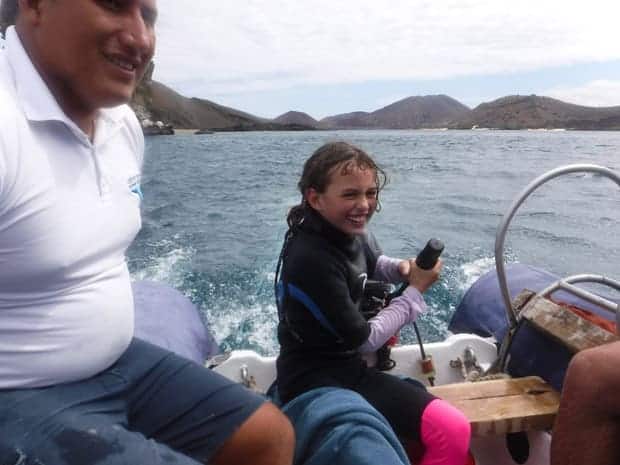 I sure hope that if you're reading this you go to the Galapagos with the best, and honestly the next time I go I want to bring as many family and friends as I can to fill the boat so I can share the memories all the time! No other place is like this in the world!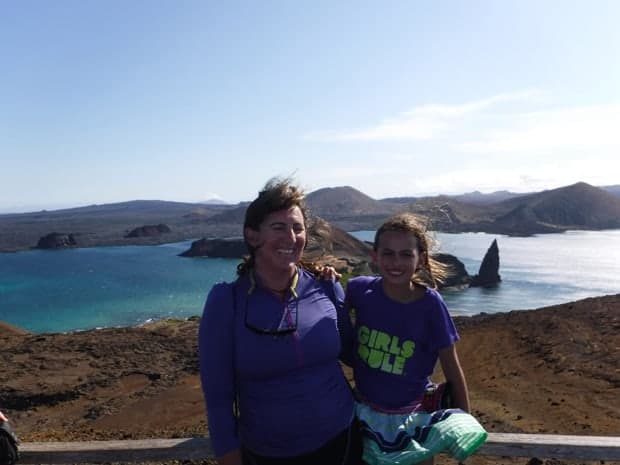 MORE GALAPAGOS RESOURCES:
Galapagos Cruises
Galapagos Cruise Deals
Galapagos Islands Yacht Charters
Galapagos Luxury Cruises
Galapagos Family Cruises
Galapagos Diving
How to Choose the Best Galapagos Cruise
Galapagos Island Hopping or Cruise?
Best Time to Visit Galapagos
How to Get to Galapagos
Galapagos Islands Animals
Galapagos Trips
Galapagos Tours
Galapagos Cruise Reviews
Galapagos Travel Guide
This Travel Journal submitted by Kimberly Schembari details her Seaman Journey Cruise with AdventureSmith Explorations. Contact one of our Adventure Specialists to learn more about these small ship cruises and wilderness adventures: 1-877-620-2875