This Travel Journal submitted by Kristy Olson details her Ecuador Amazon Adventure with AdventureSmith Explorations.
What are your fascinations? Are they related to being wild? Mine first stirred as a kid, watching Mutual of Omaha's Wild Kingdom. That is where I became enthralled with nature and the strange, yet beautiful world beyond my backyard. Years have passed, but my love of nature has not diminished. As I packed my bags and headed off on a phenomenal journey with my best friend, I truly felt blessed.
Our primary destination was the Galapagos Islands, but given the opportunity, who wouldn't take advantage of being so close to another "Natural Wonder of the World" in Ecuador? So off to the Amazon we went to quench our jungle fever thirst… and every minute was filled with new adventures that thrilled us like kids, only we weren't watching TV, we were experiencing these natural treasures up front and personal!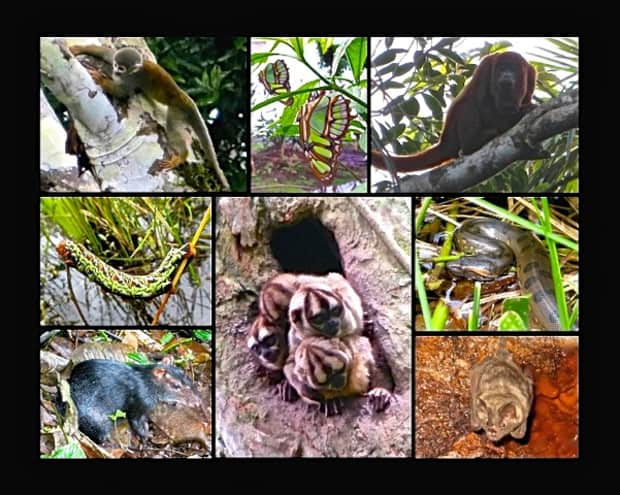 Arriving in the bustling oil town of Coca, we began our trek to Sacha Lodge, a remote location without roads or power lines. But have no fear, with generators for electricity; we had all of the comforts you need. All amenities arrive at the lodge the same way we did: a two hour motorized canoe ride down the Napo River, followed by a thirty minute jungle walk (mostly on raised walkways), and then a ten minute paddle across Lake Pilchicocha in a dugout canoe. At first glance, the lodge looked like a small oasis, with a beautiful covered cedar deck over the water. Arriving at the dock, we saw there was much more cloaked by the trees of the jungle; multiple huts connected by raised walkways were laid out like tentacles above the wet lands.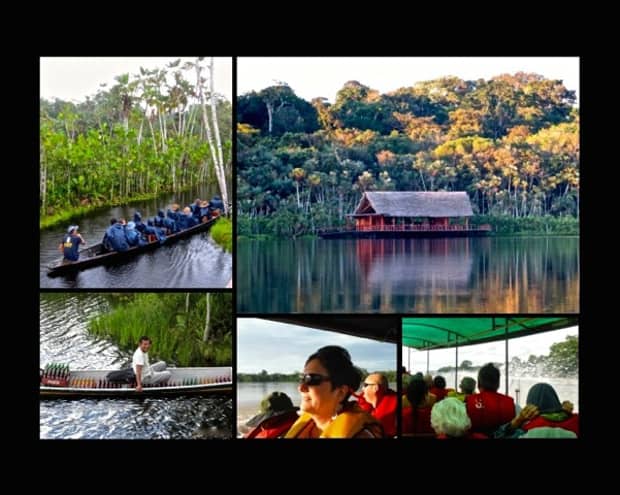 The common area huts were large enough to accommodate all of the guests at one time. The dining hut had beautiful hand-sewn, wood tree trunk tables. It included a second floor lounge and a wonderful third floor observatory area where you could peer above the tree tops. This 5,000 acre property provides opportunities for both wet and dry excursions by canoe or on foot. Small groups (typically two to four guests) are expertly guided and educated about the wonders of the lush tropical surroundings by a native of the local Kichwa tribe and a bilingual naturalist.
The suspended hammock on our private porch was a great place to relax and sip a beverage while listening to the sounds of the jungle.
After being fitted with all-weather galoshes, we followed raised walkways to our pleasant thatch-roofed cabana, designed with large screens to provide the sense that we were virtually outdoors while still enjoying a comfortable bed with no bugs. You certainly felt you were showering in the jungle with the floor to ceiling window (I envision an opportunity for a cartoon here with the animals cracking jokes at the Homo sapiens' expense). And ah… the suspended hammock on our private porch was a great place to relax and sip a beverage while listening to the sounds of the jungle…. the birds, insects, frogs, and howler monkeys.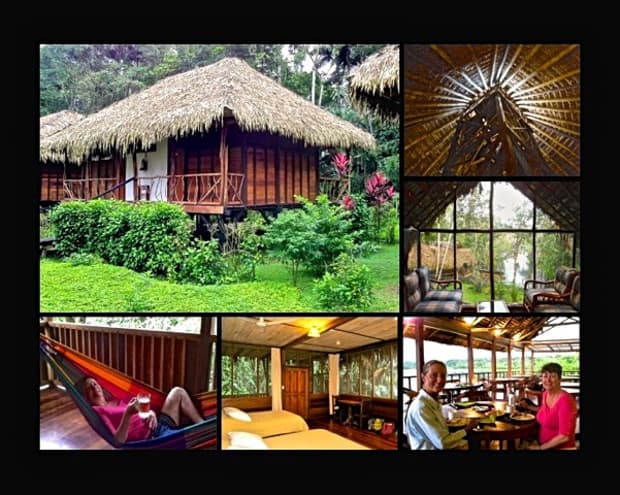 All excursions are part of the travel package, but you have choices that allow you to tailor them to your desires. Even though I have a fear of heights, two of my favorite excursions required climbing up to 100 feet or more. The Canopy Walk has three towers and a suspension bridge high above the tree tops. Amazingly, the Amazon is home to over 1500 species of birds and many have been spotted right where we stood. The large telescope carried by the guides provided close up access to the jungle. From this vantage point, our guides were able to zero in on birds and animals, some masked among the trees while others boldly displayed their vibrant hues. Parrots, toucans, and numerous other birds appeared to be right in front of us, making both the novice and avid bird watchers covet the moment. The Howler monkeys could be seen lazily lounging about the tree branches, playing and grooming each other until the heat of the noon sun drove them down to cooler hiding places.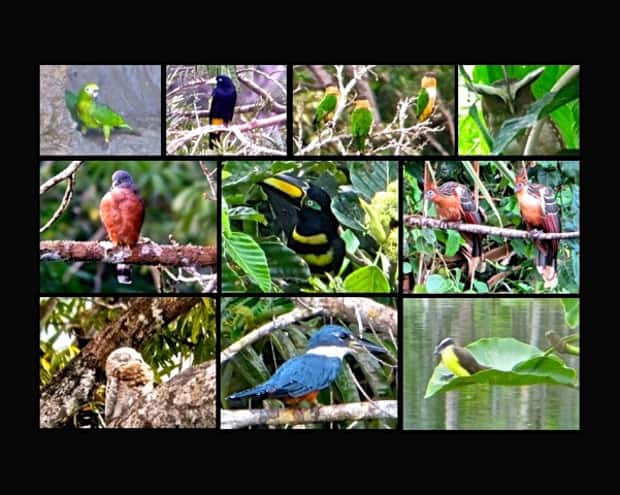 While others were occupied with sightseeing, I mustered up the courage to slowly slide out on the suspension bridge. I had made it half way across when, much to my chagrin, our guide announced that we were moving to the next tower platform. The weight of just one person walking makes the suspension bridge shake. Needless to say, the bridge wasn't the only thing shaking that day, but it was oh so worth it!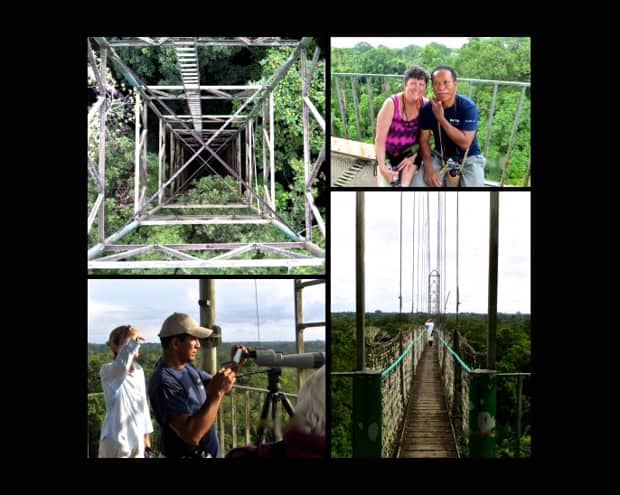 Our second high adventure was the Kapok Tower. It is a large wooden structure with stairs ascending up an ancient Kapok tree, culminating at an open observation deck at the top of the tree canopy. It is a mega tree fort on steroids with its 123 feet of steps winding around the heart of the tree. With coaching from my fellow mates, I overcame my fears and steadily rose to the observation deck to view the breathtaking scenery. The forest opened her secrets to us and we felt giddy experiencing this unique bond with so many other species.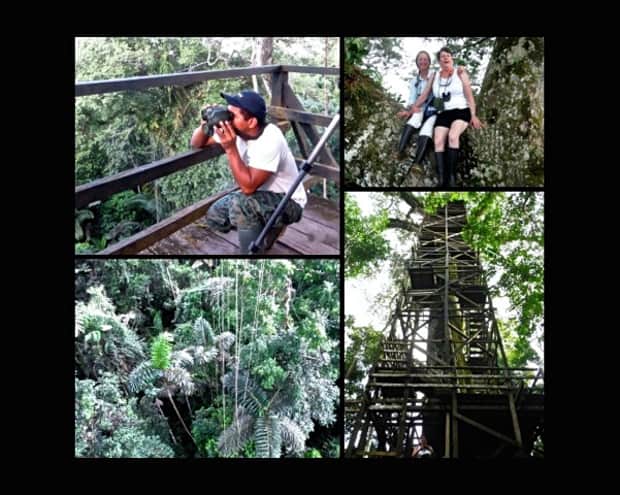 Since the Amazon has one of the largest river systems in the world; a number of excursions involved venturing out on the water to explore. We embarked in a dugout canoe that our two guides paddled along mazes of small waterways with hummingbirds, parrots, and other birds overhead; caimans, piranha, and turtles below. Spider monkeys bounced along the tree line like trapeze artists. Howler monkeys mimicked freight trains in the distance. Vanilla orchid vines were everywhere. One of our guides maneuvered his way out of the boat and up a tree with his knife in hand. He cut vanilla pods for us to enjoy and kept some to give to his aunt to flavor her chicha, an ancient fermented beverage.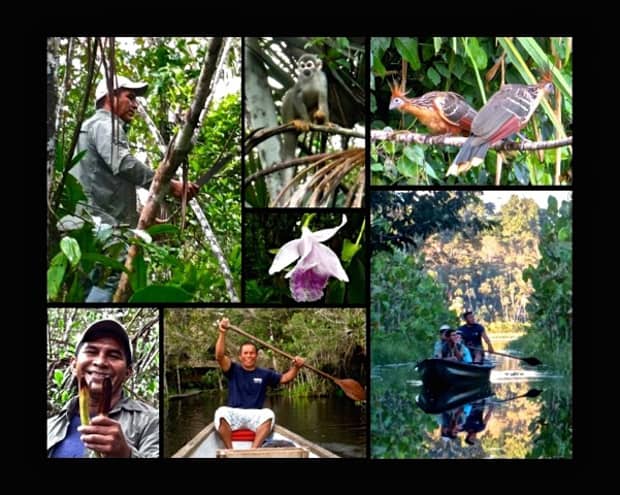 Even though the lodge provided plenty to get your adrenaline pumping, some excursions beckoned us to venture outside the lodge property. We visited a Kichwa village on the Napo River to gain a better understanding of the native customs and traditions. Beautiful brown-eyed children greeted us as they peeked over a wall, giggling and smiling at the group of strangers. Alongside our Kichwa guide, we felt welcomed and were treated like friends rather than tourists.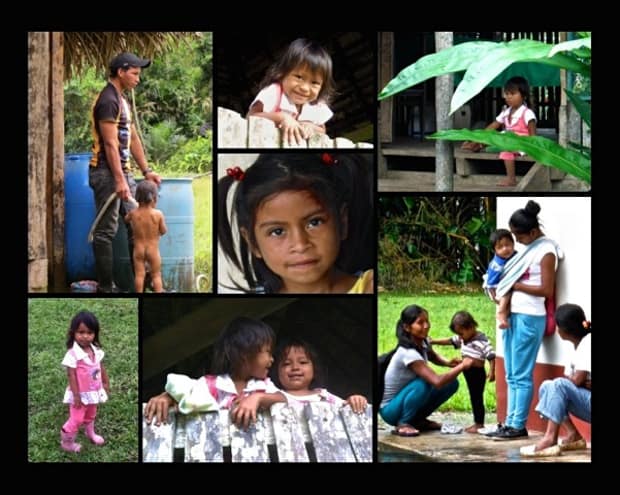 Friendly women wielding machetes in long cotton skirts, skillfully cut leaves, roots, and fruit.
A wide-eyed boy offered us a fat, wiggling grub as a snack. I politely declined, but an adventuresome member of our group courageously gobbled it up. Friendly women wielding machetes in long cotton skirts, skillfully cut leaves, roots, and fruit. They made festive head adornments out of palm fronds and prepared us a delicious feast. We dined on fish and yucca roots roasted in banana leaves, along with grilled shish-kabobs of palm weevil grubs. For our beverage, we had the opportunity to sip chicha that was passed around in a large bowl for all to enjoy. The fish was excellent and I was surprised to find that the grilled grub and chicha were better than I anticipated.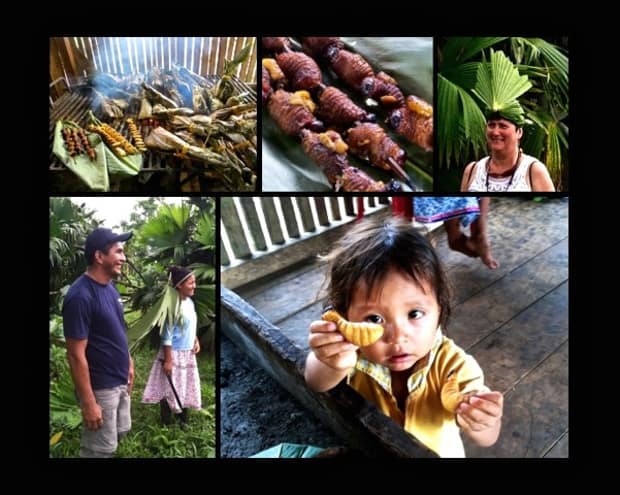 Now as you can imagine, with the abundant flora and fauna, you might feel as if you're having heart palpitations, your excitement off the Richter scale! First time experiences abounded at every turn in this miraculous ecosystem. Our talented indigenous guides made sure we returned home with special memories. We learned about medicinal jungle plants, found poison dart frogs, dyed beautiful star patterns on our clothing from a cut seed, took an evening hike to observe nocturnal life in the jungle, visited a salt lick where parrots flock to eat minerals, and much, much more……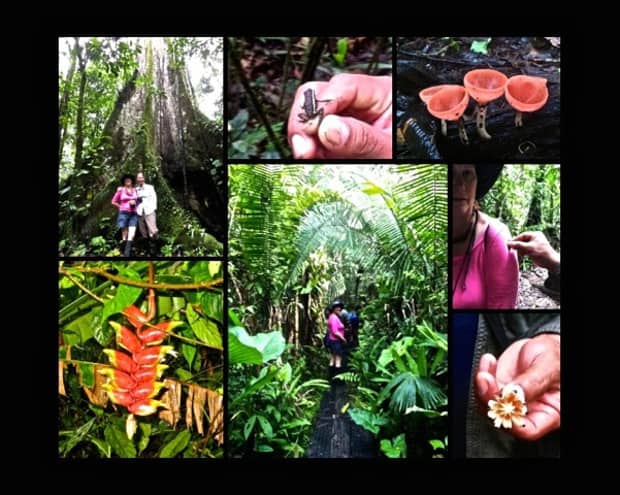 Our Amazon adventure provided many enriching experiences, but of special interest to us were the people of the Kichwa tribe. They are shining examples of people living in harmony with their environment and we felt fortunate to have a glimpse into their lives.
The tribe's plight to defend their indigenous lands, rights and culture often conflicts with modernization. As loggers and oil companies build roads to reach new areas for lumber and drilling, there is fear that the jungle will continue to be cut down and polluted, and the traditional ways of the people will be eroded. As I watched the children studying in schools made available through the financial support of the oil companies, I wondered what their future will look like.
Ecotourism is a wonderful way to provide sustainable income for the indigenous people, with minimal environmental impact.
Ecotourism, such as that provided by the wilderness lodges, is a wonderful way to provide sustainable income for the indigenous people, with minimal environmental impact. Many people don't realize the Amazon produces 20% of our oxygen and the basin is one of the most bio-diverse regions on the planet. Visitors leave the Amazon with a new appreciation for the rain forest and its abundant, yet rare, uninhibited nature. You quickly grasp the need to preserve its presence and can't resist the desire to join others to sustain this magical place.
Just in case we peaked your curiosity and you want to see MORE of our amazing Amazon trip, click on the following link. We were so excited about sharing these fabulous moments that we felt compelled to compose a song which is playing in the background of the slideshow: Please… Let Our Jungle Be.
We hope that you enjoy the show, and that you too will be able to encounter your own magical Amazon experiences.