This Travel Journal submitted by Carole Beesley details her Custom Peru Trip with AdventureSmith.
When my husband casually mentioned that his sister and her husband were travelling to Machu Picchu and asked if we wanted to join them, I immediately said, "YES!" It is a place that I have wanted to visit for a long time, holding a spiritual, mystical and ancient culture. Researching various travel packages, they chose AdventureSmith for its high on-line ratings and comments.

Ok, first I have to admit a few things: I don't consider myself an "adventure-type" traveler, I don't regularly work out, I have only taken large group tours, and I haven't done well at high altitudes… Needless to say, I was getting a bit anxious as our leave date approached.
Day 1:
We arrived in Lima, Peru, on May 24, 2016, and were greeted by a guide from Metropolitan Touring who walked us across the street to where we spent the first night at the Whyndam Costa del Sol Airport Hotel. It was quiet, had great food and was convenient for our early flight to Cusco. Our guide led us back to the airport in the morning with our boarding passes in his hand…. No worries here.
Day 2:
Arriving in Cusco, we were met by our next guide and driven to the hotel. En route we encountered standstill traffic and were told that it was the celebration of Corpus Christi. Groups of men were carrying large platforms holding statues of their town's patron saint. We jumped out of the van for a close-up view of the parade (something that wouldn't have been allowed on a large bus tour) and later walked the town, enjoying the music of the festival. We stayed at the Aranwa Cusco Hotel, which was centrally located, with modern amenities and again very good food.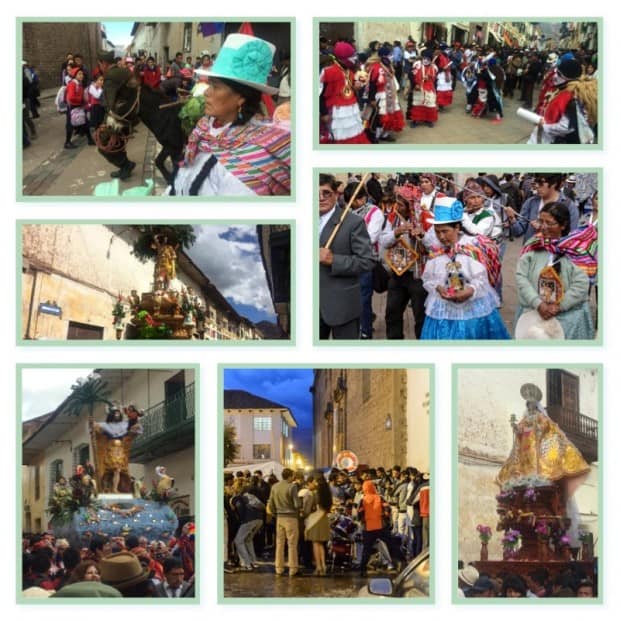 Day 3:
Today was a full day excursion to see the Pisac archaeological site and Ollantaytambo fortress with our very knowledgeable guide Mario and our driver Arturo. It was amazing to see the huge rocks cut and stacked to fit by hand and without any mortar. Fortresses were cut into the mountainside for protection and the land terraced for crops taking advantage of sunlight, temperature and drainage. Being with a personalized guide for just the 4 of us allowed us to take our time hiking, enjoy the views, and provided flexibility for photo stops along the way.

The altitude of this area is at 10,000 ft. I started taking a daily altitude sickness prescription called Diamox before I left, and now was drinking the local coca tea available for free at the hotels we stayed. Some other advice is to take it slow and keep hydrated. Even then…you'll be out of breath just climbing a few stairs to the Hotel lobby! We stayed 2 nights at the Sol y Luna Hotel: a beautiful resort with individual casitas, walking gardens, a spa, Peruvian Paso horse stables and nightly entertainment. I could've stayed here a week!
Day 4: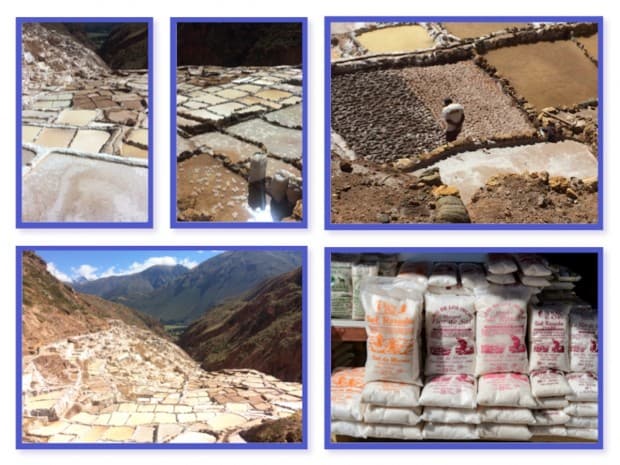 We headed out to the Maras Saltpans. I must admit I had no idea what to expect here. I doubt it's on many big tour bus routes due to the narrow winding roads. This place was so interesting…an actual working salt mine built by the Incas! The mine uses a natural stream with walled settling ponds to capture and dry the natural salt, which is then hand packed into bags. This site was worth visiting and exploring with our guide Mario who kept me from falling into one of the ponds…Yikes…no photo of that!

In the afternoon we visited the village of Chinchero. Mario took us to a small family courtyard to see how the alpaca and llama wool was dyed using berries and insects, hand spun and woven into textiles. We then hiked up the cobble-stoned street (it's all uphill in Peru) to view a colonial Catholic church that was built on Inca temple ruins.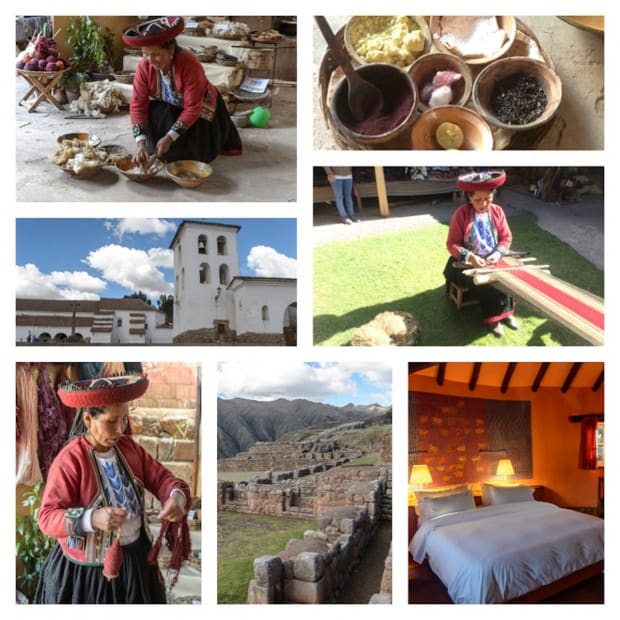 Day 5: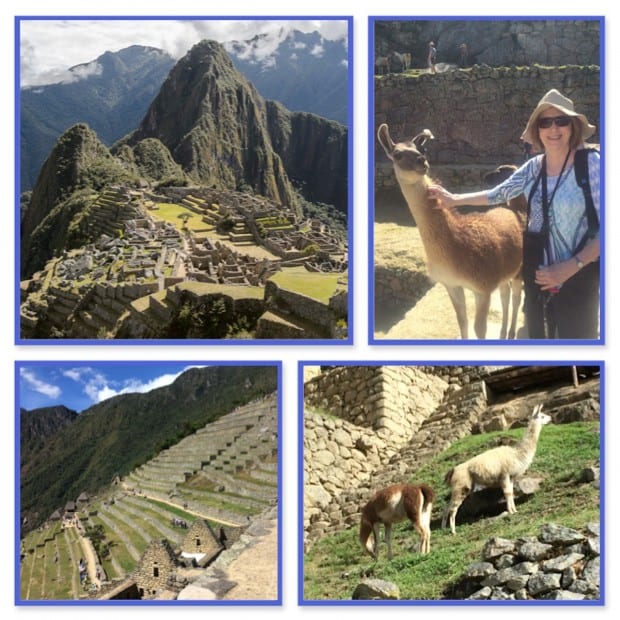 The day has come…We board our 7am Vistadome train with reserved seats for an hour and a half scenic ride to Aguas Calientes where we drop our luggage at our hotel and board a bus for a 20 minute ride up to Machu Picchu. Mario quickly and expertly guided us to a top vantage point for the best view before the influx of larger tour groups. It was breath-taking (literally at 9,000 ft and figuratively). We then walked thru the various rooms and temples with Mario describing their usage and how the Incas incorporated the seasons into their design. And yes, I had to pet an alpaca on the terraces…

That evening we returned to our room at the Inkaterra Machu Picchu Pueblo Hotel for dinner and relaxing. This hotel was also resort-like having casitas, gardens, waterfalls, and a spa. It was hard to leave in the morning…

Day 6:
This was not a day for the faint of heart, or small lung capacity or weak legs…In other words, I was not ready for this… We had a pre-reserved time thru AdventureSmith to hike up Wayna Picchu at 10am with its peak towering 1000 ft up from the base of Machu Picchu. I was coaxed into at least trying it for a bit; taking some pics and heading back down. The reality was, as I went up, several folks my age joined together and breathlessly urged each other to the top…We made it! At the top, I sat white-knuckled on a small rock outcrop with my husband…who inadvertently nearly knocked me off with his backpack when he turned to get off. Now, my next challenge was to hike back down including squeezing thru a narrow cave…I was exhausted…luckily the weather was nice. I would not recommend doing this hike on a rainy day – the rocks can be very slippery. Again, due to the altitude and steep incline…take it slow and bring water, a hat, sunscreen and a walking stick really helped. We finished the hike in 2 hours and made it back to town in time to eat lunch and catch our 4pm train back to Cusco for the night.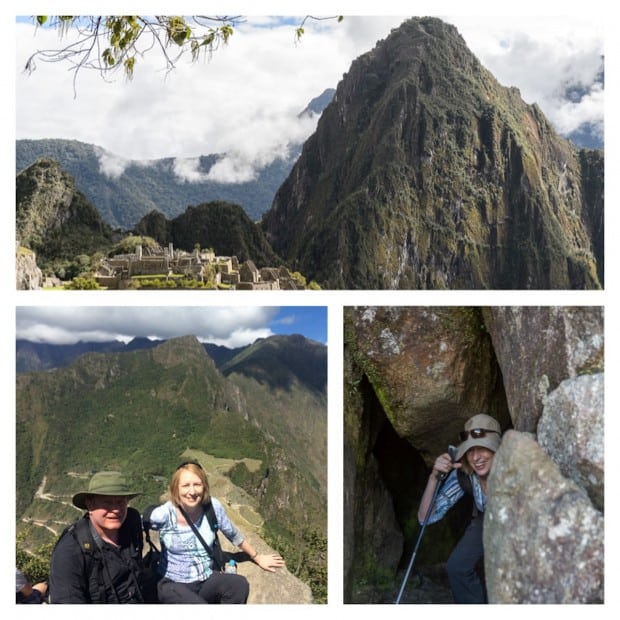 Day 7:
We were on our own in Cusco today where we toured the large Cathedral exhibiting the festival's statues; a chocolate museum, which was really fun & informative; an Inca museum that held many relics; and of course bought several soft alpaca sweaters.

This journal would not be complete without also mentioning the food we tried in Peru. When I travel, I figure I can always go vegetarian if nothing appeals to me on the menu. This was not an issue in Peru. The light, creamy yellow pepper sauce used on chicken and pasta dishes was delicious! Also, try the lomo saltado, which is marinated steak with onions, tomatoes and french fries served over rice – yummy. My brother-in-law is more adventuresome and tried some alpaca pepperoni pizza and said it was tasty…However, none of us tried the local Cuy dish…roasted guinea pig. I would recommend starting a meal with the traditional Pisco Sour cocktail – potent. Agriculturally, Peru produces 3,000 types of potato and actually originally introduced them into Ireland. They also are a main producer of quinoa, a grain that has grown in popularity as a new super food in the US.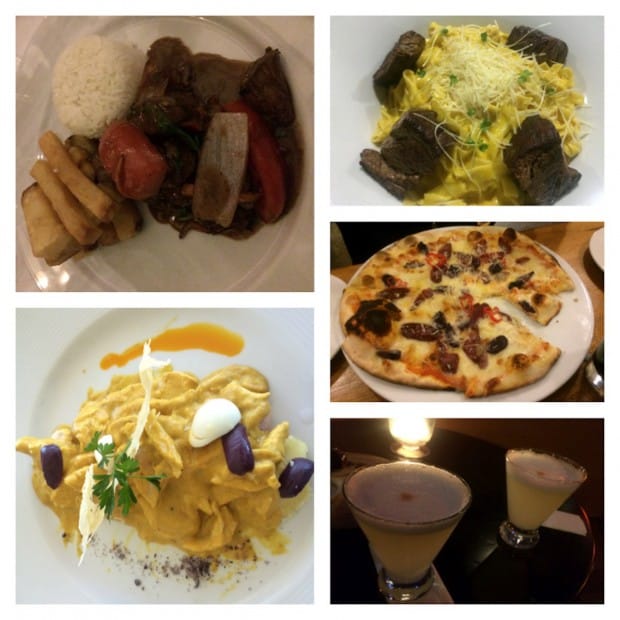 Day 8:
We headed to the airport in Cusco and for our flight and van ride to Puno for our next journey to Lake Titicaca, which is at 12,500 ft. There was a concern at Puno, a strike going on, but with Metropolitan Touring's local knowledge, they were able to safely navigate us around some blocked roadways. We stayed at the Casa Andina Private Collection Puno Hotel with a beautiful lake view. Some words of advice: it's cold and windy on the lake so bring a warm jacket. Also, it was the highest elevation of our trip and you become fatigued very quickly so take the first day slowly. They were actually selling canisters of oxygen at the front desk, but we didn't use any.
Day 9:
Our excursion boat met us at the hotel's dock for a full day of touring the floating reed islands on Lake Titicaca, home of the Uru people. The women sang a greeting song and showed us around their homes, the textiles they wove and how the islands are hand made.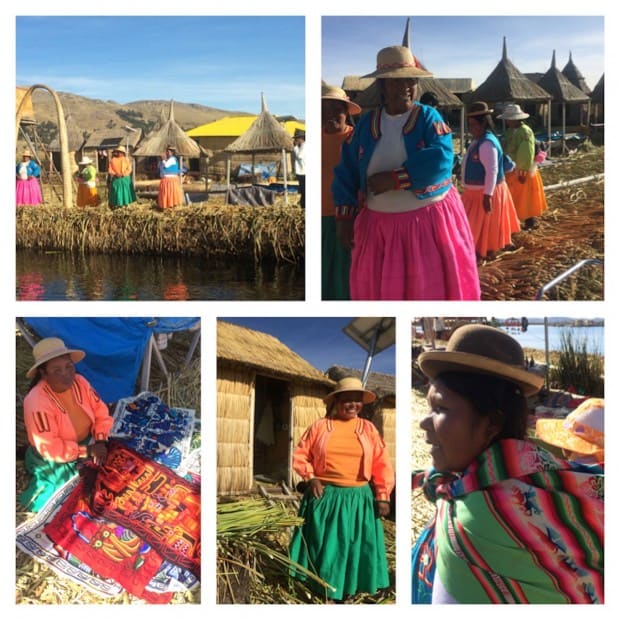 Day 10:
On June 2, 2016 we took our flight back to Lima and arrived in the early afternoon which allowed us a half day of touring including the ornate Cathedral, Convent and the Museo Laraco where we had a delicious dinner after we toured the extensive collection of 4000 years of Peruvian pre-Columbian art. We again stayed at the Costa del Sol Lima Airport Hotel and left Peru the next day.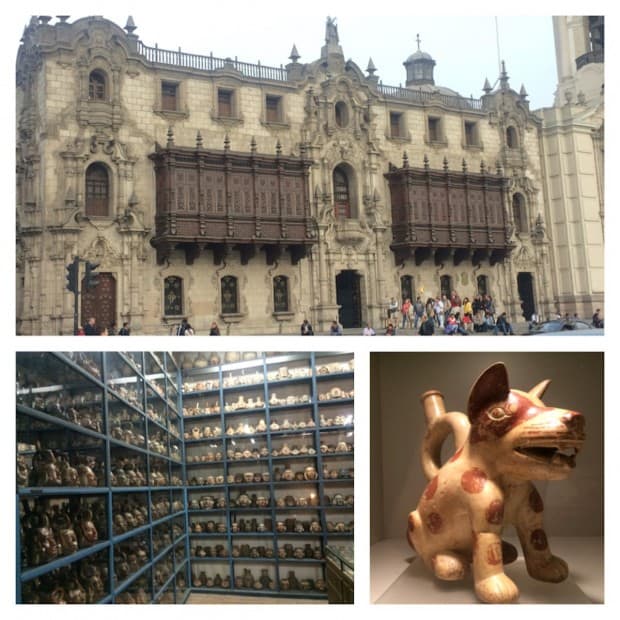 So…how do I rate this trip? Excellent!! Well planned with my sister-in-law working closely with AdventureSmith who handled all the airlines, chose the hotels, sites to be seen and provided a detailed, pre-trip planner. Metropolitan Touring provided the local knowledgeable and fun guides throughout. I definitely enjoyed our small group tour that allowed us flexibility and personalization throughout the trip. I managed the high altitude hiking and maybe even stretched my adventurous spirit…a bit.