Adventuresmith traveler Benita Luke shares her 7-day Salkantay Trek that begins in Cusco and ends at one of the ancient world's most extraordinary sanctuaries, Machu Picchu. Read her journal to discover the Andean magic found on this journey.

Live from Cusco
Our Peruvian adventure began with a visit to the charming and mythical city of Cusco, center of the Inca Empire and better known as the "Home of the Gods." This lovely colonial city is the oldest city in America and former capital of the great Inca empire.
Impressive merely by its construction of stone and real gold, it towers at over 10,000 ft. in the Andes. As we wandered the cobbled streets, we discovered Spanish churches which were former temples and enjoyed multiple wedding parties celebrating their happy couples with fireworks and marching bands all around the Plaza de Armas.There were endless opportunities to purchase art from local street vendors and many wonderful restaurants to sample. To keep us going throughout the day, our hotel kept a continual supply of the local traditional tea of coca leaves. I am not sure how legal it would be to bring some back to the US.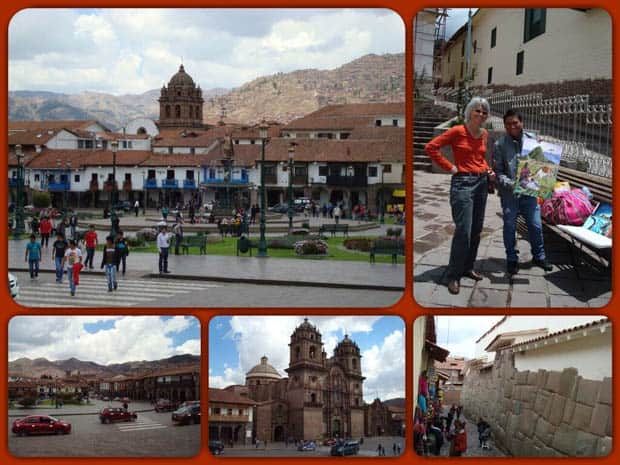 Not in Kansas Anymore
From Cusco we drove the zigzag road for about an hour winding between glacier-topped mountains before descending to the picturesque "Sacred Valley." At first sight it took my breath away. Along the way we viewed the lush valley flanked by intricate agricultural terracing of the hillsides, again displaying the tradition of honoring "Mother Earth," so prevalent here.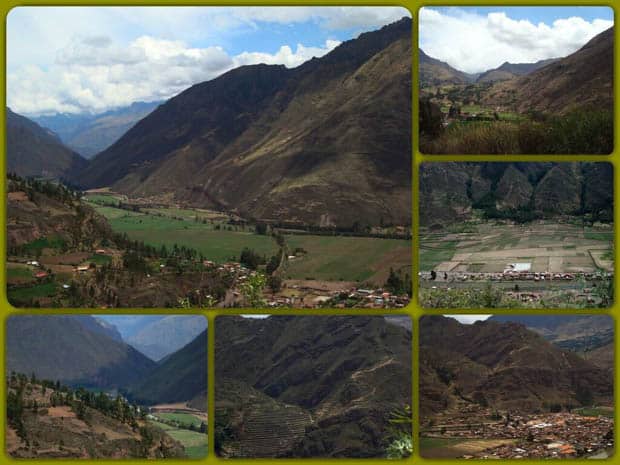 A River Runs Through It
We continued on flat terrain, along the fast-flowing river, the Urubamba, that flows through the Sacred Valley. The route took us through the little town of Urquillos which is known for its guinea pig-on-a-stick. I cannot think of any other place where you can experience such a unique culinary opportunity so of course, we had to give it a try.
Yumm…crispy and tasty, similar to chicken, except even more bones. Inside a traditional home of the Sacred Valley, you may also find these cute little critters running amok on their earthen floors. The families eat, cook, sleep and work in the same room. They can count on their dinners being very fresh.
We visited several communities rich in culture, each publicly displaying a statue representing their town's heritage, such as a man holding the corn which symbolized their local agricultural focus. We also came across a "Lemonade" type roadside stand serving corn beer. Not that great and pink in color. In the town of Pisac, we discovered a beautiful open air market full of colorful hand woven items and other crafts, together with locally grown fruits and vegetables, all with a backdrop of majestic mountains.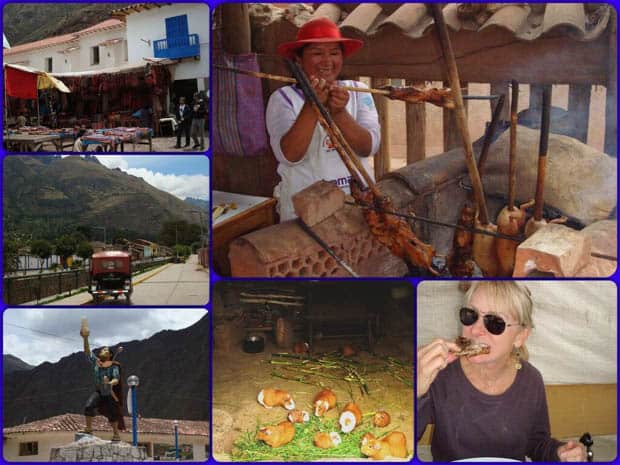 Ancient Marvels
Directly outside of Cusco, we visited the Sacsayhuaman (pronounced sexy woman) fortress, an imposing example of an Inca military architecture where we marveled at the secret technology of the ancients. It all seems so impossible that these massive terraces were built with the utmost precision. The stones are so closely spaced that a single piece of paper cannot fit between them. The variety of their interlocking shapes, and the way the walls lean inward defy credibility. Remarkable! And for a fun moment….a visit with the wandering llamas and a slide down the slippery water and wind grooved stone. Ah yes, I was the only adult as you can see.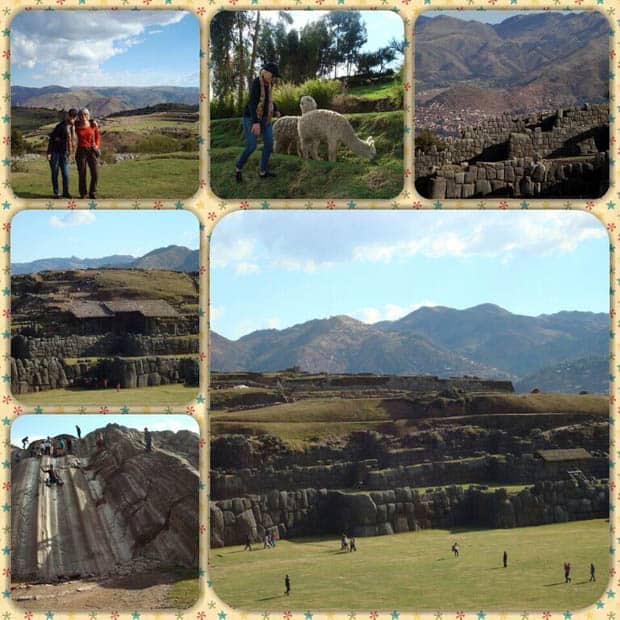 Then and Now
Most unforgettable are the artistic styles and proud traditions of the Peruvian people which are only accentuated by the dignity shown on their faces. Many of them still maintain the traditional practices and dress of their ancestors. Women in colorful shawls grilling meat. People dressed in a color wheel of fabrics which are hand spun from llama and sheep wool and dyed using all natural plant based dyes. You see both modern and ancient traditions here with some people wearing jeans as well as traditional bowler hats and items with the beautiful geometric design, seen here at a farmers market. Many Peruvians' livelihood continues to be based on family owned fields which are sometimes farmed solely with hand tools, or the more fortunate, with the assistance of draft animals.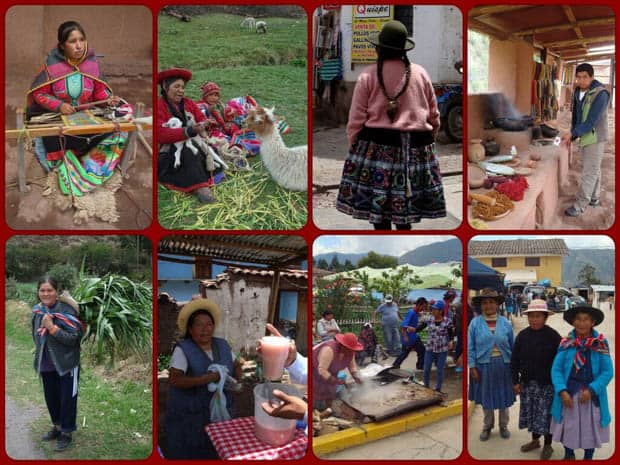 Journey of Mind and Body
The horseback and trekking parts of the trip started out just right with me being the only rider accompanied by two handsome guides. I was matched with a perfect horse named Fazdo who seemed to know when it was time to have his picture taken and seemed to pose at just the right time. My first glimpse of the snow capped majestic peak of Mt. Salkantay at the head of the valley was exhilarating.
The entire trip consisted of steep climbs, long gallops, and crossings over rivers, train rides, suspension bridges, and even a zip line to get to the hotel.
Many bio diverse micro climates from cacti, palm trees, rainforest and waterfalls to steep rugged snow capped glacial mountains. It was magical. Upon reaching the Salkantay Pass at over 15,000 ft., we found the spectacular panoramic views the pass had to offer. We came to a spiritual outcropping of stacked stones where people had placed offerings to give thanks to the mountains and pray for loved ones. The good energy here prompted me to place a very special note for a loved one myself. It was a peaceful and spiritual feeling and a place which reaches your inner soul and heart.
Ceremonies and Stars
Along the journey we visited Lake Humantay, which is a beautiful serene aqua lake that is fed by the majestic glaciers of its namesake, Mt Humantay. Here some decided to go for a swim but not me. Brrrrr. Here we also experienced a mystical offering to Mother Earth performed by a local Shaman. Since I missed some of the blessing I was fortunate to experience the ritual back at the hotel down by the river. The ceremony consisted of clutching three coca leaves, one each for our past, present and future, while the Shaman calls to the mountain, thanking Mother Earth for her generous bounty and protection. There are several items such as wool, confetti, food items, and flower petals that are placed in a cloth and later burned together at a fire pit ceremony. Hand made instruments are played while all wear the colorful native Peruvian hats. This was all a very moving experience under a clear sky while the stars twinkled furiously, exposing the entire Milky Way, a visual entity known as the Celestial River to the Incas who believed that each star related to an animal.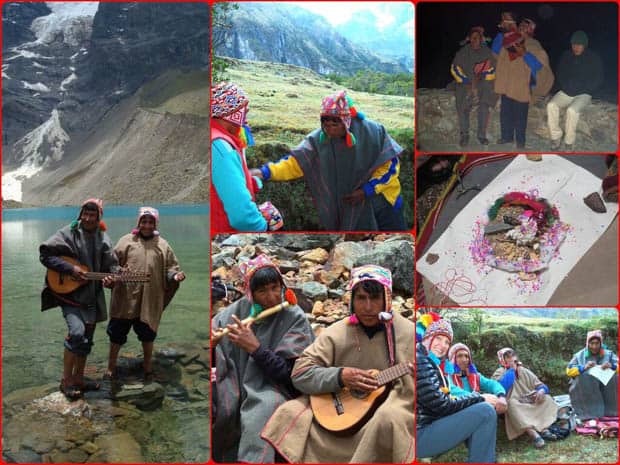 Home Away From Home
The tradition and the sense of the Andean hospitality reflect in my whole lodge experience. At the end of the day upon arriving at the lodges, we were greeted with hot tea and warm facecloths together with fine snacks of tea sandwiches and hor d'oeuvres.
Imagine taking an outdoor sauna by candlelight, with the sauna lined with eucalyptus leaves, or taking a jetting tub while watching pack horses and llamas with pink yarn hanging from their ears just steps away. Oh yes, how about a spectacular view of a majestic mountain. The lodges were amazing and cozy out in the middle of nowhere. The rooms are very spacious with down comforters and nicely appointed with local crafts.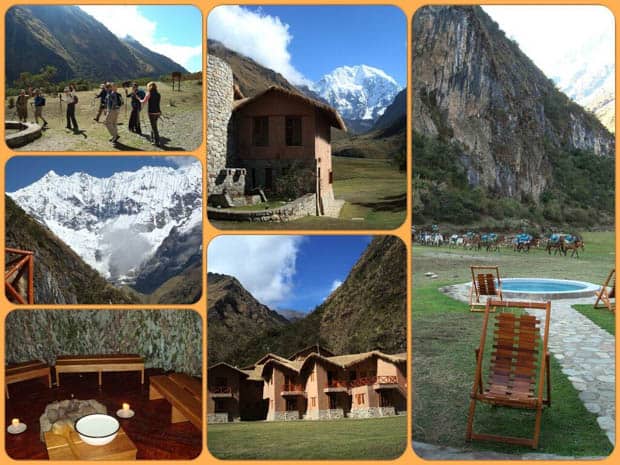 Shake It Up, Baby
Every lodge we visited presented its own unique culinary experience. The dining was always a masterful work of art and provided a wide selection of various meats, salads and side dishes. One of our meals was prepared in the ground under sand and hot coals in a traditional Peruvian style. We even had a pisco sour (cocktail) demonstration for which I eagerly volunteered! The tradition is to wear the colorful Peruvian hat to not only shake up the pisco sour, but you have to shake your body at the same time. Fun.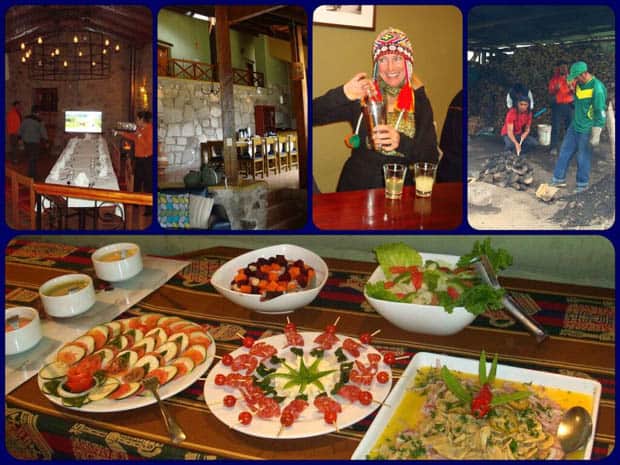 Bucket List, Check
Our last day of trekking took us up and over the Llactapata Pass at 8,964 ft. to see our first spectacular glimpse of the ruins of Machu Picchu from across the mountain. At the top of the mountain we enjoyed a wonderful lunch in a building perched on top of a mountain with views of Machu Picchu. After lunch we descended on the other side of the mountain through lush bamboo forest, orchards and coffee plantations. After a quick beer at the bottom we hopped a train for a one hour scenic ride to Aguas Calientes at the base of Machu Picchu. Here we enjoyed luxury accommodations for the night and arrived at the site of Machu Picchu by 7:00 the next morning. After an all intriguing and informative tour of this extraordinary terraced and landscaped architecture, homes and places of worship, I decided to hike to the mountain Huayna Picchu. This was about a two hour hike with steep staircases, a vertically challenging trek, but worth the extra time and effort to experience the phenomenal sight of Machu Picchu seen here. Maybe trekking Peru should be on your list too?