AdventureSmith Explorations Adventure Specialist Andrew Browning reviews his Alaska small ship cruise while whale watching in Alaska.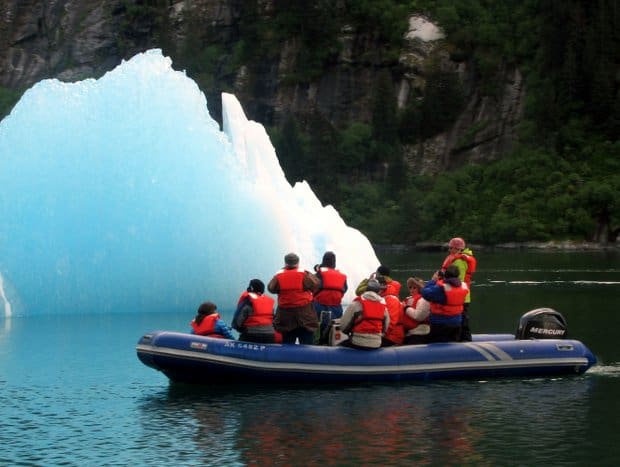 Alaska's Inside Passage is a special place for AdventureSmith Explorations and all of our staff. Our history here can be traced back to our founder Todd Smith's years' spent as a naturalist guide aboard the Wilderness Adventurer and Wilderness Discover; the same vessels that are being re-launched for the 2011 Alaska travel season. These 60-76 passenger expedition vessels are currently being completely re-modeled and outfitted with new equipment, making them the perfect choice for active travelers with the desire to experience Alaska in an active, up close, and enriching way.

In anticipation of the 2011 season, these brand new itineraries needed to be evaluated and tested during May of 2010 and AdventureSmith Explorations sent me to represent our company on the "Western Coves" research trip alongside a special team of professional photographers and travel writers. We were the guinea pigs for finding new hiking trails, new kayaking locations, and for testing out some truly revolutionary off vessel activities. This will be the future of Alaska expedition cruising and I feel blessed to have been a part of this wonderful trip.

Arriving in Ketchikan at about 8am gave our group the chance to spend the day learning about the area and also some exciting day excursions that travelers can take from Ketchikan. We were thrilled to find that the big cruise ships had departed around the time we were having a wonderful seafood lunch at the Cape Fox Hotel. We were able to enjoy Creek Street without the crowds and I found photo opportunities in Ketchikan around every corner. Colorful buildings lining the reflective waters, totems, and coastal scenery provided some great shots. Our day in Ketchikan was unusually sunny and we boarded our yacht about 4pm, sailing away into the coastal wilderness of Alaska's famed inside passage.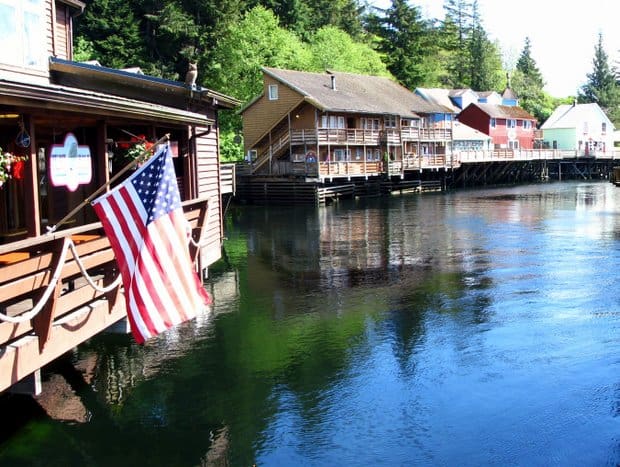 Since we were participating on an itinerary development trip, we spent time going over logistics, wilderness permits, and operational information with the captain and crew. These do not normally leave private crew discussions but since we were here to learn and critique we were made aware of much more than what cruise travelers see on the surface. Plans were changed, days were re-arranged due to tides, and we came to understand how having a flexible schedule benefits the travelers onboard. This allows for time to enjoy natural events and discoveries that are so common during an Alaska expedition cruise.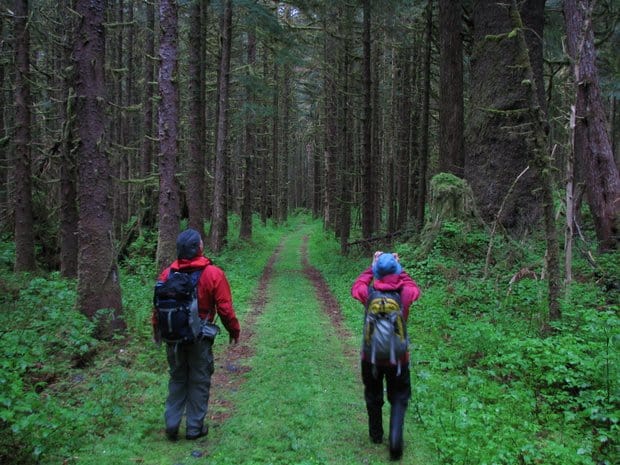 Alaska's Inside Passage is the perfect destination for active exploration and our days were spent absorbing the sights, sounds, smells, and tastes as we explored by sea kayak, by inflatable skiffs, and by foot using the yacht as our floating launch pad. The special element that makes this trip unique and incredible is that the option exists to be very active while immersed in Alaska's coastal wilderness. For the first time travelers can take their expedition cruise to the next level by participating on extended paddling and hiking excursions – including off vessel overnight camping trips. Having been on many small ship and yacht cruises; I was very pleased to have choices between a casual paddle near the yacht, an extended paddle trip of a few hours where we would meet the yacht at a new location, or a guided overnight paddle excursion with camping gear loaded on the kayaks. These longer options allow those who would like to challenge themselves to do so and I think that makes this trip the best option for active travelers seeking a unique experience in Southeast Alaska.

Hiking and kayaking are offered everyday and in addition to this there are options which enable travelers to customize their experience with wilderness camping, flightseeing by floatplane, and more. All of the activities are led by expert guides, including special guides for the overnight camping trips. This level of service is crucial when there are multiple small groups exploring remote areas of Alaska on excursions of varied difficulty.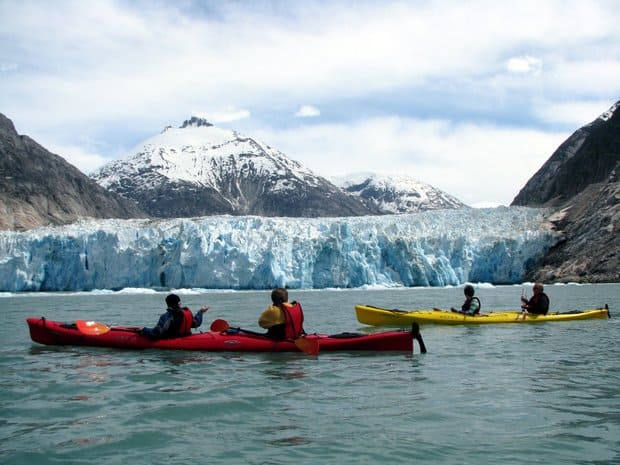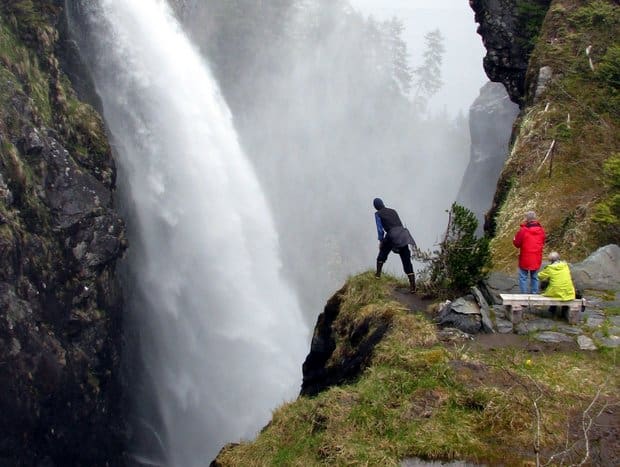 Alaska's land and seascapes are a photographer's paradise. Wildlife, whales, calving glaciers, waterfalls, fjords, overlooks, and your fellow travelers present endless photo opportunities. I was traveling with several professional photographers which was a lot of fun and a great experience seeing the timing and mediums chosen for the best shots. Many of the shots have now been published in magazines and in the new trip brochure. Although photography is a great love of mine, sometimes the best moments are when you simply enjoy the experience in the here and now, putting the camera down and listening to a whale spout, not worrying about capturing the shot.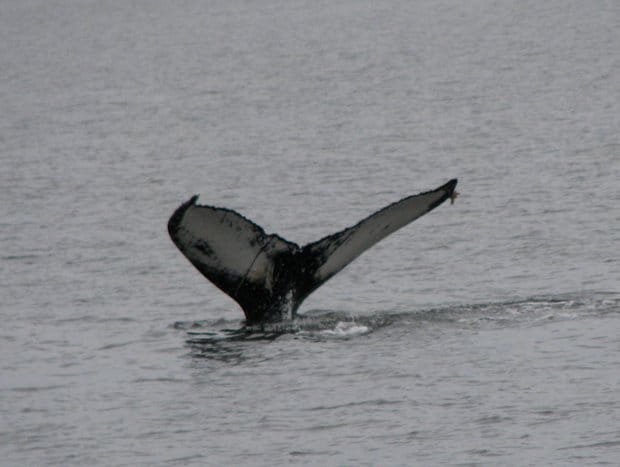 Between wildlife sightings and active exploration we had time to enjoy the company of our fellow travelers and to taste some fabulous Alaskan meals. Meals are served buffet style during breakfast and lunch which allows for travelers doing different activities at different times to be able to enjoy healthy and delicious options on their schedule. Dinners are served family style using quality ingredients and fresh Alaska seafood. Vegetarian options are available for all meals and special requests can be accommodated as well. The philosophy is that meals should not be interfering with travelers enjoying Alaska's wilderness so some flexibility is built in to allow time for enjoying inevitable natural events.

The highlights from the trip were many and I will carry them with me always. The morning paddle trip in Port Walter was like kayaking on a mirror in silence with snow capped mountains rising sharply from the ocean. Mark and I were simply awestruck as we sat in silence and took it all in. Gorgeous weather and the reflection of the mountains on the pacific made me feel like I was in a dream. We saw humpback whales, sea otters, and harbor seals as we went in and out of the island chain that dots the seascape. The morning spent in Klawock with our guide and Tlingit cultural guru Lesley was a great cultural visit and with this being the only cruise to visit Klawock – the experience is very authentic! Learning about the Tlingit culture from a master totem carver was a trip highlight for sure. It's hard to say that one day was my favorite but I think that our morning in Ford's Terror followed by an afternoon of sea kayaking through icebergs in the front of Dawes Glacier may have been the best possible way to end this trip. The scale of these places is so immense that fitting it in a photo is quite difficult! This was one of the best days I ever had with some of the best people I never knew! Towards the end of our paddling excursion we gathered together and connected our kayaks into a giant raft. Here we floated and enjoyed the moment and watched massive pieces of ice calve off of Dawes glacier as waterfalls flowed to our right and to our left lay the glacial carved valleys of Endicott arm.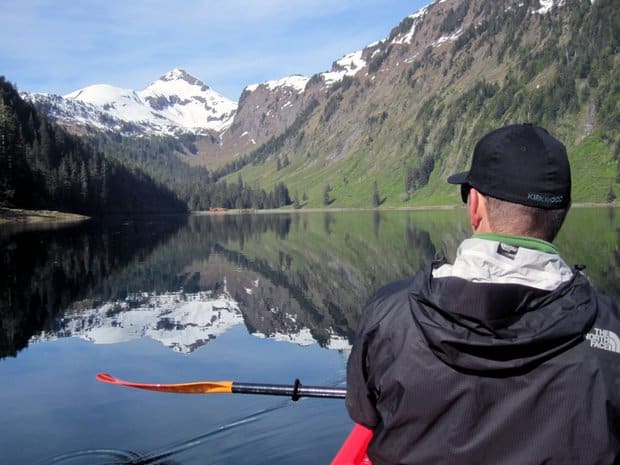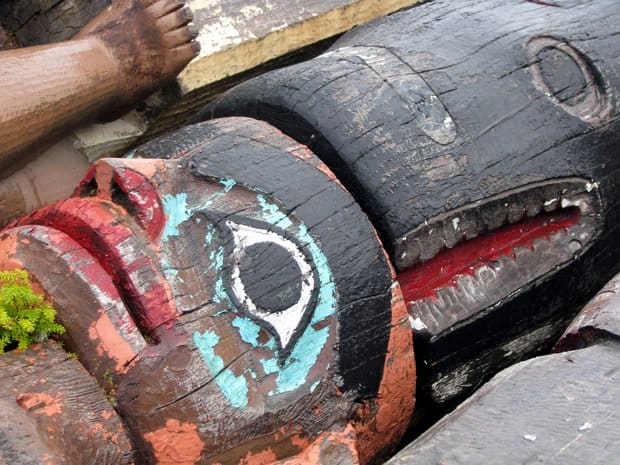 After experiencing the Western Coves Itinerary I cannot wait to return to Southeast Alaska to take the Eastern Coves version which is running from Juneau to Ketchikan; hugging the eastern edge of Alaska's Inside Passage. For travelers with 2 weeks to travel there is the option to combine both itineraries into one 15 day voyage with no sites or waterways repeated along the way.

For additional photos from this epic voyage please visit our Western Coves Facebook Photo Album.
This Alaska small ship cruise review was written by an AdventureSmith Explorations crew member. Read all Cruise Reviews for more trip reports, or contact one of our Adventure Specialists to learn more about our Alaska trips: 1-800-728-2875.