This Travel Journal submitted by Perry Ross details his family's custom Galapagos and Ecuador trip with elements of our Galapagos Travel Package, Otavalo Escape and Coral Galapagos Cruises' South-East and Western itineraries.
It goes without saying that the best part of life is making memories for yourself and your family. Credit where credit is due goes to my wife and Adventuresmith's Aaron Gaines. Many weeks of on and off communications and planning between Aaron and her set the perfect canvas for what our family can now reflect upon as the most amazing adventure we've had yet.
Since we had about two weeks, we wanted to see all of the major Galapagos Islands as well as spend some quality time in Ecuador. This was accomplished on land via private van land touring via Metropolitan tours, and at sea by traveling on both the Coral I and her smaller sister ship the Coral II.
Day 1 – Arrival & Quito
My 12 year old daughter was in wide eyed awe as we began our decent into Quito airport. Where we live is relatively flat. Even our tallest buildings downtown were shorter than these enormous hillsides that were densely etched with buildings.
Our 60 minute transfer from the Quito airport to our first hotel, The Patio Andaluz, was stress free and a pleasing start to our adventure. Knowing that we wanted to see the inner city and not just highways, our driver and guide took us through very scenic routes, into the heart of the city, stopping along the way to let some of the more interesting sights sink in.
Patio Andaluz was what we were looking for in a place to stay in the center of "old town." Not a big chain, and with beautiful character. Dining in the center atriums, you would never know that you are in the heart of a city with 1.5 million folks. It was walking distance to many of the inner city sites, and restaurants and unexpectedly good churrasco (steak)!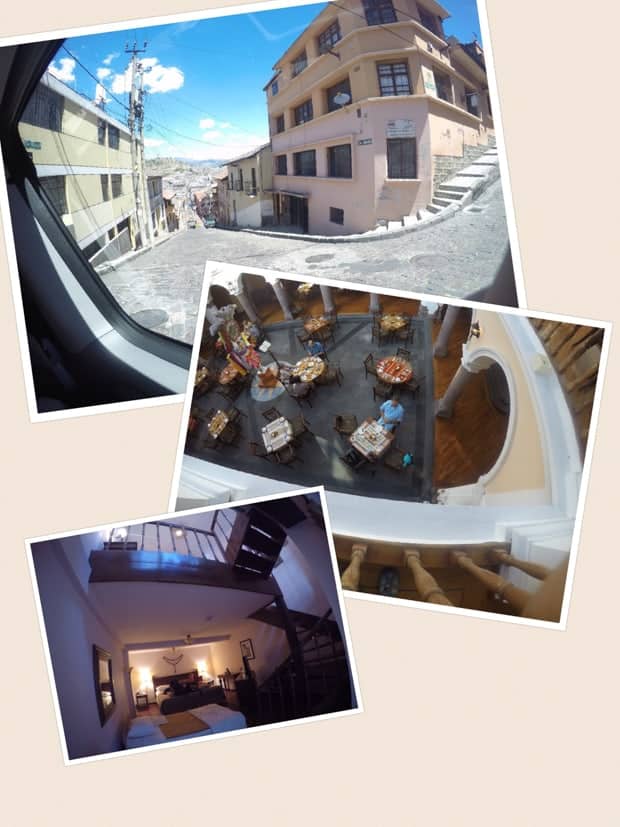 Day 2 – Touring Quito & the Real Equator
To venture further, touring around Quito in a smaller van was really the way to go, since we wanted to have the freedom to stop anywhere and look at almost anything. We were very fortunate to have a knowledgeable local guide/driver pair. Everyone that we encountered in the city was very friendly and would proudly enjoy telling us about their part of the world.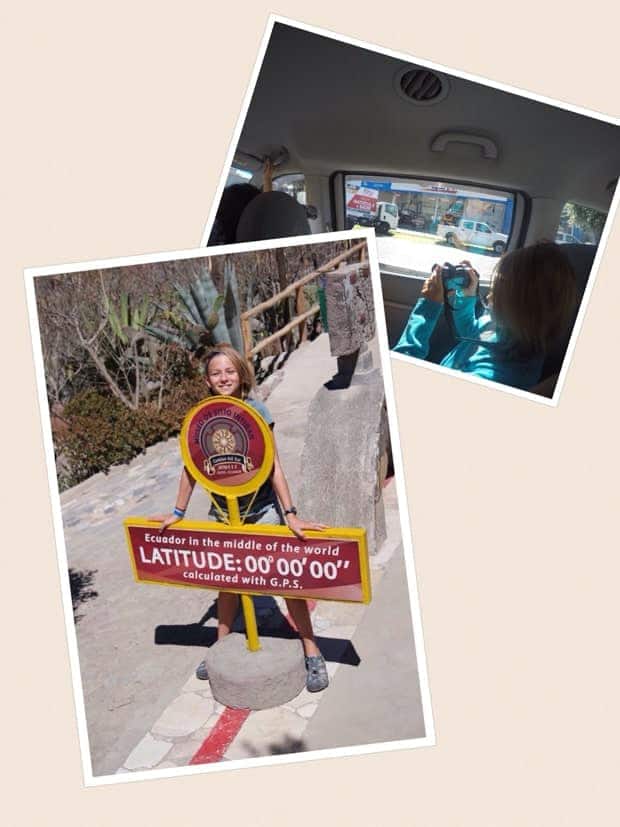 Amongst our many other stops touring, the golden church, presidential grounds, plaza squares, everyday residential neighborhoods with amazing views, we travelled to the Inti Nan museum just on the outskirts of Quito. This is located about 300 yards from the "official" monument for the Equatorial line. On the museum grounds is the "actual" equatorial line. We were very excited to find that out from our guide Raquel, and skipped the big tourist crowds. The Inti Nan museum was much smaller, very family friendly, and full of fun science. The tour felt "authentic" and not "touristy" and the science was fascinating.
Day 3 – Otavalo
A couple hour scenic van ride from Quito was our next overnight destination, the town of Otavalo. A stop along the way was on my daughter's wish list, for an alpaca sweater. The awesome part of this turned out to be that it was not just a souvenir buy from a market, but a visit to the actual source. Our guide took us to a small a non-descript shop on the outskirts of Otavalo. This, as it turns out, is a place that many of the local people get their alpaca garments. We learned about how the dye colors were all naturally made by using traditional combinations of things like a ground up bug (a Cochineal) for a base red, and plants, and minerals (like copper) could be boiled and blended for dyes. As the daughter in the family demonstrated this, her father behind her worked the loom that had made everything in their shop.
This was a fascinating adventure into what the indigenous people of the area make, grow, trade (and eat!).
Our afternoon was spent at the local outdoor market. For me this was a fascinating adventure into what the indigenous people of the area make, grow, trade (and eat!). This was a market for the people, of course there was a section that catered to the tourists that happened by, but in the middle, with all the people, and the smells of the food, and the relaxed pace, it was an insight that could only be had by being there.
The warm alpaca sweater came in handy for our chilly overnight (remembering that we are in the Andes mountains still at about 8,000 feet elevation) at the Hacienda Cusin. This is a beautifully restored 17th century estate. We meandered the rest of the day around the property that included a family chapel, vineyard, amazing beautiful garden (watch out for the free roaming llamas!) and equestrian grounds. After a delightful traditional dinner, we returned to our room to find the fireplace already warming the room. As we turned in for the night, hot water bottles with handmade woven covers, were delivered to our room to keep our beds toasty all night.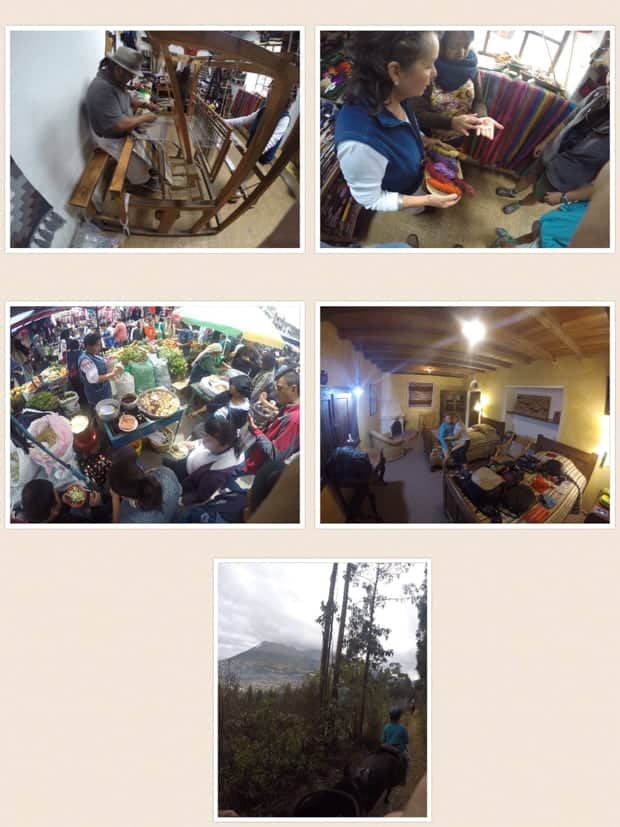 After a leisurely breakfast, as the morning fog lifted, we rode horseback up the hillside behind the hacienda for some amazing views of the very nearby Imbabura volcano and then descended into "rural" Otavalo (where it was not all that unusual to see more horses than cars).
Day 4 – Back to Quito then Time to Change Gears for the Galapagos!
This is another time where we had the benefit of great pre-planning and resources. Our transfer from our hotel in Quito to the Quito airport, the SICGAL station for Galapagos-bound passengers, then check in at Avianca for the flight Baltra to get boarding passes and paperwork for Nat'l Park tickets and the INGALA transit cards, then the arrival at Baltra and finally a bus to the docks to meet the boat… sounds like it all could have been a complicated hectic rush. Quite the opposite. Everyone there was where they should have been, on time, with all the paperwork in order, were very pleasant and full knowledge of what we needed to do. We never felt "lost" or rushed. An excellent transition from one scene of our adventure to the next.
Amazingly enough, we started this morning boarding the van in Quito, and ended the day settled in on motor yacht Coral II – enjoying a perfect after dinner view of Santa Cruz Island.
Day 5 – Floreana Island, Champion & Cormorant Point
As we found out, if you plan to go ashore anywhere in the Galapagos from your touring ship, you will be riding in a Panga. Pangas are a fun small inflatable Zodiac type boats that are the only thing that can (and are allowed to) get on to the beaches, and tour touching-distance away from the awesome volcanic island rock formations where the wildlife lives. There are two types of landings: wet and dry. Wet landings you drop into the 1 foot of water on the sandy beach, dry landings are some kind of rock formation that you climb out of the Panga right onto the rock. We always planned on getting a little wet with either landing.
Today was the most amazing day I have ever spent in the water. We went snorkeling with a colony of playful and affectionate sea lions. We were told they were here in advance, but the whole experience "gets real" when you are in the water with them. Our guide had taught us the "bubble game" that the sea lions love to play. It was like playing fun "fetch" games in your yard with the family dog. I was completely enthralled at actually being taught by a sea lion how to communicate with it. It swims away and I blow a small stream of bubbles and it swims back to me in a playful corkscrew. I would blow a big burst of bubbles and it jets back under me like a torpedo, washing me in a fountain of bubbles. I must have spent at least an hour with my new sea lion friends, totally oblivious to the rest of the planet. It was incredible.
My 12 year old daughter (a "fish" in her own right) was dancing a beautiful slow ballet of graceful swirls and bubbles with a group of sea lions.
As I floated about looking for my family to exclaim my excitement, I was overwhelmed to the point of tears as to what I was seeing in the water ahead of me. My 12 year old daughter (a "fish" in her own right) was dancing a beautiful slow ballet of graceful swirls and bubbles with a group of sea lions (see video). She would go down about 15 feet, they would follow her and they all would slowly spin and intertwine in the bubbles as they floated up with the sun beams sparkling down through the water. That moment right there, made the entire trip worth it for me. I will never forget those images.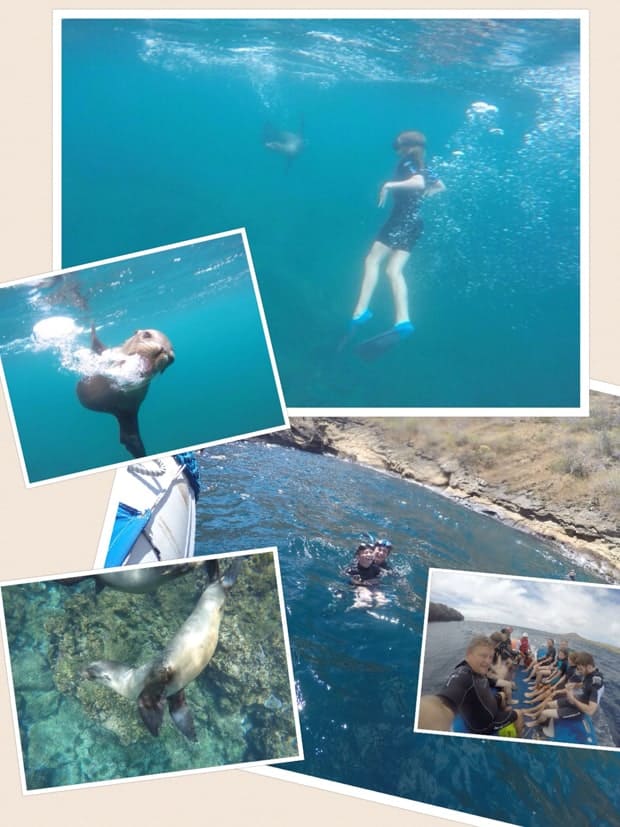 Day 6 – Espanola Island, Gardner Bay & Suarez Point
Our morning journey wet landed us on the sugar sand white beaches of Gardner Bay. As we approached on the Panga, there were many dark spots dotted along the white sand. From the structure of the surrounding island we thought they were just black lava rocks the sand was partially covering. We were enthralled as it was revealed these were not rocks but near a hundred sea lions! The arrival of our wee group of 15 people didn't even phase them.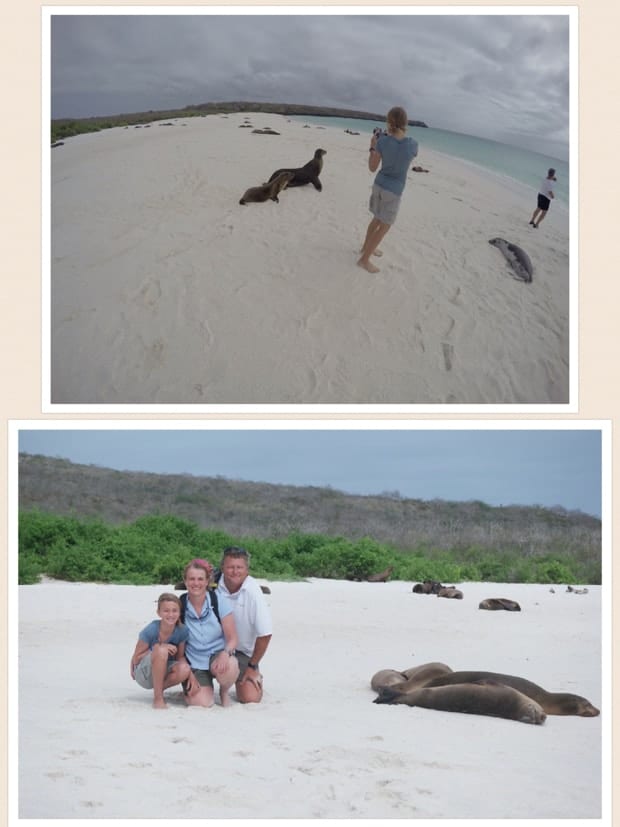 We spent the morning observing and learning from our guide things like why they were there and how they don't appear to be moving a lot because they are conserving energy. It was hard to keep the 2 meter rule sometimes when some of the younger curious pups would sneak up behind you on their way to the surf for a quick dip.
Our afternoon hike of Suarez point introduced us to a variety of the infamous Blue Footed and Nazca boobies, who also didn't seem to be phased by us and went about their famous ritual dances. The peak of the hike was the giant blowholes that the surf compressed huge funnels of water out of the rock, spewing a hundred feet in the air.
Day 7 – Santa Cruz Island – Puerto Ayora – Daphne Islet & Ballena Bay
Today we did our scheduled boat swap from the Coral II to her sister ship the Coral I. These two ships travel together on the same itineraries. We had combined two different itineraries to make a longer itinerary (a common scenario). In order to facilitate that during the week we wanted to travel (with other already reserved bookings), we were asked during planning if we wanted to swap. We were up for it and glad we did.
We grabbed our day backpack, and spent the morning taking a short .5 mile walk from the dock through the small town of Puerto Ayora to the Darwin Research Center. Laughing at the iconic sea lion napping on the sidewalk bench transitioned to "free range" dogs running everywhere to the iguanas looking for their next rest spot. We learned from a local at one of the shops along the road, that cater to the wandering tourists, that the dogs actually belong to people and most are not homeless. They actually have a problem with the cat population. We didn't see many cats but the shops along the road were replaced with iguanas, looking for their next place to nap.
The Darwin Research Center showed us many of the different types of the Galapagos tortoises, including the cute babies. Although the research center had appeared to be showing age, the research and preservation efforts were interesting, and the center is supposed to be going through a major renovation in early 2016.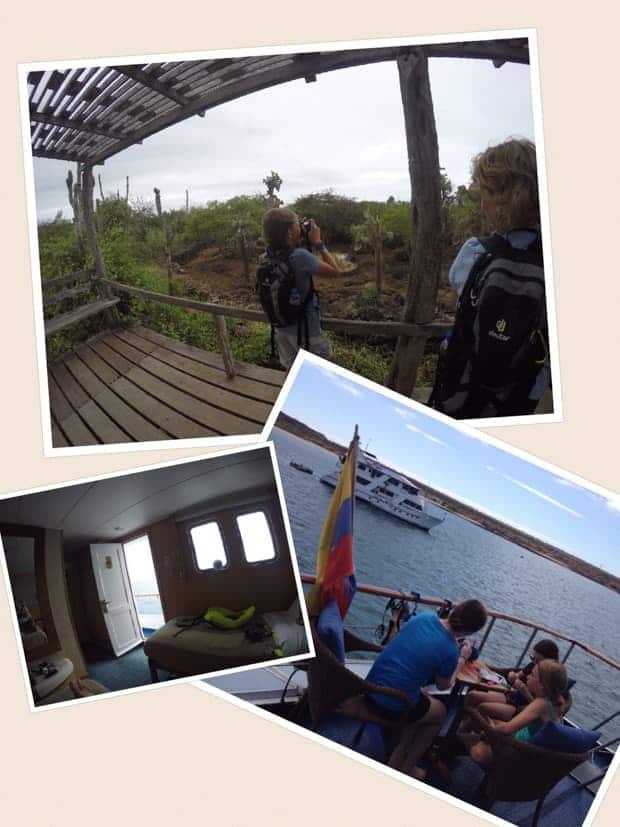 We strolled back and had a leisurely snack back in Puerto Ayora. Then we departed the Coral II, with our bags successfully transferred from one ship to the other. Being a boating family, we did have an appreciation for the qualities of the smaller (20 passenger capacity) Coral II. That crew was very personable, the ship was comfortable, and the food good. "Moving up" to the slightly larger Coral I (36 passengers) we now enjoyed an outside stateroom and the same quality of food and comfort. Our new guides were, in addition to being "locals," very nice and knew their stuff. The hot tub at the rear of the ship was an added bonus after our snorkeling each day as well as a sunset table where our daughter could enjoy her newfound travelling friends.
Day 8 – Isabela Island – Vincente Roca Point & Fernadina Island – Espinosa Point
After a lively breakfast we headed out to do some up close exploring Isabela Island cliff shores. The rock formations and "caves" were beautiful. It was pretty incredible looking up close and personal with the rock nesting, blue-footed boobies, terns, and Nazca boobies. Then looking down into the deep clear water we saw Galapagos penguins, sea lions, rays and large numbers of sea tortoises in long lines meandering casually about.
Later we jumped in to snorkel in the clear deep water and our "family fish" daughter enjoyed swimming with the (what can be scary looking but essentially harmless) marine iguanas.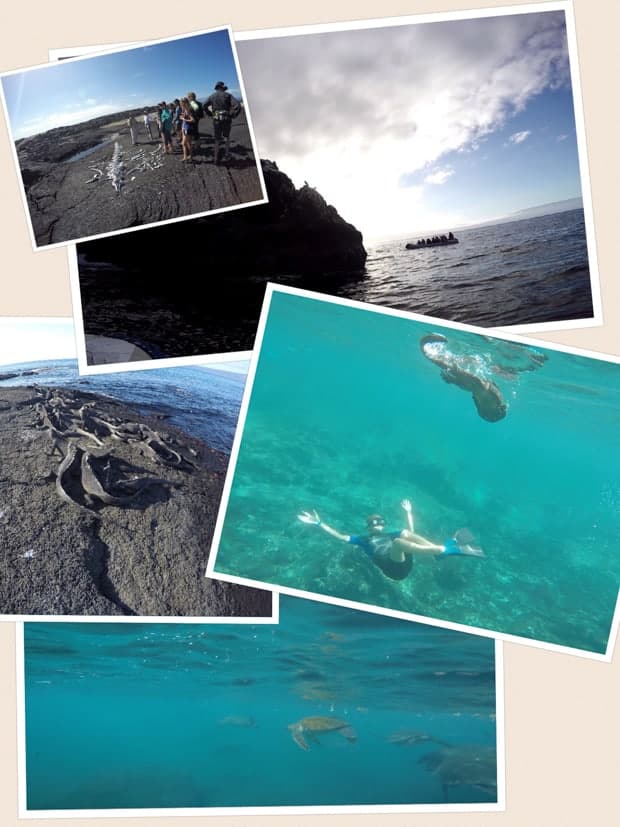 Day 9 – Isabela Island – Urbina Bay & Tagus Cove
Today's aquatic life of choice is the Galapagos penguin. Once again, another incredible opportunity to swim up close and personal in their own environment. Although not as interactive as the sea lions, they appeared to not mind the attention as they curiously hung around the group, occasionally playfully poking at a snorkel mask or camera lens.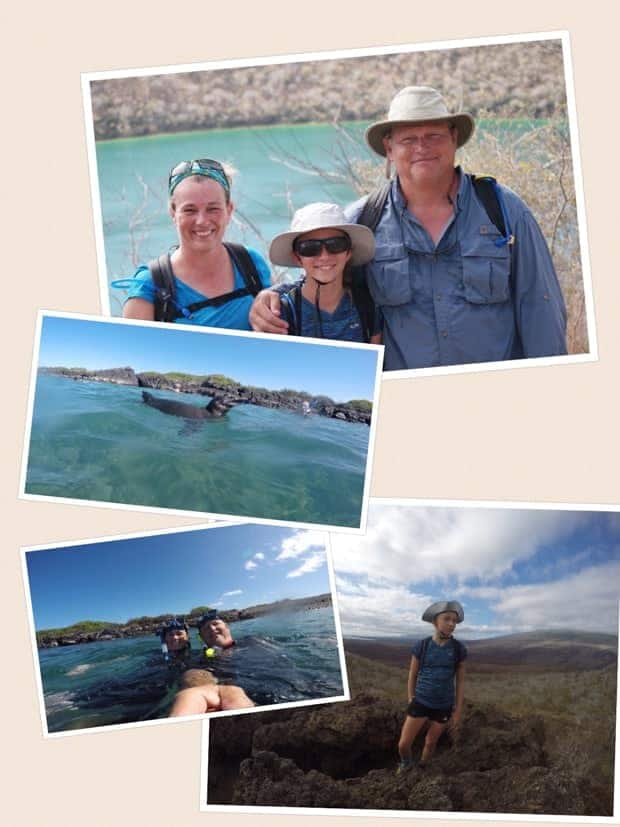 Our hike was up and around Darwin Lake. We were fortunate to have great weather. Even though the scenic views were beautiful on their own merit, we enjoyed even more our intermittent break points where our guide would explain the history and details of what we were looking at.
Day 10 – Santiago Island – Salt Mines, Egas Port & Sullivan Bay
Our afternoon hike over the lava fields was a gorgeous art museum of patterns and sculpture that the lava had created. A very challenging hike as every step is different, and lava is not very forgiving when you error. We even found our friends the sea lions where the lava meets the ocean, where many caves and gorges were carved along its edge.
Day 11 – Santa Cruz Island – El Chato Reserve & Off to Guayaquil
We fondly said goodbye to the Coral I and II and took one last land tour on our way to the airport. El Chato reserve is where we saw more of the famous huge Galapagos tortoises basking in the muddy pools and grasslands. It was a bit of a damp muddy hike through the trails, but they provided the rubber boots!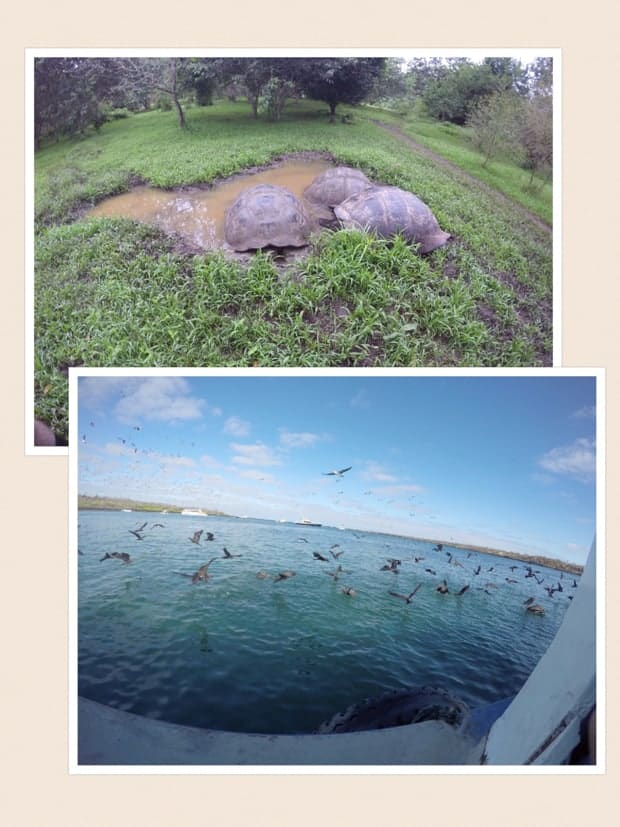 As we boarded the boat shuttle to the airport, the Galapagos gave us one last "fireworks finale" with hundreds of blue footed boobies continuously performing synchronized "dive bombing" into the bay for their dinner (see video).
This Travel Journal submitted by Perry Ross details his Galapagos Travel Package, Otavalo Escape and Coral Galapagos Cruises' with AdventureSmith Explorations. View all family cruises or our curated lists of Galapagos family cruises & tours and Galapagos Islands yacht charters to learn more insights from our alumni travelers and experts, or contact one of our Adventure Specialists to learn more about these small ship cruises and wilderness adventures: 1-877-620-2875
MORE GALAPAGOS RESOURCES:
Galapagos Trips
Galapagos Luxury Travel
Galapagos with Kids
Galapagos Diving
Galapagos Cruises
Galapagos Charters
How to Choose the Best Galapagos Cruise
Galapagos Island Hopping or Cruise?
Galapagos Land Tours
Best Time to Visit Galapagos
How to Get to Galapagos
Galapagos Islands Animals
Galapagos Trip Reviews
Galapagos Travel Guide
Galapagos Cruise Deals