AdventureSmith Explorations Founder and President Todd Smith pens this cruise review of his Sea Wolf Glacier Bay Adventure cruise aboard the 12-guest Sea Wolf. Read on for a recap of his return to Glacier Bay on an Alaska small ship cruise.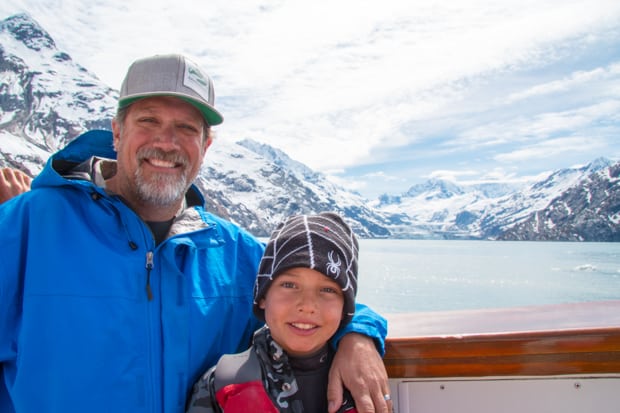 The story of Glacier Bay is one of change, and my return after more than 20 years away would reveal changes to the glaciers, the animals, the National Park and to myself. In the mid to late 1990s I spent many years in Glacier Bay and Southeast Alaska working as a naturalist, guide and program manager for a small ship cruise line (read more in the Story of AdventureSmith). I had returned a few times over the years but only on day trips aboard small ships. A Sea Wolf Glacier Bay Adventure cruise allowed an up-close, immersive 6-day/5-night exploration entirely inside Glacier Bay National Park, the likes of which I had not experienced since I lived and worked there.
The Sea Wolf embarks early, at 8:30am, ensuring a full day of exploration on day 1, but also requiring travelers to arrive into the tiny town of Gustavus the night before. See my Bear Track Inn Expert Review for more about my pre-cruise stay. During the peak season, from early June through late August, it is possible to fly on an Alaska Airlines jet from Seattle connecting in Juneau. However, my recommended method of arrival is aboard a small plane from Juneau. On this trip, traveling with my nine-year-old son, Nolan, we had a very clear day with spectacular views and even spotted a whale from the plane.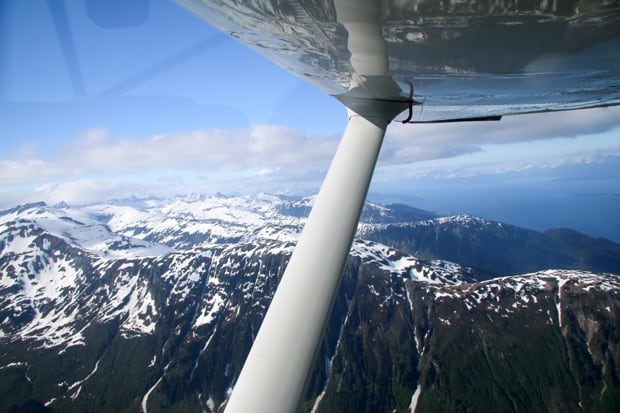 Day 1 – Sea Wolf Adventure Begins in Dundas Bay
We awoke early for breakfast and the Bear Track Inn lodge staff transferred us to Bartlett Cove, the epicenter of Glacier Bay National Park and the embarkation point for our Sea Wolf Adventure. The crew casually welcomed us aboard and soon we were underway and being oriented in the aft salon by owner and naturalist Kimber Owen. A whirlwind of safety information, personal anecdotes and naturalistic facts soon indicated that this would be a deep study in Glacier Bay. Even for me, a seasoned naturalist in the region, this would be an education in fun, facts and fascination.
Even for me, a seasoned naturalist in the region, this would be an education in fun, facts and fascination.
Due to extreme tides and strong currents, the itinerary was immediately reversed. "It made no sense to proceed into Glacier Bay against a 7-knot current in an 8-knot boat," it was explained, and we immediately knew this would be no ordinary cruise. Instead of proceeding up bay we let the tides guide us out of the bay, into Icy Strait and toward the outer reaches of Dundas Bay. Along the way we viewed sea otters, the bones of a whale washed ashore years before and a black bear ambling among the ruins of an abandoned cannery. In other words, we were immediately immersed in Alaskan wilderness.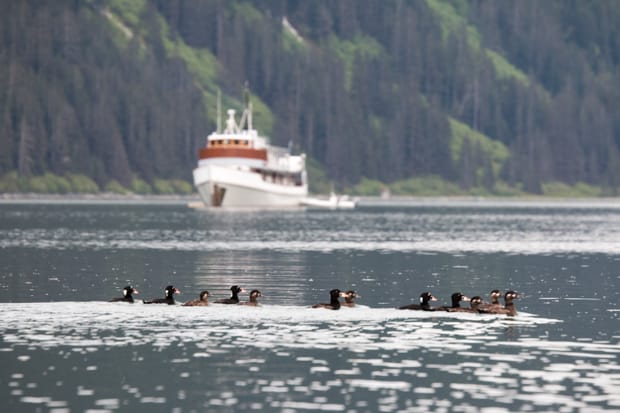 After lunch we altered the scheduled kayaking for a plan with "more fun" Kimber assured us. The currents were still too strong for a paddle so we started with a riverside hike across mudflats where our footprints intermingled with those of bear, moose and wolf. Soon our guides had the kids in our group making plaster molds of footprints left by recent wildlife. We returned to the boat, which cruised farther into Dundas where we dropped the kayaks for a paddle. To my surprise the Sea Wolf pulled anchor and proceeded to the end of the inlet, allowing us paddlers a unique "one way" journey among wilderness rarely accessible to small ships or even seasoned locals.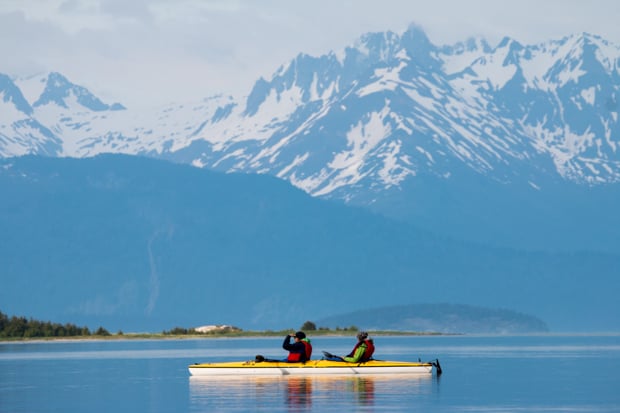 Dinner tonight was a Dungeness crab feast that served to satisfy our hunger while bonding this group of three generations (6-79 years old) yet like minds. More than one traveler noted "it seems as if we have been on this trip for days." It was only our first night aboard the Sea Wolf.
Day 2 – Dundas Bay to Glacier Bay
The crew had scheduled an optional early-morning muskeg walk before breakfast so a few active travelers boarded the skiff at 6:15am and headed for shore. As we climbed the mossy, boggy hillside above Dundas Bay, Kimber and Captain Hans gave a veritable seminar in climax forest plant communities and flower botany. We had hoped to spot the rare glacier bear sometimes found in this area, but were satisfied with a plethora of birds and a family of hoary marmots playing on a rock in the meadow below. Ascending only a couple hundred feet above the inlet provided superb views of the dramatic glacial carved fjord and the historic Sea Wolf below. We returned to the ship just as breakfast was served.
All morning the wind increased and it was determined that our route would be altered again. Flexibility is a hallmark of any successful adventure cruise, and this one was no exception. Instead of heading to George Island on the outer coast and low tide–pooling, we would remain in Dundas Bay for the morning. After breakfast the entire group, except for one guest who was content to remain on the ship the entire cruise, walked to the end of the inlet where we enjoyed a leisurely two-hour walk in a scenic meadow punctuated by huge boulders, scientifically known as erratics, left by retreating glaciers. The meadow, boulders and inlet were surrounded by granite cliffs towering 2,000 feet above us.
The 8-knot Sea Wolf hit a top speed of 15 knots as the current pushed us … Captain Hans declared we had hit "warp speed" as we passed a massive cruise ship and day tour boat.
The Sea Wolf now used the tides to our advantage as we returned to Glacier Bay proper. The 8-knot Sea Wolf hit a top speed of 15 knots as the current pushed us into the bay and toward our next adventure. Captain Hans declared we had hit "warp speed" as we passed a massive cruise ship and day tour boat on their way out of the bay. We cruised toward scenic Fingers Bay.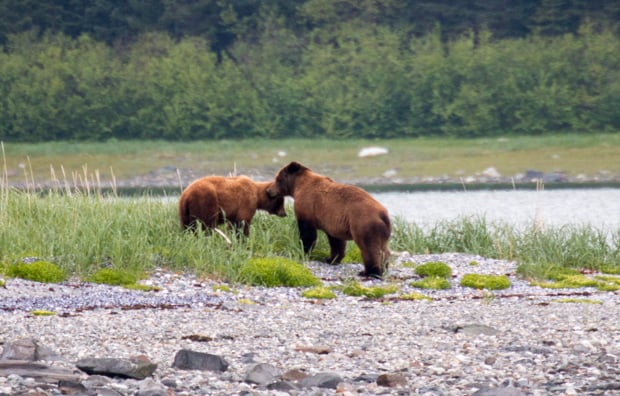 Entering the Fingers the crew announced two brown bears on a small island at the head of the bay and we all rushed on deck to witness a rare encounter. Bears are usually solitary and two together is uncommon behavior. We soon learned that this was a mating couple and witnessed adorable courtship behavior and a few clumsy attempts at copulation. We launched the kayaks for a closer view as the amorous couple separated for a nap. We left them alone and paddled to the other side of the bay. Upon our return the courtship had continued with a game of chase and a display of just how fast these huge animals can be. (View the full image gallery of their encounter.)
Day 3 – East Arm of Glacier Bay
We departed Fingers Bay early and proceeded up into Glacier Bay's rarely visited East Arm. It was another dramatically clear day with the Fairweather, BearTrack and Takhinsha Mountains all in view. As we proceeded up the East Arm we began to see more and more icebergs in the water.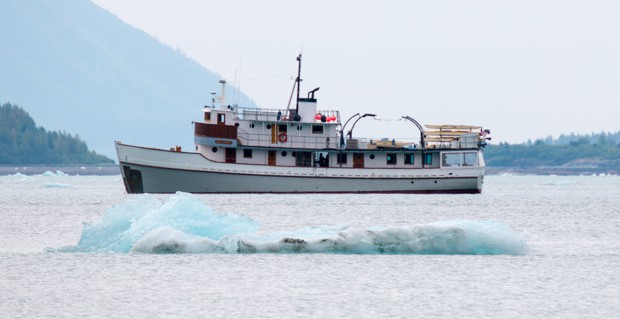 We anchored just outside of McBride Inlet and skiffed to shore. The tide was out and large bergs were stranded on the beach. Walking up toward the inlet we saw huge bear tracks in the fresh sand left above the outgoing tide. Arriving over a low rise at the edge of the inlet we saw hulking blue and white bergs, some as large as the Sea Wolf, stranded on the beach and in the water. Walking among the ice was like a trip through a sculpture garden. I was also surprised to see that the McBride Glacier, the source of the stranded bergs, was no longer in sight. Kimber explained that in the past few years it has retreated around the corner, an example of the rapid and constant changes in the bay. Further on we visited the interglacial stumps, the remnants of mature forests that had grown in between glacial advances in the bay, then covered by moraine and revealed again when the glacier retreated. I reflected on the dramatic changes that had taken place in the few years my son had been alive. What a thrill it was to share these changes with him and to consider how the bay will change in his lifetime.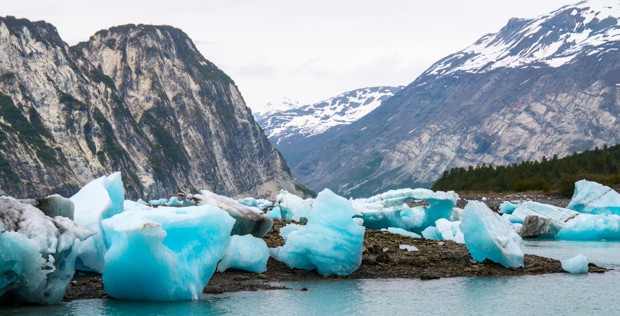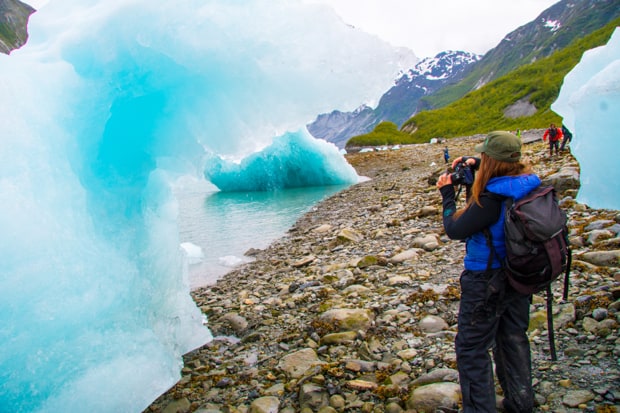 Back on board we continued up the East Arm and past White Thunder Ridge, the name the Tlingit gave to the sound of glaciers calving. The Riggs Glacier was special to me and I was anxious to see it. Twenty years previous I had been married on the bow of a small ship in front the Riggs Glacier. I found, like most of the other glaciers we had seen, that it was dramatically changed and retreated many hundreds of yards up its valley so that it no longer reaches tidewater. It seems that change is the only constant in Glacier Bay. Read more of my thoughts on this change and see photos of Riggs Glacier then and now.
It reminded me of Muir's description of "an icy wildness unspeakably pure and sublime."
Getting all the way to the Muir Glacier is a rare treat for any trip into the East Arm. We saw two more brown bears and a humpback whale on the way up the inlet. The views of Muir were astounding in the bright sunlight and it reminded me of Muir's description of "an icy wildness unspeakably pure and sublime." Returning to our kayak drop-off point myself and the captain spotted a mystery animal in the water. With only fleeting glimpses we couldn't be sure but we may have seen a wayward beluga whale.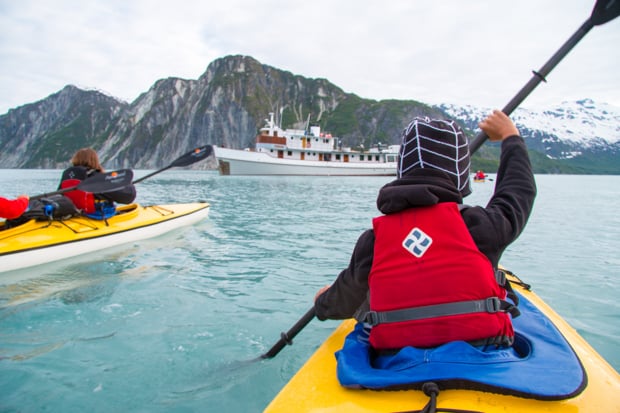 We dropped the kayaks as a gentle wind assisted our paddle back down bay to the Riggs Glacier. As had become custom, my young son took his afternoon nap in the kayak while I enjoyed the therapeutic and rhythmic mediation of silent kayaking. We rendezvoused with the Sea Wolf, and she return to Tlingit Point and Sea Bree Island for the evening. As we rounded Tlingit Point, Captain Hans called everyone to the bow where we were treated to a colorful sunset over the icy peaks of the Fairweather Mountains.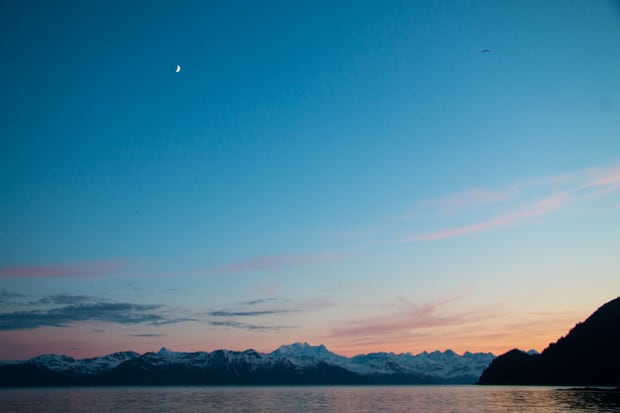 Day 4 – West Arm of Glacier Bay
The West Arm of Glacier Bay is where most tour boats, cruise ships and small ships visit for the day. The vast majority will never get off the ship. We raised anchor early and headed toward Reid Inlet. Along the way, we spotted two moose along the shore. When I worked here 20 years ago, moose were almost never seen in the upper bay. Now, Kimber explained, moose are frequent in all areas of the bay and wolves have moved in behind them.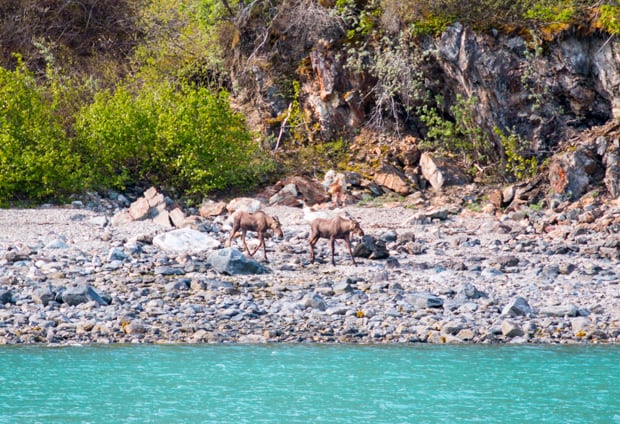 We then cruised into Reid Inlet and the Reid Glacier, which has also retreated almost entirely onto land. As our skiff dropped us on shore for the morning hike I remarked, "for people like me where nature and science are spirituality, this is my cathedral." Walking in on the terminal moraine, in front of a glacier that I remember as a tidewater was a surreal experience. But despite some dramatic changes in the bay, many other things remain constant. We hiked along the side of the glacier and Kimber pointed out ice worms, descendants no doubt of the worms I showed to travelers as a guide many years ago in this very spot.
It was exceptionally sunny and clear so the trip past Lamplough Glacier and into John Hopkins Inlet was incredible. This is the area of the park that has seemed to defy change and remains a remnant of the ice age. The massive Johns Hopkins Glacier is the only stable or even growing glacier in the park. 12,000 foot peaks surrounding an ice-choked bay is like going back in time 20 or even 20,000 years.
Each year over 600,000 travelers visit Glacier Bay, mostly aboard large cruise ships. Of those fewer than 2,000 ever set foot on land. I would guess only a small percentage of those ever paddle in front of a tidewater glacier. We were among a fortunate few.
They day's climax was our trip into Tarr Inlet and kayaking in front of the Margerie Glacier. Each year over 600,000 travelers visit Glacier Bay, mostly aboard large cruise ships. Of those fewer than 2,000 ever set foot on land. I would guess only a small percentage of those ever paddle in front of a tidewater glacier. We were among a fortunate few. Beginning at the Sea Wolf we paddled to a towering waterfall and under a kittiwake colony with thousands of nesting birds. We sat, safely our guide told us, one quarter of a mile off the face of the mile-wide glacier. From this vantage one could hear the cracking and popping of the ice as it creeped forward like a slow-moving river. Suddenly a huge chunk let loose and crashed into the sea, much to the delight of our group. Just as we returned to the Sea Wolf, a drizzle began to fall; we were cold and weary, but entirely satisfied. As our vessel traveled south to Blue Mouse Cove for a calm anchorage. We slept with our door cracked listening to the rain.
Day 5 – Gloomy Knob to Sandy Cove
A relaxed morning allowed a rare chance to sleep in, and we ate breakfast as the Sea Wolf motored toward Gloomy Knob, named for the grey stone towering out of green waters and the perpetual mists that seem to cover its flanks. The boat can cruise close to the steep-sided cliff walls, and this time of year mountain goat mothers shelter young kids safely away from prowling wolves and bears. This behavior makes them uniquely accessible from the water and we got great views of several newborns. One mother seemed to be chasing off a yearling, perhaps to protect her newborn. The teen goat seemed scared and confused at such behavior from mom, and Kimber remarked she had never witnessed such behavior before. I reflected on what I used to tell guests: that "once-in-a-lifetime things happen every day in Glacier Bay."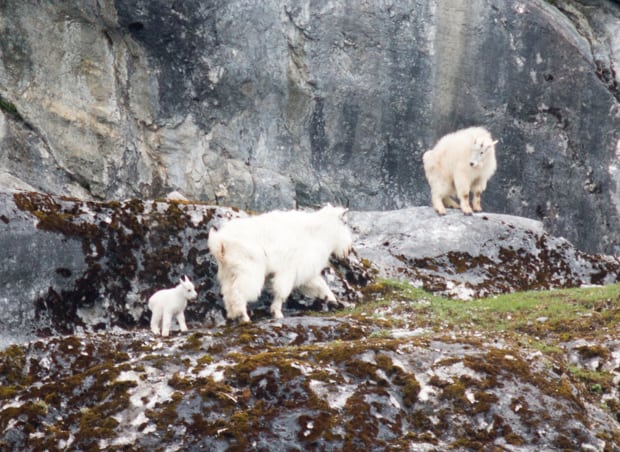 I reflected on what I used to tell guests: that "once-in-a-lifetime things happen every day in Glacier Bay."
Anchoring just south of Gloomy Knob we launched the skiffs for a hike. From the water the cliff seems impossibly steep but our guide found a route along mossy ledges and soon we were several hundred feet above the water. The clouds were lifting and the views were incredible up the bay toward the glaciers and Fairweather Mountains.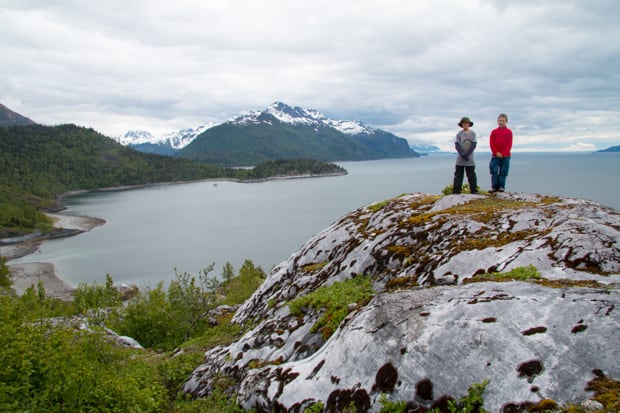 This afternoon we cruised to Sandy Cove where we launched the kayaks for a calm paddle around Puffin Island. The forested island seemed strangely named as there was not a puffin in sight. Kimber explained that many years ago, the island was barren and full of nesting puffins—an attraction for early tour boats in the bay. Puffins have moved several times and now occupy South Marble Island where trees have not yet provided a home to predators.
With the tide out, we could peer into the water to view starfish and anemones. Inside the cove itself, Captain Hans shouted excitedly "whale" and we all searched in the direction he pointed. Sure enough, a rarely seen grey whale surfaced nearby and we watched in amazement as it surfaced several more times before disappearing into the mist. Later we returned to the ship and had dinner and anchored in peaceful North Sandy Cove for the night.
Day 6 – Sandy Cove Hike, South Marble Island & Bartlett Cove
As a result of a rare bear attack in 1971, Sandy Cove was closed to hikers for more than 40 years but reopened last year. I was excited to take a walk in this once forbidden landscape. We walked along the shore and through the forest viewing flowers, berries, the spinney devils club and lots of animal scat. Toward the end we encountered some rigorous bushwhacking with thick alder and devils club. But we made it through and the forest opened into Spokane Cove, known for bears and wolves when salmon fill the creek. During our walk, the Sea Wolf had repositioned resulting in a unique one-way hike.
The boisterous animals were roaring and croaking on the rocks with some swimming in the water near the ship.
Soon we were at South Marble Island watching (and smelling) a Stellar sea lion haul out. The boisterous animals were roaring and croaking on the rocks with some swimming in the water near the ship. The one-time bachelor pad was now home to females and young on its way to becoming a breeding colony. We also viewed nesting kittiwakes, pelagic cormorants and tufted and horned puffins. A few bald eagles sat perched over the scene waiting for an easy meal, and some in my group viewed a larger eagle in the distance, perhaps a golden eagle. These predators can now make a home on mature spruce trees that have grown since my time here. No doubt the puffins will have to find another new home.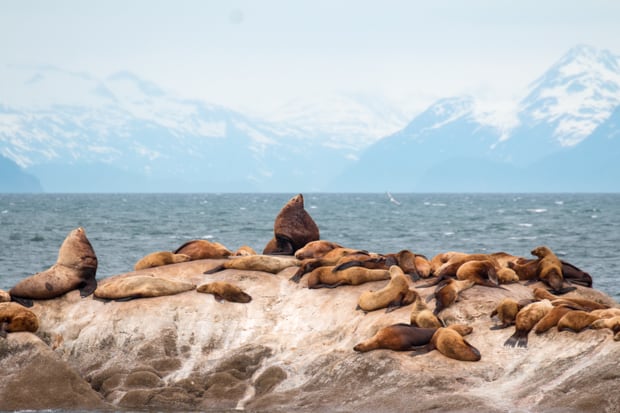 We returned to Bartlett Cove, the National Park Service Headquarters, where we had begun our journey 6 days earlier. The Sea Wolf arrives in time for guests to visit the newly commemorated Tlingit Tribal House. This is one of the most remarkable changes of all I saw in Glacier Bay. As a young naturalist and guide in Glacier Bay I was dumbstruck that the National Park made little mention of the Huna Tlingit, the Bay's original inhabitants. They were only telling half the story of Glacier Bay. Because I had worked for an Alaska Native Corporation we began a cultural interpretive program aboard our boats. I am so pleased to see that the National Park Service has now embraced the Tlingit back into their ancestral home, and that visitors can now experience the full natural and cultural history of Glacier Bay.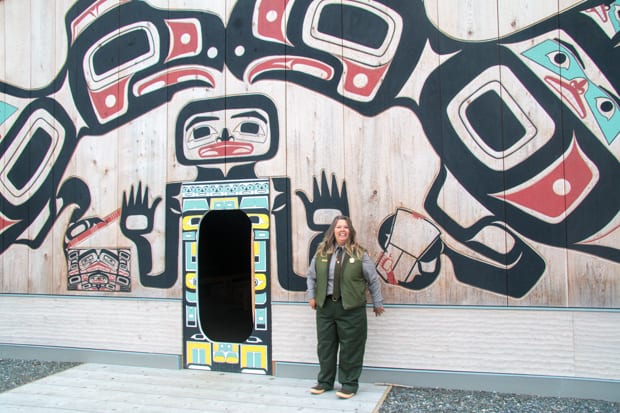 Twenty years ago, climate change was already a hot topic (pun intended), but the National Park Service was reluctant to wade into any perceived controversy. Because the glaciers in Glacier Bay advance and retreat independent of large-scale global climactic changes, it made it a difficult place to interpret the larger lessons of climate change. Now, the science and consensus is established and I am pleased to see the Park embracing the message that the retreat of glaciers can be a harbinger of things to come worldwide and striving to inspire visitors to consider the impacts of their travel and lifestyle on our planet.
Glacier Bay is a magical place that has cast its spell upon me over the course of a generation. It made a huge impression upon me as a young naturalist and set me on the course that would eventually lead to founding AdventureSmith Explorations. This up-close visit, after 20 years away, has revealed changes to the plants, animals, glaciers, people and park service. But most of all, a visit with family and friends to this special place has revealed changes in myself. I now realize that the lessons I learned in Alaska's wilderness—including self-reliance, the art of natural history interpretation and a passion for conservation—would lay the foundation for the person I am today. Glacier Bay is literally a part of me. Change is the only constant in Glacier Bay and I suppose in life as well.
For more images, view my Sea Wolf Glacier Bay Adventure Facebook photo album. To read my full review of the ship, see Expert Review: The M/V Sea Wolf.
This Sea Wolf Glacier Bay cruise review was written by an AdventureSmith Explorations crew member. The Sea Wolf, one of our small ships to Alaska, is on our curated list of best Alaska cruises for families and Alaska yacht charters and is perfect for a full-boat charter. Read all our small ship Alaska cruise reviews for more detailed insights from our time aboard in Alaska. Contact one of our Adventure Specialists to learn more about Alaska trips, family cruises, small ship cruises and wilderness adventures: 1-800-620-2875.