AdventureSmith Explorations Adventure Specialist Andrew Browning reviews his Galapagos Beluga yacht cruise.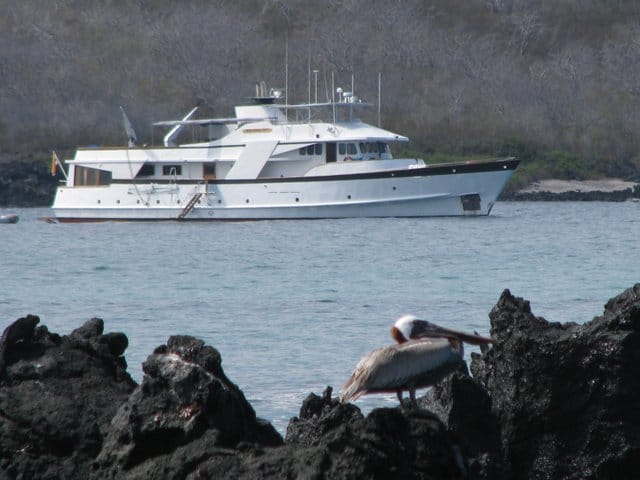 Ecuador's Galapagos Islands simply need to be experienced! As an avid traveler and travel professional I have heard from fellow adventurers, colleagues, and clients about just how wonderful Galapagos yacht cruises can be. This July I had the chance of a lifetime to travel with AdventureSmith Explorations on an 11 day Galapagos Itinerary and I was truly amazed during each day of our voyage. The intimate Beluga Yacht carrying just 16 travelers was my home during this 7 night active cruise. Our group consisted of friendly travelers seeking wildlife, adventure, and the perfect photo. We all had preconceived notions about what the trip would offer, but I can certainly say that all of our expectations were exceeded daily. During my time in Ecuador, I also experienced the incredible Ecuadorian Amazon. You may access a separate review of my Amazon trip here: Ecuadorian Amazon Expert Review.

Flying from the western United States to Ecuador took most the day but we arrived in beautiful Quito and were met promptly by our local guide who gave a friendly and informative introduction to Quito and our hotel which was located in the new Mariscal area of Quito. AdventureSmith Explorations includes 2 nights in Quito before our Galapagos cruises which provide ample time for a missed flight connection or weather delays which could otherwise cause our travelers to not make it to the Galapagos in time to meet their cruise. Aside from these Quito hotel stays which I really appreciate because I almost missed a connection myself, AdventureSmith also includes a privately guided Quito city tour for the day before boarding the cruise.

We slept comfortably at the Hotel Mercure Alameda Real hotel and were picked up in the AM for our guided tour of colonial Quito. During our visit to Quito, the city was very busy preparing for the Bicentennial anniversary of independence from Spain so many exciting events were occurring in the "Old Town" section of the city. We began with a drive to a scenic overlook where we could see the geologic features and volcanoes that surround Quito. While enjoying the magnificent view of the city our guide provided an overview of the interesting indigenous and colonial history of the city before we went into the Old town to see the historical sites. Colonial Quito is designated as an UNESCO world heritage site for good reason. After touring the plazas, churches, and palaces which date back to the 1500s, I could clearly picture what it must have been like in those times. My personal favorite moments from this tour were learning about the Basilica with its "Tropical Gothic" architecture and also touring the San Francisco church which is an interesting site for historic, artistic, and religious reasons. Including a city tour at the beginning of the itinerary is really great because from then on you are well informed of the city layout and it inspires confidence for navigating to the unique sites and exquisite restaurants. After the city tour we had an afternoon at leisure when we were able to explore La Mariscal, a newly revived area of Quito featuring restaurants, bars, boutique shops, and handicraft markets. This vibrant area of the city is frequented by locals and tourists alike and it is one of the best places to enjoy an afternoon watching people while enjoying drinks and local cuisine on one of the many outdoor patios. While we really enjoyed our time in Quito, we had to prepare for early flights to the Galapagos Islands the next morning so after dinner we went back to the hotel for some rest.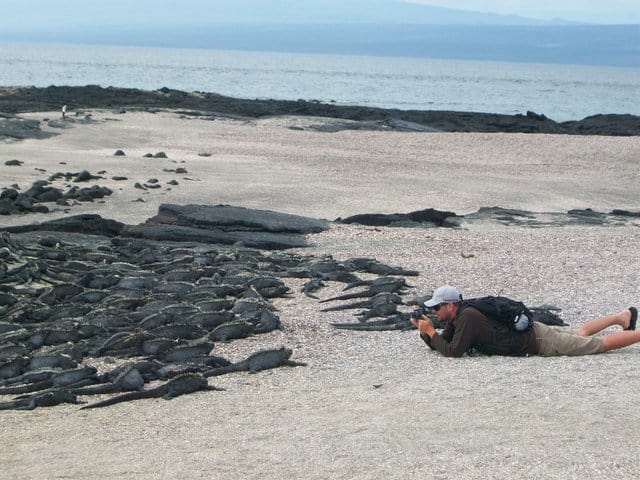 The next morning we were met by our representative for our transfer to the domestic airport terminal for our flights to the Galapagos Islands. For our Galapagos travelers the flights are booked and paid for by AdventureSmith Explorations and depending on the cruise itinerary you will fly into either San Cristobal or Baltra. In our case we flew into Baltra to meet our group and guide.

Upon arrival in Baltra our professional guide met us at the airport after we were cleared to enter the Galapagos National Park. AdventureSmith Explorations includes and prepays the park entrance and tourist card fees for our travelers so we were allowed through quickly and without the need to do any transactions on site. We collected our luggage and were met by some of the crew from the ship who loaded our luggage to be taken to our cabins aboard the yacht.

After a short drive to the pier we boarded the Beluga and we were off to explore the enchanted islands. Having experienced several small ship and yacht cruises in other destinations I was really impressed that we were able to begin shore excursions right away. We had a quick lunch and after a safety briefing aboard the Beluga we were snorkeling with sea turtles and tropical fish as frigate birds were circling above North Seymour Island, our first destination. The snorkeling excursion lasted about 1 hour and we then went ashore for the first time on our Galapagos cruise adventure. The Beluga yacht carries 2 inflatable boats with outboard motors for use during the cruise. These useful crafts are called pangas and we used them everyday to access shore landing areas and snorkel sites. Hiking on North Seymour Island proved to be a great introduction to the varying landscapes and Galapagos Islands animals. This arid island is a great location for seeing nesting blue-footed boobies and frigatebirds. As we walked along the trail towards the opposite side of the small island we encountered sea lions, lava lizards, a tiny Galapagos snake, and a large land iguana. Our hiking excursion on North Seymour Island was really amazing and between this and our snorkel trip earlier in the day, I know that we were all very surprised at how much we experienced on only our first afternoon in the Galapagos.

Learning about the history and geology in an active exploration setting made our experience in the Galapagos Islands even more enjoyable. Our guide provided hands on examples while explaining the specifics of how the eastern islands were formed first and how the western islands are younger and are still experiencing volcanic activity. These important geologic discussions came to life over the course of our cruise as we explored the different islands and marine environments.
On the second day of our cruise we explored Espanola Island located in the southeast corner of the Galapagos archipelago. We anchored at Gardner Bay, an incredible white sand beach that is home to colonies of Galapagos Sea lions, Marine Iguanas, and countless bird species. This bay and the wildlife that resides here is a photographer's dream and I definitely could have spent a whole day here, but it was time for snorkeling so we eagerly boarded the pangas to travel to our nearby but offshore snorkeling location.

Snorkeling was probably my favorite activity of the trip and the fact that we got to go daily or sometimes twice a day to all of these unique locations was really a highlight for me. The marine world of the Galapagos Islands is one of the most diverse in the world. It surprised me how much time we spent in the water and I feel like this aspect of the trip compliments the on-land exploration very well. Swimming alongside green sea turtles, marbled rays, Galapagos penguins, and innumerable tropical fish was an absolutely incredible experience.

When snorkeling I get easily distracted and it is always a temptation for me to swim where I please as I follow sea turtles and tropical fish swimming beneath me, but I would encourage travelers to do their best to stay near the guide because they are as invaluable in spotting marine life as they are with terrestrial wildlife. I took my own advice one day and I followed our guide into deeper water where I had the best sighting of my cruise. Far beneath us we observed a hammerhead shark feeding on small fish. At the same moment a Galapagos shark was feeding on the same school of fish! It was really incredible to witness this and we swam furiously to stay above the hammerhead but it was too fast and we eventually lost site of it. I will remember this experience forever and I still get chills when I think about it.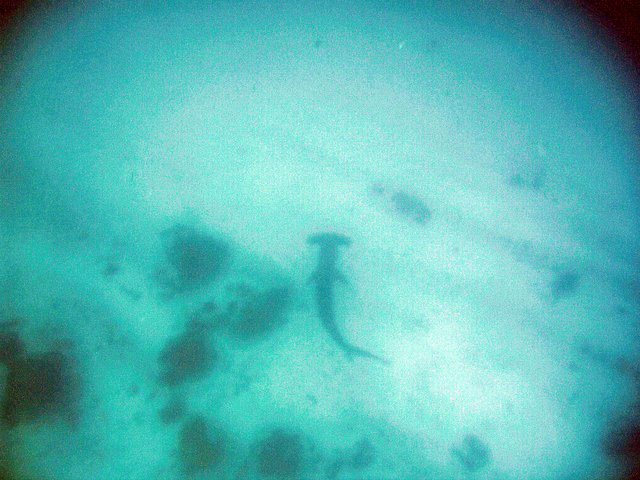 The experience onboard the Beluga yacht was made wonderful by the attentive crew and experienced Captain. The crew provided an overall great experience but it was the small touches that make this Galapagos trip special. We spent a lot of time ashore and snorkeling and each time we returned there would be cold juice and refreshments for us to enjoy. During times when we were all on the sundeck watching for whales, they brought us appetizers and drinks to enjoy as we watched for whales. The cabins onboard were comfortable and had plenty of space for our bags and clothes. There are a variety of cabin configurations on board and there are options available for Triple Occupancy, Double Occupancy, or Single Share arrangements. Meals onboard are served family style and range from tasty Ecuadorian fare to international favorites. Different diets can always be accommodated and the Kitchen staff aboard the Beluga Yacht provides excellent service and cuisine.

With a genuine love for nature and exploration, our Captain took advantage of the flexible itinerary. On several occasions we deviated from our course to look for whales and track pods of Dolphins as we were underway. This flexibility makes yacht cruising very suitable for unplanned sightings and discoveries.

Something really special about a Galapagos cruise is the astounding variety of landscapes, wildlife, and ecosystems that cruise passengers will experience. Within an afternoon one can be snorkeling with playful sea lion pups, exploring atop desolate lava flows, watching for whales from the yacht sundeck, and photographing Giant tortoises in the wild.

On the first night of the cruise our group discussed some things we wanted to see and experience in the Galapagos Islands. Our fellow travelers' range of Galapagos dreams ran from very specific, such as viewing the Waved Albatross or photographing whales, to simply fulfilling a lifelong desire to experience the enchanted islands. It was really wonderful to share our Galapagos dreams with everyone because this created a desire to experience the dreams of our new friends on board. I can safely say that all of our dreams were lived on this trip but one particular instance really stands out to me. This occurred on Santa Cruz Island where one of our passengers really wanted to see this beautiful little bird called the Vermillion Flycatcher. Not everyone on the trip was an avid birdwatcher but I know that we were all trying our hardest to spot this bird that was so important for this particular birdwatcher. After searching for awhile we were leaving the Tortoise reserve when we spotted the elusive Vermillion Flycatcher and I can say that our group's overall joy was comparable to discovering the lost city of gold. We were all so happy that we were able to see this bird and it was all due to one person's dream and enthusiasm.

I experienced so much on this cruise and I am really glad I took a lot of photos because I now have so many fond memories to enjoy. I even had to buy a new memory card midway through the trip so I could keep shooting freely. The Galapagos Islands provide a marvelous experience to adventurous travelers and I am happy to discuss the many exciting options that exist for experiencing this incredible destination.
MORE GALAPAGOS RESOURCES:
Galapagos Cruises
Galapagos Cruise Deals
Galapagos Islands Yacht Charters
Galapagos Luxury Cruises
Galapagos Family Cruises
Galapagos Diving
How to Choose the Best Galapagos Cruise
Galapagos Island Hopping or Cruise?
Best Time to Visit Galapagos
How to Get to Galapagos
Galapagos Islands Animals
Galapagos Trips
Galapagos Tours
Galapagos Cruise Reviews
Galapagos Travel Guide
This Galapagos small ship cruise review was written by an AdventureSmith Explorations crew member. Contact one of our Adventure Specialists to learn more about these small ship cruises and wilderness adventures: 1-800-728-2875.