Bagpipes, whiskey, falcons, towpaths and lochs greeted AdventureSmith's Lisa Smith as she explored Scotland via the 12-guest Spirit of Scotland on the Classic Scotland Cruise with barge cruising pioneer European Waterways. In this detailed European barge cruise review, learn all about the experience to see if this unique slow-travel style should be on your bucket list.
I've always wanted to cruise through Europe via the canals on a barge-style vessel. This seems like such a romantic way to travel: drifting along slowly, while sitting with a glass of wine as I watch the world float by. So, I felt fortunate to have my next set of travels take me to experience the beauty of Scotland on the Caledonian Canal.
I have traveled several times on small ship cruises, and I love the intimacy, connections and exploration that you can experience on a smaller boat. But I didn't really know what to expect traveling aboard a barge. Having no expectations made it more fun to travel through Scotland's mythical Highlands, menagerie of locks and legendary history.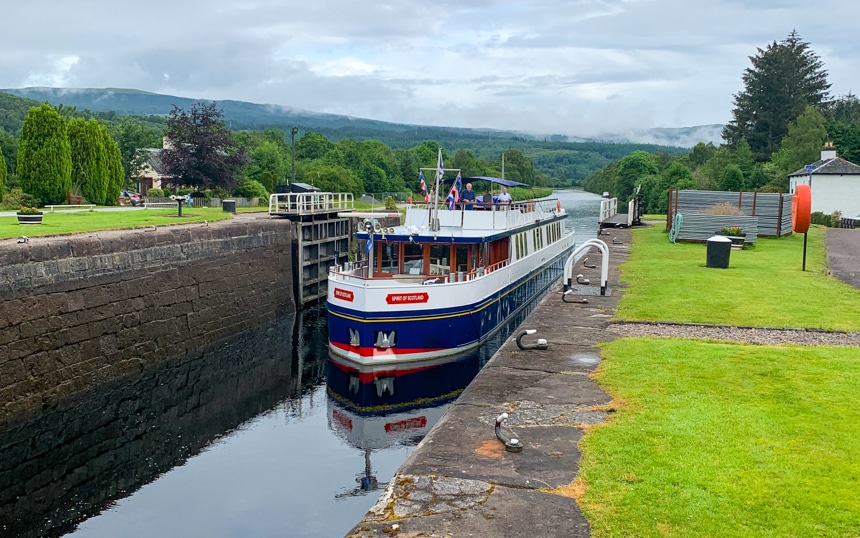 My Review of the Barge Accommodations
I've seen the barges sailing through the canals in Europe, so in my mind I had an idea of what barges looked like. But upon embarking the 12-passenger Spirit of Scotland in Inverness (the capital of the Highlands), I was stunned to see that this in fact was more than a barge—it was a floating deluxe hotel.
Prior to the vessel carrying passengers like me, it was a privately held boat owned by a couple that used it to host family and friends. When you step on board, you see the details that was afforded this boat to ensure complete comfort. Taking advantage of the Scottish aesthetic, there was just enough plaid to conjure up the Scottish vibe. With a large salon, bar (fully equipped with a variety of Scotch whiskey to taste), large covered sundeck, hot tub, bicycles (enough for each guest) and attentive hosts on board, it was easy to feel at home from the very start.
Cabins were spacious and all six were the same size accommodating either two twins or a double bed with portholes. I toured the smaller 8-guest Scottish Highlander during my stay as well. This would be a great choice for charter cruising due to its size, but it was a bit more rustic (albeit with updated bathrooms). Aboard this ship there is one slightly larger Junior Suite than the other three same-size cabins.
Keep in mind your cabin position though on any barge cruise. My cabin was on the starboard, or right side, of the ship, which on some moorings to the dock our view was slightly impaired. However, it was not too troublesome as you could easily escape to the upper decks and enjoy the views. And we didn't spend much of the day in our cabin anyway.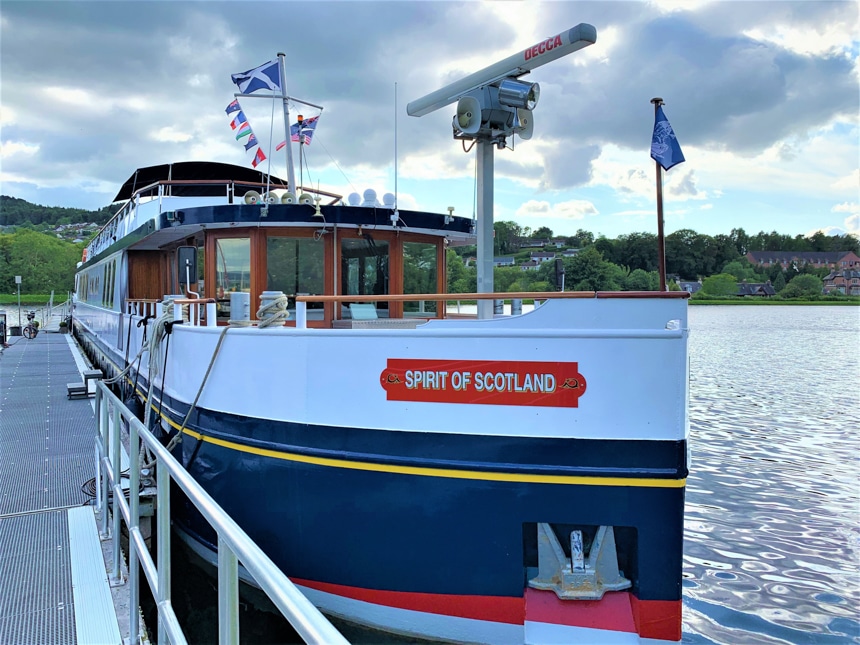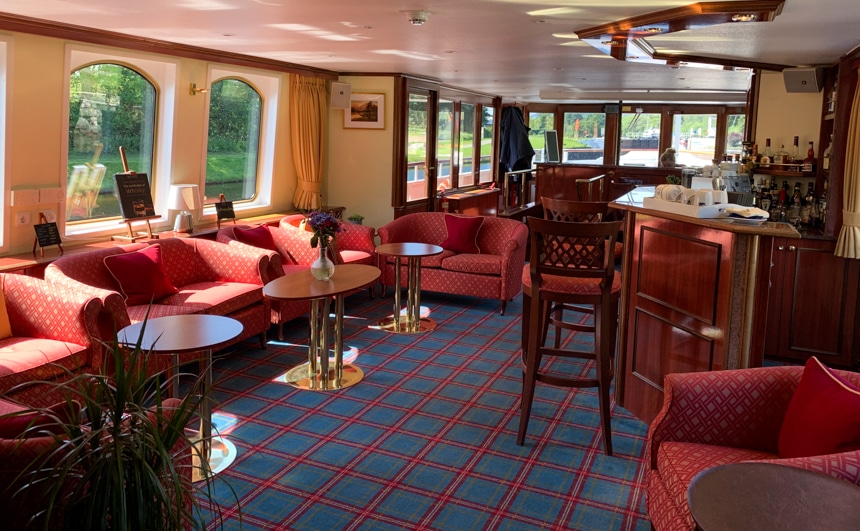 Cruising Through Locks, Canals & Ladders
Navigating locks are perhaps the most quintessential barge cruise experience. On my trip, we navigated through a series of 29! The Spirit of Scotland is just the right size and width to cruise the canal and some of the narrow channels and locks that line the canal. The larger river cruise boats are too large to navigate through these canals, leaving this level of travel strictly to small pleasure crafts and barges. Navigating through the locks is an adventure from the perspective of the boat. Some locks have a ladder of 5 or 6 steps for the boat to go through. It's interesting to see the boat float up or down through a staircase of locks.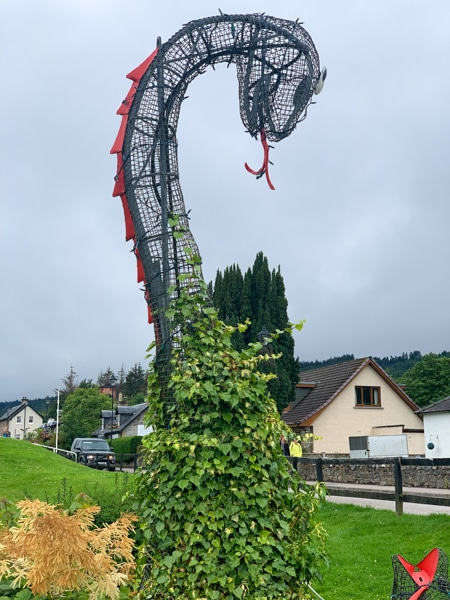 The relaxed pace of cruising through the canals and lochs (lakes) was perfect as we floated past ruins of castles, scenic and rugged Highland mountains, forest and countryside.
Because our week held decent weather, I lounged on the sundeck (or sat in the hot tub) with a tea, coffee or whiskey and simply just enjoyed the moment. One of the stops included the settlement of Fort Augustus, a small and charming village with a 19th century monastery in its heart, and the site of the mythical Loch Ness monster. Luckily for me I caught a glimpse of old Nessie… or so I think.
Other stops were small villages throughout the canal, all accessed during the day. The Spirit of Scotland never transited at night, allowing for a restful, quiet slumber.
Take Advantage of the Towpath
A big part of any barge cruise is the adjacent towpaths. Traveling along the Caledonian Canal, we followed the Great Glen Way, a beautiful route accessed by boat, bike or on foot. This long-distance "towpath," or trail on the bank of the canal, follows the canal from Inverness to Fort William and is accessible from the barge at varying points of the cruise. We were able to get off the barge and use one of the many bicycles available to each of the guests, to ride alongside the barge or explore by bike while the barge was on a mooring.
Whether on foot or two wheels, this was a great way to get off the ship for a little exercise and to explore into the forest a bit. The bicycles were available to us at any point during the cruise. I even took off on a ride as the barge was sailing, then rejoined the barge right before entered one of the locks.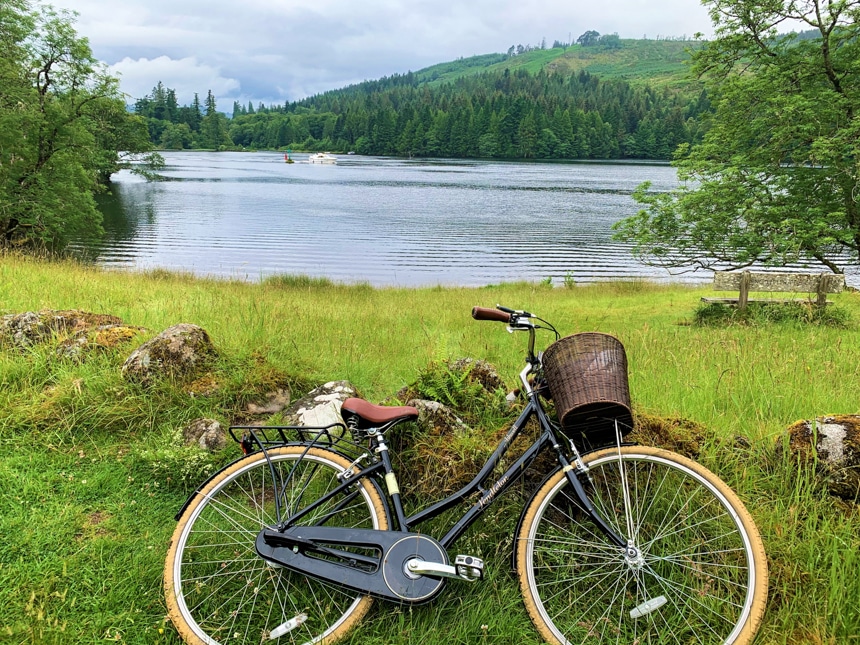 History, Castles & Beautiful Scenery
What is it that I love about Scotland? It's just so rich with history and old architecture, and yet it feels so expansive with its scenic landscape and small population of residents (roughly 5 million people compared to London's 8.7 million). I've read some of the history of Scotland (mostly through the Outlander book series), but the stories really come alive as you go on the excursions to visit some of the historical sites and castles.
Meandering through the excellent visitor center at Culloden Moor, the place where the Highlander way of living ultimately ended, we could envision how history unfolded as we strolled the battlefield. We visited the Eileen Donan Castle, infamous for its history dating back to the 13th
century, the clans that fought to stake its claim and the fight that took place during the Jacobite rising.
We also toured the Cawdor Castle, which is still a working residence of the Countess of Cawdor, and strolled through the beautiful gardens that surround the castle. We finished with a stop at Glencoe National Trust, which is a stunning and scenic landscape of mountains, waterfalls and glens (valleys), and the site of Scotland's infamous massacre of the MacDonalds. If you're a lover of castles (as I am) or a history buff, visiting Scotland via a barge checks it all off the list.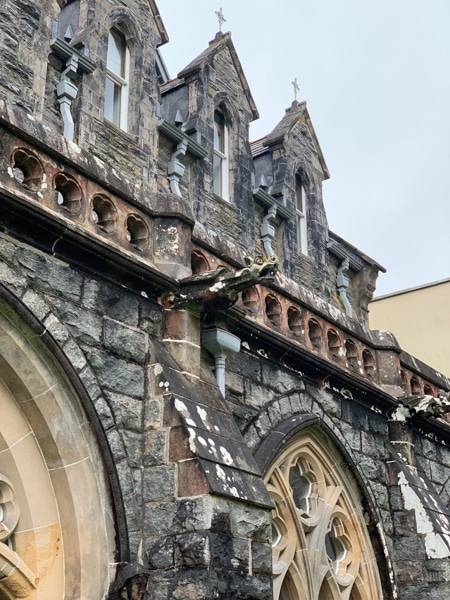 A Culinary & Wine Tasting Delight
For me, one of the most wonderful parts about traveling abroad is experiencing a destination through the sensation of flavor. Let me tell you, Chef Dave on the Spirit of Scotland did not disappoint! Reflecting on the cuisine, this is really where my barge cruise review soars up to a 5-star cruise.
Every day was a new and exciting twist of menus where Chef Dave would take in Scottish flavors and dishes and make them his own. Have you ever had haggis, a traditional dish made from the animal's stomach? Normally I would shy away from a dish like this for obvious reasons, but Chef Dave prepared this in such a way that you could not help but try it, and it was delicious. Even my son tried it and liked it.
What made Chef Dave's cuisine even more exciting was his use of native plants or fruits foraged that day. Every dish was made from scratch, including a couple of dishes that were smoked in house. Lunch and dinner were three to four courses, so you were never starved, but at the same time the portions were not overbearing in size. Any and all dietary requests were handled easily.
Another unexpected indulgence was the wine selections that were paired with lunch and dinner. All wines were from France and we were offered a red or white, or you could try both. I was very impressed with our hosts' vast knowledge of each wine they presented to the table. All the wines were delicious, and it was fun to experiment and taste the different varietals. Slangevar; to your health!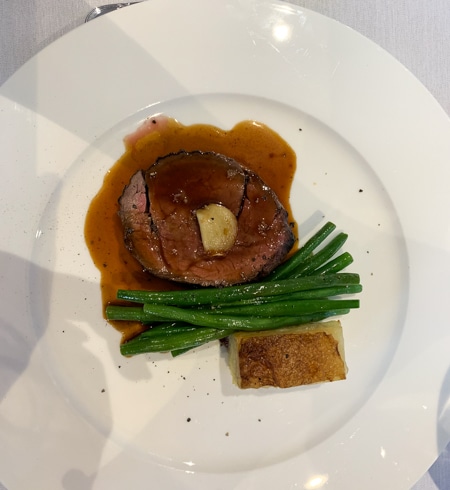 It's All About the Special Touches
Sometimes it's the small things that make for a big impression, and this certainly holds true with barge cruising. Some great experiences really added to our immersion. While in Fort Augustus we were treated to a falconry display at an old 19th century monastery. We were able to learn about the different birds of prey, see them in flight and interact with them as they flew off one of our arms to another's. Owls, eagles and falcons were all a part of the experience and to be able to talk with and touch the birds was so intimate. Focusing on the senses again, this was a highlight for both my son and me.
Taking in more of the Scottish tradition, we got a visit from a couple of local Highlanders. One such visitor came aboard the barge to share some of the history of Scottish dress (did you know the kilt is a symbol of honor for the clan and started in the Highlands?). Upon arriving at a small village, we were told to go to the sundeck where we were welcomed by a single bag piper marching on the banks playing in all his regalia as we docked. The wily old Scotsman came aboard and entertained us with stories, the history of the bag pipe and what it takes to play.
Lastly, it wouldn't be a trip to Scotland without going to one of the many whiskey distilleries for some tried-and-true Scotch whiskey. Our itinerary took us to the Tomatin Scotch Whiskey Distillery, established in 1897, for a tour and a tasting. Not being a fan of bourbon or Scotch, I was somewhat hesitant about this excursion. But I became immersed in the operations of the distillery and how water, barley and yeast aged in oak casks make for a true Scotch whiskey.
Fun fact: Did you know that the casks used for Scotch are recycled from the United States? By law, bourbon barrels can only be used once in the U.S. and therefore the casks are exported to Scotland to use for Scotch. Ending the tour, we tasted several varieties of Scotch, some blended and some aged up to 20 years.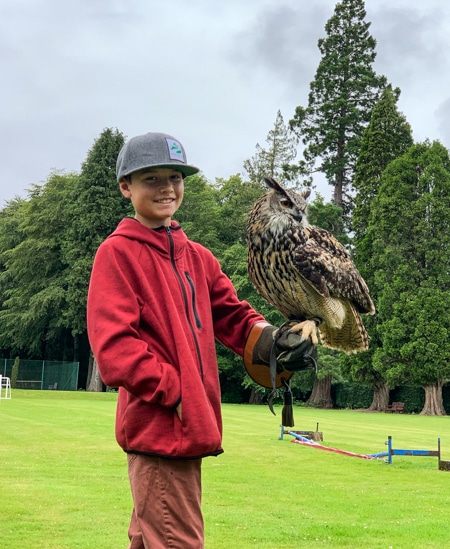 Small Is Better on a Barge
One of the reasons I like to travel on smaller boats is the opportunity to meet fellow travelers from different parts of the world or the U.S. For some, being on a boat with only 12 passengers can seem rather intimidating. But what I have discovered is that it brings opportunity to experience a place from different views—in my case, through the eyes of a variety of ages: from my son at 12 to the eldest guests in their mid-80s.
What struck me is how most of my fellow travelers had been on several barge-style cruises and are completely addicted. Like small ship cruising, it's that process of connection that attracts travelers—to the destination, the culture and fellow travelers sharing past and present. This cruise was perfect for those of us looking to experience Scotland's natural beauty, culture and history in a low-key way yet still with all the amenities and indulgences of being in luxury hotel. This is Scotland, done right. I can't wait to do another barge cruise in another part of Europe (an Ireland river cruise maybe?) very soon.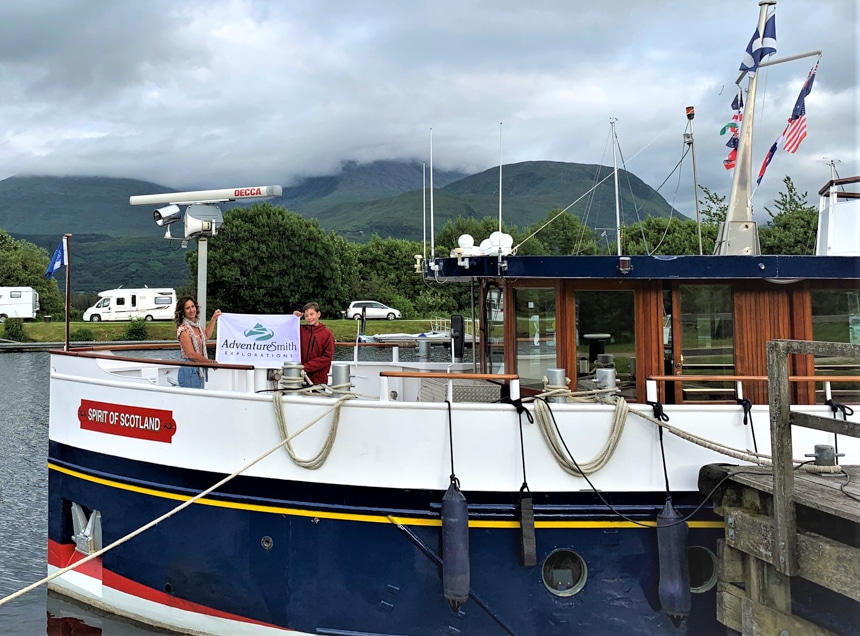 For more photos from this European barge cruise, view my Facebook album on AdventureSmith Explorations' Facebook page.
This European barge cruise review was written by an AdventureSmith Explorations crew member. Read all our Small Ship Cruise Reviews for more firsthand insights, or contact one of our Adventure Specialists to learn more about our European river cruises: 1-877-620-2875.