AdventureSmith Specialist Taylor Cranney writes this Alaska small ship cruise review of her time aboard the 90-guest S.S. Legacy (now the 86-guest Wilderness Legacy). Learn why traveling early season in May was a win, with less crowds and lots of glaciers.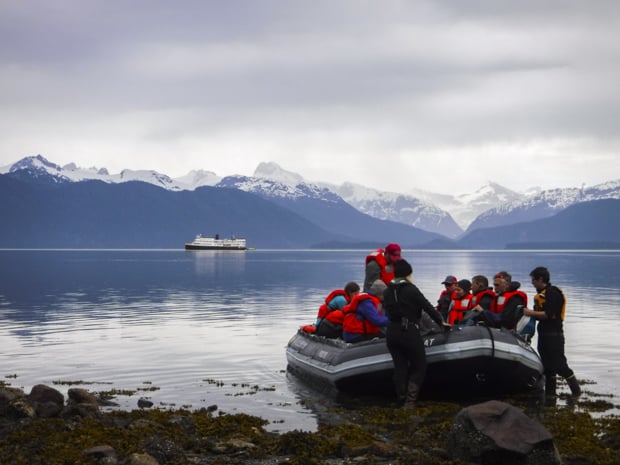 I had the opportunity to see Alaska differently—to see its coastal waters and rugged beauty, akin to how original coastal tribes would have seen it.
I had traveled to Alaska before. I had driven past grizzled peaks, snaking rivers and the low-lying tundra. Magnificent. Wild. Remote. Now, this time, I had the opportunity to see it differently—to see its coastal waters and rugged beauty, akin to how original coastal tribes would have seen it. And let me tell you, the experience was everything I hoped it would be. I was able to combine the creature comforts of a first-class hotel, unpack my bags only once, settle in over a glass of fine wine and begin the journey into the remote corners of the Inside Passage. The S.S. Legacy, a delightful vessel, performed exquisitely as my floating basecamp over the next 8 days. Unique history, heart-warming culture, unabated knowledge and exhilarating adventure are just a few key points of what I experienced on my voyage.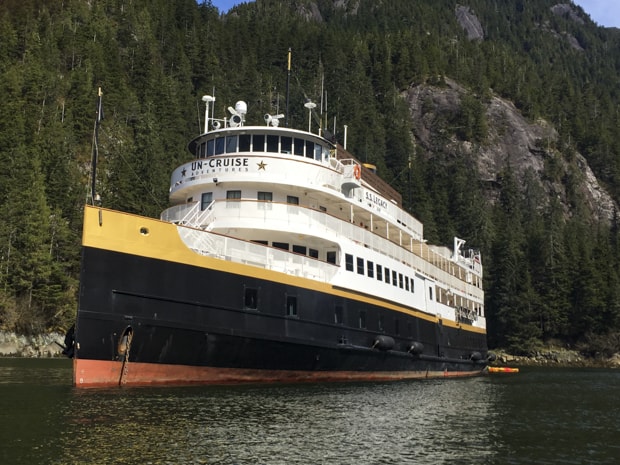 My Review of the S.S. Legacy
I had the opportunity to cruise aboard a 90-guest replica 1898 Coastal Gold Rush Steamer, the S.S. Legacy. While the ship's gold trim, antique whistles and old-world style were certainly charming, I was equally impressed by how well she was fitted for our active needs of today. The addition of the newly built Sea Dragon, a tailor-made excursion vessel that nestles up flush to the stern of the ship and carries all of the ship's expedition gear, made certain that we had easy access to epic Alaskan adventure. With the Sea Dragon, the S.S. Legacy now holds pace with all the biggest names in Alaskan expedition cruising.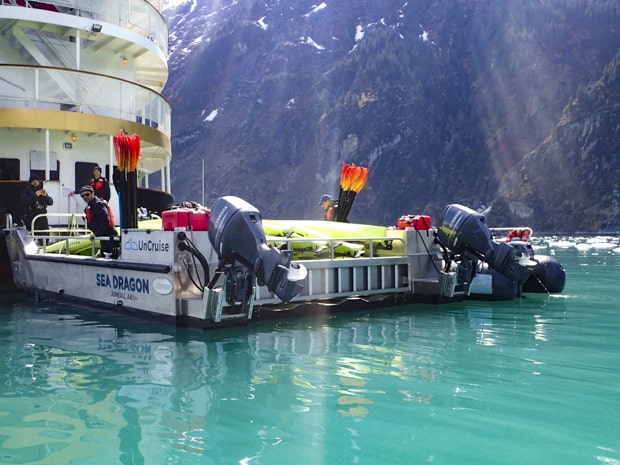 Not only was this vessel adventure ready but also supremely comfortable. The cabins were overall larger than what you would find on most comparable vessels running similar trips in Alaska. The common areas were plentiful and spacious as well. It felt like there was always a corner of the ship to either meet up with fellow passengers or find a quiet space to get away. The Lounge served as the social hub. Here you could pour a self-serve espresso, grab a snack from the treat corner, order a cocktail, play a game of cards or gaze wistfully out past the bow. The Lounge was also where daily happy hour, briefings and lectures took place. If you desired a social atmosphere, with a little less traffic, you could always head down to the Pesky Barnacle Saloon. Here you would find a quaint room decorated as an old-timey saloon, complete with card tables and a wall of windows to soak in the surroundings. The Pesky Barnacle also served as our mustering station, where we would gather before excursions.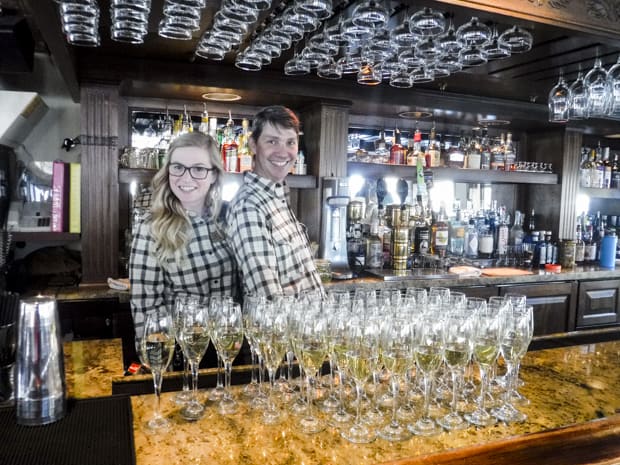 One feature I really enjoyed was that some of the cabin doors opened externally to an outdoor walkway. I had a Commander cabin on the 300 level and used this feature to have a "balcony" feel on occasion. I would open the door and window all the way to allow maximum exposure to the outside world. This allowed a fresh breeze to percolate through the cabin while we cruised past rainforests, glaciers and towering granite cliffs.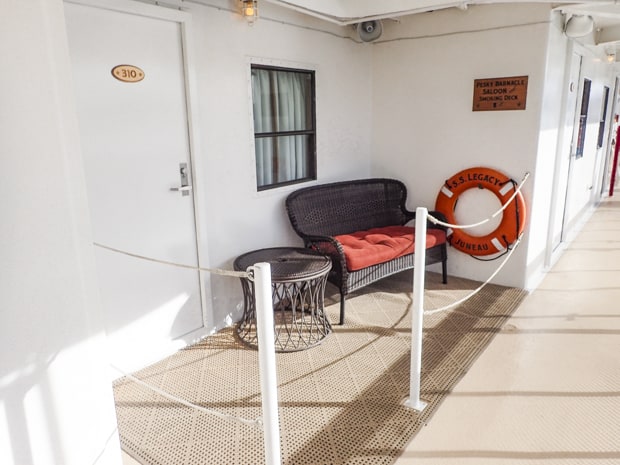 The S.S. Legacy is also one of the only vessels of its kind that has an elevator. The elevator accesses three of the four decks, which adds the opportunity for those with mobility constraints to get in on the action. Also distinctive are the antique whistles and horns. Alongside the standard air horn and fog horns are a whistle that was formerly an air raid siren and a tug boat whistle that is very baritone. The two whistles came from the tug boat of the vessel owner and CEO's father, so there is a personal and nostalgic feel to the latter sounds.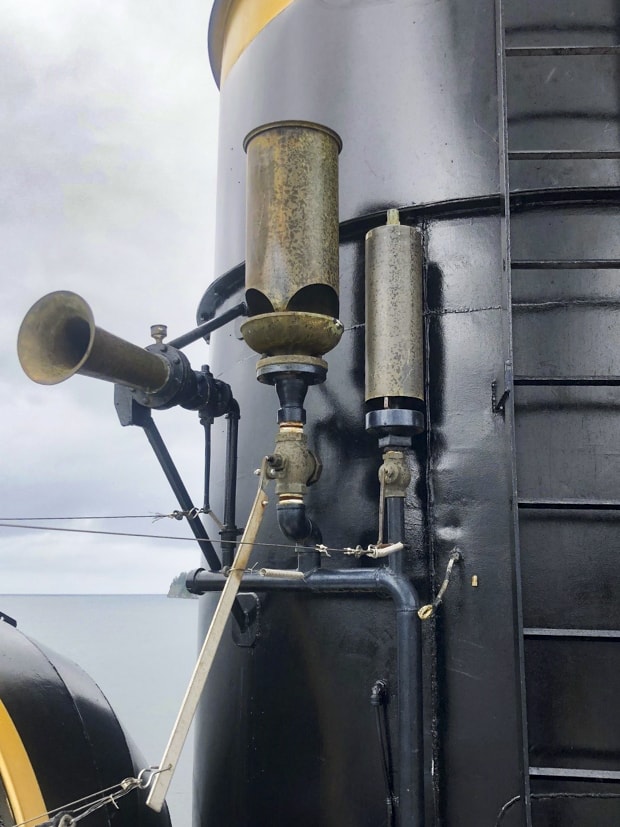 Adding to the luxuriousness of your experience, a premier selection of wine, beer and spirits are included in the cost of your passage. The 12-year, single-malt Caol Ila was a nice reprieve to sip on in the hot tub after the polar plunge! Also, uniquely on this ship is the 600-square-foot Owner's Suite. Very rarely will you find such spacious accommodations on a small vessel. The Owner's Suite entails a private bedroom, its own social lounge and beck-and-call service. You can host your own private happy hour for you and your friends.
All meals are plated, and with great attention paid to variety, taste, food source and any dietary restrictions. You will also find that much of the crew are experienced and choose to come back to this ship repeatedly. Having such a seasoned crew speaks volumes about the draw and appeal of the S.S. Legacy.
The Alaska's Glaciers & Whales Cruise Itinerary
With the crew's careful execution, this itinerary offered a seamless choice of activities and excursions. Yoga was offered every morning in the comfort of the covered fitness area on the top deck of the aft of the ship. Every day there was an opportunity to kayak and hike. The crew did a fabulous job of "reading the crowd" and adjusting the excursions each day. We had a diverse demographic, and there was never a soul on board who was dissatisfied with the activities offered to them. We could be as mellow or adventurous as we wanted.
The crew did a fabulous job of "reading the crowd" and adjusting the excursions each day. We could be as mellow or adventurous as we wanted.
In addition to the standard hike and kayak opportunities, we also were able to play on stand-up paddleboards (SUPs) if desired, which was a nice change of pace offered during "open paddle." During open paddle, we were given a boundary area to stick within, but other than that we could paddle freely on a SUP or kayak.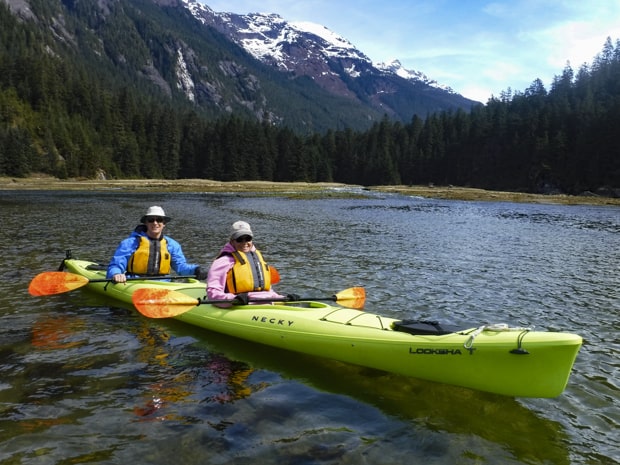 I appreciated having solo float time on the water with the opportunity to soak in the scenery at my own pace. The Sea Dragon, in all its glory, performed flawlessly as the excursion launchpad for all guests. The next day's activities were announced during happy hour each night, when we would put in our "adventure order." While at dinner, the Expedition Leader would meticulously arrange a comprehensive schedule to accommodate each guest's preferences for adventure. By the time we were out of dinner, the schedule was ready to view and get excited about! This way we could effectively plan our morning and prepare ahead of time for the next day.
Glaciers – Times Three
This is where John Muir came to prove that Yosemite was carved by glaciers… and you could see why.
On this itinerary, we visited three glaciers, each with their own unique personality. First up was Dawes Glacier in Endicott Arm. The itinerary technically called for Tracy Arm, but with the Captain's expertise he made a judgement call to head up an adjacent fjord and it did not disappoint. Pristine milky blue water. Clam, flat and peaceful. Bergy bits floating by. Towering granite cliffs on either side. Waterfalls descending from each cliff. This is where John Muir came to prove that Yosemite Valley was carved by glaciers… and you could see why.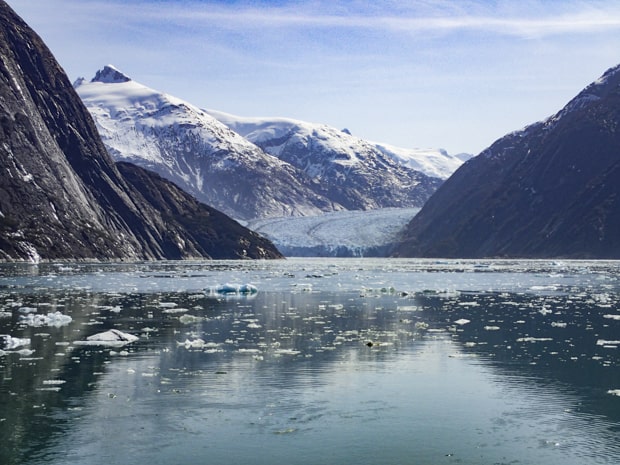 We also had a chance to visit the Baird Glacier. This time rather than a Zodiac ride up to the face of it, we had the opportunity to do a tidal walk along the boot-sucking mud that surrounded the lake, created by the push of the glacier. The crew executed a very skilled Zodiac entrance at low tide to get us there. I had seen the expedition staff setting off very early in the morning to scout their landing and assure our safety for the later excursions. We had a rugged wander over fist-sized rocks, watching the Arctic terns consider us with scrutiny as we walked in the zone of their hidden nests.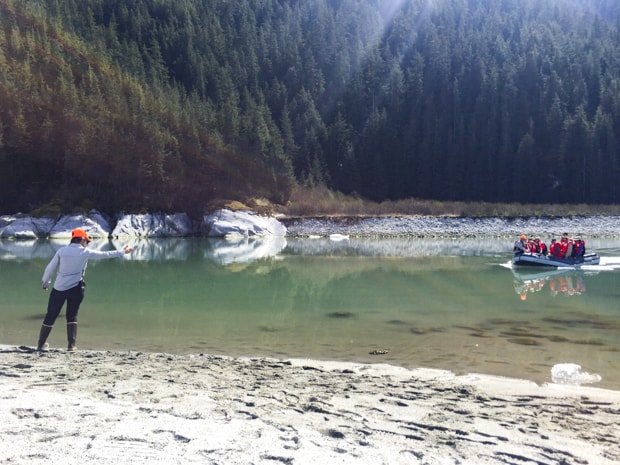 The third glacier we got to "visit" is the Le Conte Glacier. In all honesty, we never did see the face of the glacier, but we did do a tidal exploration of the ice gardens just downstream from it. Here, very large chunks of withering icebergs had become stranded on a shallow beach at low tide. We had the chance to walk around with our guide and assess all the magical shapes each one appeared to be. It felt like the icy version of looking for shapes in the clouds.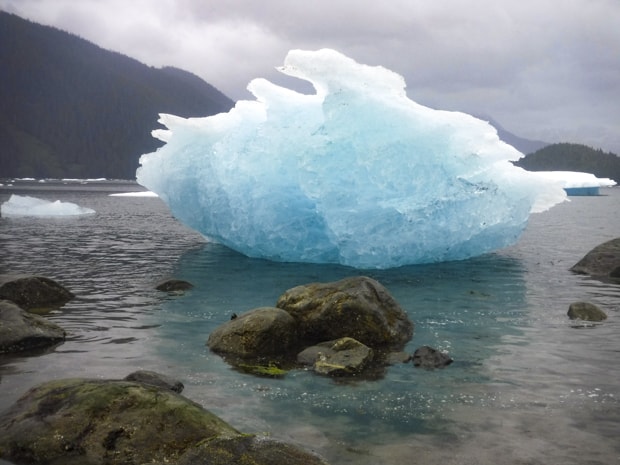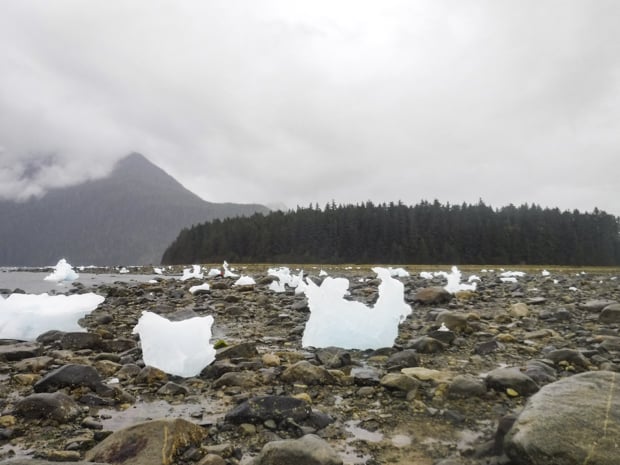 Hikes & Bushwhacks, Alaska Style
Throughout the course of the trip, we had opportunities for hiking that were as unique as each glacier we visited. Our first visit was to a little cove called Cascade Creek. Here the trail ambled upwards past a raging waterfall and along its feeder creek. About a mile in, the trail disappeared and it was time for our first official bushwhack. I was most impressed by the moss and lushness that covered every inch of the forest. Every step was met with a compressed bounce, and every collapsed log and idle rock seemed to have life thriving from it.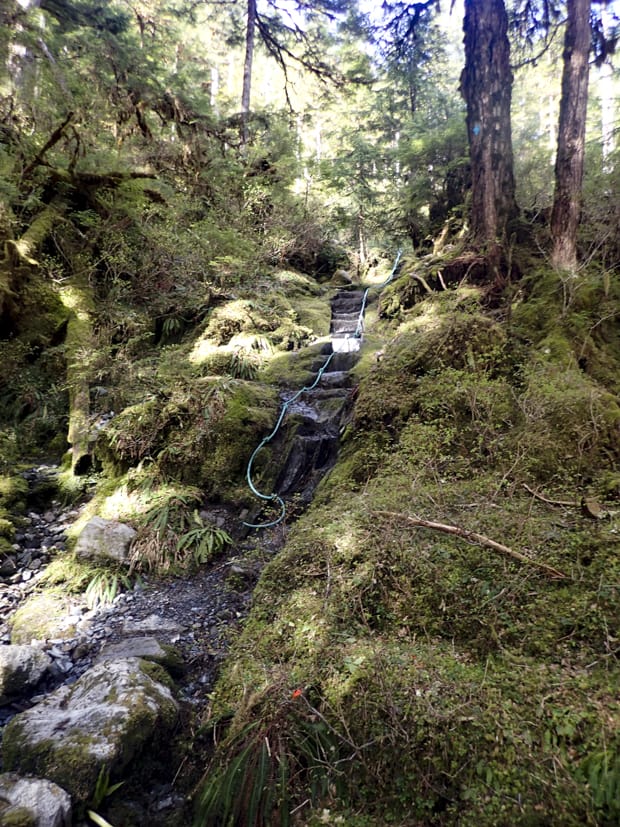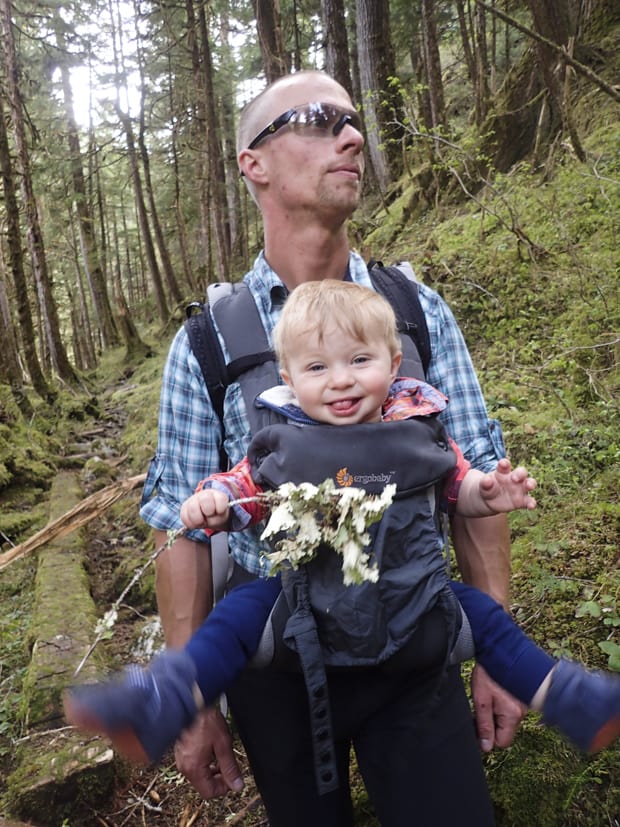 The second hike offered to us was notably farther in distance, but with no bushwhacking this time. We clocked around nine miles in a region called Three Lakes. The trail was entirely comprised of boardwalk planks, about the width of two pieces of paper. We had a great little stopping point at the end of the hike in our own lakefront, open-faced lean-to.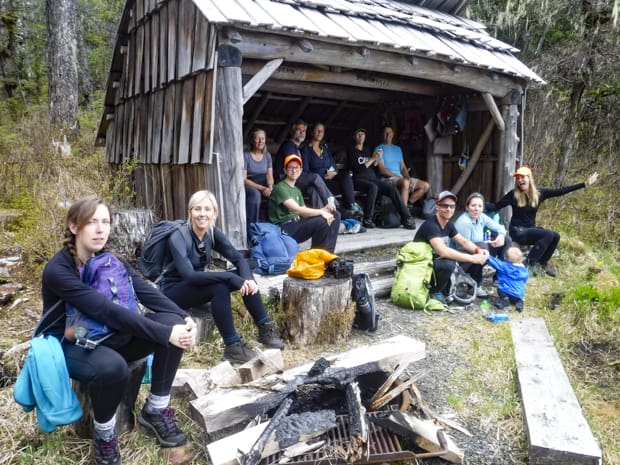 Our third hike was by far the most rugged and adventurous. To me, this was the Alaska adventuring I came to do! By this point in the trip, only five guests were enthusiastic enough to sign up for the strenuous hike option. We had two guides with us, equipped to navigate into the unknown. Our destination goal was a random lake, as see on a map, which none of the guides had even been to. It was true exploration for all!
Our third hike was by far the most rugged and adventurous. To me, this was the Alaska adventuring I came to do!
More so than the success of reaching our goal, the highlight of the hike was the journey there and back. On the way there, it was successions of muskeg, dense forest, downed logs and blankets of moss. On the way back, we spent much of our journey scaling up and down the sides of a creek embankment. This was a three-points-of-contact-at-all-times kind of hike. We waded through raging torrents, avoided grabbing the spikey devil's club plant (but plucked the delicious buds from the top as a mid-hike snack), slid down mud slides and climbed up rooted steps. It was nature's obstacle course. I loved every minute of it! We ultimately found our way back to the shore through the outlet of the creek. We radioed in to the S.S. Legacy that we had arrived safely to shore, and they sent a Zodiac to pick us up.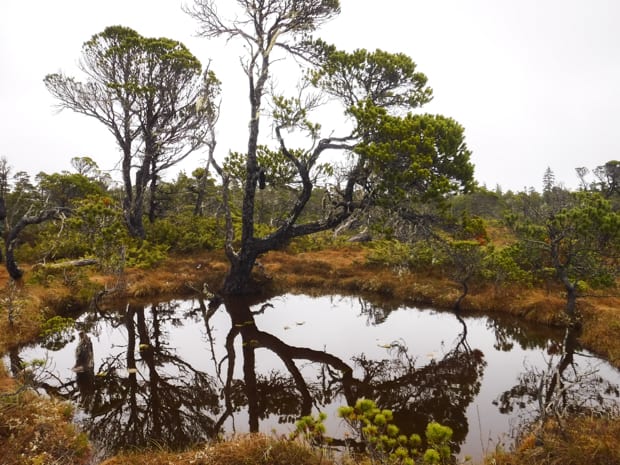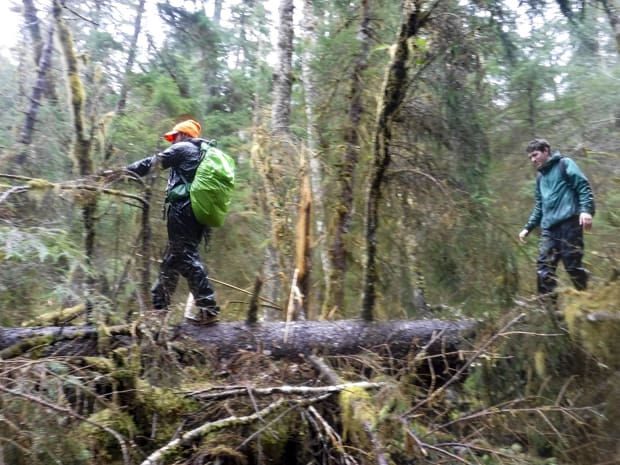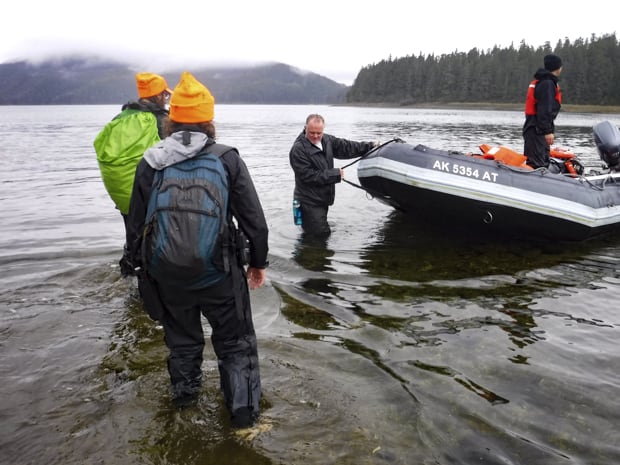 Aside from all the glaciers and hikes, morning yoga, open paddles and a polar plunge, we also enjoyed whale watching Alaska and the opportunity to get a massage. We were kept on our toes on a daily basis. And even though I am one to usually pick the toughest activity offered, there were always moderate and easy options available. This meant every guest on board could enjoy Alaska at their own pace. In fact, by the last day, I decided to opt out of the activity and just enjoyed my time on the ship.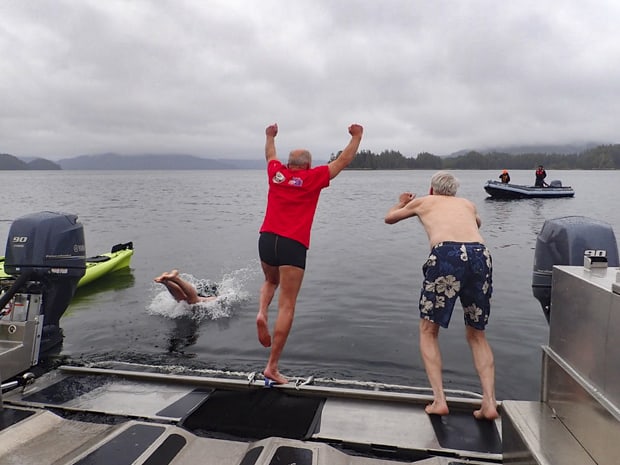 Advice to Alaska Travelers: Think Not When, but Wear!
Alaska is a fantastic destination during any time of the summer season (April-September). I hear many travelers trying to calculate the time when they will receive the most sunshine. However, Southeast Alaska is a rainy destination, period. This means that regardless of the statistics you assess, you are likely to encounter rain at some point during your trip. Rather than focusing on when is best to go, focus on acquiring the right gear. This way, no matter what happens with the unpredictable weather, you are prepared for a good time! If you get sunshine, it's a bonus! I recommend waterproof outer layers that are not only actually waterproof but also breathable. I also highly recommend multiple synthetic underlayers. Not only will you want to layer up if you are hiking, so you can remove some if you warm up, but you will also want to have some clean… or cleanish… dry pairs back in your cabin.
Traveling Early Season by Small Ship in Alaska
Being able to travel to Alaska before schools were out on summer break meant that there were fewer tourists… I felt like a local, rather than a visitor.
In recent years, Alaska summer cruise departure dates have moved earlier into April and May. My schedule aligned best with one of these early-season departures, so I hopped on the opportunity to be among the first cruisers to Alaska for the season, which was both intriguing and exciting. Overall, I felt going early was a benefit. Being able to travel to Alaska before schools were out on summer break and the big cruise ships had yet to start sailing meant that there were fewer tourists occupying the port towns, restaurants, walkways, attractions and even vessels (my departure was only 60 percent full). It also meant that there were fewer young children on board. The caveat here was that the sleepy Alaskan port towns, which had been idle all winter long, were just starting to wake up and not fully operational quite yet. What I gained in being able to explore towns with uncrowded streets, I may have lost a little in what was accessible or available to me. In particular, I found that on Sundays and Mondays, most stores and tourism services were shut down. In my opinion, the tradeoff was worth it, as it enabled me to feel like a local, rather than a visitor.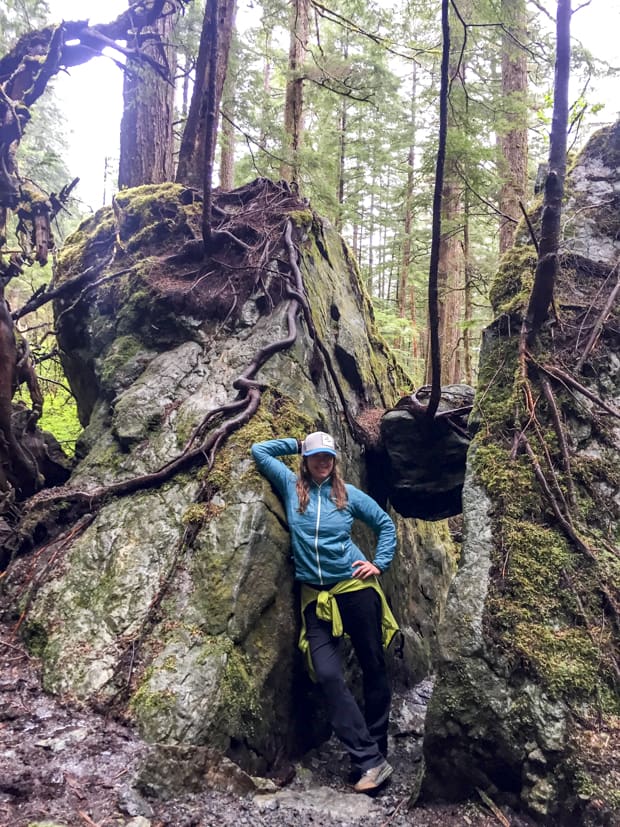 Alaska, resting at about 2.3x the size of Texas, is vast and wild; it truly is the land of glaciers, wilderness and wildlife. And the only true way to see Southeast Alaska is by way of small ship cruise. The S.S. Legacy delivered the goods as an adventure basecamp to explore the most remote corners of the Inside Passage. The crew of the S.S. Legacyalso did a great job accommodating a very diverse group of people. We were a wide mix of ages, backgrounds, interests and capabilities—and we were all given a thrilling and unforgettable Alaska experience. You may think visiting this gem is beyond your dreams, but the truth is, it is within your reach!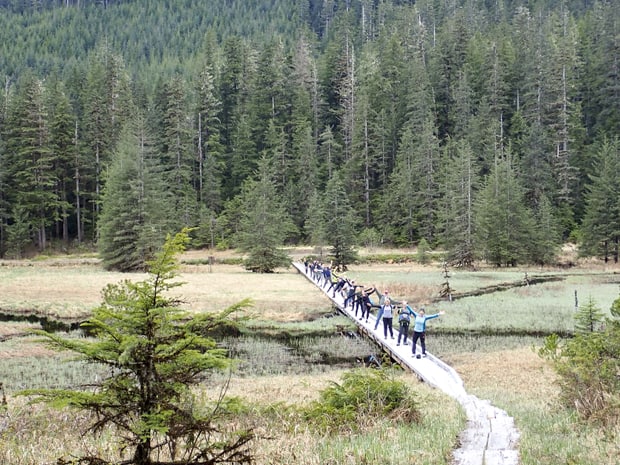 For more photos from this trip, including glaciers, bushwhacking and the S.S Legacy, view my Facebook album on AdventureSmith Explorations' Facebook page.
MORE ALASKA RESOURCES:
Alaska Small Ship Cruises
Alaska Yacht Charters
Luxury Alaska Cruises
Alaska Cruise Guide
Alaska Cruise Deals
Small Ship Alaska Cruise Reviews
Best Alaska Cruises for Families
Small Alaskan Cruise Lines
Glacier Bay Cruises
Alaska Inside Passage Cruises
Alaska Whale Watching Cruises
Alaska Trips
Alaska Tours
Visiting Denali National Park
Alaska National Park Tours
Best Time to Visit Alaska
This Alaska cruise review was written by an AdventureSmith Explorations crew member. Read all AdventureSmith Reviews for more trip reports. For dates, rates and booking information on this trip, see Alaska's Glaciers & Whales, or contact one of our Adventure Specialists to learn more: 1-800-728-2875.