AdventureSmith Explorations Founder and President Todd Smith reviews his Alaska small ship cruise aboard the 36-guest Safari Explorer.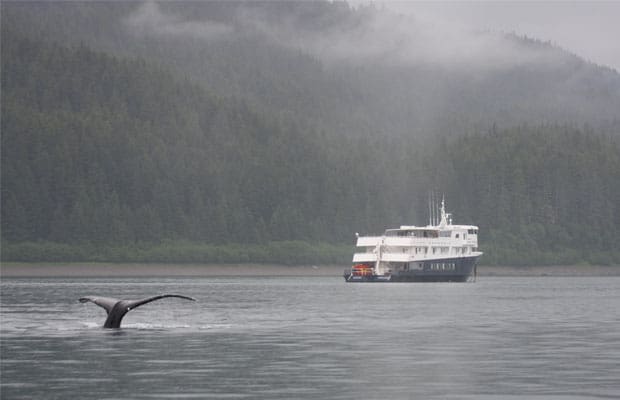 Just as Glacier Bay National Park is the crown jewel of Alaska's Inside Passage, the Safari Explorer is the crown jewel of Alaska Small Ship Cruising. I have lived, worked aboard, traveled on and personally inspected many, many small ships over the years. Without a doubt the Motor Yacht Safari Explorer is one of the finest small ships operating anywhere in the world today.

We arrived Juneau on a typical wet, drizzly Southeast Alaska afternoon. The flight from California through Seattle is easily made in one day. We made it in time for lunch. Plan on an added overnight in Juneau or Seattle if you are coming from anywhere east of Denver, Colorado.

Our private airport transfer went smoothly and the driver dropped our bags at the ship so we could explore Juneau on our own. We put on our raincoats and walked into town. Adjacent to the Safari Explorer's dock is the Hanger at the Warf, an Alaskan Waterfront bar and grill overlooking Gastineau Channel. The food is good, the views are terrific (you can sit outside on nice days) and my son loved watching the cruise ships and float planes coming and going from the docks below.

After lunch we walked along the waterfront comparing the 145 foot Safari Explorer yacht to the 964 foot Island Princes cruise ship. The difference is striking. I promised my son a ride on the Mt. Roberts tram. As we made our way past the cruise ship docks we were mobbed, like a salmon trying to swim up a stream of cruise ship passengers disembarking. After making our way through the crowds and chaos, we looked back from the safety of an ascending tram car, thankful we were not among the Alaska cruise ship masses. The views from the top of Mt Roberts tram were excellent and it seemed if the rain was dissipating somewhat as it often does on summer afternoons in Juneau. We did a bit of shopping, had some ice cream and soon it was time to return to the Safari Explorer.

We boarded at 5:00 pm and were underway immediately. The crew showed us to our spacious and well appointed cabin before we headed up on deck to watch Juneau, and the cruise ship crowds, recede into the distant mist. Captain Scott introduced his crew and we were underway aboard the Safari Explorer cruising southeast Alaska's marine wilderness.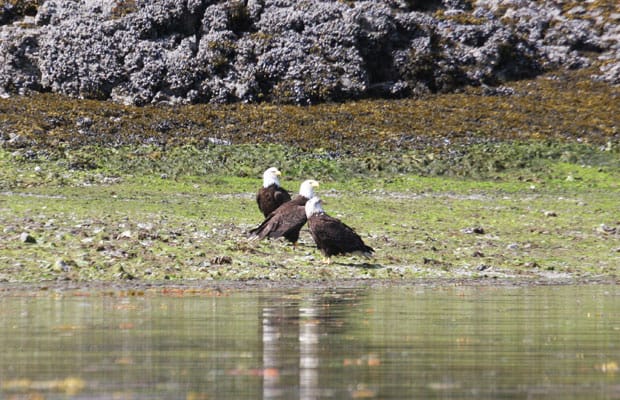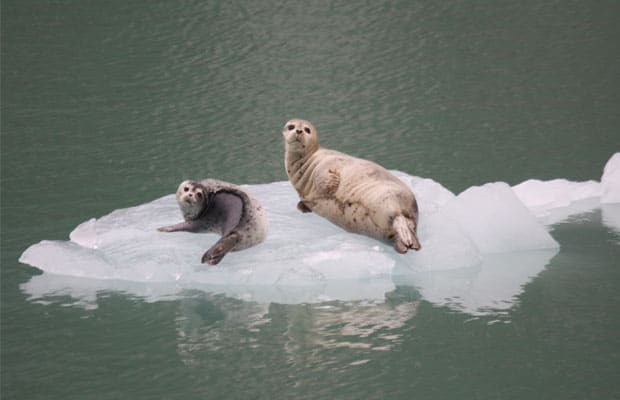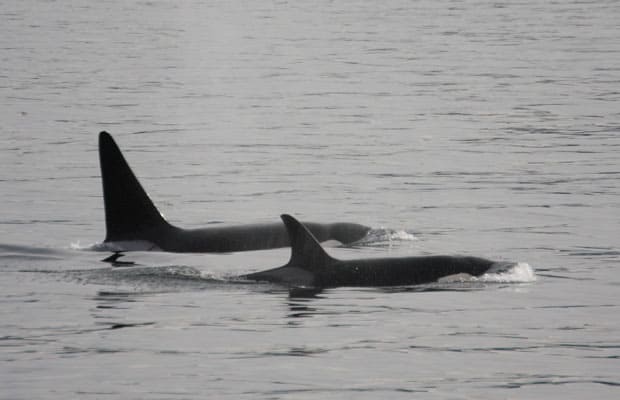 Shortly after dinner our expedition leader Vanessa summoned everyone on deck for our first sighting of whales in Alaska. I awoke my son, who had gone to bed early, just in time to see a mother and calf humpback whale that have surfaced about a quarter mile away. The captain cut the engines and we drifted for over an hour watching an incredible display of lunge feeding, tail slapping, and breaching. At one point the young whale came so close to the ship that through my zoom lens I could only see part of the whale, flying through the air in a full breach. Everyone was thrilled at the sighting and went to bed happy that our Alaska adventure cruise was off to an incredible start.

I heard the crew pull the anchor at about 5:30 in the morning, breaking the silence of the quiet cove in which we had anchored overnight. I quickly fell back asleep to the lull of the engines and the gentle movement of the yacht. When I awoke again I opened our cabin door to the now familiar sound of Humpback whales' spouts. We enjoyed another incredible morning of whale watching before heading into Glacier Bay National Park. On our cruise into Glacier Bay we picked up a National Park Service Interpretive Ranger named Tim. Tim was very knowledgeable about Glacier Bay and explained that only 200 years ago this entire bay was full of one giant glacier over 100 miles long. The great glacier that once filled the entire bay has now retreated 65 miles, uncovering a virgin landscape for plants and animals to recolonize. Throughout the day we would explore back in time from rich old growth forests to barren landscapes only recently uncovered by ice.

Even the crew was excited about a rare visit to Glacier Bay's East Arm. We anchored near the McBride Glacier and a place called White Thunder Ridge, so named by native Tlingit people because of the great echo the glacier made when it calved near the cliffs face. Soon the crew had skiffs ready and took us to shore a short distance from the yacht. We were able to walk along the beach, among a myriad of icebergs stranded by the outgoing tide. Some were as small as ice cubes while others as large as a car creating a maze of otherworldly shapes, colors and textures. As we emerged from the crystal labyrinth someone noted the distant howling of wolves coming from the other side of the inlet. Prints of brown bear and moose could be seen in the gravel and mud along the shoreline. This is truly a wild place, only accessible by a great deal of effort or by an adventure cruise aboard a small ship. As we arrived on an overlook of rock the entire face of the McBride glacier is revealed and we hear the white thunder of icebergs calving into the inlet. The rain has returned and a chill that has run through the group as we skiff back to the ship. Anticipating our arrival the crew the crew offers us hot cocoa and fresh baked cookies upon our return. We would learn to expect these warm drinks and treats every afternoon as we return from our daily activities.

Glacier Bay's West Arm is the primary destination for tour boats, small ships and cruise ships because of the high concentration and grand nature of the glaciers. In this upper part of the bay trees have not yet returned to the newly borne landscape. The open, tundra like shoreline makes this region perfect for spotting wildlife and it's not long before our keen eyed captain had spotted a brown bear foraging on shore. This is where a small ship and good captain really excel as we are able to get close enough to shore to actually hear the bear turning over large stones in search of food. Conveniently our crew has prepared an elegant brunch, complete with champagne and chocolate that was timed perfectly between the brown bear sightings and glacier viewing.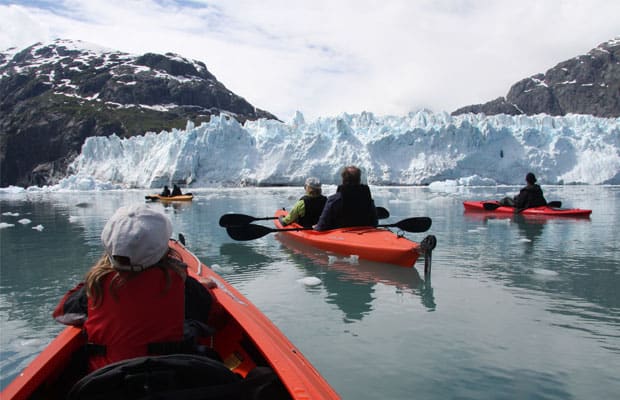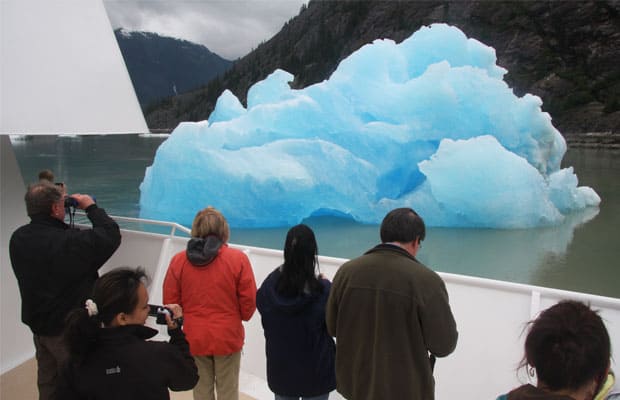 The weather had turned so clear and calm that the Captain had decided we would kayak and skiff at the face of the mighty Grand Pacific and beautiful Marjorie glaciers, the crown jewels of Glacier Bay National Park. My son is an avid paddler and we took to the water like surf scoters but some travelers were nervous about their first paddle, among bergy bits and margarita ice in front of the active glaciers. Our guides quickly made us all comfortable and we slowly eased into the ice realm. Along the way we passed by a huge cruise ship but compared to the massive scale of the glaciers and mountains she seemed like a toy boat sharing a huge Alaskan bathtub. We innocently waved to the tourists lined up on deck and chuckled as we received thousands of waves back. I could sense that many of the people looking down on us thought we were totally crazy. While the rest wish they were down here kayaking with us. After the cruise ship had gone we relaxed in front of the ice wall waiting. We could hear cracks and pops, like rifle shots coming from the glaciers face when suddenly a large chunk breaks loose sending a thunderous applause of ice and water and kittiwakes through the fjord. We floated back to the ship at our own pace and watching nesting gulls and harbor seals on icebergs. After lunch we soaked in the hot tub as the majestic peaks of the Fairweather Range passed by.

This evening we visited South Marble Island an active sea lion rookery and nesting colony for seabirds including colorful tufted puffins. On our way out of Glacier Bay we stopped at Glacier Bay Lodge in Bartlett Cove. Some passengers took a guided nature walk through old growth forests while others went to the lodge to make phone calls or check email (the only chance to do so on the voyage).

The next several days our expedition fell into a routine of wilderness exploration and wildlife watching. We kayaked among quite coves viewing bears and starfish and eagles. We walked among blooming wildflowers on sandy beaches, rocky shores with starfish and mussels in the intertidal zone and old growth spruce and hemlock forests covered in moss and life. Days were spent whale watching, visiting sea lion rookeries in the skiff or admiring cascading waterfalls as the captain gets the bow of the yacht close enough to feel the spray. An impromptu stop to fill up the Safari Explorer's water tanks at the native Tlingit village of Kake (population 700) turns into a cultural experience and walk to see the world's largest totem pole. As a guide I used to tell people that once in a lifetime things happen every day in Alaska. This trip was no exception as every day revealed a new face of wild Alaska. The end of this wilderness week was topped of by a rare sighting of Orca whales, an incredible sunset and giant aqua blue icebergs of Endicott Arm.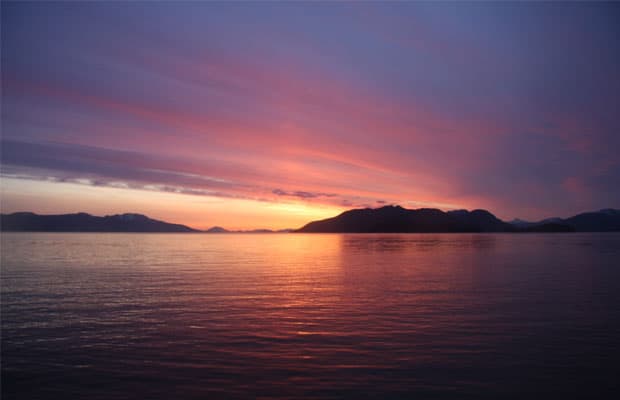 Meals aboard the Safari explorer we always a pleasant and delicious affair served in a spacious view dinning room. Breakfast consisted of daily specials like reindeer sausage scramble or eggs cooked to order. For early risers there was always a fruit plate, cereal, pastries and toast along with gourmet local coffee. Lunches were light and satisfying. Cookies or sweets were served in the afternoon and appetizers were served during cocktail hour before dinner. I should add that all top shelf cocktails, wine and beer are included in the price of the cruise. For dinner we chose from two entrees or you could get a split plate with both. Each night featured a choice of fresh local seafood choice or a chicken or meat entree. Vegetarians and other special diets also had unique choices. In fact special orders were gladly accommodated, all we had to do was ask. My son took advantage by occasionally ordering the macaroni and cheese dinner or PB&J sandwich for lunch. The crew was happy to oblige, always with a smile.

The Safari Explorer was well laid out with more space than most other small ships or yachts. My Captains Cabin B-15 was configured as two twin beds. The room was spacious with a desk, sink, view windows, private bathroom, iPod stereo dock and a flat screen DVD. Temperpedic mattresses and heated tile bathroom floors speak to the level of luxury on board. The room had more than enough space for our belongings and ample hooks to dry wet coats at the end of the day (the crew also offered to dry any clothing in the engine room). Other perks not typically found on a small ship or yacht included the hot tub, sauna, exercise equipment, daily yoga and available massage (all included). The library was well stocked with books, games and DVD's for use in your cabin. The ships bridge was also spacious and inviting and the open bridge policy made this a favorite hangout of many passengers. For a detailed description, pictures and a deckplan of the Safari Explorer click here.

I have found that crews aboard small ships and yachts are always exceptional. It takes a rare combination of professionalism, stamina and selflessness to work all summer aboard a small boat. But most of all the crew is there because they also love to explore wilderness. The crew aboard the Safari Explorer surpassed all expectations and tended to the passengers every need. It is the little things, like hot tub bar service or hot cocoa in a kayak that set this crew apart. Rubber boots and raingear were available for those who needed them and they also had kid size life jackets for my son.

The last night of the cruise, after dinner, the crew had arranged a slide show reviewing the highlights of our cruise. We shared stories of the skiff rides within feet of humpback whales, paddling among icebergs in front of a glacier, watching brown bears from the deck of our ship and even swimming in the chilly waters from the ship's back deck. We also noted that in addition to these shared experiences we each had individual experiences and encounters that were just as meaningful. Some surprised a moose, others viewed a bear from their kayak, while I shared true wilderness with my son for the first time.

A cruise aboard the Safari Explorer in Alaska is not cheap, but for travelers who value up close wilderness in comfort and style there is no better Alaskan cruise.
MORE ALASKA RESOURCES:
Alaska Small Ship Cruises
Alaska Yacht Charters
Luxury Alaska Cruises
Alaska Cruise Guide
Alaska Cruise Deals
Small Ship Alaska Cruise Reviews
Best Alaska Cruises for Families
Small Alaskan Cruise Lines
Glacier Bay Cruises
Alaska Inside Passage Cruises
Alaska Whale Watching Cruises
Alaska Trips
Alaska Tours
Visiting Denali National Park
Alaska National Park Tours
Best Time to Visit Alaska
This Glacier Bay cruise review was written by an AdventureSmith Explorations crew member. Read all AdventureSmith Expert Reviews for more trip reports, or contact one of our Adventure Specialists to learn more: 1-800-728-2875.